Folks seem to have forgotten that the original "Species" was one of the bona-fide sleepers of Summer '95, raking in an impressive $60 million (a solid figure for 20 years ago, back before the benefit of 3-D and IMAX) and spawning a slew of sequels. Scream Factory brings those follow-ups to Blu-Ray this month with all new special features, offering fans a high-def trip back into the gooey world of sex, blood and H.R. Giger's half-alien/half-human creatures.
What's a bit surprising is that Shout didn't take the opportunity here to produce their own Collector's Edition of the original "Species." While still available on Blu-Ray, MGM's early-format disc offers an ancient MPEG-2 transfer and is missing pertinent extras from a later Special Edition DVD, including an alternate ending and retrospective documentary (fans of the movie are urged to check out the overseas Blu instead, which doesn't include any additional special features, but at least offers a superior AVC encode and DTS MA audio over the U.S. release).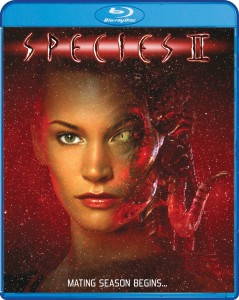 That said, "Species" itself hasn't aged all that well – some dodgy CGI effects that were barely-serviceable at their time of their mid '90s release are even more egregious today – which makes the fact that time has been kinder to the far trashier SPECIES II (**, 93 mins., 1998, R) something of a surprise.
Totally gross, empty-headed, slimy, and stupid, "Species II" is a sequel that you would have expected in find back in the '80s, when follow-ups were made for any film that turned even the slightest profit, and stars were under contract to come back to reprise their roles even if they didn't want to.
Directed by Peter Medak, who helmed the fairly good (if overrated) George C. Scott supernatural thriller "The Changeling," "Species II" looks, sounds, and plays like an after-thought. In this second installment, a NASA expedition to Mars brings back one of H.R. Giger's slimy creatures in the form of would-be playboy and future Presidential candidate Justin Lazard, who starts making out with any female he can find in order to procreate his newfound lizard-like brood. Meanwhile, back in a Washington lab, hitman Michael Madsen (giving an amusingly disinterested, "just for the money" performance) reunites with scientist Marg Helgenberger to track down Lazard before he finds lab experiment Natasha Henstridge, she having been resurrected from the DNA of Natasha's "Sil" creature from the original.
An early three-way sex scene – followed by exploding stomachs and decapitations – in "Species II" suggests that this affair will be an even sleazier one than its predecessor, and, fortunately (depending on your point of view), it ultimately lives up to that billing. Unfortunately, the exploding stomachs also turn out to be the only special effect the make-up people came up with, and the gratuitous (though welcome) topless nudity turns out to be one big tease before Henstridge herself takes it all off in the ludicrously satisfying finale.
Writer Chris Brancato's initial premise is sound enough for this sort of thing, but it's so slackly handled by Medak that you know the only person in the cast trying is Helgenberger, and that's only because her enthusiasm bubbles over to the point where one of her lines ("this is awful! this is awful!") meant to be illicit pain and anguish turns into unintentional comedy instead. As does the house on his family property where Lazard stashes the offspring of his various sexual escapades, a scenario that pays off with the cardboard leading man turning into a giant lizard-cow to combat Henstridge while cocoons of his kids start mutating in the attic (I remember when Lazard met his dozens of "offspring", the entire audience erupted in laughter when I saw this in theaters).
Yes, it's all incredibly stupid, and the mundane visual design – a definite comedown from its predecessor – will make you feel like this was made for Showtime. Still, you've got a handful of nude women, inane dialogue, and some prime bad performances, ingredients that are precisely the kind of thing that makes "Species II" a passable trash exercise, enhanced all the more on Blu-Ray by Scream Factory.
Despite a fairly weak 1080p (1.85) transfer that seems to have been derived from an older master (the image is riddled with overly hot colors and some DNR), Shout's Blu includes some excellent extras. Chief among these is a lengthy talk with writer Brancato, whose amusing anecdotes about the movie's production – including its hysterically awful ending – make for a compelling interview. Less insightful is a new talk with Natasha Henstridge, who praises the series for launching her career, but is decidedly light on anecdotes about filming either picture or working with her respective cast members. Another new featurette boasts special effects creator Steve Johnson discussing his work on both movies, while more graphic FX footage is included in workprint form from Johnson's personal archive. Carried over from the DVD are eight minutes of unused scenes and a commentary with Peter Medak, plus the trailer and still galleries.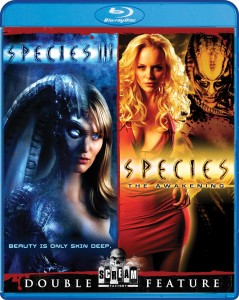 "Species II" grossed less than a third of the original, making it no surprise that SPECIES III (**, 112 mins.) went right to video in 2004. This made-for-video entry has been combined with "Species IV" in a separate, Double Feature Blu-Ray from Scream, and while it isn't much to write home about, it does boast a cameo by Natasha Henstridge and, in spite of its humble origins, is at least superior in terms of storytelling than its theatrical predecessor.
This time out, Sunny Mabrey stars as "Sara," the now-grown daughter of Eve (Henstridge), who seeks to repopulate her species by taking over the planet Earth. As with the previous films in this series, the military (along with scientist Robin Dunne) try to stop the deadly, serpentine-like alien queen from her nefarious plans, though not until a few steamy sex scenes and adequate special effects offer a bit of small-screen razzle- dazzle.
Writer Ben Ripley and director Brad Turner's production went straight to the Sci-Fi Channel (before it was Syfy), though nearly a half-hour of material was added for the home video version. Running 112 minutes and with a few shots of added gore and nudity, "Species III" isn't anything out of the ordinary, but it's not bad for what it is: an easily forgettable, modestly entertaining TV-film with some unrated sex and violence.
Shout's Blu includes a good looking 1080p (1.78) transfer plus extras from the DVD: commentary from Turner, Ripley, and Dunne, along with four Making Of featurettes ("Alien Odyssey: Evolution, Species DNA, Alien Technology, and Intelligent Lifeforms"), and the trailer.
Ripley returned to write SPECIES: THE AWAKENING (103 mins., 2007), which sports Helena Mattson as a college professor who finds out, she, too, is another clone from the original Sil/Eve line. Ben Cross co-stars in a watchable continuation of the franchise, which culminates in the most definitive ending of the series – appropriate as the "Species" brand has lay dormant since. Shout's Blu here includes interviews with director Nick Lyon and Helena Mattson, along with a 1080p (1.78) transfer and 5.1 DTS MA sound.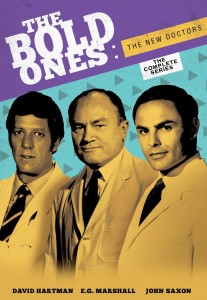 Also New From Scream Factory: Craig William MacNeill's disturbing THE BOY (110 mins., 2015, Not Rated) comes to Blu-Ray next week from Scream. This is not the recent STX release of the same name, but rather a bleak portrait of a father (David Morse) who operates a hotel along with his son (Jared Breeze), who isn't only bored but may also be a psychopath. Fairly slow going stuff but worth a look for its performances. Shout's Blu includes behind the scenes footage, a 1080p (1.78) transfer and 5.1 DTS MA sound…Scream also brings NARCOPOLIS (96 mins., 2015, Not Rated) to Blu-Ray in March. Set in 2024, "Narcopolis" looks at a world where drugs have been legalized, and co-stars Elliott Cowan and Jonathan Pryce. Shout's Blu includes a commentary from writer/director Justin Trefgame; a deleted scene, the trailer, a behind the scenes segment, a 1080p (2.35) transfer and 5.1 DTS MA soundtrack.
Coming on DVD this week from Shout is THE BOLD ONES: THE NEW DOCTORS (33 hours, 1973), the complete series starring E.G. Marshall as a doctor working with assistants David Hartman and John Saxon at the David Craig Institute of New Medicine, where cutting-edge science and modern-day ethics made for a robust network drama. The only series in the rotating "The Bold Ones" anthology program to air throughout its 1969-73 run, all 43 episodes of "The New Doctors" has been collected by Shout in a nine-disc set. The Universal-licensed transfers are in good shape, and an crossover episode from "Ironside" is on-hand for good measure.
---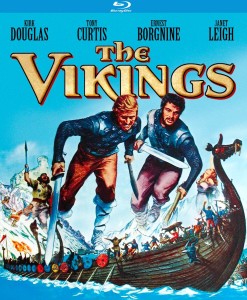 New Kino Lorber Studio Classics
THE VIKINGS Blu-Ray (***½,, 116 mins., 1958): Before "Conan," before "Gladiator," before sword-and-sandal epics were as bland as "Exodus: Gods and Kings," there was "The Vikings" – Kirk Douglas' 1958 production that provides rousing, colorful entertainment with larger-than-life characters and action that enthralled a generation of kids back in its day, and can now attract new viewers through Kino Lorber's terrific Blu-Ray, streeting March 8th.
Yes, it's true that Richard Fleischer ended up directing "Conan The Destroyer" and "Red Sonja," but back when he was in his prime, he handled action classics like "The Vikings" and "20,000 Leagues Under The Sea." In fact, "Vikings" gives you pretty much everything you could imagine from an action epic: a brutal sibling rivalry between tough Kirk Douglas and fairer half-brother Tony Curtis, both vying for the affections of princess Janet Leigh and, ultimately, the throne of England in the process. Jack Cardiff's Technirama cinematography is a must in scope and the MGM-licensed 1080p (2.35) transfer offers a crisp, colorful presentation of the original widescreen aspect ratio, while Mario Nascimbine's rousing score sounds as good as can be expected in its original mono (DTS MA) recording. The transfer looks a bit dated but generally offers pleasing detail – short of a 4K restoration, this presentation is as good as we're likely to see.
Kino Lorber also carries over the original MGM DVD featurette chronicling the film's production, boasting comments from director Fleischer. The original trailer is also included – making this Blu-Ray for a must for the film's fans.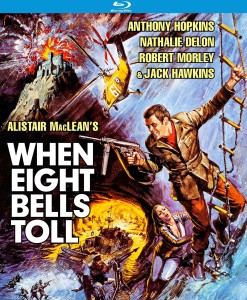 THE WAR BETWEEN MEN AND WOMEN Blu-Ray (**½, 104 mins., 1972, PG): Perpetually underappreciated, Barbara Harris worked with Jack Lemmon on a pair of '70s romantic comedies – one of which hits Blu-Ray for the first time this month from Kino Lorber.
"The War Between Men and Women" is a competent and engagingly performed domestic comedy about an aging cartoonist (Lemmon) losing his sight but gaining a reluctant appreciation for the opposite sex, which he has mostly lampooned in his comedic animations. Harris is the divorced mom who falls for the curmudgeonly Lemmon, and the duo work out their differences even when her ex-husband (Jason Robards) reappears on the scene.
Director Melville Shavelson and co-writer Danny Arnold were inspired by James Thurber's works, incorporating elements of his personal life and drawings (including an adaptation of "The Last Flower") in the picture with several animated sections included for good measure. The movie isn't anything remarkable – it's a standard early '70s family comedy with some PG-level profanity, as well as a Marvin Hamlisch score undermined by a poky synthesizer – but it's good fun with Lemmon and especially Harris in fine form.
Like most CBS catalog titles on Blu-Ray, the film looks strong in Kino Lorber's Blu-Ray with a 1080p (1.85) transfer, seemingly sourced from the same elements as CBS' recent DVD edition. [Available March 22]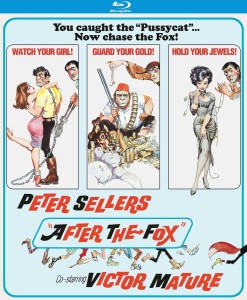 WHEN EIGHT BELLS TOLL (**½, 94 mins., 1971, GP): Intended to start a franchise centering around star Anthony Hopkins' Philip Calvert – a British secret service agent taking down pirates along the Irish coast – "When Eight Bells Toll" sputtered and failed to muster much of an audience. Nevertheless, this slick Alistair MacLean adaptation is a lot of fun in spite of its narrative clunkiness, with Hopkins attempting to fill the shoes of a "Coast Guard James Bond" with terrific widescreen cinematography (partially filmed in Scotland) and engaging in fisticuffs with the locals. Robert Morley, Nathalie Delon and Jack Hawkins co-star in the Rank production from producers Elliott Kastner and Jerry Gershwin, who all hoped a Calvert series would materialize (which it didn't, not even with MacLean here adapting his novel). Kino Lorber's Blu-Ray has been sourced from a smashing 2K Pinewood restoration, preserving the film's Panavision cinematography in spectacular clarity. A DTS MA mono soundtrack is also included – recommended for all '70s spy enthusiasts!
COP Blu-Ray (**½, 110 mins., 1988, R): One of several late '80s James Woods vehicles, "Cop" attempted to give its star a gritty police procedural in which he could hone his talents. Based on a James Ellroy novel, Woods here plays Lloyd Hopkins, a tough, no-nonsense detective who won't let anything stop his investigation of a killer preying on young women – many, in fact, as Hopkins' investigation extends back over a decade. Woods produced "Cop" with writer-director James B. Harris, a producer who worked with Stanley Kubrick and later directed a handful of films, including "Fast Walking" (1982) with Woods. "Cop" is not one of Woods' best films – the story is contrived and strains for exploitive effect – but it is one of his more memorable performances, being tailored perfectly for his on-screen persona. Harris' commentary graces Kino Lorber's Blu-Ray along with the trailer, a decent 1080p (1.85) MGM licensed transfer and DTS MA stereo audio.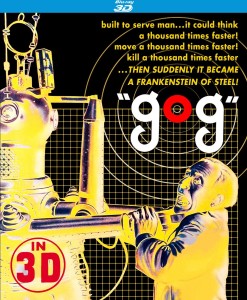 AFTER THE FOX Blu-Ray (**½, 103 mins., 1966): One of Peter Sellers' numerous box-office flops, the breezy "After the Fox" finds the comic genius as an Italian criminal mastermind who's sprung out of prison, just in time to steal a shipment of gold bullion en route from Cairo. Sellers' Aldo Vanucci – aka The Fox – subsequently pretends he's a movie director, casting an aging leading man (Victor Mature) as well as his own, young sister (Britt Ekland) as a ruse for his true intentions. This United Artists production was written by Neil Simon – his first screenplay credit – and directed by Italy's Vittorio De Sica, an unusual marriage that led Simon to comment that the funniest material from the film was left overseas on the cutting room floor. While it's certainly not laugh-out funny, "After the Fox" is still an enjoyable romp from its era, shot in widescreen and graced with an amusing Burt Bacharach soundtrack (Italian prints apparently carried a different score by Piero Piccioni). MGM's master contains some nicks and scratches but is generally satisfying with its clear high-def detail (2.35). Extras include the trailer and screenwriter Larry Karaszewski offering his comments via a Trailers From Hell segment.
GOG Blu-Ray (**, 85 mins., 1954): Nostalgic 3-D fun is on tap in this latest restoration of an archival stereoscopic experience courtesy of Robert Furmanek and the 3-D Film Archive. "Gog" stars Richard Egan as an agent at a top-secret government base where a pair of scientists have been frozen to death. Responsible are early forms of artificial intelligence, including the robots Gog and Magog, working alongside nefarious computer NOVAC. Writer-director Herbert L. Strock shot "Gog" reportedly on just a pair of sets at the Hal Roach Studios, resulting in a claustrophobic experience that's pretty static in nature. Still, '50s sci-fi fans will find sufficient entertainment here, especially if you have a 3-D set-up to appreciate the movie's original, three-dimensional cinematography. That component plays off extremely well in Kino Lorber's Blu-Ray, sporting a brand new 3-D transfer (1.66) with DTS MA audio. An insightful commentary from Furmanek and genre authorities Tom Weaver and David Schecter is included along with a restoration demo, the trailer, and a 2003 interview with Strock.
VICTORIA Blu-Ray (138 mins., 2015; Adopt Films): An impressive technical exercise, Sebastian Schipper's German experiment provides a look at a bank robbery in real time – and by that we're talking real time…as in one continuous take! The title character in "Victoria" is a young Spanish woman who becomes wrapped up with four Berliners outside a night club, and unknowingly becomes involved in a bank robbery. What transpires from there is captured by Schipper and cinematographer Sturla Brandth Grovlen in a staggering cinematic experience that's more interesting from a filmmaking angle than a storytelling one, making it a worthwhile view for buffs. Adopt Films' Blu-Ray includes a solid transfer, Dolby Digital stereo sound, and streets March 8th.
---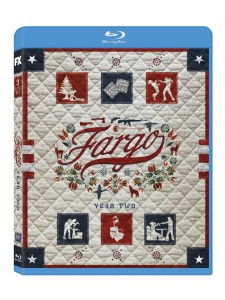 Also New & Noteworthy
FARGO – Season 2 Blu-Ray (532 mins., 2015; Fox): Season 2 of the FX series "Fargo" manages to be even more outstanding than its predecessor. Set decades before the events of the first season, writer-producer Noah Hawley retells the battle between a Fargo crime family, the Gerhardts, and a large Kansas City syndicate, looking to take over their business. Inbetween the fireworks is a local Minnesota couple (Kirsten Dunst and Jessie Plemons), who inadvertently become wrapped up with the Gerhardts – and, in particular, the death of their youngest son. While the duo get in too deep trying to cover for their actions, state trooper Lou Solverson (Patrick Wilson as the younger incarnation of Keith Carradine's role from the first season) is hot on the trail of both cases, though tragedy and unhappy endings are on tap for most of the series' participants.
There's blood, mayhem, '70s fashions, Bruce Campbell as Ronald Reagan, surprising comedy and the occasional appearance of Close Encounters-era UFOs in "Fargo"'s second season, which manages to more confidently break from the loose structure of the original 1996 Coen Brothers classic and carve out its own identity as one of the boldest, most entertaining shows on television. Fox's Blu-Ray is a three-disc set featuring all 10 episodes with assorted extras, 1080p (1.78) transfers and 5.1 DTS MA soundtracks.
MACBETH Blu-Ray (113 mins., 2015, R; Anchor Bay): Drab new filmization of the Shakespeare play – adapted by Todd Louiso, Jacob Koskoff and Michael Lesslie – at least offers a cinematic stage for stars Michael Fassbender (the title character) and Marion Cotillard (his ambitious wife). The duo generate chemistry together in an otherwise disappointing film that's unattractively staged and shot. Anchor Bay's Blu-Ray includes a featurette, Q&A with Fassbender, 1080p (2.35) transfer and 5.1 DTS MA sound plus a digital copy.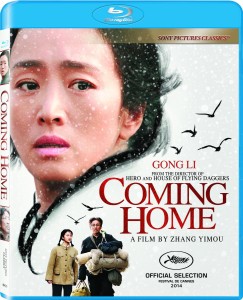 COMING HOME Blu-Ray (109 mins., 2015, PG-13; Sony): The latest film from Zhang Yimou, director of "House of the Flying Daggers," stars Gong Li as a woman who's forced to separate from her husband (Chen Daoming) after he's arrested and sent to a labor camp during the Cultural Revolution. When he eventually gets home, he finds his wife has amnesia and can't remember him. "Coming Home" is a leisurely paced and moving romantic drama that represents something quite different for the director, and works primarily because of the chemistry between its stars. Sony's Blu-Ray includes a director commentary, a Toronto Film Festival Q&A, 1080p (2.39) transfer and 5.1 DTS MA sound in Mandarin with English subtitles.
LOST IN HONG KONG Blu-Ray (114 mins., 2015; Well Go USA): Sequel to China's highest grossing film (at least until Stephen Chow's new "The Mermaid" just passed it) brings Xu Lai back as a would-be artist trying to find his old girlfriend while trying to stay paces ahead of his baby-desiring wife and wacky brother-in-law. Comic shenanigans given the high-def treatment from Well Go in their Blu-Ray, out this week with a 1080p transfer, 5.1 DTS MA audio (Mandarin with English subtitles), a Making Of, the trailer, and a blooper reel.
STRIKE BACK: Season 4 Blu-Ray (480 mins., 2016; HBO): The fourth and final season of the Cinemax series again pairs Michael Stonebridge (Philip Winchester), the British soldier with U.S. Delta Force operative Damien Scott (Sullivan Stapleton), here working a missing persons-case in Bangkok. HBO's Season 4 Blu-Ray offers four "Production Recon" featurettes, six "How to Strike Back" segments, a digital copy, vivid 1080p transfers and 5.1 DTS MA soundtracks.
---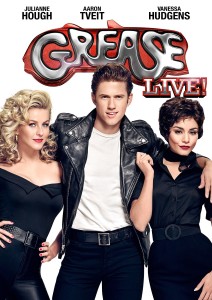 New On DVD
GREASE LIVE! DVD (132 mins., 2016; Paramount): Live-TV musicals have suddenly become popular again over the last couple of years, but none can touch the spirited staging and overall entertainment value of "Grease Live!," which aired to universal acclaim and massive ratings on Fox just a few weeks ago. Brilliantly choreographed and staged, "Grease Live!" brings the stage musical – with some of its filmic alterations/enhancements – to a new generation of viewers, offering the same tuneful songs and appeal of its source material. Unlike NBC's static presentations of "The Sound of Music" and "Peter Pan," the direction on "Grease Live!" was also backed by a studio audience (totaling in the hundreds) and is so inventively designed – with sets flowing from one to another – that it's truly in a class of its own. Highly recommended! Paramount's DVD includes a number of featurettes, a 16:9 transfer and 5.1 sound.
Also new from Paramount on DVD is DRUNK HISTORY SEASON 3 (273 mins., 2015), the comically revisionist Comedy Central series offering 13 new episodes, shot around the country with host Derek Waters and an A-list cast. Paramount's DVD also includes five "unblurred" episodes, deleted/extended scenes, bloopers, 16:9 transfers and 5.1 soundtracks….CAPTURE THE FLAG (97 mins., 2015, PG) is a better than average animated film (produced in Mexico) about a 12-year-old boy who decides to honor his family's astronautical heritage by stopping a billionaire who wants to destroy the American flag planted on the moon by Apollo XI astronauts. Wild fantasy fun with a nice Diego Navarro score, new on DVD this week from Paramount offering a 16:9 transfer and 5.1 Dolby Digital sound.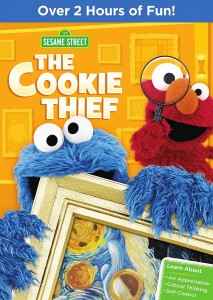 THE COOKIE THIEF DVD (126 mins., 2016; Warner): When Cookie Monster is wrongly accused of stealing artwork at the esteemed Museum of Modern Cookies, Detective Elmo and company (including special guests Rachel Dratch and Terry Crews) try to clear his name in this highly entertaining Sesame Street confection. Warner's DVD offers the entire "Cookie Thief" – which delighted our near-two year old – along with the "Cookie Hood" episode and "Elmo's World: Drawing" on a single disc with stereo sound.
THE SPOILS OF BABYLON DVD (138 mins., 2014; Anchor Bay): Nutty, uneven but occasionally funny spoof of '70s TV mini-series is introduced by author "Eric Jonrosh" (Will Ferrell), who spins his vaguely Alex Haley-ian tale of the Morehouse family, including patriarch Jonas (Tim Robbins), daughter Cynthia (Kristen Wiig) and their adopted son (Tobey Maguire). Anchor Bay's DVD includes a 16:9 (2.40) transfer and 5.1 Dolby Digital sound; a Blu-Ray release is available outside North America.
INTRUDERS DVD (90 mins., 2014, R; Momentum/E One): Beth Riesgraf stars in this Adam Schindler-directed thriller as an agrophobic young woman whose condition leads to psychosis – not the worst thing in the world once a group of criminals breaks into her home. Rory Culkin, Martin Starr and Jack Kesy co-star in this independent picture, now on DVD from Momentum featuring a 16:9 (2.40) transfer and 5.1 Dolby Digital sound.
DUDES & DRAGONS DVD (114 mins., 2016; Momentum/E One): James Marsters stars in this sword-and-sorcery spoof from writer-directors Stephen Shimeka and Maclain Nelson as an not-entirely-evil wizard trying to get rid of love in his kingdom though magic. A group of warriors from different parts of the universe team up to stop him in this engaging low-budget affair, brought to DVD this week from E One sporting a 16:9 transfer, 5.1 sound, deleted scenes, bloopers, and featurettes.
NEXT TIME: THE HAWAIIANS and Twilight Time's latest releases! Until then, don't forget to drop in on the official Aisle Seat Message Boards and direct any emails to our email address. Cheers everyone!