The easy-going charm of James Garner carried the breezy SUPPORT YOUR LOCAL SHERIFF (93 mins., 1969), a United Artists western parody that may not have grilled the genre as sharply as Mel Brooks' later "Blazing Saddles," but comes off today as a genial vehicle for its charismatic star.
Garner's '60s filmography alternates between romantic comedies, war pictures and westerns, the latter including memorable turns in "Hour of the Gun" and "Duel at Diablo." This made Garner perfectly suited for the entertainment generated in Burt Kennedy's "Sheriff," with Garner portraying a bemused man who takes up the job of marshaling a rowdy and rough western town. Nobody wants to clean up its mess, there are no takers to deal with the resident psycho (Bruce Dern) and Garner has to sweet talk a disinterested local (Jack Elam) into becoming his deputy. There's also a female lead (Joan Hackett), the daughter of a town councilman (Harry Morgan), who spars with Garner's hero, who himself just wants to get back on the road he was initially traveling on – to Australia.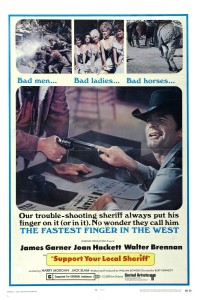 William Bowers wrote and produced "Support Your Local Sheriff," which co-stars Walter Brennan in a film that was acclaimed upon its initial release and led to a follow-up in 1971. Note I didn't write sequel, because SUPPORT YOUR LOCAL GUNFIGHTER (92 mins.) isn't one – in fact, this curious effort "recycles" elements from its predecessor, including much of the cast, in a not-quite-as-freewheeling comedy that finds Garner as a con man who walks into a town and comes between various inhabitants, several of whom are sparring over the discovery of gold. Playing both sides, he falls for the daughter (sounds familiar, even though this time the role is filled by Suzanne Pleshette) for one of the mining men (Harry Morgan) in a film that just doesn't have the infectious spirit of its predecessor, despite most of the major participants – including director Kennedy – being reunited.
Both films have been combined on a single Blu-Ray this month by Twilight Time. The transfer on "Sheriff" seems freshly mastered, offering clear detail and a lack of DNR. "Gunfighter" is more than serviceable but looks to be culled from an earlier MGM master by comparison, featuring a little less detail. DTS MA mono sound and isolated score tracks feature the lively if not particularly memorable scores by Jeff Alexander ("Sheriff") and the tandem of Jack Elliot and Allyn Ferguson ("Gunfighter"). Extras include a commentary with historians Lee Pfeiffer and Paul Scrabo on "Sheriff" plus trailers. (Ratings: *** for Sheriff, **½ for Gunfighter)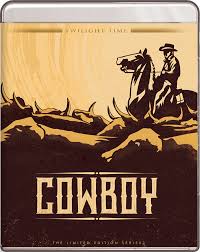 Another sagebrush saga is on-tap this month from Twilight Time: Delmer Daves' offbeat COWBOY (**½, 92 mins., 1958), a Columbia production about a hotel clerk (Jack Lemmon) who seeks to become part of a cowboy clan presided over by veteran cattleman Glenn Ford. This decidedly un-romantic, "realistic" effort was scripted by Edmund H. North from Frank Harris' autobiographical memories, and while I wasn't entirely enamored with the film, it's worth a viewing for western enthusiasts due to its supposedly more accurate, harsher take on the real life of cowpokes in an increasingly modern West. George Duning's superb score is one of the film's strongest elements, and is isolated in Twilight Time's Blu-Ray. The 1080p (1.85) AVC encoded, Sony-licensed transfer is satisfyingly crisp, with the trailer and a group commentary from TT's Julie Kirgo, Nick Redman and Paul Seydor offering ample historical insight into the picture.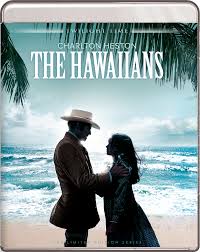 Following Twilight Time's release of "Hawaii" a month ago comes the movie's 1970 sequel, THE HAWAIIANS (***, 134 mins., PG), a sturdy if decidedly less cinematically inspired follow-up that adapts later material from James Michener's sprawling bestseller – the chapters director George Roy Hill's 1966 film couldn't get to.
Charlton Heston receives top billing here as captain Whip Hoxworth, navigating Hawaii's blooming plantations some four decades after the events of its predecessor. The real star, though, is Tina Chen as a Chinese servant girl who marries a fellow traveler (Mako) to the new world and subsequently works on Hoxworth's plantation, just as the pineapple is introduced into native cuisine.
James R. Webb's script is understandably episodic as the picture recounts the life of Chen's Nyuk Tsin, representative of Hawaii's vast immigrant experience. Director Tom Gries has neither the sense of scope as his predecessor Hill did, nor a strong filmmaking point of view: at times "The Hawaiians" feels like a more expensive TV-movie of the Week, albeit one shot in scope, than the original "Hawaii." Nevertheless, the performances are strong (Geraldine Chaplin co-stars as Hoxworth's wife, who grows increasingly deranged), and Michener's central plotting is compelling enough to keep you glued through to its satisfying ending.
Clearly derived from a much more recent master than "Hawaii," Twilight Time's Blu-Ray of "The Hawaiians" features an elegant and superbly rendered 1080p (2.35) AVC encoded presentation. Lucien Ballard and Philip Lathrop's widescreen lensing is beautifully represented here, and the clear DTS MA mono sound houses a lovely Henry Mancini score. Often overlooked in comparison with Elmer Bernstein's highly regarded score from its predecessor, Mancini's outing includes one of his strongest main titles, and is also isolated here in mono. The original trailer caps the disc.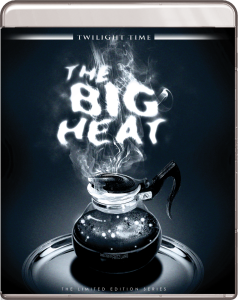 Making a return to Blu-Ray in an "Encore Edition" 3,000 copy release, Fritz Lang's THE BIG HEAT (***½, 89 mins., 1953) is – for film noir fans – a crackerjack thriller that never ceases to disappoint.
Glenn Ford plays the dogged (and, at times, almost too determined) cop who, upon investigating the apparent suicide of a fellow police officer, finds out that corruption exists at nearly every level in his county, all of it stemming from a local crime boss named Mike Lagana (Alexander Scourby) calling the shots. Lagana's web extends down to Ford's own bosses, hindering an investigation that takes the family man down a dark path at a personal cost to his own wife (Jocelyn Brando) and the women who aid him in his pursuit of justice, including Gloria Grahame in a fine performance as one of the gangster's molls.
"The Big Heat" is sensationally entertaining for its genre, and also extremely, notably nasty to virtually all of the film's female leads. The ladies in Sydney Boehm's screenplay are burned, scarred, murdered and blown up – a litany of body bags that accentuates the horror of the film's villain, who also uses a henchman played by a young Lee Marvin to carry out the unpleasantness. Ford's alternately earnest and tough delivery makes his detective sympathetic to a degree, though his almost fanatical desire to see justice carried out ends up making his misery something of his own personal doing.
Lang's visuals – in particular his trademark use of shadows – bring the punchy material to life in a film that deservedly ranks among the best of its genre, and it's certainly one of the more memorably violent pictures of the '50s as well.
Twilight Time's Blu-Ray boasts a crisp 1080p (1.33) AVC encoded transfer layered with fine grain and detail. This is one of those titles you ought to drag out as a demo disc for any friends who don't think there's anything to be gained from watching old black-and-white movies in HD. The full-bodied DTS MA mono audio is effective as well – sounding almost stereophonic at times – while an isolated score track of Henry Mars' efficient underscoring (credited to Mischa Bakaleinikoff) and the trailer are also included.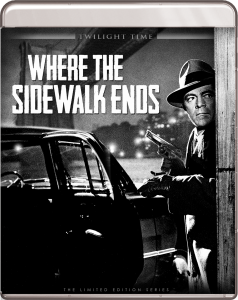 For new extras, this 2nd Blu-Ray of "The Big Heat" boasts a fresh commentary by Lem Dobbs, Julie Kirgo and Nick Redman, along with a pair of featurette interviews sporting recollections from admirers Martin Scorsese and Michael Mann, respectively.
Also worth a look for film noir fans is Twilight Time's debut Blu-Ray of the 1950 Fox production WHERE THE SIDEWALK ENDS (***, 95 mins.), a reunion between "Laura"'s director, Otto Preminger, and its starring tandem of Dana Andrews and Gene Tierney. This decidedly different, atmospheric tale scripted by Ben Hecht finds Andrews as a tough, uncompromising cop who accidentally kills a man – and then gets into too deep during the cover-up. Historian Eddie Muller contributes an audio commentary on Twilight Time's attractive Blu-Ray, housing a splendid 1080p (1.33) B&W transfer, the trailer, and an isolated score track.
Finally, LA BAMBOLA DI SATANA (90 mins., 1969) is something different for Twilight Time: an Italian "giallo" directed by Ferruccio Casapinta, wherein a young woman (Aurora Batista) finds out that she's inherited an old castle and its surroundings – but with the news comes a series of visions and attacks on her life from someone who wants her dead. Old-fashioned "giallo" thrills for genre enthusiasts in Twilight Time's Blu-Ray, which includes a 1080p (1.85) transfer, a music/effects track, and commentary from horror experts David Del Valle and Derek Botelho.
---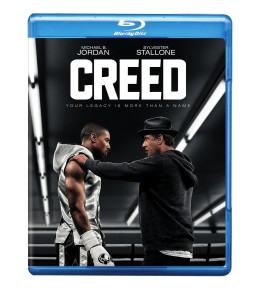 New & Noteworthy
A smart, exciting variation on the "Rocky" formula, CREED (***, 133 mins., 2015, PG-13; Warner) stars Michael B. Jordan as the illegitimate son of champion boxer — and Rocky Balboa's chief rival — Apollo Creed. Despite having been sent to the best schools and anchoring a financial job, something continues to eat away at Jordan's "Adonis Johnson", leading him to quit his desk job and head to Philly to train full-time. There, he meets none other than Sylvester Stallone's Rocky, still managing Adrian's restaurant but reluctant to return to the sport on even a managerial level. Eventually, Rocky is worn down after realizing Adonis is indeed the son Apollo never knew he had, and agrees to tutor the talented young Creed, whose brashness is matched by his sheer athleticism — and also inexperience — in the ring.
Director Ryan Coogler and his co-writer Andrew Covington take the same blueprint that served Stallone so well for six "Rocky" installments and have applied it to a new film that feels as fresh as it is familiar. Coogler captures the Philly street locales in a way that recalls Stallone and John G. Avildsen's 1976 original classic, while Ludwig Goransson's surprisingly impressive score gives the film a muscular, at times thundering orchestral presence with occasional flourishes of Bill Conti's original "Rocky" themes flowing in and out of the movie. Johnson is strong as the young Creed, Tessa Thompson (from Veronica Mars) is likeable as the requisite love interest, and Phylicia Rashad is perfect, making the most of her scenes as Apollo's widow, who took in a troubled Adonis when he was a teenager. However, it's Stallone himself who steals the show, giving an appealing, nuanced and downright touching performance that has some talking about an unlikely Oscar candidacy in a film he produced but left the writing and directing chores up to others — a smart tactic that's enabled the star to give one of the warmest performances of his career.
"Creed" isn't entirely perfect — its main drawback is that the "Rocky" formula relied so much on the underdog element that it's difficult to position the young, privileged Creed as a kid with all the odds stacked against him like the elder Balboa. Maybe that's part of the point, but because Adonis' journey is more personal and internally driven, it creates a bit of a distance between the viewer and the character that didn't exist with Rocky.
Nevertheless, once Coogler introduces some emotional elements into the film's final third, it's hard not to find yourself rooting for the upstart boxer — and when Conti's majestic theme is brought in after being held back in the shadows, "Creed" delivers the knockout.
Warner's Blu-Ray combo pack of "Creed" includes deleted scenes, a pair of featurettes, a 1080p (2.40) transfer, 7.1 DTS MA audio and a digital HD copy.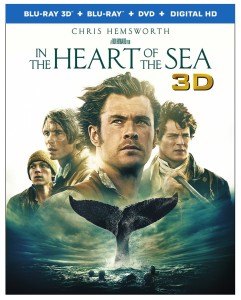 IN THE HEART OF THE SEA 3D Blu-Ray Combo Pack (**½, 122 mins., 2015, PG-13; Warner): A movie that will go down as one of director Ron Howard's biggest flops, the flawed yet watchable "In the Heart of the Sea" is, if nothing else, far from one of Howard's worst films (we'll leave that designation for the likes of "EdTV," "The Grinch" and "The Dilemma").
Still, this is a not particularly inspired adaptation of Nathaniel Philbrick's non-fiction bestseller, retelling the nightmare voyage of a Nantucket whaling boat, the Essex, which set sail in 1820 and ran into a monster of the deep that took a toll on the entire crew. Howard and screenwriter Charles Leavitt reworked Philbrick's novel so that it nearly plays out like a 19th century version of "Orca," the white whale destroying the Essex – after captain Chris Hemsworth nearly takes out a mama with her calf – and then plaguing them further as the survivors attempt to stay alive on the open ocean.
Told in flashback – to negligible dramatic effect – by one of the aged crewmen (Brendan Gleeson) to a young, future "Moby Dick" author Herman Melville (Ben Whishaw), "Sea" boasts some exciting interaction between the Essex crew and the whale, with Howard doing a strong job with that component of the story. Less successful is its uneven second half, wherein the depleted Essex crew resort to extreme measures to stay alive – as well as the movie's overall visual scheme. Shot mostly on CGI-articulated sets, the computerized look of the film is at odds with its Man Vs. Nature setting, and the lack of a real, physical production results in a movie that's technically unconvincing – especially when compared with the likes of "The Revenant," where its entire setting provided so much of its appeal.
"Sea" is still reasonably entertaining for what it is, but its meandering dramatic focus, overly stylized look and a weak ending understandably sealed its fate as one of 2015's biggest box-office casualties.
Warner's 3D combo pack looks good, at least, and 3D is the way to go here, seeing as the stereoscopic presentation offers some in-your-face pop-up effects the flat 2D version lacks. Extras include deleted and extended scenes (featuring a more poetic, satisfying ending), several featurettes, and best of all, a full, 30-minute independent documentary (presented in HD) about the Essex captain's later, deadly sojourn in Hawaii. A DVD and digital copy are also included. The 1080p (1.85) transfers are all technically superb and Dolby Atmos/TrueHD audio is constantly active.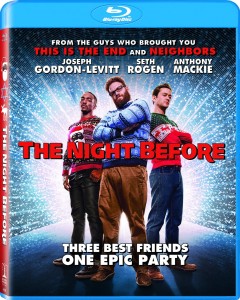 THE NIGHT BEFORE Blu-Ray Combo Pack (**½, 101 mins., 2015, R; Sony): Seth Rogen, Joseph Gordon-Levitt and Anthony Mackie play best friends since childhood who still gather together each Christmas Eve for a reunion. Time, though, has altered the dynamic between them, and as each decides to move onto more adult pursuits, the trio decide to hold one last Christmas Eve and find the elusive "Nutcracka Ball," the supposedly secret end-all-be-all of Christmas parties.
This latest "stoner comedy" from producer Rogen – whose writing partner, Evan Goldberg, co-wrote and produced with director Jonathan Levine – didn't make a whole lot of noise in theaters last December, even as counter-programming to "Star Wars." Perhaps it's because the well-worn premise has been handled in other, funnier films (even the "Harold & Kumar" comedies packed more laughs), or that Rogen has played this tune too often by now. Either way, "The Night Before" isn't entirely without merit, as female leads Lizzy Caplan, Jillian Bell and Mindy Kaling do generate a few guffaws, and Michael Shannon is likewise amusing in a very atypical comic turn.
Sony's Blu-Ray includes format-exclusive deleted scenes and featurettes, plus a Making Of, 1080p (2.40) transfer, 5.1 DTS MA sound, a digital HD copy and other goodies.
---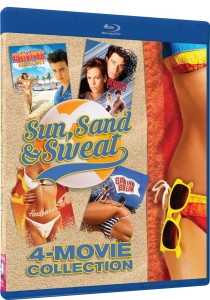 Mill Creek New Releases
A series of new Blu-Rays from Mill Creek include the four-movie, two-disc Blu-Ray anthology SUN, SAND & SWEAT – a compilation boasting four Columbia comedies from the mid '80s.
After drumming up loads of business with "Friday the 13th," shlock-meister Sean S. Cunningham turned his attention to the teen sex comedy genre, which hit its '80s apex with "Porky's" — a movie that surely lead to the production of Cunningham's 1983 opus SPRING BREAK (**½, 101 mins., R), with Perry Lang and David Knell as two college students who head down to Ft. Lauderdale for surf, sand, and babes galore.
This innocuous and watchable '80s comedy isn't any great shakes but it certainly isn't any worse than today's more offensive and graphic fare along similar lines. Even better, the 1080p (1.85) AVC encoded transfer is sunny and splendid, offering lots of high-def detail, all the better to soak up the movie's abundant female eye candy.
Another genre entry that performed well at the box-office during the era was Mark Griffiths' HARD BODIES (**, 87 mins., 1984, R), a frivolous look at young-stud Grant Cramer tutoring middle-aged losers how to score with chicks, which is combined on the set's first disc with PRIVATE RESORT (*½, 82 mins., 1985, R).
Not one of the more fondly-remembered '80s teen romps, "Private Resort" is best known now for its early starring appearances of Rob Morrow and Johnny Depp, who play a couple of young guys trying to score at a Florida resort. This 1985 Tri-Star release runs a bit over 80 minutes and is pretty much a by-the-numbers clone of "Porky's" and other films of its era, minus a story or developed characters. In fact, everything in this George Bowers effort is cardboard and cliched, wasting even the talents of Hector Elizondo as a jewel thief who runs afoul of our heroes. It's sunny, silly, and instantly forgettable, and likely would never have warranted a re-issue had Depp not received a prominent starring role.
The good news, at least, is that Mill Creek's 1080p transfers are aces on both movies, boasting appreciable detail over their last DVD release thanks to strong AVC encoded (1.85/1.78) transfers. Dolby Digital mono sound is included on all three of the above films.
Finally there's PERFECT (**, 120 mins., 1985, R). Ready for some '80s nostalgia? If not, you'd better skip this Summer '85 Columbia release that marked yet another career-killer at the time for John Travolta — at least until "Look Who's Talking" come around a few years later. "Perfect" is a campy bad movie that was seriously marketed at the time of its release for its probing look into aerobic exercise, plastic surgery, and the image of perfection. Travolta plays a Rolling Stone reporter who delves undercover to expose health clubs — its members and their sexual escapades — and naturally falls in love with an instructor (Jamie Lee Curtis at her best), who informs Travolta "what's wrong with being perfect? What's wrong with wanting to be loved?"
James Bridges produced, directed and co-wrote (with Aaron Latham) this dated but highly watchable slice of '80s cheese, shot in Panavision by Gordon Willis and scored by Ralph Burns — with a predictable plethora of forgettable rock songs comprising most of the soundtrack.
Columbia previously released the anamorphically-shot "Perfect" on DVD in 2002 in a terrible 1.33 crop-job. The transfer in the "Sun, Sand & Sweat Collection" is, sadly, the weak link of the lot, having two major issues: first, it's also cropped (here to 1.78 from its original 2.35 aspect ratio), but arguably even worse, it appears to be in standard-definition, or at least dates from a source so old that there's scant HD detail in the presentation at all. Either way, there's a weird filter on the image and a notable lack of high-def detail present here, making for another disappointing release of the film on home video (overseas, they at least received a 2.35 framed, proper DVD release, which looks better than this).
Though "Perfect" is anything but, this is an otherwise fun and very satisfying Mill Creek release with three solid transfers out of four. Well worth it under $10!
Three other Blu-Rays from Mill Creek offer solid presentations from the label.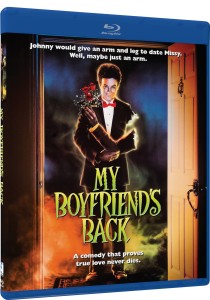 MY BOYFRIEND'S BACK (***, 85 mins., 1993, PG-13) is an enjoyable sleeper from late Summer '93 – a Touchstone comedy originally produced as "Johnny Zombie" before Disney decided to graft another pop-song onto its title (as they had countless times previously with the likes of "Taking Care of Business," "Pretty Woman," etc). Perhaps that had something to do with the film's box-office failure, though horror comedies were also a hard sell back in the early '90s, so it probably wouldn't have mattered either way (the spoof element is actually more relevant to today's zombie-dominated horror than what constituted the genre back at the time of its release).
This fun, frothy outing from director/actor Bob Balaban stars Andrew Lowery as a high schooler who becomes undead and tries valiantly to work his way back into the heart of his unrequited love ("Fright Night Part II"'s busty Traci Lind). Part of the reason "My Boyfriend's Back" works so well is because of its squeaky-clean, "Leave it to Beaver"-like suburban setting, which provides an ideal venue for the movie's deadpan humor. Add in early appearances by Matthew Fox, Philip (Seymour) Hoffman and Matthew McConaughey – plus the support of veterans Edward Herrmann, Mary Beth Hurt, Cloris Leachman, Paul Dooley and Austin Pendleton – and you have a surprisingly effective little comedy that deserved to find a larger audience.
Mill Creek's Blu-Ray looks good with a more than serviceable 1080p (1.85) transfer and Dolby Digital 2.0 stereo sound. Harry Manfredini's synth score isn't all that strong, but the sporadic pop tunes are enjoyable enough, especially the lovely closing ballad, "Hanging On For Dear Life," from"MMC," the then-hip incarnation of (yes) the Mickey Mouse Club.
Also looking good – though decidedly not as entertaining – is JUST VISITING (**½, 89 mins., 2001, PG-13), the American remake of "Les Visiteurs" with Jean Reno and Christian Clavier reprising their roles from the French hit in a movie also directed by Jean-Marie Gaubert. John Hughes co-scripted this breezy but forgettable re-do that doesn't hit the comedic heights of its source material but isn't all bad. Mill Creek's Blu-Ray boasts a Dolby Digital stereo soundtrack and a 1080p (2.35) AVC encoded transfer in decent shape, though the movie's CGI work has not aged well.
Also New From Mill Creek: the JEAN-CLAUDE VAN DAMME 5-MOVIE COLLECTION includes three big-screen Van Damme epics – "Maximum Risk," "Double Team" and "Universal Soldier: The Return" – along with "The Hard Corps" and "Second in Command." All five films have been included on two discs with decent 1080p transfers but plain Dolby Digital stereo soundtracks; fans may want to track down the individual Sony releases of several of those titles for their higher bit-rates and lossless soundtracks instead, though there's no quibble with the sub-$10 pricing…New on DVD is DINOTOPIA: THE SERIES (9 hours, 2005), the series adaptation of James Gurney's bestselling books from Robert Halmi's Hallmark Entertainment. The complete series, scored by Trevor Jones, is housed here on three discs featuring 1.33 transfers and 2.0 Dolby Digital soundtracks.
---
Warner Archive New Releases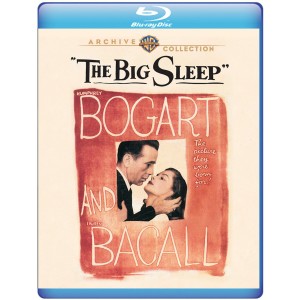 Fresh from the Warner Archive this month are no less than three B&W classics, presented in crisp 1080p transfers (4:3) with fine detail and a thankful lack of DNR manipulation.
The classics include THE BIG SLEEP (****, 114 mins., 1946), the Howard Hawks adaptation of the Raymond Chandler novel starring Humphrey Bogart as Philip Marlowe with Lauren Bacall; the 1948 reunion of Bogie and Bacall in KEY LARGO (***½, 100 mins.), the John Huston adaptation of Maxwell Anderson's play, co-starring Edward G. Robinson as mobster "Johnny Rocco"; and Alfred Hitchcock's underrated I CONFESS (***½, 94 mins., 1953), starring Montgomery Clift as a Quebec priest who becomes embroiled in a confession and a murder investigation, but refuses to lose his moral and religious compass.
All three movies look great on Blu-Ray, the trio being treated to the kind of superb high-def rendering that's become synonymous with Warner's catalog offerings. For special features, each carries over content from their prior DVDs, including "The Big Sleep"'s alternate 1945 pre-release version and scene comparisons (all in standard-def) and "I Confess"' retrospective doc, the trailer, and making of featurette.
Jungle action is on-tap in a pair of new Warner Archive DVDs. The Ivan Tors MGM production RHINO! (91 mins., 1963) stars Harry Guardino as a big-game hunter hired by zoologist Robert Culp to track down a pair of white rhinos to save them from extinction. Little does Culp know that Guardino is a professional poacher in this entertaining affair co-starring Shirley Eaton and scored – in his first big-screen outing – by Lalo Schifrin. Also new from the Archive on DVD is WATUSI (85 mins., 1958), a sequel to "King Solomon's Mines" with George Montgomery as "Harry" Quartermain, still looking for the Mines and helping a woman (Taina Elg) working at a mission that was attacked by natives. Big-screen, colorful MGM adventure scripted by James Clavell, with Warner's Archive DVD including a 16:9 (1.85) transfer, the same ratio and presentation as is afforded to "Rhino!"
Finally, GEORGE O'BRIEN WESTERN COLLECTION finds the RKO "Cowboy King" in nine of his most entertaining outings, produced in the late '30s. Warner Archive's three-disc set includes Lawless Valley (1938), Arizona Legion, Trouble in Sundown, Racketeers of the Range, Timber Stampede and The Fighting Gringo (1939); and Bullet Code, Prairie Law and Stage to Chino (1940). 4:3 B&W transfers and mono sound make for a must-have DVD anthology for western aficionados.
---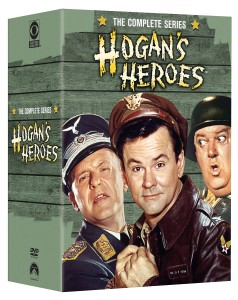 TV on DVD
Available in a Complete Series set from CBS is HOGAN'S HEROES (72 hours, 1965-71; CBS), which starred Bob Crane as Col. Hogan, who lead a motley assortment of POWs in the world's most luxurious Nazi internment camp. Among his charges were Copls. Robert Clary and Richard Dawson, Ivan Dixon's Sgt. Kinchloe, and Larry Hovis' Sgt. Carter. All helped Hogan evade the slapstick rule of Werner Klemperer's Col. Klink, who, along with his next-in-command Sgt. Schultz (John Banner), somehow managed to let the Allied prisoners come and go as they please, assist other POWs, and basically live like they were at a posh German resort.
Over the years, "Hogan's Heroes" has been pegged as an increasingly controversial show, particularly in these Politically Correct times. Of course, the CBS show was nothing but a slapstick, silly comedy, but I recall the constant battles stations that aired the show would face, even back in the '80s. One local station around these parts, WSBK-TV 38 in Boston, aired "Hogan's Heroes" nightly while I was growing up, and yet their "Ask The Manager" program was always filled with an on-going debate between viewers who found the show in bad taste, and others who loved it.
Either way you go, "Hogan's Heroes" is nothing but a ridiculous sitcom with a terrific cast and comedy writing that you're likely to find either amusing or terribly dated in a '60s sitcomish way. CBS' 27-disc DVD set includes every episode (including the original pilot). The transfers show their age a bit but are consistently good for the most part, and again, the episodes have been uncut, transferred from their full-length broadcast versions and seen here for the first time since their original network run, in both B&W and color.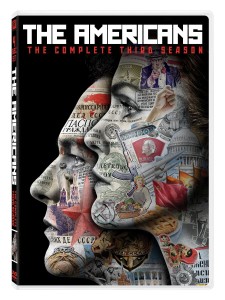 THE AMERICANS – Season 3 DVD (450 mins., 2015; Fox): One of the best shows currently on TV, FX's "The Americans" has flown largely under the radar in relation to the likes of "Homeland," yet in some ways, this rich balance of Cold War espionage thriller and domestic drama generates even deeper dramatic rewards.
Certainly both Keri Russell and Matthew Rhys are terrific as the "Jennings," a pair of Russian spies embedded in the United States circa the early/mid '80s, raising a pair of children – one of whom, daughter Paige, has conflicting emotions upon learning of their true identity. Her "recruitment" is one of the main themes in the series' third season, with Rhys' patriarch being far more sympathetic to her plight than Russell's steely Elizabeth, a cold-blooded assassin who puts country ahead of everything else – family included.
Fox's Season 3 DVD includes deleted scenes, a featurette, 16:9 transfers (1.78) and 5.1 Dolby Digital soundtracks. Highly recommended viewing, especially before Season 4 opens up on FX next week.
---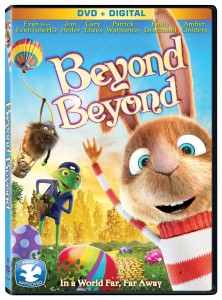 Label Wrap
Lionsgate New Releases: Drew Barrymore and Toni Collette starred in the little-released MISS YOU ALREADY (113 mins., 2015, PG-13), "Twilight" director Catherine Hardwicke's drama about a pair of friends whose relationship is put to the test when one (Collette) is diagnosed with terminal cancer. This weepy melodrama aspires – as its back cover critic quote attests – to be "Beaches for 2015," but despite the appeal of its central performances, comes off as overly contrived. Lionsgate's Blu-Ray is full of extras, including deleted scenes/optional commentary, a Making Of, music video, commentary, on-set selfies, a digital copy, 1080p (2.40) transfer and 5.1 DTS MA sound…also new from Lionsgate on Blu-Ray is DON VERDEAN (96 mins., 2015, PG-13), the latest film from "Napoleon Dynamite" and "Nacho Libre" helmer Jared Hess, which likewise received scant theatrical exhibition. This comedy stars Sam Rockwell as a "biblical archaeologist" who rolls snakeyes trying to find sacred relics in the Holy Land. Amy Ryan, Will Forte, Danny McBride and Jemaine Clement co-star in this uneven comic confection, now on Blu-Ray offering two featurettes, Hess' commentary, a 1080p (1.85) transfer, and 5.1 DTS MA sound plus a Digital HD copy.
On DVD, THE UNAUTHORIZED COLLECTION includes four made-for-Lifetime original movies taking viewers behind the scenes on '90s TV hits Beverly Hills 90210 and its spin-off Melrose Place; Saved By the Bell; and Full House. Acting that's barely serviceable makes this recommended only for fans of those respective series, though Lionsgate's DVD collection is worth a look if you're one of those, thanks to 16:9 transfers and digital copies likewise included…BEYOND BEYOND (80 mins., 2014, PG) is a Danish/Swedish-animated tale of a small bunny named Jonah who embarks on a journey with their father to find The Feather King, who knows the whereabouts of Jonah's mom. This animated offering is now on DVD including a digital copy, 16:9 (2.40) transfer and 5.1 sound…OUT OF THE INFERNO (107 mins., 2015, PG-13) is a Hong Kong import starring Sean Leau and Louis Koo as brothers who have to evacuate a burning, 125-story skyscraper on the hottest day of the year. Lionsgate's DVD includes both Cantonese audio (English subtitled) and an English dubbed track plus a digital copy.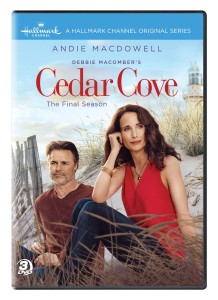 CEDAR COVE: THE FINAL SEASON DVD (511 mins., 2015; Cinedigm): The third season of "Cedar Cove" finds judge Olivia Lockhart once again trying to connect with troubled newspaperman Jack while striking up a relationship with a new prosecutor in town – all the while her daughter falls for a soldier haunted by his past. This Hallmark Channel original series started off with strong ratings but saw its audience gradually diminish by the time it ended its third season – to the point where Hallmark abruptly canceled the show, leaving a slew of subplots dangling in the air with no hope of concluding them. While fans will lament its loss, Cinedigm's DVD at least enables them to say goodbye to the Cedar Cove crew with 16:9 transfers and 5.1 soundtracks.
Also new from Cinedigm on DVD are a pair of Hallmark Channel original movies from last year. Erika Christensen stars in the enjoyable MY BOYFRIENDS' DOGS (87 mins., 2015) as a young woman who inherits her exes' assorted pooches in a romantic comedy co-starring Teryl Rothery from "Cedar Cove" and "Three's Company"'s Joyce DeWitt. "The Facts Of Life"'s Lisa Whelchel, meanwhile, stars with her old cast-mate Kim Fields in FOR BETTER OR WORSE (85 mins., 2014) as a wedding planner who finds love with a seemingly irritating divorce attorney (Antonio Cupo). Both DVDs include 16:9 transfers and 5.1 Dolby Digital soundtracks.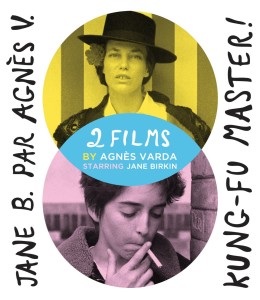 Magnolia New Releases: SUNSHINE SUPERMAN (102 mins., 2016, PG) is a documentary recounting the life of Carl Boenish, the founder of the "BASE" jumping movement, wherein he and his wife would break Guinness World Records by leaping off of impossibly tall mountains. Eventually, tragedy cut Boenish's life short, a day after he participated in a record jump televised around the world. Magnolia's Blu-Ray of "Sunshine Superman" includes the trailer, a Making Of, two short 'filmpoems' by Boenish, a 1080p (1.85) transfer and 5.1 DTS MA sound.
Cinelicious New Release: A pair of offbeat films from Agnes Varda have been released on Blu-Ray for the first time from Cinelicious. In 1988's JANE B. PAR AGNES V, Varda's collaboration with star/muse Jane Birkin results in an unusual film that Varda herself called "an imaginary biopic," while Birkin also starred in KUNG-FU MASTER! (1987), an unusual story of a woman who falls for a much younger man – or, in this case, a 14-year-old boy! The meaning of love fuels this very unusual romantic drama, one of Varda's more interesting ruminations on life and its various mysteries, and also another strong vehicle for Birkin. Cinelicious' two-disc set includes 1080p transfers, restored and approved by Varda, along with Varda interviews, an older interview with Varda and Miranda July, and an essay by Sandy Futterman-Lewis in the set's liner notes.
THE MASK YOU LIVE IN DVD (90 mins., 2015; Virgil Films): Jennifer Siebel Newsom's documentary looks at modern masculinity – not so much in any kind of sexual sense, but more how society looks down on men who show emotion and don't act like "boys" typically do. A probing and interesting look at a topical issue, showing also how young men and boys can be better shaped by tapping into all of their emotions – not just ones typically associated with males. Virgil's DVD includes a 16:9 transfer and 5.1 Dolby Digital sound.
---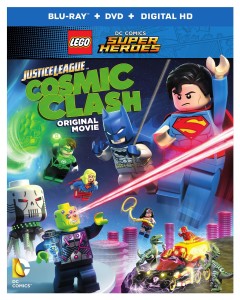 Family Finds
LEGO DC COMICS SUPER-HEROES: JUSTICE LEAGUE COSMIC CLASH Blu-Ray Combo Pack (78 mins., 2016; Warner): Brainiac is up to no good in this latest Lego original movie, wherein the Justice League – Superman, Wonder Woman, Green Lantern, Batman, The Flash, Cyborg and Supergirl – have to team up to defeat the robot menace with unbelievable power. Fast-paced humor and the colorful animation synonymous with the Lego brand dominate this feature-length adventure for kids. Warner's Blu-Ray combo pack sports a 1080p (1.85) transfer, 5.1 DTS MA sound, a digital HD copy, and a "Caught on Camera" gag reel.
LEGO STAR WARS: DROID TALES DVD (115 mins., 2016; Disney): Following the events of "Return of the Jedi," C3PO continues to hone his storytelling skills by weaving a tale of how he and R2D2 became wrapped up in the Skywalker saga in this delightful collection of five episodes from the "Lego Star Wars" series. Disney's DVD includes 16:9 (1.78) transfers, 5.1 Dolby Digital soundtracks, and bonus trading cards contained within. Now available.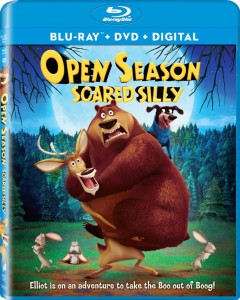 OPEN SEASON: SCARED SILLY Blu-Ray Combo Pack (85 mins., 2015, PG; Sony): When Boog becomes scared after pal Elliot spins a campfire ghost story, Elliot decides to grab pals Mr. Weenie and McSquizzy in an effort to "unscare" his bare-tastic big pal – with naturally comedic results. This latest go-around for the "Open Season" crew is a big-hearted, entertaining affair that kids should gravitate towards. Sony's Blu-Ray combo pack is also chock full of extras, including format-exclusive bloopers, outtakes and a pair of featurettes, commentary with director David Feiss and writer Carlos Kotkin, a DVD, digital HD copy, 1080p (1.78) transfer and 5.1 DTS MA sound.
ANGRY BIRDS TOONS Season 2, Volume 2 (36 mins., Sony): The final 13 episodes from "Angry Birds Toons"'s second season are collected in a Sony DVD sporting copious extras and DVD exclusives that nearly total more content than the actual program. A "Bonus Bird Pack" is also included for the Android "Angry Birds 2″ mobile game, which itself is a $4 value.
Those same "Packs" can also be found in Sony's new DVDs of ANGRY BIRDS: STELLA, The Complete Second Season (78 mins., 2015), offering nearly twice as much content as "Angry Birds"' DVD edition above, plus exclusive character reels, behind the scenes featurettes, 16:9 transfers and Dolby Digital audio. Finally, the Complete Second Season of PIGGY TALES (30 mins., 2015) is also new from Sony, offering young viewers a look at how Pig City is constructed and reconstructed. Making Of content is also included here with colorful 16:9 (1.78) transfers and 5.1 Dolby Digital sound.
NEXT TIME: Shout's March Madness, including INVASION U.S.A., BRADDOCK: MISSING IN ACTION III and more! Until then, don't forget to drop in on the official Aisle Seat Message Boards and direct any emails to our email address. Cheers everyone!