Proof that comedy producer Judd Apatow could manufacture a satisfying product within the disciplined confines of network TV, the sadly short-lived series FREAKS AND GEEKS (aprx. 14 hours, 1999-2000) continues to be an enduring fan favorite. Filled with future talent in front of and behind the camera, this often hilarious, wisely observed tale of growing up in suburban Detroit circa 1980 makes its high-definition debut later this month courtesy of Shout! Factory in a wonderful new nine-disc box-set.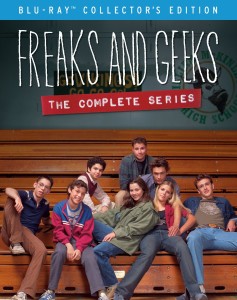 Paul Feig – who has since gone on to direct the likes of "The Heat," "Bridesmaids" and this summer's "Ghostbusters" – created the series, which follows the dual high school existence of siblings Lindsay Weir (Linda Cardellini) and her younger, geeky brother Sam (John Francis Daley). Their interaction with contrasting social groups fuels a show that's almost shockingly consistent in quality throughout its 18 episode run, and performed by an ensemble of soon-to-be stars: James Franco, Jason Segel and Seth Rogen comprise the "bad boy" stoner group Lindsay's desperate to hang out with, while Sam's navigation of school cliques requires the help of his equally socially awkward pals, most memorably Martin Starr's sad Bill Haverchuk.
NBC ran "Freaks and Geeks" to virtually unanimous critical acclaim but meager viewership during the 1999-2000 season. The show always had a small fan following when it initially aired, but that core group increased when Shout released a terrific 2004 DVD box set, packed with extras and insightful commentaries.
Shout's Blu-Ray edition reprises all the extras from that release (right down to a reprint of its liner notes), adds a new talk between Feig and Apatow, and then best of all, includes matching 1.78 and 1.33 HD presentations of the series in separate Blu-Ray cases. Shot before the advent of HDTV, "Freaks and Geeks" was produced on film – framed for 1.33, but actually filmed in a 1.78 aspect ratio. This has enabled Apatow and Feig to recompose the series for 16:9 HDTV exhibition without compromising its 4:3 origins: the new framing adds left and right picture information while keeping its dramatic focus squarely (literally and figuratively) in the center. While I personally think this new widescreen presentation is the superior way to watch the series in high-def, Shout has also included the original 4:3 versions – all in crisp AVC encodes and 5.1 DTS MA sound – for purists (it should be noted the pilot, unlike the rest of the series, was shot in 4:3 only so its 16:9 framing is indeed recomposed/cropped from its original aspect ratio).
Shout's extras were some of the best ever created for a TV on DVD release, and those supplements hold firm today, including deleted scenes, auditions, a Paley Festival Q&A, NBC EPK materials and plenty more. In short, one of the definitive TV on DVD packages has become one of the essential TV on Blu-Ray releases. Unquestionably recommended!
Also on Blu-Ray this month from Shout! are a handful of cult movies making their high-def debuts. Here's an Aisle Seat rundown: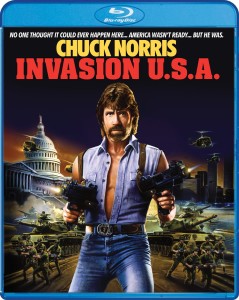 INVASION U.S.A. (**, 110 mins., 1985, R). WHAT IT IS: Chuck Norris saves the U.S.A. from a collection of terrorists spearheaded by a vile Russian (Richard Lynch) he tried to put away years before. Joesph Zito's 1985 Cannon action "epic" was a box-office disappointment and is more memorable for its individual set-pieces – Chuck saves Christmas shoppers in a mall fracas, Lynch blows up a neighborhood with his trusty bakooza – than its fragmented, and very poorly developed, screenplay (credited to Norris and pal James Bruner). A slack running time also cuts down on the fun, but there are loads of fans of this one out there, so perhaps I'm missing something. SHOUT BLU-RAY SPECS: A terrific, natural looking 1080p (1.85) AVC encoded presentation is matched by 5.1 and 2.0 DTS MA stereo options. Extras include an enjoyable half-hour talk with writer Bruner, who discusses his work on not just this picture but with Norris and the Cannon Group in general. Comments from makeup greats Tom Savini, Howard Berger and Greg Nicotero are also on-hand along with trailers for this and "Braddock: Missing in Action III." AISLE SEAT BOTTOM LINE: I'd take "Death Wish 3″ over "Invasion U.S.A." for fast-paced B-thrills, but Norris die-hards will nevertheless mine ample amusement out of this strong Shout release.
BRADDOCK: MISSING IN ACTION III (**½, 103 mins., 1988, R). WHAT IT IS: One of the last gasps from the Cannon Group, who basically ceased to exist as they once operated after the early '88 release of this third and final entry in Chuck Norris' Rambo knock-off series. Despite that dubious distinction, "Braddock" is actually – for Norris' Cannon standards – one of his better outings, following the stone-faced American vet as he travels back to Vietnam to find the wife and child he left behind. Under the direction of Norris' brother Aaron, "Braddock" boasts the requisite explosions and killings you'd anticipate, but also a surprisingly softer underbelly. I'll admit the climactic confrontation generates a tad of emotion too, making for one of the more underrated productions in the Cannon canon. SHOUT BLU-RAY SPECS: The MGM licensed 1080p (1.85) transfer is crisp and sharp, and both 2.0 and 5.1 DTS MA audio options are included. No extras are on-hand, though the "Braddock" trailer is present on the "Invasion U.S.A." disc reviewed above. AISLE SEAT BOTTOM LINE: A sequel to the original "Missing in Action" from writer James Bruner (the second film was a "prequel" that was actually the shelved, intended first film in the series!), "Braddock" gets the job done for Cannon and Norris fans. Worth a look, under the circumstances.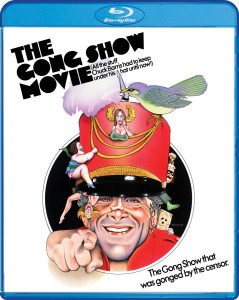 THE GONG SHOW MOVIE (**, 89 mins., 1980, R). WHAT IT IS: The infamous 1980 box-office bomb is an utterly fascinating pop-culture relic. Director/star Chuck Barris' film follows the beleaguered "Gong Show" host as he tries to live his life without being barraged by a succession of people trying out for the show – which at the time of the movie's 1980 release, had already concluded producing first-run episodes. The timing couldn't have been worse for the commercial prospects of "The Gong Show Movie," which met with endless derision from critics and soon found itself being wiped off the face of the earth – never making an appearance on home video at all…until now. SHOUT BLU-RAY SPECS: The 1080p (1.85) Universal-licensed HD master offers high detail from a print in mostly good condition, containing only infrequent nicks and scratches. The DTS MA mono sound is fine, and a commentary from writer Russell Dyball places the film in the proper pop-culture perspective of its time. AISLE SEAT BOTTOM LINE: Barris wrote "The Gong Show Movie" with indie filmmaker Robert Downey, and there are a few choice moments of physical comedy on-hand – along with some R-rated outtakes from the series and a near non-existent plot. You'll need to be either of the era or well-versed in it to mine much entertainment out of the film, but it's a watchable ride all the way through its strangely satisfying musical finale, featuring a cameo from the show's musical director, Milton DeLugg.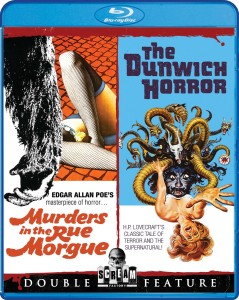 Scream Factory New Releases: AIP fans will want to add the Double Feature edition of MURDERS IN THE RUE MORGUE (**, 98 mins., 1971, PG-13) and THE DUNWICH HORROR (**½, 88 mins., 1970, R), two later American-International horror outings, to their Blu-Ray libraries when the disc streets later this month.
The former was a problematic adaptation of the Edgar Allan Poe novel, having been haphazardly re-edited by the studio prior to release. MGM restored the movie's longer, intended cut from director Gordon Hessler some years ago, and this version comprises Scream's Blu-Ray, which sports a good looking 1080p transfer. The movie itself lacks the excitement of AIP's superior Poe films, however, mainly because star Jason Robards can't match the spark of Vincent Price. "Dunwich Horror," meanwhile, provides Sandra Dee one of her late-career performances as a student who gets wrapped up with the occult in a New England town. Dean Stockwell and Ed Begley co-star in a moderately entertaining H.P. Lovecraft tale, also presented here in a respectable 1080p (1.78) AVC encoded transfer with DTS MA mono sound. Extras include new commentaries from writer/director/historian Steve Haberman on both films, vintage featurettes and trailers.
Also new from Scream Factory this month is DISTURBING BEHAVIOR (**, 84 mins., 1998, R), a weak and troubled "youth" picture from MGM starring James Marsden and Katie Holmes as high schoolers who find out their squeaky-clean, Pacific Northwest high school is being overrun with androids. "X-Files" vet David Nutter helmed this box-office underachiever, which Scott Rosenberg wrote but was torn to shreds by MGM prior to release. The theatrical version barely clocks in over 80 minutes with credits, no thanks to the studio having removed character development and its original ending (Nutter reportedly considered having his name removed from the film prior to release). Shout's Blu-Ray includes Nutter's commentary, deleted scenes and the alternate ending from the DVD, plus a serviceable 1080p (1.85) transfer and both 5.1 and 2.0 DTS MA audio options.
CHERRY FALLS (**, 92 mins., 2000) also drops soon from Scream Factory. Aussie director Geoffrey Wright's horror-thriller offers one of the late Brittany Murphy's better, post-"Clueless" roles of a high school student trying to get to the bottom of a group of serial killings. Ken Selden's script is a cut-above for this kind of thing, with Michael Biehn, Gabriel Mann and Jay Mohr co-starring in this little-seen Rogue release. Wright contributes a new commentary on Shout's Blu-Ray with other, vintage extras including cast interviews, the script, behind the scenes materials, and new interviews with Selden, the producers and actress Amanda Anka. The 1080p (1.85) Blu-Ray transfer and DTS MA stereo sound are both fine.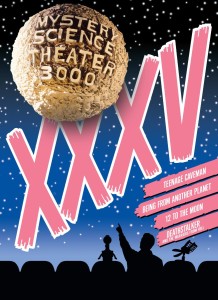 TV on DVD from Shout
MYSTERY SCIENCE THEATER 3000: VOLUME XXXV DVD (8 hours, 2016; Shout Factory): With the promise of new MST3K episodes on the horizon (thanks to a successful Kickstarter campaign), fans can tide themselves over with this latest DVD box-set from Shout Factory. A quartet of previously-unreleased, new-to-video titles include Teenage Caveman; Being From Another Plant; 12 to the Moon; and Deathstalker and the Warriors From Hell. Extras include "I Was a Teenage Caveman" and "Richard Band Remembers" featurettes; a segment on the making of "Deathstalker III" and "12 to the Moon." Four new mini-posters are on-tap plus other goodies for MST-ies everywhere. (Available March 29th)
Bea Arthur is back as MAUDE (10 hours, 1975-76) in the fourth season of the legendary '70s sitcom, backing Henry Fonda as President and considering a run for State Senate herself. This timely Season 4 release from Shout offers broadcast length episodes of "Maude"'s 24-episode 1975-76 season on four discs…The sixth and final season of THE NANNY (9 hours, 1998-99) finds Fran at last married to Broadway producer Maxwell Sheffield (Charles Shaugnessy) in the final assortment of 22 episodes. The hour-long series finale is, of course, one of them in Shout's three-disc set, available this week on DVD…WHEN CALLS THE HEART: IT BEGINS WITH HEART (88 mins., 2016) contains the first tele-film from the popular Hallmark Channel series' third season. Fans of Janette Oke's novel should enjoy the family-friendly trappings of this period piece starring Erin Krakow and Daniel Lissing. Shout's DVD includes a 16:9 transfer and stereo soundtrack…DEATH VALLEY DAYS (8 hours) includes the complete First Season from one of TV's earliest westerns. All 18 episodes are presented here in Shout/Timeless' three-disc set, with Stanley Andrews' Ranger introducing an anthology of stories based on true Old West events. A must for Golden Age TV fans.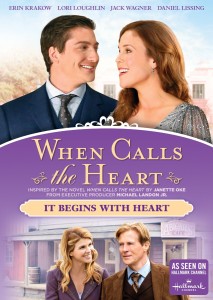 Also New From Shout on DVD: LITTLEST PET SHOP: PET TALES (110 mins., 2016) stars Blythe and her pet friends in five outrageous tales, including run-ins with fairies and witches! Shout's DVD includes a sing-along, 16:9 transfers and 5.1 Dolby Digital soundtracks…MY LITTLE PONY: FRIENDSHIP IS MAGIC – FRIENDS ACROSS EQUESTRIA (110 mins., 2015) is the latest volume of episodes from the modern animated incarnation of the "My Little Pony" franchise. Shout's DVD includes five episodes in 16:9 transfers with 5.1 audio and a bonus sing-along.
In time for Easter viewing are a series of TNT Original Movies (back when TNT tried to become the major movie-producing cable outlet, competing against HBO) from the early '90s, on DVD for the first time. IN THE BEGINNING: THE BIBLE STORIES (10 hours, 1994-96) includes four mini-series/tele-films produced for TNT: "Abraham," "Jacob," "Moses," and the Emmy-winning "Joseph." The various shows assembled all-star casts, including Richard Harris, Ben Kingsley, F. Murray Abraham, Barbara Hershey, Sean Bean, Lesley Ann Warren and Christopher Lee, under the direction of veterans like Emmy-winner Joseph Sargent and were generally well received as they aired from 1994-96.
Shout has packaged all four in the guise of a multi-disc DVD box-set, featuring 1.33 framed, HD-mastered restored transfers and stereo soundtracks, featuring music credited to Ennio Morricone and Marco Frisina, with the latter receiving composing credit on a couple of the productions and Morricone being tagged with "Themes." The individual shows are also available on their own, but the box-set is, economically speaking, the way to go.
---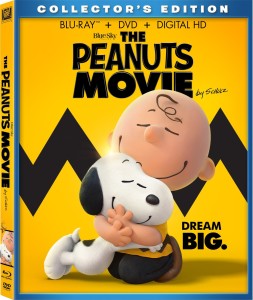 Also New & Noteworthy
THE PEANUTS MOVIE Blu-Ray (***, 88 mins., 2015, G; Fox): Utterly charming big-screen adaptation of Charles M. Schulz's legendary comic strip boasts a faithful rendering of its source material while simultaneously making the material fun and engaging for young kids.
Part of the appeal of "The Peanuts Movie" is undoubtedly due to its spectacular animation and evocation of Schulz's world. The animators at Blue Sky Studios have embraced Schulz's character design, as well as the color scheme and general tone of the classic Lee Mendelson-produced TV specials, but updated them with an almost stop-motion, three-dimensional appearance. The light shading and overall look of the production gives it an appearance that's hard to describe, but nearly looks like stop-motion, produced against cartoony but "real" environments. It's a striking visual appearance that's likely to engage Peanuts fans and older viewers accustomed to the TV specials, while providing a colorful presentation children should enjoy as well.
The story, credited to Schulz's son Craig and his son Bryan, along with Cornelius Uliano, manages to work in classic tropes from the strip – Charlie Brown's pursuit of the Little Red-Haired Girl, Snoopy's battles with the nefarious Red Baron, etc. – in an episodic manner that's accessible and, again, respectful to Schulz's material. The end result may not be a triumph of storytelling (there are probably one too many cutaways to Snoopy's fantasy world in the movie's second half), but it is proof that an intelligent and satisfying contemporary reworking of classic source material is possible – provided it's been handled with care and imagination, as is the case here.
Fox's Blu-Ray combo pack boasts an awesome 1080p (1.85) AVC encoded transfer that will likely serve as a reference disc for many viewers. The 7.1 DTS MA sound is constantly active, offering some quotes from Vince Guaraldi's classic jazz themes but a little too much in the way of "cartoony" orchestral underscore by Christophe Beck, and some soon-to-be-dated pop songs by Meghan Trainor (where's Rod McKuen when you need him?). Extras include brief "Snoopy Snippets," some behind the scenes featurettes (including a half-hour look at the production) plus segments aimed at kids, two music videos, a DVD and an Ultraviolet copy.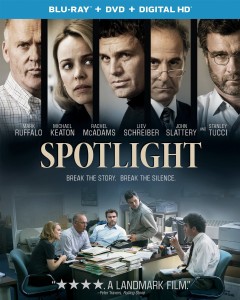 SPOTLIGHT Blu-Ray (***, 129 mins., 2015, R; Universal): The reigning Best Picture winner – albeit one that joined the company of "The Greatest Show on Earth" as having garnered just one other Oscar in addition to its major win – is a well-acted chronicle of how the Boston Globe's investigative unit, dubbed "Spotlight," mounted their major 2001-02 article uncovering the abuse of children – at the hands of parish priests – in the Catholic Church.
Michael Keaton, Mark Ruffalo, Rachel McAdams and Brian d'Arcy James play the quartet of Globe reporters who work their way through red tape, church corruption and tight-lipped lawyers in order to disclose the truth. Though published articles had run about a pair of local priests who were "reassigned" after molesting children in the '90s, the fact the corruption extended up to Boston Archbishop Cardinal Law – and even worse, comprised dozens upon dozens of cases – was the major component uncovered by the team, working under the guidance of a new editor (Liev Schrieber), recently arrived from the Globe's new publisher the New York Times.
Director Tom McCarthy's film is absorbing and believably acted, most especially by Ruffalo, who convincingly conveys the various idiosyncracies of a streetwise, dogged reporter. However, the script by Josh Singer and McCarthy comes up a little short in tapping into the real horror of what the multitude of victims experienced, not to mention the shocking fact so many of these vile creatures hopped from one parish to another, just to molest a whole new group of children. Yes, there are some victims shown and the facts inherent in these situations raised, yet this is a movie less about them – or the individual cases – than it is about the Globe and its team, and while it is still a worthy film, there's only so much suspense generated by scenes of reporters running down corridors, opening up files and talking on the telephone.
"Spotlight" is most certainly a good film, but it was not the Best Picture of 2015.
Universal's Blu-Ray combo pack is mostly lightweight on extras, including three featurettes sporting conversations with the real-life Globe reporters, a digital HD copy, a 1080p (1.85) transfer, and 5.1 DTS MA sound, the latter featuring a mundane Howard Shore score that could have easily worked for any PBS documentary on the subject (which was possibly its intent).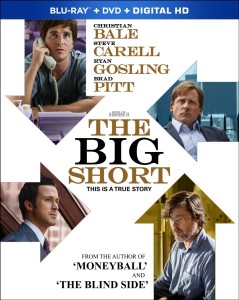 More satisfying and deserving of its assorted accolades is THE BIG SHORT (***½, 130 mins., 2015, R), a funny, satirical spin on how four men (played by Christian Bale, Steve Carell, Ryan Gosling and Brad Pitt) managed to stay one step ahead of the housing crisis that spearheaded the '08 financial collapse – and also made a huge profit in the process by betting against the system.
"The Big Short" might sound like a modern tale of power-broker greed and comeuppance a la "Wall Street," but director Adam McKay – best known for helming several Will Ferrell comedies – goes above and beyond by making an entertaining and surprisingly playful film that's accessible to all. The quartet of performances straddles the line between farce and finance splendidly, and McKay and writer Charles Randolph – adapting Michael Lewis' book – throw in an engaging number of sequences with Margot Robbie and Anthony Bourdain, among others, explaining the various Machiavellian financial maneuvers to viewers succinctly and amusingly.
A movie that's far more entertaining than it sounds on paper, "The Big Short" scored with critics and did moderately well in theaters. Poised to make more noise on home video, Paramount's Blu-Ray combo pack includes deleted scenes and a number of featurettes, a DTS X soundtrack, a 1080p (2.35) transfer and a digital HD copy.
DADDY'S HOME Blu-Ray (**, 95 mins., 2015, PG-13; Paramount): One of the few films that successfully worked as counterprogramming to the "Star Wars" juggernaut last Christmas, the bland, forgettable "Daddy's Home" pairs Will Ferrell and Mark Wahlberg again, several years following their lukewarm (but profitable) cop-buddy outing "The Other Guys."
In Sean Anders' film, Will Ferrell plays a Smooth Jazz radio manager married to the lovely Linda Cardellini and stepdad to her two children. Just when things seem to be clicking with the kids, in comes their father (Wahlberg), a wild man who decides to back Ferrell as their dad – provided Ferrell shows proper "game" in a number of domestic situations.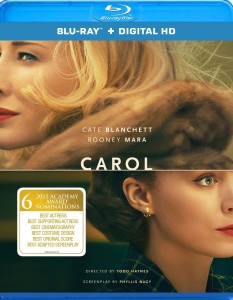 Grossing $148 million, "Daddy's Home" clearly appealed to audiences based on the presence of Ferrell and Wahlberg – or was the top choice for viewers who couldn't get into a screening of "The Force Awakens" – but it's an awfully feeble comedy regardless. Anders, John Morris and Brian Burns' script and its entire environment feels sitcom-ish at every turn, the movie building up no sense of comedic – much less serio-comic – momentum before it cuts and runs at the 90 minute mark. Only a few scenes at Ferrell's work place, "The Panda," turn out to have any inspired comic material.
Paramount's Blu-Ray combo pack includes deleted/extended scenes, bloopers, a DVD, digital copy, a 1080p (1.85) transfer and DTS-X audio (compatible with all DTS systems).
CAROL Blu-Ray (***, 118 mins., 2015, R; Anchor Bay): Director Todd Haynes' latest is a moody, and exceedingly well-performed, adaptation of Patricia Highsmith's novel "The Price of Salt." Cate Blanchett stars as a 1950s woman, living in a repressed marriage with an unsympathetic husband (Kyle Chandler), who meets a young Manhattan department store clerk (Rooney Mara) and begins to fall in love with her.
Haynes' film works because of the chemistry between Blanchett and Mara – but the movie lurches into melodrama at times, so much that it's hard to feel an inordinate amount of sympathy for the female protagonists (or anyone else for that matter). Nevertheless, "Carol" is worthwhile viewing for its evocation of time and place, and most especially for its lead performances.
Anchor Bay's Blu-Ray offers a cast/Haynes Q&A, a still gallery, 1080p (1.85) AVC encoded transfer and 5.1 DTS MA sound.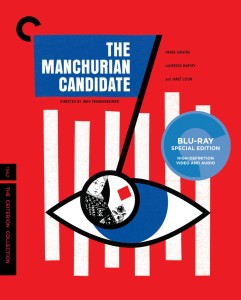 THE MANCHURIAN CANDIDATE (****, 1962, 127 mins., PG-13.; Criterion): Dynamite new Criterion Collection release of the 1962 classic includes a superb 4K restored transfer, one that easily trumps all prior renderings (including MGM's earlier Blu-Ray) of the film on home video.
Director John Frankenheimer's picture remains one of the top political thrillers of all-time – if not the definitive movie of its genre – for its performances (Frank Sinatra, Laurence Harvey, Janet Leigh, and a chilling turn from Angela Lansbury), script (George Axelrod adapted Richard Condon's novel), and taut, efficient Frankenheimer direction, the latter clearly years ahead of its time.
"The Manchurian Candidate" was, for many years, a forgotten film until it was resurrected in the late '80s by MGM/UA. After several previous releases on tape, DVD and Blu-Ray, Criterion's restored presentation includes a sensational 1080p (1.85) AVC encoded transfer from a 4K digital restoration. The image is clearer and sharper than even MGM's prior Blu-Ray, offering an appreciable improvement in its detail and overall image. Extras, of course, are extensive, carrying over pertinent supplements from earlier MGM releases – a 1997 Frankenheimer commentary, a talk between Frankenheimer, Alexrod and Sinatra from the movie's first home video release in 1987 – and adding in valuable fresh content. These include, most significantly, a new interview with Angela Lansbury, along with filmmaker Errol Morris discussing his fondness for the picture, a talk with historian Susan Carruthers about its Cold War themes, and an essay from critic Howard Hampton. The audio mix, meanwhile, is a PCM mono track eschewing prior 5.1 remixes heard on disc.
A highly recommended, and timely, Criterion release in this increasingly turbulent election year of 2016.
---
TV on Disc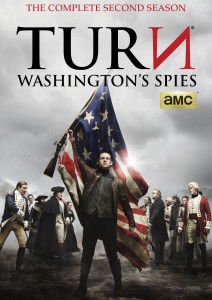 For those of us who've long believed there aren't nearly enough Revolutionary War films and television series, AMC's TURN: WASHINGTON'S SPIES (438 mins., 2015; Anchor Bay) fills a major hole indeed. This slickly produced series continues to adapt Alexander Rose's book, which follows Abraham Woodhull (Jamie Bell), a Long Island farmer who becomes a part of one of the nation's first spy rings. Working for Washington against the Red Coats, Woodhull's adventures – while simultaneously trying to stay off the grid in order to protect his family – make for an exciting series amped up with just a dash of sex and violence (but thankfully not on HBO/Showtime levels).
A handsome looking production, "Turn"'s second season comes to DVD this week from Anchor Bay (a Blu-Ray was released for Season 1, but clearly did not sell well enough to continue in the format here). Deleted scenes, three featurettes, 16:9 transfers and 5.1 Dolby Digital soundtracks comprise Anchor Bay's multi-disc set.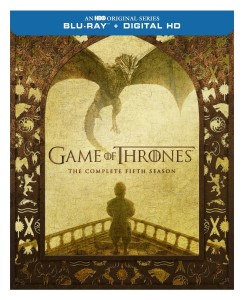 GAME OF THRONES: The Complete Fifth Season Blu-Ray (559 mins., 2016; HBO): Season 5 of the most-watched series in HBO history finds a power struggle between Wasteros and Essos protagonists, while Jon Snow has his hands full at Castle Black, trying to fill the needs of the Night Watch while dealing with Stannis Baratheon. At King's Landing, Cersie tries to hold onto power, Jaime embarks on a secretive mission, and a religious group spearheaded by High Sparrow seeks to gain traction. Meanwhile, Arya tracks down an oldfriend at the Narrow Sea while Daenerys Targaryen faces hard choices in Meereen.
Yes, it's another dense season in George R.R. Martin's fantasy world, and "Thrones" fans should enjoy HBO's Blu-Ray box-set, which offers exclusive format features like "The Dance of Dragons" featurette, an In-Episode Guide and Histories and Lore segments. Other extras include commentaries, four deleted scenes and other goodies. The 1080p (1.78) transfers and 5.1 DTS MA soundtracks are all superb, and a digital copy rounds out the release.
TEENAGE MUTANT NINJA TURTLES Half Shell Heroes: BLAST TO THE PAST DVD (43 mins., 2015; Paramount): Leo, Donnie, Ralph and Mikey take a prehistoric trip back in time where they battle aliens and make dino-tastic friends in this special episode from the "Half-Shell Heroes" Nickelodeon animated rendering of the TMNT franchise. Paramount's DVD includes a 16:9 transfer and 5.1 sound.
Documentary New Releases
STEVE JOBS: THE MAN IN THE MACHINE Blu-Ray (128 mins., 2015, R; Magnolia): Documentary filmmaker Alex Gibney spins a lengthy portrait of the Apple founder in this co-production between CNN and Mangolia Pictures. Certainly detailed enough (clocking in at over two hours), "The Man in the Machine" is worthwhile viewing for those compelled by Jobs' persona, though it feels bit overstuffed as well, and may overstay its welcome for casual viewers. Magnolia's Blu-Ray includes a Gibney interview, deleted scenes, a 1080p (1.78) transfer and 5.1 DTS MA sound.
ADDICTION, INCORPORATED DVD (76 mins., 2011; Virgil Films): Excellent documentary recounts how research scientist Victor DeNoble blew the lid off the tobacco companies after eschewing a confidentiality agreement and releasing his findings that cigarettes were addictive. Virgil's DVD of this 2011 production includes a 16:9 transfer and 2.0 stereo sound.
NEXT TIME: More of the latest reviews! Until then, don't forget to drop in on the official Aisle Seat Message Boards and direct any emails to our email address. Cheers everyone!