Olive's March releases on Blu-Ray are highlighted by a pair of cult comedies and one of the earliest Chuck Norris action vehicles: the drive-in affair BREAKER! BREAKER! (85 mins., 1977, PG), which was notable for offering Norris his first starring role.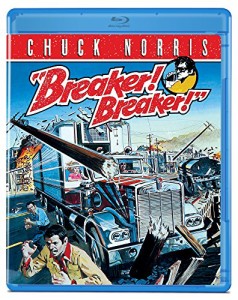 Admittedly, it's a rather creaky B-movie with Norris starring as J.D. Dawes, a trucker whose brother runs afoul of a small-town and its lecherous Judge/Mayor (George Murdock), who impounds his cargo and sentences him to beatings…and possibly worse. Dawes, thankfully, is a master in the martial arts, and uses his expertise to cut down on the criminal activities of the off-highway locale, which nearly looks like a "Frontier Town" at a bad roadside amusement park.
This independently-produced picture was picked up for distribution by American-International, capitalizing on the then-hot CB radio craze as well as the potential for Norris becoming a major action star. Neither, alas, really pay off in this film: there's not nearly enough "good buddy" vernacular to connect with its title, and Norris is really stiff in the lead, particularly when he meets a local woman (Terry O'Connor) and falls in love with her – none too convincingly!
Still moderately fun for B-movie fans and Norris die-hards, Olive's Blu-Ray of "Breaker! Breaker" offers an attractively detailed 1080p (1.85) transfer with the original trailer on the supplemental side.
Also new from Olive this month are two comedies that have generated decent cult followings.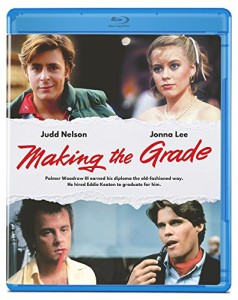 One of the Cannon Group's few forays into the American youth comedy market, MAKING THE GRADE (104 mins., 1984, R) stars Judd Nelson as a fast-talking, streetwise young man who's paid to exchange places with – and by – an obnoxious preppy (Dana Olsen, who later wrote "The 'Burbs" and the ill-fated Chevy Chase/John Carpenter collaboration "Memoirs of an Invisible Man") at his posh prep school.
Writer/producer Gene Quintano, who wrote a few of the "Police Academy" sequels and both of the "King Solomon's Mines" films for Cannon, chalked up one of his better efforts here despite the movie's bloated running time. Feeling 15-20 minutes too long, "Making the Grade" receives a failing grade in terms of ranking with '80s teen comedy classics, but it still offers a few choice lines, Nelson in his first lead role, supporting performances from the likes of Gordon Jump and "Toht" himself, Ronald Lacey, and a score by Basil Poledouris as well.
Olive's MGM-licensed 1080p (1.85) transfer is fine, with DTS MA mono audio also on-hand.
The 1994 MGM release CLEAN SLATE (107 mins., PG-13) was one of Saturday Night Live star Dana Carvey's three starring solo vehicles (following 1990's "Opportunity Knocks" and prior to the dismal, albeit financially successful, 2002 comedy "Master of Disguise").
A lower-brow variation on "Groundhog Day," Carvey here stars as a private eye who's also an amnesiac who loses his short-term memory every time he falls asleep. This creates problems when he becomes the major witness in a trial involving a mobster (Michael Gambon).
"Clean Slate" was directed by Mick Jackson ("L.A. Story," "The Bodyguard") and boasts a first-class production team, with Norman Reynolds handling production design and Alan Silvestri scoring the film. Carvey is also supported by an excellent cast, including James Earl Jones, Kevin Pollak, Michael Murphy, Valeria Golino, Olivia d'Abo, and Gambon, but Robert King's script is plot-heavy and lacking in the joke department. Carvey tries hard and the film is lightly amusing, but the film doesn't make great use of his – or anyone else's – talents.
Olive's Blu-Ray includes another satisfying 1080p (1.85) AVC encoded, MGM-licensed transfer with DTS MA 2.0 stereo audio.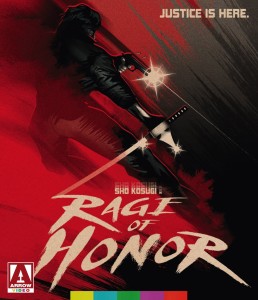 New this month from Arrow is RAGE OF HONOR (92 mins., 1986, R), the second collaboration between martial arts star Sho Kosugi and veteran director Gordon Hessler for Trans World Entertainment.
Following the entertaining "Pray For Death" (which Arrow just released on Blu-Ray), Kosugi returned here as a drug enforcement cop whose escapades take him from the mean streets of Phoenix to South America. On a mission of vengeance after the death of his partner, Sho's Shiro Tanaka takes no prisoners as he battles a drug lord (the bland Lewis Van Bergen) while trying to keep his damsel in distress girlfriend (Robin Evans) out of harm's way.
"Rage of Honor" is not as entertaining as "Pray For Death," this film having far more of a cheaper, Euro-flavor to it, thanks to its international locations and Stelvio Cipriani's disco-tinged score. Kosugi wields guns here in addition to ninja stars and other weapons which the actor also designed, but the action is not as engaging and the story – credited to "Beetlejuice" make-up artist Robert Short and Wallace Bennett – is run-of-the-mill stuff for its era.
Still a worthwhile addition to one's library of '80s actioners, as well as one of Kosugi's final starring vehicles, Arrow brings "Rage of Honor" to Blu this month. The MGM produced transfer is decently detailed though the source elements seem a bit battered in places, with credits that are oddly framed at 2.35 (the film itself plays out in its proper 1.85 ratio). The PCM stereo audio is perfectly fine for its era. Extras include the second half of a new interview with Kosugi (the first half is on the "Pray For Death" disc), along with a very brief talk with Cipriani (running a couple of minutes), Kosugi trailers, and a conversation with writer Chris Poggiali on the Ninja phenomenon of the 1980s.
Also new from Arrow is a Blu-Ray/DVD combo pack of the 1973 American-International release BLACK MAMA, WHITE MAMA (87 mins., R), an exploitation pic starring Pam Grier as a prostitute and Margaret Markov as a revolutionary stuck in a Filipino prison. They eventually escape and get wrapped up in a scheme to retrieve stolen loot as well as the latter's political activism in a wild and woolly mix of "women in prison" cliches and a B-grade female variant on "The Defiant Ones."
Arrow's Blu-Ray includes commentary with filmmaker Andrew Leavold; an interview with Markov; a conversation with supporting actor Sid Haig, who's hugely entertaining in the film; an archival interview with director Eddie Romero; and a solid 1080p (1.85) MGM licensed transfer with PCM mono sound and the trailer.
---
Also New & Noteworthy
BROOKLYN Blu-Ray (***½, 111 mins., 2015, PG-13; Fox): Superb period drama provides Saorise Ronan with her signature role to date: an Irish girl who immigrates to America in the 1950s, adjusts to life in Brooklyn and is courted by a young Italian plumber (Emory Cohen).
Nick Hornby scripted Colm Tobin's novel for this flavorful, beautifully performed picture, sensitively directed by John Crowley. All the performances here are right on target, including Jim Broadbent as an understanding priest, Julie Waters as Ronan's landlady, and Fiona Glascott as Ronan's older sister, who gives her the opportunity to immigrate to the new world. This is a marvelously realized film that evokes time and place without completely airbrushing the harsher aspects of Ronan's journey to the U.S. or Brooklyn itself in the 1950s. Highly recommended.
Fox's Blu-Ray includes commentary by director Crowley, six promo featurettes, deleted/extended scenes, a 1080p (1.85) AVC encoded transfer and 5.1 DTS MA sound along with a Digital HD copy.
FEAR THE WALKING DEAD Season 1 Special Edition Blu-Ray (291 mins., 2015; Anchor Bay): The first spin-off from AMC's top rated cable series stars Kim Dickens and Cliff Curtis as the heads of a dysfunctional family just before the zombie apocalypse sets in. More familial in its relationships than its predecessor but filled with as much zombie gore as fans crave, Anchor Bay's Season 1 Blu-Ray Special Edition offers all six episodes from "Fear"'s first season in an attractive 1080p (1.85) presentation with 5.1 Dolby TrueHD audio. What's new to this release are a number of extras: the "Widescreen Version" of the Pilot; deleted scenes; commentaries on all episodes; multiple behind-the-scenes featurettes; a digital HD copy; and a cool looking lenticular 3D slipcover. Recommended for fans.
New From Lionsgate: Is it a serial killer or something else to blame for the murders of several victims in THE HATCHING (91 mins., 2015, R), a by-the-numbers horror affair starring Andrew Lee Potts and Laura Aikman under the direction of Michael Anderson. Lionsgate's DVD of this 2015 production does offer an okay score by John Cameron, a 16:9 (2.35) transfer and 5.1 Dolby Digital sound, plus an Ultraviolet copy and Making Of featurette.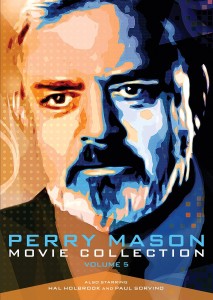 Cinedigm New Releases: HERO QUEST (87 mins., 2015) is an animated fantasy about a young boy who embarks upon an epic adventure. Milla Jovovich, Sharon Stone, Joe Pesci and Whoopi Goldberg provide the voices in Max Fadeev's Russian animated film, which he also scored. Cinedigm's DVD includes a 16:9 transfer, 5.1 English and Russian audio, a music video and the trailer.
PERRY MASON MOVIE COLLECTION VOLUME 5 (CBS): The fifth and final anthology of TV movies starring Raymond Burr as Perry Mason include the actor's last on-screen appearances in 1993's "The Case of the Telltale Talk Show Host" and "The Case of the Killer Kiss." After Burr passed away, NBC tried to keep the series going, first with Paul Sorvino in 1993's "The Case of the Wicked Wives," before trying out Hal Holbrook's "Wild Bill" McKenzie in three efforts from '93 and '94: "The Case of the Lethal Lifestyle," "The Case of the Grimacing Governor" and "The Case of the Jealous Jokester." CBS' three-disc DVD box-set includes stereo soundtracks and 4:3 full-screen transfers for this final goodbye to Burr's legendary courtroom hero.
In Brief
CHIPS Season 4 DVD (Warner): Five-disc DVD set features the continuing adventures of Ponch and John, in a long-overdue Season 4 package from Warner.
ALVIN AND THE CHIPMUNKS: THE ROAD CHIP DVD (92 mins., 2015, PG; Fox): The latest go-around for Alvin and the Chipmunks finds the group racing on a road trip to Miami. Jason Lee returns as Dave in this passable kid-flick, now on DVD from Fox sporting a featurette, "Ultimate Playlist" feature, and a digital HD copy.
VAMPIRE LEGEND DVD (60 mins., 2015): Jay O. Sanders narrates this look at the creation of the Vampire mythos, as popularized in 1897 by Bram Stoker with his gothic classic "Dracula.' Utilizing some of Stoker's original research notes, Oxford professor John Blair looks into medieval burials in England and how it connected to the formation of the vampire legend. PBS' DVD includes a widescreen transfer and stereo sound.
NEXT TIME: Michael Cimino's Director's Cut of THE SICILIAN arrives from Shout Factory! Until then, don't forget to drop in on the official Aisle Seat Message Boards and direct any emails to our email address. Cheers everyone!