Making their first on-screen appearance together, Kiefer and Donald Sutherland provide a major boost to the low-key, entertaining western FORSAKEN (***, 89 mins., 2015, R; Momentum), a sturdy, if familiar, tale of a gunfighter trying to move away from his violent past, only to run into trouble once again.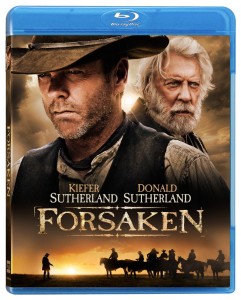 This time, the hero is John Henry Clayton (Kiefer), the son of a reverend (Donald), who hasn't returned to his Wyoming home since the end of the Civil War. John Henry is hiding a past he's not proud of, while his estranged father can't come to grips with his departure. Complicating matters are the various thugs running their small town, including a railroad man (Brian Cox) who's using both a gang of hooligans (presided over by Aaron Poole) and a slick gun-for-hire (Michael Wincott) to do his bidding and take over the farms of local residents.
Brad Birman's script is filled with western archetypes: the grizzled hero who has to take up arms one last time; the love (Demi Moore) he left behind years before; the tyrannical villain with purely financial motives; and a final confrontation that settles both the past and the present for all involved.
With its intentional use of classic genre components, "Forsaken" feels familiar in a good way. Credit Kiefer's long-time "24″ director Jon Cassar, who's made a richly textured little film that might be short on surprises but provides a robust forum for the first-ever teaming of the Sutherlands. Both are in fine form here, with Kiefer playing a man who only resorts to violence when absolutely backed into a corner, and his veteran, more emotive father sparring with him over his past. They're so good here that it's stunning it took this long to get them together on-screen. There's also action, a dash of romance, some attractive cinematography courtesy of Rene Ohashi – shot in Alberta, Canada – and a marvelous cast that also includes the best performances Wincott and Moore have given in some time.
"Forsaken" has its shortcomings – especially a narrative that could have used more general development, clocking in under 90 minutes – but for western fans and admirers of the cast, it's a good-looking and moody, character-driven piece that eventually delivers a warmly satisfying ending, capped by a nice score by Jonathan Goldsmith.
The $20-million budgeted film, which was shot some three years ago, makes its Blu-Ray debut from E One's Momentum Pictures this week. The 1080p (2.40) AVC encoded transfer is strong and the 5.1 DTS MA sound is elaborately mixed with plenty of directional effects. A 12-minute behind-the-scenes featurette is the sole extra.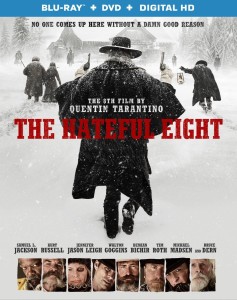 On the opposite end of the genre spectrum is the "8th Film From Quentin Tarantino," so designated on all print advertising and the on-screen credits of THE HATEFUL EIGHT (**, 168 mins., 2015, R; Anchor Bay) itself. You'd wonder if The Weinstein Company thought this film was going to become one of the 8th Wonders of the Cinematic World from that kind of proclamation, but in reality, this leaden, endlessly talky affair is one of Tarantino's most pretentious and least satisfying cinematic sojourns to date.
Tarantino's plot, apparently set – like "Forsaken" – after the Civil War, finds a bounty hunter (Kurt Russell) dragging his female prey (Jennifer Jason Leigh) across the snowy mountains of Wyoming. En route to the town of Red Rock, the duo come across a handful of suspicious types: a former Union soldier (Samuel L. Jackson) carrying a letter from Abraham Lincoln; a southern scavenger (Walton Giggins) supposedly the new sheriff in town; and, eventually, a quartet of strangers (Bruce Dern, Michael Madsen, Tim Roth, Damien Bichir) at "Minnie's Haberdashery," a stop-over along the path that literally means a stop-over in entertainment for the viewer once the film settles in and stays there, literally, for most of its duration.
Anyone who reads me regularly knows I am not a Tarantino devotee. I appreciate his fondness for cinema and have enjoyed some of his work ("Kill Bill" in particular) but have found other films of his overpraised and bloated. "The Hateful Eight" certainly falls into a category that's recommended for his fans only – claustrophobic and dull, the film establishes a handful of unappealing characters who talk, talk, and then talk some more across a running time unbearably extended to nearly three hours. It plays fast and loose with any semblance of the real Old West or historical background, its anti-heroes spouting the filmmaker's patented dialogue, and after a splendidly shot opening, settles into a confined one-set affair that non-fans will want to escape from as much as its characters. What's just as damning is the messy plot and whatever Tarantino is trying to say here – as a mystery, "The Hateful Eight" is uninvolving and dull, and the second half's off-putting violence (which crops up whenever the dialogue decides to take a brief break) further compounds a picture that's as unsatisfying as any the director has made.
Anchor Bay's Blu-Ray looks superb, but Robert Richardson's widescreen (2.40) photography only gets an opportunity to shine during the movie's early outdoor sequences, which are, admittedly, beautifully shot. The 5.1 DTS MA audio houses a traditional Tarantino mismash of external score fragments and anachronistic songs, with Ennio Morricone represented by both original material (which earned him an Oscar, albeit seemingly more for his lifetime body of work than this score itself) and past efforts (including quotes from his celebrated "Exorcist II" and "The Thing" soundtracks). Two featurettes and a digital copy are also included.
---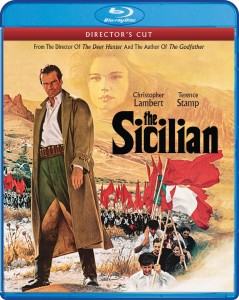 Also New & Noteworthy
One of the many high-profile failures that sank the career of director Michael Cimino, his unintentionally comic 1987 adaptation of Mario Puzo's quasi-"Godfather" sequel THE SICILIAN (**, 146 mins., 1987, R) comes to Blu-Ray this month from Shout Factory. If watching Christopher Lambert – a French actor mumbling English as an Italian bandit – play a Sicilian Robin Hood sounds like it's up your alley, this gorgeously shot but embarrassingly executed epic should offer ample amusement for Golden Turkey fans everywhere.
Cimino's film, scripted by Steve Shagan with an apparently extensive rewrite from Gore Vidal (who sued to receive a credit on the film – most would've sued to have it removed!), features Lambert as Salvatore Guiliano, a real-life bandit who stole from the rich and provided goods for Sicily's poor following WWII. As Salvatore's reputation grows from local to national fame, so too does his visibility, which doesn't sit well with the country's ruling classes – the Church, the government and the mob – who ultimately desire to quash Guliano's own stature as a hero.
"The Sicilian" starts poorly with Cimino doing an especially terrible job establishing Guiliano's character, who he was, and why any of us should care about him. The opening scenes following highly credited – but barely-seen – leading lady Barbara Sukowa removing her clothes in her family's mansion while Salvatore and his cousin (an early performance from John Turturro) gun down a local authority figure are senselessly assembled, and following on that note, Shagan's script is convoluted and downright inaccessible at times, with much of the film's dialogue being incomprehensibly delivered by a series of dubbed-over actors. Only Tuturro delivers a credible performance with Lambert looking utterly out of his element from start to end (Cimino apparently championed the actor while studio executives, understandably, lamented Lambert's casting). Meanwhile, even the usually reliable Joss Ackland – playing a mafia don – is forced to dance with Sukowa in one of the movie's most uproariously befuddling moments, and there's also a scene where Salvatore and his bride groove to the sweet sounds of his wedding party humming "In the Mood" – all in perfect harmony!
Executives at Gladden Entertainment and 20th Century Fox were reportedly, and unsurprisingly, horrified by Cimino's original 146-minute Director's Cut. They forced Cimino to trim 30 minutes, which he reluctantly did, turning in an embarrassing version that (as he intended) wouldn't be viable enough to release. The studio, eventually, did produce their own cut without his involvement: a 115-minute version that several have claimed is actually superior to Cimino's, as it removes some of Sukowa's work and tries – as best it could – to make sense of the movie's disjointed narrative.
However, the Cimino version has become the preferred cut of the film over time, and is the one captured here in Shout's high-definition Blu-Ray package (the theatrical version was previously released in a cropped DVD by Artisan). The 1080p AVC (2.35) encoded transfer is a bit varied with some print damage and other issues in the source material cropping up at times. The film was "photographed and operated" by Alex Thomson but is likely not representative of his best work, with a dearth of attractive sets and locations – surprising given the movie's Italian shooting locales. The DTS MA 5.1 audio is much more robust than a 2.0 stereo mix also included here, though David Mansfield's sappy, melodramatic score occasionally adds to the inadvertent comedy.
One of the most curious aspects of "The Sicilian" is that the character of Michael Corleone was a major component in Puzo's original novel. It's unclear if Gladden was or wasn't aware that they couldn't actually use the "Godfather" character in their film version (as Corleone was the property of Paramount) when they bought the rights, but it's hard to imagine the material being as attractive without its connection to Puzo's earlier classic.
As it is, "The Sicilian" isn't only largely fictitious, but it's a heap of cinematic mozzarella and provolone that remains one of the bigger-budgeted failures of its time. Recommended for those who enjoy cinematic rubbernecking of the most entertaining kind.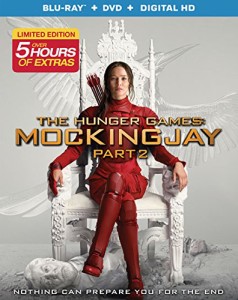 THE HUNGER GAMES: MOCKINGJAY Part 2 Blu-Ray Combo Pack (**, 137 mins., 2015, PG-13; Lionsgate): "The Hunger Games" franchise comes to a tedious end in the second half of "Mockingjay," Suzanne Collins' concluding chapter in her young-adult literary trilogy – extended into a pair of films by Lionsgate, as is the norm these days thanks to the success of the final films in the "Harry Potter" and "Twilight" series.
Following a dreary first half, "Mockingjay Part 2″ barely ratchets up the excitement level, despite settling the score between Katniss Everdeen (Jennifer Lawrence) and the President of Panem (Donald Sutherland), as well as concluding the triangle between Katniss and her two suitors, played again by Josh Hutcherson and Liam Hemsworth. Sadly, you really need to be a die-hard fan of the franchise to mine much entertainment out of this tiresome, talky and downbeat conclusion, which is surprisingly short on action and long on drawn-out dialogue exchanges, capped by a tone that's more unrelentingly sad than triumphant.
Lionsgate's Blu-Ray Combo pack of the disappointing "Hunger Games" finale includes an eight-part documentary on the film; commentary with director Francis Lawrence and producer Nina Jacobson; assorted featurettes; a digital HD copy; a DVD; a 1080p (2.40) AVC encoded transfer and Dolby Atmos (TrueHD) sound.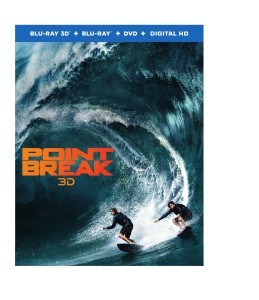 POINT BREAK 3D Blu-Ray Combo Pack (**, 114 mins., 2015, PG-13; Warner): I was never a huge fan of the 1991 Kathryn Bigelow-directed actioner "Point Break," which managed to score a huge cult following over the years since its release, thanks mainly to the performances of Patrick Swayze and Keanu Reeves. Swayze's turn as a Zen-like thief who dabbles in surfing giant waves whenever he's not knocking over banks was one of his more memorable roles, and Reeves – as the young FBI agent in charge of infiltrating his gang – likewise sold one of his more effective early "serious" performances. Remaking that film – with its very specific stars – didn't seem to be a prudent idea, mainly because the underlying story of "Point Break" was never that interesting: it was the chemistry between the stars and the action scenes that made it a cult favorite.
Stripped of the star power, the 2015 "Point Break" is all dressed up with nowhere to go: an empty suit of a remake, this uninspired affair puts Edgar Ramirez and Luke Bracey through Swayze and Reeves' paces, adding some other "extreme sports" like rock climbing shot to goose the international box-office grosses (which it did – the film bombed in the U.S. but fared alright in China!), but failing utterly to justify its existence. It's slickly delivered by director Ericson Core but never gives us a reason why anyone would need to see it when the earlier film is so recognizable, especially after years of playing on TV and home video.
Warner's 3D combo pack does sport a good looking 1080p (2.35) transfer with depth of field effects. The 2D presentation is likewise strong, and a DVD and digital copy are also included, plus deleted scenes, trailers, and light behind-the-scenes material.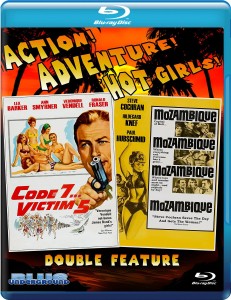 CODE 7…VICTIM 5/MOZAMBIQUE Blu-Ray (88/98 mins., 1964; Blue Underground): Blue Underground goes overseas and back into the Bond era with a pair of entertaining, 1964 B-programmers from producer Harry Alan Towers.
The Cape Town-shot "Code 7…Victim 5″ stars movie Tarzan Lex Barker as an American private eye hired to find out what happened to the butler of a South African millionaire in a stylish (if leisurely-paced) action-mystery shot by Nicolas Roeg. "Mozambique," meanwhile, boasts Steve Cochran as an American pilot who gets wrapped up with drug smugglers, kidnapping and murder in another film that, like "Code 7," provides viewers of today with a travelogue from yesterday, with Cape Town and Mozambique appearing as they did in the early '60s, both in attractive scope-lensed cinematography.
The respective stories, both written by Peter Yeldham and directed by Robert Lynn, are secondary to the atmosphere and time and place captured in both pictures, making for a most agreeable Blu-Ray double-bill. Blue Underground's Blu-Ray offers clear 1080p (2.35) transfers on both movies with DTS MA mono audio, sporting jazzy, solid scores by Johnny Douglas. Trailers are also on-tap for this release, which should capture the attention of fans of the earliest James Bond pictures with their mix of bullets, babes and international locations.
BICYCLE THIEVES Blu-Ray (89 mins., 1948; Criterion): Vittorio De Sica's groundbreaking film about a distraught father who searches for his stolen bicycle alongside his young son became a world cinema force to be reckoned with as the 1940s came to a close. De Sica's oft-imitated picture became a cornerstone of the Italian "neorealist" cinematic movement, drawing praise for its straightforward, "real" emotions and lack of melodrama, instead preferring the film's genuinely developed messages to speak for themselves – which they do, brutally at times, and especially in the picture's unforgettable ending.
Criterion's new Blu-Ray boasts a spectacularly detailed, 4K derived digital restoration with uncompressed PCM sound; a collection of interviews with writer Suso Cecchi d'Amico, actor Enzo Staiola, and historian Callisto Cosulich on "Working With De Sica"; Mark Shiel hosting a program on the history of Italian cinema "neorealism"; a 2003 documentary on the film; an optional English dubbed soundtrack; and Criterion's superb liner notes.
---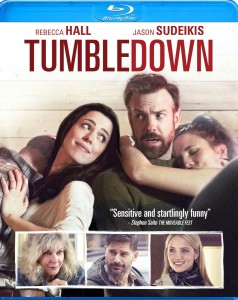 Quick Takes
TUMBLEDOWN Blu-Ray (103 mins., 2015, R; Anchor Bay): Enjoyably played romantic-comedy drama stars Jason Sudeikis as an author who ventures up to Maine to interview the widow (Rebecca Hall) of a singer, and falls for her – but only after butting heads with both her, her would-be boyfriend (Joe Maniganiello) and her parents (Blythe Danner, Richard Masur). Dianna Agron and Griffin Dunne co-star in this flavorful picture from writer Desi Van Til and director Sean Mewshaw. Anchor Bay's Blu-Ray includes a Making Of and music featurette, 1080p (2.40) transfer and a 5.1 Dolby TrueHD soundtrack.
Lionsgate New Releases: THE ROYALS Season 2 (426 mins., 2015) picks up with the salacious excitement after King Simon's murder. Here, his brother, Cyrus, has taken over the throne thanks to Queen Helena (Elizabeth Hurley), while Prince Liam (William Moseley) seeks revenge for his father's death. The complete second season of "The Royals," which airs on E! in the U.S., hits DVD featuring digital copies, a 16:9 (1.78) transfer and 5.1 Dolby Digital sound…THE MAKING OF TRUMP (90 mins., 2015) is a History Channel documentary that's been timely released to DVD. The 90-minute biography of the Republican presidential candidate and his colorful past hits disc this week with a 16:9 transfer, 2.0 audio and a digital copy…Keanu Reeves plays a New York City detective investigating the death of his partner when he comes across a troubled young woman (Ana de Armas) in the independently produced thriller EXPOSED (102 mins., 2015, R), Declan Dale's film co-starring Mira Sorvino and Christopher McDonald. Lionsgate's Blu-Ray includes cast interviews, a Making Of, digital HD copy, 1080p (2.40) transfer and 5.1 DTS MA sound.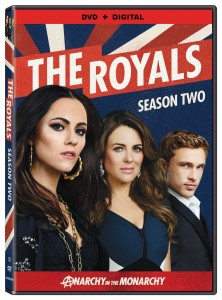 Magnolia New Releases: NOMA: MY PERFECT STORM (99 mins., 2016, Not Rated) takes viewers behind the scenes at chef Rene Redzepi's acclaimed Noma restaurant – in fact, it's been voted the best restaurant in the entire world no less than four times! Deleted scenes and featurettes grace this documentary on Redzepi's work, presented on Blu-Ray by Magnolia with a 1080p (2.35) transfer and 5.1 DTS MA sound.
Cinedigm New Release: The animated film TWINKLE TOES LIGHTS UP NEW YORK (71 mins., 2015) is a children's film about the title heroine, who takes the Big Apple by storm after her father is hired to direct a Broadway musical. Produced by Skechers — yes, the shoe company, whose Twinkle Toes brand is currently popular with the little ones. Cinedigm's DVD includes five mini-adventures, a 16:9 transfer and 5.1 audio.
From HBO: Season three is also the penultimate season of the Cinemax action series BANSHEE (600 mins., 2015), starring Antony Starr as the ex-con who improbably becomes sheriff of a small-town in Amish country, alongside his former partner, who's moved on to a new life with husband and kids in tow. With her identity now exposed, Lucas works with her in pulling off a new series of heists while trying to keep warring Amish and Native American mobsters at bay. Season three of "Banshee" hits Blu-Ray sporting a slew of extra features, behind-the-scenes content, commentaries, deleted scenes, 1080p transfers, 5.1 audio and digital copies.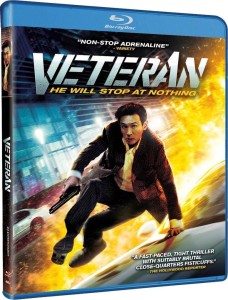 Import Corner: Coming on DVD is THE GREAT HYPNOTIST (104 mins., 2014, Not Rated; Well Go USA), a Chinese import starring Xu Zheng as a hypnotist who meets a woman (Karen Mok) with psychic powers. Well Go's DVD includes 5.1 Chinese audio with a 16:9 transfer when the disc hits stores April 5th…Also on April 5th, CJ Entertainment brings the over-the-top Korean thriller VETERAN (123 mins., 2015) to Blu-Ray. Yoo Ah-In stars as a police detective who takes on a young heir to a major corporation with plenty of martial arts action. CJ's Blu includes both Korean and English 5.1 audio (Dolby Digital) plus a 1080p widescreen transfer.
RLJ New Releases: Mischa Barton is suspicious of her fiancé and decides to snoop around his storage unit. While there, she uncovers something worse than infidelity in the basement of the warehouse in THE HOARDER (86 mins., 2014, Not Rated), a psycho-thriller from director Matt Winn that has Barton running from a killer who collects all kinds of nefarious things. Robert Knepper co-stars in this indie horror, out April 5th from RLJ on DVD sporting a 16:9 transfer, 5.1 sound and a Making Of segment…Rockmond Dunbar stars in CURVEBALL (110 mins., 2015, Not Rated), Brandon "2Mill" Thaxton's film about a rising high school baseball star whose life is derailed when his best friend starts leading him down the wrong path. Jean-Luc McMurtry, Lynn Whitfield, E. Roger Mitchell and Cheri Christian co-star in this drama which also drops April 5th from RLJ on DVD with a 16:9 (2:1) transfer and 2.0 Dolby Digital sound.
NEXT TIME: Carpenter's VILLAGE OF THE DAMNED! Until then, don't forget to drop in on the official Aisle Seat Message Boards and direct any emails to our email address. Cheers everyone!