As any horror fan knows, John Carpenter's career tailed off, fast, in the 1990s. After taking a four-year sabbatical following the conclusion of his Alive Films/Universal deal (that saw the mixed returns of "Prince of Darkness" and "They Live"), Carpenter returned to helm a major-studio project with one of the biggest budgets of his career. The result, alas, was "Memoirs of an Invisible Man," the ill-fated – though watchable – Chevy Chase fantasy with a William Goldman script that was beset by problems and released to disappointing box-office in the winter of 1992.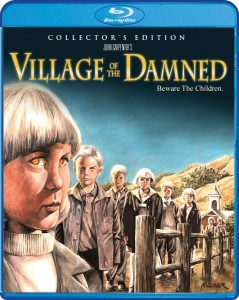 It would be another three years before Carpenter returned, this time to the horror genre with a pair of 1995 releases that also fizzled commercially: the early '95 New Line release "In the Mouth of Madness," which sputtered in its final act after a good start, and the Universal production VILLAGE OF THE DAMNED (**½, 103 mins., R), a remake of the early '60s MGM favorite that fulfilled a multi-picture pact Carpenter still had standing at the studio.
While Carpenter and producer Sandy King had wanted to remake "Creature From the Black Lagoon," Universal had the "Village" remake set up for Wes Craven, and elected to pursue the film with a David Himmelstein script that was ready to go. The resulting picture is often deemed one of Carpenter's worst – but it really isn't, and despite its problems, offers a number of effective elements for sci-fi/horror fans.
Chief among those is the cast – where else can you find Superman and Luke Skywalker running into a series of extraterrestrially-enhanced children borne to women in a small northern California town? Christopher Reeve gives one of the better performances of his late career – and tragically, one of the final ones before his paralyzing accident – as the town doctor, who can't quite figure out the cause of pregnancies that occurred during a town-wide blackout months before….but knows something is up when the resulting offspring have bleached-white hair and incredible intellectual attributes.
There's no question there's a certain punch lacking in "Village of the Damned" – the movie feels too safe and conventional, especially considering it's from the filmmaker who directed "The Thing" at the same studio some 13 years prior, taking little chances as it heavily mirrors the central premise of its predecessor (based in turn on John Wyndham's 1957 novel "Midwich Cuckoos"). An "X-Files"-esque supporting character in the form of Kirstie Alley doesn't pay off, but the rest of the cast does – Reeve brings an immediate conviction to the material, and Linda Kozlowski (better known from "Crocodile Dundee") is also good as the one mother who's able to reach out to the most (and only) empathic child of the bunch. There are also appearances by a grown "Natty Gann," Meredith Salenger, plus Michael Pare and Mark Hamill as the town preacher.
As Shout's new Blu-Ray edition confirms, Universal cut the film down, stripping it of some needed dramatic fire – elements that didn't help its poor box-office showing (the movie barely outgrossed "Madness" but reportedly cost three times as much). Yet Carpenter, perhaps remaining diplomatic to this day, remains content with the film, and to a degree, it's understandable: this is an assured and entertaining sci-fi remake that's a good deal more polished and satisfying than anything Carpenter made afterwards. Despite its lack of "fire," the elegant widescreen compositions of Carpenter and cinematographer Gary Kibbe perfectly fit the material, and it culminates in a strong ending with a pleasing hint of ambiguity – not, as some believed, the door being left open for a sequel.
Making its U.S. Blu-Ray debut, "Village of the Damned" offers a serviceable HD transfer – the 1080p (2.35) AVC encoded presentation is a bit glossy with a typical amount of DNR Universal used to apply to their catalog masters, but the colors are at least strong and there's more detail than DVD. The 5.1 DTS MA sound is okay but there's more punch to the 2.0 DTS MA mix also on-hand here.
The terrific extras are highlighted by a superb, 50-minute retrospective doc with comments from Carpenter, King, and many members of the young cast who have since grown up. Chief among the revealing anecdotes is Lindsey Haun's depressing memories of working with Mark Hamill – let's just say the Force was seemingly not with the actor at that point in time. A Horror's Hallowed Grounds featurette, a 45-minute interview with Carpenter regular Peter Jason, nearly a half-hour of vintage EPK interviews, the trailer and a still gallery round out the package.
"Village of the Damned" may not be a Carpenter classic but it's nevertheless a solid, well-constructed film that's one of the more watchable efforts from the director's late era (I'll certainly take it over the likes of "Escape From L.A." and "Ghosts of Mars"). Recommended for sci-fi buffs and also as a reminder of the talents of Christopher Reeve, who provides one of his more notable genre performances in a film not nearly as poor as its rep would lead one to believe.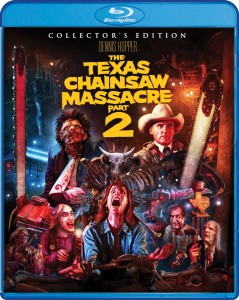 Coming later this month from Scream Factory is a new, two-disc edition of TEXAS CHAINSAW MASSACRE 2 (**½, 101 mins., 1986, Unrated), director Tobe Hooper's only sequel to his groundbreaking 1974 horror staple. This is a a frothier, wildly uneven brew that ups the comedic elements at the same time it delivers more down-home gore.
Dennis Hopper and Caroline Williams essay the duo who run into Leatherface and his clan in this Cannon-produced 1986 release, which wants to be a parody at the same time it asks you to take portions of it seriously. Indeed, the movie's original advertising campaign — which directly satirized "The Breakfast Club" with the Sawyer family in the same poses as the cast of John Hughes' film — directly ties in with the satirical element, though the finished film was neither quite as amusing, or scary, as most fans hoped.
MGM has already released a very strong Blu-Ray edition boasting a nicely detailed 1080p transfer and DTS MA soundtrack, with carried-over-from DVD extras including two commentary tracks (one with Hooper and author David Gregory; another with Caroline Williams, co-star Bill Moseley, and make-up guru Tom Savini), deleted scenes, and a documentary.
Shout's two-disc Blu reprises all of those extras and includes a pair of transfers, one on each disc: the previously-released HD master, supervised by DP Richard Kooris, plus a new 2K HD scan from the Interpositive. 5.1 DTS MA and 2.0 stereo options are included and there are also plenty of all-new extras: a fresh commentary from Kooris, production designer Cary White, script supervisor Laura Kooris and property manager Michael Sullivan adds insight into the production; "House of Pain" profiles makeup effects artists; "Yuppie Meet" chronicles actors Chris Douridas and Barry Kinyon; "Cutting Moments" is a revealing featurette with editor Alain Jakubowicz; "Behind the Mask" puts stunt man and Leatherface performer Bob Elmore in the spotlight; and a new "Horror's Hallowed Grounds" revisits the shooting locales. Deleted scenes, an 85-minute doc "It Runs in the Family" and some other extras carried over from the Arrow UK release are also on tap, making for a must for fans of the film.
Following on the heels of the hilariously good "Lifeforce" and hilariously bad "Invaders From Mars," Hooper concluded his Cannon trilogy with the same uneven results that marked his previous two pictures at the studio. There are some hysterical moments and memorable sequences scattered about "Texas Chainsaw Massacre 2," but it's a bumpy ride best recommended for fans of the original, and not the deadly-serious (and more pretentious) remake and prequel produced by Michael Bay and company.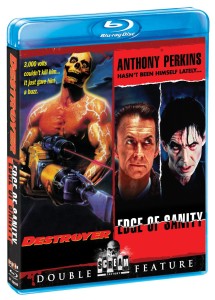 Also Coming From Scream Factory: An utterly bizarre pair of late Anthony Perkins performances grace a Scream Blu-Ray that has to be tagged for the late actor's devotees only. DESTROYER (94 mins., 1988, R) leads off the "fun" with ex-NFL star Lyle Alzado playing a serial killer who perishes in a prison riot on the night of his electrocution – or did he? A B-grade women's prison film later opts to shoot in the asylum where Alzado's execution took place, with Deborah Foreman essaying the lead and Perkins playing the director. This slow-going slasher film has a few chuckles but wastes the talents of "Valley Girl" alumnus Foreman plus Perkins, though director Robert Kirk throws in a few in-jokes that buffs might enjoy. "Destroyer" is certainly more fun than the unpleasantness served up by EDGE OF SANITY (91 mins., 1989, R), featuring one of Perkins' final performances as Dr. Jekyll, whose sexual hang-ups come to the forefront after he downs cocaine and turns into a Mr. Hyde who enjoys heading off to a brothel to fool around with men and women – all of whom don '80s period attire during his coke-induced binges! Perkins' health was obviously on the decline in this 1989 European production, which is disturbing, weird and really not much fun, either, considering the ill condition Perkins was clearly in during shooting. Frederic Talgorn's score is one of the movie's few positive elements, and is presented here in a 2.0 DTS MA stereo mix along with a 1080p (1.85) AVC encoded transfer. Boasting its original on-screen title "Shadow of Death," "Destroyer" offers DTS MA stereo and a 1080p (1.78) AVC encoded transfer that's been newly minted for this release.
Also coming from Scream on Blu-Ray is the 1970s Universal B-thriller SSSSSSS (99 mins., 1973, PG), a Zanuck/Brown production about a mad scientist (Srother Martin) who decides to transform one of his grad students (future "A-Team" star Dirk Benedict) into a King Cobra. Heather Menzies co-stars in a film that boasts impressive make-up effects by the great John Chambers, and works on the level of an average '70s horror outing some of us would routinely encounter on the "Creature Double Feature," complete with an unintentionally hilarious, abrupt freeze-frame ending. For nostalgic fans, Shout's Blu-Ray includes new interviews with Benedict and Menzies, the trailer, a 1080p (1.85) AVC encoded transfer and 2.0 DTS MA sound.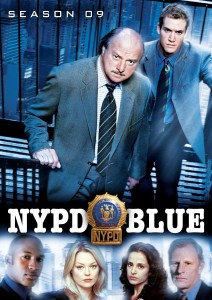 Recent Chillers From Scream Factory: Corin Hardy's effective chiller THE HALLOW (97 mins., 2015) follows a London conservationist and his wife who run into demonic fairies and other assorted creatures when they're sent on assignment in Ireland. Playful and terrifying in equal measure, Hardy's film ought to be a top priority for creature fans when Scream releases it on Blu-Ray April 5th. The package includes a Director's Sketchbook, concept artwork, a Making of, 1080p (2.39) AVC encoded transfer and 5.1 DTS MA sound…Chloe Sevigny and Timothy Hutton top line the indie horror outing #HORROR (98 mins., 2016), Tara Subkoff's chiller about a group of young teens staging an online game that goes too far with deadly consequences resulting. Balthazar Getty and Natashya Lyonne are some of the other familiar faces who appear in this over-the-top affair loosely based on a true story. The IFC Midnight/Scream package includes a 1080p (2.40) transfer and 5.1 DTS MA sound.
Coming on DVD from Shout Factory is Season 9 of NYPD BLUE (17 hours, 2001-02). Season nine features Andy Sipowicz teaming up with new partner Mark-Paul Gosselaar and romancing a fellow detective (Charlotte Ross) in the wake of 9/11. Shout's five-disc DVD set contains 16:9 (1.78) transfers and Dolby Digital stereo sound, and streets this week…Season 4 of SISTERS (17 hours, 1993-94) continues the trials and tribulations of the Reed women – Alex (Swoosie Kurtz), Georgie (Patricia Kalember), Frankie (Julianne Moore) and Teddy (Sela Ward) – with all 22 of its fourth season on-hand in Shout's six-disc DVD set. The package DVD includes 1.33 full-screen transfers and stereo soundtracks…WHEN CALLS THE HEART: TROUBLED HEART (84 mins., 2016) is the second "Movie" from Season 3 of the Hallmark Channel series, bringing back stars Erin Krakow, Daniel Lissing, Jack Wagner and Lori Loughlin. Shout's DVD offers a 16:9 transfer and stereo sound…All 40 episodes from POWER RANGERS: WILD FORCE (14 hours, 2013) have been compiled in Shout's multi disc set. This iteration of the series follows the Power Rangers in the form of five heroes who possess the powers of the "Wild Zords," giant beasts who once flourished in their own kingdom 3000 years ago. The human kids utilize the Zord power when taking on the evil Orgs in "Wild Force," which hits DVD featuring 16:9 transfers and stereo sound…Finally, POUND PUPPIES: SHOWSTOPPING PUPS (2016) offers five episodes from the latest version of the Hasbro characters: The Accidental Pup Star, It's Elementary, My Dear Pup Club, Hot Dawg!, The Watchdogs and Back in Action, all in colorful widescreen DVD transfers.
---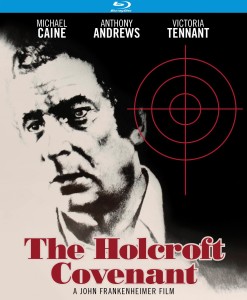 Kino Lorber Studio Classics New Releases
THE HOLCROFT COVENANT Blu-Ray (112 mins., 1985, R). THE MOVIE: Michael Caine gets intense – and then some – in this tepid Thorn EMI adaptation of the Robert Ludlum bestseller. Caine stars as Noel Holcroft, a New York City architect (albeit with an inexplicable British accent!) who finds out the father he never knew was a Nazi leaving behind $40 billion in Third Reich funds that his dad, and two others, stole in the waning days of the war. Despite being (supposedly) earmarked for good, Holcroft finds out there's a devious plan afoot from those who covet the cash. THE LOWDOWN: John Frankenheimer helmed "The Holcroft Covenant," which was scripted by veterans George Alexrod ("The Manchurian Candidate"), Edward Anhalt ("The Satan Bug") and John Hopkins ("Thunderball") and offers a top-notch supporting cast (Anthony Andrews, Victoria Tennant, Lilli Palmer and "Moonraker"'s villainous Drax, Michael Lonsdale). Despite the pedigree of the talent involved, the movie is more entertaining for its unintentional comedy than anything else – namely, Caine's borderline-bonkers performance (made in the midst of his "Shouting!" phase) and a terrible synthesized score by "Stanislas" that's one of the worst of the 1980s. While not one of Frankenheimer's better films, the talent involved still manages to crank out an interesting misfire, albeit one that becomes more unpleasant and uninteresting as it progresses. Note that Caine was cast after James Caan allegedly walked off the set – based on the finished film that resulted, can't say I'd blame him. BLU-RAY BREAKDOWN: Kino Lorber carries over the Frankenheimer commentary from the old MGM DVD and includes the trailer for this and a number of other Caine/Frankenheimer pictures. The 1080p (1.85) AVC encoded transfer is just fine.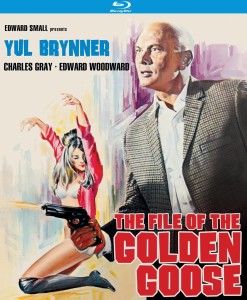 THE FILE OF THE GOLDEN GOOSE Blu-Ray (105 mins., 1969, PG-13). THE MOVIE: Yul Brynner plays an American Treasury agent whose girlfriend is gunned down by a counterfeit gang he's pursuing. Brynner subsequently heads to England where he teams with a Scotland Yard detective (Edward Woodward) and decides to infiltrate the gang – "The Golden Goose" – and its enigmatic leader, "Mr. Big" (a pre-Blofeld Charles Gray), in order to take them down. THE LOWDOWN: A minor but watchable late '60s action-thriller from UA and director Sam Wanamaker, which nearly plays out like a more violent TV-Movie of the Week that used to be broadcast on the networks during that era. The story isn't any great shakes but there's entertainment to be had in watching Brynner and Woodward at work here. BLU-RAY BREAKDOWN: This rarely-screened 1969 release carries a satisfying 1080p (1.85) transfer from elements that show their age at times. The DTS MA mono sound carries a moody Harry Robertson score.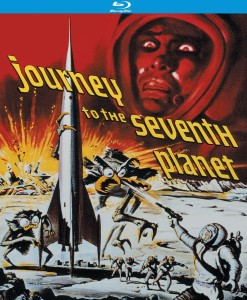 MIRACLE BEACH Blu-Ray (88 mins., 1992, R). THE MOVIE: Surf, sun and sand play a large role in the entertainment behind "Miracle Beach," wherein yuppie Dean Cameron ("Summer School" alumnus) finds a magic lamp and falls for the genie (Ami Dolenz, then fresh off the teen comedy fave "She's Out of Control") inside it – even after she starts granting all of his wishes. THE LOWDOWN: A direct-to-video offering from the early '90s, the good-natured "Miracle Beach" carries an R rating for some sexual content but is in many ways as innocent as its era allowed. Dolenz and Cameron work well with each other, and a talented comic supporting cast – Martin Mull, Vincent Schiavelli, Allen Garfield and Pat Morita – backs up Scott Bindley's original script, directed by Skott Snider. It's a goofy B-movie that has developed something of a cult following since its VHS release and many cable airings. BLU-RAY BREAKDOWN: An attractive 1080p (1.85) transfer and DTS MA stereo audio comprise Kino Lorber's Blu-Ray along with trailers.
JOURNEY TO THE SEVENTH PLANET Blu-Ray (77 mins., 1962). THE MOVIE: Sidney Pink – best known as the auteur behind "Reptilicus"' American cut and "The Anrgy Red Planet" – directed this American-International cheapie about a United Nations crew that uncovers an alien civilization on Uranus that taps into the crew members' memories to create its visual appearance. THE LOWDOWN: Fans of late '50s/'60s outer-space adventures should find this low-budget but narratively intriguing production entertaining. Pink doesn't overstay his welcome with a sub-80 minute running time, leaving star John Agar and his supporting cast to deliver Pink and Ib Melchior's deadly-serious dialogue and the movie's unusual tone. BLU-RAY BREAKDOWN: Tim Lucas' engaging, informative commentary and the trailer grace Kino Lorber's Blu-Ray, which houses a crisp 1080p (1.66) transfer and DTS MA mono sound.
---
New & Noteworthy
DEATH WALKS TWICE Blu-Ray/DVD Limited Edition (Arrow): Fans of the Italian "giallo" genre should be supremely satisfied by Arrow's four-disc, multi-format limited edition housing a pair of thrillers from director Luciano Ercoli.
Both star Nieves Navarro (aka Susan Scott) in a pair of similarly themed thrillers: in "Death Walks on High Heels" (1971), Navarro plays an exotic dancer who's terrorized by a killer looking for her late father's – a jewel thief – stolen goods. Navarro returned in 1972's "Death Walks at Midnight" as a model who witnesses a murder in a nearby apartment, but the authorities don't believe her after they learn of her participation in a drug-infused photoshoot that occurred at the same time. Each film was stylishly shot in widescreen (2.35) and offer the kinds of genre trappings – an attractive female being relentlessly pursued by an unknown assailant with a mix of murder, mayhem and gore surrounding the action – that became symbolic with these Italian productions of the era.
Arrow's box-set, limited to 3000 copies, boasts DVD and Blu-Ray transfers, the latter housing new 2K restorations from original film elements. Original Italian soundtracks (with new subtitles) plus English dubbed tracks are included in DTS MA mono, with a 60-page booklet offering commentary on the films from assorted genre critics. Film-specific extras include commentaries from Video Watchdog's Tim Lucas, introductions by writer Ernesto Gastaldi, interviews with Ercoli and Navarro, a talk with Gastaldi, a lengthy talk with composer Stelvio Cipriani, a visual essay from Michael Mackenzie on Ercoli and Navarro's work together, and an extended TV version of "Death Walks at Midnight."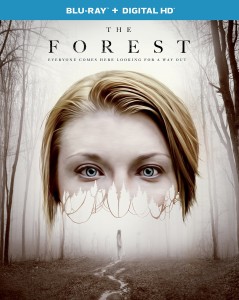 THE FOREST Blu-Ray (94 mins., 2016, PG-13; Universal): Standard-issue horror effort stars "Game of Thrones"' Natalie Dormer as an American girl who heads to Japan after her twin sister disappears in the midst of the "Suicide Forest." There, she ignores all warnings and encounters supernatural goings-on en route to an ending as obvious as they come. This generic, if reasonably well-made, Universal horror outing made decent dollars ($26 million) at the box-office versus its $10 million cost, but for seasoned fans, there's nothing here you haven't seen before, with a routine script offsetting its lead performance. Universal's Blu-Ray comes with a Digital HD copy, storyboards, galleries, a Making Of, and commentary with director Jason Zada. The 1080p (1.85) transfer and 5.1 DTS MA sound are both top notch.
SISTERS Blu-Ray (118 mins., 2015, R; Universal): Second big-screen feature for Saturday Night Live ladies Tina Fey and Amy Poehler made some box-office coin as "Force Awakens" counter-programming, but it's a feeble, lowest-common denominator raunchfest that makes their first vehicle together – "Baby Mama" – seem like comic genius by comparison. The girls here play estranged sisters tasked with cleaning out their parents' house before it's sold; they use the opportunity to throw a blowout party, reconnect with old friends (and flames) and generally cause trouble. Director Jason Moore handles Paula Pell's crass script with all the subtlety of a sledgehammer, and what's worse, "Sisters" drags on for an interminable two hours on top of it, offering only a few scattered laughs inbetween bouts of both tedium and bad taste.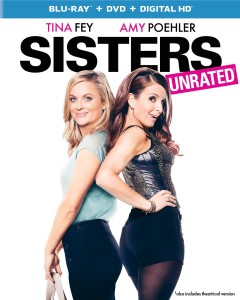 Universal's Blu-Ray combo pack offers a handful of format exclusive featurettes plus deleted and extended scenes, a gag reel, commentary, a DVD, digital HD copy, 1080p (2.40) transfer and 5.1 DTS MA sound.
IDENTICALS DVD (100 mins., 2015, R; Sony): Simon Pummell's British/Irish thriller is set in a world where a mysterious organization provides identical units to human beings, allowing them to make better, wiser choices and improve their lives. When Slater (lachlan Neiboer)'s girlfriend is abducted by "New-U" (not the new Nintendo system!), he goes searching for her in an intriguing sci-fi premise decently executed in this independent Samuel Goldwyn Films release. Sony's DVD includes a VFX Breakdown segment and a discussion with Pummell, plus a 16:9 (2.40) transfer and 5.1 Dolby Digital sound.
STEALING CARS DVD (101 mins., 2015, R; Sony): Director Bradley Jay Kaplan's independent drama stars Emory Cohen as a talented but troubled young man who's sent to the Bernville Camp For Young Boys. There, he learns hard lessons next to truly dangerous inmates and cruel employees, but never loses his sense of determination. Mike Epps, Felicity Huffman, her real-life husband William H. Macy and John Leguizamo co-star in "Stealing Cars," which Sony releases this week only on DVD. The 16:9 (1.85) transfer and 5.1 Dolby Digital sound are both just fine.
ARCHER – Season 6 DVD (272 mins., 2015; Fox): The cult favorite FX animated series returns with ace spy Sterling Archer rejoining his fellow agents on a series of new (mis)adventures including taking on aliens and other nefarious (and not so nefarious) foes. Fox's DVD includes all 13 sixth-season "Archer" episodes on two discs with several special features, 16:9 (1.78) transfers and 5.1 soundtracks.
---
Warner Archive New Releases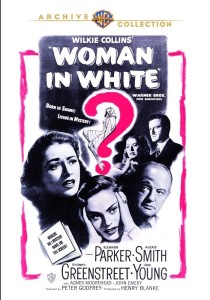 New on DVD, THE RKO VARIETIES TRIPLE FEATURE is an irresistible Warner Archive anthology featuring a trio of musical/comedy affairs from the studio's heyday. VARIETY TIME (59 mins., 1948) offers the likes of Edgar Kennedy, Frankie Carle, Pat Rooney and "Introducing Jack Paar" in a "revue of specialties and highlights from RKO film hits." Paar also serves as host of MAKE MINE LAUGHS (64 mins., 1949), a comedy revue – with some music – featuring Ray Bolger, Anne Shirley, Dennis Day, Jack Halley, Leon Errol and others. The third effort, FOOTLIGHT VARITIES (61 mins., 1951) was billed as "the screen's super vaudeville show," and offers another mix of light comedy, dance and music. All three films are contained here in B&W transfers (4:3) on a single disc.
Eleanor Parker Double Bill: a pair of potboilers starring Eleanor Parker are new to DVD this month from the Archive. In LIZZIE (81 mins., 1957), Parker stars as a woman with multiple personalities in an adaptation of Shirley Jackson's novel "The Bird Nest." This MGM production paled in comparison with another, similarly themed story of mental illness that also reached theaters in 1957 – "The Three Faces of Eve" – but it's an intiguing film with a memorable performance by Parker and a supporting cast including Richard Boone and Joan Blondell as Parker's boozy aunt. Warner's Archive DVD includes a widescreen (1.85) transfer and mono sound. In the earlier THE WOMAN IN WHITE (109 mins., 1948), Parker stars in a satisfying adaptation of Wilkie Collins' 1859 mystery novel, playing dual roles at that in a movie backed by a superb Max Steiner score and plenty of atmosphere to spare. The Archive's DVD features a 4:3 B&W transfer with mono sound.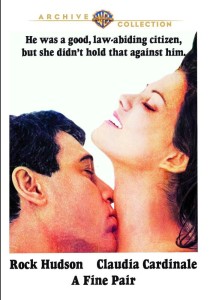 Little-Seen Big Star Vehicles: also new on DVD are a pair of late '60s studio films that have received scant play over the decades since their original release. One of Peter O'Toole's forgotten starring vehicles, BROTHERLY LOVE (112 mins., R) stars O'Toole as a troubled guy named Pink who gets in the way of a reconciliation between his sister (Susannah York) and her estranged husband (Michael Craig). J. Lee Thompson directed this odd, stagy MGM production on DVD for the first time from the Archive with a 16:9 (1.85) transfer and mono sound…the very rarely shown teaming of Rock Hudson and Claudia Cardinale, A FINE PAIR (89 mins., 1968, PG), joins the Warner Archive this month. This unsatisfying Italian production stars Hudson as a NYC cop with Cardinale the daughter of one of his old friends – a thief who wants to break into an Austrian villa. Ennio Morricone scored this Cinema Center Films/National General release, which like "Blue Water, White Death," lies with the Turner/MGM library for some odd reason (the rest of the catalog is owned by CBS). This obscure reunion for Hudson and Cardinale, who looks great and appeared with Hudson in 1965's "Blindfold," offers a 16:9 (1.85) transfer and mono audio.
Finally, making its Blu-Ray debut this month exclusively from the Archive is Neil Jordan's MICHAEL COLLINS (132 mins., 1996, R), the 1996 bio-pic of the IRA leader portrayed by Liam Neeson in a movie that offered all the trappings of an Oscar contender – namely, Chris Menges cinematography plus a top-flight supporting cast including Aidan Quinn, Alan Rickman, Julia Roberts and Jordan staple Stephen Rea. Unfortunately, the film failed to connect with audiences at the time of its release, relegating it to "forgotten" status over the years. Handsomely shot and performed, this is precisely the kind of film worth resurrecting on Blu-Ray, and the Archive's disc boasts an excellent 1080p (1.78) AVC encoded transfer, DTS MA audio, and extras from its prior DVD (Jordan commentary, interview, deleted scenes, the trailer, and "South Bank Show" documentary).
---
Label Round-Up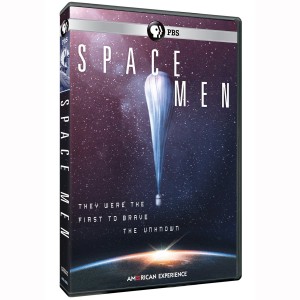 PBS New Releases: An "American Experience" documentary, SPACE MEN (60 mins., 2016), beams down on April 19th. This hour-long production examines the work of Air Force captain Joseph Kittinger, who took off in a helium balloon in 1960 and floated upwards some 100,000 feet before deciding to step off the balloon and take America's first step into the fringes of space. PBS' DVD includes a widescreen transfer and stereo sound…Season 3 of PBS' series FINDING YOUR ROOTS (10 hours) brings back host/historian Henry Louis Gates, Jr. for another season of genealogical pursuits (the Ben Affleck controversy is, thankfully, in the rear view mirror). Gates here profiles the family backgrounds of varied guests like Jimmy Kimmel, Julianne Moore, Neil Patrick Harris, Richard Branson, Gloria Steinem, Bill Hader, Mia Farrow, Norman Lear, Shonda Rimes and even Senator John McCain in these 10 third-season episodes from the series. PBS' three-disc set is available April 12th and includes 16:9 presentations with stereo sound…Coming April 19th is the Nova documentary HIMALAYAN EARTHQUAKE (60 mins., 2016), which looks at the devastating earthquake that destroyed Nepal nearly a year ago. Powerfully presented with a mix of scientific commentary and footage from the actual event, PBS releases "Himalayan Earthquake" on April 19th sporting a 16:9 transfer and 2.0 stereo sound.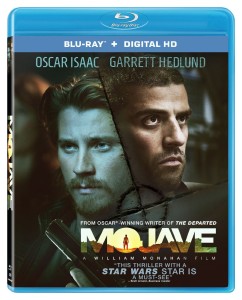 Lionsgate New Releases: Agathe von Trapp's autobiography of her life "Memories Before and After The Sound of Music" is the basis for THE VON TRAPP FAMILY: A LIFE OF MUSIC (98 mins., 2015), a standard-issue but watchable German production starring Matthew Macfadyen, Eliza Bennett and Rosemary Harris. Those with an interest in the von Trapps will find this to be the most intriguing, with Lionsgate's DVD including two featurettes, a digital copy, 16:9 (1.78) transfer and 5.1 sound…New on Blu-Ray is MOJAVE (93 mins., 2015, R), an atmospheric but not altogether satisfying thriller starring Garrett Hedlund as a suicidal artist who runs into a psychotic drifter (Oscar Isaac), generating a subsequent game of cat and mouse. Writer/director William Monahan's original script is well-acted by both leads but is sabotaged by the fact that both characters are completely unlikeable. Lionsgate's Blu-Ray comes with a digital HD copy, a featurette, deleted scenes, a 1080p (2.40) transfer and 5.1 DTS MA sound…Also new on DVD, PAY BACK (85 mins., 2015, R) is a Hong Kong import about a mafia fall guy who turns the tables on his ex-associates once he's released from prison and before becoming part of another crime. Lionsgate's DVD includes Mandarin and English 5.1 audio, a 16:9 (2.35) transfer and 5.1 sound…Season 1 of CASUAL (262 mins., 2016) includes all 10 episodes from the Jason Reitman-produced cable series, which was nominated for a Golden Globe. A digital copy is also included.
Virgil New Releases: A 20-year old Australian guy named Sam Klemke decided in 1977 to shoot a documentary on his life, the same year the NASA launched Voyager on a trip to spread the word about humans to extraterrestrials. Matthew Bate's documentary SAM KLEMKE'S TIME MACHINE (89 mins., 2015) looks at both in an offbeat, comic tale now on DVD from Virgil sporting a 16:9 transfer, stereo sound and a number of featurettes.
MPI New Releases: The downbeat drama DIXIELAND (99 mins., 2015) stars "Mad Max: Fury Road"'s Riley Keough as a stripper and Chris Zylka as a young Mississippi man, recently released from prison, who's trying to go straight but is mixed up with drug dealers. Henk Bedford's film includes a 16:9 transfer, commentary, deleted scenes, interviews, the trailer, a 16:9 transfer and 5.1 sound in IFC's DVD…New on Blu-Ray comes CHERRY TREE (86 mins., 2015), director David Keating's tale of a high school girl (Naomi Battrick) whose father is dying of cancer and whose new hockey coach (Anna Walton) is a witch with the power to save him. Of course, there's a catch in this tale of witchcraft and high school angst that's not terrible for what it is, and should satisfy easy-to-please horror fans. MPI's Dark Sky Films Blu-Ray includes a 1080p transfer and 5.1 Dolby Digital sound.
NEXT TIME: Twilight Time's latest! Until then, don't forget to drop in on the official Aisle Seat Message Boards and direct any emails to our email address. Cheers everyone!