Exploitation fans have long coveted the weird 1977 Canadian/Italian production SHADOWS IN AN EMPTY ROOM (98 mins., R), a wacky blend of action-thriller and murder-mystery that's not nearly as "arty" as its title would lead one to believe. In fact, this strange melding of seemingly disparate elements delivers trashy B-level thrills from start to finish.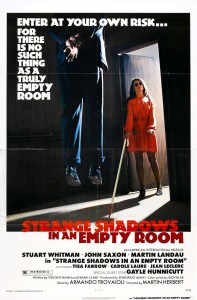 Stuart Whitman stars as a Canadian detective whose college-aged sister dies after being poisoned. The suspects include a doctor (Martin Landau) with a personal connection to her, but there's more to the story than meets the eye – and Whitman ends up dueling with ex-cons and transvestites while participating in a wild, 10-minute long car chase that action fans have long considered one of the best of the 1970s.
Though he doesn't have a lot to do, John Saxon co-stars as Whitman's partner with Tisa Farrow (Mia's younger sister) playing a blind student and "Special Guest Star" Gayle Hunnicutt comprising an eclectic cast working off the offbeat, sometimes confusing script credited to "Vincent Mann" and "Frank Clark" (aka Vincenzo Mannino and Gianfranco Clerici). The movie's original title, "Strange Shadows in an Empty Room," was switched with the more outwardly commercial "Blazing Magnum" for some release prints, and that alone explains much of the movie's appeal: the picture seems to switch identities, much less gears, between an Italian-flavored mystery and an American action film at a moment's notice.
Director Alberto DeMartino, here billed as "Martin Herbert," delivers an energetically paced, Montreal-lensed film that chugs along at times but then, suddenly, offers something you haven't seen before: Whitman fighting with trannies, shooting down a helicopter, and of course, participating in that car chase, which happens at the one-hour mark and delivers a solidly constructed piece of filmmaking that's superior to the material surrounding it.
Long admired by '70s exploitation fans, Kino Lorber – through the solid work of Scorpion Video and its producer Walter Olsen – have delivered a terrific Blu-Ray of "Shadows." The new 2015 HD master (1.78), licensed through MGM, has its share of nicks and scratches, yet these deficiencies in the source material only add to the film's flavor. Trailers for the picture and a handful of other cult films that were released through American International round out the release, with DTS MA mono audio representing the cool, jazzy score by Armando Travaioli.
---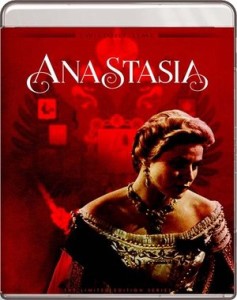 Twilight Time New Releases
ANASTASIA Blu-Ray (105 mins., 1956). THE MOVIE: First class fictionalization of the true story of Anna Anderson, a woman who claimed to have been the Grand Duchess Anastasia, the daughter of Tsar Nicholas II, who was slain along with his family in 1918 (and the subject of Franklin J. Schaffner's "Nicholas and Alexandra," which Twilight Time has already released on Blu-Ray). Arthur Laurents' adaptation of a French play by Marcelle Maurette, which was performed on Broadway in a version by Guy Bolton, takes that true-life event and uses it as a basis for a romantic speculation with Ingrid Bergman as the supposed Anastasia, Yul Brynner as a former General and confidant to the Tsar, and Helen Hayes as the surviving Dowager Empress Marie Feodorovna, whom the duo target in a money laundering plot. Under the direction of Anatole Litvak, "Anastasia" offers grand, Golden Age entertainment in Cinemascope, backed by a marvelous Alfred Newman score. BLU-RAY SPECS: The 1080p (2.35) AVC encoded Fox transfer offers warm colors and details, along with a pair (5.1/2.0) of DTS MA stereo options. An isolated score track, the original trailer (with its own isolated score mix), Fox Movietone newsreels, and two commentaries – one with TT's Julie Kirgo and David Del Valle, another, older track with Laurents, co-star James MacArthur and historians Jon Burligame and Sylvia Stoddard – comprise the robust supplemental section. AISLE SEAT BOTTOM LINE: An old-fashioned entertainment from the heyday of Cinemascope, "Anastasia" offers a bevy of entertainment and Hollywoodized history that's hard to resist.
LILIES OF THE FIELD Blu-Ray (94 mins., 1963). THE MOVIE: One of the most flavorful releases of the early '60s, producer-director Ralph Nelson's atmospheric film follows handyman Homer Smith (an Oscar winning performance from Sidney Poitier) after he breaks down in the Arizona desert, where he subsequently meets a group of European nuns trying to build a chapel and work the land to grow their own food. Smith then aids the immigrant nuns, whose hard work and determination has risen out of the harsh times of WWII, in a movie that's touching but also marked by a lack of standard Hollywood cliches. Though dated in some respects, "Lilies of the Field" has more of a realistic component in its cinematic approach to the material – scripted by James Poe from William E. Barrett's novel – than most of its contemporaries, an attribute that serves it well when viewed today. BLU-RAY SPECS: Jerry Goldsmith's fine score is isolated here (albeit with some effects) while a 1080p B&W (1.66) AVC encoded transfer looks like it may have been derived from an older master. 1.0 DTS MA sound and a very strong commentary with TT's Julie Kirgo, Nick Redman and Lem Dobbs that puts the film into the proper historical context round out the disc. AISLE SEAT BOTTOM LINE: Poitier's Best Actor Oscar win for "Lilies of the Field" was a first for an African-American and broke ground on a number of levels. He's warm and winning here in one of his career-defining highlights, in a movie that remains an inspirational and moving picture that's warmly recommended.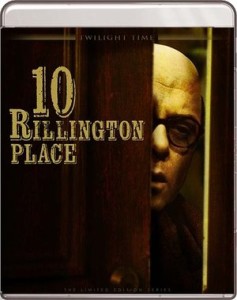 10 RILLINGTON PLACE Blu-Ray (111 mins., 1970, Not Rated). THE MOVIE: A harrowing and grim cinematic retelling of the John Christie case – a British man who killed over a half-dozen women (that authorities are aware of) in the years following WWII. Richard Attenborough is convincing as Christie with John Wood as Timothy Evans, a man living on the edge with his young wife (Judy Geeson) and infant daughter, who moved in next to Christie – with tragic consequences for all involved. American director Richard Fleischer may have seemed an odd choice to helm this Columbia/Filmways co-production, but having recently directed Fox's groundbreaking, true-crime classic "The Boston Strangler," must have appealed to the producers on the basis of that 1968 release. Unfortunately, "10 Rillington Place" offers none of Fleischer's filmmaking prowess that was on display in "The Boston Strangler" as it methodically – sometimes overly so – recounts its events in reportedly accurate detail. BLU-RAY BREAKDOWN: A marvelous commentary from Judy Geeson with TT's Nick Redman and Lem Dobbs is well worth a listen, with the trailer, a highly-detailed 1080p (1.66) AVC encoded transfer and isolated score track of John Dankworth's mostly unobtrusive soundtrack also included. AISLE SEAT BOTTOM LINE: Though exceedingly, and believably, well-acted by the three leads, "10 Rillington Place" is a difficult, claustrophobic picture to watch. While that may have been its point, it's also hard to classify as an 'entertainment' in the purest sense of word, with viewers intrigued by its unrelentingly depressing course of events being most likely to find it of interest.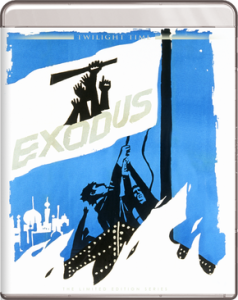 ALEXANDER THE GREAT Blu-Ray (136 mins., 1956). THE MOVIE: Richard Burton stars as Alexander in a highly uneven film from director Robert Rossen that was reportedly cut down in the editing room, removing its three-hour "roadshow" structure. It's certainly a rocky affair, with Burton seeming too old for the teenaged Alexander in its first half; things do improve somewhat as it moves along and the Cinemascope trappings at least provide a visual feast, capped by a sterling supporting cast (Harry Andrews, Stanley Baker, Claire Bloom, Fredric March, Peter Cushing, Michael Hordern, Barry Jones, Peter Wyngarde and Niall MacGinnis among others) and a grand Mario Nascimbene score. BLU-RAY SPECS: Twilight Time's 1080p (2.35) transfer offers a solid, if not spectacular, presentation of the picture, which reportedly has always suffered from varied elements across prior releases. The 2.0 DTS MA audio and isolated music/FX tracks do the best they can presenting Nascimbene's score, with the trailer and "Claire Bloom on Alexander the Great" retrospective featurette rounding out the disc. AISLE SEAT BOTTOM LINE: A problematic film that's made watchable by the cast and its director's artistry. Worth a look for genre fans.
EXODUS Blu-Ray (208 mins., 1960). THE MOVIE: Particularly given Israel's existence in today's turbulent world, it seems like an appropriate time to revisit Otto Preminger's 1960 adaptation of Leon Uris' novel, profiling the state's creation in the years following WWII. Paul Newman and Eva Marie Saint lead a tremendous cast (Ralph Richardson, Peter Lawford, Lee. J. Cobb, Sal Mineo, Hugh Griffith, Jill Haworth) through a sprawling, epic picture remastered here with six-track stereo sound. BLU-RAY SPECS: While the 1080p (2.35) AVC encoded MGM licensed transfer has reportedly been derived from a several-years old master, the audio receives a robust set of options in 5.1, 4.0 and 2.0 DTS MA stereo tracks. Ernest Gold's memorable score has never sounded fuller than it does here, with an isolated music/effects mix and the trailer also included. AISLE SEAT BOTTOM LINE: Though it can be a bit dry in places and demands a sizable time commitment from the viewer, "Exodus" is well worth seeing as it captures time and place – and a historical moment especially – in splendid Super Panavision 70 imagery. Though times have changed, this remains a socially and historically relevant film with a script by Dalton Trumbo adapting Uris' novel.
---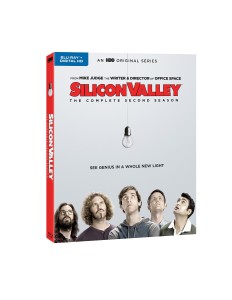 Also New & Noteworthy
SILICON VALLEY Season 2 Blu-Ray (300 mins., 2015; HBO): For my money, the funniest comedy on TV today returns for its sophomore season having lost none of its appeal. This time out, the guys from "Pied Piper" face the opposition of Google-like empire Hooli after the gang strike out at a Tech Crunch demo, causing fear, doubt and inevitable failure to cast a shadow on their future prospects. The writing is pinpoint sharp, the ensemble performances splendid, and the direction on target – "Silicon Valley" is as consistently amusing as anything on cable (or anywhere else, for that matter) episode after episode. HBO's Second 2 Blu-Ray of "Silicon Valley" offers deleted scenes, six commentary tracks, a featurette, digital HD copy, 1080p transfers and 5.1 soundtracks.
Also coming shortly from HBO is the complete Fourth season of VEEP (281 mins., 2015), returning Julia Louis-Dreyfus to her award-winning role of Selina Meyer, the former Vice President turned President running for election in the latest 10 episodes from the Golden Globe-winning Best Comedy series. HBO's Season 4 Blu-Ray set includes 1080p transfers and DTS MA soundtracks along with deleted scenes and a Digital HD copy.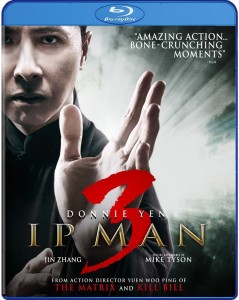 IP MAN 3 Blu-Ray (105 mins., 2015, PG-13; Well Go USA): Donnie Yen reprises his role in the popular martial arts series as "Ip Man," the Wing Chun grandmaster who tutored the great Bruce Lee in the ways of kung fu. Here, Mike Tyson (!) co-stars as a real estate developer who bids to take over the city for a series of gangster thugs, and it's up to Ip-Man and a rival master (Jin Zhang) to save the day. Yuen Woo Ping choreographed the movie's pungent fights in an entertaining sequel that should satisfy martial arts fans. Well Go's Blu-Ray, out April 19th, includes interviews with Yen, Tyson and director Wilson Yip, plus a Making Of, featurettes, trailers, a 1080p transfer and DTS MA sound with Cantonese and a dubbed English track also on-hand.
JUSTICE LEAGUE VS. TEEN TITANS Blu-Ray Limited Edition Combo Pack (78 mins., 2015, PG-13; Warner): In time to capitalize on the release of "Batman V Superman" comes the latest DC Comics animated offering: a zesty tale involving a moody Robin (really the secret offspring of Bruce Wayne!) who suits up with the Teen Titans and fellow member Raven, only to have her father – Trigon – end up pitting the young heroes against the Justice League itself. Decent comic book action that takes awhile to get moving, despite its sub-80 minute running time. Packaged in a Limited Edition Gift Set with a Robin figurine, Warner's combo release offers an appealing 1080p Blu-Ray transfer, DTS MA 5.1 audio, multiple featurettes, bonus cartoons, a DVD, digital HD copy, and preview of the highly anticipated next DCU entry: a new adaptation of the classic Batman story "The Killing Joke."
Also new this week from Warner is Season 6 of PRETTY LITTLE LIARS (883 mins., 2015-16), the ABC Family/Freeform series that picks up immediately after the fifth's season cliffhanger. Aria, Emily, Hanna, Spencer and Mona continue to be trapped in a "Dollhouse" by Charles, while Ezra, Caleb and Toby try to save them. Eventually the mystery is worked out – only to have the series fast-forward five years in time for its second half, giving most of the girls the chance to change hairstyles (and solve a new mystery, of course). Warner's DVD box-set offers all 21 Season 6 "Pretty Little Liars" episodes in 16:9 transfers and 5.1 sound with four all-new featurettes plus deleted scenes.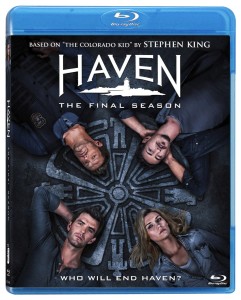 HAVEN: THE FINAL SEASON Blu-Ray (559 mins., 2015; E One): The final 13 episodes from the Syfy Channel series – a Canadian production shot on a fraction of the budget of CBS' "Under the Dome" but much more entertaining – land on Blu-Ray April 19th from E One. In this goodbye season to the long-running series, the gang – led by Emily Rose's Audrey – finds themselves separated from reality when a fog bank enshrouds the town of Haven and the mystery of "Croatoan" is revealed. E One's Blu-Ray set is packed with extras: 13 commentaries, an equal number of featurettes, cast/crew interviews, behind-the-scenes segments, 1080p transfers and DTS MA soundtracks make for a must-have for fans of this uneven but generally admirable show that does more with less than other loosely-based Stephen King adaptations.
JACKIE ROBINSON Blu-Ray (240 mins., 2016; PBS): Major League Baseball's pioneering African-American player, the life and times of Jackie Robinson have been chronicled in numerous other films and documentaries, but none quite as comprehensibly as this new Ken Burns production. Utilizing interviews, archival clips, photographs and film footage, Burns, his wife Sarah and David McMahon spend all four hours of their new documentary looking at not only Robinson's breaking of baseball's color barrier and records set on the field, but also at Robinson life off it: from his civil rights activism to fight with diabetes and lesser-known (at least today) pursuits like writing a newspaper column.
This fascinating and moving tribute to Robinson and his legacy is new on Blu-Ray, where PBS' package includes several featurettes, 1080i HD transfers and 5.1 surround. Highly recommended.
CONCUSSION Blu-Ray (123 mins., 2015, PG-13; Sony):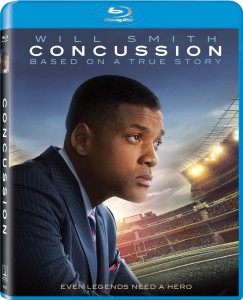 Will Smith delivers, easily, one of his best performances here as Dr. Bennet Omalu, a Nigerian doctor working as a pathologist in Pittsburgh, who discovers a pattern among former NFL football players who die young from brain trauma. The issue of concussions has been at the forefront of discussion over the last few years with the NFL, which staunchly refused to acknowledge a link between playing football and concussions, not even after ample evidence was delivered showing as much. In the hands of director Peter Landesman, who adapted a book by Jeanne Marie Laskas, the Ridley Scott-produced "Concussion" is a strong, ultimately moving picture that unfolds like a good mystery, anchored by a performance from Smith that's suitably noble and heroic.
Sony's Blu-Ray includes format exclusive deleted scenes and a featurette, plus another Making Of, commentary from Landesman, a 1080p (2.39) transfer, 5.1 DTS MA audio and a digital HD copy.
THE LADY IN THE CAR WITH GLASSES AND A GUN Blu-Ray (95 mins., 2016, Not Rated; Magnolia): Director Joann Sfar attempts to harken back to the avant-garde European thrillers of the 1960s and '70s with this convoluted, offbeat tale of a secretary (the bewitching Freya Mavor) who takes her boss' car for a joyride and ends up in a seaside town where everyone knows her and she quickly becomes the suspect in a murder. Far more style than substance in this French import now on Blu-Ray from Magnolia sporting English subtitles and French audio, or an English dubbed track; an interview and featurette with Sfar; 1080p (2.39) transfer and 5.1 DTS MA sound.
DVD Briefs: Maggie Smith plays a woman who lives for 15 years in the driveway of a London man (Alex Jennings) in THE LADY IN THE VAN (104 mins., 2015, PG-13; Sony), a touching film based on a true story from writer Alan Bennett and director Nicholas Hytner. Sony's DVD offers commentary, a VFX featurette, 16:9 transfer and 5.1 audio…New from Lionsgate on DVD is POWER RANGERS DINO CHARGE: RESURGENCE (92 mins., 2015), featuring four episodes (Breaking Black; The Tooth Hurts; Let Sleeping Zords Lie; Double Ranger Double Ranger) in 16:9 widescreen transfers with digital copies…FLIGHT 7500 (80 mins., 2015, PG-13) was a CBS Films release from "Grudge" director Takashi Skimizu starring Leslie Bibb as a flight attendant on a trip when a passenger dies, setting off a supernatural force that threatens them all. Jamie Chung, Amy Smart, Ryan Kwanten and Johnathon Schaech co-star in a film that bypassed a theatrical run – perhaps no surprise with its 80 minute running time and lack of scares. Lionsgate's DVD includes a featurette, digital copy, 16:9 (1.78) transfer and 5.1 sound…Season 1 of GRACE AND FRANKIE (377 mins., 2015) hits DVD this week also from Lionsgate. This Netflix comedy reunites Jane Fonda and Lily Tomlin as two women whose respective husband (Martin Sheen, Sam Waterston) have filed for divorce – so they can marry each other. Commentaries, a featurette, and gag reel comprise this multi-disc Lionsgate DVD with digital copies and 16:9 transfers on tap.
NEXT TIME: JANE GOT A GUN and more of the latest releases! Until then, don't forget to drop in on the official Aisle Seat Message Boards and direct any emails to our email address. Cheers everyone!