Alejandro G. Inarritu's THE REVENANT (***½, 158 mins., 2015, R; Fox), the deservedly praised follow-up to his overrated Oscar winner "Birdman" is, if nothing else, a triumph of visual design and cinematography. Less successful is the movie's basic, straightforward plot, wherein trapper Leonardo DiCaprio is left for dead by a fellow hunter (Tom Hardy), only to improbably resurrect himself and take revenge for the killing of his half-breed son.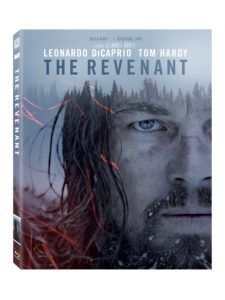 The world of "The Revenant" – loosely based on a true story – is an uncompromising, harsh and strikingly realized one: there's violence between Indians and American colonists, between the French and the Americans, between the Indians and one another, and the constant threat of wildlife – namely, a large bear that ruthlessly, and quite memorably, attacks DiCaprio and crew early on. Throw in freezing temperatures, violent storms, and anything else that can be thrown at DiCaprio's protagonist throughout the picture's near-three hour running time, and you have a beautiful yet stark universe that you'll be happy you're not actually living in when "The Revenant" finally comes to a close.
With his swirling camera and eye for detail, Inarritu has developed an enveloping treat for the senses, backed by Oscar-winning cinematography by the great Emmanuel Lubezki that's absolutely sensational and a must for viewing on Blu-Ray. For all of the movie's 156 minutes, you'll feel as if you're part of the world that Inarritu, Lubezki and production designer Jack Fisk have meticulously recreated here. It's that sense of atmosphere – and the phenomenal presentation of the movie's mostly Canadian and Argentinian shooting locales – that distinguishes "The Revenant" as a superbly memorable cinematic creation, yet some viewers may be turned off by the basic plot and assorted sequences of gore (there's also a suspension of disbelief required whenever DiCaprio's hero frequently wades into freezing-cold water and never seems to have a problem!).
Fox's Blu-Ray of "The Revenant" is marked by a stellar 1080p (2.40) transfer that's every bit as splendid as you'd anticipate. The 7.1 DTS MA audio is deftly engineered with an odd, eclectic score credited to Ryuichi Sakamoto and Alva Notto – with a smattering of other artists credited with additional music – effectively backing the drama. Extras are regrettably limited here, with just a 45-minute documentary taking viewers behind the scenes, though overseas releases apparently contain deleted scenes among other supplements, making one ponder the possibility a more features-rich edition will follow in the near future.
---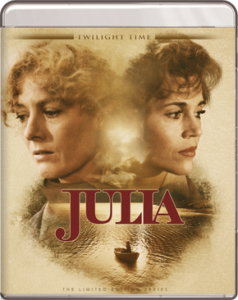 Twilight Time New Releases
Throughout every era there are movies that are released to great critical acclaim, only to slip through the tracks of time and seemingly vanish into the cinematic netherworld.
One of those films was JULIA (***, 118 mins., 1977, PG), 20th Century Fox's finely-acted story of the author Lillian Hellman (Jane Fonda) and her relationship with Julia (Vanessa Redgrave), a childhood friend from a wealthy family who becomes heroically – and tragically – involved in anti-fascist activities in Europe during the rise of the Nazis.
Directed by Fred Zinnemann and scripted by the great Alvin Sargent from a part in Hellman's memoir "Pentimento," "Julia" was nominated for 11 Oscars and won three: for Sargent's Adapted script, Redgrave's supporting performance, and Jason Robards' turn as author Dashiell Hammett, who forged a decades-long relationship with Hellman. Despite the title, the movie is less about Julia and more about Hellman, whose creative process and frustration parallels her relationship to the increasingly mysterious Julia, leading to the film's big set-piece: Hellman's ultimate meeting with Julia, which comes as the result of her smuggling funds for her lifelong friend into Germany itself.
Shot spectacularly by Douglas Slocombe, with warm colors and crisp textures being rendered flawlessly in Twilight Time's 1080p (1.85) Blu-Ray transfer, "Julia" nevertheless seemed to disappear after its original release. Perhaps the revelation that Hellman had fabricated the entire story – grabbing bits and pieces out of the life of Muriel Gradiner, whose own 1983 memoir revealed Hellman's tale to be a flight of fancy – had something to do with it.
That said, "Julia" is still a first-class studio production that generates a good amount of suspense in its second half. Younger viewers unfamiliar with the likes of Hellman or Hammett may be somewhat bewildered as to who the players are – and the movie provides scant cultural context to them in this regard – but there's no doubting the tension that emerges from the movie in its concluding stages. Fonda has far more screen time than Redgrave, whose character is mostly an enigma, and there are early appearances from the likes of Meryl Streep and John Glover.
In addition to its strong transfer and clear DTS MA mono sound (housing an unobtrusive Georges Delerue score, reuniting the composer with Zinneman for the third time), Twilight Time's Blu-Ray features a new commentary with Jane Fonda and Nick Redman. The talk dives into both the film and Fonda's career, and even though the actress seems to tail off in its second half, her fans – and Hollywood history buffs in general – should find the discussion to be of great value. The trailer and an isolated score track are also included.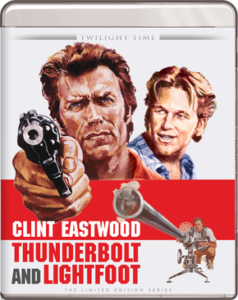 Returning to Twilight Time's Blu-Ray stable for a second edition is THUNDERBOLT AND LIGHTFOOT (***, 114 mins., 1974, R), which offers a decidedly "'70s" crime thriller that ought to appeal to aficionados of stars Clint Eastwood (as a veteran bank robber on the run) and Jeff Bridges (the young hotshot likewise running from stealing a car, whose path intersects with Eastwood).
Michael Cimino, who had co-written Eastwood's Dirty Harry sequel "Magnum Force," took the reigns behind the scenes for his first feature, showing an affinity for widescreen scope composition (shot in gorgeous Montana locales by Frank Stanley) and colorful characterizations. "Thunderbolt and Lightfoot" is as much about the friendship between the two men as it is the robbery the duo – along with Eastwood's former partners (George Kennedy, Geoffrey Lewis) – are planning with the help of "Thunderbolt"'s 20-millimeter cannon.
"Thunderbolt and Lightfoot" is an early prototype, of sorts, for what would eventually become the "buddy movie"– Eastwood and Bridges generate an amiable chemistry here that makes the movie's almost requisite detour into downbeat tragedy even more striking (if not somewhat disappointing) at the end. As much as folks complain about the "happy endings" of most modern films, the ending of this picture is as predictable given its era, even concluding with a similar shot (as Nick Redman, Julie Kirgo and Lem Dobbs point out in their audio commentary) to the finale of "Midnight Cowboy."
Still well worth seeing for its sense of time and place and its lead performances, "Thunderbolt and Lightfoot" was a strong seller for Twilight Time and this release reprises its first edition's contents: the 1080p AVC encoded transfer offers clear detail and no obvious signs of digital processing. The mono sound is acceptable given its vintage, sporting a score by Dee Barton with a Paul Williams original song popping up here and there. Extras include the before-mentioned commentary, isolated score and the original trailer.
Bridges is also present in director Ivan Passer's 1981 film CUTTER'S WAY (**½, 109 mins., R), a gritty tale of a Santa Barbara gigolo (Bridges) who teams up with a wheelchair-bound Vietnam vet (John Heard) and their equally alcoholically-impaired female friend (Lisa Eichhorn) to solve the murder of a young woman whose body Bridges unknowingly saw being thrown into a dumpster one night.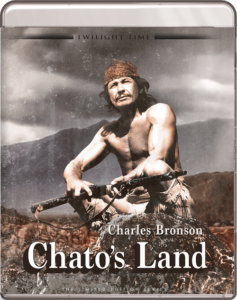 The performances of Bridges and especially Heard go for broke in "Cutter's Way," which is a gritty, narcissistic little picture that's easy to admire but hard to like. That's because the embittered protagonists and their respective hang-ups, while believably rendered, aren't especially appealing, and Jeffrey Alan Fiskin's script – adapting a Newton Thornburg novel – leads to both a predictable climax involving a local business tycoon (Stephen Elliott) and a bleakly downbeat ending.
A movie that understandably failed to muster much commercial business (UA released it through their "United Artists Classics" specialty label), "Cutter's Way" does have a rep amongst some film buffs as being brilliant. I wouldn't quite go there personally, but aficionados of the picture should warm to Twilight Time's Blu-Ray, featuring a typically engaging chat with TT's Julie Kirgo and Nick Redman, the trailer, and an isolated score track of Jack Nitzsche's music. The 1080p (1.85) MGM-licensed transfer is certainly superior to DVD but looks to have been derived from an older master, lacking some of the finer details of this month's other TT releases, and the 1.0 DTS MA mono audio is perfectly functional.
Also new this month from Twilight Time:
CHATO'S LAND (**½, 110 mins., 1972, PG). THE MOVIE: A brutal (inexplicably PG rated!) "revisionist western" that marked the first of six collaborations between Charles Bronson and British director Michael Winner. In "Chato's Land," Bronson plays a half-breed Apache who shoots a sadistic sheriff and then has to fend off a posse led by the likes of Jack Palance (a surprisingly understated performance), Simon Oakland, James Whitmore and Richard Basehart, who – to varying degrees of prejudice and hatred – want revenge. Winner and writer Gerald Wilson were far less interested in paying tribute to the western genre here than they were creating a thinly veiled commentary on Vietnam, with the posse members – who also include a young Richard Jordan – having to pursue Bronson's nearly-mute protagonist on his terms, across his terrain, and wondering what the point of it all is. BLU-RAY SPECS: The UA release boasts a detailed 1080p (1.85) transfer that's a nice enhancement over MGM's prior, out of print DVD, though the gritty look to the film remains a crucial part of its visual design. An isolated score track of Jerry Fielding's soundtrack, the trailer, and a featurette with Wilson discussing the film round out the release. AISLE SEAT BOTTOM LINE: I've become a fan of Bronson's output over the years, but while there is a following for "Chato's Land," I found the film too bitter for its own good and its agenda overly transparent.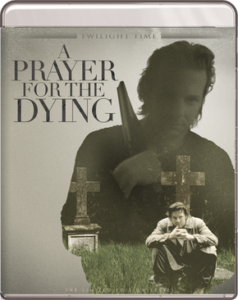 A PRAYER FOR THE DYING (**, 107 mins., 1987, R). THE MOVIE: Misfired but not uninteresting adaptation of Jack Higgins' bestselling novel, one that feels off-kilter mainly because of Mickey Rourke's miscasting as an IRA hitman who has to carry out one last assassination at the behest of a ruthless gangster (Alan Bates), only to confess his sins to an understanding priest (Bob Hoskins) while falling for his blind niece (Sammi Davis). Liam Neeson also appears in this 1987 film from director Mike Hodges, which was disowned by the director after the producers allegedly re-edited it. BLU-RAY SPECS: Interviews with Hodges and cinematographer Mike Garfath are included along with an isolated (with some effects) track of Bill Conti's superb score (a replacement for John Scott's original work). The 1080p (1.85) AVC encoded transfer and DTS MA 2.0 stereo track are both strong, appearing to have been derived from a recently struck MGM master. AISLE SEAT BOTTOM LINE: Between Rourke and Hoskins, there's something a little "off" about the performances in "A Prayer For the Dying," though fans of Higgins' novel and the material might find it to be of sufficient viewing interest just the same.
IN THE FRENCH STYLE Blu-Ray (**½, 105 mins., 1963). THE MOVIE: Writer-producer Irwin Shaw adapted a pair of his short stories for this 1963 Columbia film, starring Jean Seberg as an American art student living the single life in Paris, and becoming a part of its era's inherent promiscuousness. There, she bounces from one man to another before – some years later – settling for a British journalist (Stanley Baker) with a strong attachment to the bottle. Robert Parrish helmed "In the French Style," which was flavorfully filmed on location and likely will be of chief interest for Seberg buffs, seeing as the picture itself feels like Hollywood trying to make their own film from the French "New Wave," none too convincingly. BLU-RAY SPECS: Commentary with TT's Nick Redman, Julie Kirgo and Lem Dobbs is a highlight along with the trailer, and isolated score track (with some effects) of Joseph Kosma's soundtrack, similar to his works from the legitimate "New Wave" films of Jean Renoir. The 1080p (1.66) Sony licensed AVC encoded B&W transfer is highly detailed and 1.0 DTS MA mono sound rounds out the disc. AISLE SEAT BOTTOM LINE: Seberg is gorgeous, but the storytelling in "In the French Style" is melodramatic and slow-going. Those with an appreciation for its time and place – and its leading lady – will be the most satisfied by its appeal.
---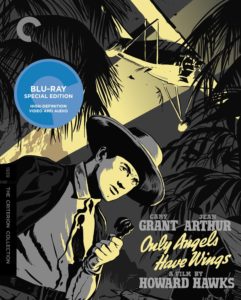 New From Criterion
Filling a major void in the filmography of Whit Stillman fans, Criterion at last has gotten their hands on Stillman's second feature, BARCELONA (***, 101 mins., 1994, R). The filmmaker's eagerly anticipated follow-up to his debut feature, "Metropolitan," is set in Spain during the 1980s, where a pair of mismatched American cousins – a salesman (Taylor Nichols) and his naval officer cousin (Stillman fave Chris Eigeman) – find themselves living together, navigating relationships with the locals, and trying to bridge long-standing animosity between them.
Not quite as funny or appealing as the films that bookend it – "Metropolitan" and "The Last Days of Disco" – "Barcelona" is nevertheless filled with Stillman's sophisticated dialogue and indelible performances, especially from the two leads and Mira Sorvino as a woman who strikes up a relationship with Eigeman's military man. It might be less accessible than Stillman's other films in his '90s trilogy as well, but it's still funnier and more insightful than most films – even of the indie variety – we see today.
As with Criterion's outstanding Blu-Rays of Stillman's other pictures, "Barcelona" looks great and has been graced with new supplemental features. A 2K digital transfer and 2.0 DTS MA stereo soundtrack comprise a superb a/v presentation, with extras including a 2002 commentary with Stillman, Eigeman and Nichols from the DVD; a video essay from critic Farran Smith Nehme about the three films; a 1994 vintage documentary; deleted scenes and an alternate ending with commentary; vintage Stillman appearances on Dick Cavett, Charlie Rose and the Today Show (from 1991-94); and the trailer.
Because it had to be licensed through Warner Bros., it took a while for Stillman fans to see Criterion bestow the deluxe treatment on "Barcelona," but the package was worth the wait. Recommended!
Also new from Criterion this month is Howard Hawks' 1939 adventure ONLY ANGELS HAVE WINGS (***, 131 mins.). Making its second sojourn on Blu-Ray (following a TCM exclusive release), this early Hawks film stars Jean Arthur as a traveling entertainer who finds herself meeting – and falling – for renegade pilot Cary Grant, working to deliver the mail via plane – often over dangerous mountain terrain – out of a South American port.
While the earlier TCM Blu-Ray looked very, very sharp, Criterion's disc seems even more detailed, thanks to a 4K digital restoration and PCM uncompressed mono sound. Extras include audio excerpts from a 1972 Peter Bogdanovich interview with Hawks; a new talk with critic David Thomson; the featurette "Howard Hawks and His Aviation Movies," featuring Craig Barron and Ben Burtt; the 1939 Lux Radio Theatre adaptation; and the trailer.
---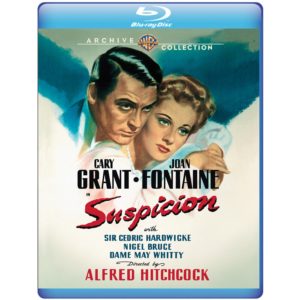 Warner Archive New Releases
Cary Grant fans can also get their fill of the late, great cinema icon with the Warner Archive's long-awaited Blu-Ray of Alfred Hitchcock's bona-fide classic SUSPICION (***½, 97 mins., 1942). Reuniting Hitch with his "Rebecca" star Joan Fontaine, "Suspicion" finds Fontaine's heroine meeting and falling for a charming rascal played by Cary Grant – whose gambling and real estate dealings have Fontaine's Lina wondering if her new husband isn't planning on something more diabolical for both her and his longtime friend (Sherlock Holmes' resident Dr. Watson, Nigel Bruce).
"Suspicion" is often deemed one of Hitchcock's earliest U.S. classics, and it holds up tremendously today. Fontaine, who won an Oscar here for her performance, makes for a terrific contrast with Grant, whose character projects a touch of menace in addition to the star's usual charisma. They play off each other splendidly, and Hitchock himself is at his best shifting gears from light romance to domestic drama to…something, perhaps, more sinister…as the film progresses. Granted, the ending was changed from the film's source material, but don't let the era's commercial considerations get in the way of this Golden Age entertainment, which "Suspicion" still provides to Hitchcock fans to this day.
Warner's Archive Blu-Ray of "Suspicion" is a winner. The 1080p (1.37) AVC encoded transfer sports crisp B&W detail easily surpassing its DVD presentation, with Laurent Bouzereau's decade-plus old featurette and the trailer rounding out a must for Hitch buffs.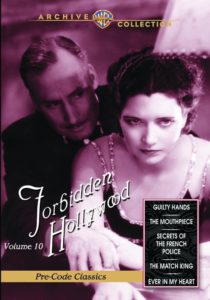 Pre-Code Mania: FORBIDDEN HOLLYWOOD Volume 10 continues Warner Home Video's sublime exploration of Pre-Code classics. Included here are Lionel Barrymore as a corrupt District Attorney in W.S. Van Dyke's MGM release "Guilty Hands" (69 mins., 1931); Warren William in James Flood and Elliott Nugent's Warner Bros.-Vitaphone favorite "The Mouthpiece" (86 mins., 1932) and the biopic "The Match King" (78 mins., 1932); Edward Sutherland's "Secrets of the French Police" (57 mins., 1932), an early RKO release starring Frank Morgan and John Warburton; and Barbara Stanwyck toplining "Ever In My Heart" (68 mins., 1933), a Warner Bros. soaper co-starring Otto Kruger and Ralph Bellamy as the two men vying for her affections. B&W transfers are on-tap in this newly-released, multi-disc DVD anthology exclusively from the Archive.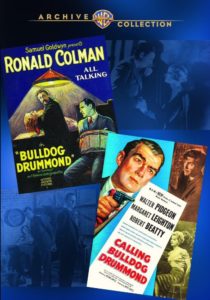 A pair of new DVDs from the Archive celebrate titles from Hollywood's "Dawn of Sound" era. THE MAN AND THE MOMENT (79 mins., 1929) is a very early First National/Vitaphone comedy starring Billie Dove and Rod La Rocque. This creaky but fascinating effort was thought to have been lost to the ravages of time until 35mm elements were discovered in Italy, preserving this part-talkie with its music, sound effects and dialogue sequences all restored and presented as audiences first heard them in 1929. Meanwhile, the BULLDOG DRUMMOND DOUBLE FEATURE kicks off with the 1929 appearance of the WWI veteran-turned-detective with Ronald Colman in the title role (89 mins.). Drummond returned in the form of a 1951 MGM production starring Walter Pidgeon as an older Bulldog is called out of retirement and paired with a female partner (Margaret Leighton). The Archive's Double Feature DVD boasts B&W 1.33 transfers.
Eleanor Parker Double Feature: Another pair of Eleanor Parker titles debut on DVD for the first time courtesy of the Archive this month. The colorful MGM adventure VALLEY OF THE KINGS (86 mins., 1954) was notable for being the first Hollywood film to shoot in Egypt, starring Parker as a turn-of-the-century explorer working with archaeologist Robert Taylor to find proof of Biblical events. The Archive's colorful 16:9 (1.78) transfer is strong and a fine Miklos Rozsa score adds the perfect touch to the old-fashioned entertainment. In THE SEVENTH SIN (93 mins., 1957), Parker stars in an adaptation of W. Somerset Maugham's book, co-starring Bill Travers, George Sanders and Jean-Pierre Aumont. Another fine Miklos Rozsa score and crisp Cinemascope photography, captured by director Ronald Neame, make for a glossy MGM soap opera also new to the Archive this month.
---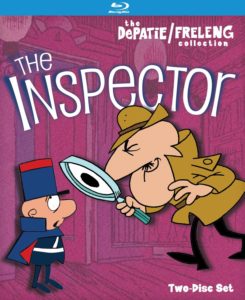 Kino Lorber Animation Reviews
Inspired by the success of the "Pink Panther" animated shorts, producers David DePatie and Friz Freleng next turned their attention to a series of cartoons starring THE INSPECTOR (237 mins., 1965-69) himself. The result may not have been quite as popular as his furry pink counterpart, but for a span of nearly three years Depatie-Freleng animated over 30 "Inspector" shorts, some of which are quite funny, and all of which have been collected in a new Blu-Ray anthology from Kino Lorber.
Offering all "The Inspector" cartoons produced between 1965 and 1969, this is an essential compilation for "Pink Panther" enthusiasts. Pat Harrington (later to gain fame as "Schneider" on "One Day at a Time") voices the Inspector with Don Messick as The Comissioner; interestingly, the shorts aren't a direct adaptation of the film characters, instead taking a protagonist who looks somewhat like Clouseau (but generally isn't as clumsy) and following him through a series of increasingly madcap adventures.
Choosing "The Inspector" along with two other "Pink Panther"-related properties to launch their inaugural Animation Blu-Ray line, Kino Lorber's two-disc "Inspector" release is terrific. The 34 shorts have each been presented in their original 1.33 aspect ratios with opening and end credits, utilizing Henry Mancini's "A Shot in the Dark" theme. Extra features have also been newly produced for this release by Greg Ford: "Goodbye, Warner Bros., Hello DePatie-Freleng" and "Of Aardvarks, Ants, Inspectors and Cranes" both profile the end of traditional Warner Bros. animation in the early '60s and how animators like Friz Freleng survived outside the WB system. Historians like Jerry Beck are also present to discuss how the DePatie-Freleng collaboration originated and endured, for many years, though properties like "The Inspector," and several commentaries feature a mix of Beck, Ford, author Mark Arnold, and archival comments from Freleng.
The popularity of "The Inspector" lead to other characters DePatie-Freleng created, albeit to mixed degrees of success.
THE ANT AND THE AARDVARK (107 mins., 1969-71) followed "The Inspector," featuring the combative exploits of the title character in shorts that offered Sylvester/Tweety-type hyjinks. Though not usually as creative as "The Inspector," fans of the DePatie-Freleng cartoons ought to still appreciate this single-disc anthology of all 17 shorts featuring the comic duo, which were produced for theatrical release and later broadcast as part of the '70s "New Pink Panther" television series. The 1080p (1.33) AVC encoded transfers and DTS MA mono soundtracks are all fine.
Also new from Kino Lorber is CRAZYLEGS CRANE (98 mins., 1978), a supporting character who appeared in other DePatie-Freleng cartoon properties ("Tijuana Toads," "Blue Racer" and "Dogfather," which are coming soon from the label on Blu-Ray) and briefly received his own run of shorts as part of the "All-New Pink Panther" Saturday morning series. Viewers nostalgic for the character and the program are most likely to enjoy Crane's adventures – which are pretty silly and forgettable – though treated to the same quality Blu-Ray presentation here (1.33 1080p transfers) as Kino Lorber's above titles.
Commentaries and the same extras have been carried across both the "Crane" and "Aardvark" releases.
---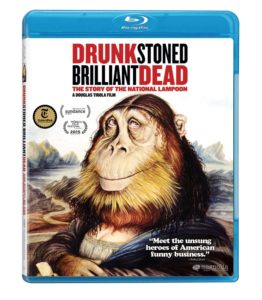 New & Noteworthy
DRUNK STONED BRILLIANT DEAD: THE STORY OF THE NATIONAL LAMPOON Blu-Ray (95 mins., 2015; Magnolia): Terrific documentary recounts the rise and fall of the American satirical magazine, which launched countless careers – John Hughes, Chevy Chase, John Belushi, Christopher Guest, Gilda Radner among them – and found itself dabbling in multi-media, across film, TV, and music, before coming to an end in the 1990s.
Director Douglas Tirola's film is a breezy, enjoyable production all the way, with comments from the likes of John Landis, Tim Matheson, Chase and Judd Apatow, reflecting on the mag's controversial humor (which would never fly in today's hyper-sensitive age of social media injustice) and the tragic passing of individuals like Douglas Kenney, a main player in the publication's success.
Magnolia's Blu-Ray is packed with nearly an hour of extras. These include a brief look at the aborted spoof "Jaws 3, People 0," behind the scenes anecdotes, stars reading from published excerpts by the late Hughes and Kenney, and plenty more. If you're a fan of '70s and '80s comedy – be it Saturday Night Live or hit movies like "Vacation" and "Animal House" – this is a must-view, with Magnolia's Blu-Ray also boasting a 1080p (1.78) transfer and 5.1 DTS MA sound.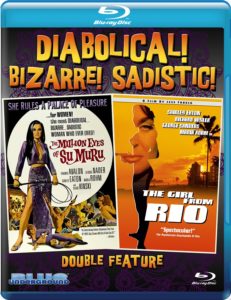 THE MILLION EYES OF SUMURU (79 mins., 1967)/THE GIRL FROM RIO Blu-Ray Double Feature (94 mins., 1969; Blue Underground): Another pair of B-programmers from producer Harry Alan Towers grace Blue Underground's latest Double Feature Blu-Ray.
"The Million Eyes of Sumuru" stars Shirley Eaton as Sax Rohmer's villainess bent on world domination, with Frankie Avalon and George Nader essaying spies attempting to stop her latest conquest. This Towers production was theatrically released by American-International but it's slow and plodding, despite being distinguished as one of the few English language productions to shoot at the Shaw Brothers studio in Hong Kong. Two years later, Towers recruited horror/exploitation auteur Jess Franco to helm the sexier, wilder sequel "The Girl From Rio," which returns Eaton as Sumuru with George Sanders as a crime boss and Richard Wyler co-starring. Shot in Brazil, this is a decidedly R-rated affair that's at least more entertaining than its predecessor.
Blue Underground's Blu-Ray offers newly remastered HD transfers for both movies, though "The Girl From Rio" is in far healthier condition, presented in 1.66 and featuring its uncut version (with its "eye-popping nudity, torture and lesbianism" on full display). "Million Eyes" is also mastered from the original camera negative, but the scope (2.35) transfer is marred by a print with its share of issues. A juicy featurette with Franco, Towers and Eaton is, in some ways, more fun than either film.
SON OF SAUL Blu-Ray (107 mins., 2015, R; Sony): Golden Globe winner for Best Foreign Film, "Son of Saul" is director Laszlo Nemes' harrowing story of Saul, a Hungarian man (Geza Rohrig) who works as part of the Sonderkommando, Jewish prisoners forced to work alongside the Nazis in the waning months of WWII. While being held captive in Auschwitz, Saul comes across a body of a dead boy he claims as his son – and decides to carry out a plan to provide a proper burial for the child.
Shot in 1.33 entirely from Saul's perspective, "Son of Saul" is a powerful film that adds to the cinematic portraits of the Holocaust we've seen over the years, though dramatically, the decision to shoot the movie entirely, exclusively from Saul's POV results in a claustrophobic viewing experience that only hints at the enormity of the horror surrounding his experiences.
Sony's Blu-Ray includes a 1080p (1.37) transfer with 5.1 Hungarian audio and subtitles. BD exclusives include a Q&A with Nemes, Rohrig and cinematographer Matyas Erdely, a deleted scene, and commentary with the trio. Not an easy watch, but still recommended.
JANE GOT A GUN Blu-Ray (98 mins., 2015, R; Anchor Bay): Highly troubled western ran into all kinds of problems during production and was barely released last year. For western fans, Gavin O'Connor's film might be worth a look – even if the film is far from a conventional genre exercise – with Natalie Portman starring as a woman attacked on the frontier by a ruthless gang leader (Ewan McGregor), and whose past comes to play a key role in what's transpiring on-screen.
Brian Duffield, Anthony Tambakis and Joel Edgerton's script (Edgerton also stars as a man from Portman's past) is initially intriguing but O'Connor shoots too much of the film in drab, gloomy, dark interiors, making for a visually unappealing film that was besieged by problems (original director walked out, the original distributor went bankrupt) en route to a non-existent commercial performance.
Anchor Bay's Blu-Ray is a no-frills affair with just a 1080p (2.40) transfer, 5.1 DTS MA sound and a digital copy included.
---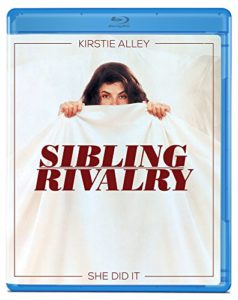 Olive New Releases
SIBLING RIVALRY Blu-Ray (88 mins., 1990, PG-13): Patently forgettable comedy from director Carl Reiner – in his mostly disposable post-Steve Martin phase – stars Kirstie Alley as a forgotten housewife who, spurred on by her sister (Jami Gertz), opts to have an affair with a stranger (Sam Elliott) who promptly dies of a heart attack. Martha Goldhirsh's script then spirals into a comedy of errors – fellow hotel guest Bill Pullman believes he may have killed Elliott, while husband Scott Bakula walks away from the whole scene – but it's not exactly "Weekend at Bernie's," despite a strong cast (Carrie Fisher, Ed O'Neill, Frances Sternhagen, Paul Benedict and Bill Macy among them).
One of those Nelson Entertainment co-productions with Castle Rock that MGM controls the rights for (a la "Misery"), "Sibling Rivalry" makes its Blu-Ray debut from Olive featuring a superbly detailed, DNR-free 1080p (1.85) transfer and DTS MA audio sporting a jazzy score from Jack Elliott.
Also new from Olive this month is the Director's Cut of DEAD PIGEON ON BEETHOVEN STREET (127 mins., 1972, Not Rated), one of director Samuel Fuller's more eclectic offerings. Glenn Corbett stars as an American private eye who heads to Germany looking for the man who killed his partner, and stumbles into a fish out of water situation in the process. Cut for the American market, this German production – a remake of a local TV series Fuller was hired to make – has been in the restoration works for a while, and Olive's Blu offers booklet notes and a Robert Fischer documentary that looks back on the production. Olive's Blu also includes a 1.33 transfer that's been painstakingly re-assembled for this release, which ought to rank as a must for Fuller fans.
---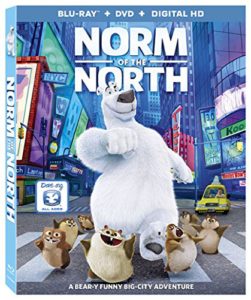 Lionsgate New Releases
NORM OF THE NORTH Blu-Ray Combo Pack (90 mins., 2015, PG; Lionsgate): Norm the Polar Bear decides to preach his own brand of social/environmental justice when he finds out human homes are about to infringe on his Arctic backyard, and takes to the streets of New York City in an effort to stop the madness. This Lionsgate animated feature bombed in theatrical play earlier this year, though young children might warm to its colorful animation. Adults, meanwhile, are advised to head elsewhere, with its cloying characters and heavy-handed messages coming across as obvious and tedious. Lionsgate's Blu-Ray offers a 1080p transfer (1.85), 5.1 DTS MA sound, a Digital HD copy, DVD, deleted scenes, and sing-along/trivia game features for kids.
MISCONDUCT Blu-Ray (105 mins., 2015, R; Lionsgate): Tepid thriller wastes a considerable cast in a ho-hum story about a lawyer (Josh Duhamel) who gets wrapped up in corruption at a pharmaceutical company brought about by his ex girlfriend (Malin Akerman); soon he's caught in a struggle between the firm's magnate (Anthony Hopkins) and its chief partner (Al Pacino). Julia Stiles and Alice Eve also appear in this mediocre affair, new to Blu-Ray this week from Lionsgate. In addition to deleted scenes and a featurette, the package includes a 1080p (2.40) transfer, 5.1 DTS MA sound and a digital HD copy.
Also New From Lionsgate: Adrien Brody plays a psychiatrist haunted by visions of his dead daughter while investigating the link several of his patients share in BACKTRACK (90 mins., 2015, R), a thriller from Michael Petroni, co-starring Sam Neill, that debuts this week on Blu-Ray from Lionsgate. A Making Of segment is included along with a digital HD copy, 1080p (2.40) transfer and 5.1 audio…Laurence Fishburne and Thomas Jane, meanwhile, top line STANDOFF (86 mins., 2014, R), a standard-issue actioner with Jane playing a man protecting a 12-year-old witness from a hitman (The Fish). Adam Alleca's film includes a Making Of featurette, digital HD copy, 1080p (2.39) transfer and 5.1 DTS MA audio when it debuts on disc this week…Season 9 of LITTLE HOUSE ON THE PRAIRIE (1260 mins.) completes the run of the classic NBC series in remastered form on DVD, with a digital copy and a pair of post-series TV-movie reunions also included for good measure.
---
Acorn New Releases
Hugely acclaimed, the slick and compulsively watchable AND THEN THERE WERE NONE (177 mins., 2016) relocates Agatha Christie's oft-filmed novel to an isolated island at the start of WWII, where 10 strangers are invited for a weekend of mystery and murder. Miranda Richardson, Sam Neill, Charles Dance, Aidan Turner, Maeve Dermody, Noah Taylor and Toby Stephens are part of the stellar cast that gives this Christie perennial a modern yet classical sheen, beautifully filmed by director Craig Viveiros and scripted by Sarah Phelps.
A BBC/A&E co-production that aired on U.S. TV via Lifetime, "And Then There Were None" comes to Blu-Ray courtesy of Acorn in an excellent two-disc set featuring 1080p transfers and 5.1 DTS MA sound. Supplements include an interview with Phelps, a lengthy look at the production, a featurette on Christie and a photo gallery.
Also new from Acorn is the complete, uncut UK release of HUMANS (385 mins., 2016), a provocative sci-fi series set in a future world where synthetic droids – synths – have been created for home use, with all kinds of ethical and moral questions involved. William Hurt co-stars as a synth engineer with Gemma Chan, Tom Goodman-Hill and Katherine Parkinson in this British series, preserved here in a Season 1 Acorn Blu-Ray with unedited 1080p transfers, a half-hour of behind-the-scenes footage, a photo gallery, nearly an hour of featurettes, and 5.1 DTS MA sound.
---
DVD Capsules
LAMB DVD (97 mins., 2015, R; Sony): Bonnie Nadzam's controversial novel becomes a well-acted albeit highly uncomfortable film from writer-director Ross Partridge. Partridge also stars in "Lamb" as a man who loses his father and is separated from his wife when he decides to take an 11-year-old girl (Oona Laurence) on a road trip to the Colorado Rockies from their Chicago home. It's not exactly a feel-good movie – and thankfully doesn't quite go to "Lolita" territory – but the performances are strong, especially the young Laurence. Sony's DVD includes commentary, deleted scenes, a photo gallery, 16:9 transfer and 5.1 sound.
Also new from Sony is THE DRIFTLESS AREA (96 mins., 2015, R), a light-noir (if there is such a thing) with Anton Yelchin playing a young man who returns home after the death of his parents, only to get involved with a mysterious girl (Zooey Deschanel) and her relationship with a hardened criminal (John Hawkes). Zachary Sluser's film also stars Aubrey Plaza, Ciaran Hinds and Frank Langella, and hits DVD this week sporting a 16:9 (2.40) transfer, 5.1 sound, and a Making Of featurette.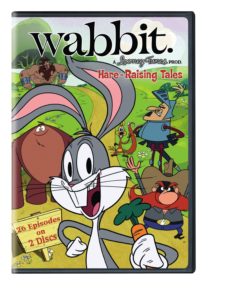 THE HAUNTING OF ALICE D DVD (79 mins., 2015, Not Rated; RLJ): The ghost of a woman – forced into prostitution at a successful brothel nearly 100 years before – decides to haunt the heirs of the property in this better-than-average indie horror effort. Writer-director Jessica Sonneborn takes a tried-and-true genre formula and generates a few scares out of the material, while wisely ending the action at the 79 minute mark. RLJ's DVD is out May 3rd sporting a 16:9 (2.35) transfer and 5.1 sound.
WABBIT: Season 1, Part 1 DVD (296 mins., 2015-16; Warner): The Cartoon Network's latest attempt at relaunching the Looney Tunes brand results in this fast, frenetic homage to the Bugs Bunny cartoons of yesteryear. Reunited with the likes of Wile E. Coyote and Yosemite Sam – with a series of new characters here added into the mix – Bugs stars in some 26 episodes of ribald animated fare that should entertain old-school WB animation fans while engaging younger viewers unfamiliar with the material. Warner's Season 1, Part 1 DVD release collects the first batch of episodes of the series across two discs with 16:9 widescreen transfers and 5.1 sound.
BANNISTER: EVEREST ON THE TRACK DVD (70 mins., 2016; Virgil Films): Tom Ratcliffe and Jeremy Mosher's documentary on Britain's track superstar who captivated his home nation in the 1952 Helsinki Olympics makes for a compelling look at both Bannister's sports achievements – as well as Britain's need for a "victory" in the years after WWII. Virgil's DVD includes a 16:9 transfer and stereo soundtrack.
MPI New Releases: LOVE IS A VERB (57 mins., 2016) is a documentary looking at the teachings of Fethullah Gulen, whose peaceful preaching of Islam has inspired generations of educators and humanitarian workers. This hour-long production from Global Vision Productions is new to Blu-Ray this week from MPI, offering a 1080p transfer and Dolby Digital sound, along with a new, "unprecedented" interview with Gulen…Coming from Dark Sky is EMELIE (82 mins., 2015, Not Rated) starring Sarah Bolger (Dorothy from "Once Upon a Time") as a seemingly perfect babysitter who isn't what she appears to be. Michael Thelin's film treads over well-worn cinematic terrain but it's reasonably well-executed for what it is. MPI's Dark Sky Films release boasts a Making Of, the trailer, and a 1080p (2.40) trailer on Blu-Ray May 3rd.
NEXT TIME: THE MANHATTAN PROJECT and Kino Lorber's big May releases! Until then, don't forget to drop in on the official Aisle Seat Message Boards and direct any emails to our email address. Cheers everyone!