Aaah, the summer of '86. I still have Fox's ad touting their slate of big sci-fi/fantasy films that were all released within a period of three short months: "Aliens," "Big Trouble in Little China," "Spacecamp," "The Fly," and THE MANHATTAN PROJECT (***, 117 mins., 1986, PG-13). Director Marshall Brickman's entertaining "WarGames" clone manages to promote a no-nukes message at the same time that it wants us to sympathize with its brilliant yet misguided teen protagonist who builds an atomic bomb with materials stolen from quasi-befuddled scientist John Lithgow's secret Ithaca, N.Y. lab.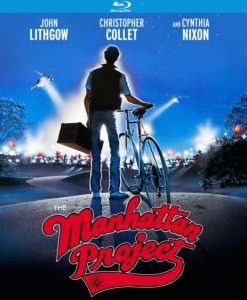 Brickman, who worked with Woody Allen on several of his earlier films, walks a fine line between condemning the teen "hero" (the not-very-appealing Christopher Collet) and glorifying his actions, but "The Manhattan Project" still works because of Lithgow's sympathetic performance and a few memorable scenes (including the whiz kid's escape from an NYC science fair), not to mention Philippe Sarde's rich, melodic score, which does, admittedly, play at odds with the action in several sequences (especially when the bomb itself is constructed – trust me, you'll know it when you see it!). Sequences like those make this film best viewed today as an escapist entertainment instead of a commentary on juvenile disillusionment, but fortunately Brickman incorporates enough comedic touches to make "The Manhattan Project" more than a dated slice of '80s paranoia. It's not "WarGames" – and Collet certainly isn't Matthew Broderick – but the film is surprisingly funny in places and well performed by Lithgow, who manages to be highly appealing in the usually difficult "adult" role.
"The Manhattan Project" has had something of a strange home video history. Produced by Gladden Entertainment and theatrically released by 20th Century Fox, the movie was apparently infused with some cash from Thorn EMI, whose film production unit was eventually purchased by Cannon. As with "Mannequin," the result was an initial home video release – complete with the Cannon logo, even though Golan-Globus had nothing to do with the film – through HBO/Cannon (formerly Thorn EMI) Home Video. That release also added the subtitle "The Deadly Game," and superimposed that worthless addition onto the main credits of the film itself!
Later, the movie made it onto DVD first from MGM in 2002, then for some very curious reason, Lionsgate, which released a Special Edition of the movie in 2007. That release included a pair of new interviews with Brickman and visual effects producer Bran Ferren (who cameos in the film and, later, infamously supervised the less-than-special FX of "Star Trek V"), along with one of the weirdest commentary tracks in format history.
Though sold as a "filmmaker/cast commentary" on the back jacket, the track only included Brickman, in what appeared to be a totally unedited conversation at that! Several times Brickman asks the disc's unidentified producer what he ought to be talking about, and in a few places the filmmaker laments that he has nothing else to say. When he asks about "dead space," the producer tells him Lithgow and Ferren will be added into the commentary at a later date…though obviously something went amiss on the way to that happening! It's actually fascinating to listen to, even if Brickman seems to think the film has some problems and wouldn't helm it in the same manner today. Inbetween moments of silence, he also discusses meeting Philippe Sarde and offers some revealing comments on the nature of modern-moviemaking circa 2007.
Kino Lorber's Blu-Ray doesn't include any of Lionsgate's supplements, but does include a brand-new HD master. Unlike MGM's prior master seen on both DVD releases – which excised the Gladden logo and several seconds of sound effects that played under it – this new 1080p (1.85) AVC encode restores the Gladden opening and those sound effects. Even better, the transfer is pretty much perfect, restoring all the color to Billy Williams' fine cinematography and offering clear detail throughout. The 2.0 DTS MA stereo track gives a bit more body to Sarde's music than prior releases were able, and the trailer caps the disc.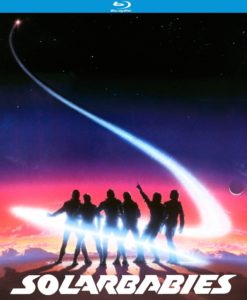 A bigger-budgeted misfire from producer Mel Brooks that would quickly vanish from theaters around Thanksgiving of that same year, SOLARBABIES (*½, 94 mins., PG-13) has also been newly released on Blu-Ray from Kino Lorber. This tepid youth sci-fi exercise recycles "Mad Max" shamelessly by way of the roller-skating phenomenon that was all the rage thanks to the success of Andrew Lloyd Webber's musical "Starlight Express" at the time.
What ended up on-screen in this Alan Johnson-directed mess is an embarrassing, juvenile sci-fi film about a desert planet with orphaned kids running around on skates, trying to avoid the one-note bad guys (including Richard Jordan) siphoning their world's precious water, and using a magical ball of energy named "Bodhi" who apparently has come to set them all free…or something.
Having never seen "Solarbabies" until DVD (the film died at the box-office, raking up only $1 million in ticket sales), I was hoping that the film would offer some entertainment – even of an unintentionally amusing variety. Sadly, despite offering a game cast (Jason Patric and Jami Gertz – prior to their "Lost Boys" pairing just a few months later – Lukas Haas and Adrian Pasdar among them), widescreen cinematography, and a score by Maurice Jarre (regrettably an all-synth affair that clumsily enhances the cartoonish aspects of the Walon Green-Douglas Metrov script), "Solarbabies" is just terrible, a relic of the decade that likely should've remained dead and buried for all involved.
For those curious enough to take a look – or those few, bona-fide "Solarbabies" fans out there – Kino Lorber's Blu-Ray offers a splendid 1080p (2.35) transfer with 2.0 DTS MA stereo audio housing an active Dolby Surround mix. Tellingly, the movie concludes with a laughable end credits sequence, sporting the cast jumping into the ocean while the hideous Smokey Robinson song "Love Will Set You Free" ("Available on Motown Records!") closes out the soundtrack. Ugh!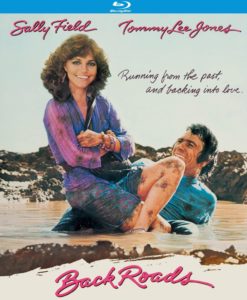 Also new from Kino Lorber is the Blu-Ray debut of director Martin Ritt's reunion with star Sally Field – the road trip/character study BACK ROADS (**½, 1981, 91 mins., R) – a film that almost entirely vanished from the cinema landscape save a DVD release over a decade ago.
An oddball film if there ever was one, "Back Roads" stars Field as the quintessential "hooker with a heart of gold" who opts to team up with local Alabama ex-boxer Tommy Lee Jones and hightail it out of their Mobile home for the left coast of California. Along the way the duo run into an over-eager sailor (David Keith), a grimy Mexican-American madam, assorted lowlifes and dreamers, all of whom cross paths with the traveling couple, who may just be growing closer together through their experiences.
"Back Roads" was not a box-office success, despite the reteaming of Field and Ritt, who hit it big with "Norma Rae" a couple of years prior, leading to an Oscar for the actress. Gary DeVore's script wants to be a gritty, down-to-Earth tale of a couple of people trying to make it out of their lot in life and find something new, but somehow the movie just doesn't come together with none of their escapades being overly memorable, comic or emotional. The music by Henry Mancini (complete with a forgettable title song co-authored by Alan and Marilyn Bergman) is tuneful albeit decidedly old-fashioned and out of step with the story, and while Ritt's use of authentic locales gives the movie an ample amount of atmosphere, the picture never strikes the right tone or consistency to gel.
At least the performances are admirable, with Jones in one of his strongest early roles and Field adding likewise depth to her part. The two may not have got along well (or at all) on the set, but this still a pleasant, if forgettable, outing if you're a fan of the stars. John A. Alonzo's excellent scope cinematography, meanwhile, is another one of the film's strongest assets, and it's been wonderfully reproduced in Kino Lorber's crisp new Blu-Ray rendering. Framed in 2.35 widescreen, the CBS production's Panavision ratio looks well composed and superbly detailed. The DTS MA stereo track is also just fine.
More '80s nostalgia is on-hand in STEEL JUSTICE (*½, 95 mins., 1987, R), a failed effort at turning "Karate Kid" villain Martin Kove into a Stallone/Schwarzenegger-esque One Man Wrecking Crew.
Alas, this feeble Atlantic Entertainment Group release is "low energy" from start to finish, with writer-director Robert Boris spending an inordinate amount of time on story set-up and dialogue. This does not, to put it mildly, play to the strengths of Kove, who only looks comfortable punching and shooting his way through his role of a Vietnam vet trying to shut down the Vietnamese mafia, running drugs out of southern California, years later in 1988. He also takes revenge for the death of his former partner, and works with his ex-wife (Sela Ward, reportedly quite medicated during the shoot due to an injury) to clean up the streets.
"Steel Justice" does have an interesting supporting cast, including Ronny Cox, Bernie Casey, Joseph Campanella, Sarah Douglas and Soon-Tek Oh, but most of their appearances seem to have been shot quickly, with most of the actors popping up and promptly disappearing for long stretches of time – or altogether after they first appear. The bigger issue, though, is the lack of action and excitement: yes, there are some unintentional laughs thanks to pair of montage "training sequences" midway through, as well as the many appearances by Kove's pet snake (!), but there's not enough action to lift this even to the level of a mid-grade Cannon affair.
Kino Lorber's Blu-Ray includes a decent 1080p (1.85) AVC encoded, MGM licensed transfer with DTS MA audio of the movie's original mono soundtrack (a telling sign of the movie's low budget), featuring a noisy synth score by Misha Segal. At least the songs are fun when they appear.
Kino Lorber also heads back to the '60s with CANDY (**, 124 mins., 1968, R), a whacked-out, would-be satirical take on the era's social attitudes and pop-culture, adapted by Buck Henry from the Terry Southern-Mason Hoffenberg novel and directed by Christian Marquand.
Ewa Aulin stars in the title role – a typical high school student who embarks on a zany journey of sexual discovery, having encounters with some of the era's most popular stars: Marlon Brando (a guru), Richard Burton (an appropriately boozy poet), James Coburn (a demented surgeon), Walter Matthau (a military general), and Ringo Starr (a gardener). These appearances occur throughout "Candy," a film that also boasts special effects by Douglas Trumbull, production design by future Oscar winner Dean Tavoularis, a "mod" score by Dave Grusin (with songs from The Byrds and Steppenwolf), and supporting turns from a varied cast including John Astin, John Huston, Charles Aznavour, Elsa Martinelli and Sugar Ray Robinson.
"Candy," a production of Selmur Pictures (owned by ABC) and released through Cinerama, was a notorious box-office bomb that functions today strictly as a time capsule of its era. Despite being shot in Rome, the movie looks like an R-rated episode of "The Monkees," with tight, claustrophobic sets, a wide pallet of colors and "groovy" music that, in total, date the film as a specific product of its period. That said, one wishes the film were more fun, especially with that cast, most of whom look as if they're putting in appearances on "Laugh-In," giving the movie a very disjointed feel as it moves, at times incoherently, from one "sketch" to another.
A movie that's carried only a small cult following because of its lack of availability, "Candy" premiered on DVD from Anchor Bay in 2002 but has been out-of-print for years – as the movie had been prior to that edition. Kino Lorber's Blu-Ray brings the film back into the public eye thanks to a new, 2K restoration (1.85) with DTS MA mono audio. The film looks healthy and vibrant, and the disc offers a new interview with Buck Henry that's candid and funny, as the writer details the film's rocky, drug-infused production and disastrous commercial reception. There's a shorter interview with critic Kim Morgan who attempts to defend the film, while two radio spots and the trailer round out the disc.
Coming May 24 from Scorpion Releasing and Kino Lorber is THE PEOPLE THAT TIME FORGOT (**½, 90 mins., 1977, PG), the third and final entry in the John Dark-produced/Kevin Connor-directed Edgar Rice Borroughs adaptations for Britain's Amicus Films (all distributed in the U.S. by American-International). A direct sequel to 1974's "The Land That Time Forgot," this dated slice of Saturday Matinee escapism sends an expedition – including Major Patrick Wayne, photographer Sarah Douglas and pilot Shane Rimmer – out to find long-lost Doug McClure, still cavorting around with cave people in a prehistoric world improbably preserved in the Antarctic. A flying pterodactyl and the bouncy assets of cavegirl Dana Gillespie are the big special effects in this staple for kids who grew up in the '70s, '80s and '90s, courtesy of endless "Creature Features" and TBS re-runs; it's not as solid as its predecessors, but for genre fans, the movie manages to get the job done. Kino Lorber's Blu-Ray boasts a decent, if seemingly older, looking MGM master with some noise-reduction applied to the image (1.85 AVC 1080p) and DTS MA mono sound, offering a fine John Scott score. Extra features include a commentary with Connor (moderated by Aussie exploitation director Brian Trenchard-Smith) and two brand new, and highly entertaining, interviews with Douglas and Gillespie, respectively, with the former diving into her "Superman" casting along with her work on the film. The trailer rounds out a warmly recommended release.
Finally, FOR MEN ONLY! offers something entirely different from the same era: the "slap and tickle" sexploitation genre of British soft-core films that are, predictably, tame by today's standards. This Blu-Ray anthology from Kino Lorber includes two such productions from writer/producer/director Pete Walker, who would later helm a slew of gory UK horrors ("Schizo," "Frightmare"), but got his start with films like "For Men Only" (40 mins., 1967) and "School For Sex" (80 mins., 1969). These vintage theatrical releases are relatively innocent for what they are, and the evolution of Walker's first work in the genre – via a series of 8mm B&W "stag" films – can be seen in over an hour of the director's initial reels, all included here as bonuses, along with an interview documentary with Walker by Elijah Drenner; alternate, more explicit "School For Sex" "continental" footage (the film itself is presented in its UK version with tamer footage); plus 1080p transfers (1.85 on "School For Sex," 1.33 on everything else).
---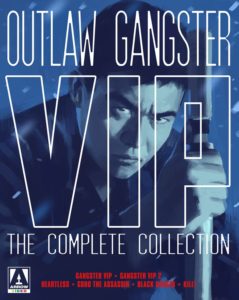 Arrow New Releases
OUTLAW GANGSTER VIP: THE COMPLETE COLLECTION Blu-Ray/DVD Limited Edition (93/97/92/87/86/86 mins., 1968-69; Arrow): Japanese director Toshio Masuda collaborated with star Tetsuya Watari on no less than six films, produced between 1968-69 for Nikkatsu Films, with Watari playing a former gangster trying desperately, but mostly failing, to go straight.
Acclaimed for its realism – the movies were loosely based on the writings of former gangster Goro Fujita – the series finds "Slasher Goro" seeking redemption for his past deeds while attempting to break free from the life of crime he's been entrenched in. All six films – "Gangster VIP," "Gangster VIP 2," "Heartless," "Goro the Assassin," "Black Dagger," and "Kill!" – have been collected here in a marvelous, limited-edition Arrow multi-format box-set offering Blu-Ray and DVD editions of the entire series.
Transfers have been assembled from Nikkatsu's original film elements, with uncompressed PCM audio on Blu-Ray and newly translated English subtitles on both formats. Ample Arrow extras include commentary on "Gangster VIP" by Jasper Sharp, a visual essay covering the entire series by Kevin Gilvear, all six trailers, an extensive promo image gallery, gatefold packaging, and a terrific booklet featuring an interview with Masuda and new writing by Mark Schilling, Gilvear and Chris D. Limited to 3000 copies and highly recommended for Japanese cinephiles.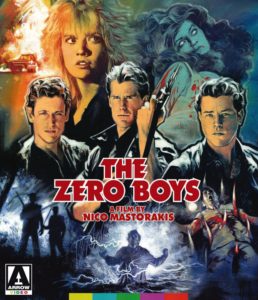 THE ZERO BOYS Blu-Ray/DVD (89 mins., 1986, Not Rated; Arrow): Nutty indie action director Nico Mastorakis' 1986 effort follows a group of "Weekend Warriors" as they end up facing a real-life group of wilderness nuts in a mix of an '80s slasher film with "Deliverance" overtones.
Scored by Stanley Myers and Hans Zimmer, "The Zero Boys" is a strange movie, like a lot of Mastorakis' output. It takes forever to get going – despite launching with an absurdly confident opening credit sequence – but once it does, B-fans should mine sufficient entertainment from the picture. "Night of the Comet"'s Kelli Maroney stars with Arrow's Blu-Ray/DVD combo including a new 4K restored transfer supervised by the director (1.85) with uncompressed PCM stereo audio; a new commentary with Maroney, moderated by filmmaker Chris Alexander; a half-hour interview with the director, conducted by (yes) the director; a conversation with actress Nicole Rio; the trailer; music videos; the screenplay; stills gallery; and booklet notes.
THE STUFF Blu-Ray (87 mins., 1985, R; Arrow): Larry Cohen's goofy filmography includes this engaging spoof of consumerism and '80s pop culture, wherein a mysterious new food named "The Stuff" oozes its way into the households of Americans everywhere – but houses a horrifying reality inside its gooey, Fluff-like appearance. Cohen wrote and directed "The Stuff" with a (typically) eclectic cast including Michael Moriarty, Andrea Marcovicci, Paul Sorvino, Garret Morris, Danny Aiello and Patrick O'Neal, and it's a playful, at times funny horror-comedy with some amusing takeoffs on the decade's TV commercials. A New World release licensed by Arrow, "The Stuff" comes as a features-packed Blu-Ray, sporting a 1080p (1.85) 2K scan of the film, uncompressed PCM audio, an all-new hour long documentary featuring interviews with Cohen and Marcovicci, the trailer, a collector's booklet and plenty more. Here's hoping more New World genre favorites are due soon from Arrow!
Finally, Arrow has released a stellar Blu-Ray/DVD package of DILLINGER (107 mins., 1973, R), the American-International hit that eschews the pretentiousness of "Bonnie & Clyde" as it serves up a straight-ahead, mythic portrayal of America's Public Enemy #1 during the Great Depression. John Milius wrote and directed the film with Warren Oates as Dillinger, Ben Johnson as the infamous G-man out to get him, Melvin Purvis, and Michelle Phillips, Cloris Leachman, Harry Dean Stanton, Geoffrey Lewis, Steve Kanaly, John Ryan and Richard Dreyfuss leading a great supporting cast. "Dillinger" is violent, exciting, atypically Milius and virtually a revelation in Arrow's Blu-Ray, which includes a 2K restoration of the film from original film elements; a commentary with historian Stephen Prince; and new interviews with producer Lawrence Gordon, composer Barry DeVorzon, and cinematographer Jules Brenner. A DVD, the trailer, a stills gallery and booklet notes make for a must for Milius fans and early '70s cinema buffs.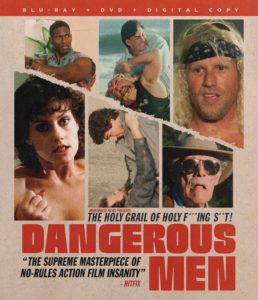 DANGEROUS MEN Blu-Ray (80 mins., 2005, Not Rated; Drafthouse Films): The late John S. Rad's 2005 pet project is one of the wildest films you're likely to see – even given the standards of some of Drafthouse's past releases (like the far superior "Miami Connection"). "Dangerous Men" follows a murder spree committed by a woman whose fiancé is killed by thugs – from there, this 80-minute assault on coherence and dramatic structure goes for broke with a truly oddball collection of killings, bad performances and original music plus "song and lyrics" by Rad himself! Bad movie devotees will need to consume several ounces of their favorite beverages to make it through all of "Dangerous Men," which has been released in a features-packed Special Edition from Drafthouse (now being distributed by our friends at MVD). A 16-page booklet includes the world's "only documented interview" with Rad; a commentary with a pair of the film's devotees; a documentary on Rad and the movie's 2005 release; a talk with cinematographer Peter Palian; rare footage of Rad appearing on local acccess TV; the trailer; and a digital copy.
From MVD: A pair of Blu-Ray documentaries celebrate the toe-tapping regional music of "Zydeco," a blues/R&B hybrid popular in Louisiana and the American southwest. ZYDECO CROSSROADS: A TALE OF TWO CITIES was produced by Philadelphia public radio and explores the Zydeco phenomena from Philly to its Lafayette, La. roots. THE KINGDOM OF ZYDECO (1994) is an older documentary that likewise profiles Zydeco in a production from director Robert Mugge. Both MVD Blu-Rays include ample special features and supporting documentaries…the documentary PRIDE AND JOY: THE STORY OF ALLIGATOR RECORDS (1992) is also new to Blu-Ray this month from MVD, as is the independent action adventure DIE FIGHTING (90 mins., 2014, Not Rated). This Fabien Garcia film punches, kicks and grunts its way to Blu-Ray along with a featurette, trailer, theme song, and 1080p transfer.
---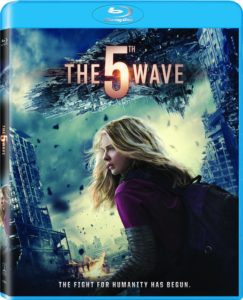 Sony New Releases
THE 5TH WAVE Blu-Ray (**, 112 mins., 2016, PG-13; Sony): Universally acclaimed as of the better "young adult" novels of recent years, fans of Rick Yancey's bestseller "The 5th Wave" were hugely disappointed with this pedestrian film adaptation. Not having read the book, I can't say one way or another how accurate those claims are, but it doesn't take an aficionado of the source material to recognize a painfully uninspired genre exercise when you see it.
Chloe Grace Moretz plays the high-school heroine at the heart of Yancey's story, which was adapted by the capable screenwriting team of Susannah Grant ("Ever After," "Erin Brockovich"), Akiva Goldsman (an endless stream of John Grisham and Joel Schumacher films), and Jeff Pinkner (TV's "Fringe"). "The 5th Wave," however, displays scant evidence of their past successes, as it spends a completely bland first hour recounting how extraterrestrials invade the earth and wipe out most of the populace – material that should be exciting and thrilling, but comes off like a mediocre pilot to a new teen series on the CW network. At the insistence of the military, the young survivors – high school age and under – are rounded up and sent out to wipe out the latest "wave" of alien attacks, which are coming in the form of flounder-like creatures that infiltrate the human body and take over the mind of the host.
"The 5th Wave" cobbles all sorts of elements together from other hits in its genre: its heroine torn between two male leads (think "The Hunger Games"), sending young people out into the midst of war ("The Hunger Games," "Ender's Game"), not to mention "Invasion of the Body Snatchers" and other sci-fi staples too numerous to mention. One can, however, see the appeal of the material if it had been presented properly, but director J Blakeson's movie is so routine, so utterly bland that only in its last half-hour does it finally kick into gear (the film's central twist, assuming you haven't had it spoiled, is actually quite effective). By that point, some viewers will have lost interest, while fans of the book are likely to wonder why their beloved source material ended up in such an underwhelming, by-the-numbers feature, which did disappointing business at the box-office. It's entirely possible a decent adaptation of this – as well as Yancey's two other books in his popular trilogy – will be produced in the future, but this franchise non-starter sadly isn't it.
Sony's Blu-Ray includes deleted scenes and several other format exclusives, plus a commentary with Blakeson and Moretz, a gag reel, digital copy, 1080p (2.40) transfer and 5.1 DTS MA audio.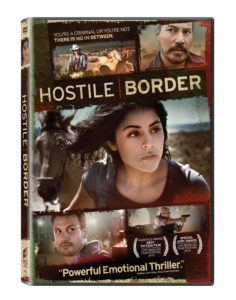 HOSTILE BORDER DVD (84 mins., 2015, R; Sony): Veronica Sixtos plays an undocumented immigrant raised in the U.S. who's returned to Mexico after being arrested on credit card fraud – despite the fact she doesn't speak Spanish. Director Michael Dwyer strains to say something about the illegal immigrant situation on-going in the U.S., but the overly brief (84 minutes) "Hostile Border" comes up a little short in terms of a developed dramatic experience, despite a capable performance from Sixtos. Sony's DVD release offers a 16:9 (2.39) transfer and 5.1 Dolby Digital sound.
HYENA ROAD DVD (120 mins., 2015, R; Sony): An effective, independently produced story set in Taliban-controlled Afghanistan, where a Canadian squad attempts to track down an elusive Afghan freedom fighter in order to turn the tables on the ISIS bandits that have taken over the land. Paul Gross wrote, directed, and co-stars in the Canuck-produced "Hyena Road," which generates a decent amount of suspense in relaying an inspired-by-true-events story from north of the border. Sony's DVD includes four featurettes, a 16:9 (1.85) transfer and 5.1 Dolby Digital audio.
EAST SIDE SUSHI DVD (106 mins., 2015, PG; Sony): Charming little independent film about a single Latina mom (Diana Elizabeth Torres) who takes a job at a Japanese restaurant in Oakland, Ca., where she works her way up the ladder to sushi chef – only to run into resistance regarding both her racial background and gender. Writer-director Anthony Lucero's film is nicely acted by Torres as well as Yutaka Takeuchi as a chef who supports her, and is infused with sufficient heart to make it a worthwhile film suitable for all ages. Sony's DVD includes a look at the creation of Alex Mandel's score, a Making Of featurette, deleted scenes, a 16:9 (1.78) transfer and 5.1 Dolby Digital sound.
---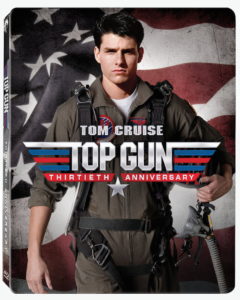 Also New & Noteworthy
TOP GUN 30th Anniversary Steelbook Blu-Ray/DVD (***, 109 mins., 1986, PG; Paramount): Celebrating its 30th Anniversary, the 1986 blockbuster Tom Cruise smash contains some of the most memorable imagery of any '80s studio film, with Cruise's Maverick trying to fly his way to the top of the Navy's elite fighter pilot program, backed to a rockin' Harold Faltermeyer/Kenny Loggins/Berlin soundtrack and performances from the likes of Kelly McGillis, Val Kilmer and Anthony Edwards.
Back in the old days of laserdisc, it seemed as if a new release of "Top Gun" appeared every few months. It hasn't been that way on DVD or Blu-Ray, with Paramount and Scott Free's Charlie de Lauzirika giving fans a genuine Special Edition in 2007-08 that's been completely reprised in a Steelbook "30th Anniversary" Blu-Ray combo pack.
Again reprieving the prior disc's transfer and soundtrack, "Top Gun" looks brilliant here in 1080p, framed in the 2.35 Super 35 aspect ratio of its theatrical exhibition (many previous releases offered a 1.85 frame that showed the entire picture area that was shot). Even better is the wonderfully layered 6.1 DTS-Master Audio surround (a 5.1 Dolby TrueHD track is also on-hand), which brilliantly captures the sonic oomph of the movie's original sound design.
For extras, De Lauzirika packaged a two-hour plus documentary, "Danger Zone: The Making of 'Top Gun'," split into six different segments. Offering interviews with producer Jerry Bruckheimer, director Tony Scott, stars Val Kilmer and Rick Rossovich (Cruise appears only fleetingly), and composer Harold Faltermeyer among others, this is an insightful and entertaining look at the creation of the film and logistics involved in utilizing the various jets and carriers, all of which necessitated the cooperation of the U.S. Navy. Faltermeyer, meanwhile, appears along with singer Kenny Loggins in dissecting the creation and massive success of the score (and the soundtrack album).
There's also vintage behind-the-scenes featurettes (including a videotaped interview with Cruise), TV spots, four classic music videos, and commentary from Bruckheimer, Scott, and the Naval veterans who offered their sage advice to the filmmakers. Highly recommended for all "Top Gun" buffs, and easily the most comprehensive package ever assembled for '86's #1 box-office hit – now in Collectible Steelbook packaging with a digital HD copy and a DVD as well.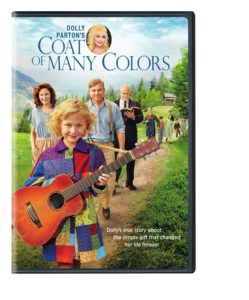 COAT OF MANY COLORS DVD (85 mins., 2015; Warner): Terrific TV-movie – the kind we don't see much on the networks these days – recounts Dolly Parton's childhood in the Great Smoky Mountains of Tennessee, with veteran director Stephen Herek handling the material of Dolly's meager upbringing and rise to musical stardom in appropriately slick, and moving, manner. Ricky Schroder, Jennifer Nettles and Gerald McRaney star, with Warner's DVD including deleted scenes, a featurette, and both a broadcast version and alternate version (running the same time) included on the disc via seamless branching.
THE LAST SHIP Season 2 Blu-Ray (572 mins., 2015; Warner): Season 2 of the popular TNT series from producer Michael Bay finds Captain Chandler (Eric Dane), his XO Slattery (Adam Baldwin) and the USS Nathan James crew attempting to package the cure put together by resident scientist Dr. Rachel Scott (Rhona Mitra). Unfortunately, the land-lubbers – including a new government presided over by guest star Alfre Woodward and a group dubbed "The Immunes" – offer ample resistance in this sophomore season of "The Last Ship." Warner's Season 2 Blu-Ray, out this week, includes four featurettes, a digital HD copy, 1080p (1.78) transfers and 5.1 DTS MA soundtracks.
---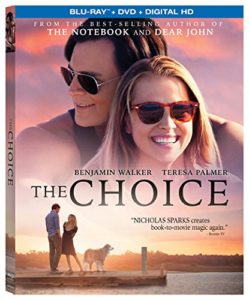 Lionsgate New Releases
New on Blu-Ray: Has the Nicholas Sparks Express finally slowed down? This year's obligatory Valentine's Day release, THE CHOICE (111 mins., 2015, PG-13), failed to generate even a total $20 million gross – a far cry from the likes of "The Notebook" and past Sparks adaptations. That said, this effort at least offers an attractive cast, including Teresa Palmer and Benjamin Walker as the young lovers who face adversity after falling for one another, and support coming from Maggie Grace, Alexandra Daddario, Tom Wilkinson and former Clark Kent, Tom Welling (where's he been?). "The Choice" is formulaic and silly, but I can't say it's worse than the bottom of the Sparks barrel, despite its poor box-office showing. Liosgate's Blu-Ray includes commentary with director Ross Katz and Walker, deleted scenes, a series of featurettes including an interview with Sparks (who also produced), a 1080p (2.40) transfer, 5.1 DTS MA sound, plus a DVD and Digital HD copy…Christopher Plummer gives a superb performance in REMEMBER (95 mins., 2015, R) as a former Auschwitz survivor who learns that one of the Nazi guards who murdered his family is still alive; with the help of an old friend (Martin Landau), he sets out to find him in this latest dramatic thriller from the always interesting, if brooding, Atom Egoyan. Bruno Ganz, Jurgen Prochnow and Henry Czerny co-star in "Remember," which streets this week from Lionsgate on Blu-Ray. A commentary with Egoyan and writer Benjamin August is included along with a pair of featurettes, a 1080p (1.78) transfer, 5.1 DTS MA sound (sporting a score by Egoyan's frequent contributor, Mychael Danna), and a Digital HD copy.
On DVD this week from Lionsgate: Steven Seagal and Rob Van Dam (not Van Damme, despite his name being placed alongside Steve's on the front cover!) star in SNIPER: SPECIAL OPS (86 mins., 2016, R), the latest entry in the long-running "Sniper" series, here positioned as a U.S. Special Forces thriller with sniper Seagal and his partner trying to stay alive in Afghanistan after being left behind. Lionsgate's DVD includes a digital copy, commentary from director Fred Olen Ray, a still gallery, the trailer, a 16:9 (1.78) transfer and 5.1 audio…KINGDOM OF BLOOD (107 mins., 2015, R) offers period martial arts action-adventure from Hong Kong, set in ancient China. Lionsgate's DVD includes three featurettes, 5.1 audio (both Mandarin and English dubbed), a 16:9 (2.35) transfer and a digital copy.
---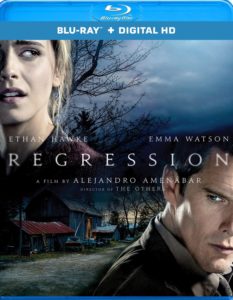 May Round-Up

MUSTANG Blu-Ray/DVD (94 mins., 2015, PG-13; Cohen Film Collection): Turkish import looks at a family where five sisters, home for the summer, innocently flirt and interact with boys – leading to consequences that turn their world upside down, from domestic limits on their everyday activity to the possibility of arranged marriages being imposed on them by their father. This is an interesting and emotional film Cohen brings to Blu-Ray this month featuring the trailer, an interview with the cast, a 16-page booklet and card for a soundtrack download, plus a short from director Deniz Gamze Erguven. The set includes both a 1080p transfer on Blu-Ray with DTS MA 5.1 audio along with a DVD copy.
REGRESSION Blu-Ray (106 mins., 2015, R; Anchor Bay): The latest film from Alejandro Amenabar – who was propelled onto the international scene with "Open Your Eyes" and "The Others" – is a definite disappointment. Ethan Hawke stars as a dogged detective trying to sort through what initially appears to be a standard child abuse case involving a young woman (Emma Watson) and her father (David Dencik) – only to uncover "something else" involved in the mix, which he attempts to confirm with the help of a psychologist (David Thewlis) who specializes in memory regression. Despite a strong cast and music from Roque Banos, this barely-released thriller isn't very thrilling, leading viewers on in the hopes something truly fascinating is coming down the pike – which never occurs. Anchor Bay's Blu-Ray includes interviews with Hawke and Watson, two other featurettes, a 1080p (2.39) transfer, 5.1 DTS MA sound and a digital copy.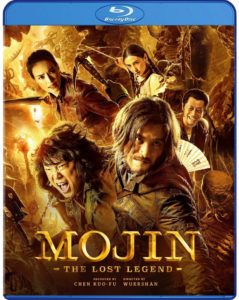 WAR AND PEACE Blu-Ray (357 mins., 2016; Anchor Bay): Stately, superbly performed mini-series brings to life the classic novel with modern dramatic sensibilities – while keeping its period setting intact. Paul Dano, Lily James and James Norton star in writer Andrew Davies and director Tom Harper's mini-series of the Tolstoy classic, a co-production of the BBC and The Weinstein Company, which lands on Blu-Ray this week from Anchor Bay. The two-disc set includes a handful of behind-the-scenes featurettes, a detailed 1080p (1.78) transfer and 5.1 DTS MA sound.
WHERE TO INVADE NEXT Blu-Ray (120 mins., 2016, R; Anchor Bay): Michael Moore hits the road again in an investigation/rant on what's gone wrong with the United States of America and how as a nation we can get our mojo back. Or maybe it's just a thinly veiled commercial for Bernie Sanders? Viewers can decide for themselves when Anchor Bay rolls out "Where to Invade Next" on Blu-Ray next week. The disc includes just a 1080p (1.78) transfer and Dolby TrueHD soundtrack with no extras.
MOJIN: THE LOST LEGEND Blu-Ray (125 mins., 2015, Not Rated; Well Go USA): Hong Kong action-adventure follows Shu Qi, Chen Kun, Angelababy and Huang Bo in a story involving grave robbers and a big, final heist brought about by a mysterious stranger. An adaptation of a bestselling book series that's been hugely popular in Hong Kong, "Mojin" is unearthed on Blu-Ray this month from Well Go. The disc includes DTS MA Mandarin audio with English subtitles, plus two featurettes, the trailer, and a good looking 1080p transfer.
NEXT TIME: Shout's May wrap from DEATH BECOMES HER to the latest TV on DVD releases! Until then, don't forget to drop in on the official Aisle Seat Message Boards and direct any emails to our email address. Cheers everyone!