A minor but memorable early '70s chiller has been unearthed by Shout Factory this month on Blu-Ray. YOU'LL LIKE MY MOTHER (**½, 93 mins., 1972, PG) stars Patty Duke as an expectant single mother who takes a bus, in the middle of winter, to the Minnesota home of her mother-in-law (Rosemary Murphy) following the death of her military husband.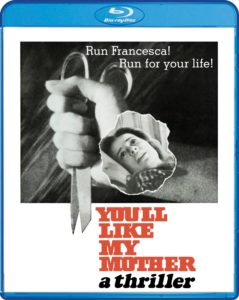 There, she finds a posh estate – in reality, the "Glensheen" mansion that would itself be the home of the infamous Congdon murders in 1977 – with her odd in-law and mentally challenged younger daughter (Sian Barbara Allen), along with another sibling (Richard Thomas) who, like the matriarch herself, isn't exactly what he appears to be.
This Universal release from Bing Crosby Productions is a little bit eclectic and strains to be "offbeat" at times – with freeze frames and voice-over being used for scant dramatic effect – but it's certainly atmospheric enough. Director Lamont Johnson shot the moderately budgeted film on-location in Duluth, and the movie's snow-ridden landscapes provide an effectively wintry backdrop for the movie's story. Speaking of the script – adapted from a novel by Naomi A. Hintze by "Play Misty for Me"'s Jo Heims – "You'll Like My Mother" unfolds leisurely, and there are times during the opening 40 minutes when you'd wish there was more momentum propelling the material forward (perhaps unsurprising with a TV veteran like Johnson in control)
Thankfully, the performances compensate – Duke, in particular, provides a heroine you can pull for, and in a role confined to the second half, Thomas looks like he's relishing the chance to break free from the confines of "John-Boy Walton." Gil Melle's score, with its repeating, descending bass line, also seems to aspire for something unconventional, but in the end, "You'll Like My Mother" is an interesting, and surprisingly realistic, studio product from a changing time in Hollywood – it doesn't entirely click, but the last 15-20 minutes is quite effective and makes the picture worth sitting through.
A cult film that bypassed DVD, Shout Factory's Blu-Ray of the film offers a good looking, seemingly unmolested 1080p (1.85) transfer from a source that seems a bit soft at times. There's also an odd white line that pops up near the top of the frame for a few minutes here and there, looking like a video cassette tracking problem (which it obviously isn't, but it's the best way I can describe it!). A lengthy conversation with Richard Thomas – candid and enlightening – and costar Sian Barbara Allen is the highlight of Shout's extras, which also include a tepid trailer and a photo gallery.
Also new from Shout's Scream Factory line this month is Robert Zemeckis' DEATH BECOMES HER (**½, 103 mins., 1992, PG-13), a film that served more as a special effects showcase for ILM's CGI than it did for its star trio of Goldie Hawn, Meryl Streep and Bruce Willis, who make the most of an uneven script by Martin Donovan and David Koepp that focuses on the Fountain of Youth and the show-biz obsession with aging. Despite its then-cutting edge effects and make-up, the film had its share of problems, including poor test screenings, a re-shot ending and editing-room massaging that resulted in Tracey Ullman's character being tossed completely out of the film. Regrettably, little of this is brought up in a retrospective featurette on-hand here, featuring new interviews with Zemeckis, Koepp, cinematographer Dean Cundey and others. A vintage featurette, the trailer (containing discarded footage), a good looking 1080p (1.85) transfer and 5.1 DTS MA audio round out the release.
Also on Blu-Ray from Shout: William Castle's hugely entertaining I SAW WHAT YOU DID (***, 82 mins., 1965) stars Joan Crawford with Andi Garrett and Sarah Lane as a pair of teenage girls whose prank calls put both of them in mortal danger. John Ireland and Leif Erickson co-star in this short but extremely fun Universal product, presented here in a 1080p (1.85) transfer with DTS MA mono sound, a photo gallery and trailers…A late '70s ITC production, A TALE OF TWO CITIES (162 mins.) adapts the Charles Dickens masterwork with Chris Sarandon in the dual role of Charles Darnay and Sydney Carton, who find themselves on opposite ends of the French Revolution but both in love with the fair Lucie (the first role for Alice Krige). Krige, sporting a bit more baby fat here than any of her subsequent performances, looks smashing in this rock-solid rendering co-starring Billie Whitelaw, David Suchet, Barry Morse and Peter Cushing as Lucie's father. Shout's ITV-licensed Blu-Ray features an aspect ratio that's been reconfigured from 1.33 to 1.85 but doesn't seem overly cramped, and there's more detail to be found here than any prior DVD rendering.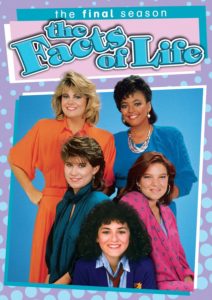 Scream Factory New Releases: the 2013 thriller SUBMERGED (98 mins., 2013, Not Rated) is director Steven C. Miller's tale of about a bodyguard (Jonathan Bennett from "Mean Girls" and any number of Hallmark movies), assigned to protect a young woman, who has to race to save her life – and their party's – when their limo crashes into the water. Watchable but a bit convoluted, with the film bouncing between time frames not always coherently. Shout's Blu includes a 1080p (2.35) transfer and 5.1 DTS MA sound…the lovely Dominique Swain has become a B-movie staple recently, as evidenced by her top-billed starring appearance in the delightfully ridiculous SHARKANSAS WOMEN'S PRISON MASSACRE (83 mins., 2015, Not Rated), which brings together the excitement of women's prison thrillers with the action of "swamp sharks" who stalk the girls after they're out on a work detail program in the Arkansas bayou. Traci Lords also appears in this Syfy Channel movie here presented in an uncut version from Shout. The disc boasts a commentary with director Jim Wynorski and actresses Cindy Lucas and Amy Holt, a still gallery, 1080p (1.78) transfer and 5.1 DTS MA sound…Finally from Scream Factory and IFC Midnight comes Mike Testin's DEMENTIA (90 mins., 2015, Not Rated), a thriller about a war veteran (Gene Jones) who gets more than he bargained for when a strange nurse (Kristina Klebe) moves in to take care of him. Shout's Blu-Ray includes a 1080p transfer, 5.1 DTS MA sound, and a DVD.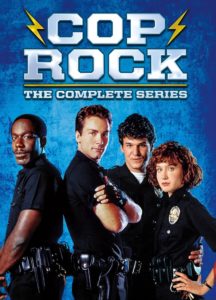 TV On DVD From Shout: A handful of terrific vintage TV on DVD releases are also new to disc this month from Shout. One of my favorite sitcoms, NEWHART, is among them, enabling fans to add the show's fifth season (9 hours, 1986-87) to their home video collections at last. This is a particularly good year for the show, still in its prime at CBS, with all 24 episodes included here in their original broadcast length versions. More '80s sitcom goodness is on tap in the Final Season of THE FACTS OF LIFE (9 hours, 1987-88), the ninth and final go-around for the Eastland girls which sends Blair, Jo, Natalie and Tootie out into the real world. Cloris Leachman is back in this goodbye season for the series, which hits DVD on May 17th…One of the few major flops from producer Steven Bochco, COP ROCK (9 hours, 1990) was an immediate disaster for its prolific writer-producer and ABC. Billed as a program that would, at last, unite that TV chestnut – the police procedural – with the showstopping energy of a Broadway musical, "Cop Rock" was ridiculed by critics and instantly became a punchline for late night comedians of the day. Shout's DVD retrospective gives viewers, finally, a chance to reassess the series that, admittedly, uneasily meshes original songs (some written by Randy Newman) with a pre-"NYPD Blue" ensemble including Anne Bobby ("Nightbreed"), Ronny Cox and Barbara Bosson. New interviews with Bobby and Bochco are included in Shout's three-disc set, which preserves all 12 episodes of the short-lived series on three discs…THE RED SKELTON SHOW: THE BEST OF THE EARLY YEARS 1955-58 (aprx. 9 hours) includes two discs of sketches from the rarely-seen classic TV comedy, which its star refused to put into syndication. Over eight hours of vintage B&W comedy is included here, culled from 20 episodes that aired between 1955-58 and likely have not been seen in their entirety since their original broadcast dates…Inspired by the success of the classic 1943 film (and its sequel "Thunderhead: Son of Flicka"), MY FRIEND FLICKA: THE COMPLETE SERIES (16 hours, 1955-56) adapted the 20th Century Fox hit as a weekly TV adventure (first broadcast, understandably, in black-and-white but filmed in color). All 39 episodes are included here in full-screen color transfers and mono soundtracks.
Kids are likely to enjoy NINJA TURTLES: THE NEXT MUTATION (8 hours), the late '90s live-action series starring crimefighting heroes Leonardo, Raphael, Donatello and Michelangelo in 26 episodes of the Saban-produced series. Shout's DVD includes the special "Power Rangers in Space" crossover episodes, music videos, 4:3 transfers and stereo soundtracks…MIRACULOUS: TALES OF LADYBUG & CAT NOIR (154 mins., 2016) is a Nickelodeon series about a boy and girl who become juvenile superheroes thanks to their magical pets. This French production hits DVD for the first time featuring seven episodes in 16:9 transfers with interviews, episode animatics, sing-alongs and 5.1 Dolby Digital soundtracks.
---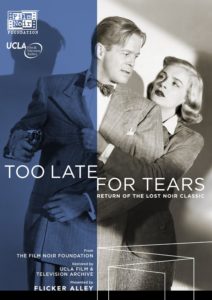 Flicker Alley New Releases
Two film noir fan favorites have been painstakingly restored by the Film Noir Foundation and the UCLA Film & Television Archive, and the results of their work hit stores on May 17th from Flicker Alley.
TOO LATE FOR TEARS (102 mins., 1949) is the major offering of the duo. Scripted by future "Fugitive" creator Roy Huggins from his "Saturday Evening Post" serial, this Byron Haskin-directed Republic release stars Arthur Kennedy and Lizabeth Scott as a couple who, improbably, have $60,000 dropped into their laps – literally. While hubby Arthur feels some responsibility and wants to report it to the police, Lizabeth has other ideas, and her suburban housewife becomes a materialistic hurricane that gets even more complicated when the mysterious Dan Duryea shows up, claiming it's his loot.
The Hollywood Foreign Press Association's Charitable Trust also contributed to the restoration of "Too Late For Tears," which Flickey Alley has packaged in a superb Blu-Ray/DVD combo pack. The Blu offers commentary from historian/writer Alan K. Robe, plus "Chance of a Lifetime: the Making of 'Too Late for Tears,'" which includes comments from disc producer Eddie Muller along with cineastes Kim Morgan and Julie Kirgo. Another segment chronicles the lengthy mission to restore the film, while a 24-page booklet completes a package marked by an outstanding B&W 1080p (4:3) transfer.
Flickey Alley's other film noir offering is WOMAN ON THE RUN (79 mins., 1950), a minor but interesting genre outing starring Ann Sheridan as a woman whose estranged husband witnessed a San Francisco gangland execution. His whereabouts is coveted by countless entities, including a journalist (Dennis O'Keefe) who charms Sheridan into helping him. Shot on location in the Bay Area, "Woman on the Run" doesn't quite generate the heat of "Too Late For Tears," but genre fans should appreciate its depiction of time and place, not to mention its brief running time. Extras in Flicker Alley's combo pack include a commentary track by producer Eddie Muller; another documentary from Steven Smith and the Film Noir Foundation; a look at the film's restoration; a location shooting segment; a short documentary, "Noir City," about the Film Noir Foundation's annual festival; and another outstanding 24-page booklet.
Both releases come highly recommended for film noir fans!
---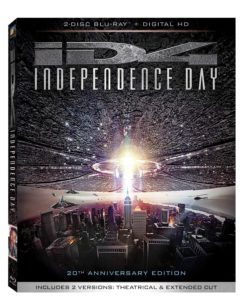 New on Blu-Ray
INDEPENDENCE DAY 20th Anniversary Edition (**½, 145 mins., 1996, PG-13; Fox): Fans have eagerly awaited Fox's remastered Blu-Ray release of "Independence Day," Roland Emmerich's huge smash from the summer of '96 that needs little introduction for most viewers. Suffice to say that, even though the movie plays better with a loud, raucous audience, "ID4″ has its pleasures, even if the Emmerich-Dean Devlin script is too calculated and pat — the ultimate "pre-fab" blockbuster if you will — to be accepted as anything more than a forgettable, popcorn-munching piece of escapism.
Previously released on a slim Blu-Ray release that only offered a few of its DVD extra features, this 20th Anniversary edition includes extensive supplements (deleted scenes, gag reel, Making of materials, two commentaries) carried over from the old Fox "Five Star" two-disc DVD set, while adding in a new 30-minute retrospective look back – just in time for the release of "Independence Day 2″ this summer. A digital copy, a superior 1080p (2.35) transfer and 7.1 DTS MA sound round out a must for fans.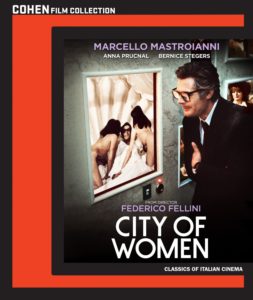 Cohen Film Collection New Releases: A trio of new Blu-Rays are due this month from the Cohen Film Collection.
A MARRIED WOMAN (95 mins., 1964) hails from one of director Jean-Luc Godard's most prolific periods, starring Macha Meril as a married woman having an affair with an actor; trials and tribulations follow after she learns she's pregnant. Raoul Coutard's stark black-and-white cinematography is enhanced with Cohen's Blu-Ray restoration, which includes a 2010 interview with French fashion designer Agnes B.; a 2010 interview with Godard scholar Antoine de Baecque; a 2010 interview with Meril; a re-release trailer; and uncompressed mono sound.
THE FILMS OF MAURICE PIALAT Volume 1 boasts a trio of films by Maurice Pialat, known by some as the "French Cassavetes." Included here are Nathalie Baye in "The Mouth Agape" (87 mins., 1974), the teen-oriented "Graduate First" (85 mins., 1978), and "Loulou" (105 mins., 1980), starring Isabelle Huppert and Gerard Depardieu. The two-disc Cohen release includes interviews with Huppert and others on "Loulou"; conversations with Baye and Pailat, along with deleted scenes, on "The Mouth Agape"; and a talk with writer Arlette Langmann, plus assistant director Patrick Grandperret, on "Graduate First." New 1080p transfers, mono audio, and trailers round out the package.
Finally, Federico Fellini's CITY OF WOMEN (139 mins., 1980) stars Marcello Mastroianni in the Italian auteur's surreal (surprise!) 1980 effort, given a brand-new restoration in Cohen's Blu-Ray. Along with a crisp and natural looking fresh HD transfer, the disc boasts a 30-minute look at the film; a 20-minute interview with the great production designer Dante Ferretti; a 10-minute interview with Tinto Brass; Italian and French trailers; and English subtitles with the original Italian audio.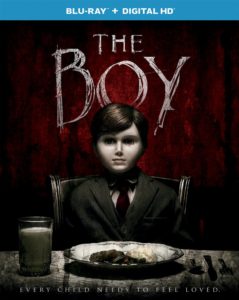 THE BOY Blu-Ray Combo Pack (**½, 98 mins., 2016, PG-13; Universal): Another low-budget thriller that hit box-office gold for STX Entertainment, following last year's "The Gift." This effort from director William Brent Bell and writer Stacey Menear isn't nearly as accomplished as Joel Edgerton's picture, however, as Lauren Cohan plays an American girl who takes a job as a nanny in an English village – and becomes the caretaker of a life-sized doll that, of course, seems very much alive. "The Boy" takes too long to percolate, but it does provide a few eerie moments in its second half. Universal's Blu-Ray includes a digital HD copy, 1080p (1.85) transfer and 5.1 DTS MA sound.
MR. SELFRIDGE: SEASON 4 Blu-Ray (8 hours, 2016; PBS): The fourth and final season of the PBS/ITV series flashes ahead nine years from the end of its prior season, with Jeremy Piven's Harry Selfridge at the height of his celebrity – having survived WWI and all kinds of tragedies inbetween. His challenge is staying one step ahead of his creditors and carving a new niche in the blossoming commercial era of the "Roaring '20s." PBS' Blu-Ray set contains the complete fourth and final season of the acclaimed "Mr. Selfridge," with the three-disc set including uncut episodes (some of the PBS broadcasts are edited for time), a Making Of, Piven interview, and other segments. The 1080i transfers and 2.0 stereo soundtracks are all top notch.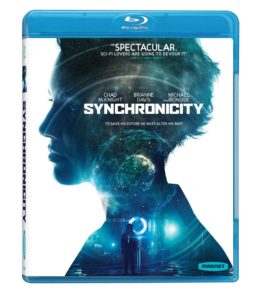 RIDE-ALONG 2 Blu-Ray Combo Pack (**, 102 mins., 2016, PG-13; Universal): Feeble sequel to the surprise 2014 smash hit brings back Kevin Hart as an aspiring detective to his actual detective brother-in-law, Ice Cube, who's pursuing a major case in Miami and reluctantly brings his overly eager disciple along for the ride. Tim Story's film adds Ken Jeong, Olivia Munn and Benjamin Bratt into the mix to little avail as this lazy sequel reminds you of the kinds of "just for the money" sequels we'd routinely see back in the '80s. Universal's Blu-Ray combo pack includes format-exclusive featurettes plus a gag reel, deleted scenes, other featurettes, a Digital HD copy, 1080p (2.40) transfer, 5.1 DTS MA audio and a DVD.
SYNCHRONICITY Blu-Ray (100 mins., 2016, R; Magnolia): Jacob Gentry's sci-fi thriller stars Chadrian McKnight as a scientist who has perfected the art of time travel, but rushes to go back and prevent his discovery from being made after a girl – seemingly out to steal it – seduces him and a corporate tycoon wants it for his own nefarious means. Though stylishly shot for its low-budget, "Synchronicity" isn't all that appealing, with a particularly convoluted first hour. Magnolia's Blu-Ray includes commentary with Gentry, interviews with McKnight, actress Brianne Davis and Gentry, a music video, the trailer, a 1080p (2.39) transfer and 5.1 DTS MA sound.
Lionsgate New Releases: MANSON'S LOST GIRLS (90 mins., 2015) looks at the life of Linda Kasabian from the time she was just a hippie through her becoming one of Charlie Manson's cult members. This Lifetime cable movie is passable but feels abbreviated at just 90 minutes. Lionsgate's DVD boasts a digital copy, 16:9 transfer and 5.1 sound…ALPHA AND OMEGA: DINO DIGS (47 mins., 2016) is the latest release in the long-running animated series, following Kate, Humphrey and their three pups as they encounter Amy, a friendly dinosaur raptor who springs to life after a "big dig." Lionsgate's DVD includes a 16:9 transfer of the 47-minute feature, a 16:9 transfer, 5.1 audio and a digital copy.
---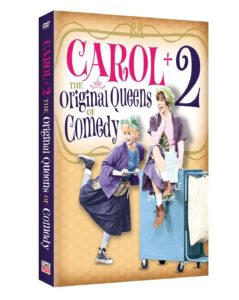 Also on DVD
CAROL +2 DVD (277 mins., Time Life): Carol Burntett fans will want to check out this new, affordable Time Life anthology, which includes the 1966 special "Carol +2," which paired Burnett with Lucille Ball and guest star Zero Mostel, along with "Once Upon a Mattress," the 1972 CBS tele-film of the Broadway musical with Burnett reprising her role as Princess Winnifred. A terrific single-disc of classic TV comedy available May 17th. Also new from Time Life is BOB HOPE: ENTERTAINING THE TROOPS (154 mins.), an anthology featuring three specials from Hope's work with the USO, which NBC broadcast to massive ratings at the time of their broadcast.
I KNOW A WOMAN LIKE THAT DVD (88 mins., 2015; Virgil Films): Emmy-winner Elaine Madsen helmed this documentary looking at 17 women in the "upper decades" of their respective lives, from Meg Starbuck and Lauren Hutton to Gloria Steinman and Eartha Kitt, all of whom forged careers before the coming of the "social revolution." Virgil's DVD includes a 16:9 transfer and stereo sound.
ANGIE TRIBECA: Season 1 DVD (220 mins., 2016; Warner): Uneven spoof of police shows wastes the formidable comic talents of Rashida Jones, playing a tough detective grudgingly partnered with Hayes MacArthur as they investigate a series of comical cases. Produced by Steve Carrell, this TBS comedy offers some scattered laughs but the humor is too wildly inconsistent to keep most viewers interested. Warner's DVD offers the show's complete first season with 16:9 transfers and 2.0 Dolby Stereo soundtracks.
A ROYAL NIGHT OUT DVD (97 mins., 2015, PG-13; Fox): Rom-com from the UK follows Princess Elizabeth and Princess Margaret as they head out on the town to enjoy the post-WWII celebrations outside Buckingham Palace. Sarah Gadon and Bel Powley have fun in the lead roles, but the "loosely inspired by true events" material is rather blandly presented by director Julian Jarrold, who has, at least, assembled a strong supporting cast (Rupert Everett and Emily Watson chief among them). Fox's DVD includes a Digital HD copy, 16:9 transfer, Making Of and 5.1 sound.
NEXT TIME: TRAILER TRAUMA 2! Until then, don't forget to drop in on the official Aisle Seat Message Boards and direct any emails to our email address. Cheers everyone!