There are a handful of different trailer compilations available on Blu-Ray, with Garagehouse's first volume of vintage "Coming Attractions," "Trailer Trauma," one of the best. Now the label is back with TRAILER TRAUMA 2: DRIVE-IN MONSTERAMA, which includes a whopping 3½ hours of horror, shlock, and vintage exploitation trailers that should warm the hearts of genre buffs everywhere.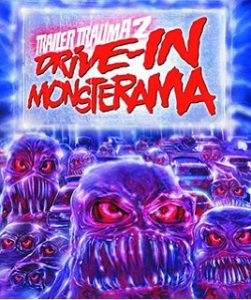 A record 95 trailers (at least it's a record if we're judging individual trailer anthology volumes) are packed into this single-disc compilation, all transferred and mastered in 4K from 35mm prints in, of course, a wide variety of conditions. However, the transfers are generally quite excellent across the board, retaining each film's proper aspect ratio and backed with uncompressed PCM audio.
There's a wide variety of films and studios represented here, from Hammer (Captain Kronos, Frankenstein & The Monster From Hell) to Toho (War of the Gargantuas, Latitude Zero), drive-in (Werewolves on Wheels) to Double Features (Gorgon/Curse of the Mummy's Tomb, Dr. Faustus/The Manster), Roger Corman productions ("Screamers") and assorted Hollywood studio fare ("The Possession of Joel Delaney," "The Mephisto Waltz"). There's even a re-issue trailer for John Landis' terrific early work "Shlock," here retitled – in the wake of "Animal House" – "Banana Monster."
One of the more intriguing revelations of this particular release are the amount of horror/exploitation films Bing Crosby Productions generated back in the '70s, several of which were major successes ("Willard" in particular) that haven't even been released on DVD, never mind Blu-Ray. Hopefully whatever legal red tape is holding up that particular catalog's renaissance will be worked out one day.
The trailers themselves are often more entertaining than the movies they were produced to sell, and Garagehouse has grouped them together in some rough semblance of thematic cohesion. Adding to the fun is a commentary track featuring genre authorities Keith Crocker and George Reis from the essential DVD Drive-In website. The duo share insightful info on all the assorted films, many of which were retitled and re-issued in various forms, and relay nostalgic tidbits about where and when many viewers may have first had the chance to see them.
Needless to say this is another fantastic title that's likely to become a collector's item as Garagehouse has said their packages won't be repressed and are only being manufactured in small quantities to begin with. Fans can order theirs today through DiabolikDVD.
---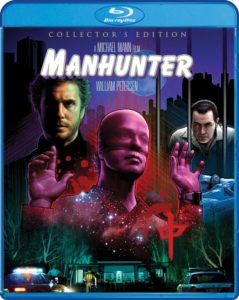 More May Horrors
MANHUNTER Blu-Ray (***½, 120 mins., 1986, R; Shout Factory): Back on Blu-Ray via the Scream Factory Collector's Edition treatment, Michael Mann's 1986 film "Manhunter" is both the best of all the different screen adaptations of Thomas Harris' books and a more realistic take on Harris' infamous anti-hero – Hannibal Lector – here disturbingly rendered by Brian Cox.
Featuring William Petersen as an FBI agent tracking down a serial killer dubbed the Tooth Fairy (Tom Noonan) with the participation of Lector (Cox, in a performance more restrained but almost as effective as Anthony Hopkins' later Hannibal), "Manhunter" has become a film respected by audiences and acclaimed by critics in the years since its tepid 1986 theatrical run. It's less "showy" and "gothic" than Jonathan Demme's "Silence of the Lambs," but the heightened realism only adds to the suspense and makes the material all the more believable, at least in my mind. Add in a sterling supporting cast (Joan Allen, Stephen Lang, Dennis Farina) and Dante Spinotti's slick cinematography, and you have a film that's disturbing and thoroughly compelling from its opening to its final freeze-frame.
Previously available as part of the "Hannibal Lector" Blu-Ray box-set alongside "Silence of the Lambs" and "Hannibal," then on its own standalone release, "Manhunter" returns to Blu-Ray this month in the form of a two-disc Shout Factory special edition, offering some extras that haven't been seen since the days of Anchor Bay's 2001 DVD Limited Edition.
Disc 1 features the theatrical cut in a similar, though not quite as sharp, 2.35 1080p transfer as the MGM/Fox Blu-Ray. This MGM master preserves Mann and cinematographer Dante Spinotti's visuals perfectly (Spinotti, oddly enough, later shot Brett Ratner's inferior take on "Red Dragon" as well), while the disc's DTS Master Audio sound is also satisfying given its two-channel stereo origins (Shout has added a 5.1 DTS MA mix that is encoded at a notably louder volume as well). My only quibble is that the transfer does not appear as crisp as the original MGM/Fox Blu-Ray, perhaps a product of Shout's sometimes uneven compression (which yielded roughly the same results on their "Mad Max" release).
Special features include brand-new interviews with Spinotti, Petersen, Allen, Cox, Noonan, plus composer Michael Rubini and other musicians who worked on the moody, synth-laden '80s soundtrack. These total over two hours and are enlightening and engaging, with the stars eager to talk about their work on the picture. The original trailer is also included here (for the first time on Blu-Ray) plus a still gallery.
Disc 2 offers the high-def debut (of sorts) of Mann's "Preferred Director's Cut," which runs four minutes longer than the theatrical version but also includes alternate footage and makes a few deletions from its counterpart. Though a few of its exclusive scenes are noteworthy, I find that the theatrical cut is superior on balance, though fans have engaged in that debate for years.
The Director's Cut was initially produced for a cable TV airing back in the '90s and made its home video premiere in a horribly transferred print from Anchor Bay in 2001. Not being able to work from original film elements, Shout Factory has used the existing MGM HD master and cut-in the altered footage from a standard-definition source, the only version of the Director's Cut in existence. There's no doubting the reduction in quality during the added/altered scenes, though certainly, it's much superior to watching the old DVD transfer. The only issue I would have is that the inserted footage looks superior – at least a little more stable – in the standard-definition Director's Cut, which is also included here, in its entirety, as a bonus feature. Mann's plodding, older commentary track has also been reprised here for the first time on Blu-Ray, along with a pair of retrospective featurettes, "Inside Manhunter" and "The Manhunter Look," that have likewise been ported over from the Anchor Bay DVD releases.
Though the Director's Cut is hampered by source materials that aren't in high-def, this is still one of Shout Factory's best releases of late, preserving the superior theatrical cut, enhancing it with new extra features, and giving fans the best-possible version of the movie's controversial alternate version for the first time on Blu-Ray. One of the best thrillers of the '80s deserves nothing less.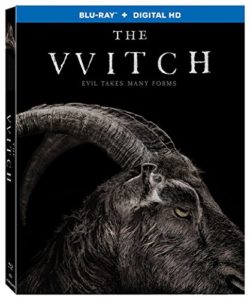 THE WITCH Blu-Ray (**, 90 mins., 2015, R; Lionsgate): Another example of a recent critical darling in the horror genre being largely rejected by commercial audiences, "The Witch" is a gorgeously filmed but confoundingly basic picture that understandably had a difficult time finding acceptance with traditional horror fans.
Its visuals and production design at least, are palpable, as a family – cast out from a New England village for reasons we're not explicitly told – sets up shop on the edge of the woods. Soon, strange occurrences begin to manifest themselves as the family breaks down bit by bit, with most of the blame unjustly falling on the eldest daughter (an impressive performance by newcomer Anya Taylor-Joy).
Writer-director Robert Eggers researched classic New England folklore and history in mounting a superb technical exercise, which looks and sounds like something right out of Puritan New England – down to its thick and sometimes incomprehensible accents (more than once I nearly turned the subtitles on). The issue here, though, is that "The Witch" really just generates a sense of "who cares?" instead of terror as it plods along through its 90 minute running time. A choral-chanting soundtrack (someone must have watched "2001″ before shooting began) and slow, lingering camera work don't, by themselves, establish an atmosphere of dread, and so little happens in the film that all you're left with is the prolonged, painful disintegration of the clan – complete with uncomfortable moments involving young children. Perhaps some critics were moved by this portrait of would-be pious men and women as a sort of "Ordinary Puritan People," but the film never gives you a reason why you should care about what the family goes through. Finally, when the movie becomes explicitly supernatural at the ending, all it does is negate the more "grounded" events (such as they are) that preceded it.
"The Witch" was celebrated by critics and festival audiences, but once Lionsgate placed the film into wide distribution this past winter, the movie failed to muster the same level of enthusiasm with audiences likely expecting something more explicitly horrifying. That's understandable, certainly, but the fact that "The Witch" is low-key, by itself, doesn't make it scary or compelling either, as it fails to succeed on its own terms.
Lionsgate's Blu-Ray of "The Witch" hits stores May 17th. The 1080p (1.85) transfer is superb and the 5.1 DTS MA sound is quietly engineered, though the muffled accents aren't rendered any more coherently at home than they were in theaters. Supplements include a half-hour Q&A recorded in Salem, Mass. with the director, Taylor-Joy, and local historians; a commentary with Eggers, a brief Making Of segment, trailers, and a digital HD copy.
---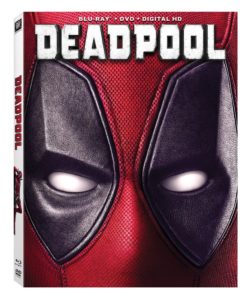 Also New & Noteworthy
DEADPOOL Blu-Ray (***, 108 mins., 2016, R; Fox): Yes, it's yet another super-hero movie – but at least "Deadpool" is a refreshingly off-the-wall, almost spoof-like Marvel adaptation that provides the perfect vehicle for star Ryan Reynolds' sense of humor.
Built on top of a typical genre origin tale, "Deadpool"'s plot – Reynolds' mercenary-for-hire is turned into a disfigured mutant after receiving a terminal cancer diagnosis, and struggles to reconnect with his lady love (the luscious Morena Baccarin) while seeking revenge – doesn't sound like anything special. Yet the Paul Wernick-Rhett Reese script takes off and riffs on its basic structure, enabling its wise-cracking, smart-ass hero to not only talk directly to the audience throughout, but send up well-worn comic-book cliches and even skewer the likes of Hugh Jackman and the "X-Men" as well.
Reynolds, who seemed uneasy as "Green Lantern" in one of the genre's biggest flops, is splendid in a role that fits him like a glove while generating fun chemistry with Baccarin, bantering with pal T.J. Miller (from HBO's sublime "Silicon Valley"), and trading barbs with special guests from the "X-Men" series like Colossus, who rather endearingly reprises the more wholesomely heroic aspects from that franchise. Not all of the jokes hit (and Leslie Uggams' blind sidekick comes off as a missed opportunity), but many of them do, especially a hysterical opening credits sequence that's as unique as any you'll ever see.
With its self-deprecating humor, soundtrack of Chicago and Wham! pop tunes, plus shout-outs to '80s box-office hits (be sure to stay through the end credits), "Deadpool" feels like the right comic book movie at the right time, and reason enough to be thankful Disney – which likely never would've produced a film like it – doesn't control every element of the Marvel movie empire.
Fox's Blu-Ray offers up deleted scenes, a gag reel, commentaries, over an hour of behind-the-scenes segments, promo videos, conceptual galleries, a 1080p (2.35) transfer, 7.1 DTS MA sound and a digital HD copy.
JOY Blu-Ray (**½, 124 mins., 2015, PG-13; Fox): Offbeat third collaboration between director David O. Russell and star Jennifer Lawrence does provide the young actress with a showcase role: a young divorced mother who rises up to become an entrepreneur – and the inventor of the "Miracle Mop." That "rising," though, is met with substantially more melancholy, as Russell spends most of the ironically-titled film on depressing events that befall its heroine and dysfunctional family. Still, Lawrence and a game cast (Robert DeNiro and Bradley Cooper, returning from past Russell films; Virginia Madsen, Diane Ladd, Isabella Rosselini and Edgar Ramirez among them) make this highly uneven, and on balance unsatisfying, project at least worth watching. Fox's Blu-Ray includes two featurettes, a digital HD copy, 1080p (1.85) AVC encoded transfer and 5.1 DTS MA audio.
---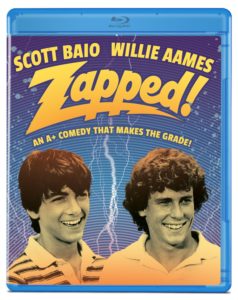 Olive New Releases
At the top of Olive's May Blu-Ray releases has got to be ZAPPED! (***, 98 mins., 1982, R), the memorable Scott Baio-Willie Aames teaming from the summer of '82 that finds nerdy high schooler Baio gaining the power of ESP after working in his bio lab.
Baio and Aames aren't exactly comic gold together but they're darn close in this precursor to their later, long-running tandem on the popular sitcom "Charles in Charge," while Charles Fox provides a nice score and Felice Schachter (one of the original, first-season "Facts of Life" ensemble) the female interest in a movie that seems to have been shot for a PG rating and goosed up with later gratuitous, R-rated nude inserts (which lead co-star Heather Thomas to sue, as those naked assets on display aren't hers!).
"Zapped!" is good old-fashioned '80s fun, and Olive's Blu-Ray offers an attractive 1080p (1.85) transfer with DTS MA mono audio.
A pair of '70s teen movies, also new from Olive this month, provide an agreeable double-bill on Blu-Ray.
FRENCH POSTCARDS (**½, 95 mins., 1979, PG; Olive) is cute romantic-comedy fluff from the "American Graffiti" writing duo of Gloria Katz (who produced) and Willard Huyck (who directed), following a group of American students – including a young Debra Winger – as they trek through France. Lee Holdridge's breezy score, engaging performances and authentic locales make this an appealing slice of escapism with Miles Chapin ("The Funhouse"), Valerie Quennessen ("Conan the Barbarian," "Summer Lovers"), Marie-France Pisier ("Other Side of Midnight") and Jean Rochefort starring.
Olive's Blu looks terrific with its 1080p (1.85) AVC encoded transfer, one of the best of their Paramount-licensed releases, and best of all is the news that the movie's original soundtrack has been restored here, offering all the songs as they were originally performed in the theatrical release. These include a number of American hits performed in French, which were removed for the film's home video releases and give the film an added charm.
Finally, RICH KIDS (**½, 97 mins., 1979, PG) provides with viewers a kind of natural, youth-centric drama seldom seen on-screen today. Earnestly performed, "Rich Kids" stars Trini Alvarado and Jeremy Levy as a pair of young Manhattan teenagers who form a bond even while their respective families go through their own dysfunctional problems – including Alvarado's parents, who put on a masquerade that all is well when even she's aware of their forthcoming split.
Alvarado is wonderful and sympathetic in what should have been a star-making performance, yet her career never really took off despite how many critical kudos she received both for this film and 1980's "Time Square" (she later appeared in "Satisfaction" opposite Justine Bateman, "Babe" and "The Frighteners"). Judith Ross' script is a little bit uneven — especially in its rather lackluster ending — but Robert M. Young keeps the human drama centered on a fine cast, with John Lithgow most notable as the sole, semi-sympathetic parental figure.
A production of Robert Altman's Lion's Gate shingle, "Rich Kids" has seldom been screened over the years. I first caught a glimpse of it on the MGM HD channel a couple of years ago, and that master has now made its way to Blu-Ray thanks to Olive. The 1080p (1.85) transfer is natural and crisp, with the source materials showing some nicks and scratches at times. The DTS MA mono audio is clearly delivered for this underrated late '70s slice of life juvenile drama with heavy adult themes on its mind.
---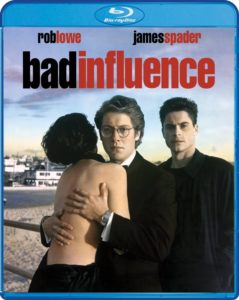 Quick Takes
BAD INFLUENCE Blu-Ray (**½, 99 mins., 1990, R; Shout! Factory): Curtis Hanson helmed this well-acted, albeit slow-going '90s noir with James Spader playing a yuppie financial analyst who gets in too deep with a charismatic, mysterious stranger (Rob Lowe) who won't let him out of his grasp. Lowe and Spader are terrific opposite one another, but the David Koepp script ultimately leads to an unsatisfying, prolonged third act that doesn't entirely seem to know where it's going. An interview with Koepp is new to Shout's Blu-Ray, sporting a 1080p (1.85) transfer and DTS MA stereo audio.
Arrow New Release: Another Nico Mastorakis action outing, HIRED TO KILL (96 mins., 1989, Not Rated), hits Blu-Ray next week courtesy of our friends at Arrow.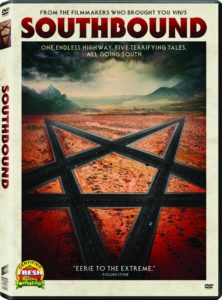 This typical Mastorakis brew – with a better-than-average cast – stars Brian Thompson as a mercenary sent to "Cypra" on a rescue mission, where he has to pose as a gay fashion designer (!) in order to avoid detection from the country's leader (a scenery-chewing Oliver Reed). Jose Ferrer (briefly) and George Kennedy co-starred in "Hired to Kill," which Mastorakis co-directed with Peter Rader. It's talky and mostly dull in a "Cinemax After Dark" kind of way, but at least there's a decent action climax.
Arrow's Blu-Ray includes a 4K restoration (1.85) with DTS MA 2.0 and PCM stereo sound; a DVD copy; a commentary with editor Barry Zetlin; an interview with Mastorakis on the film; a new interview with Thompson; the trailer; a collector's booklet; the original script via DVD-ROM and more.
SOUTHBOUND DVD (89 mins., 2015, R; Sony): Independently produced horror anthology follows a various assortment of characters – from a traveling band to a family on vacation – on the open road, where all of them befall some kind of eerie satanic activity. Lots of gore, some nasty character outcomes and interlocking stories make this a watchable outing for horror die-hards, though none of the particular tales is all that interesting. Sony's DVD includes a commentary, deleted scenes, outtakes, a photo gallery, 16:9 (2.35) transfer and 5.1 Dolby Digital sound.
NEXT TIME: The latest from the Warner Archive, plus HOW TO BE SINGLE. Until then, don't forget to drop in on the official Aisle Seat Message Boards and direct any emails to our email address. Cheers everyone!