Exploitation buffs, '70s action fans and those with a taste for bombastic film scoring ought to eat up KILLER FORCE (101 mins., 1975, R), also known as "The Diamond Mercenaries." This Val Guest-directed action thriller is set in the diamond mines of the South African desert, where security expert Telly Savalas is charged with stopping a heist led by a team of experts – Hugh O'Brian, Christopher Lee and O.J. Simpson – while fellow company man Peter Fonda gets a covert invitation from his boss to join the villains by smuggling a single diamond out of the heavily guarded compound. If he succeeds, he'll be able to infiltrate the group before they can steal millions in diamonds out of the company vaults…but there are surprises to be found in the script, credited to Guest, Michael Winder and Gerald Sanford, where the bad guys and good guys seem to switch places by the film's end.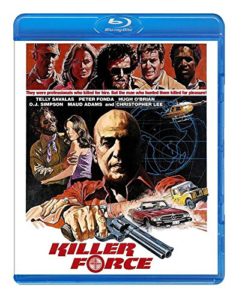 A production of Nat Wachsberger – whose other credits included the infamous Italian sci-fi spoof "Starcrash" and the even-more infamous, unreleased Jerry Lewis holocaust "comedy" "The Day That Clown Cried" – "Killer Force" was picked up by American-International and became something of a buried treasure over the years. While no classic, there is undeniable entertainment in this caper with a healthy dose of '70s narcissism, with the cast – which also includes Maud Adams as Fonda's supermodel squeeze – working well off one another. Alas, one wishes there was more for Savalas to do, as Telly is relegated to the sidelines during the movie's second half, resurfacing briefly during an abrupt ending that's a basic reprise of his turn in the late '60s Gene Roddenberry-produced, MGM cult fave "Pretty Maids All in a Row."
Best of all, though, is Georges Garvarentz's brassy, ridiculously tuneful score, which sounds like something that would've been right at home in a '70s cop show or, in its more melodic passages, perhaps an episode of "Eight is Enough." The music calls attention to itself in a good way, dominating the film's heist sequences and crisply edited chases, which are better packaged than the movie's less-than-airtight script.
Brought to Blu-Ray this month from Kino Lorber and Scorpion Releasing, "Killer Force" boasts a brand new HD master with excellent detail (1.85) and DTS MA mono sound. There are blemishes in the print but that's to be expected from a film that's received scant distribution since its original release, and the transfer is marked by clear detail throughout. MGM's HD master was derived from Wachsberger's original copy, bearing the title "The Diamond Mercenaries" and not crediting AIP's involvement. The AIP credit opening is included here as an extra along with the trailer and an alternate ending, which is laugh-out loud funny even as '70s downers go.
---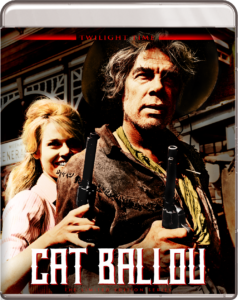 Twilight Time New Releases
CAT BALLOU (96 mins., 1965). THE MOVIE: Hugely enjoyable western romp stars Jane Fonda as a young lass, just graduated from finishing school, who finds out her father's ranch is coveted for its location by both the town and a posse of bad guys. Just as "Cat" strikes up a friendship with an outlaw (Michael Callan), his associate (Dwayne Hickman) and a top – albeit drunken – gunfighter (Lee Marvin), the vile Tim Strawn (also Marvin) kills Cat's father, leading to the group vowing revenge and causing a ruckus against the townspeople who conspired against him. A "Greek Chorus" of "shouters," played by Nat King Cole and Stubby Kaye, provide the musical narrative – thanks to Mack David and Jerry Livingston's songs – for this energetic adaptation of Roy Chanslor's reportedly more dramatic novel, brought to the screen with a light touch by writers Walter Newman and Frank R. Pierson. The ensemble performances are all spot-on, but it's Marvin in a dual role who generates the most laughs in director Elliot Silverstein's much-admired 1965 Columbia release. TWILIGHT TIME BLU-RAY SPECS: "Lee and Pamela: A Romance" is a 40-minute interview with Marvin's longtime girlfriend and eventual wife, Pamela, that also serves as a loving tribute to Marvin himself from producer/narrator Nick Redman. It's included here as an extra, along with a 12-minute Silverstein interview from the DVD, commentaries with Callan and Hickman, plus historians Eddy Friedfeld, Lee Pfeiffer and Paul Scrabo, the trailer, and an isolated score track. Speaking of the film's audio, the surprisingly robust stereo soundtrack packs a punch in both 5.1 and 2.0 DTS MA offerings included here, while the 1080p (1.85) AVC encoded transfer is splendid. AISLE SEAT BOTTOM LINE: Lively and thoroughly entertaining, "Cat Ballou" manages to poke fun at the genre without being overtly campy and silly. The songs are terrific, the performances marvelous and the entire film infectious from start to end. Highly recommended.
GARDEN OF EVIL (100 mins., 1954). THE MOVIE: A spectacular 1080p (2.55) transfer is one of the chief draws of Twilight Time's new Blu-Ray of this early Fox Cinemascope western. Gary Cooper, Richard Widmark and Cameron Mitchell play prospectors who end up in Mexico just for a stopover, where they run into a woman (Susan Hayward) whose husband (Hugh Marlowe) is trapped in a gold mine, smack in the midst of Apache territory. Between Bernard Herrmann's score and the scope cinematography, "Garden of Evil" needs to just tell a reasonably compelling story to get by, and director Henry Hathaway's movie does just that: this isn't a genre classic, with a fairly standard plot credited to writer Frank Fenton, but the star performances and the visual trappings ought to make it highly appealing for western fans. TWILIGHT TIME BLU-RAY SPECS: A full isolated score track; commentary with Nick Redman and film music authorities John Morgan, Steven C. Smith and William Stromberg; featurettes on the film, Hayward and Hathaway; a TV spot; and trailers comprise TT's solid supplemental offerings. In terms of the visuals, this Cinemascope production offers a brilliantly detailed, jaw-droppingly gorgeous HD transfer here on Blu-Ray, with high detail and deep colors. Three different stereo soundtracks are also here for the choosing: 5.1, 4.0 and 2.0 DTS MA sound that should work for any home theater set-up. AISLE SEAT BOTTOM LINE: "Garden of Evil" may be one of the best looking westerns if nothing else on Blu-Ray, thanks to a restored Fox master and a perfect a/v presentation. Well worth a view for western addicts.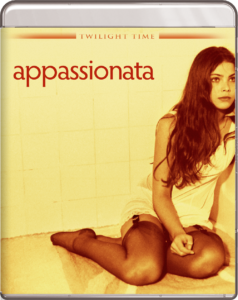 EUREKA (130 mins., 1983, R). THE MOVIE: Bizarre and unsatisfying, yet still oddly compelling, Nicolas Roeg film spent roughly two years on the shelf before being released to mixed reaction in the mid '80s. Gene Hackman stars as a gold prospector who strikes it big in the mid '20s, but then finds his life besieged by family dysfunction and exterior forces upon migrating to the Caribbean two decades later. It's not always easy to figure out what Roeg and writer Paul Mayersberg were trying to say in "Eureka" – something about the dangers of fame and the isolation of fortune, perhaps – as the movie transitions from an eerie opening third to a tedious family melodrama and later courtroom climax not all that coherently. Yet Roeg's eye for visuals results in a memorable looking film, if nothing else, with Rutger Hauer, Theresa Russell and – yes – Mickey Rourke and Joe Pesci comprising a supremely eclectic supporting cast. TWILIGHT TIME BLU-RAY SPECS: Though looking like it was derived from an older MGM master, "Eureka" still boasts a competent 1080p (1.85) AVC encode with DTS MA mono audio, featuring a Stanley Myers score. Extra features include a fascinating, lengthy (104 minutes!) Q&A with Roeg from the world premiere; interviews with Mayersberg (who adapted a Marshall Houts novel), editor Tony Lawson and producer Jeremy Thomas; an isolated music/effects (with some score-only passages) track; and the trailer. AISLE SEAT BOTTOM LINE: Though largely forgotten over the years since its release, a fascinating cast and Roeg's potent visuals make "Eureka" a film that still lingers in the mind in spite of its problems.
I COULD GO ON SINGING (99 mins., 1963). THE MOVIE: Judy Garland fans should rejoice with the release of her final film, a 1963 United Artists drama from the prolific British director Ronald Neame (whose credits include everything from "Tunes of Glory" to "Scrooge" and "Meteor"). Here, Garland plays a popular American singer who meets up with an old flame (Dirk Bogarde) while performing in London and desires to see the son she left behind. "I Could Go On Singing" provides a strong showcase for Garland and her talents, especially with an edge that she carried towards the end of her career (and life, for that matter). Harold Arlen and E.Y. Harburg wrote the title song for the film, which functions as a fitting, melancholy cinematic goodbye for its leading lady. TWILIGHT TIME BLU-RAY SPECS: Two superbly listenable commentaries grace Twilight Time's Blu: one features TT's Nick Redman and Lem Dobbs with veteran producer Lawrence Turman; another sports historians David Del Valle and Steven Peros. Trailers, TV spots and an isolated score (with some effects) round out the special features, while the 1080p (2.35) AVC encoded, MGM-licensed transfer and 1.0 DTS MA mono soundtrack are both up to par. AISLE SEAT BOTTOM LINE: Strongly recommended for Garland fans, "I Could Go On Singing" should be a healthy seller among Twilight Time's May releases.
APPASSIONATA (96 mins., 1974, Not Rated). THE MOVIE: The gorgeous Ornella Muti plays a nubile teen who works alongside her equally lovely friend (Eleonora Gorgi) to seduce her father, a dentist (Gabriele Ferzetti) with an unstable wife (Valentina Cortese), in a strange portrait of family dysfunction and repressed sexuality that becomes, umm, less repressed as Gian Luigi Calderone's film progresses. TWILIGHT TIME BLU-RAY SPECS: This Italian import boasts a 1080p (1.85) AVC encoded transfer and both Italian and dubbed English audio as 1.0 DTS MA mono mixes. Piero Piccioni's score is one of the best things in the film, and is isolated on a separate channel. AISLE SEAT BOTTOM LINE: Muti is arguably best known to American audiences for her later role in Dino DeLaurentiis' "Flash Gordon," and her physical beauty is the main draw of this unusual Italian drama.
---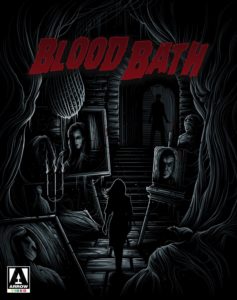 New From Arrow
The early '60s Roger Corman production BLOOD BATH boasts one of the all-time weirdest production histories in cinematic history: first shot in 1963 as a spy thriller called "Operation Titian" with William Campbell starring and story editor Francis Ford Coppola working behind the scenes, then re-edited into the film "Portrait in Terror" before reconfigured even further as "Blood Bath," all-out horror movie by exploitation auteur Jack Hill and director Stephanie Rothman, with Campbell now possessed with the spirit of the undead. As if that wasn't enough, more footage had to be shot for a TV version dubbed "Track of the Vampire."
Arrow's definitive new box-set of "Blood Bath" features all four versions of this '60s cult item, which is understandably more interesting for its production background than anything that's on-screen. New 2K restorations of "Portrait," "Blood Bath" and "Track" have been included here (1.66) with a reconstruction of "Titian" using original film materials and standard-def inserts. Extras include Video Watchdog's Tim Lucas updating his article on the film's bizarre history; a new interview with Sid Haig; an archival interview with Jack Hill; stills gallery; a double-sided fold-out poster; and extensive booklet notes.
Another sterling Arrow box-set, KILLER DAMES, includes two Italian giallo thrillers from the early '70s by director Emilio P. Miraglia.
Anthony Steffen and Mariana Malfatti star in "The Night Evelyn Came Out of the Grave" (103 mins.) while Barbara Bouchet and Malfatti team up in "The Red Queen Kills Seven Times" (99 mins.). Each of these mystery-thrillers with nifty scope compositions have been treated to 2K restorations in this limited edition (3000 copies) set, sporting both English and Italian soundtracks in DTS MA mono; a full 60-page booklet; commentaries on each film; an introduction with actress Erika Blanc, interview with critic Stephen Thrower, conversation with Blanc, and an archival interview with production designer Lorenzo Baraldi on "Evelyn"; and a new interview with actress Sybil Danning, another interview with Thrower, archival intro with Baraldi, archival interviews with actor Marino Mase and other cast members, and an alternate opening on "The Red Queen."
---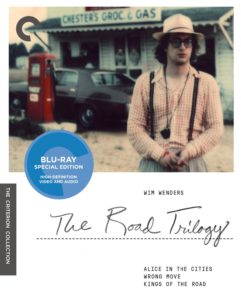 Criterion New Release
Sure to be one of the biggest releases of the year so far for foreign/independent cinephiles, Criterion's retrospective anthology WIM WENDERS: THE ROAD TRILOGY celebrates the three pictures that helped propel Wenders' standing on the international film scene.
Included here are "Alice in the Cities" (113 mins., 1974), "Wrong Move" (104 mins., 1975) and "Kings of the Road" (176 mins., 1976t), each in brand-new 4K digital transfers commissioned by the Wim Wenders Foundation under the director's supervision, with uncompressed PCM audio on "Alice" and 5.1 DTS MA surround mixes on the latter two pictures. Commentaries are included on all three films, along with a new interview with Wenders conducted by filmmaker Michael Almereyda; more fresh interviews with star Rudiger Vogler (playing the director's alter-ego), Yella Rottlander, Lisa Kreuzer, and Hanns Zischler; outtakes and Super 8 footage; a 2015 short, "Restoring Time," about the films' restoration; two newly restored early short films, "Same Player Shoots Again" (1967) and "Silver City Revisited" (1968); English subtitle translations by Wenders himself; and extensive booklet note essays.
---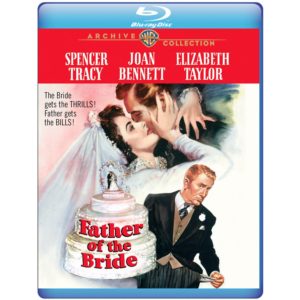 Warner Archive New Releases
New on Blu-Ray: Elizabeth Taylor fans can get their Liz-Fix in a most welcome pair of new high-definition Blu-Ray releases from the Archive. FATHER OF THE BRIDE (93 mins., 1950) offers Taylor as the Bride with Spencer Tracy as dear o'l Father, who finds out the process of modern-day marriage (circa 1950) isn't all it's cracked up to be. This irresistible comedy, directed by Vincente Minnelli and scripted by Frances Goodrich and Albert Hackett, boasts charming performances from Tracy, Taylor and Joan Bennett (as the family matriarch) in a perfect slice of MGM studio gloss. In addition to a crisp 1080p (1.37) B&W transfer, Warner's Blu boasts 2.0 DTS MA mono audio and a pair of archival newsreels…A far different Taylor vehicle is on-hand in the daring 1966 filming of WHO'S AFRAID OF VIRGINIA WOOLF? (131 mins.), a searing adaptation of Edward Albee's play from writer-producer Ernest Lehman. Under the direction of Mike Nichols, Taylor and then-husband Richard Burton give stellar performances as the drunken, broken couple who air out their dirty laundry – and then some – in front of a younger couple, played by Sandy Dennis (who, like Taylor, won an Oscar) and George Segal. An important, groundbreaking film that aided in the dissolution of the Hays Code, "Virginia Woolf" has been packaged in a superb Warner Archive Blu-Ray with extras from its prior DVD Special Edition: commentaries from Nichols and Steven Soderbergh, plus another track featuring cinematographer Haskell Wexler; featurettes, screen tests, vintage clips and more. The 1080p (1.85) transfer and DTS MA mono sound are both exemplary, with Wexler's B&W cinematography benefitting from a high bit-rate.
Finally, a strange choice for high-def treatment (at least for May), Frank Tashlin's enjoyable, seasonally-themed SUSAN SLEPT HERE (98 mins., 1954) gives viewers Debbie Reynolds as a teenage delinquent who gets to spend the night at bachelor Dick Powell's pad, just so she doesn't spend Christmas by herself. Comic and romantic shenanigans ensue in a movie that most certainly would make for more adult viewing these days, but back at the time of its early '50s production, functions as a mostly innocent comedy playing off the strengths of both its stars. Certainly Warner has enhanced the movie's setting with its 1080p (1.37) AVC encoded transfer, which shows off the age and limitations of its source material at times, but generally looks quite good, and DTS MA mono audio completes the release.
Robert Taylor Classics: Before it was remade, decades later, as Rob Lowe's "Oxford Blues," Robert Taylor starred as a cocky American athlete who heads to the UK where he falls in love with Maureen O'Sullivan and races against Cambridge in A YANK AT OXFORD (102 mins., 1937), an MGM classic co-starring Lionel Barrymore, Vivien Leigh, Edmund Gwenn and Griffith Jones. Warner's Archive DVD includes a 4:3 (1.37) transfer and mono sound…Taylor later starred as an American conductor in a different kind of "fish out of water" story, SONG OF RUSSIA (107 mins., 1944). Here, Taylor plays a musician who falls for a Russian pianist (Susan Peters) at a Moscow concert in 1941, whereafter he promptly marries her. Years later, Peters' heroine takes up arms against the Nazis and returns home, leading Taylor to try and find her in an MGM production condemned as war propaganda – yet it's still irresistibly entertaining, packed with Tchaikovsky music and a supporting turn from Robert Benchley. This dated but fascinating curio debuts on DVD featuring a 4:3 transfer and mono sound…Finally, AIR FORCE (124 mins.) stars John Garfield and Gig Young in Howard Hawks' rousingly patriotic 1943 film, one of many classic WWII pictures available on DVD from the Archive and perfectly suited for Memorial Day viewing. The Archive's 2013 release includes vintage classic cartoons and the Techniclor short "Women At War," plus a radio adaptation and a B&W transfer.
---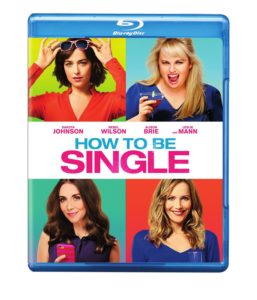 Also New & Noteworthy
From Lionsgate: Has Robert DeNiro finally hit the bottom of the barrel? It's hard to argue against it when viewing DIRTY GRANDPA (108 mins., 2016, Unrated), a tepid "comedy" that teams the Oscar winner with Zac Efron, here playing a preppie who gets schooled on loosening up with his Viagra-energized grandfather. Lingering on for an interminable 108 minutes, Dan Mazer's film scraped up marginal returns at the box-office last winter, but this is low-brow stuff all the way through, making even the later "Fockers" pictures look like comedy gold by comparison. Lionsgate's Blu-Ray includes a format-exclusive gag reel plus two featurettes, a commentary, two other Making Of segments, a Digital HD copy, 1080p (2.40) AVC encoded transfer and 5.1 DTS MA sound.
HOW TO BE SINGLE Blu-Ray (110 mins., 2016, R; Warner): Rom-com hyjinks abound when Dakota Johnson breaks up with her college boyfriend and heads for the single life along with pal Rebel Wilson and sister Leslie Mann. This Warner Bros./MGM production functions as a better than average genre exercise, thanks to a decent amount of laughs in the Abby Kohn-Marc Silverstein-Dana Fox script, while director Christian Ditter lets the movie's stars use their various personalities – Wilson and Mann in particular – to good effect, with Damon Wayans, Jr. and Alison Brie backing up the leads.
While not offering any great surprises, "How to Be Single" isn't at all bad, and Warner's attractively presented Blu-Ray includes deleted scenes, a gag reel, Rebel Wilson outtakes and a slew of featurettes. The 1080p (2.41) transfer and 5.1 DTS MA sound are both top notch.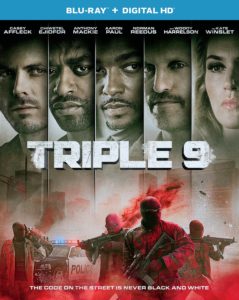 MAJOR CRIMES: The Complete Fourth Season DVD (969 mins., 2015-16; Warner): In Season 4 of the popular TNT series, Mary McDonnell returns as LAPD captain Sharon Raydor, who continues to spearhead investigations across Los Angeles and its diverse neighborhoods. Graham Patrick Martin returns as Rusty Beck, Raydor's adopted teen, who gets in on the action during a Jane Doe investigation. All 23 Season 4 episodes of "Major Crimes" have been compiled by Warner in a multi-disc DVD set also featuring deleted scenes, a gag reel, a 16:9 transfer and 5.1 Dolby Digital soundtracks.
TRIPLE 9 Blu-Ray (116 mins., 2016, R; Universal): "Lawless" director John Hillcoat's latest is a twisty thriller about a pair of Atlanta cops (Anthony Mackie, Clifton Collins, Jr.) who conspire with a group of criminals (Aaron Paul, Norman Reedus, Chiwetel Ejofor) to pull off a heist for the Russian mafia. Things become more complicated when one of the cops breaks in a rookie partner (Casey Affleck) whose uncle (Woody Harrelson) is a veteran detective working on the earlier heist.
Kate Winslet, Teresa Palmer and Gal Godot co-star in this convoluted, already-forgotten box-office disappointment from last winter, which lacks the atmosphere and character of Hillcoat's prior thrillers. Universal's Blu-Ray, out next week, includes a Digital HD copy, deleted scenes, two featurettes, a 1080p (2.40) transfer and 5.1 DTS MA sound.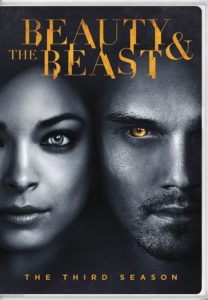 BEAUTY AND THE BEAST: Season 3 DVD (9 hours, 2015; CBS): While the relationship for Detective Cat Chandler and soldier Vincent Keller heats up, more innocent victims are being inflicted by a secret plot to create more superhumans. This third season of the CW's "Beast" reworks the '80s series' fairy-tale concept for a decidedly less supernatural plot line, while retaining the romance from its predecessor. All 13 episodes have been included here in CBS' Season 3 DVD with a gag reel, deleted scenes and two featurettes, plus 16:9 transfers and 5.1 Dolby Digital soundtracks.
THE WINDING STREAM DVD (90 mins., 2014; Virgil Films): Country music fans will want to check out this fabulous documentary chronicling the rise of the Carter and Cash families, from their earliest church-singing days to national superstardom. Beth Harrington's documentary is filled with family and musical anecdotes – plus interviews with Johnny Cash, June Carter Cash, Rosanne Cash, George Jones, Sheryl Crow and others – and is currently new on DVD from Virgil sporting a 16:9 transfer and 2.0 audio.
RISE OF THE LEGEND Blu-Ray (132 mins., 2014, Not Rated; Well GO USA): Eddie Peng stars as a martial artist battling a crime boss (Sammo Hung) who murdered his father in this 2014 Hong Kong import, new to home video in North America. Well Go's Blu-Ray includes a 1080p transfer, DTS X audio (Mandarin or English dubbed), with a Making Of and the original trailer. Available this week.
NEXT TIME: More of the latest releases! Until then, don't forget to drop in on the official Aisle Seat Message Boards and direct any emails to our email address. Cheers everyone!