A killer snake is on the loose in London, putting a wrench into the plans of kidnappers who want to hold a rich 10-year-old boy hostage. That plot synopsis alone promises the potential of thrills for genre buffs, but what if I told you the movie also stars Sterling Hayden as the boy's grandfather; Klaus Kinski, Oliver Reed and Susan George as the villains; Sarah Miles as a vet specializing in deadly snakes; and Nicol Williamson as the cop on the case. The film exists, and it's called VENOM (**, 92 mins., 1982, R; Blue Underground), but why is that, seemingly, nobody has ever heard of it?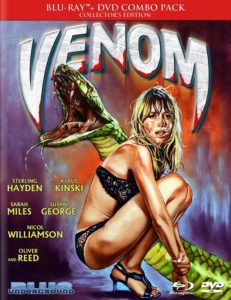 Viewers now have the chance to discover the film for themselves as Blue Underground has just released this obscure British chiller on Blu-Ray. Sadly, what they'll find is a movie so utterly pedestrian that you'll wonder why any of these celebrated actors bothered to appear in it.
The real issue is that "Venom" is inexplicably tedious given its premise. Writer Robert Carrington's script, from a novel by Alan Scholefield, sets up the film well, with the American boy – stuck for the weekend being looked after by his grandfather (Hayden, completely wasted as a veteran big game hunter) – receiving a deadly Black Mamba from a local pet shop instead of a domesticated pet snake. The good news for him, though, is that its mistaken receipt enables the snake to cause all kinds of trouble for the film's trio of bad guys: the family driver (Reed), and a criminal mastermind (Kinski) who's in love with the boys' caretaker (George). The group conspire to hold the child for a ransom they'll never receive, as they're quickly holed up in the family's London flat with the Black Mamba on the loose.
It's disappointing how quickly "Venom" loses its momentum after a good start. The boy himself and his grandfather are pushed off to the side in favor of a slow-going police-procedural picture that serves up predictable just desserts for the bad guys, while Miles really has little to do in the "Matt Hooper role." Ditto for Williamson, relegated to clenching his jaw in a role with no pay off. Perhaps the bulk of the blame needs to be laid at the hands of journeyman director Piers Haggard, who paces "Venom" like a TV-movie and never gives fans much juice in terms of outrageous moments or simple sequences that generate tension. Sure, it's fun ultimately watching Kinski flounder around with the snake – and Reed's demise is memorable – but those sequences are brief and the pleasures of "Venom" limited in spite of its cast.
Released in the U.S. by Paramount in early 1982 and by Handmade Films in England, "Venom" has scarcely been seen over the years. Blue Underground's Blu/DVD combo pack includes a decent 1080p (1.85) AVC encoded transfer with limited amount of DNR seemingly having been applied, plus 7.1 DTS MA and 2.0 DTS MA stereo soundtracks (a 5.1 Dolby Digital EX mix is also here). The movie offers an early score from Michael Kamen that opens and closes with a warm, distinctively Kamen-esque main theme, while the rest of the music works overtime to generate excitement in a movie light on thrills. Extras include trailers, TV spots, a stills gallery, a commentary with Haggard and informative booklet notes from Fangoria's Michael Gingold.
Though certainly not an undiscovered classic, kudos to Blue Underground for unearthing "Venom" – more a thriller than a "creature feature" horror movie, despite its artwork.
Also worth checking out from Blue Underground later this month is a single-disc Double Feature coupling a pair of Edgar Wallace adaptations from producer Harry Alan Towers: 1966's CIRCUS OF FEAR (91 mins.), starring Christopher Lee, Leo Genn, Suzy Kendall and Klaus Kinski in a fun if forgettable mystery that was re-cut for the US market and released in a shoddy B&W transfer; and 1967's FIVE GOLDEN DRAGONS (104 mins.), with Bob Cummings as an American playboy in Hong Kong thrust into the midst of a gold-trafficking deal. "Guest stars" Christopher Lee, Brian Donlevy, Dan Duryea and George Raft co-star in an engaging programmer remastered from its original uncut negative (as is "Circus of Fear"). Extras include commentary with director John Moxey on "Circus," poster and still galleries, uncut HD 1080p transfers (1.66 on "Circus"; 2.35 on "Five Golden Dragons"), and DTS MA mono soundtracks.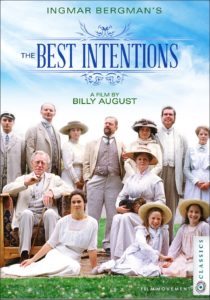 Shifting gears on the catalog front, Billie August's 1991 film THE BEST INTENTIONS (181 mins.) also debuts on Blu-Ray for the first time this month. August's picture was written by Ingmar Bergman and paints a vivid portrait of the relationship between's Bergman's stern father (Samuel Froler) and his more lighthearted mother (Pernilla August) after her new husband becomes a priest in northern Sweden circa 1900. Beautifully shot and movingly performed, "The Best Intentions" arrives on Blu-Ray featuring a 1080p (1.78) transfer from a 2K digital restoration; Dolby Digital audio in Swedish with English or French subtitles; Bergman's 1984 short "Karin's Face," available for the first time in North America; and an essay from historian Peter Cowie. A warmly recommended release from Film Movement, on Blu-Ray this week.
Finally – taking another abrupt change in genres – Jim Wynorski's 1994 effort SORCERESS (89 mins., 1995) provides horror fans with plenty of entertainment, T&A and a bit of sorcery after witch Julie Strain makes every effort to keep her lawyer husband (Larry Poindexter) happy. When that includes inadvertently taking out Poindexter's chief competition (Edward Albert) for partnership in a law firm, his wife Linda Blair decides it's time to take revenge.
"Sorceress," aka "Temptress," has been fully restored by Synapse Films in a brand-new, uncensored Blu-Ray. Featuring a fresh 2K transfer of the film's never-before-seen uncut print, "Sorceress" is fast-moving B-picture with ample extras, including commentary with Wynorski and another commentary track with the director and make-up effects master Tom Savini. The 1080p (1.78) transfer and 2.0 DTS MA stereo sound are both solid in Synapse's eagerly-awaited Blu-Ray edition.
---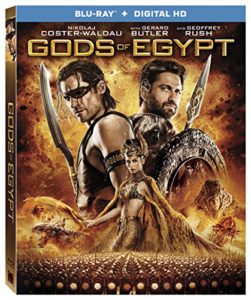 New & Noteworthy
GODS OF EGYPT Blu-Ray (**½, 126 mins., 2016, PG-13; Lionsgate): Trashed for its "whiteness" by the social-injustice internet crowd, Alex Proyas' critically-lambasted "Gods of Egypt" is a lot more fun than its miserable reviews and box-office performance would indicate.
Granted, it is a bit absurd to see Bryan Brown playing the King of Egypt, but this Aussie-lensed fantasy is silly, Saturday Matinee stuff that requires a massive suspension of disbelief to begin with. Where else can you find the "Sun God Ra" being embodied by Geoffrey Rush as a grandfather orbiting in the earth in his spaceship (yes, I kid you not), to these "Gods" transforming into veritable super-heroes, complete with super-powered costume guises that enable them to fly around and partake in massive battles over the pyramids?
The plot, concocted by Matt Sazama and Burk Sharpless, finds Brown being assassinated by his no-good brother (a hysterically over-the-top Gerard Butler), who also rips the eyes out of Brown's would-be successor: his mostly well-intentioned son (Nikolaj Coster-Waldau), who requires the help of a mortal thief (Brenton Thwaites) to set everything straight again on a quest that takes them to the Underworld and back.
This is not, obviously, a picture resembling actual Egyptian history or mythology of any kind. "Gods of Egypt" is straight-ahead fantasy stuff that's – to its credit – refreshingly unpretentious and even jovial at times. Proyas applies a surprisingly light touch to the material, refraining from making a rerun of "300," Tarsem's "The Immortals" or even the "Clash of the Titans" remake, which likely wasn't what viewers accustomed to the director's past, dark works ("The Crow, "Dark City," "Knowing") were expecting.
The performances are all over the place and the script is utterly ridiculous, but "Gods of Egypt" looks utterly gorgeous with its art direction and appealing cinematography by Peter Menzies, Jr., which captures sun-drenched backdrops and spectacularly animated creatures in equal measure. The kind of thing that aficionados of this kind of picture will accept far more than casual viewers, "Gods of Egypt" has its charms along with its transparent flaws – but I can think of dozens of worse films that were more deserving of being trashed by the press than this film.
Making for ideal home-video eye candy, "Gods of Egypt"'s Blu-Ray boasts a marvelous 1080p (2.40) AVC encoded transfer plus a Digital HD copy, several short featurettes and a handful of BD-exclusive Making Of segments among them.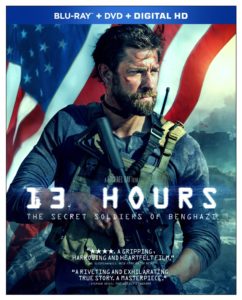 13 HOURS Blu-Ray (***, 144 mins., 2016, R; Paramount): The true story of how the American Ambassador to Libya, Christopher Stevens, one of his associates, and two contractors for the CIA were assassinated by militants on September 11, 2012 makes for director Michael Bay's most disciplined picture to date.
"13 Hours," from Mitchell Zuckoff's account of what transpired in Benghazi, is a taut and thoroughly compelling film of how several contractors for the CIA – mostly ex-military men played by the likes of James Badge Dale and John Krasinski – were left, basically, to fend for themselves after an attack on Stevens – staying at a private compound nearby an unsanctioned CIA outpost – leaves them scrambling, trying to keep the rest of the workers there alive. Sticking to the facts of what happened that night, Bay and writer Chuck Hogan have fashioned a harrowing profile of the impossible situation the men find themselves in, and the heroism they displayed without the support of additional military personnel that, thanks to bureaucratic higher-ups, never arrived.
While lacking the resonance of, say, Ridley Scott's "Black Hawk Down" (pretty much the gold standard for modern military thrillers), "13 Hours" nevertheless eschews the standard rah-rah Bay treatment for a docu-drama approach that's perfectly suited for the material. Recommended viewing on a number of levels.
Paramount's Blu-Ray combo pack includes a single-disc 1080p (2.40) AVC encoded transfer and Dolby Atmos soundtrack, with special features (documentary materials, interviews) on a second disc. A DVD and digital HD copy round out the release.
ZOOLANDER No. 2 Blu-Ray Combo Pack (**, 101 mins., 2016, PG-13/Unrated; Paramount): Limp sequel to a Ben Stiller-Owen Wilson comedy that's since become something of a cult classic. That won't be the case with this Stiller-directed follow-up, following a distraught Derek Zoolander as he and pal Hansel (Wilson) are recruited to solve a series of murders in the fashion industry by Interpol agent Penelope Cruz. Kristen Wiig and Will Ferrell serve up daffy villainy but "Zoolander No. 2″ only generates infrequent laughs that mostly miss the mark, despite endless cameos that may be the film's most redeeming feature. Paramount's Blu-Ray includes a number of fluffy featurettes, DVD, Digital HD copy, a 1080p transfer, DTS X sound, and both Unrated and PG-13 theatrical cuts of the picture.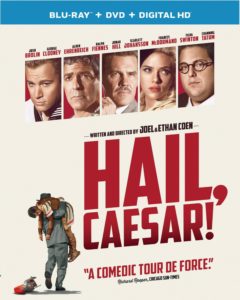 HAIL CAESAR! Blu-Ray Combo Pack (**½, 106 mins., 2016, PG-13; Universal): The Coen Brothers' latest is one of their more minor outings, in spite of its major cast.
In this salute to the studio films of the 1950s (kinda), Josh Brolin plays Eddie Mannix, head of physical production at a Hollywood studio and a "fixer" whose job veers from private-eye to cutting room floor advisor. In a single day on the job, Mannix tries to navigate scandals involving his stars – and the kidnapping of a Kirk Douglas-esque leading man (George Clooney) by Southern California communists – as well as roving reporters (Tilda Swinton in a dual role) and a singing cowboy (Alden Ehrenreich) who's been miscast in a period drama.
"Hail Caesar!" has all the ingredients for a typical Coen brew, and the movie does have some very funny moments, plus impressive turns from both Brolin and especially Ehrenreich, who's since been cast as a young Han Solo in one of Disney's upcoming "Star Wars" movies. Yet, those elements just don't gel in "Hail Caesar!," with a muddled message and fragmented plot elements never mixing to a satisfying level. Just when it seems like the film is going to wrap it all up in a satisfying third act, the film abruptly ends, and what's more, gives some of its heavily-touted all-star cast members (including Jonah Hill and Frances McDormand) nothing more than glorified cameos with literally one or two scenes between them.
Still worth a look for Coen devotees, "Hail Caesar!" will not be remembered as one of the duo's superior offerings when it hits Blu-Ray June 7th from Universal following a tepid theatrical run. Several featurettes grace the disc, which comes with a DVD, Digital HD copy, 1080p (1.85) transfer and 5.1 DTS MA sound.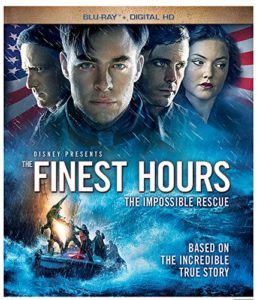 THE FINEST HOURS Blu-Ray (**½, 117 mins., 2016, PG-13; Disney): Fact-based account of how intrepid Chatham, Mass. Coast Guardsmen (including Chris Pine and Ben Foster) spearheaded the February, 1952 rescue of a tanker crew trying to stay alive on a sinking ship that was split apart during a nasty Nor'Easter.
The real-life story behind "The Finest Hours" made for a superb non-fiction account by Casey Sherman and Michael J. Tougas, but this expensive Disney production – shot mostly on-location – only stays afloat on the basis of its source material. Director Craig Gillespie takes a typically modern, spectacle-favored approach to the material, with the film dominated by green-screened CGI images, a thankless Carter Burwell score and cliche-ridden dialogue. The performances do, fortunately, help as much as the screenplay allows, from Pine believably rendering the story's real-life hero, Bernie Webber, plus Ben Foster as one of his crewmen, Eric Bana as their superior, Casey Affleck as the tanker's chief engineer and Holliday Grainger, anchoring the "land-lubber" portion as Webber's concerned fiancee.
Disney's Blu-Ray boasts a good looking 1080p (2.39) AVC encoded transfer, 7.1 DTS MA sound, and extras including a look at the Chatham, Mass. community where the story took place, boasting interviews with Webber's daughter and the book's authors; multiple behind-the-scenes featurettes; deleted scenes; and a digital HD copy.
JARHEAD 3: THE SIEGE Blu-Ray Combo Pack (100 mins., 2016, R; Universal): Charlie Weber stars as a Marine Corporal assigned to protect a U.S. embassy in the Middle East when an attack from a group of militants breaks out. This third entry in the essentially unconnected "Jarhead" series is a basic Benghazi scenario played out in direct-to-video terms from director Will Kaufman, with a cast including B-movie staple Scott Adkins and Dennis Haysbert. Universal's Blu-Ray combo pack sports a crisp 1080p (2.35) AVC encoded HD transfer, 5.1 DTS MA audio, a Digital HD copy, DVD, and a single Making Of behind-the-scenes featurette.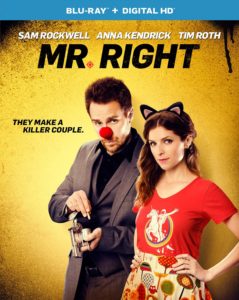 MR. RIGHT Blu-Ray (96 mins., 2015, R; Universal): Max Landis' offbeat script aspires for black comic shenanigans when single girl Martha (Anna Kendrick) meets the man of her dreams in Francis (Sam Rockwell), only to find out he's really one of the top assassins in the world and has a bevy of hit-people coming after him. Paco Cabezas' film didn't make much noise in theaters and often feels like leftovers from any number of similarly-themed films ("Red," "Mr. And Mrs. Smith," etc.), but the chemistry between the two stars – and a top supporting cast including Tim Roth – make it palatable enough. Universal's Blu-Ray offers just a single featurette, a Digital HD copy, 1080p (2.40) transfer and 5. 1 DTS MA sound.
RICK AND MORTY: Season 2 Blu-Ray (220 mins., 2016; Cartoon Network/Warner): The popular cult series from Cartoon Network's Adult Swim finds Rick Sanchez (voiced by Justin Roiland) living with his daughter's family and continuing to cause all kinds of trouble across the universe. This off-the-wall show hits Blu-Ray in a Season 2 set from Warner Home Video, sporting 10 episodes in 1080p (1.78) transfers with Dolby TrueHD 5.1 soundtracks. Extra features include Animatics on every episode; deleted animatic sketches; a featurette; and episode commentaries from the series' creators. Not for every taste, but fans should eat it up.
Also new on the Adult Swim front is STEVEN UNIVERSE: THE RETURN (132 mins.), offering the episodes Mirror Gem; Ocean Gem; Space Race; Lion 3 Straight to Video; Warp Tour; Alone Together; On the Run; Marble Madness; Rose's Sacbbard; The Message; The Return; and Jailbreak. The 16:9 transfers and 2.0 soundtracks are all fine.
---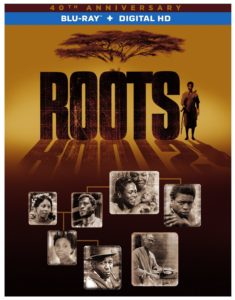 New from Warner Home Video
Also new on the Blu-Ray catalog front this month is ROOTS (587 mins., 1977), which Warner Home Video has rolled out in the wake of a decidedly more "explicit" History Channel remake.
This classy ABC mini-series adapted Alex Haley's bestselling, if controversial, novel in eight episodes that chronicled slave Kunta Kinte's travails from his African home to being sold into slavery and life in Colonial America. LeVar Burton and John Amos' performances as Kinte lend a conviction to Haley's story while an all-star cast means familiar faces like Ed Asner, Robert Reed, Chuck Conors, Maya Angelou, Lawrence Hultin-Jacobs, Georg Stanford Brown, George Hamilton, Vic Morrow, Lorne Green, Scatman Crothers, and Cecily Tyson appear throughout the production – giving it a vintage appeal but also dating it as a product of its era.
A 32-page booklet, Digital HD copy, 1080p (1.78) transfers and Dolby Digital 2.0 audio are on-tap in Warner's box-set along with two all-new retrospective extras (Roots: The American Story Continues, Roots: The Cast Looks Back) and archival extras from Warner's prior DVD. The transfers are colorful, crisp and strong, and the mono audio perfectly fine given the source material. Recommended in spite of some reservations regarding the dubious – and oft-discussed – claims contained in Haley's supposedly autobiographical account of his family's genealogy.
RIZZOLI & ISLES – Complete Sixth Season DVD (758 mins., 2015-16; Warner): One of the highest rated shows on cable is about to conclude its run on TNT with a seventh and final season. Fans and viewers looking to play catch up with its most recent batch of episodes can do so this week thanks to Warner's Season 6 DVD, which finds Boston's finest (Angie Harmon, Sasha Alexander) trying to find out who has it in for Rizzoli, who's seen her credit accounts hacked, her apartment burned, and a death message left on a murder victim. All 18 episodes from "Rizzoli & Isles"' sixth season are included in Warner's box-set along with an all-new featurette, "From the Shadows: A Criminal Revealed," 16:9 (1.78) transfers and 5.1 Dolby Digital soundtracks.
---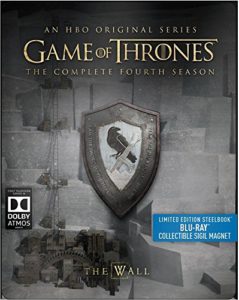 From HBO
GAME OF THRONES Season 3 Limited Edition Blu-Ray Steelbook (555 mins., 2013; HBO)
GAME OF THRONES Season 4 Limited Edition Blu-Ray Steelbook (545 mins., 2014; HBO)
Deluxe new packagings of "Game of Thrones"' third and fourth season hit Blu-Ray June 14th from HBO. These Steelbook editions not only feature new snazzy packaging but also all-new Dolby Atmos (TrueHD 7.1 compatible) audio and Digital HD copies plus the same top-drawer 1080p transfers and extras from their earlier box-sets.
Fans of the massively successful HBO series who never read George R.R. Martin's novels were in for quite a shock in Season 3, which included the now legendary (or is it infamous?) "Red Wedding" episode. No spoilers here, because I'm not a "Game of Thrones" fan, but it is pretty insane stuff. Ample extras in this box include:
• A Gathering Storm – Look back at the stormy events of Season 3 in this 14-minute recap with cast and crew.
• The Politics of Marriage – Cast and crew examine the institution of marriage and its place in Game of Thrones.
• Inside the Wildlings – Go beyond the Wall with this introduction to the wildlings.
• New Characters – Meet the new faces in Season 3: Olenna Tyrell, Missandei, Mance Rayder, Tormund Giantsbane, Orell, Jojen & Meera Reed, Blackfish & Edmure Tully, Thoros of Myr, and Beric Dondarrion.
• Deleted Scenes/Extended Scenes – Five deleted and extended scenes.
• Audio Commentaries – 12 audio commentaries with cast and crew including David Benioff, D.B. Weiss, George R.R. Martin, Lena Headey, Emilia Clarke, Michelle Fairley, Kit Harington, Richard Madden, and more.
• In-Episode Guide – In-feature resource that provides background information about on-screen characters, locations, and relevant histories.
• Histories & Lore – Learn about the mythology of Westeros as told from the varying perspectives of the characters themselves.
• The Rains of Castamere Unveiled – Get an in-depth look at the creation of the most pivotal episode of Season 3 in this comprehensive exposé featuring cast and crew.
• Roots of Westeros – Explore the interconnected web of relationships, rivalries, and conflicts between the noble houses of Westeros with this interactive guide.
For a follow-up, Season 4 (545 mins., 2014) finds the Lannisters' control over the Iron Throne still on firm ground, while Stannis tries to resurrect his military forces on Dragonstone while the south offers a challenge from the "Red Viper of Dorne." Fans should appreciate HBO's typically excellent a/v presentation along with extra Blu-Ray exclusives like an "In Episode Guide" and "Histories and Lore" options; 11 audio commentaries; a blooper reel; character & locations featurette; two deleted scenes; and extensive interviews with the cast and crew on the production of the enormously popular series.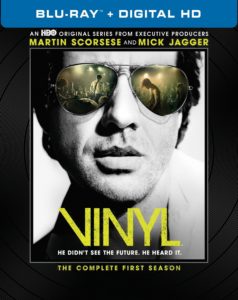 Also new from HBO is Season 1 of BALLERS (358 mins., 2015), a recent comedy starring Dwayne Johnson as a football star-turned-financial manager and his group of friends who have less success off the field than on it. John David Washington, Troy Garity, Omar Miller and Rob Corddry co-starred in this lightweight series which HBO releases on Blu-Ray June 14th. The two-disc set includes "Inside the Episodes" extras plus Digital HD copies, 1080p transfers and 5.1 DTS MA soundtracks…Also new this month is the Complete Season 1 of the disappointing VINYL (660 mins., 2015), a series set in the music business of the 1970s starring Bobby Cannavale as an NYC record executive. Despite a good cast and Martin Scorsese and Mick Jagger producing, "Vinyl" premiered to so-so ratings and mediocre critical response, leading to the hopes things will be corrected when Season 2 premieres later this year. In the meantime, viewers can get caught up with Season 1 of "Vinyl" on Blu-Ray, where HBO's box-set includes commentaries, Inside the Episode featurettes, a Making Of (extended version), 1080p transfers, 5.1 DTS MA soundtracks and Digital HD copies.
---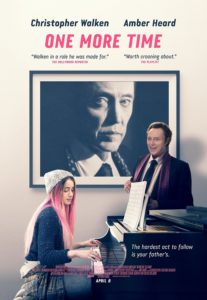 Quick Takes
GRIDLOCKED Blu-Ray (113 mins., 2016, R; Magnolia): Dominic Purcell plays a former NYPD SWAT leader, recovering from taking a bullet on the job, who's been tasked with taking care of an obnoxious celebrity (Cody Hackman) while accompanying him on a ride-along. Once a crazed mercenary (Stephen Lang) attacks the local police training facility, though, all bets are off in Allan Ungar's reworking of elements from the old Michael J. Fox-James Woods picture "The Hard Way." Magnolia's Blu-Ray of this Canadian-lensed cop-buddy picture includes deleted scenes, a blooper reel, two featurettes, a 1080p (2.39) transfer and 5.1 DTS MA sound.
ONE MORE TIME DVD (97 mins., 2015, R; Anchor Bay): Disappointing indie drama stars Christopher Walken as a former romantic crooner and "ladies man" who takes in his punk rock daughter (Amber Heard), with generation-gap and typical domestic issues to follow. Robert Edwards' film is stacked with talent – including a supporting cast of Ann Magnuson, Kelli Garner and Oliver Platt – but the movie has all kinds of problems figuring out what it wants to be or say, leaving both of its leads floundering. Anchor Bay's DVD, out June 7th, includes a 16:9 (2.40) transfer and 5.1 Dolby Digital sound.
THE SPOILS BEFORE DYING DVD (129 mins., 2015; Anchor Bay): After sending up the American TV mini-series with "The Spoils of Babylon," IFC returned with this "controversial 1960 adaptation" of a jazz singer (Michael Kenneth Williams) trying to prove his innocence after being accused of murder. Will Ferrell and Kristen Wiig return along with Maya Rudolph, Michael Sheen, SNL's Kate McKinnon and Haley Joel Osment for this scattershot spoof which, on balance, isn't as funny as its predecessor. Anchor Bay's DVD includes a 16:9 (2.40) transfer and 5.1 Dolby Digital sound of this IFC production.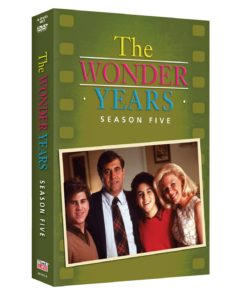 THE WONDER YEARS Season 5 DVD (721 mins., 1991-92; Time Life): Season 5 of the classic ABC sitcom finds Kevin entering McKinley High, playing soccer, working at a hardware store, and getting his driver's license. Of course, Winnie is around also, though the duo aren't together in this 1991-92 season of "The Wonder Years." Time Life's standalone Season 5 DVD release, now available, includes remastered soundtracks with over a dozen songs as they were presented in the series' original broadcast run, with 24 episodes contained on four discs. Extras include interviews with Olivia d'Abo (wayward eldest sibling Karen) and David Schwimmer (playing Michael), plus Mark B. Perry's "Farewell Set Tour Season 5."
NEVER BACK DOWN: NO SURRENDER DVD (101 mins., 2016, R; Sony): Michael Jai White stars and directs himself in this continuation of the MMA-flavored action franchise. Here, White returns as a former MMA champ, Case Walker, who's lured back into the fold by an old friend (Josh Barnett) to train in Thailand in preparation for a fight against an undefeated, deadly opponent (Nathan Jones). Esai Morales co-stars with a special appearance by Tony Jaa in White's "Never Back Down: No Surrender," which debuts this week on DVD by Sony. The 16:9 (1.78) transfer and Dolby Digital 5.1 sound are both fine.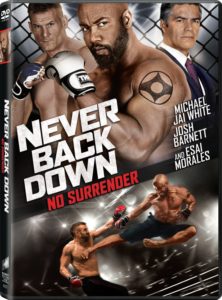 KILL YOUR FRIENDS Blu-Ray (103 mins., 2015, Not Rated; Well Go USA): Fans of Nicholas Hoult will be the most likely to mine much entertainment out of "Kill Your Friends," a weird and unsatisfying portrait of a conniving British A&R music man (Hoult) searching for the final superstar during Britain's "Britpop" music scene of the 1990s. With the industry falling apart, Hoult's Steven Stelfox does the same, succumbing to drugs and other devious mayhem in an Owen Harris film co-starring James Corden, Ed Skrein, Rosanna Arquette and Moritz Bleibtreu. Well Go's Blu-Ray is out this week and includes cast/crew interviews, a 1080p transfer and DTS MA sound.
SONG OF LAHORE DVD (82 mins., 2014, PG; Broadgreen): Short but sweet documentary looks at a group of musicians from Pakistan's Sachal Studios after they're invited by Wynton Marsalis to perform with the Jazz at Lincoln Center Orchestra. Their journey across continents makes for a tuneful and sweet production from two-time documentary Oscar winners Andy Schocken and Sharmeen Obaid-Chinoy. Broadgreen's DVD of this multi-festival favorite includes a 16:9 (1.78) transfer and 5.1 Dolby Digital sound.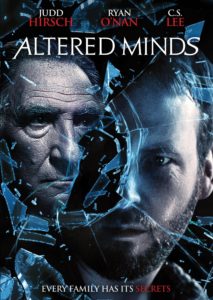 MONSTERLAND DVD (109 mins., 2016, R; RLJ): Directors Graham Denman, Jack Fields, Erik Gardner, Andrew Kasch, Patrick Longstreth, Sander Maran, Robert McLean, Cory Norman, John Skipp, Frank J. Sudol and the McCoubrey Brothers collaborated on this low-budget – but agreeably over-the-top – sci-fi horror anthology. The framing device centers on a man who survives the "Monster Apocalypse," only to attend a movie marathon of self-contained shorts with bizarre twists and creatures. Maybe worth a look for genre fans, with RLJ's DVD including a 16:9 (1.78) transfer and 2.0 Dolby Digital stereo sound.
ALTERED MINDS DVD (93 mins., 2013, Not Rated; Gravitas Ventures): Always nice to see Judd Hirsch get top billing in a movie these days, even if it's in this pretty by-the-numbers account of a Philly patriarch who's also a CIA psychiatrist housing hidden secrets. Michael Wechsler's film boasts an interesting premise as Hirsch's son tries to dive into Hirsch's past before he passes away, but the movie doesn't quite come together. Gravitas' DVD is a solid Special Edition, including two commentaries, deleted scenes, three of Wechsler's "Video Logs," a 16:9 (2.35) transfer and 5.1 surround.
PBS New Release: An all-new "Secrets of the Dead" documentary recounts how Frank Morris, Clarence and John Anglin managed to stage THE ALCATRAZ ESCAPE (60 mins.) on June 11, 1962, by using 3D modelling technology and real-world tests to prove that it may have been possible for the men to survive their escape. PBS' hour-long documentary is compelling and enlightening, and is now available on DVD.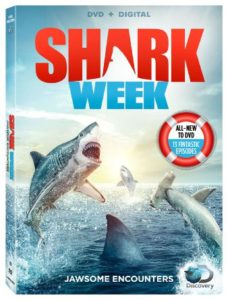 Lionsgate New Releases: On DVD, Saturday Night Live's Taran Killam plays Justin – a guy who loses his longtime girlfriend, then tries to turn his fortunes around by joining the dating site CASUAL ENCOUNTERS. Of course, comedic shenanigans ensue before he finally realizes his work friend Brooklyn Decker could be a possible match herself. David Krumholtz and David Arquette also appear in this short indie comedy hitting DVD from Lionsgate with two featurettes, a 16:9 (2.35) transfer, 5.1 audio and a digital copy…Coming next week on DVD, SHAUN THE SHEEP: THE FARMER'S LLAMAS (59 mins., 2015) is an all-new special Lionsgate brings to disc sporting two bonus episodes, two featurettes, a digital UV copy, 16:9 transfer and 5.1 audio…SHARK WEEK: JAWSOME ENCOUNTERS (10 hours, 2014) is the latest anthology of episodes from the annual Discovery Channel event, with Lionsgate's three-disc DVD set including no less than 13 recent Shark Week specials. Digital UV copies sweeten the pot along with 16:9 transfers and Dolby Digital soundtracks. New to DVD also is ALASKAN BUSH PEOPLE: THE COMPLETE SEASONS 1 & 2 (10 hours, 2014-15), featuring all 14 episodes from the Discovery reality series about an Alaskan wilderness family with digital UV copies, 16:9 transfers and 2.0 stereo sound on-hand. Finally, more TV on DVD is available when TONI BRAXTON: THE MOVIE EVENT (88 mins., 2016) hits June 14th. This Lifetime movie follows the R&B superstar from her earliest days through her health battles. Lots is crammed in this 88-minute cable-film, which comes to DVD next week from Lionsgate offering a digital UV copy, 16:9 transfer and 5.1 sound.
New on Blu-Ray, TOUCHED WITH FIRE (107 mins., 2016, R) boasts a strong performance from Katie Holmes, who plays a bipolar poet who meets a soulmate in another patient (Luke Kirby) while being treated for her condition at a treatment facility. Paul Dalio wrote and directed this well-performed and appealing character drama that's not just another fluffy rom-com, with Griffin Dunne, Bruce Altman and Christine Lahti leading an excellent supporting cast. Lionsgate's Blu includes commentary with Dalio and cinematographer Kristina Nikolova, two featurettes, the trailer, a photo gallery, a deleted scene, 1080p (2.40) transfer, 5.1 audio and a DTS MA soundtrack.
A nice performance from Clive Owen fuels the predictable but decent THE CONFIRMATION (101 mins., 2015, PG-13), an uneven but still appealing comedy-drama from writer-director Bob Nelson that stars Owen as an estranged dad whose weekend adventure with his young son (Jaeden Lieberher from "St. Vincent") connects the duo. Maria Bello, Robert Forster, Tim Blake Nelson, Patton Oswalt, Stephen Tobolowsky and Matthew Modine lend strong support to this Canadian-lensed production which marked the directorial debut of "Nebraska" writer Nelson. Two featurettes, a 1080p (1.85) transfer, 5.1 DTS MA audio and a digital HD copy grace Lionsgate's release…Coming June 14th from Lionsgate, GET A JOB (84 mins., 2016, R) is a disappointing CBS Films production that bypassed a wide theatrical release. This was in spite of its talented cast, with Miles Teller and Anna Kendrick starring as recent college graduates whose attempts to navigate the corporate ladder instead land both of them in entry positions. Christopher Mintz-Plasse, Marcia Gay Harden, Bryan Cranston, Brandon T. Jackson and Nicholas Braun also appear in Dylan Kidd's mercifully short offering, debuting on Blu-Ray with a Digital HD copy, 1080p (1.78) AVC encoded transfer, 5.1 DTS MA sound, outtakes, a "Video Resume" and featurette.
NEXT TIME: Shout Factory and Kino Lorber June releases! Until then, don't forget to drop in on the official Aisle Seat Message Boards and direct any emails to our email address. Cheers everyone!