Though "Star Trek: The Motion Picture" was a hit, fans and critics were, by and large, disappointed by it. For that reason, STAR TREK II: THE WRATH OF KHAN (****, 113 mins., 1982, PG; Paramount) is undoubtedly the reason why Star Trek is still alive and kicking in the 21st century. Trading in the evocative visuals but stilted story of "The Motion Picture" for a more exciting, action-packed, and far more human tale that – as director Nicholas Meyer explains in his commentary – touches upon old age, death, heroism, tragedy and triumph, "The Wrath of Khan" has basically become an iconic film of the early '80s, and not just for Star Trek die-hards.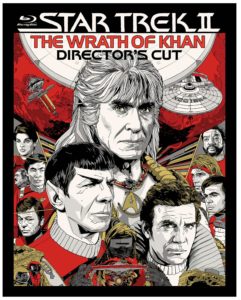 The movie needs no introduction for most viewers, except to say that it was the film that really got the cinematic series going, providing a strong, character-oriented story with terrific special effects, a sweeping score by James Horner (that placed him firmly on the map), a swift pace, and a phenomenal performance by Ricardo Montalban that remains a highlight of the sci-fi/fantasy genre.
No matter how many times I see the picture, I always get a huge charge out of Montalban's performance as Khan, the vengeance-seeking bad guy who was banished by Captain Kirk back in an episode of the old TV series, "Space Seed." Unlike so many cardboard movie villains, Montalban brings this deranged and yet oddly sympathetic villain totally, completely to life, providing Kirk and the Star Trek universe itself with their most formidable nemesis. The scenes in which he spars with Kirk are charged with so much emotion that I often find myself re-running them because they're so marvelously executed in terms of writing, direction, and – of course – performance.
The most amazing thing about the movie is that Khan and Kirk never meet on-screen. Credited screenwriter Jack B. Sowards had penned a confrontation between the two prior to one of the story's magnificent space battles, but it was dropped over budgetary concerns. A shame, because while "Khan" works splendidly as is, it would have been fascinating to see Montalban and Bill Shatner go at it man-to-man!
The new, somewhat problematic "Director's Cut" Blu-Ray of "The Wrath of Khan" offers a tremendously well detailed, albeit distinctively different presentation over the earlier Blu-Ray release. It includes both cuts of the film: the 113-minute theatrical release, plus the HD debut of Meyer's 116-minute Director's Cut, adding some additional dialogue here and there and fleshing out the picture just a bit more than the "official" cut (minus one dialogue addition between Kirk and Spock which Meyer wanted dropped from the prior Director's Cut). More significantly, though, in terms of comparing this disc from its earlier Blu-Ray is that this remastered presentation is much "warmer" in terms of its color pallet and also a bit darker by comparison. The earlier disc favored a blue-hued, and generally wider, color presentation. It may be up to each viewer which color scheme they prefer, but this transfer itself seems better balanced color-wise, and the image is crisp and highly detailed without the kinds of DNR Paramount applied to many of the earlier "Trek" Blu-Rays. The 7.1 Dolby TrueHD audio sounded equivalent to the earlier disc from what I sampled.
The big issue, however, is a glaring editorial error several minutes into the film. When Sulu turns to remind Saavik that the Enterprise is entering the Neutral Zone, this disc substitutes a recycled, earlier shot of Sulu with his back turned while his dialogue continues to run. As of this writing, it's unknown if this apparent gaffe is going to be corrected by Paramount, or viewers will have to live with it as an error unique to this version. Either way, hard-core fans are sure to notice, and it detracts from the presentation's validity – at least for me – as a whole.
Extras are both new and reprieved from prior DVD and Blu-Ray releases, highlighted by the debut of a brand-new, half-hour retrospective documentary. Sporting all-new interviews with Meyer, producer Robert Sallin and other members of the production team – plus Trek authority Mark Altman – this is a superior piece than the older DVD Making Of, diving into the picture's production with a heavy accent on its fascinating development that included Meyer selecting various elements out of a handful of different screenplays that had already been written.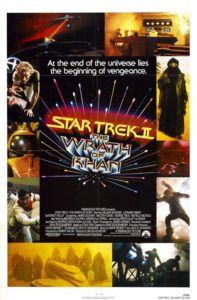 There are also two returning commentaries (Meyer solo; Meyer with Manny Coto from the prior Blu-Ray) along with Michael Okuda's text commentary, included here for the first time since the movie's last DVD release.
Among the more interesting carry-overs is the Director's Edition commentary from Meyer that features all kinds of trivia and information that Trekkies are going to love. Certainly he covers the production of the film in far greater detail than the same DVD's 30-minute documentary (also returning here) which offers interviews with Meyer, producer Harve Bennett, Shatner, Leonard Nimoy, and Montalban, but is often tedious and dry, marred by close-ups of the participants staring directly into the camera. After a few minutes, viewers may find themselves looking away from the screen while Bennett's eyes are permanently transfixed on them! There's also no discussion of the casting of Kirstie Alley or Merritt Butrick (or anyone else, for that matter), no talk about other deleted scenes, of which there are many. It's still an acceptable presentation for viewers new to the movie, but certainly isn't as comprehensive or detailed as it should've been.
Meyer's commentary, meanwhile, is fascinating when he talks about working with Shatner (who he says delivered better takes the more he did them) and Montalban ("less is more"), as well as coping with the film's modest budget. He rarely ruffles any feathers, nor talks at length about his complaints over the ending that was changed without his consent, but aside from sporadic moments of self-congratulation, Meyer's talk is candid and quite interesting.
For the original Blu-Ray, Paramount added a new, secondary commentary with Meyer and Trek veteran Manny Coto that's also on-hand here (on the theatrical cut only), which dissects other aspects of the production and compliments Meyer's original talk nicely, albeit with some natural repetition along the way.
Other, older featurettes examine the production design and ILM's work on the film. This fascinating latter segment includes interviews with the ILM staffers who wisely decided to have the FX on the film fall somewhere between the evocative visual design of TMP and the simpler effects of the original series.
An even longer featurette profiles a pair of authors who wrote Khan-inspired books, which is OK for real die-hards (if not blatantly self-promotional), but why not use this space to include other deleted scenes – such as Kirk and Spock's exchange about Saavik's half-Romulan nature and other alternate takes from the TV version. Other returning extras include storyboards, the trailer in HD, and some ten minutes of promotional interviews with Shatner, Nimoy, DeForest Kelley, and Montalban shot in 1982, shortly before the film's release.
Also carried over from the prior Blu-Ray disc are several HD featurettes, including "Composing Genesis," a 10-minute interview with James Horner where the composer discusses hanging out with Jerry Goldsmith during the scoring of TMP, how Harve Bennett wanted him to use music from the TV show and TMP while Meyer wanted original, "seafaring" themes; and his concept of using the Kirk-Spock friendship as the driving force for the entire score. It's a short but nice featurette paying proper tribute to Horner, whose musical abilities graced the second and third Trek films, giving both pictures an unforgettable emotional center.
There's also a segment on collecting Trek "relics," a short "Starfleet Academy" segment, and last but not least, a tribute to Ricardo Montalban from Nicholas Meyer that's marred by awkward camera work.
The widespread success of "Star Trek II: The Wrath Of Khan" led Paramount suits to immediately put another sequel in motion, but "The Search For Spock" didn't live up to its predecessor, and disappointingly disposed of several major elements "Khan" introduced along with it (Kirk's son, Kirstie Alley's performance as Saavik). For a number of reasons, "Khan" remains arguably the pinnacle of the entire series on the big-screen, and a bona-fide sci-fi classic that has lost none of its entertainment value.
---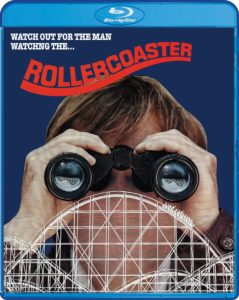 Shout! June Releases
ROLLERCOASTER Blu-Ray (***, 117 mins., 1977, PG; Shout Factory)
TWO MINUTE WARNING Blu-Ray (**, 115 mins., 1976, R; Shout Factory): A pair of Universal '70s (sorta) disaster films debut on Blu-Ray for the first time in the U.S. courtesy of Shout Factory this month.
The superior of the duo is easily ROLLERCOASTER, a highly entertaining thriller that finds crazed bomber Timothy Bottoms inflicting harm in a number of the nation's hottest amusement parks. George Segal is the safety investigator on the case, and ends up pursuing him – along with a veteran FBI agent (Richard Widmark) – across the country, from Kings Dominion to Magic Mountain, where the hot rock group Sparx is headlining.
Aside from the novelty value of seeing Sparx in some lengthy musical clips, there aren't a lot of unintentional yucks in "Rollercoaster," which aside from its poster (which presents those disaster genre "star boxes" in its artwork), is much more of a crisp mystery-thriller than it is a Universal product on the level of "Earthquake." Undoubtedly that was due to the script by "Columbo" creator-producers Richard Levinson and William Link, which unfolds at a deliberately compelling pace, not unlike one of the better episodes from their classic TV series. The location filming, Segal's dry humor and attractive widescreen lensing all combine to create a terrific picture often unfairly grouped together with the worst films of its genre, and the supporting cast (Susan Strasberg, Harry Guardino, and appearances by a young Steve Guttenberg and even younger Helen Hunt) is also strong.
Shout's Blu-Ray boasts an attractive 1080p (2.35) AVC encoded transfer along the lines of last year's Italian import, with DTS MA 2.0 mono audio. However, the disc's big plus – outside of a new interview with Tommy Cook, who authored the original story – is the presence of the movie's "Sensurround" audio mix. Presented in a 2.1 mix (officially 3.1 with a silent center channel), this track is more spread out than the standard mono and gives home viewers a small approximation of what Sensurround was all about. Highly recommended!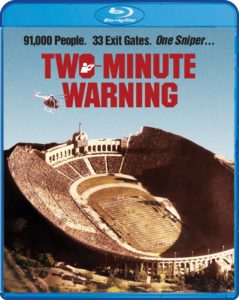 Preceding "Rollercoaster" by a year was Universal's TWO-MINUTE WARNING, a not-particularly well-executed picture that finds cop Charlton Heston trying to stop a sniper randomly targeting victims at an L.A. football game. The premise is chilling, but this Filmways/Universal co-production isn't nearly as satisfying as the similarly-themed Paramount adaptation of Thomas Harris' "Black Sunday" that would hit theaters a short time later. Here, instead of genuinely mounting tension, Larry Peerce's film transparently introduces its all-star supporting cast (David Janssen, Beau Bridges, Jack Klugman, Gena Rowlands, Walter Pidgeon) lining up to be lambs for the slaughter like a "Love Boat" episode, while failing to provide an engaging storyline leading up to the movie's bloody climax.
Universal's TV department recognized this, and bulked up the movie's TV version with ample extra footage – shot for the small-screen – that positioned the shooter as part of a bank robbery. It doesn't work, but it's an interesting experiment that's included here in Shout's Blu-Ray. The 2½ hour TV edit is in full-screen and was derived from a videocassette recording of a TNT broadcast, making it hard to watch in its entirety but worth sampling for fans (the source materials, alas, were destroyed in the Universal fire of 2008). The 1080p (2.35) transfer of the theatrical version is just fine, not quite as sharp as "Rollercoaster" but still unaffected by heavy DNR. The DTS MA mono sound is acceptable, and Shout has included a fine, half-hour interview with Larry Peerce, touching upon the film and his career.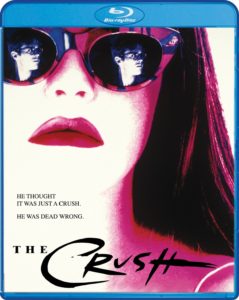 THE CRUSH Blu-Ray (**, 89 mins., 1993, R; Shout Factory): Decidedly minor, teen-oriented variation on "Fatal Attraction" was one of many films from that "Mad __ From Hell" genre of the late '80s and early '90s. This Morgan Creek production aims low and scores for the most part on its modest goals, but is best known today for launching Alicia Silverstone's career as a sultry teenage prodigy who…just…can't…let….go of writer Cary Elwes after he moves into her family's guest house. Writer-director Alan Shapiro based "The Crush" on some real experiences that happened to him – so much so that the movie had to change the name of Silverstone's character after release when the family of the young teen Shapiro said had stalked him sued the producers. Shout's Blu-Ray offers a decent 1080p (1.85) transfer with a bit of DNR filtering, but the audio is a mess: both 2.0 and 5.1 DTS MA options are affected by a phasing issue that the disc's disclaimer said was present on the movie's DVD mix and all available elements of the film. I don't have the old laserdisc to compare, but did they try that outlet? I don't recall the film sounding this "cavernous" in theaters or on home video years back. A new commentary with Shapiro, the trailer, and informative conversations with co-stars Kurtwood Smith and Jennifer Rubin comprise a robust supplemental section.
JEEPERS CREEPERS Blu-Ray (*, 90 mins., 2001, R; Shout Factory)/JEEPERS CREEPERS 2 Blu-Ray (**, 104 mins., 2003, R; Shout Factory): The Francis Ford Coppola-produced "Jeepers Creepers" might have seemed like a breath of fresh air at the time of its original 2001 release (back when serial killer flicks were still all the rage), but this low-budget yarn is an awfully amateurish, awkwardly-performed monster tale that's unintentionally funny as opposed to scary. In Victor Salva's film, a pair of idiotic teens (and we're talking dumber than your typical scream queen here) end up running afoul of a local country demon dubbed "The Creeper," who sacks unsuspecting motorists and drags them down to his lair to take whatever body parts he needs. (Fun, right?).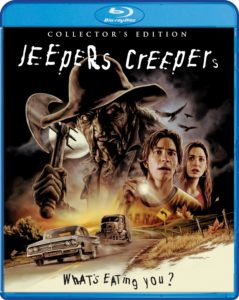 Writer-director Salva has long been one of cinema's more controversial figures following his conviction on child molestation charges years back, but whatever you may think of him being able to continue his filmmaking career, he continues to be an awfully pedestrian writer-director, believing here that long, slow takes of his actors' faces are enough to create a feeling of unease in the viewer. However, neither stars Gina Philips nor Justin Long are capable enough to fill you with that sense of dread (often times they feel like they're engaged in an acting class workshop), nor is Salva up to the challenge of creating a mythology and legend for "The Creeper," ending the movie and setting us up for a sequel just when the action should be getting started.
That sequel appeared in 2003, returning the Creeper as he stalks a group of high school jocks holed up in a broken-down bus on the side of the road. Salva's follow up is a bit more assured, a little bit less pretentious and moderately more entertaining, with elegant scope compositions replacing its predecessor's 1.85 aspect ratio and the film offering moderate entertainment for creature fans.
Shout Factory brings both "Jeepers Creepers" offerings to Blu-Ray as Scream Collector's Editions this month. Both sets boast slipcovers and a mix of extras that have been newly produced as well as archival supplements from each film's DVD release.
The original "Jeepers Creepers" includes a new, engaging commentary with Salva, Justin Long and Gina Phillips, plus a retrospective documentary on the making of the film, an interview with producer Barry Opper, a talk with actress Patricia Belcher, and assorted recycled DVD goodies (deleted scenes, photo gallery, Making Of, the trailer). "Jeepers Creepers 2″ boasts another new retrospective doc with interviews with Salva, cinematographer Don FauntLeRoy and others; a new talk with star Ray Wise; fresh interviews with actors Tom Tarantini, Thom Gossom Jr. and Diane Delano; and numerous DVD extras (deleted scenes, commentaries, trailer, and featurettes).
Both pictures include satisfying 1080p AVC encodes (1.85 on JC1, 2.35 on JC2) and effectively utilized 5.1 DTS MA soundtracks. Though not my cup of tea, both releases come warmly recommended for fans.
Also New From Scream Factory: A solid roster of genre vets including Clint Howard, Courtney Gains and Robert Englund star with Jere Burns and Scottie Thompson in THE FUNHOUSE MASSACRE (90 mins., 2015, R), a thriller from director Andy Palmer about a group of serial killers who break out of a mental institution and head straight for a traveling circus. Palmer contributes an audio commentary as well in this independent offering Scream brings to Blu-Ray this month. Cast video diaries, the trailer, a 1080p (2.35) AVC encoded transfer and 5.1 DTS MA audio grace Shout's Blu-Ray edition…RABID DOGS (94 mins., 2015) is a French-Canadian remake of Mario Bava's '80s cult favorite starring Lambert Wilson as a bank robber whose latest heist goes wrong when his gang's car crashes and he's forced to go on the run along with several innocents. Virginia Ledoyen co-stars in the picture, just hitting Blu-Ray with a 1080p (2.35) transfer, 5.1 DTS MA sound (in French with English subtitles), a Making Of, cast interviews, the trailer and a DVD….A twisty ending is on-tap in THE ABANDONED (87 mins., 2013, Not Rated), an IFC Midnight production that stars Linda Krause as a security guard at an abandoned apartment complex who witnesses all kinds of supernatural activity. Jason Patrick co-stars in Eytan Rockaway's film, now on Blu-Ray from Shout Factory. Deleted scenes and an alternate ending are included on the disc plus a 1080p transfer (1.85) and 5.1 DTS MA audio.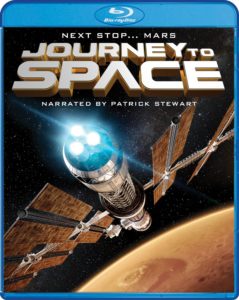 Also New From Shout: Teddy Chen's BODYGUARDS AND ASSASSINS (139 mins., 2009, Not Rated) will be worth a look for Hong Kong cinephiles. Donnie Yen stars in this period action-drama, set in Hong Kong circa 1905, during the waning years of the Qing dynasty. Action, history, politics and intrigue mix in this lengthy, expensive production Shout brings to Blu-Ray for the first time in the U.S. June 14th. Extras include featurettes, extended interviews and the trailer, plus DTS MA 5.1 Mandarin audio and a 2.0 DTS MA English stereo dubbed track… JOURNEY TO SPACE (45 mins., 2015) provides a brief overview of NASA's forays into outer space along with the a history of the International Space Station (ISS). It's also, primarily, a showcase for IMAX and 4K, though Shout has also issued the 45-minute documentary on standard Blu-Ray with a 1080p transfer and Dolby Atmos soundtrack. Extras include behind the scenes footage, a photo gallery, and bonus trailers…A peaceful island populated with Mandarin Ducks is erroneously invaded by Military Mallards in QUACKERZ (81 mins., 2015, PG), a strange Russian animated production hitting Blu-Ray this month in the U.S. from Shout Factory. The Blu-Ray/DVD set includes both 2D and 3D presentations of this kid-friendly affair, which Shout has housed with storyboards, animatic mock-ups, a 1080p (1.78) transfer, 5.1 DTS MA sound, and behind-the-scenes segments…on DVD, LITTLEST PET SHOP – MAKING FRIENDS (110 mins., 2016) offers five episodes from the series (Sleeper, Room Enough, Why Can't We Be Friends, It's the Pet Fest! Parts 1 and 2), while TRANSFORMERS: RESCUE BOTS – HEROES OF TECH (110 mins., 2016) boasts the segments One For the Ages; Space Bots; The Island of Misfit Tech; Too Many Kades; and I Have Heard the Robots Singing. Both single-disc DVDs include 16:9 transfers and stereo sound.
Live-Action TV on DVD from Shout Factory: POWER RANGERS: NINJA STORM (13 hours, 2013) was one of a handful of different off-shoots from the uber-popular Saban franchise, this one centering on two teen boys and a girl who are students at a "secret ninja school" when they find out they can transform into "Wind Morphers" in order to take on the evil Lothor. All 38 episodes from the series are included in this five-disc Shout set with stereo soundtracks; debuts June 21st…WHEN CALLS THE HEART: HEART OF A HERO (84 mins., 2016) is the third movie from the Hallmark Channel series' third season. Adapted from Janette Oke's novel, this installment finds the Garrison Gang coming back in order to cause trouble for Pastor Frank and his relationship with Abigail. Shout's DVD boasts a 16:9 presentation and 5.1 sound…Two more TNT Biblical mini-series hit DVD for the first time, including Matthew Modine as JACOB (89 mins., 1994), co-starring Lara Flynn Boyle, Sean Bean, Irene Papas and Giancarlo Giannini, while Ben Kingsley, Paul Mercurio, Martin Landau and Lesley Ann Warren headline JOSEPH (185 mins., 1995). Each DVD includes 16:9 transfers and 5.1 audio…Finally, the Complete Fifth Season of MAUDE (10 hours, 1976-77) offers 24 episodes from the hit, controversial '70s CBS sitcom on three discs. Shout's DVD includes broadcast-length episodes with Martin Balsam, Eve Arden and Michael Keaton guest starring.
---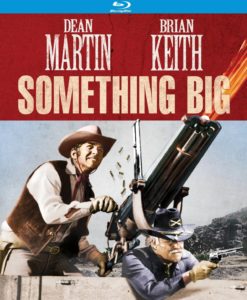 Kino Lorber Studio Classics – June Releases
SOMETHING BIG Blu-Ray (108 mins., 1971, PG-13; Kino Lorber): Easy-going early '70s western comedy from director Andrew V. McLaglen debuts on Blu-Ray for the first time thanks to Kino Lorber. This teaming of Dean Martin and Brian Keith is a fitfully amusing widescreen outing from writer James Lee Barrett with a terrific supporting cast ("Goldfinger"'s Pussy Galore, Honor Blackman, plus Ben Johnson, Albert Salmi, Denver Pyle, Merlin Olsen, Joyce Van Patten and Carol White) clearly having a good time in this old-fashioned outing. Marvin Hamlisch's score is a plus, as is the Burt Bacharach-Hal David title tune.
Last seen in a CBS DVD from its final batch of catalog titles, "Something Big" makes its Blu-Ray debut from Kino Lorber this month. The crisp, unadulterated 1080p AVC (1.85) encoded transfer and DTS MA mono sound are both fine.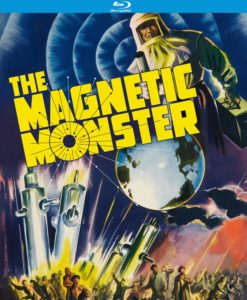 Fans of "Gog" and '50s sci-fi B-efforts will find THE MAGNETIC MONSTER (76 mins., 1953) of interest.
Curt Siodmak helmed this first entry in a loosely-connected trilogy of films that were followed in 1954 by "Riders to the Star" and "Gog," which Kino Lorber released in a superb 3D Blu-Ray earlier this year. "The Magnetic Monster" isn't quite as entertaining as "Gog," with Siodmak and producer Ivan Tors' script following a pair of government agents (Richard Carlson, King Donovan) as they track down, and stop, an experiment from a dying scientist that's gone seriously wrong.
A bit dry and talky like other genre efforts from its decade, "The Magnetic Monster" will appeal most particularly to 1950s buffs, though even casual viewers might appreciate Siodmak's concepts and brief running time. Kino Lorber's Blu-Ray offers an insightful commentary from historian Derek Botello, trailers, a 4:3 (1.37) AVC encoded transfer of the B&W UA release and DTS MA mono sound.
In SHIELD FOR MURDER (82 mins., 1954), Edmond O'Brien stars as a renegade police detective who decides to pocket $25,000 from a dead gangster he killed. Soon, he becomes the target of a fellow cop's investigation, but realizing he has to kill again to cover his tracks, O'Brien works himself further and further into the abyss in this short, snazzy film noir from United Artists and O'Brien himself, who co-directed the film with producer Howard W. Koch. John Agar, Marla English, Emile Meyer and Carolyn Jones co-star in this 1954 thriller now on Blu-Ray for the first time from Kino Lorber, which presents the 82-minute feature in a 1080p (1.75) transfer with DTS MA mono sound.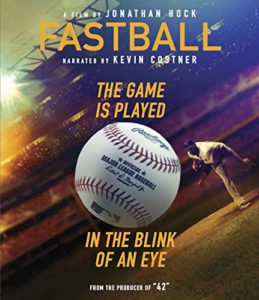 Also new from Kino Lorber this month is the Blu-Ray release of FASTBALL (86 mins., 2015), a fascinating, must-view watch for baseball fans. Kevin Costner is an appropriate choice to narrate this Jonathan Hock documentary about the art of the fastball – from the hardest throwers in baseball history to how modern science breaks down the pitch itself. Great interviews and pinpoint cinematography make "Fastball" an enjoyable view for sports fans and casual viewers alike, with interviews running the gamut from Hank Aaron and Derek Jeter to Johnny Bench, George Brett and countless other greats of the game. Kino Lorber's Blu-Ray of this MLB Productions/Legendary Films doc includes a 1080p transfer, 5.1 audio, extended interviews, Hall of Fame outtakes and a Steve Dalkowski extended scene. Available June 28th.
Finally, exclusively on DVD comes REALLY WEIRD TALES (85 mins., 1987), the TV-movie reunion for several members of the SCTV gang that sends up "Twilight Zone" and other sci-fi/fantasy TV anthologies. Three self-contained sketches find John Candy in "Cursed With Charisma"; Catherine O'Hara as a woman whose lovers explode in "I'll Die Loving"; and Martin Short as a struggling lounge singer in "All's Well That Ends Strange." This uneven but often funny cable-movie has been out of circulation for some time but returns to mainstream availability this month courtesy of Kino Lorber, whose DVD includes a 1.33 transfer and mono sound. Recommended!
---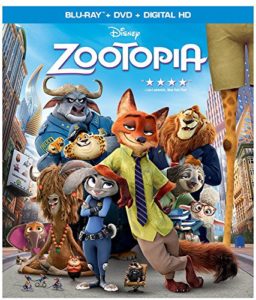 Also New & Noteworthy
ZOOTOPIA Blu-Ray (**½, 108 mins., 2016, PG; Disney): A lightly entertaining, but over-plotted and heavily overpraised "social engineering" project from Disney that grossed a ridiculous amount of money around the world.
Despite a plot that's seemingly not upbeat or funny enough to engage younger kids, this "toon noir" finds an aspiring bunny heading into the big city where she becomes Zootopia's first cop from her species, investigates the disappearance of a Mr. Emmett Otter(ton) (nice homage to Jim Henson, apparently), and works with a fox in dispelling prejudices about his "predatorial condition" while unmasking the true culprits behind Zootopia's increasingly aggressive animals. I won't give away the mystery, but look out: the "least threatening" and "educated" are probably to blame.
The reviews "Zootopia" received seem to go out of their way to praise this movie's transparent, and heavy-handed, preachifying about diversity, inclusion, race and gender — to the point where some critics seemed oblivious of, or disinterested in, this picture's shortcomings. The convoluted plot is likely to be lost on any child under the age of 8, while the overriding fun factor is diminished by a film light on laughs and action. In fact I remember the audience at "The Force Awakens" laughing more at this movie's 3-minute trailer than the crowd at the actual film.
There are some shout-outs to movies like "The Godfather" and – even stranger (and somewhat offensively) – Breaking Bad," but those adult-centric homages don't actually make this material clever, and the script isn't nearly on the high level you would see with a typical Pixar product.
Disney's Blu-Ray combo pack, out this week, offers an engaging, if lightweight, assortment of behind-the-scenes materials taking audiences into the creative process, with deleted scenes, Easter Eggs, a 1080p (2.39) transfer and 7.1 DTS MA audio included plus a Digital HD copy.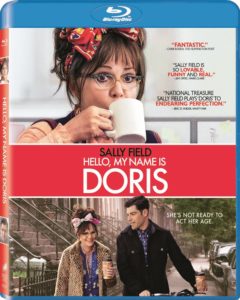 HELLO, MY NAME IS DORIS Blu-Ray (**, 90 mins., 2015, R; Sony): Sally Field gives an admirable performance as a sheltered, quiet recluse working in a data entry position in NYC whose mother dies. That leaves her fighting to stay in her family home – complete with all of its junk – while deciding to step outside her comfort zone and vie for the affection of a much younger man ("The New Girl"'s terrific Max Greenfield).
This indie comedy from director Michael Showalter and writer Laura Terriso – working from her short movie – is mostly a hot mess of fragmented plot ideas that might've made for its own individual film (or TV sitcom): is the movie about Doris and her friends (the funny Tyne Daly), including Daly's granddaughter? Or a drama focusing on Doris' abrasive family, including her brother (Stephen Root) and obnoxious sister-in-law (Wendi McLendon-Covey)? Or is it a workplace comedy with the goofy Doris working alongside a cast of much younger people? Showalter has assembled a talented set of performers – including Beth Behrs, Elizabeth Reaser, Natasha Lyonne and "Silicon Valley"'s Kumail Nanjiani – but few of them have much to do. Field, to her credit, does well in the movie's big dramatic moment when she melts down in front of Doris' brother, but even her character doesn't seem to be consistently drawn, making for a disjointed and uneven film.
Sony's Blu-Ray includes nearly a full half hour of deleted scenes – showing the filmmakers were trying all kinds of ideas out that didn't work – plus commentary, an alternate opening, a 1080p (1.78) AVC encoded transfer and 5.1 DTS MA sound.
HERE COMES MR. JORDAN (***½, 94 mins., 1941; Criterion): Classic Hollywood fantasy-comedy stars Robert Montgomery as a tough-guy boxer who perishes in a plane crash…but is reincarnated as a business tycoon who's on the docket to be murdered. Claude Rains co-stars as the title character – an angel who sets Montgomery's soul-switch in motion – in this superb mix of comedy, fantasy and romantic drama, with Evelyn Keyes, James Gleason, and Edward Everett Horton co-starring.
Later sequelized and remade – most famously in Warren Beatty's "Heaven Can Wait" – "Here Comes Mr. Jordan" has been treated to a new 2K digital restoration from Criterion. Uncompressed PCM audio is also included along with a new conversation between critic Michael Sragow and filmmaker Michael Schlesinger; a 1991 interview with Elizabeth Montgomery about her father, Robert; the 1942 Lux Radio Theatre adaptation with Cary Grant in the Montgomery role; and the original trailer.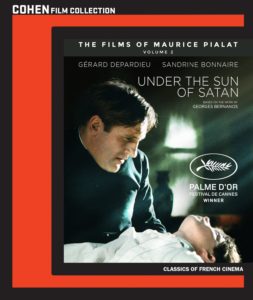 THE FILMS OF MAURICE PIALAT, VOLUME 2: UNDER THE SUN OF SATAN Blu-Ray (98 mins., 1987, Not Rated; Cohen Film Collection): In this second volume of Pialat works following last month's inaugural Cohen Film Collection release, "Under the Sun of Satan" is a 1987 film where Gerard Depardieu plays a seminarian who meets a young woman (Sandrine Bonnaire) who's just committed a mortal sin.
One of Pialat's most acclaimed works, Cohen brings this Pialat picture to Blu-Ray sporting a 1080p transfer in French with English subtitles, uncompressed PCM audio, a 2012 Depardieu interview, a 2012 talk with cinematographer Willy Kurant; a 2012 discussion with production designer Katia Wyzkop; deleted scenes; behind the scenes footage; the original trailer, and a 2015 re-release trailer.
THE WAVE Blu-Ray (105 mins., 2016, R; Magnolia): Norway does their own Disaster Movie when the small, quaint town of Geiranger is placed in the middle of danger after a rock landslide causes a tsunami – and sends local inhabitants into a frenzy with just minutes to get to higher ground. Based on true events that have occurred in Norway a few times over the decades, "The Wave" is pretty impressive for a regional production, with decent special effects and a grounded human story anchoring the action. Magnolia's Blu-Ray includes a behind-the-scenes segment, visual effects featurettes, interview with director Roar Uthaug, the trailer, a 1080p (2.39) transfer and Dolby Atmos audio (Norwegian) or an English dubbed mix (Dolby TrueHD).
---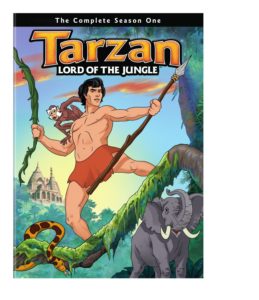 New From Warner Home Video
TARZAN, LORD OF THE JUNGLE – Season 1 DVD (360 mins., Warner): One of the better '70s animated series from Filmation Associates, the colorful adventures of Edgar Rice Burroughs' hero have been finally collected on DVD for the first time from Warner Home Video. The double-disc DVD set houses 16 "Season 1″ adventures of Lord Greystoke, who swings into action not just as a protector of his jungle domain, but also takes on fantastical creatures, UFOs and Vikings in a free-wheeling take on Burroughs' books. The animation is, of course, just adequate but the scripts aren't bad and the material appropriately action-packed.
Warner's DVD is derived from what's left of Filmation's source materials, many of which were reportedly disposed of years ago. That certainly looks to be the case from the faded and often rough-looking prints used here; the Dolby Digital mono audio at least fares better with clear detail for the voices and original (if repetitive) music scores.
Just in time for Father's Day on the catalog front come a pair of late-era John Wayne productions, new to Blu-Ray for the first time.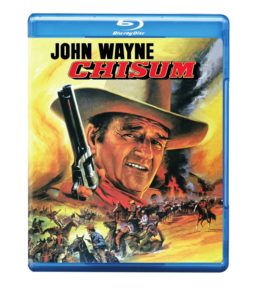 CHISUM (***, 111 mins., 1970, G) is the superior of the duo, and one of The Duke's better westerns from the twilight of his career. Andrew J. Fenady wrote and produced this agreeable film that finds Wayne playing a real-life New Mexico cattle baron who takes on a greedy developer (as if there's any other kind) played by Forrest Tucker. Billy the Kid and Pat Garrett also factor in this entertaining mix of fiction and historical fact, based on events from the 1878 Lincoln Country War.
Veteran Andrew V. McLaglen paces the film just right and the cast is filled with familiar faces, as you'd anticipate, including Ben Johnson, Christopher George, Andrew Prine, Richard Jaeckel, and Lynda Day. Dominic Frontiere's score includes the ridiculously infectious opening ballad plus another song performed by Merle Haggard, while the widescreen cinematography of William Clothier makes for an irresistible genre outing that looks great on Blu-Ray. The 1080p (2.41) transfer is strongly detailed with DTS MA mono audio, and extras include the trailer, a vintage featurette and commentary from McLaglen.
Before he passed, Wayne tried a couple of times to become Dirty Harry: 1975's "Brannigan" has already been released by Twilight Time, but it was preceded a year earlier by McQ (**½, 111 mins., PG), a watchable if standard-issue crime thriller shot in Seattle. Here, Wayne was directed by "Magnificent Seven" great John Sturges – also in the twilight of his career – as a cop investigating the murder of his partner.
Elmer Bernstein's score and a dynamic, climactic car chase are the major draws to "McQ," which co-stars Eddie Albert, Diana Muldaur, Colleen Dewhurst, Clu Gulager, David Huddleston and Al Lettieri. Warner's Blu-Ray again offers a very strong, unmolested 1080p (2.41) transfer with DTS MA mono audio, the trailer and the featurette "McQ: John Wayne in Action."
NEXT TIME: THE 5000 FINGERS OF DR. T on Blu-Ray! Until then, don't forget to drop in on the official Aisle Seat Message Boards and direct any emails to our email address. Cheers everyone!