June is typically a big month for home video releases – especially TV on Video anthologies, where CBS has repackaged both STAR TREK: THE ORIGINAL SERIES (1966-69, aprx. 69 hours) and STAR TREK: THE NEXT GENERATION (1987-94, aprx. 135 hours) in deluxe, complete-series Blu-Ray sets.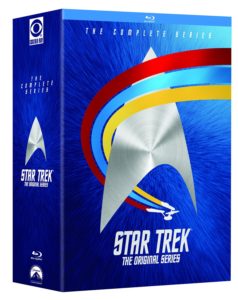 CBS' remastered Original Series discs include all 79 classic episodes, both with enhanced visual effects as well as the original broadcast versions; 7.1 remixed DTS MA audio plus original mono tracks; and over nine hours of comprehensive special features. There's nothing new here, but all 20 discs from Seasons 1, 2 and 3 have been collected in one anthology with CBS' "Mega-pack" plastic spindle housing the complete run of the original series (albeit in a hub that's not connected to the case itself).
For individual reviews of the respective Blu-Ray season releases, check the Archives:
"The Next Generation" was also remastered for HD by CBS, undergoing an expensive enhancement with FX upgrades throughout its entire seven-season run. For this complete series box, CBS offers Seasons 1-4 in its own "Megapack" with Seasons 5-7 in a separate one, both housed in an exterior box. Again, there are no changes in terms of the discs themselves, so the package is most recommended for those who never owned the prior releases.
Specific information on each season and its respective supplements can be found in my original Season reviews here:
Also well worth a gander for TV buffs is Shout's DVD of the complete TWO GUYS AND A GIRL (16 hours, 1999-2001). This ABC sitcom debuted – under the title "Two Guys, a Girl, and a Pizza Place" with co-star David Odgen Stiers – to decent ratings and reviews but never generated the kind of audience the likes of "Friends" was able to.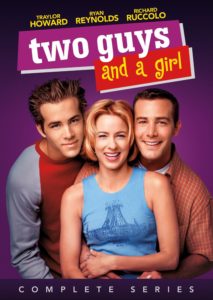 That said, this is a very entertaining show that function as a springboard for a number of future stars, most notably Ryan Reynolds playing the slacker "Berg" with Richard Ruccolo as "Pete," two friends who hung out in Boston's Beacon Street Pizza post-college along with Traylor Howard's Sharon, the gal-pal whose romantic entanglements eventually involved a young Nathan Fillion during the second season. Tiffani (Amber) Thiessen and "Silicon Valley"'s Suzanne Cryer also appeared during the series' four seasons, whose episode orders varied as the show seemed to be continuously on the verge of cancellation.
Ultimately, some 81 episodes of the series were produced, all of which have been collected by Shout Factory in a superb 11-disc DVD set. The package doesn't have any special features but does include an alternate finale as the series initially concluded with a phone-vote that enabled viewers to determine its cliffhanger ending (which was to have been resolved in a fifth season that never materialized). Shout's 4:3 full-screen transfers and stereo soundtracks are all top notch.
Also new on DVD from Shout Factory: DANIEL BOONE Season 1 (22 hours, 1964-65) stars Fess Parker as another quintessential American hero. Following his tenure as Davy Crockett, Parker played Boone in six seasons of the long-running color TV series. Shout's Dvd includes its complete 29 Season 1 episodes in 1.33 transfers with ample extras, including comments from Parker and a number of cast interviews (Veronica Cartwright, Patricia Blair and a tribute to Albert Salmi)…The final season of BAA BAA BLACK SHEEP (aka BLACK SHEEP SQUADRON) assembles the concluding 13 episodes featuring Major "Pappy" Boyington (Robert Conrad) in Stephen J. Cannell's popular '70s series. Shout's three-disc set includes full-screen transfers from the Universal vaults.
---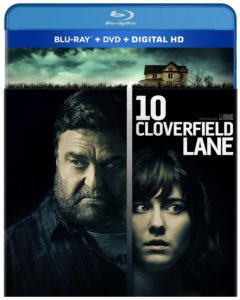 Blu-Ray New Releases
10 CLOVERFIELD LANE (**½, 103 mins., 2016, PG-13; Paramount): Saved from the wreckage of her trashed car by a survivalist (John Goodman) who may or may not be a psycho, Mary Elizabeth Winsted's heroine is subsequently held captive after an – apparent – apocalyptic event sends the world into a basic blackout. Loud noises can be heard from above, horrifying moans and the occasional human victim reveal themselves – but is Goodman's character lying about the terror, or is there really an "invasion" of some kind happening above?
This oddball, loosely connected sequel to "Cloverfield" – producer JJ Abrams' found-footage "Godzilla" homage – tries hard to throw viewers off and keep them guessing about the true motives of Goodman's character. The actor is delicious here, savoring the quirky creepiness of an ayptical role for the actor, but there does come a point in the Josh Campbell-Matt Stuecken-Damien Chazelle script when you feel as if you've been played one too many times ("he's a psycho! No, he's a nice guy! No, he really IS a psycho!").
Ditto for "10 Clovefield Lane" itself, which functions as an engaging little B-movie that doesn't really offer the potential of repeat viewing. Director Dan Trachtenberg, working from a heavy Abrams influence one would imagine, can't entirely seem to make up his mind as to what, precisely, the film is: a tiny, three-character isolationist thriller – or the movie it turns into its last 20 minutes, which feels like a different picture altogether? Frankly, I rather liked the last part of the movie more than the three-character "play" section, which is hampered by its sub-Hitchcockian script and some overscored musical passages by Bear McCreary (which essentially opens at a "10″ on the dramatic scale and has nowhere else to go, despite how well-written it is). Winsted, though, provides a heroine who's easy to pull for, and the wild finale is nearly enough to whet one's appetite for future – and very likely more straightforward – "Clovefield" adventures.
Paramount's Blu-Ray/DVD combo pack offers commentary by Trachtenberg and Abrams and a slew of featurettes, a DVD, Dolby Atmos/TrueHD audio, a superlative 1080p (2.40) AVC transfer and a digital HD copy.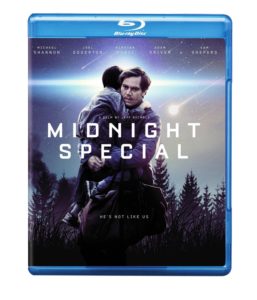 MIDNIGHT SPECIAL Blu-Ray (**, 112 mins., 2015, PG-13; Warner): Yet another sci-fi thriller – sold as being "influenced" by '80s genre films – that doesn't have a handle on what made those pictures so satisfying, writer-director Jeff Nichols' "Midnight Special" is about as much fun as having your teeth pulled.
Though technically well-executed, this emotionally muted – if not downright joyless – film doesn't resemble the likes of, say, "E.T." or "Starman" in its execution, despite a similar plot that grafts together elements from those movies and the likes of Stephen King's "Firestarter."
Here, distraught father Michael Shannon (switching away from his ice-cold killer routine) and friend Joel Edgerton flee the American south from the authorities and a religious sect that believes Shannon's son (Jaeden Lieberher) is a savior. He may not be a messiah, but he does have supernatural, extraterrestrial abilities that involve light beams shooting from his eyes and the knowing sense that the bad guys are out to get him – these include a group of government types and a possibly sympathetic scientist (Adam Driver) as well as a religious order presided over by Sam Shepard, who disappears from the movie completely after its first half.
Nichols previously helmed the acclaimed, if somewhat overpraised, Matthew McConaughey drama "Mud," and brings that film's same, leisurely pace to "Midnight Special." This time, though, Nichols' directorial attributes fail to serve this material well, as the morose, one-note tone never gives you a reason to care about Shannon's plight, nor does it lead to a satisfying emotional release at the conclusion. It's no wonder, then, why Warner Bros. seemingly didn't believe in the picture, as they platformed "Midnight Special" in limited release and then gave up on it when it didn't perform well in those markets.
While not a bad film, "Midnight Special" feels less like an "E.T." and more like what M. Night Shyamalan might have done with the same material on a bad day – the result is unsatisfying and dreary, despite all the talented people involved in its construction.
Warner's Blu-Ray offers a Digital HD copy, 1080p (2.41) transfer, 5.1 DTS MA sound and a number of shortish behind-the-scenes featurettes.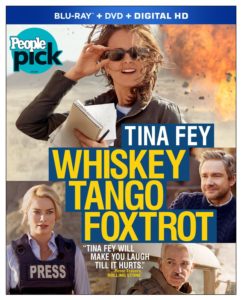 WHISKEY TANGO FOXTROT Blu-Ray Combo Pack (**, 111 mins., 2016, R; Paramount): Tina Fey uneasily adapts to a dramatic role – of sorts – in "Whiskey Tango Foxtrot," an adaptatation of Kim Baker's autobiographical account of how an American female reporter (Baker) ended up in Afghanistan.
Produced by SNL guru Lorne Michaels, this adaptation of Baker's novel from writer Robert Carlock and "Bad Santa" helmers Glenn Ficarra and John Requa doesn't feel nearly authentic enough to score. While always watchable, Fey uneasily maneuvers through a film with hard-hitting sequences of the Afghan conflict, balanced off with lighter interludes involving Baker's relationship with another journalist (Margot Robbie). Billy Bob Thornton and Martin Freeman also appear in a movie that has both funny and effectively "serious" sequences, but never finds the proper balance between them.
Paramount's Blu-Ray combo pack, out June 28th, includes deleted/extended scenes, four featurettes, a 1080p AVC encoded transfer, DTS X audio, a Digital HD copy and DVD.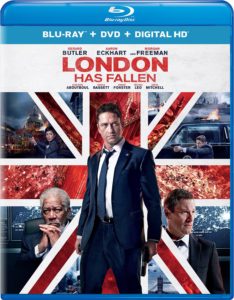 45 YEARS Blu-Ray (95 mins., 2015, R; Paramount): Sensitive performances by Charlotte Rampling and Tom Courtenay propel this piercing drama about a couple devastated by the husband's revelation he was once engaged to another woman who's recently passed. Rampling is particularly outstanding in "45 Years," and Paramount's Blu-Ray of Andrew Haigh's film includes a 1080p transfer and 5.1 DTS MA audio.
LONDON HAS FALLEN Blu-Ray Combo Pack (**½, 99 mins., 2016, R; Universal): Agreeably trashy sequel to the surprise hit "Olympus Has Fallen" has secret service agent Mike Banning (Gerard Butler, comfortably returning to the genre) called into duty to save the world from terrorists. The setting this time is the funeral of the British PM, and in jeopardy are a veritable stable of the world's leaders, all of whom owe a debt to Superman Mike, whose fisticuffs and one-liners save a threadbare script and uninspired direction by Babak Najafi that pales in comparison with its predecessor. Still, for action fans, "London Has Fallen" gets the job done in the way a needless Cannon '80s sequel would – it may not be "Death Wish 3," but the film has its charms (intentional and otherwise!). Universal's Blu-Ray combo pack sports two featurettes, a 1080p (2.40) AVC encoded transfer, DVD, Digital HD copy and a DTS X soundtrack.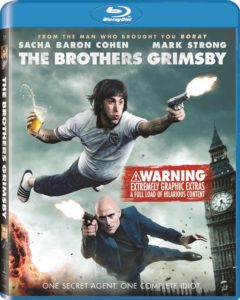 THE BROTHERS GRIMMSBY Blu-Ray (*½, 83 mins., 2016, R; Sony): Has Sacha Baron Cohen's appeal passed? Sure looks like it based on the dismal "The Brothers Grimmsby," which stars Cohen as a British soccer fan who finds out his brother (Mark Strong) is a Bond-like MI:6 agent who's gone missing – in addition to uncovering a major terrorist plot. Penelope Cruz, Rebel Wilson, Gabourey Sibide and Cohen's wife Isla Fisher co-starred in this Cohen production (he co-wrote and produced), with "Transporter" veteran Louis Leterrier giving the farce the look of a slick action vehicle. The problem is that the film isn't funny, nor does it have enough gags to get it past the 80 minute mark without the benefit of endless credits. Sony's Blu-Ray offers format-exclusive deleted/extended scenes, a blooper reel and featurette, plus outtakes and a Making Of. A Digital HD copy is included plus a 1080p (2.39) transfer and 5.1 DTS MA sound.
KNIGHT OF CUPS Blu-Ray (**, 118 mins., 2015, R; Broadgreen): Terrence Malick is at it again, this time with an (of course) eclectic drama about a writer (Christian Bale) searching through the superficiality of Los Angeles and Las Vegas for love and greater meaning. Along the way he encounters a series of characters and numerous women both familiar and unfamiliar — including Natalie Portman, Imogen Poots, Teresa Palmer and Freida Pinto — in a film that was plagued with re-editing following poorly received festival screenings. Malick buffs, as always, will appreciate the effort, but others are likely to be baffled by another self-indulgent effort that was apparently improvised by the cast. Broadgreen's Blu-Ray contains a Making Of, 5.1 DTS MA audio and a gorgeous 1080p (2.35) transfer.
ANOMALISA Blu-Ray (***, 90 mins., 2015, R; Paramount): One of the world's only adult stop motion movies – and an R-rated one at that – this partially crowd-funded film from the eclectic Charlie Kaufman looks at what happens when an author and consumer affairs writer/husband/dad travels to a conference and meets a young woman with a Japanese animatronic girl who completely captures his fancy. It's hard to describe "Anomalisa" without seeing it, as Kaufman captures the blandness of everyday life and the nondescript relationships people can have with one another, and how one particular meeting can color one's world. Strikingly designed, "Anomalisa" is more an interesting experiment than anything else, but it's well worth seeing both for its animation and its humanity. Paramount's Blu-Ray/DVD combo pack includes three featurettes, a 1080p transfer, 5.1 DTS MA audio, a DVD and Digital HD copy.
---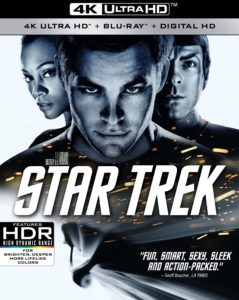 4K Corner
4K UHD discs have begun to infiltrate stores, offering viewers with that capability the opportunity to savor even clearer – and more notably vibrant – images through the enhancement of "HDR," or High Dynamic Range. While I do not have 4K in the house just yet, a friend of the Aisle Seat does and graciously enabled me to take a look at the first batch of 4K UHD discs we've received.
First up is J.J. Abrams' rousing 2009 STAR TREK (***½, 126 mins., 2009, PG-13) and its plodding 2013 sequel STAR TREK INTO DARKNESS (**, 132 mins., 2013, PG-13), both of which include standard Blu-Rays (check the archives for individual reviews of these older releases) plus Digital HD Ultraviolet copies.
I was high on Abrams' first "Trek" and not a fan, at all, of his "Wrath of Khan" mash-up, which I covered in detail back in 2013. Since "Into Darkness" merely performed decently at the U.S. box-office – coming under the gross of Abrams' first film even with the addition of 3-D and ticket price inflation – Abrams brought in "Fast and the Furious" director Justin Lin to handle the upcoming "Star Trek: Beyond," which looks to offer a seemingly more upbeat story than its predecessor.
In 4K, both "Trek" pictures acquit themselves well – very well indeed. While I wouldn't consider the UHD transfers to be mind-blowing improvements over the standard Blu-Rays, there is a further clarity and, more significantly, stronger colors that seem to "pop" in both presentations that I sampled. With both films being recent releases, they didn't require heavy tinkering to make good use of HDR either (something that apparently affected the recent 4K disc of "Ghostbusters"), but I'd say both discs are well worth checking out for 4K-capable folks looking to add to their fledgling collections.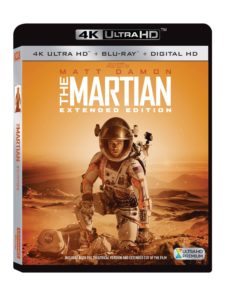 In addition to the 4K UHD presentations and Dolby Atmos audio, both discs include extras from both films' prior Blu-Ray releases, which were stocked with deleted scenes, trailers, ample behind-the-scenes features and Making Of materials. "Into Darkness" also boasts its properly-framed IMAX sequences on its 2D Blu-Ray, which comprise nearly 30 minutes of material – some of which was exclusive to the IMAX screenings and which has been reinserted here (and was previously exclusive to the "Compendium" Blu-Ray release). Also on-hand are a pair of featurettes, "Fitting the Future" and "Property of Starfleet," while the first "Star Trek" is just a reprise of its prior, 2-disc Blu-Ray release.
Also new and also worth seeing in 4K is Ridley Scott's smash hit THE MARTIAN (***, 150 mins., 2015, PG-13; Fox), a solid, if somewhat overpraised, adaptation of Andy Weir's novel about an astronaut (Matt Damon), stranded on Mars, who's left to fend for himself after an accident sends his fellow crew back home, presuming he's dead. How Damon's Mark Watney keeps himself alive – at the same time NASA experts try and find a way to bring him back home – fuels Ridley Scott's film, which met with universal acclaim and over $200 million in domestic box-office.
"The Martian" is certainly a good movie, but in trying to cram so much material into a two-plus hour feature, Scott never finds sufficient room for the picture to muster much in the way of an emotional component. Drew Goddard's script bounces back and forth from Watney's plight to scenes of NASA staffers (including an inexplicably third-billed Kristen Wiig) rallying the scientific community in an effort to expedite a possible rescue – if it's even feasible. It makes for a breathless and entertaining movie, but there's little emotional release when the story reaches its conclusion – perhaps the result of too many supporting players and too much time being exerted on the technical attributes of the story.
Some of that is rectified in the new "Extended Edition" which is available on both 4K UHD and Blu-Ray. The added material gives the film a little bit more room to breathe, but in general, one still gets the feeling some sections of the film should've been further dwelled upon, enabling for more of a release at the end.
There's little reason, however, to carp about the technical attributes of the Blu-Ray or UHD presentation. Both offer gorgeous visuals and DTS MA 7.1 audio. The movie misses out on a memorable orchestral score, favoring instead an increasingly irritating amount of disco tunes that eventually prove as annoying to the viewer as they are to the main character. Extras are carried over from the original Blu-Ray with the addition of several additional featurettes and a commentary track featuring Ridley Scott, Drew Goddard and Andy Weir.
---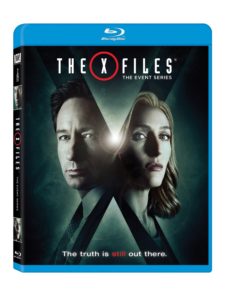 Also New From Fox
THE X-FILES: THE EVENT SERIES Blu-Ray (263 mins., 2016; Fox): Long-awaited return of Chris Carter's influential, classic '90s sci-fi series carts out David Duchovny, Gillian Anderson and Mitch Pileggi – among other friends – for six episodes that vary so wildly in quality that this "event series" is a small encapsulation of the entire series' output. Fans will take best to the action, with Fox's Blu-Ray boasting several commentary tracks, deleted scenes, a gag reel, a number of featurettes taking viewers behind-the-scenes, 1080p transfers and 5.1 DTS MA soundtracks.
THE OTHER SIDE OF THE DOOR Blu-Ray Combo Pack (96 mins., 2016, R; Fox): Indian-set Fox supernatural thriller stars Sarah Wayne Callies as a grieving mother trying to bring her deceased young son back from the dead – but instead, of course, opens a door to the netherworld in the process. Jeremy Sisto co-stars in this Alexandre Aja production which offers slick visuals and a story with nothing you haven't seen before. Fox's Blu-Ray combo also includes deleted scenes, a featurette, gallery, trailer, 1080p (2.39) transfer, 5.1 DTS MA audio, a Digital HD copy and DVD.
THE LEAGUE – THE FINAL SEASON DVD (326 mins., 2015; Fox): The final season of the FX comedy series finds Pete discovering his ex-wife Meegan is sleeping with a fellow league member; Taco flying into the "drone zone," Jenny slot-shamed and Rafi hooking up with a watermelon. A gag reel, "Alt Nation," "Taco Tones" segments, deleted scenes, 16:9 transfers and 5.1 Dolby Digital audio grace Fox's two-disc DVD goodbye to the successful series.
SHREK: Anniversary Edition Blu-Ray (***, 90 mins., 2001, PG; Dreamworks/Fox): Anniversary Edition of the Dreamworks smash includes "The Best of Shrek Shorts" and a Digital HD copy to go along with a presentation otherwise similar to past releases of the film on Blu-Ray. Admittedly, I didn't take to this movie like a lot of others did, finding the CGI work nothing extraordinary and the flatulence jokes wearisome after a while (not to mention the strident shots at Disney). On the other hand, kids didn't care and adults found more than enough amusement in the movie's sight gags and off-the-wall humor, which admittedly hits the mark more often than not.
---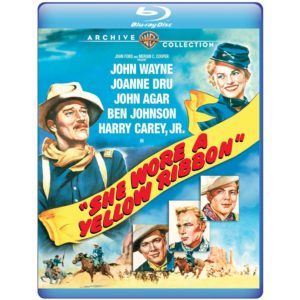 Warner Archive New Releases
Blu-Ray Archive Releases: Two John Wayne classics hit Blu-Ray from the Archive in time for Father's Day, highlighted by SHE WORE A YELLOW RIBBON (103 mins., 1949), one of the undisputed western classics from director John Ford. The middle part in Ford's "Cavalry Trilogy," "She Wore…" is sandwiched between "Fort Apache" and "Rio Grande," and finds Wayne as a cavalry officer in the final week of his frontier service. The RKO release offers a 1.37 1080p transfer with crisp detail and colors far more vivid than I remember them being on DVD. Ford's home movies and the trailer cap the disc…In Ford's earlier THEY WERE EXPENDABLE (136 mins., 1945), Wayne and Robert Montgomery play PT-boat skippers defending the Philippines in a sensational MGM production co-starring Donna Reed and Ward Bond. Again, the Archive's 1080p (1.37) B&W transfer provides ample dividends over the old DVD, and DTS MA mono audio is included on both titles…The third of four teamings of stars Humphrey Bogart and Lauren Bacall, the noir thriller DARK PASSAGE (106 mins., 1947) finds Bogie as a prison escapee, framed for murder, who undergoes plastic surgery to change his facial features and Bacall as the woman who falls for him. Delmer Daves wrote and directed "Dark Passage," adapting a novel by David Goodis and receiving able support from both leads as well as Franz Waxman's moody score. The Archive's Blu-Ray debut of the picture offers a 1080p (1.37) B&W transfer, DTS MA mono sound, a featurette, vintage Bugs Bunny cartoon "Slick Hare" and the trailer.
New on DVD: Writer-director John A. FitzPatrick traveled the world with his Technicolor camera for over 20 years, bringing viewers an endless stream of MGM shorts showcasing world travelogues – as well as domestic trips. Finally on DVD for the first time from the Archive, TRAVELTALKS SHORTS: VOLUME 1 (521 mins.) is a three-disc Anthology spanning the globe with FitzPatrick taking tripes to Europe, South America, and points inbetween, not to mention Oregon, Utah, and Yellowstone Park. A delightful release for Golden Age fans, which hopefully will encourage more volumes to follow. The MGM vault transfers are in generally good shape with their early Technicolor presentations….SEVEN MILES FROM ALCATRAZ (62 mins., 1942) is a short and sweet RKO programmer starring James Craig and Frank Jens as Alcatraz escapees who run into a group of men and women on their way to freedom – including a Nazi spy. Bonita Granville and Cliff Edwards co-star under the assured direction of Edward Dmytryk ("Murder My Sweet"), with the Archive's DVD sporting a 4:3 B&W transfer and mono sound.
Finally, completing at long last the "Charlie Chan" series on DVD is CHARLIE CHAN: 3-FILM COLLECTION, which assembles the three pictures in the series not previously released on disc: "The Red Dragon" (1945) finds Sidney Toler as Chan, while the concluding pictures in the Monogram Chan series, "The Feathered Spirit" and "The Sky Dragon" (each from 1949), round out the release, starring Roland Winters in the role with Keye Luke returning as the "Number One Son". B&W transfers make this a must for Chan fans, who can finally say their DVD collections are complete at last.
---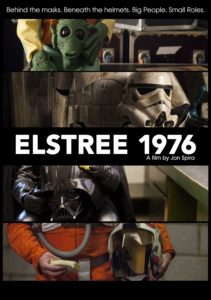 New on DVD
ELSTREE 1976 DVD (101 mins., 2016; MVD): The prospects of a documentary taking viewers back to Elstree, England in 1976 when "Star Wars" was being shot sounds like an appetizing, potentially fascinating subject. Sadly, this flat and utterly dull production fails on nearly every level.
Director Jon Spira spends almost the entirety of "Elstree 1976″ interviewing a dozen mostly bit-part players (and David Prowse), recounting their backgrounds and how they came to be a part of George Lucas' classic – which, at the time, nobody believed would be a classic. There's lots of talk…and then some more talk…and then some more talk…as each participant drones on about their backgrounds, family history, recent history, and finally, some talk about working on the movie (or, more precisely, modeling action figures). This, alas, doesn't last long – in fact, there's more discussion about these people making a small dollar at conventions than actually being on the set!
While the mundane nature of the interviews is tedious enough, "Elstree 1976″ is so plain that there's nothing to break up the monotony – there's scant footage or still photos on-hand here, no attempt at bringing viewers back to the era with licensed music or footage that would transport the audience. Instead, what we have is the worst kind of documentary: one that gives you no reason why it needed to be made, other than the assorted participants' connection with the "Star Wars" universe, such as it is.
MVD's DVD includes a 16:9 transfer and stereo sound, and hits stores June 28th.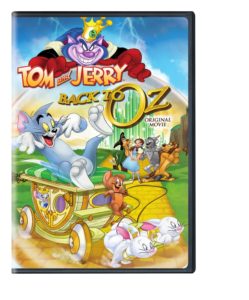 TOM AND JERRY: BACK TO OZ DVD (81 mins., 2016; Warner): With the Wicked Witch of the West banished for good, Tom, Jerry and Dorothy head back to Kansas, only to find out the Gnome King has arrived and is causing trouble back in Oz. The Scarecrow, the Cowardly Lion and the Tin Man all return in this well-animated sequel to its popular predecessor, filled with colorful visuals and a tight Paul Dini script. Warner's DVD includes a "Classic Style" sepia tone opening, four sing-along videos, a 16:9 transfer and 5.1 Dolby Digital sound.
MPI New Releases: Culinary aficionados will find Erika Frankel's documentary KING GEORGES (77 mins., 2015) to be a delight. This portrait of French chef Georges Perrier was supposed to profile the closing and sale of his Philadelphia restaurant Le Bec-Fin, but instead looks at Perrier's efforts to hire a new chef and keep his cuisine going in spite of contemporary tastes. A delicious effort now on DVD from MPI offering the trailer, 16:9 transfer and 5.1 sound…New on Blu-Ray from MPI is the latest film from Wim Wenders: EVERY THING WILL BE FINE (119 mins., 2015, Not Rated), starring James Franco as a novelist involved in a fatal car accident. During the fallout he connects with both his girlfriend (Rachel McAdams) and the victim's mother (Charlotte Gainsborough). Wenders fans may be surprised by this decidedly different outing for the director, which is now out on Blu sporting interviews, a behind the scenes segment, the trailer, a 1080p transfer (2.40) and 5.1 DTS MA sound.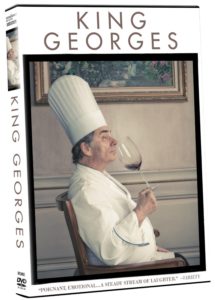 Cohen New Releases: The wild and woolly Icelandic comedy RAMS (93 mins., 2015) makes its North American debut from the Cohen Film Collection about a pair of estranged brothers – fellow sheepherders – who are forced to come together after a disease ravages the land. An interview with Grimur Hakonarson, one of his shorts "Wrestling," the trailer, a 1080p transfer and 5.1 DTS MA audio (Icelandic with English subtitles) comprise the Blu-Ray…Exclusive to DVD from Cohen is Nicole Garcia's GOING AWAY (95 mins., 2013), a French drama about a makeshift family that's – nearly – formed out of a loner teacher, a student he's left in charge with and his mother, respectively. Cohen's DVD includes the trailer, a 16:9 transfer and 2.0 and 5.1 audio in French with English subtitles.
THE BLACK JACKET DVD (95 mins., 2016; Virgil Films): Cinema verite documentary that looks at the day-to-day existence of a non-profit in South Central Los Angeles hoping to stop the violence. The method being employed is a 16-week curriculum adopted by the LA City Council to reach out to gangs through the efforts of ex-gang members and community outreach workers. Virgil's DVD includes a 16:9 transfer and stereo soundtrack.
THE MIDNIGHT AFTER DVD (121 mins., 2014, Not Rated; Well Go USA): Hong Kong horror film finds 16 strangers packed on a bus after people vanish from the city around them, while men in gas masks can be seen tending to instantly decaying dead bodies. A big hit in its native land, "The Midnight After" comes to DVD from Well Go offering a 16:9 transfer and 5.1 audio in Cantonese with English subtitles.
NEXT TIME: Twilight Time and Olive new releases! Until then, don't forget to drop in on the official Aisle Seat Message Boards and direct any emails to our email address. Cheers everyone!