James Wan's arguably even more confident follow-up to his 2013 horror smash, THE CONJURING 2 (***½) isn't just a superior sequel: it's one of the creepiest, and all around most-satisfying, supernatural thrillers since the original "Poltergeist." Bucking the trend of disastrous horror follow-ups like "The Exorcist II" and "Poltergeist III," Wan here tackles the controversial "Enfield Haunting" of the 1970s, wherein a working class British family was allegedly attacked by a poltergeist, garnering worldwide media attention in the process.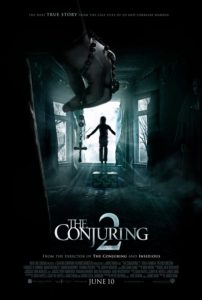 There's considerable debate over whether or not the case was a hoax, but frankly, as a film, reality takes a secondary concern when Wan is in such virtuoso control over a sequel that, in some facets, is even more satisfying than its predecessor.
Vera Fermiga and Patrick Wilson reprise their roles of Lorraine and Ed Warren, the husband-and-wife team of paranormal investigators, who are asked by the Catholic Church to investigate the claims of the Hodgson family. With other investigators both convinced and skeptical of the family, the Warrens arrive to find a group at the least emotionally tormented by the apparent breakdown of the youngest daughter in the single-mother raised clan: an 11-year-old named Janet, who serves as the vessel for the haunting. Plagued by sleepwalking and tormented visions of an old man still living in their home, Janet (a strong, natural performance from young American actress Madison Wolfe) becomes an exhausted, emotionally broken girl at the center of the inexplicable events occurring in their home – moving furniture and frightening conversations chief among them.
For the Warrens, the haunting comes at a time when Lorraine is frightened by visions of her husband's death, as well as a demonic presence – in the guise of a blasphemous nun apparition – that has been associated with her nightmares since the couple took on the Amityville case. Undaunted, the duo travel to England to lend assistance to a situation that's becoming increasingly volatile – and disturbing.
"The Conjuring 2″ is compelling and creepy from its first frames to its satisfyingly restrained fade-out (no last-second twist here). Wan takes the proper amount of time setting audiences up for the haunting, unfolding the scenario brilliantly with a running time that's leisurely but never dull. In fact, the mood and atmosphere of the early scenes are every bit as chilling as the more overt scares that eventually follow: even the scene of the youngest Hodgson boy walking down the stairs, late at night, to get a drink of water carries an eerie and disturbing vibe. Wan connects the Hodgsons' plight with the Warrens' family situation perfectly, and effectively uses a recurring motif of blindness – or at the least being unable to see clearly – as a metaphor for the Warrens' eventual solution to the case. The picture also feels slightly less "gimmicky" than its predecessor, which as effective as it was, felt a bit gratuitous when less would've been more; here, the R rating is basically for intensity as the picture carries scant violence or gore.
Of course, what truly works in the film are the scares, and there are plenty of them, as well as a number of brilliant directorial touches on Wan's part. The sequence in which Ed Warren "interviews" Janet for the first time, with her stationed, out of focus, on the right hand side of the frame, is bravura filmmaking, with Janet's guise transforming into that of an old man and back again – but always softly conveyed, right out of the line of clarity. The sound design and music are also outstandingly rendered, making for not just one of the best films of the summer, but one of the finest ghost stories produced for the screen altogether. (134 mins., R)
INDEPENDENCE DAY – RESURGENCE (**½): The latest trip down Sci-Fi Memory Lane finds those damned extraterrestrials returning to Earth to finish what they started in 1996 – back when director Roland Emmerich's "Independence Day" became one of the most popular films of the decade. Twenty years later, the long lines have dissipated, and likely most of the enthusiasm among movie-goers faced with yet another belated re-quel (part remake, part sequel) that at least carries its predecessor's sense of humor along with it.
To his credit, Emmerich – reuniting here with long-time producing partner Dean Devlin for the first time since "The Patriot" – has cobbled together an agreeable enough continuation set in a bizarre "alternate Earth" where the countries of the world have united since extinguishing the initial threat, and alien tech has made things like space conquest and intercontinental travel a piece of cake.
Scientist Jeff Goldblum is now working in a high-level cabinet position for current president Sela Ward, while old Pres Bill Pullman is haunted by visions of aliens past – or is it present? The arrival of a new extraterrestrial ship immediately sends off a mental signal to Pullman's Thomas Whitmore, while military commander William Fichtner leads a squadron of young hotshots into orbit to combat the menace. These include Thor's brother, Liam Hemsworth, as well as his estranged buddy Jessie Usher, playing the son of Will Smith, whose now-deceased character makes a number of cameos…in a photograph. While "the kids" take the fight directly to the skies, more fun is had on the ground in Area 51 where Goldblum's character partners with a former flame/colleague (Charlotte Gainsbourg) and Brent Spiner's returning Dr. Brakish in trying to crack an enigmatic sphere and decipher a message that may just be from a different group of aliens altogether.
"Independence Day: Resurgence"'s weakest attributes come through its attempts to shoehorn in characters and references to its predecessor, especially early on. Were cameos from Vivica A. Fox and the late Robert Loggia absolutely necessary? Perhaps some of Fox's work was left on the cutting room floor (the film runs two hours, shockingly lean for an Emmerich film), but either way, the overly contrived set-up comes off feeling like "Sequelitis" while leaving massive plot holes in its wake (like how or why Hemsworth decides to go and pick up Goldblum's party for a trip to the moon). Even the central disaster sequence doesn't have nearly the impact of the original's big-ticket destruction moments, though Goldblum amusingly notes the aliens still "like the landmarks."
Then again, perhaps Emmerich felt that belaboring the destruction, and blowing up the planet a second time, wasn't worth all the trouble – and that's where "Resurgence" has some tricks up its sleeve. The climax is deliriously amusing as Goldblum, his forever-meddling dad (a returning Judd Hirsch) and a school bus full of kids try and swerve away from the alien's queen in a crisply-executed chase sequence that's easily the film's most entertaining set-piece. No less enjoyable, though, are simply seeing old pros Goldblum and Spiner (given much more to do here) having a good time, rolling their eyes as they attempt to save the world – again – in a throwback genre exercise.
"Resurgence" does feel as if it had been overly "massaged" in the editing room, with Emmerich and Devlin trying to cram a handful of different characters and storylines into a single two-hour film (with a wide-open tag for another sequel). Still, their positive messages, noble intentions – most of the characters who survive have completed arcs – and the film's disarming sense of humor make it a perfectly serviceable summertime diversion…nothing more, nothing less. (PG-13, 120 mins.)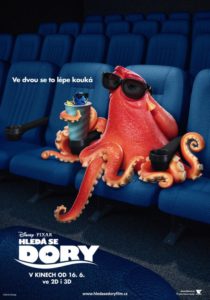 FINDING DORY (***): Engaging – if predictably less inspired – sequel to arguably Pixar's finest feature, "Finding Nemo," turns the spotlight to Dory, the short-term memory loss-afflicted companion (voiced by Ellen DeGeneres) of Nemo and dad Marlin. Set a year after the events in its predecessor, Dory here attempts to retrieve her past and find the parents she lost as a child – and in so doing, sets in motion another trip spanning the ocean floor. Key among the ingredients in this sequel journey are a Bay Area aquarium where Dory's parents still reside, as do a cantankerous octopus (voiced by Ed O'Neill) named Hank – easily the follow-up's most appealing new character – plus a near-sighted whale and some lazy sea lions.
The beginning of "Finding Dory" suffers a bit from a case of "Sequelitis," as the movie tries to shoehorn in a reprisal of past characters while introducing a similar narrative structure that feels overly calculated. Once it gets going, though, the film is charming enough – especially for kids – offering often mild laughs and a still appealing set of characters, with the addition of Hank, a virtual shape-shifting octopus who just wants to head off for the safe confines of an aquarium…in Cleveland.
Beautifully animated, "Finding Dory" nevertheless, and understandably, lacks the inspiration of "Nemo." It's not nearly as funny and the film has a handful of climaxes that comprise nearly its entire second half – yet it's still good-natured fun. In a summer of mostly disposable releases, that's enough to keep it afloat.
---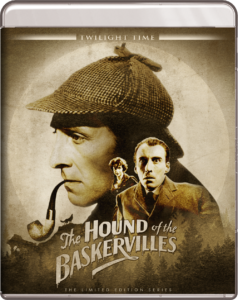 Twilight Time New Limited Edition Blu-Ray Releases
THE HOUND OF THE BASKERVILLES (86 mins., 1959): One of the finest hours of Hammer Films, the company's one and only Sherlock Holmes adventure is a perfect blend of the studio's Gothic atmosphere with Conan Doyle sleuthing. Christopher Lee stars as Sir Henry Baskerville, afflicted with the family curse after he inherits the old ancestral Baskerville estate; to the rescue comes Peter Cushing as Holmes with Andre Morell as Dr. Watson, performing the role with far less comedic effect than Nigel Bruce ever did.
Gloriously shot in Technicolor, "The Hound of the Baskervilles" is unquestionably one of the best Hammer films from its "classic" era: Peter Bryan's tight script serves as a splendid adaptation of its source material while director Terence Fisher and Hammer veterans up and down the line back up the story with abundant atmosphere and excitement. There's a vitality in all of the performances as well, particularly Lee, who seems positively exuberant breaking free from his "Monsters" parts in what Julie Kirgo points out was one of the only "leading man" roles of his entire career.
It's a hugely entertaining and highly repeatable film that Twilight Time has provided a strong Blu-Ray presentation of, from its 1080p (1.66) transfer from occasionally varied elements, to its 1.0 DTS MA mono audio. Chief among the disc's special features are two historian commentaries that are thoroughly listenable – one featuring Lee Pfeiffer, Paul Scrabo and Hank Reineke, the other with David Del Valle and Steven Peros – each taking viewers back to Hammer's heyday and the production of the picture. "Actor's Notebook: Christopher Lee" offers an archival conversation with the late star, while the actor also reads excerpts from the novel in an accompanying special feature. An interview with "Hound Mask Creator" Margaret Robinson runs 15 minutes, while the trailer and an isolated music/effects track rounds out the disc.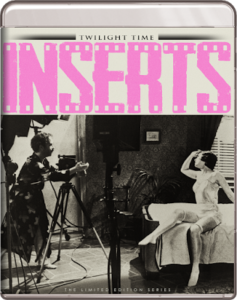 INSERTS (115 mins., 1975, NC-17 [Originally X]): Now here's an obscure offering perfect for curious cinephiles.
Shortly after appearing in "Jaws," Richard Dreyfuss starred in this pretentious, sleazy, but somehow still compelling film as "Boy Wonder," a downtrodden filmmaker in the 1930s who couldn't make the transition from silents to talkies. Now saddled with making one of the cinema's earliest excursions into erotica, "Boy Wonder" has to juggle an icy leading lady (Veronica Cartwright), a gangster (Bob Hoskins) and his moll (Jessica Harper), and "Rex the Wonder Dog" (Stephen Davies) in order to crank his production out.
Originally X-rated (and still NC-17 by today's standards), "Inserts" looks and feels like a filmed play, even though writer-director John Byrum's script was penned for the screen. The movie is fun and shocking for a while, but eventually sinks under Byrum's pretentiousness and the plastic, '70s dialogue and mannerisms that date the picture badly.
Nevertheless, "Inserts" was a film that had been out of circulation for years until a 2005 DVD brought it back in print (the disc was released during that very brief period when MGM's catalog films were being distributed by Sony). Dreyfuss aficionados may find Twilight Time's Blu-Ray to be of interest: the full-length 115 minute international cut is included here (the U.S. apparently received a shortened R-rated version), along with a theatrical trailer and music/effects track. Both transfer and sound are superb on a film that isn't for all tastes – but will prove to be compelling for those viewers who take to it.
ROLLERBALL (125 mins., 1975, R): One of numerous '70s dystopian future films, Norman Jewison's "Rollerball" is only separated from the release of Ridley Scott's "Blade Runner" by a scant seven years. In terms of their cinematic language, though, this plastic and painfully simplistic take on a violent professional sport – being played in a future world run by large corporations – bears more in common with "The Brady Bunch" than Scott's groundbreaking sci-fi classic.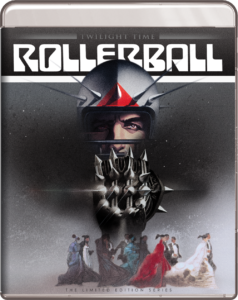 In a detached and seemingly disinterested performance, James Caan plays "Jonathan E," a futuristic gladiator who takes part in the bloody game of Rollerball – a cross between roller derby and football, played to throngs of fans around the globe. The corporation overseeing the contest wants the popular player to retire from the game, and when Jonathan opts not to, they begin to change the rules – making for a deadlier and even more explicitly violent contest than before. Undeterred, Jonathan stays the course, even as the game itself takes on life-threatening proportions as the "evil company" seeks to diminish the importance of individual achievement.
Sterile and cold, "Rollerball" fits right alongside its decade's "dreary future" movies like "Soylent Green" and "The Omega Man" among others. Meaning, William Harrison's story might be set in the future, but it's a world seen through the prism of the 1970s – complete with drab, uninteresting cinematography. Jewison produced a variety of memorable films throughout his career but "Rollerball" struck me as a curiously dispassionate piece of filmmaking, capped by a straightforward story that offers scant surprises. The game sequences do pack a potent visceral punch, but everything else about the movie is bland and uninteresting, with nobody to root for.
Backing up Caan are a number of familiar faces: John Houseman makes the most of his trademark "greedy businessman" role, though his part is as obvious as it sounds; John Beck essays Caan's best friend on the team; Robert Ito, Burt Kwouk and Shane Rimmer appear in small parts; Ralph Richardson essays "The Librarian"; and both Pamela Hensley (future "Buck Rogers" ingenue) and Maud Adams pop up, though the latter's appearance, despite her third billing, is essentially relegated to the final half-hour. None of the actors, though, are able to make an emotional impression on a picture that should've been appreciably more exciting given its premise, cast and director.
Aficionados of "Rollerball," at least, should still be thrilled with Twilight Time's Blu-Ray (a reprise of its sold-out 2014 release): the MGM licensed 1080p (1.85) transfer crisply captures the mostly claustrophobic trappings of the picture, which mostly look as prefabbed as a '70s TV sitcom. Both the original mono audio and an effective 5.1 DTS MA remix are included, along with decent extras: two commentaries (one from Jewison, another from Harrison), featurettes, TV spots, trailers, and an isolated score track of Andre Previn's heavy-handed use of classical music.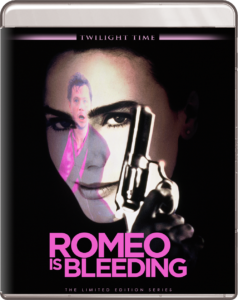 ROMEO IS BLEEDING (110 mins., 1993, R): I'm not sure what it was about some of Gary Oldman's early performances but there's a nagging feeling I often get watching the likes of, say, "Criminal Law" or "Romeo is Bleeding" that the actor was trying too hard. That's certainly not the only issue, though, with this unsatisfying 1993 "quasi-noir" about a corrupt cop (Oldman, in a leering, smug performance) who unwisely gets between the mob and a femme fatale Russian assassin (Lena Olin). Director Peter Medak's strange career took him from the heights of "The Ruling Class" to the gutter of "Species II" and this picture, which is completely unconvincing, bloody and unsatisfying, right down to its tepid final scene – but might be worth a single view for aficionados of its terrific cast. Wasted are performances from Annabella Sciorra and Juliette Lewis as the other women in Oldman's life, plus Roy Scheider as a mob boss, as well as an atmospheric Mark Isham score and film editing from the great Walter Murch. The MGM-licensed 1080p (1.85) transfer appears to have been derived from an oldish master but offers enhanced detail over its DVD edition, with DTS MA 2.0 stereo sound, the trailer, and an isolated score (with some effects) also on tap.
THE MEMBER OF THE WEDDING Blu-Ray (89 mins., 1952): The first screen adaptation of Carson McCullers' flavorful novel – and subsequent stage play – about a young Southern tomboy whose fantasies about growing up are ultimately contradicted by the harsh realities of life launched Julie Harris' career. Playing McCullers' "Frankie," Harris – despite being 27 when the film was released – repeated her acclaimed Broadway performance in Fred Zinnemann's film version, which also stars the outstanding Ethel Waters, likewise reprising her stage role of the family maid who serves as Frankie's strongest confidant while she enters the tumultuous period between childhood and becoming a woman.
Flavorfully shot and scored by Alex North, "The Member of the Wedding" is, of course, "stagy," and Harris' theatrical performance likely would've been stronger in its original context, but it's nevertheless a finely acted piece of work that's been enhanced thanks to Twilight Time's features-packed limited edition Blu-Ray. Two commentaries – one from singer/McCullers admirer Suzanne Vega and historians Derek Botelho and David Del Valle; the other with McCullers biographer Virginia Spencer Carr – are included along with two featurettes, an introduction from producer Stanley Kramer's widow, Karen, plus the trailer, an isolated score track, a strongly detailed 1080p (1.33) B&W transfer and DTS MA mono audio.
THE PANIC IN NEEDLE PARK Blu-Ray (109 mins., 1971, PG): Al Pacino's early performance as Bobby – a New York City junkie who lures Helen (future "Exorcist" co-star Kitty Winn) into his web of heroin dealing and addiction – is the defining element of director Jerry Schatzberg's 1971 drama. In his second feature appearance, Pacino gives a natural performance in a film that captures the griminess of the Big Apple in the early '70s and its blossoming drug culture; it's a still-relevant, atmospheric piece of work, produced by Dominick Dunne, whose brother, John Gregory Dunne, co-wrote the film with Joan Didion. Twilight Time's Blu-Ray boasts an excellent 1080p (1.85) AVC encoded transfer and DTS MA mono audio, two featurettes, the trailer, and an isolated music track (with some accompanying notes) featuring an unused score by Ned Rorem, later reworked in his Pulitzer Prize-winning piece "Air Music."
---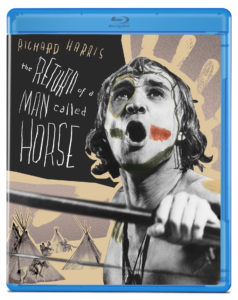 Olive Films New Releases
After the success of "A Man Called Horse," Richard Harris returned several years later for the United Artists-funded sequel THE RETURN OF A MAN CALLED HORSE (**½, 126 mins., 1975, PG), a workmanlike follow-up that finds Lord John Morgan returning to the Yellow Hand Sioux – who have been decimated by poachers, backed by the U.S. government, looking to take their land.
With director Irvin Kershner settling in behind the camera alongside the great cinematographer Owen Roizman ("The Exorcist," "The French Connection"), "Return of a Man Called Horse" has the look of quality…but that quality does not, regrettably, extend to its script, penned by Jack DeWitt, who also wrote the original (from a Dorothy M. Morgan story that was first published in the '50s). Very little happens in this film despite its bloated running time: the tribe is attacked, Morgan leaves England, then rejoins his adopted people (despite no other returning cast members) just in time to participate in yet another prolonged "initiation" sequence that's at least not as gory as its predecessor's. By the time all of this "action" takes place, there's under an hour left for Morgan to rally the Sioux against the evil white trappers, who are as developed as your typical comic book villains. That superficiality extends to the portrayal of Morgan himself, whose motives are scarcely articulated outside of him needing to go on another "vision quest" after being bored living in Merry Ole England.
What truly does prove inspiring in the film is Laurence Rosenthal's glorious score. Backed by a flowing, melodic main theme, Rosenthal's spectacular effort features a handful of standout highlights, from underscoring Morgan's mutilation sequence to a rousing Buffalo Hunt cue. It's one of the composer's finest works and aids the sometimes lumbering nature of the picture at every turn.
Ultimately, while "Return" has its fans (some of whom think this is a superior sequel), it's a flawed if well-intentioned affair that gets by on the mileage of its score and cinematography – but not a whole lot more.
Making its Blu-Ray debut from Olive Films, "The Return of a Man Called Horse" features a colorful and detailed 1080p (2.35) AVC encoded transfer from the MGM vaults. The last time the film was issued on home video it was in a poor DVD release from MGM that looked to have been derived from an ancient, standard-definition laserdisc master. It wouldn't take much for the disc to be an improvement, and the Blu-Ray is certainly that – without an overt use of DNR and enhanced detail – even if some sections still seem a bit noisy.
Even more impressive is the surprisingly robust stereo soundtrack. Presented in a two-channel DTS MA mix, Rosenthal's music soars with clear separation and detail, along with discrete sound effects. I don't recall the mix being this noticeable in its prior releases, but it's truly the strongest attribute of Olive's package, which is rounded out with the theatrical trailer.
A pair of '60s comedies also drop on Blu-Ray this month from Olive.
IF IT'S TUESDAY, THIS MUST BE BELGIUM (***, 99 mins., G) is an enjoyable travelogue comedy – and cinematic time capsule of its era – that chronicles a group of American tourists on a trip from London to Rome.
This David Wolper production populates its cast not with "A-listers" but rather numerous character actors – Mildred Natwick, Murray Hamilton, Michael Constantine, and Norman Fell among them – as some of the harried travelers on the 18-day journey, while Suzanne Pleshette nabs top billing as a single American woman who eventually tickles the fancy of the group's British guide, played by none other than a young Ian McShane. A number of "Guest Stars" range from Senta Berger and John Cassavetes to Joan Collins, Robert Vaughn and Anita Ekberg, not to mention singer Donovan, who also performs a pair of original songs.
A light and frothy production directed by Mel Stuart, "If It's Tuesday… was followed by an NBC Movie of the Week sequel with '80s sitcom actors two decades later. Olive's no-frills Blu-Ray is mastered from a passable, oldish looking MGM master (1.85) with DTS MA mono audio and the trailer.
One of Bob Hope's more watchable '60s comedies, I'LL TAKE SWEDEN (**½, 97 mins., 1965) stars Hope as a widowed oil company executive who gladly takes a job overseas in order to keep his daughter (Tuesday Weld) away from her beach-loving crooner boyfriend (Frankie Avalon). Dina Merrill co-stars in a film that saw Hope trying to broaden his appeal to younger audiences via the casting of Weld and Avalon – the results are predictably quaint under the direction of future "Tonight Show" helmer Fred De Cordova, but it's not an unappealing proposition for buffs to sit down with Hope and "the kids" for an hour-and-a-half of mindless rom-com nonsense.
Again culled from an older looking MGM master (1.85), Olive's Blu-Ray looks pretty solid and includes the trailer.
---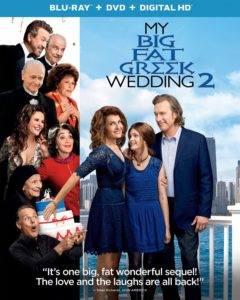 Also New on Blu-Ray
MY BIG FAT GREEK WEDDING 2 Blu-Ray Combo Pack (**½, 94 mins., 2016, PG-13; Universal): Belated, but generally agreeable, sequel to the 2002 smash (people forget it grossed $240 million in the U.S.!) finds Nia Vardalos' Toula still in love with hubby Ian (John Corbett), but squabbling over raising a teen daughter (Elena Kampouris) who, predictably, wants to break away from their tight-knit Greek family and its sometimes overbearing, meddling nature – especially where Mom is concerned. Vardalos' script is predictable and sitcomish – but so was the original film, making this a not-awful way to kill off 90 minutes, especially if you're a fan of its predecessor. Universal's Blu-Ray combo pack is pretty light on extras – just three featurettes are on-hand – and also includes a Digital HD copy, 1080p (2.40) AVC encoded transfer, 5.1 DTS MA sound and a DVD.
SEARCH PARTY Blu-Ray (*½, 93 mins., 2013, R; Universal): "Road Trip"/"Old School" scribe Scot Armstrong directed this comedy about a trio of friends ("Silicon Valley"'s T.J. Miller and Thomas Middleditch, Adam Pally) who follow Miller's ex-fiancee (Shannon Woodward) down to Mexico after she leaves him stranded at the altar. A series of raunchy, and mostly unfunny, events transpire thereafter in "Search Party," a film that's been gathering cobwebs on the shelf since being filmed in 2012 (!) and is only now being issued directly to video. Perhaps that's because of the recent success of Miller and Middleditch in their hilarious HBO series, but "Search Party" itself offers scant evidence of their chemistry, not to mention failing to support either comedian or a talented supporting cast – also including Alison Brie and Krysten Ritter – with material that's actually funny. Universal's Blu-Ray includes a Digital HD copy, 1080p (2.40) transfer, 5.1 DTS MA audio and a Digital HD copy.
ANESTHESIA Blu-Ray (90 mins., 2014, R; IFC/MPI): Provocative drama written and directed by actor Tim Blake Nelson – who also appears in the cast – stars Sam Waterston as a Columbia professor attacked on the street. From there, Nelson flashes back a week and connects the dots between a series of seemingly unrelated characters, including a self-destructive student (Kristen Stewart) and a housewife (Gretchen Mol), before tying them together at the end…sort of. Glenn Close, Corey Stoll and Gloria Reuben also appear in Nelson's 2014 film, now on Blu-Ray from IFC featuring the trailer, a 1080p (1.85) transfer and 5.1 DTS MA sound.
---
On DVD
JOSEPH AND MARY DVD (83 mins., 2016; Cinedigm): Low-budget Biblical drama stars Kevin Sorbo and Lara Jean Chorostecki as the lead characters in this Canadian-lensed production, co-executive produced by actor John Rhys-Davies. Cinedigm's DVD, out July 5th, includes a 16:9 transfer and 5.1 Dolby Digital sound.
THE FAMILY FANG DVD (106 mins., 2015, R; Anchor Bay): Sophomore directorial outing for Jason Bateman proves to be nearly as unsatisfying as his debut work, 2014's "Bad Words." This barely-released affair stars Bateman and Nicole Kidman as siblings who are forced to reconnect after their eclectic, performance-artist parents (Christopher Walken, Maryann Plunket) go missing. David Lindsay-Abaire adapted Kevin Wilson's novel and Bateman assembled a top-notch team behind him, including composer Carter Burwell, but "The Family Fang" is unappealing and dull, with off-putting characters who fail to engage the viewer. Anchor Bay's DVD includes a commentary with Bateman, 16:9 (2.40) transfer and 5.1 Dolby Digital sound. (Available July 5th)
WORKAHOLICS – Season 6 DVD (210 mins., 2016; Paramount): Adam, Blake and Ders are back for the latest season of the popular Comedy Central series; Paramount's DVD includes its complete sixth season with extra features like bloopers, deleted scenes, "Drunkumentaries" on all episodes, 16:9 transfers and 5.1 Dolby Digital soundtracks. Now available.
NEXT TIME: Shout's latest and more! Until then, don't forget to drop in on the official Aisle Seat Message Boards and direct any emails to our email address. Cheers everyone!