Kicking off the 4th of July fireworks this year is Kino Lorber's "42nd Anniversary Edition" of Joseph Sargent's tense, terrific 1974 thriller THE TAKING OF PELHAM ONE TWO THREE (****, 105 mins., R). For those unfamiliar with this classic New York City-set picture, Walter Matthau stars as a subway transit chief plunged into a terrorist situation when a trio of armed robbers (led by Robert Shaw, just before he set sail in "Jaws") take hostage of a subway train. Shaw's plan? Extortion, of course, but despite being assisted by Martin Balsam and Hector Elizondo, Matthau has a few tricks up his own sleeve that prove to be a bit more than the terrorists can handle.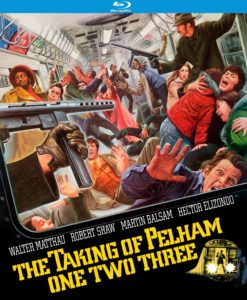 Since this movie was released a short time before I was born, my first viewing of Sargent's film came via MGM/UA's letterboxed laserdisc back in the '90s. To put it mildly, this is what some critics rightly deemed a crackerjack thriller, with smart dialogue (kudos to author/playwright Peter Stone for his literate adaptation of the John Godey book), great performances, gritty, realistic atmosphere, and a pulsating score by David Shire, used in bits and pieces in the film, that ideally complements the emotionally charged story.
"Pelham" was released a few years ago in a rock-solid MGM Blu-Ray, and Kino Lorber's release appears even more detailed – if that's possible – with its 1080p (2.35) transfer that captures the movie's time and place flawlessly. This is a well-composed Panavision film that absolutely requires widescreen in order to fully appreciate, and the 2.0 DTS MA mono sound is also well-executed.
Extras are where Kino Lorber's release truly shines over the MGM disc. Three new interview featurettes, running between 10-15 minutes each, offer fresh HD conversations with David Shire, Hector Elizondo, and editor Jerry Greenberg. Elizondo's talk should be of the main interest for fans, as he has fond memories of working with his colorful cast members in a New York City that was, in reality, even grungier than it appears in the film (the Transit Authority would not let the filmmakers shoot in a graffiti-adorned car or tunnel, for example). Shire discusses the genesis of his jazz-infused score and how his approach differentiated from the likes of, say, Lalo Schifrin's scores from that era. The nifty theatrical trailer is included along with a new "fan commentary" from actor Pat Healy and his brother, film historian Jim, that's breezy and fun to listen to, even if there may not be anything revelatory discussed within it.
If you've never"Pelham," by all means make this a must-view — and stay tuned for the movie's tremendous final scene, with its great freeze-frame last shot and Shire's end credits music making for a marvelous piece of '70s cinema.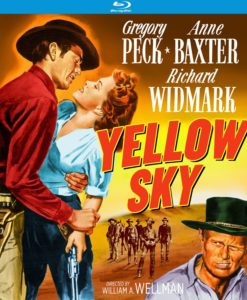 Also new to Blu-Ray this month from Kino Lorber:
YELLOW SKY (***, 1949, 98 mins., Fox): Exciting William Wellman western offers Gregory Peck as a bank robber on the lam who, along with his cohorts (Richard Widmark and Harry Morgan among them), stumbles upon a small, isolated town where an old man and his granddaughter (Anne Baxter) are secretly mining gold. Excellent cinematography from Joseph Macdonald and a creepy, villainous turn from Widmark make "Yellow Sky" a must-view for western fans. Kino Lorber's new 4K remastered transfer looks terrific with perfect contrasts and exceedingly strong detail. The DTS MA mono audio is also excellent, with the film eschewing music almost completely (music from Alfred Newman's "Brigham Young, Frontiersman" is used over the credits), while a commentary with Wellman's son, William Wellman, Jr., comprises the supplemental side along with a trailer.
Another Wellman western classic, THE OX-BOW INCIDENT (***½, 75 mins., 1943) has also received the 4K restorative treatment from Fox and Kino Lorber. Henry Fonda and Henry Morgan play a pair of cowboys who ride into trouble – of the mob posse kind – when a popular rancher is murdered by suspected cattle thieves and the nearby Nevada townspeople want revenge at any price. Wellman's direction is tight in this short and to-the-point tale of western vengeance and morality, co-starring Dana Andrews and Anthony Quinn. Commentary from William Wellman, Jr. and western scholar Dick Eulain is included in Kino Lorber's Blu-Ray along with a restoration demo, the trailer, and "Henry Fonda: Hollywood's Quiet Hero" documentary. Similar to "Yellow Sky," the 1.33 B&W transfer is finely detailed and in excellent shape given its vintage.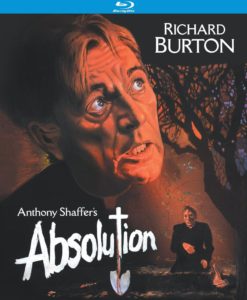 ABSOLUTION Blu-Ray (**, 95 mins., 1978, R): Compelling yet ultimately disappointing thriller from "Sleuth"/"Wicker Man" author Anthony Shaffer stars Richard Burton as a Catholic priest involved with a pair of problematic students (Dominic Guard, Dai Bradley) whose extra-curriculars eventually involve cold-blooded murder. Though not written as a play, "Absolution" at its best functions as a stage-like experience, with a fiery Burton wedged inbetween the students and what initially starts off as a prank. Eventually, the priest's mounting suspicions come to pass, even if he can't quite tell which student is to blame.
"Absolution" is thoroughly watchable because of Burton, mainly, but it's directed in such a pedestrian manner by Anthony Page that there's little tension generated as its story unfolds. What's worse, the bitter and unnecessarily cruel ending comes off as a virtual anti-Catholic diatribe on the part of the author, resulting in a film that's ultimately less than the sum of its parts.
"Absolution" was a problematic production that ended up in litigation between its producers and financiers, delaying its release by a couple of years in the UK and nearly a decade in North America. When the film was finally released to home video in 1988, Burton had already died some four years prior, making it his "final role" for many viewers in the U.S.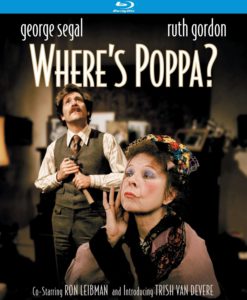 Kino Lorber's Blu-Ray boasts a brand-new 2K restoration of the film. The print used looks extremely well detailed, though the colors seem stronger in the movie's theatrical trailer (also included here). The DTS MA mono audio has its share of clicks, thumps and "hiss," as well as a Stanley Myers score with banjo music contributed by co-star Billy Connolly, playing the hobo who sets the film's plot in motion.
WHERE'S POPPA? Blu-Ray (**½, 82 mins., 1970, R): Before he wrote the horrific "Alzhiemer's comedy" "Folks!" some 20 years later, writer Robert Klane took on a meddling, elderly mother causing trouble for her son in "Where's Poppa?" This adaptation of Klane's novel – scripted by the author and directed by Carl Reiner – is mostly a strident commentary on its era, with George Segal starring as an unwed attorney who can't seem to find the right woman. Eventually, he does, in the form of a not-entirely competent nurse (Trish Van Devere), only to run into continual interference from his nutty mom (Ruth Gordon), with whose care she's been entrusted.
"Where's Poppa?" is a strange, weirdly paced, at-times incomprehensible "comedy" that's so in-tune with its era that it doesn't make for an especially accessible picture to engage with today. The performances – by Segal and Gordon especially – are certainly spirited but the tone and raunchy humor come off as mostly dated and occasionally cringe-inducing. At the least, comedy fans should find its cast of note, with Ron Leibman, Bernard Hughes, Rob Reiner, Garrett Morris, Vincent Gardenia and Paul Sorvino being a few of the familiar faces who appear throughout the movie's tidy 80-minute running time.
Kino Lorber's Blu-Ray has been newly sourced from a print that often shows its age, but at least hasn't been molested with DNR. The film itself contains the movie's "happy" ending, while an arsenic-laced alternate ending – that would have made the picture even more unpalatable – is included, also in full HD, as an extra. A pair of trailers, trying hard to sell the film on the merits of its then-cutting edge, black-comic nature, round out the disc. (Available July 19th)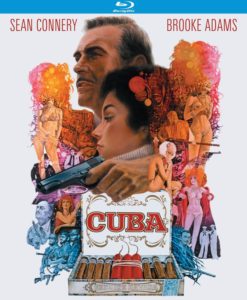 CUBA Blu-Ray (**½, 122 mins., 1979, R): Disappointingly limp, yet still thoroughly watchable, box-office disappointment was one of many non-Bond leading man flops for star Sean Connery.
Richard Lester's 1979 look at the final days of Cuban life at the end of the Batista regime places British mercenary Connery in the line of fire, hired to train soldiers to squash Castro's rebels while gradually realizing that his – and their – time is about to come to an end. However, his dreary relationship with a former lover (Brooke Adams), the wife of a philandering Cuban businessman (Chris Sarandon), comprises the bulk of the running time in this United Artists release, which is long on mood and atmosphere but short on dramatic tension and suspense. What's worse, the film's hugely unsatisfying ending – clumsily channeling "Casablanca" – negates whatever positive build-up the movie generates during its first half.
Shot in Spain with a stellar supporting cast (Jack Weston as an American businessman; Hector Elizondo, Martin Balsam, Denholm Elliott, Lonette McKee), "Cuba" was a big bust for both Lester and Connery, but it's not entirely a washout, mainly due to its technical craftsmanship and Connery's lead performance.
Kino's Blu-Ray is sourced from a somewhat older MGM transfer, which is crisply detailed but somewhat weak, and washed out, in the color department; the original trailer, despite its rough condition, favors much warmer hues. The DTS MA mono audio is adequate.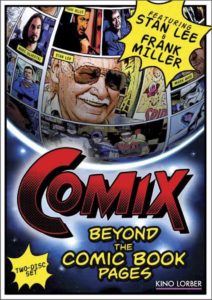 Also new from Kino Lorber on DVD are a pair of fascinating new documentaries:
SKYLINE (74 mins., 2015) provides look at Dr. Bradley Edwards, an astrophysicist whose plan to build an elevator into outer space was presaged back in the '70s by an Arthur C. Clarke novel. Edwards' work with NASA, raising money and establishing relationships with both the science community and private sector make for an interesting if superficial production from Miguel Drake-McLaughlin and Jonny Leahan. The 74-minute doc feels like it only skirts the surface at times in terms of the history involved with the project, but science buffs may be compelled nevertheless. Kino's DVD, out July 19th, includes eight deleted scenes and the trailer.
Michael Valentine's COMIX (85 mins., 2016) provides, appropriately enough, a valentine to the modern comic book phenomenon, from conventions to the art form itself. Stacked with interviews from luminaries like Stan Lee and Frank Miller, "Comix" traces the evolution of the comic book to its current incarnations and "Cosplay" universe, which draws fans in all their full-fledged regalia to conventions worldwide. Kino's double-disc set includes extended scenes and outtakes, plus unedited, hour-long interviews with Lee and Miller, a 16:9 transfer and 2.0 Dolby Digital sound.
Finally, making its Blu-Ray debut is NAPOLI NAPOLI NAPOLI (106 mins., 2009), eclectic auteur Abel Ferrara's meditation on the Italian city. Here, the director uses the journey of a young woman through its streets as a vessel for a weird "docu-drama" that offers fragments of story lines involving prisons, drug dealers and other issues that plague Naples today – yet the fact that it veers from fact to fiction may end up displeasing, if not frustrating, documentary buffs as well as Ferrara's typical fan. Shot in 2009 and only now making its home video debut, Raro Video's Blu includes a 1080p transfer (newly mastered), the trailer, newly translated English subtitles, and a 33-minute "Backstage" featurette.
---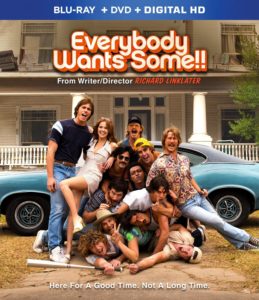 New & Noteworthy
EVERYBODY WANTS SOME!! Blu-Ray (***, 117 mins., 2016, R; Paramount): Richard Linklater's spiritual-sequel (of sorts) to "Dazed and Confused" is set in the '80s, where a freshman pitcher (Blake Jenner), joining the baseball team of a Texas university, finds himself experiencing the different dimensions of college life, even before his first class: groups ranging from punks to theater geeks, and lots and lots of drinking and girl chasing along with his teammates…across every social plain of existence.
Though unrelated to "Dazed and Confused" in terms of its characters and setting, "Everybody Wants Some!!" is the closet Linklater has gotten to capturing that film's appeal since its release: this is a laid back, often hilarious, "observational comedy" that's filled with young talent and a strong sense of time and place. There's not much plot, but that's also part of the film's strength: there's no silly storyline propelling the team's antics, just Jenner's initiation into the team and opening himself up to the various experiences college – not high school – can provide.
All along, Linklater seasons the film with characters who aren't mere stereotypes, but people who are likely similar to folks you went to school with way back when. All throughout the movie, I kept remembering faces from my college days – the names have long since faded from memory – as Linklater has captured what it means to live with people of different personalities and perspectives in a setting like college (be prepared to think to yourself, "oh, I remember THAT guy!"). The different characters on the team are wonderfully embodied by a young cast that includes Jenner, Glen Powell, and Tyler Hoechlin, while Zoey Deutch is the good girl Jenner meets by chance – Deutch in particular projects a sunny presence on-screen, no surprise given her real-life mom is Lea Thompson.
There may be some viewers who won't take to "Everybody Wants Some!!" – and indeed, the film failed completely to find an audience in a brief, limited theatrical release this past spring – but those who do are likely to be fully satisfied with it. This is a raunchy and yet not profane picture that portrays its characters – of all stripes – without judgment but with an ample amount of good humor. At a time when movies like this are becoming an endangered species, its mere presence is cause for celebration.
Paramount's Blu-Ray combo pack includes a flawless 1080p (1.85) transfer and DTS X audio that gave me a bit of a problem with dialogue that seemed to be engineered too low at times. Extras include 25 minutes of outtakes/deleted scenes and several featurettes, plus a DVD and Digital HD copy.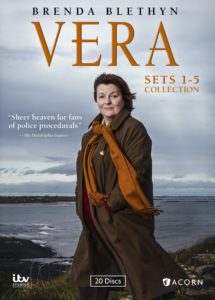 VERA: SETS 1-5 Collection DVD (Apprx. 31 hours, 2010-15; Acorn/RLJ)
VERA: SET 6 DVD (370 mins., 2016; Acorn/RLJ): Brenda Blethyn is a familiar face to both British and American audiences, but in 2010 she scored one of her biggest successes by taking on the role of Detective Chief Inspector Vera Stanhope – the often abrupt but determined heroine from Ann Cleeves' bestselling mystery novels.
Set in the remote, rural county of Northumberland, "Vera" adapts several of Cleeves' novels within the framework of the individual "series," which run a handful (or less) episodes. "Hidden Depths," "Telling Tales" and "The Crow Trap" are a part of the first run of episodes in "Vera," with "Silent Voices" being a straight adaptation of Cleeves' work in Season 2. Season 4 includes an adaptation of "On Harbour Street," with David Leon co-starring as Vera's younger, right-hand man Joe Ashworth; Leon would be replaced by Kenny Doughty's more turbulent DS Aiden Healy in the series' fifth season. The flavorful, atmospheric mysteries give Blethyn the ideal vehicle for her British, female "Columbo" variant, and the high quality of the writing and performances should make them a must for mystery fans.
Acorn has compiled the first five sets of "Vera" in a brand new compilation on 20 discs. The 16:9 transfers and stereo soundtracks are all exemplary, with photo galleries and text interviews with Blethyn and Leon included as supplements.
Newly available separately from Acorn is Set 6 of the series, which includes an adaptation of Cleeves' novel "The Moth Catcher" as Vera and Aiden tackle more puzzling cases. The four-disc DVD set houses the complete, four-episode sixth set of "Vera" with 16:9 transfers and stereo soundtracks. With a seventh season of the series due next year, this is the perfect time to get caught up with a taut and suspenseful police procedural starring a decidedly British heroine.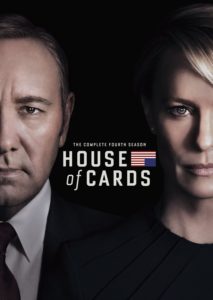 KUNG FU PANDA 3 Blu-Ray Combo Pack (95 mins., 2016, PG; Dreamworks/Fox): At last, the trilogy is complete! Well, kids, at least, ought to be enraptured by this third effort in the Dreamworks series, which has lovable Po discovering a secret village of pandas – clumsy as they are – and promptly training them up to take down the villainous Kai and his supernatural powers. Broad, colorful animation and warmhearted laughs make this third "Panda" a surprising delight, with Fox's Blu-Ray/DVD combo offering two all-new Kung Fu Panda animated shorts; a karaoke feature; featurettes; a Digital HD copy; DVD; and a gorgeous Blu-Ray (2.35) transfer with 7.1 DTS MA audio.
HOUSE OF CARDS Complete Fourth Season [Volume 4] Blu-Ray (646 mins., 2016; Sony): The Fourth Season of the popular Netflix series again places a wedge between Frank (Kevin Spacey) and Claire (Robin Wright), at least at the outset, while a new Republican challenger (Joel Kinnamon) springs up as the devious couple's latest rival. Meanwhile, Claire's mother (Ellen Burstyn) suffers from cancer and Neve Campbell debuts as her assistant, in a season that really opens up for Wright's character. Generally regarded by fans as more satisfying than its prior year, Sony brings "House of Cards"' fourth season (episodes 40-52) to Blu-Ray this week. The Blu-Ray set includes 1080p (2:1) AVC encoded transfers and 5.1 DTS MA soundtracks along with a Digital HD copy and "Underwood 2016″ Campaign Stickers (could he be any worse than either candidate?).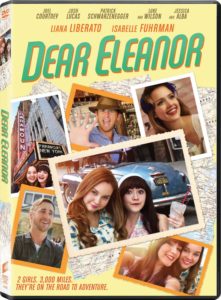 EMMA'S CHANCE DVD (92 mins., 2016, PG; Sony): Family film stars Greer Grammer as a young woman who volunteers at an equine rescue and ends up bonding with an abused horse. From their relationship springs a plan to save the troubled ranch in Anna Elizabeth James' picture, co-starring Anthony Crivello, Lisa Marie Johnson, Joey Lawrence and Missi Pyle. Sony's DVD, out July 5th, includes a 16:9 (1.78) transfer and 5.1 Dolby Digital sound.
DEAR ELEANOR DVD (89 mins., 2016, PG-13; Sony): An old-fashioned period throwback, "Dear Eleanor" is a definite change of pace for "Entourage" veteran Kevin Connolly. Cecilia Contreras and Amy Garcia's original script follows a pair of teenage pals – played by Isabella Fuhrman and Liana Liberato – who decide to take a cross-country trip in order to meet up with First Lady Eleanor Roosevelt. Along the way they – of course – meet a colorful array of folks in this likeable, appealing film co-starring Josh Lucas, Luke Wilson, Patrick Schwarzenegger, Joel Courtney and former leading ladies Ione Skye and Jessica Alba. Sony's DVD includes a pair of commentaries (one with Connolly, another with the writers), a 16:9 (2.39) transfer and 5.1 Dolby Digital sound.
---
Also New From Sony
THE MERMAID Blu-Ray (**½, 94 mins., 2016, R; Sony): China's biggest box-office hit of all-time is a typical product of director Stephen Chow, filled with wild swings of tone. Here, Deng Chao plays a real estate tycoon who gobbles up a lovely coastal property named Green Gulf. Unbeknownst to Chao, the local seas harbor a group of mermaids who intend on preserving their world at any price. Jelly Lin, making a "Special Introduction," is the mermaid sent to seduce Chao, only to have things – predictably – go wrong.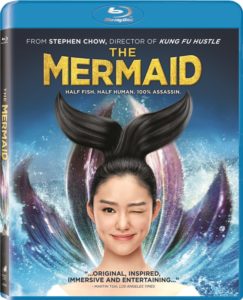 Equal parts lighthearted and serious, playful and violent, "The Mermaid" is colorful and energetic if nothing else, yet this particular Chow outing seems much more suited to its regional base than his other outings like "Kung Fu Hustle." The comedy is so broadly played, and yet the message so seriously rendered – with enough violence to net an R rating – that it's difficult to envision "The Mermaid" finding any kind of mainstream appeal here.
Sony's Blu-Ray does include a vividly rendered 1080p (2.35) AVC encoded transfer with 5.1 DTS MA sound, a music video, two featurettes and a Digital HD copy.
I SAW THE LIGHT Blu-Ray (**, 124 mins., 2015, R; Sony): Tom Hiddleston delivers a commendable performance as Hank Williams in a surprisingly flaccid bio-pic that generated little buzz last year. Then again, "bio-pic" might be a bit strong of a description seeing as director Marc Abraham keeps the viewer at arm's length from Williams' life, his stratospheric rise to fame, off-stage tragedies and eventual death at the age of 29. More time is spent on the music of – and the women in – Williams' life, which results in a film that may still compel country music fans but leaves a massive void at the center of what should have been a juicy, tragic backstage chronicle of Williams' very brief life and times. Sony's Blu-Ray, out this week, includes deleted scenes, commentary with Abraham, two featurettes, a bonus musical performance from Hiddleston, a 1080p transfer, 5.1 DTS MA sound and a Digital HD copy.
NO MEN BEYOND THIS POINT DVD (80 mins,., 2016, R; Sony): Mark Sawers' nutty ersatz documentary throws a few serious questions at the viewer – namely, what would life be like if women didn't need men to reproduce and left behind babies that were only female as well. Sawers' film stars Patrick Gilmore as Andrew Myers, the youngest man still alive in the world, crusading to keep the male species going in this very offbeat, occasionally funny mockumentary. Sony's DVD offers a 16:9 transfer and 5.1 sound, and streets next week.
VIGILANTE DIARIES Blu-Tay (108 mins., 2016, R; Anchor Bay): Off-the-wall attempt by director Christian Sesma to turn out a bloody, over-the-top grindhouse-styled actioner. Paul Sloan stars as The Vigilante, an internet crime fighter with a small circle of friends – including filmmaker Jason Mewes and mob boss Michael Madsen – who triggers a bloodbath battle with the Armedian mob, Mexican cartels, Special Force ops and others who dig deep into his past. Michael Jai White and Quinton Jackson also appear in this wild and fairly well-executed B-movie that seems a bit bloated at 108 minutes but has its moments. Anchor Bay's Blu-Ray includes a 1080p (2.40) AVC encoded transfer, 5.1 Dolby TrueHD audio and a featurette.
---
Arrow New Releases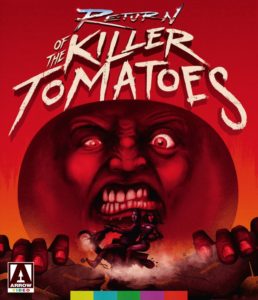 Accurately described in its liner notes as one of George Clooney's best films, the funny 1988 New World comedy RETURN OF THE KILLER TOMATOES (***, 98 mins., PG) is one of its era's most unheralded spoofs.
Director John De Bello had earned himself something of a cult reputation for his original "Attack of the Killer Tomatoes," an ultra low-budget 1978 comedy that satirized disaster movies but really was a title best known for its theme song and little more. Armed with a larger budget courtesy of backer New World Pictures (apparently due to the popularity of a "Muppet Babies" episode that referenced the original), De Bello and co-writer J. Stephen Peace fashioned a surprisingly inspired, silly sequel that's much funnier and more satisfying than its predecessor.
Here, Professor Gangreen (John Astin) has produced an army of Rambo-like warriors hoping to take over the world after tomatoes have been outlawed following the end of its predecessor. Second-billed Clooney co-stars with Anthony Starke as the nephew of the original's hero, who has since opened up a pizza business in a world without tomato sauce. There are parodies here of '80s cinema and the decade's pop culture in general, particularly its rampant commercialism and product tie-ins (which were, of course, positively subtle compared to what we have today).
Lots of in-jokes and 4th wall breaking combine to make this belated sequel the best, by far, entry in the unlikely "Killer Tomatoes" franchise, which was preceded by an Atari 2600 cartridge and followed by two more sequels, a Saturday morning cartoon and a Nintendo game!
Credit to Arrow for not just resurrecting the film for Blu-Ray but giving it the Special Edition treatment it's long deserved. The 2K restored 1080p (1.85) transfer is far superior to any prior release of the film with PCM mono audio and new extras including an interview with Starke (who would appear in the James Bond entry "Licence to Kill" the following year), a new commentary with DeBello, an image gallery, TV spot and theatrical trailer.
NIKKATSU DIAMOND GUYS, VOLUME 2 (79/83/89 mins., 1960/62/65) continues Arrow's celebration of Japan's oldest film studio and its star-driven vehicles. Three more Nikkatsu favorites here join the roster: Buichi Saito's "Tokyo Mighty Guy," starring Akira Kobayashi in a drama from the future "Lone Wolf and Cub" director; Jo Shishido stars in Ko Kakahira's "Danger Pays," a crime thriller about counterfeiting; while Haruyasu Noguchi's work is represented by "Murder Unincorporated," a "screwball classic" with Shishido that marks one of Noguchi's first works to be released in the United States.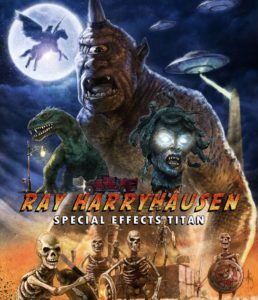 The 3,000 copy limited edition Blu-Ray/DVD combo pack includes crisp new HD transfers (2.35) from Nikkatsu's original film elements; uncompressed PCM audio; video discussions on Japanese cinema from historian Jasper Short; trailers; promo image galleries; and extensive liner notes.
Finally, Arrow's US branch has also issued a Blu-Ray of Gilles Penso's RAY HARRYHAUSEN: SPECIAL EFFECTS TITAN (97 mins.), a production of the Diana Harryhausen Foundation that pays – as you would anticipate – a glowing tribute to the special effects titan. Genre luminaries like Steven Spielberg, James Cameron, John Landis, Terry Gilliam and countless others discuss Harryhausen's pioneering work and its enduring legacy on modern film; extensive film clips and a well-rounded, if somewhat lightweight, discussion touch upon his greatest achievements and even his love of film music. Arrow's Blu-Ray looks to be a straight reprise of their UK release, carrying over loads of extras (bonus interviews and outtakes, deleted scenes, commentary and trailers).
Also New From Arrow: Exploitation auteur Jack Hill's single entry in the popular "Cheerleaders" series, THE SWINGING CHEERLEADERS (91 mins., 1974, Not Rated), hits Blu-Ray at last this week from Arrow. This first sequel in the saga finds a college newspaper reporter going underground to write an expose on the wild life of cheerleaders, only to find she enjoys her new existence instead! Colleen Camp, future Playmate of the Month Rosanne Katon and Rainbeaux Smith appear in this favorite of Quentin Tarantino, making its HD debut this month from Arrow. The Special Edition Blu/DVD combo pack offers a new 2K restoration; commentary from Hill, exclusive to Arrow's release; an archive interview with cinematographer Alfred Taylor; archival interviews with Hill and Johnny Legend; a Q&A from 2012 featuring Hill, Camp and Katon; TV spots; and extensive liner notes…The odd independent offering SUTURE (95 mins., 1994) stars Michael Harris as a wealthy man who meets a blue-collar half-brother of his (Dennis Haysbert), only to try and steal his identity. When the attempt goes wrong, Haysbert takes Harris' identity, even though he's black, in a challenging film about race and identity, co-starring Mel Harris, Sab Shimono and David Graf ("Tackleberry" from "Police Academy"). Arrow's Blu-RayDVD of Scott McGehee and David Siegel's picture is loaded with extras, including a commentary moderated by producer Steven Soderbergh; a new documentary; deleted scenes; the duo's short "Birds Past"; trailers and booklet notes.
On DVD from MVD is AMATEUR NIGHT AT CITY HALL: THE STORY OF FRANK L. RIZZO (1977), a fascinating archival documentary about the tough mayor of Philadelphia, and STRESSED TO KILL (101 mins., 2016), the tale of a man (Bill Oberst Jr.) who kills off the people he dislikes with a poisonous dart – all in order to reduce his stress levels! Armand Assante co-stars in this independent production new to DVD this month from MVD.
---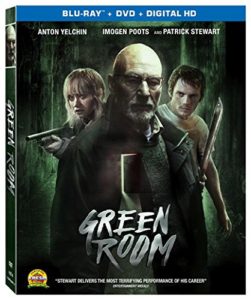 Lionsgate New Releases
On Blu-Ray: Steven Seagal essays Robert Sikes, a former Special Ops operative who takes on criminals of all kind with his special kind of justice, in CODE OF HONOR (106 mins., 2016, R). Michael Winnick's film co-stars Craig Sheffer (been a long time since I've seen a video relate his appearance with "The Program", which Lionsgate does here!) as his former protege, now an FBI agent trying to bring him in. Lionsgate's Blu-Ray offers a Digital HD copy, 1080p (1.78) transfer and 5.1 DTS MA sound. Available July 5th…Patrick Stewart takes a decidedly villainous turn in GREEN ROOM (95 mins., 2016, R), Jeremy Saulner's low-budget thriller about a rock band who perform at a Neo-Nazi bar in the Pacific Northwest, where they end up witnessing an actual murder and running from the club's owner (Stewart). The late Anton Yelchin stars in what was a bittersweet performance opposite Imogen Poots; while not offering any great surprises "Green Room" is certainly effective for what it is and worth a view. Lionsgate's Blu-Ray includes a featurette, commentary with Saulnier, a Digital HD copy, 1080p (2.40) AVC encoded transfer and 5.1 DTS MA sound…PRECIOUS CARGO (90 mins., 2016, R) is this month's Bruce Willis Direct-to-Video effort, finding Willis as a crime boss going after a pair of theives and ex-lovers (Mark-Paul Gosselaar and Claire Forlani) after they botch a recent job. Lionsgate's Blu includes a Making Of, cast/crew interviews, trailer gallery, 1080p (2.40) transfer, 5.1 DTS MA sound and a Digital HD copy.
DVD New Releases: Johanna Braddy toplines THE LEVENGER TAPES (92 mins., 2016, R), a thriller about a trio of college students who find evidence of murder while on a weekend getaway. When the students vanish, police find a video camera that may hold the key to their disappearance in this run-of-the-mill affair from director Mark Edwin Robinson. Lionsgate's DVD, available July 5th, includes a 16:9 (1.78) transfer, 5.1 sound and a Digital Copy…Tim Roth stars in the brief thriller 600 MILES (84 mins., 2015, R), the story of a young man (Kristyan Ferrer) trafficking guns between the US and Mexico who's been targeted by an ATF agent. Gabriel Ripstein's film includes a 16:9 (1.78) transfer on DVD with 5.1 audio and a digital copy.
---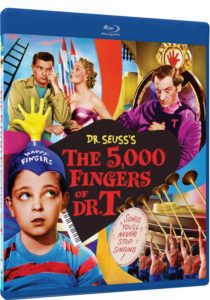 New From Mill Creek
Mill Creek's latest, low-priced Blu-Ray catalog releases are highlighted by the HD debut of THE 5,000 FINGERS OF DR. T (***½, 89 mins., 1952), the zany, imaginative Stanley Kramer production that boasts the only screenwriting credit of Dr. Seuss.
For those who purchased FSM's sublime 3-disc soundtrack set, the film needs little introduction; for others, it's best described as a striking children's musical fantasy with young Bart Collins (Tommy Rettig) petrified by his piano teacher, Dr. Terwilliker (Hans Conreid). Dr. T generates a series of nightmares in young Bart, mostly of the musical variety, including the recruiting of various other children in amassing a massive orchestra. Though saddled with production problems and marred by heavy editorial work (the soundtrack features a bevy of unused songs and score fragments), the completed "Dr. T" is a marvelous film from its era and worthy of a look for buffs and family audiences alike.
Mill Creek's no-frills Blu-Ray boasts a very strong 1080p (1.33) transfer with decent 2.0 mono audio.
Also new from Mill Creek is PREFONTAINE (**½, 107 mins., 1997, PG-13), "Hoop Dreams" director Steve James' account of the legendary long-distance runner who died too soon at the age of 24. Jared Leto starred as "Pre" in one of two biopics that were released around the same time (Robert Towne's "Without Limits" was the other), neither of which made any noise at the box-office. This well-acted affair co-stars R. Lee Ermey and Ed O'Neill in one of James' few non-documentary works. Mill Creek's Blu-Ray offers an adequate 1080p (1.85) transfer and 2.0 stereo sound.
---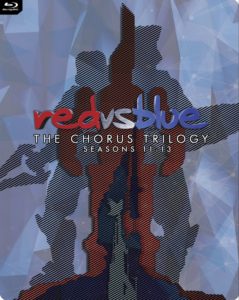 Also New & Noteworthy
RED VS. BLUE – THE CHORUS TRILOGY: Seasons 11-13 Blu-Ray (Cinedigm Entertainment): The offbeat "Halo" spin-off continues to focus on the heroes of Blood Gulch – the Red and Blues – after they're shipwrecked. "The Chorus Trilogy" continues the early, episodic structure of the early "Red Vs. Blue" seasons in a story arc that comprises Seasons 11, 12 and 13 from the Miles Luna written-directed program. As with prior episodes, action and comedy mix, with a stronger accent on the latter this time around, which should please most fans.
Cinedigm's "Chorus Trilogy" Blu-Ray includes all three seasons that comprise this particular story in superbly encoded 1080p transfers with 5.1 Dolby Digital sound. In addition to collectible Steelbook packaging, the set also includes nearly 12 hours (!) of bonus content that should delight "Red Vs. Blue" buffs everywhere.
BACK IN THE DAY Blu-Ray (120 mins., 2013; Virgil Films): William DeMeo tries to pull his own "Rocky" here, doing double-duty as both writer and star about an Italian/Puerto Rican teenager from Brooklyn who becomes a boxer – with the assistance of a local mob boss (Michael Madsen), his superior (Alec Baldwin), and a tough trainer (Danny Glover). Paul Borghese's film takes a number of ingredients from other, better films – "A Bronx Tale" among those – in an independent movie that's too rough around the edges, and overlong, to really score. Annabella Sciorra, Shannen Doherty and a brief appearance by Mike Tyson are also on-hand. Virgil's Blu-Ray, out this week, includes a 1080p transfer and 5.1 DTS MA sound.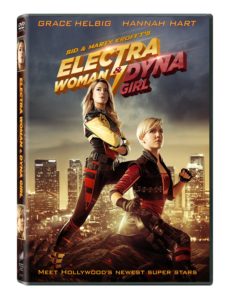 ELECTRA WOMAN & DYNA GIRL DVD (81 mins., 2016, Not Rated; Sony): Amusing feature from online comediennes Grace Helbig and Hannah Hart both serves as a spoof of the super-hero genre (and its Sid & Marty Krofft '70s series origins) as well as a commentary on the nature of their own, off-camera success. Here, Helbig and Hart's Electra Woman and Dyna Girl become famous for their super-heroics online and are eventually brought to Los Angeles, where they're promptly commercialized, and exploited, by show-business. Fans of Helbig and Hart ought to be most compelled with this Legendary Studios production, making its DVD debut July 5th from Sony. The disc includes commentary with the ladies, a Making Of and "Inside Creative Masked Management" featurette, plus eight other featurettes, a 16:9 (2.40) transfer and 5.1 Dolby Digital sound.
THE DRESSER DVD (109 mins., 2016; Anchor Bay): Superb cable TV adaptation of Ronald Harwood's acclaimed 1980 play, previously brought to the screen in 1983 with Albert Finney and Tom Courtenay. This respectful Richard Eyre-directed take stars Anthony Hopkins as the veteran actor playing King Lear and Ian McKellen as his long-time "dresser," who scrambles to keep the production alive. Edward Fox and Emily Watson also appear in this Starz Channel original, coming to DVD July 12th from Anchor Bay sporting a 16:9 transfer, 5.1 sound and two featurettes.
NEXT TIME: BAD MOON on Blu-Ray! Until then, don't forget to drop in on the official Aisle Seat Message Boards and direct any emails to our email address. Cheers everyone!