An overlooked chiller making its Blu-Ray debut at long last, Eric Red's 1996 werewolf flick BAD MOON (***, 79 mins., 1996, R) highlights Shout Factory's sizzling slate of summer releases.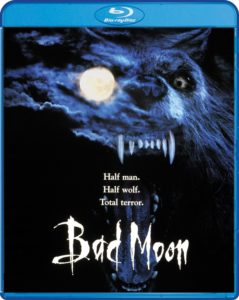 A Morgan Creek production that was unceremoniously dumped into theaters with no fanfare the day AFTER Halloween that year (good thinking, right?), this stylish and taut B-movie is surprisingly well-written, adapted by the director from Wayne Stevens' novel "Thor" about a boy, his dog, and his uncle – who happens to be a werewolf newly transplanted to the Pacific Northwest (and who happens to be played by Michael Pare of "Eddie and the Cruisers" fame).
Mariel Hemingway plays the boy's Mom, but the real star of the movie is the German Sheppard that plays Thor, who ends up kicking the heck out of the man-wolf in an exciting climax that makes you wonder why the studio didn't have more confidence in this short (79 minutes including credits) but highly entertaining horror picture at a time when we were – and still are – overloaded with too many genre flicks that simply don't know how to tell a good story.
Red, who made the equally engaging "Body Parts" back in the '90s (he also worked on the cult classics "The Hitcher" and "Near Dark" in the '80s) before battling personal issues, does a fine job accentuating story and character here, making this a gem of a werewolf picture that really deserved a better fate at the box-office and among genre fans, who have hardly heard of it.
Shout's Blu-Ray marks their second collaboration with Morgan Creek since the production company's distribution deal with Warner Bros. expired, and technically, it's a much stronger release than their inaugural disc, "The Crush." The 1080p (2.40) AVC encoded transfer is really nicely presented with crisp detail, warm colors and an overall pleasing appearance. Both 5.1 and 2.0 DTS MA stereo options are included, either of which effectively represent Daniel Licht's above-average score.
Extras include new interviews with Eric Red, Michael Pare and Mason Gamble, the young "Dennis the Menace" alumni who co-stars here, plus FX artist Steve Johnson. On-camera, Red goes over much of the same terrain that he also covers in a new commentary, while an unrated workprint version of the film's opening is also on-hand, culled from a videotape. The trailer and storyboards are also included.
The movie is presented both in its original theatrical version plus an Unrated Director's Cut – but before viewers get excited with the prospects of a longer running time and the restoration of deleted scenes, the Director's Cut is less than 30 seconds shorter than the R rated cut. The sole difference is the deletion of a particularly poor CGI effect from the movie's main transformation sequence.
For the price, you can't go wrong, and "Bad Moon" is a perfect example of an overlooked movie you should take a chance on – especially this upcoming Halloween season.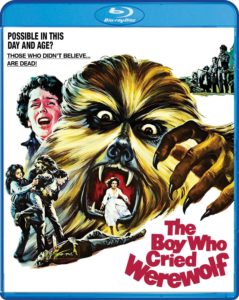 Another werewolf film had been lost to the ravages of time – here making its first-ever home video appearance in any form – is THE BOY WHO CRIED WEREWOLF (**, 93 mins., 1973, PG), Universal's early '70s B-programmer from director Nathan Juran ("7th Voyage of Sinbad").
Reteaming Juran with former leading man Kerwin Mathews, the picture offers the one-time "Sinbad"/"Jack the Giant Killer" star as a father with a lycanthrope issue. Scott Sealey is "Richie," his son who – for a while – is the only one who recognizes the problem in a low-grade Universe release that went into wide distribution as part of a double bill with "Ssssssss." Beyond having a group of hippies function as the werewolf formula's old standby, the Gypsies, there isn't a lot to recommend in "Boy" – which comes off feeling like a mediocre mid '70s TV movie – but genre cultists ought to be sufficiently compelled just to see the film at all given its rarity.
Shout's Blu-Ray offers up a fairly attractive 1080p (1.85) transfer though the elements look to be in ragged shape at times, and the murky, basic cinematography doesn't make for a particularly "cinematic" looking release. The DTS MA mono sound is okay and the original Double Bill trailer with "Sssssss" is the sole extra.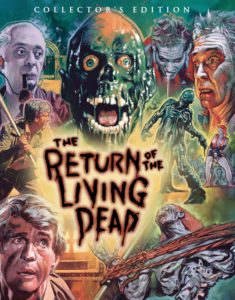 THE RETURN OF THE LIVING DEAD: Collector's Edition (**, 1985, 91 mins., R/Unrated): Special Edition presentation of writer-director Dan O'Bannon's 1985 half-spoof of the Romero classic offers a slew of extras, including the movie's workprint version (HD with SD cut-ins), brand new "FX of the Living Dead," "Music of the Living Dead," and "Horror's Hallowed Grounds" featurettes, plus two brand new commentaries, one with Chris Griffiths and horror historian Gary Smart, the other featuring cast members Thom Mathews, John Philbin and make up artist Tony Gardner. Reprised from the earlier MGM edition are two other commentaries, three featurettes, retrospective interviews and more. Shout's brand new 2K transfer (1080p 1.85) is excellent, as is the 5.1 DTS MA audio, but the movie is still best left for fans: despite a few laughs and the presence of veterans Clu Gulager and James Karen, the movie feels dated, and the light mood turns sour with an unsatisfying "serious" ending (which the cast even laments in their commentary). Not nearly as much fun as it sounds, but certainly a worthy release for fans.
More Chillers From Shout Factory: Ready for a "reboot" of the 2002 thriller "Cabin Fever"? Here it comes either way with the 2016 CABIN FEVER (99 mins., 2015, Not Rated), a lame remake that once again finds a quartet of friends heading out to the country cabin, only to run afoul of a nasty virus. Eli Roth produced and co-wrote this updating of his original, which looks like a classic compared to this. Scream Factory's Blu-Ray includes a Making Of, the trailer, a 1080p transfer and 5.1 DTS MA sound…THE PACK (88 mins., 2015, Not Rated) is an Australian import about a sheep rancher (Jack Campbell), his vet wife (Anna Lise Phillips) and their kids, who have to buckle down after a group of rabid animals comes looking to munch down on them. This IFC Midnight release comes to Scream Factory's Blu-Ray including a Making Of, the trailer, and a 1080p (2.35) transfer with 5.1 DTS MA audio…Wild wacky women's prison action is on tap in the 1985 Lou Arkoff production HELLHOLE (95 mins., R), the story of an amnesiac woman (Judy Landers) who's pursued by the killer (Ray Sharkey) of her mother. She ends up in a prison that's little more than a torture chamber for its inmates. Pierre De Moro's film offers an offbeat cast including Landers, Sharkey, Marjoe Gortner, Terry Moore and Mary Woronov. The Blu-Ray/DVD combo pack sports a 1080p (1.78) transfer and DTS MA mono audio with extras including the trailer and an interview with Woronov…Season 1 of SLASHER (aprx. 7 hours, 2016) features all eight episodes of the Canadian-lensed series, which aired domestically on Chiller. Katie McGrath stars as a woman who returns home, only to encounter a series of copycat killings based on the murder of her parents. Pretty familiar stuff, recommended mainly for fans. Shout's Blu-Ray includes a featurette, 1080p (1.78) transfers and both 5.1 and 2.0 DTS MA sound.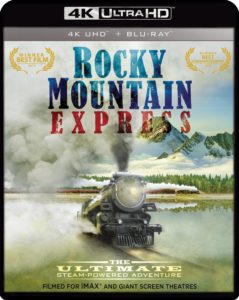 Coming on Blu-Ray August 2nd from Scream is BITE (89 mins., 2015, Not Rated), director Chad Archibald's female "Fly" variant that finds Elma Begovic's bride-to-be infected with a bite – received during a bachelorette getaway – that turns her into a gooey mess. Gross-out effects mingle with standard-issue disclaimers about marrying the wrong man in a film that's not all that satisfying, but might entrance genre die-hards with its female protagonist. Commentary from Archibald, five documentaries, a 1080p (2.35) transfer and 5.1 DTS MA audio complete the release…Finally, THE BINDING (87 mins., 2014) is a superior tale of a young minister's wife (Amy Gumenick) who finds out too late that she's part of a demonic plot. Shout's Blu-Ray of Gus Krieger's film includes deleted scenes, commentary, a teaser trailer, cast interviews, a 1080p (2.35) transfer and 5.1 DTS MA sound.
4K Premieres from Shout Factory: Folks with 4K UHD capabilities will want to check out a pair of new UHD Combo Packs from Shout, featuring HDR (High Dynamic Range) colors along with accompanying standard Blu-Ray discs and digital copies. ROCKY MOUNTAIN EXPRESS (45 mins., 2011) is my favorite of the duo – a gorgeously shot travelogue set on a steam train through the Canadian Rockies, providing the viewer with authentic and glorious images, while also relaying the construction of the nation's first transcontinental railway, thanks to archival photographs. Shout's Blu-Ray offers both 4K SDR and HDR presentations, along with a 2D Blu-Ray and digital copy. Special features include the 1952 short "Romance of Transportation in Canada," the 1958 documentary "Railroaders" and a 4K UHD IMAX trailer set…the Canadian lensed FLIGHT OF THE BUTTERFLIES (44 mins., 2012) transports viewers on a trip following hundreds of millions of Monarch butterflies while offering a solution to their annual fall disappearance. There's more science than travelogue at times but the visuals are so splendid in this Shout combo pack that most are unlikely to mind. The set includes (get ready): 4K UHD (SDR and HDR) transfers, 3D and 2D Blu-Rays plus DTS MA audio and a digital copy. Highly recommended for fans of the fledgling format, especially where trains are concerned!
Also new From Shout Factory: "Modern Family"'s Rico Rodriguez stars in ENDGAME (90 mins., 2015), based on the true story about a 5-year-old chess prodigy who, years later, uses his skills to help his high school team make it to the state finals in Texas. Efren Ramirez plays their coach in Carmen Marron's family-friendly drama, now on Blu-Ray from Shout Factory sporting a 1080p (1.78) transfer, 5.1 DTS MA sound, interviews, commentary, deleted scenes and the trailer…Coming on DVD is GIBBY (86 mins., 2016), a cute animal comedy for kids with an appropriate Olympics-type plot about a high school gymnast who gets a boost from her science teacher's monkey after the death of her mom. Good-natured laughs and inspirational messages abound in Phil Gorn's picture, co-starring Shannon Elizabeth, Peyton Meyer, Shelby Lyon and Vivica A. Fox. Shout's DVD includes commentary, bloopers, and featurettes, plus a 16:9 (1.78) transfer and 5.1 Dolby Digital sound.
---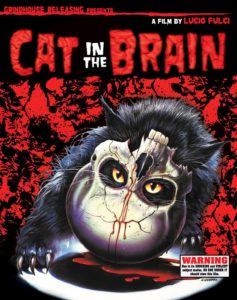 Also New & Noteworthy
CAT IN THE BRAIN Blu-Ray/CD (Grindhouse Releasing): The latest marvelous horror release from Grindhouse isn't going to appeal to everyone, admittedly, but Lucio Fulci fanatics should be sufficiently pleased.
In Fulci's 1990 outing, the director stars a semblance of himself: a purveyor of cinematic shlock who visits a psychiatrist after he's haunted by both murders and his own past on-screen excesses. What follows thereafter is a smattering of blood and guts with sequences apparently lifted from other Fulci films from that era, but a good amount of playfulness to go along with the depravity.
A little of this tends to go a long way, but for fans, your ship has come in thanks to Grindhouse's two-disc Blu-Ray package. A new hi-def digital restoration of the uncensored Director's Cut premieres here with both English and Italian soundtracks; interviews with Fulci and star Brett Halsey; conversations with composer Fabio Frizzi (whose score is also contained here in a bonus CD, complete with a live 2015 bonus track), writer Antonio Tentori, cinematographer Sandro Grossi and poster artist Enzio Sciotti; Fulci's appearance at the 1996 Fangoria Weekend of Horrors; the original Italian trailer and still/art galleries; liner notes from Antonella Fulci, David J. Schow, Eli Roth and Martin Beine; plus Grindhouse's insert cards. Recommended – for the Fulci fan.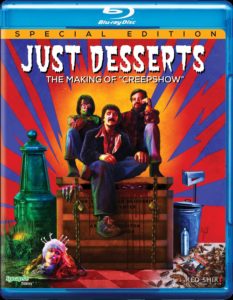 JUST DESSERTS: THE MAKING OF "CREEPSHOW" Blu-Ray (90 mins., 2007; Synapse Films): Producer-director Michael Felsher pays tribute to Stephen King and George Romero's highly-touted 1982 horror anthology with this feature-length Making Of. Sporting interviews with Romero, make-up master Tom Savini, stars Adrienne Barbeau, Ed Harris and Tom Atkins, this is an enjoyable look behind the scenes at the film's production – though King, lamentably, is nowhere to be found. Just as interesting as "Just Desserts" are Synapse's bonus features, which include the first digital release of "Scream Greats Volume 1: Tom Savini," a Starlog Video production that Paramount released back in the '80s. This hour-long archival doc sports footage from Savini's work up until that point and boosts the value of this disc as a whole. Other extras include two commentaries, expanded interview segments, Savini's on-set footage, an interview with cinematographer Mciahel Gornick, a 1982 "Evening Magazine" segment (!) on the production, and Savini's optional commentary during "Scream Greats." The 1080p transfer and 2.0 DTS MA sound are both fine.
iZOMBIE: Season 2 DVD (804 mins., 2015-16; Warner): "Veronica Mars" creator/producer Rob Thomas returns to the CW network with this formulaic – given its ridiculous premise – but appealing enough series. The lovely Rose McIver looks less than lovely here as "Liv," a medical student who becomes a zombie with the craving for human brains. Along with the bloodthirst comes the newfound ability to gain the memories of the deceased, allowing Liv to become a crime-solving medical student helping a young homicide detective. "iZombie" offers gore and laughs in equal measure, but relies too much on McIver to deliver its snappy dialogue at times, with the show frequently coming off as a "Veronica Mars" wannabe. Still, the show is entertaining enough, and Season 2 finds Liv rekindling her love for her old flame, Major, while investigating mysteries spread across 19 episodes. Warner's Season 2 DVD set includes deleted scenes and a 2015 Comic Con panel, plus 16:9 transfers and 5.1 Dolby Digital sound.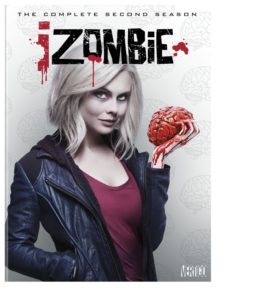 BITTEN: The Final Season DVD (441 mins., 2016; E One): Laura Vandervoort returns for one last go-around as Elena, the sexy werewolf seeking to knock out the Russian Alpha and his Pack, preserve their bloodline and find happiness along the way. The third and final season of "Bitten," the Canadian lensed series which aired domestically on the Syfy Channel, completes its DVD run this week featuring deleted scenes, extended scenes, "A Look at the Final Season" featurette, 16:9 transfers and 5.1 Dolby Digital soundtracks.
KILL ZONE 2 Blu-Ray (121 mins., 2015, Not Rated; Well Go USA): Tony Jaa is back in this wild and woolly Hong Kong affair about an undercover cop who's forced into a Thai prison where he's promptly targeted as a possible bone marrow match for a guard's (Jaa) ailing daughter. Lots of action and an incoherent-at-times plot combine for an appealing brew for Asian action fans, with Well Go's Blu-Ray offering a Making Of, deleted scenes, the trailer, a 1080p transfer and 5.1 DTS MA audio in Cantonese, Mandarin and Thai (with English subtitles) or an English dubbed version.
VAN GOGH: THE FILMS OF MAURICE PIALAT Volume 3 Blu-Ray (159 mins., 1991; Cohen Film Collection): The third entry in Cohen's recent retrospective on the works of the French director Maurice Pialat offers a biography of Vincent Van Gogh after he leaves the asylum for the final two months of the tormented painter's life. Jacques Dutronc stars in this lengthy, absorbing picture coming to Blu-Ray from Cohen featuring interviews with Dutronc and fellow actor Bernard Le Coq; interviews with cinematographer Emmanuel Machuel and director Xavier Giannoli; deleted scenes; the trailer; a 1080p transfer and dial mono PCM audio with English subtitles.
ADJUST YOUR COLOR: THE TRUTH OF PETEY GREENE DVD (54 mins., 2009): Documentary about the radio DJ who gained prominence in the '60s via his groundbreaking show "Rapping With Petey Greene." Don Cheadle narrates this hour-long doc, reissued by Virgil on DVD with a 16:9 transfer and stereo sound.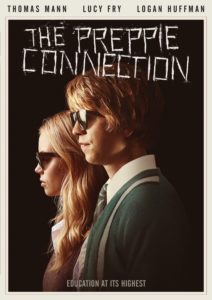 IFC New Releases on DVD: Joseph Castelo's THE PREPPIE CONNECTION (97 mins., 2016) is based on the true story of a blue-collar scholarship student (Thomas Mann) at a boarding school who makes fast friends by dealing cocaine straight from Colombia. Things, eventually, get out of control in this very watchable indie drama new to DVD this week from IFC and MPI. A commentary from Castelo, another commentary with co-star Logan Huffman, a featurette and the trailer are on-hand plus a 16:9 transfer and 5.1 sound…Ethan Hawke plays jazz great Chet Baker in BORN TO BE BLUE (97 mins., 2015, R), an interesting Robert Budreau film that examines Baker's life via a specific weekend in the 1960s where Baker stages a comeback attempt, battles his addiction and starts a romance with lovely Carmen Ejogo. IFC's DVD includes deleted scenes, the trailer, a featurette, a 16:9 (1.85) transfer and 5.1 sound. Coming July 26th…A script once written for Francois Truffaut, Valerie Donzelli's MARGUERTIE & JULIEN (103 mins., 2015) chronicles the relationship between two aristocratic siblings who share more than a casual fondness for each other. The trailer is included as the sole extra in IFC's DVD, framed at 16:9 (2.35) with 5.1 French audio and English subtitles.
Lionsgate New Releases
On DVD: In MY BEST FRIEND (99 mins., 2016, G), a young city girl has trouble acclimating to her life in the country when she meets a horse who she telepathically (!) bonds with in this good-natured family film. Paul Della Pelle's picture stars Catherine Bach, Dane Jamieson, Patrick Muldoon and James Phillips and comes to DVD next week from Lionsgate with a 16:9 (1.78) transfer, 5.1 sound, a digital UV copy and cast interviews…Season 1 of NAKED AND AFRAID: XL (7 hours, 2016) pits 12 of the top survivalists from Discovery's "Naked and Afraid" series against one another…naked….and in the Colombian "badlands" for 40 days and 40 nights without food, water and clothes. Fans of the reality series can pick up Lionsgate's DVD with its 16:9 transfers and digital UV copies this week…POWER RANGERS DINO CHARGE: BREAKOUT (92 mins., 2015) includes the episodes When Logic Fails; The Royal Rangers; Breakout; and Knight After Knights on a single DVD with a Digital UV copy. Available this week…On Blu-Ray, THE PERFECT MATCH (96 mins., 2016, R) stars Terrence J. as a single guy who's sworn off women – until the lovely Cassie Ventura comes into his life. Billie Woodruuf's urban romantic drama includes a 1080p (1.78) AVC encoded transfer with 5.1 DTS MA sound, a Making Of, commentary and featurettes, plus a Digital HD copy.
---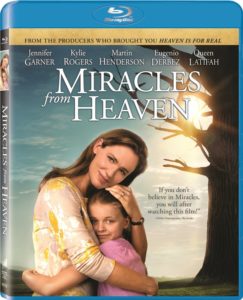 Also New & Noteworthy
MIRACLES FROM HEAVEN Blu-Ray (***, 109 mins., 2016, PG; Sony): Sincerely performed true account of Christy Beam (Jennifer Garner), a mom whose 10-year-old daughter suffers from an incurable disease of the intestines. In Patricia Riggen's film of Beam's story – scripted by Randy Brown – Garner delivers an excellent performance as the mother who both holds her faith close while doubting its power as her daughter is treated for her sickness, leading to a bit of an overwrought, if effective, conclusion. For the most part, though, "Miracles From Heaven" is a superior tearjerker, scored by Carlo Siliotto and shot by Checco Varese with fine performances by all. Sony's Blu-Ray offers format-exclusive deleted scenes and a featurette, plus commentary with Riggen and Brown, other featurettes, a Digital HD copy, 1080p (1.85) transfer and 5.1 DTS MA sound.
LEGO DC COMICS SUPERHEROES – JUSTICE LEAGUE: GOTHAM CITY BREAKOUT Blu-Ray Combo Pack (78 mins., 2016; Warner): When Batman takes a vacation, the rest of the Justice League takes over Gotham City – much to the excitement of DC Comics villains like the Joker, who tricks Superman into releasing all kinds of Arkham Asylum bad guys out. Luckily, Wonder Woman, Robin, Cyborg, Batgirl and Nightwing are there to pick up the (Lego) pieces in this enjoyably goofy addition to the Lego stable. Warner's Blu-Ray combo pack includes a 1080p (1.78) transfer, 5.1 DTS MA sound, a Digital HD copy, DVD and bonus "Nightwing" Lego Minifugre, exclusively in the studio's limited-edition gift set package.
Also coming in a couple of weeks is LEGO NEXO KNIGHTS: SEASON 1 (221 mins., 2016; Warner), sporting over three h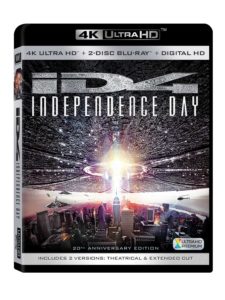 ours of small-screen Lego fun. Warner Home Video's two-disc DVD edition includes 10 episodes from the first season: Book of Monsters Parts 1 and 2, Power of Merlok, Knights' Code, Fright Knight, Golden Castle, Maze of Amazement, Black Knight, Book of Total Badness and Might and the Magic, all in 16:9 widescreen with 2.0 stereo sound.
New From Magnolia: Mathieu Amalric reprises his role from "My Sex Life…Or How I Got Into An Argument" in MY GOLDEN DAYS (124 mins., 2016, R), Arnaud Desplechin's sequel that follows Amalric's Paul Dedalus as reflects on his life in France, a student trip to the USSR and his time at University, where he meets Esther, the love of his life. A thoroughly romantic film from Desplechin now on DVD from Magnolia featuring an interview with the director, the trailer, bonus extras, a 16:9 transfer and 5.1 sound in French with English subtitles.
THE DARK HORSE DVD (124 mins., 2014, R; Broadgreen): Cliff Curtis gives an outstanding performance in this film about Genesis "Gen" Potini, a man who leaves a mental institution under the care of his brother (Wayne Hapi), where he ends up training young Maori children for the National Chess Championships – including his nephew, who's also up for a different kind of initiation into his father's violent gang. James Napier Robertson's New Zealand drama is taut and well-acted, with Broadgreen's DVD including a 16:9 (2.40) transfer and 5.1 Dolby Digital soundtrack.
INDEPENDENCE DAY 20th Anniversary Edition – 4K UHD (**½, 145 mins., 1996, PG-13; Fox): Fans have eagerly awaited Fox's remastered Blu-Ray/4K UHD release of "Independence Day," Roland Emmerich's huge smash from the summer of '96 that needs little introduction for most viewers. Suffice to say that, even though the movie plays better with a loud, raucous audience, "ID4? has its pleasures, even if the Emmerich-Dean Devlin script is too calculated and pat — the ultimate "pre-fab" blockbuster if you will — to be accepted as anything more than a forgettable, popcorn-munching piece of escapism.
Previously released on a slim Blu-Ray release that only offered a few of its DVD extra features, this 20th Anniversary edition includes extensive supplements (deleted scenes, gag reel, Making of materials, two commentaries) carried over from the old Fox "Five Star" two-disc DVD set, while adding in a new 30-minute retrospective look back – just in time for the release of "Independence Day 2? this summer. A digital copy, a superior 1080p (2.35) transfer and 7.1 DTS MA sound round out a must for fans, while the 4K UHD platter – including a full use of the HDR spectrum – is even better, boasting clearer detail and crisper features. Of the few catalog releases I've seen so far on UHD, this is the best.
---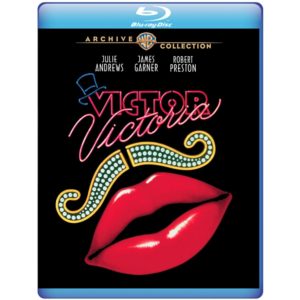 Warner Archive New Releases
On DVD: A pair of Wallace Beery sports-oriented MGM melodramas garner a DVD release for the first time from the Archive. In O'SHAUGHNESSY'S BOY (86 mins., 1936), Beery plays an animal trainer whose unstable wife steals away his precocious son ("Little Rascals" star Spanky McFarland); years later, they reconnect, but only after Beery loses his arm to a tiger! Meanwhile, Beery heads to the track in the MGM production STABLEMATES (89 mins.) as a drunken veterinarian with Mickey Rooney as his surrogate son, who ultimately jockeys his way to a championship. Footage of the real-life Seabiscuit, and the movie's release just prior to Seabiscuit's win over War Admiral, made "Stablemates" a big hit among audiences in 1938. Both Archive releases sport B&W 1.33 transfers and mono audio…Also new on DVD is JACK OF DIAMONDS (108 mins., 1967), starring George Hamilton as a thief who eschews the advice of his teacher (Joseph Cotten) and sets out to make a big score. Marie Laforet, Maurice Evans and Zsa Zsa Gabor co-star in this 1967 MGM release from writer Jack DeWitt and producer Sandy Howard, who would later collaborate to greater success on "A Man Called Horse." Warner's DVD includes a 16:9 (1.85) transfer and mono sound…LEE TRACY: RKO 4-FILM COLLECTION is a double-disc set offering the star in four "post-Code" efforts featuring the "Dinner at Eight" star. Included here are "Criminal Lawyer" and "Behind the Headlines" from 1937, plus 1938's "Crashing Hollywood" and 1939's "Fixer Dugan," all in 4:3 B&W transfers and mono sound.
On Blu-Ray: One of the bigger hits from the later years of prolific director Blake Edwards, VICTOR/VICTORIA (133 mins., 1982, PG) stars Julie Andrews as a woman who pretends to be a man in order to get work as a nightclub performer, with James Garner as a Chicago nightclub manager, Robert Preston as a cabaret performer who springs the switch into motion, Lesley Ann Warren as Garner's jealous girl and Alex Karras as his bodyguard. This '30s period piece is, like most of Edwards' films, beautifully shot in Panavision and offers a fetching Henry Mancini score that served as the basis for a successful stage musicalization years later. The Archive's Blu-Ray offers another sterling 1080p (2.41) transfer from the label with 5.1 DTS MA sound, the trailer, and an archival commentary from Andrews and Edwards…More musical fun is on-tap in the MGM production THE UNSINKABLE MOLLY BROWN (135 mins., 1964), the overlong but genial adaptation of Meredith Willson's account of the determined heroine (Debbie Reynolds) who rises up from the backwoods to survive the Titanic and other calamities — mostly of the culture-clash variety — along the way. Some good songs go along with a few forgettable tunes in a generally faithful rendering of its source co-starring Harve Presnell. Warner's Blu boasts a behind-the-scenes doc, the trailer, a gorgeous 1080p (2.4) transfer and 5.1 DTS MA sound.
NEXT TIME: THE BOSS on Blu-Ray. Until then, don't forget to drop in on the official Aisle Seat Message Boards and direct any emails to our email address. Cheers everyone!