Philip Kaufman's acclaimed remake of the '50s Don Siegel sci-fi classic INVASION OF THE BODY SNATCHERS (***, 115 mins., 1978, PG) hasn't aged quite as well as its predecessor, in part because of its unrelentingly '70s bleak ending and commentary on the "Me" generation. Still, while I feel there's a tendency to over-rate Kaufman's film, it's nevertheless a compelling, intelligently presented version of the Jack Finney tale, with Donald Sutherland starring as a health inspector who begins to wonder what's going on with the body-switching paranoia overcoming the region.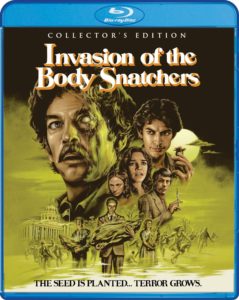 Brooke Adams co-stars and plays well off Sutherland, with an ace supporting trio of genre faves – Nimoy, Jeff Goldblum and Veronica Cartwright – making for a film that's compelling and eerie, thanks to Kaufman and writer W.D. Richter's often subtle touches, not to mention Michael Chapman's cinematography and Denny Zeitlin's excellent score. Nimoy in particular is a standout, playing a psychologist who's one of the first to succumb to the invasion.
Shout Factory's Collector's Edition of the first "Body Snatchers" remake offers a great array of supplements plus exclusive extras and a brand-new 2K scan of the Interpositive. This results in a natural looking, superbly rendered new transfer, backed with DTS MA 5.1 and 2.0 stereo mixes that, if anything, are fresher than MGM's HD transfer on their earlier Blu-Ray release.
New extras include a series of interviews with Brooke Adams and co-star Art Hindle, plus Richter and Zeitlin. Richter's conversation is arguably the most notable, with the writer discussing how the film was initially set in a small town (like Finney's story and the Siegel film) before Kaufman opted to change it to San Francisco very late in the game. Richter also talks of Nimoy's reclusiveness, collaboration with Sutherland and how the film's ending – a surprise to the cast and crew – came about.
These interviews, presented in HD, are included along with MGM's previously-released supplements: a commentary from Kaufman, a half-hour documentary on the production (featuring earlier interviews with Kaufman, Richter, Sutherland and others), featurettes on sound design and cinematography, plus the original trailer. There are also TV spots, radio spots, a photo gallery, and an episode of "Science Fiction Theatre" sporting an adaptation of another Finney story, "Time Is Just a Place" (in standard-definition).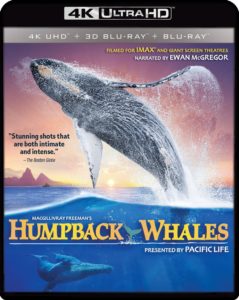 Sci-fi and "Body Snatchers" fans are sure to appreciate the new transfer, while the recent, insightful interviews make for a perfect addition to the Scream Factory library.
Coming Soon From Shout! Factory: RED SONJA – QUEEN OF PLAGUES (74 mins., 2016, Not Rated), an animated comic based on Robert E. Howard's heroine, slashes her way to Blu-Ray/DVD on August 2nd. Here, Sonja tries to pay back a debt while getting involved with Dark Annisia, whose evil army threatens the land. Gail Simone and Walter Geovani packaged this bloody, effective adventure that should captivate fans of the material. Shout's attractive 1080p (1.78) transfer and 2.0 soundtrack comprise a Blu-Ray with special features including cast/crew interviews (Simone among them) plus a DVD copy…4K fans will want to add the terrific MacGillivray Freeman production HUMPBACK WHALES (40 mins., 2015) to their fledgling libraries. Splashing down in a Shout Factory combo pack on August 2nd, this IMAX/giant-screen exhibition offers spectacular footage of the mammals in the waters of Alaska, Hawaii and Tonga, with a casual look at their biology and ecological surroundings. While the HDR 4K UHD disc is jaw-dropping alone, the 3D presentation is likewise perfectly valid, seeing as IMAX used 3D cameras to natively shoot the documentary. Ewan McGregor narrates, with Shout's combo pack also including a 2D compatible BD (with 3D), Dolby Atmos audio and a Making Of featurette. Bonus 4K trailers are included for Shout's other format releases. Recommended!
---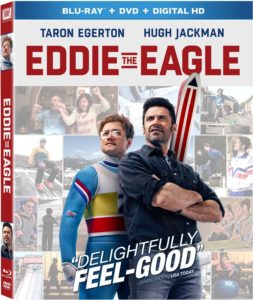 Also New & Noteworthy
EDDIE THE EAGLE Blu-Ray (**½, 105 mins., 2016, PG-13; Fox): Eddie "The Eagle" Edwards became one of the unlikely heroes of the 1988 Calgary Winter Olympics after he ski-jumped his way into hearts around the world. Eddie's feats were more of a personal nature than a competitive one, but they were certainly memorable in the pre-internet age, when an individual could make a major impression on the world if placed in the right moment at the right time.
Eddie's story was nearly brought to the screen many times over the years, eventually ending up in the hands of producer Matthew Vaughn, who saw in the property the chance to make an old-fashioned family film like Disney's "Cool Runnings" (itself, somehow, unavailable on Blu-Ray). The resulting film is a mild and somewhat disjointed affair that gets a passing grade due to Taron Egerton's winning turn as Eddie with Hugh Jackman as his (fictional) American coach. Director – and former actor – Dexter Fletcher recounts Eddie's flight to fame in a colorful enough fashion, complete with a tuneful score by Matthew Margeson that's as melodic as anything I've heard in years; the trouble is that the film never seems to build enough momentum, rising and falling with Eddie's fortunes in such a way that there's barely any dramatic arc established. It's all pleasant and "nice" but, sadly, not much more.
Certainly a good-natured and appealing enough film, "Eddie" will hopefully find more takers on video than it did in a poor theatrical showing earlier this year. Fox's Blu-Ray includes a 1080p (2.39) transfer with 7.1 DTS MA sound, a 45-minute Making Of featurette and digital copy.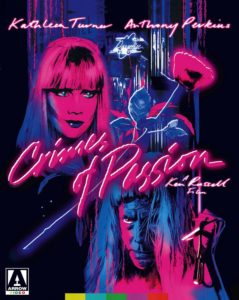 CRIMES OF PASSION Blu-Ray/DVD (107/112 mins., 1984, R/Unrated; Arrow): Ken Russell's films aren't for everyone, but his 1984 New World Pictures production "Crimes of Passion" – which somehow attracted the involvement of then-A lister Kathleen Turner – is a particularly weird tale whose appeal is best left for the director's most devoted fans.
Turner here plays a different kind of femme fatale: a high-class fashion designer who doubles as a hooker named China Blue. Into her life come a good-guy private eye (John Laughlin) and a pedophile priest (Anthony Perkins!) who has more on his mind than simple pleasure.
With a horrifically poky score by Rick Wakeman, "Crimes of Passion" is a cheap and lurid film with some unintentional laughs (courtesy of Perkins) that's always been off-putting to some. The involvement of shlock-meister Donald P. Borchers (this one boasts the unlikely credit "A Ken Russell Film, A Donald P. Borchers Production") is likely all some need to know about the film's threadbare quality, which was divisive even upon its original, controversial theatrical release in the mid '80s.
For fans of this picture, Arrow has packaged a marvelous, definitive Special Edition. Two cuts of the movie include Russell's intended unrated version, which made it to home video back in 1985 (it was cut by New World for theatrical release), as well as a later "Director's Cut" which Russell prepared for laserdisc. That rarely-screened version, which adds some five minutes of discarded material, is recreated here with standard-def footage inserted into the otherwise good looking 1080p (1.85) transfer. The DTS MA 1.0 mono audio, meanwhile, can only do so much to support Wakeman's dated synth soundtrack.
Extras include a commentary with Russell and writer Barry Sandler; seven additional deleted scenes; new interviews with Sandler and Wakeman; the trailer, music video, and booklet notes. A DVD is also included.
THE DIVERGENT SERIES: ALLEGIANT Blu-Ray Combo Pack (121 mins., 2016, PG-13; Summit/Lionsgate): Part 1 of the final installment in the "Divergent" series finds Tris (Shailene Woodley) and Four (Theo james) leading a team of fellow rebels in an escape from the Chicago city perimeter, pursued by the soldiers of new leader Evelyn (Naomi Watts, filling the Kate Winslet function from this sequel's predcessors) while attempting to build a better future for all. Robert Schwentke's by-the-numbers but functional follow-up is pretty much in line with the prior entries in Veronica Roth's young-adult series, though fans have lamented numerous changes from the material's source novels. What's more, "Allegiant"'s commercial disappointment has scuttled plans for a theatrical finale; instead, the series will conclude as a TV movie with a potential spin-off series planned. Lionsgate's Blu-Ray/DVD combo pack offers commentary with producers Douglas Wick and Lucy Fisher, two featurettes, and four Blu-Ray exclusive segments. The 1080p (2.40) transfer and Dolby Atmos soundtrack are both top notch.
---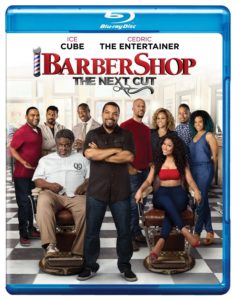 Warner Blu-Ray New Releases
BARBERSHOP – THE NEXT CUT Blu-Ray (112 mins., 2016, PG-13; Warner): Belated third entry in the comedy series that grossed solid dollars back in 2002 and 2004, "Barbershop – The Next Cut" takes viewers back to Calvin's Barbershop, where its proprietor (Ice Cube) and crew (including Cedric the Entertainer's Eddie) are now working alongside women. This uni-sex approach hasn't toned down the fun or ribald humor at all, though the outside, surrounding neighborhood isn't nearly in the same humor. Regina Hall, Anthony Anderson, JB Smoove, Common and Nicki Minaj also star in this occasionally amusing sequel that nevertheless feels a little bit late to the party (and, in keeping, performed similarly inferior at the box-office in relation to its predecessors). Warner's Blu-Ray offers deleted scenes with director Malcolm D. Lee, a gag reel, one featurette, a digital HD copy, 1080p (1.85) transfer and 5.1 DTS MA sound.
PERSON OF INTEREST – Season 5 (Final Season) Blu-Ray (566 mins., 2016; Warner): With "The Machine" nearly wiped out, the fifth and final season of the CBS series finds ex-CIA agent John Reese (jim Caviezel) and tech mastermind Harold Finch (Michael Emerson) on the run with just a bit of source code left to try and save innocents from being assassinated. Sarah Shahi and Amy Acker also return in the final 13 episodes of the popular JJ Abrams-produced series, presented here by Warner in a good looking Blu-Ray package with 1080p transfers and 5.1 DTS MA sound. Extras include Digital HD copies and three featurettes.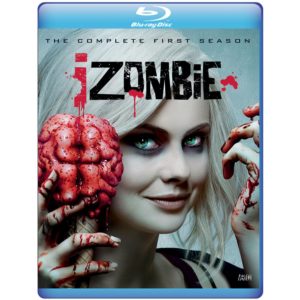 iZOMBIE – Season 1 Blu-Ray (549 mins., 2015; Warner [Distributed Through the Warner Archive Program])
IZOMBIE – Season 2 Blu-Ray (846 mins., 2015-16; Warner [Distributed Thru the Warner Archive Program]): "Veronica Mars" creator/producer Rob Thomas returns to the CW network with this formulaic – given its ridiculous premise – but appealing enough series.
The lovely Rose McIver looks less than lovely here as "Liv," a medical student who becomes a zombie with the craving for human brains. Along with the bloodthirst comes the newfound ability to gain the memories of the deceased, allowing Liv to become a crime-solving medical student helping a young homicide detective.
"iZombie" offers gore and laughs in equal measure, but relies too much on McIver to deliver its snappy dialogue at times, with the show frequently coming off as a "Veronica Mars" wannabe. Still, the show is entertaining enough, and Season 2 finds Liv rekindling her love for her old flame, Major, while investigating mysteries spread across 19 episodes.
Both seasons of "iZombie" have made their way to Blu-Ray from Warner Home Video offering 1080p (1.78) transfers and DTS MA soundtracks. Extras include deleted scenes and Comic Con panels, and both multi-disc sets are available exclusively through the Warner Archive manufactured-on-demand program.
THE 100 – Season 3 Blu-Ray (673 mins., 2016; Warner [Distributed Exclusively Through the Archive Program]): With the tragedy at Mount Weather behind them, the "100″ refugees return home after war has cost them dearly. Now, the group has to forge a new peace and attempt to live after escaping – all the while encountering new surprises – in 16 third-season episodes from the fan-favorite CW series. Now on Blu-Ray from Warner Home Video, Season 3 of "The 100″ includes new featurettes ("Arkadia: From Wreckage to Salvation," "Ice Nation: Brutal and Fierce," "Wanheda: Clarke's Journey," "Polis Grounder Capital," "A Short-Lived Victory: Unlocking the Season 3 Finale," and a 2015 Comic Con panel), unaired scenes, pre-viz stunts, a gag reel, 1080p transfers and 5.1 DTS MA soundtracks. As with "iZombie"'s Blu-Rays, the discs are available exclusively as part of the Warner Archive manufactured-on-demand program.
---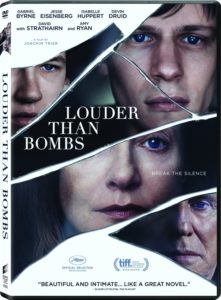 Sony New Releases
On DVD: Coming August 2nd from Sony is GUERNICA (111 mins., 2015, R), Kolda Serra's international production set in 1937 Spain. There, an American journalist (James D'Arcy) and a local press censor (Maria Valverde) find themselves being suppressed by German forces who attack the town in an event that eventually serves as a springboard for WWII. Deleted and extended scenes are included in Sony's DVD, which offers a good looking 16:9 transfer (2.35) with 5.1 sound and a score by Fernando Velazquez.
Don Michael Paul helms the latest entry in the popular "Sniper" series with SNIPER: GHOST SHOOTER (99 mins., 2016, R). Here, Chad Michael Collins and Billy Zane find themselves as elite snipers working in the Middle East when Colonel Dennis Haysbert gives them a new mission: protecting a gas pipeline from the Republic of Georgia to Western Europe. Decent direct-to-video action ensues for fans of the prior "Sniper"s when Sony brings "Ghost Shooter" to DVD on August 2nd. The disc houses a 16:9 (1.78) transfer with 5.1 sound.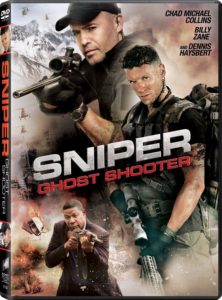 Jesse Eisenberg stars in LOUDER THAN BOMBS (109 mins., 2015, R) as the son of a famous war photo-journalist (Isabelle Huppert) who has recently died. The fallout from her death is examined both from his angle, his brother (Devin Druid) and their father (Gabriel Bryne) in Norwegian director Joachim Trier's politically-charged drama co-starring Amy Ryan and David Strathairn. Sony's DVD, also available August 2nd, includes a 16:9 transfer with commentary from the director, a photo gallery and a single behind-the-scenes featurette.
THE AMERICAN SIDE (104 mins., 2015, Not Rated) is one of those "nice tries" as director Jenna Ricker attempts a throwback detective yarn involving a number of colorful, disparate characters and a long-lost Nikola Tesla design. Greg Stuhr, Alicja Bachleda, Matthew Broderick, Robert Forster and Robert Vaughn appear with David Shire contributing an appropriate score for the genre. Sony's DVD of this Orchard production comes to disc next week sporting a 16:9 (2.35) transfer and 5.1 Dolby Digital sound.
In HIGH STRUNG (96 mins., 2016, PG), Keenan Kampa and Nicholas Galitzine play a mismatched couple: a girl from the Midwest hoping to make it in the Big Apple, and a British musician who ultimately teams up with the lovely aspiring dancer to form a formidable, competitive duo. Michael Damian directed this vibrantly choreographed drama featuring the work of Dave Scott, with ample doses of classical dance and hip hop included for good measure throughout. Jane Seymour and Paul Freeman co-star in "High Strung," coming August 2nd on DVD from Sony featuring a 16:9 (2.35) transfer and 5.1 Dolby Digital sound.
---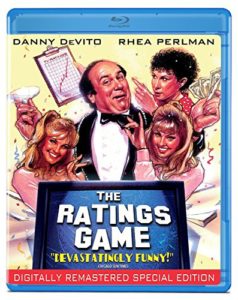 Olive New Releases
Danny DeVito made his feature directorial debut with THE RATINGS GAME (102 mins., 1984, Not Rated), the comedic story of a regular Joe from Jersey trying to make it in Hollywood – and who hatches a scheme to rig the ratings system by kidnapping Nielsen families (literally).
Made, obviously, at a time when the "Big Three" networks were still the big three, "The Ratings Game" offers plenty of appearances by familiar faces and soon-to-be stars, including Jerry Seinfeld and Michael Richards, and while its satire isn't exactly subtle, there are laughs to be found in DeVito's sometimes sledgehammer-laden approach. Most effective are its parodies of then-popular TV shows, as well as DeVito's relationship with his girlfriend (played by then-wife Rhea Pearlman).
Brought back in circulation by Olive, "The Ratings Game" was a Showtime movie whose last appearance on home video came via Paramount's VHS release. The 1080p (1.33) AVC encoded transfer and LPCM sound are both fine; extras include a vintage Showtime behind-the-scenes promo and a series of DeVito's short movies, produced from the early '70s to early '80s, whose elements vary in quality. Booklet notes round out a strong Olive package.
Western fans, meanwhile, might want to check out a pair of lesser-known entries starring/produced by John Wayne, now on Blu-Ray from Olive.
1934's 'NEATH THE ARIZONA SKIES (53 mins.) is an early Hollywood "oater" with Wayne trying to find the father of a half-Indian girl (Shirley Jane Rickert), in order to fulfill the claim she's owed from her mother's oil lease. Yakima Canutt and Jack Rockwell are the evil bad guys out to stop him in this fast-moving affair presented here in a B&W HD transfer (1.37) in reasonably good condition considering its age.
James Arness, meanwhile, stars in the Batjac production GUN THE MAN DOWN (76 mins., 1956) as a former bank robber who seeks vengeance on the gang that left him behind and the girlfriend (Angie Dickinson, here "Introduced" on the big screen) he can't find. Andrew McLaglen helmed this short, to the point genre affair presented here in a 1080p (1.85) B&W AVC encoded transfer from the UA vaults.
---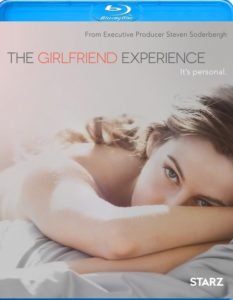 Anchor Bay New Releases
THE GIRLFRIEND EXPERIENCE Blu-Ray (359 mins., 2016; Starz): Riley Keough gives a compelling central performance as a second-year law student who finds herself drawn to "GFEs," a world of Pokemon stops – no, sorry, intimate relationships that are "transactional." As in, high priced dates that give Keough's Christine Reade not only top money but an emotional rush that's forever short-lived. This Steven Soderbergh-produced Starz series comes to Blu-Ray August 2nd featuring 1080p (1.78) transfers, 7.1 Dolby TrueHD audio tracks and three behind-the-scenes featurettes.
On DVD: Nick Jonas stars as a high school grad working in a tony summer town before heading off to college in CAREFUL WHAT YOU WISH FOR (91 mins., 2016, R), a thriller from director Elizabeth Allen Rosenbaum. Here, Jonas' Doug makes the mistake of starting an affair with the young wife (Isabel Lucas) of his banker neighbor (Dermot Mulroney), causing numerous problems for all involved. Paul Sorvino co-stars in a film scored by Josh Debney and the Newton Brothers, with a "Main Title Theme" from Josh's dad, John. Sony's DVD of the Hyde Park/Troika Pictures presentation includes a 16:9 (2.35) transfer with 5.1 Dolby Digital sound…Season 2 of AMC's HALT AND CATCH FIRE (434 mins., 2015) focuses on Mutiny, Cameron and Donna's start-up company circa 1985, when the 'net was just in its infancy. This interesting but somewhat chilly AMC series managed to net Season 2 and 3 renewals with marginal ratings, much to the delight of its fans. Only on DVD, Season 2 of "Halt…" bows August 9th, boasting 10 episodes in 16:9 transfers and 5.1 audio plus four featurettes and a set tour with stars Lee Pace and Scoot McNairy.
Anchor Bay Terror: Or, to be precise, Dimension terror is on tap in VIRAL (85 mins., 2016, R), the story of a pair of teen sisters (Sofia Black-De'Elia and Analeigh Tipton) whose quaint suburban town is overrun by a parasitic virus. The duo are able to barricade themselves away from the horror – only to have it infiltrate their home – in this Dimension/Blumhouse co-production from "Cat Fish" helmers Henry Joost and Ariel Schulman. Anchor Bay's DVD boasts a 16:9 (2.39) transfer and 5.1 Dolby Digital sound but no extras.
---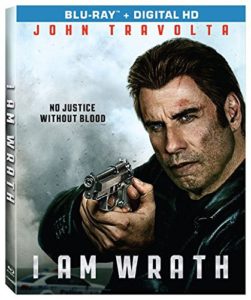 Lionsgate New Releases
On Blu-Ray: It's good to see Chuck Russell back at it with the formulaic John Travolta outing I AM WRATH (91 mins., 2016, R). The B-movie auteur turned A-lister for a brief time back in the '90s thanks to hits like "The Mask" and "Eraser," and here funnels his genre experience into this short but effective enough direct-to-vid tale of a former Black Ops agent (Travolta) who tries to avenge his wife's death by taking on a street gang and corruption that extends up the ladder of government (of course). Christopher Meloni gets in a few kicks and punches as one of Travolta's pals in this Saban Films/Patriot Pictures production co-starring Rebecca De Mornay (30 years ago, they would've really had something with this casting!). Lionsgate's Blu-Ray boasts commentary with Russell and writer Paul Sloan, a 1080p (2.40) transfer, 5.1 DTS MA sound and a Digital HD copy.
On DVD: International horror fans might be interested in  the Jaume Balaguero-produced chiller SUMMER CAMP (84 mins., 2014, R). This one offers Diego Boneta and Jocelin Donahue as camp counselors besieged by a terrible plague that turns them into zombies. If you're into this kind of thing, Alberto Marini's film doesn't overstay its welcome and offers typical genre thrills. Lionsgate's DVD, out August 2nd, includes a 16:9 (1.85) transfer, 5.1 Spanish audio and English subtitles, plus a digital Ultraviolet copy.
Capsule Round-Up
PUERTO RICANS IN PARIS Blu-Ray (82 mins., 2016, R; Universal): Paltry farce teams up Luis Guzman and Edgar Garcia as a pair of NYPD detectives sent to Paris where they not only culture-clash with the locals, but attempt to find a black market thief who's stolen the designs of an NYC fashion agency. Rosario Dawson and Rosie Perez also appear in this brief, silly affair that tries to function as a "Latino Ride Along," but doesn't have enough comedic juice to really score. Universal's combo pack, out August 2nd, includes a 1080p (2.40) transfer, 5.1 DTS MA sound and a Digital HD copy.
TRADED Blu-Ray (98 mins., 2015, Not Rated; Cinedigm): Michael Pare nets top billing for the first time in a long, long time as Clay Travis, a father who loses nearly everything and sets out to find his missing 17-year-old daughter. Trace Adkins, Tom Sizemore and Kris Kristofferson co-star in this meandering western from director Timothy Woodward, Jr., who has worked with Pare on a number of prior projects. Cinedigm's Blu-Ray, out August 2nd, includes two deleted scenes and a Making Of, a 1080p transfer and 5.1 DTS MA sound.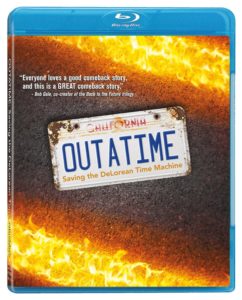 OUTATIME: SAVING THE DELOREAN TIME MACHINE Blu-Ray (63 mins., 2015; Virgil Films): Knocked around by the elements, fans, conventions and even wild animals, Doc Brown's famed Delorean – one of the most famous time machines in cinematic history – was on the brink of ruin. Thankfully – for Back to the Future fans – writer Bob Gale, Universal and a group of BTTF die-hards teamed up to restore it to its former glory – and then some – as chronicled in Steve Concotelli's hour-long documentary. Virgil Films' Blu-Ray contains over 90 minutes of bonus materials, including commentary from producer Joe Walser and Concotelli, deleted scenes, featurettes and plenty more, plus a 1080p transfer and 2.0 DTS MA sound.
Cohen Film Collection New Release: Available exclusively on DVD, THE LAST DIAMOND (108 mins., 2014) is Eric Barbier's film about a thief (Yvan Attal) who's encouraged to pull off one last score, while falling for the woman (Berenice Bejo) whose late mother owns the jewel he covets. Will he choose crime – or a different path – in this effective thriller? Barbier's 2014 film hits U.S. DVD for the first time from Cohen, sporting interviews with Barbier, Bejo and Attal, a 16:9 transfer and 5.1 sound in French with English subtitles.
LAZER TEAM DVD (102 mins., 2016, PG-13; Anchor Bay): Four small-town guys (Burnie Burns, Gavin Free, Michael Jones, Colton Dunn) stumble upon an alien crash site that gives them immediate super-powered tech in this good-natured variation on "The Greatest American Hero," with the government interested in them and an enemy bent on conquering humanity threatening all. Anchor Bay's DVD, out August 2nd, includes deleted/extended scenes, bloopers and a VFX breakdown, along with a 16:9 (2.35) transfer and 5.1 Dolby Digital sound.
NEXT TIME: Twilight Time's latest! Until then, don't forget to drop in on the official Aisle Seat Message Boards and direct any emails to our email address. Cheers everyone!