Twilight Time's mid-summer offerings are highlighted by a delirious Busby Berkeley musical – the 1943 20th Century Fox extravaganza THE GANG'S ALL HERE (103 mins.) – that marked the director/choreographer's first foray into the glory of Technicolor. The result is one of the more outlandish genre excursions one could anticipate, made all the more enthralling by the film's first HD presentation in TT's Limited Edition Blu-Ray.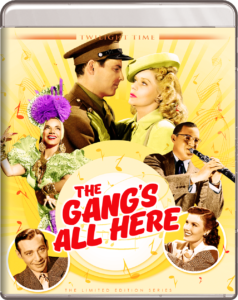 Simultaneously a musical revue and war-time fantasy, Walter Bullock's script serves as a framework – as you'd expect – for some of Berkeley's patented production numbers. James Ellison plays a GI about to head overseas to fight in WWII; before he goes, he meets aspiring showgirl Alice Faye, working at a New York City club starring Carmen Miranda's "Tutti-Frutti" songstress. However, Ellison's also promised to marry socialite Sheila Ryan, a complication that causes a commotion when he returns from the war.
The Leo Robin-Harry Warren song score is populated with both infectious Miranda numbers (the you-have-to-see-it-to-believe-it "The Lady In the Tutti-Frutti Hat") and Faye ballads (the lovely "A Journey to a Star"), plus the wild, camp finale "The Polka-Dot Polka." Yet it's not just the musical numbers that mark "The Gang's All Here" as a Berkeley product – the film maintains a kind of infectious energy from its opening (with a singer crooning "Brazil") to its final shot, and never becomes static during its broadly-played character sequences, with the cast – also including Phil Baker and Benny Goodman, bringing his orchestra along for the fun – achieving the right energy and tone throughout.
A film that's generated a loyal following among musical aficionados and Golden Age buffs in general, "The Gang's All Here" exists in its own universe of Berkeley's imagination: the color, pageantry, humor and innuendo are all hallmarks of the director, whose fresh staging and cinematography separate it from so many of its era's contemporaries.
Last seen on DVD in Fox's 2007 "Alice Faye Collection," Twilight Time's Blu-Ray offers a fetching 1080p (1.33) color transfer with fine grain and strong colors. Some DNR looks to have been applied for the first few minutes of the opening number, but once you get past that sequence, the transfer becomes even more impressive. 1.0 and 2.0 DTS MA audio options are available, the latter offering a bit more "oomph" and low-end presence, with an isolated score track (dialogue/effects occasionally included), and extras including commentary from historian Drew Casper; another historian commentary with Glenn Kenny, Ed Hulse and Farran Smith Nehme; a deleted scene; a Berkeley featurette; the trailer; and the 1985 Faye-hosted overview of her career, "We Still Are!," produced when the actress worked as a spokesperson for Pfizer Pharmaceuticals. Highly recommended!
Also new from Twilight Time this month: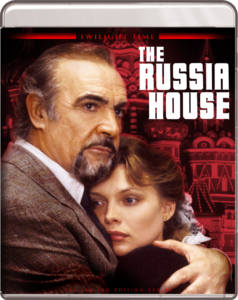 ZELIG (79 mins., 1983, PG). THE MOVIE: One of Woody Allen's most unique efforts, "Zelig" is a faux-documentary about Leonard Zelig, a human "chameleon" who changes his personality and tone to suit the company around him. Allen stars in the title role, utilizing footage of Zelig intercut into actual, archival newsreels in order to chronicle his adventures throughout the 1920s and '30s, including meeting celebrities and historical figures as varied as Charlie Chaplin, James Cagney, Charles Lindburgh, Al Capone, Babe Ruth, Lou Gehrig, William Randolph Hurst and Hitler among others. It's an ingenious concept for a comedy and Allen and cinematographer Gordon Willis' pre-CGI work is a technical marvel, especially considering the era in which "Zelig" was produced. Mia Farrow co-stars as Zelig's psychiatrist and numerous academic and intellectual figures, from Susan Sontag to author Saul Bellow, appear in framing interviews. TWILIGHT TIME BLU-RAY SPECS: The 1080p (1.85) AVC encoded transfer and DTS MA mono (1.0) sound are both acceptable for an older MGM master; an isolated score track and the trailer are the sole extras. AISLE SEAT BOTTOM LINE: Playful and consistently engaging, "Zelig" helped usher in a string of Allen films that have since become classics ("Broadway Danny Rose," "Purple Rose of Cairo," "Hannah & Her Sisters," "Radio Days," etc.). It's one of the comedian/director's more unusual features and remains a funny, but pointed, parody of American history and culture, as seen through Allen's distinctive lens.
THE RUSSIA HOUSE (123 mins., 1990, R). THE MOVIE: Sean Connery and Michelle Pfeiffer struggle to thaw out the Cold War in this story of an English publisher (Connery) reluctantly drawn into the espionage game. His target is a Russian book editor (Pfeiffer) whose recent work on a tome with inside information on the USSR's nuclear defense system draws the interest of both British and American government agencies, played by a marvelous ensemble of James Fox and Ken Russell on the UK end, plus John Mahoney and Roy Scheider (essentially reprising Chief Brody) on the US side. This MGM adaptation of John Le Carre's novel was supposed to be one of Christmas 1990's big movies, offering the teaming of Connery and Pfeiffer in a Fred Schepisi film backed with one of Jerry Goldsmith's loveliest scores and Ian Baker's excellent widescreen location filming. Unfortunately, the movie just doesn't fire, offering few sparks between the two leads in a slow-going, convoluted story that's difficult to follow if you haven't read the book it's based upon. Tom Stoppard's script may be "literate," but it's also inaccessible for most outside the LeCarre stable. TWILIGHT TIME BLU-RAY SPECS: A vintage featurette and isolated score track presents the entirety of Goldsmith's contribution, boasting the brilliant work of Branford Marsalis while making great use of the composer's discarded "Alien Nation" theme. The 1080p (2.35) AVC encoded transfer is marked by crisp detail and no overt DNR on-hand. The 2.0 DTS MA stereo surround track is fine and the trailer rounds out the release. AISLE SEAT BOTTOM LINE: It's almost a certainty the spy game as seen in "The Russia House" is more realistic than the likes of Bond, Bourne and company, but that alone, regrettably, doesn't make for a compelling film. Deemed a major disappointment at the time of its release, the film is still worthwhile for LeCarre enthusiasts and because of Connery's game performance, not to mention Goldsmith's unforgettable score. It's just too bad – with all the talent involved – that "The Russia House" wasn't a more satisfying, involving picture.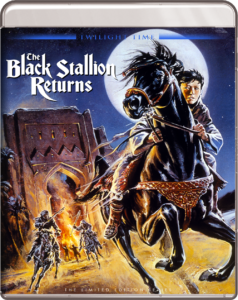 MISS SADIE THOMPSON 3D Blu-Ray (91 mins., 1953). THE MOVIE: W. Somerset Maugham's story about a "loose" woman, toiling as a songstress in the South Pacific, was brought to the screen by producer Jerry Wald and Columbia as a vehicle for star Rita Hayworth in the early '50s. Despite not being a full-blown musical, the song-and-dance numbers – including the Oscar nominated "South Pacific Blues" – help pep up an old-time melodrama with Jose Ferrer as the sadistic preacher and Aldo Ray the young WWII pilot who cross paths with Miss Sadie. Hayworth wasn't much of a singer – and her vocals here were dubbed – but her sultry presence makes for an agreeable studio package that was shot in 3D at the height of the fad's first widespread cinematic incarnation. TWILIGHT TIME BLU-RAY SPECS: TT's Blu-Ray is the first to present the 3D version of the film on home video, and for both format enthusiasts and aficionados of Golden Age melodramas, the disc comes strongly recommended. The 1080p (1.85) transfer sings in 3D with effective usage of the format while the presentation is equally satisfying in 2D. Mono DTS MA audio is included plus an isolated music/effects track, an introduction from actress Patricia Clarkson, the trailer, and an enlightening new commentary by David Del Valle and Steven Peros. AISLE SEAT BOTTOM LINE: More noteworthy for its 3D cinematography than its dramatic content, "Miss Sadie Thompson" is a fascinating relic resurrected and remastered by TT in an excellent Blu-Ray package. Be on the lookout for Charles Buchinsky – the future Charles Bronson – as one of Ray's fellow soldiers.
THE BLACK STALLION RETURNS Blu-Ray (103 mins., 1983, PG). THE MOVIE: Having to follow the miracle of "The Black Stallion" was going to be a tough task, but the 1979 movie's strong box-office and critical performance demanded a sequel. Produced once again under the supervision of Francis Ford Coppola, "The Black Stallion Returns" adapted Walter Farley's first sequel novel, with Alec Ramsay (Kelly Reno) high-tailing it to Morocco where his beloved steed, The Black, has been horse-napped – albeit by its original owners, who face off with a warring tribe in a climactic desert race. In order to enjoy this sequel, one really has to distance themselves from its predecessor – the original's unique brand of cinematic magic is nowhere to be found here, and neither is Mickey Rooney (Alec's Mom, Teri Garr, shows up for just a cameo, and departed Dad, Hoyt Axton, reads the on-screen prologue). Director Robert Dalva (who edited the first film) and cinematographer Carlo Di Palma have fashioned a far more workmanlike picture with some exciting sequences and the welcome return of Reno and the original horse, Cass Ole, who should still enchant young viewers. On its own terms, "The Black Stallion Returns" is perfectly sturdy family entertainment, yet compared to the original, it fails to show, never mind win or place. TWILIGHT TIME TECH SPECS: A seemingly older, but perfectly serviceable, HD master comprises TT's Blu with a 1080p (1.85) transfer and both 5.1 and 2.0 DTS MA soundtracks (an isolated score and trailer are also included). The 2.0 mix sounded better balanced and designed to my ears, featuring a Georges Delerue score that's far less subtle than its predecessor and occasionally a bit too overpowering for the drama's scope. AISLE SEAT BOTTOM LINE: "The Black Stallion" was one of my favorite films as a kid and I remember being thoroughly disappointed with the sequel, which my parents took me to see when it was first released. No matter how hard you try, it's impossible to remove the original's most memorable sequences from your memory, which is one of the biggest obstacles this competent follow-up never overcomes.
---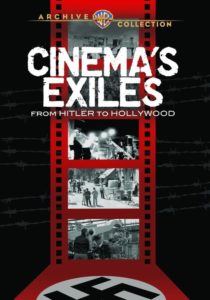 Warner Archive New Releases
The stellar 2009 production CINEMA'S EXILES: FROM HITLER TO HOLLYWOOD (117 mins.) has made its way to DVD from the Warner Archive, along with the DVD debuts of several features from artists included in the documentary.
Karen Thomas directed, produced and wrote this look at the over 800 Jewish members of the German film industry, who left their homeland for Hollywood, bringing an influx of talent that would sustain American cinema for decades to come. Sigourney Weaver narrates this marvelous profile of the likes of Billy Wilder, Fritz Lang, Fred Zinnemann, Peter Lorre, Curt Siodmak, the great Franz Waxman and many others, who brought classics from "High Noon" to "Bride of Frankenstein" and "Casablanca" to life. The Archive's 4:3 transfer and mono soundtrack are both fine considering the archival clips, interviews and photographs interspersed throughout this hugely entertaining, and vitally important, work.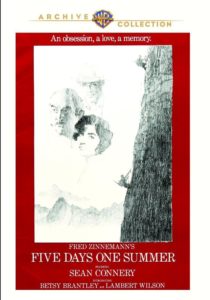 Zinnemann's 1982 film FIVE DAYS ONE SUMMER (108 mins., 1982, PG) also debuts this month from the Archive as part of the "Cinema's Exiles" tie-in. This Ladd Company release was not one of the veteran filmmaker's better efforts, serving as one of star Sean Connery's many box-office disappointments in the post-James Bond era. Guiseppe Rotunno's cinematography, at least, is worthwhile in this flaccid drama about a middle-aged doctor who travels to a Swiss chalet with a young woman (Betsy Brantley) who poses as his wife. Lambert Wilson is the mountain guide who falls for her – and eventually uncovers their shameful "secret" – in a tedious film that's slow-going and dreary despite the presence of Connery and Elmer Bernstein's score. The 16:9 (1.85) transfer and mono soundtrack are both fine….Edward G. Robinson plays Julius Reuter in A DISPATCH FROM REUTERS (90 mins., 1940), an enjoyable – if fictionalized – account of the man who started the first international news agency. Edna Best, Eddie Albert, Nigel Bruce and many other familiar faces appear in William Dieterle's film, scored by Max Steiner and presented here in a good looking B&W transfer with mono sound from the Archive.
Blu-Ray from the Archive: More classic musicals continue to trickle out in high-def for the first time from the Warner Archive. New this week is SILK STOCKINGS (117 mins., 1957), a lavish MGM musicalization of the classic Greta Garbo comedy "Ninotchka," starring Cyd Charisse as a Soviet envoy sent to Paris set to save her fellow comrades from Capitalism, only to meet – and fall – for Fred Astaire's debonair American. Cole Porter's music and dynamite Eugene Loring-Hermes Pan choreography made this Rouben Mamoullian-directed affair – co-starring Janis Page and Peter Lorre – a breezy good time, gorgeously shot in widescreen. Warner's 1080p (2.41) transfer and 5.1 DTS MA soundtrack are outstanding – extras including two vintage musical shorts (Paree, Paree and The Poet and Peasant Overture), the trailer, and "Cole Porter in Hollywood: Satin and Silk," hosted by Charisse.
---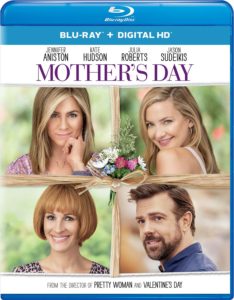 Also New & Noteworthy
MOTHER'S DAY Blu-Ray (*½, 119 mins., 2016, PG-13; Universal): The recent passing of comedy legend Garry Marshall is reinforced this week by the home video debut of Marshall's final film, "Mother's Day." This rather anemic anthology follows a similar pattern to Marshall's prior "New Year's Eve" and "Valentine's Day," with stars like Jennifer Aniston, Julia Roberts, Kate Hudson and Jason Sudeikis suffering through a series of alternately comic and heart-tugging moments during the week leading up to Mother's Day. Five different writers, including Marshall, are credited with the script for this lackluster affair, which ended Marshall's uneven filmography on a low note despite good intentions all around. Universal's Blu-Ray of the Open Road release includes deleted scenes and a gag reel, a 1080p (1.85) AVC encoded transfer and 5.1 DTS MA audio featuring a score by Marshall's frequent collaborator John Debney. A Digital HD copy is also included.
KEANU Blu-Ray (**, 100 mins., 2016, R; Warner): Keegan-Michael Key and Jordan Peele's uneven big-screen outing is painfully overlong, playing like material that should've been relegated to a five-minute sketch on their Comedy Central series. The duo here – working from an original script by Peele and Rubens – play a pair of urban-dwelling cousins without big city experience, when Rell's kitten, Keanu, is stolen. Getting him back requires the duo to go "street" in a droll comedy (check out the incessantly over-the-top score) that overstays its welcome and never erupts with big laughs. Method Man, Luis Guzman, Nia Long and Will Forte co-star, with Warner's Blu-Ray, out this week, boasting the featurette "Keanu: My First Movie," deleted scenes, a gag reel, 1080; (2.41) transfer, 5.1 DTS MA sound and a Digital HD copy.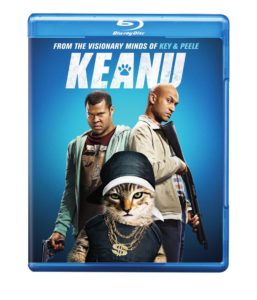 HBO New Releases: Steven Soderbergh continues to direct Season 2 of Cinemax's THE KNICK (640 mins., 2016), the tense and exciting series set in New York City's Knickerbocker Hospital circa 1900, where Clive Owen's brilliant-but-troubled Dr. Thackery attempts to keeps things together in the wake of poor finances and wealthy patients turning away from "The Knick," all the while combating his own personal demons. Harrowing medical sequences make for a fascinating series heavy on atmosphere, and HBO's Season 2 Blu-Ray captures the grit and grime of the production in another fine Blu-Ray set. Extra features include Episode Post-Ops, commentaries, featurettes and a handful of other behind-the-scenes segments. A digital HD copy and 1080p (1.85) transfers/5.1 DTS MA soundtracks comprise the set's technical specs when it streets August 2nd…also new from HBO is the network's original movie CONFIRMATION (126 mins., 2016), the inside story of Clarence Thomas' 1991 Supreme Court hearings, featuring Kerry Washington as Anita Hill and Wendell Pierce as Thomas. Susannah Grant wrote this decidedly biased (guess which side it's tilted towards) but well-acted drama coming to Blu-Ray August 2nd from HBO offering three featurettes, a Digital HD copy, 1080p transfer and 5.1 DTS MA sound.
Lionsgate New Releases: Colin Harrison's novel "Manhattan Nocturne" was turned into the thriller MANHATTAN NIGHT (114 mins., 2016, R), starring Adrien Brody as an intrepid reporter who meets and falls for the sexy widow (the always-lovely Yvonne Strahovski) of a filmmaker (Campbell Scott) whose death perplexes both her and a rich mogul who blackmails Brody into investigating Strahovski as well. Jennifer Beals, Linda Lavin and Steven Berkoff co-star in Brian DeCubellis' noir thriller, now on Blu-Ray this week from Lionsgate featuring a commentary with DeCubellis, Scott and cinematographer David Tumblety; behind-the-scenes with cast/crew interviews; "The Watcher" featurette; deleted/extended scenes; storyboards; a 1080p (2.40) transfer, 5.1 DTS MA sound and a Digital HD copy…Now on DVD, CHOSEN (105 mins., 2016, R) is focused on a Hungarian lawyer who springs into action to fight the Nazis after his wife is killed in the waning years of WWII. Luke Mably plays the young Sonson with Harvey Keitel as the older incarnation of the character in Jasmin Dizdar's film, now on disc from Lionsgate featuring a 16:9 (2.40) transfer with 5.1 sound and a Digital Ultraviolet copy…THE ADVENTURES OF PANDA WARRIOR (79 mins., 2015) is a Chinese animated adventure, not to be confused with "Kung Fu Panda", though the similarities are almost certainly intentional. Here, a Chinese soldier named Patrick is transported to "Merryland" where he becomes a literal panda warrior and joins forces with a number of other animal warriors to defeat an evil nine-headed snake. Several featurettes, a 16:9 (1.78) transfer, 5.1 sound and a Digital copy comprise Lionsgate's newly released DVD.
PETER – THE REDEMPTION DVD (90 mins., 2016; Cinedigm): Canadian production traces the life of the Apostle Peter after he denied Christ and is imprisoned by the Emperor Nero (Stephen Baldwin). John Rhys-Davies, who also produced, costars with Steve Byers in this tidy, 90-minute faith feature, now on DVD from Cinedigm featuring a 16:9 transfer and 5.1 Dolby Digital sound.
NEXT TIME: A HOLOGRAM FOR THE KING and more! Until then, don't forget to drop in on the official Aisle Seat Message Boards and direct any emails to our email address. Cheers everyone!