If there was a fitting way to put a cap on what's been the singular Worst Movie Summer in Hollywood history, it's with Warner's latest, confounding attempt to springboard their DC Comics characters into Marvel-sized box-office behemoths. This time it's not Batman and Superman doing battle, but rather the villains of SUICIDE SQUAD (**, 123 mins., PG-13), a film that resembles Marvel's "Avengers" less than it does a Warner August flop from years gone by: their ill-fated 1998 adaptation of TV's "The Avengers," which showed as many signs of post-production tinkering as this picture does.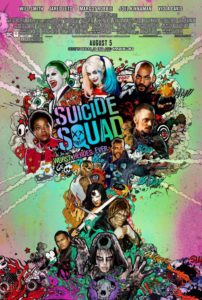 The "plot" in writer-director David Ayer's film is set following the events of "Batman V Superman," where the Man of Steel's absence has caused the government – led by covert op Amanda Waller (Viola Davis) – to recruit remaining "meta-humans" in an effort to stop impending doom. The trouble is that those super-powered individuals are villains, some more loathsome than others, and most of whom are holed up at a secret prison in Louisiana.
They include sharpshooter assassin Deadshot (Will Smith), who just wants his daughter to be taken care of; the Joker's moll, Harley Quinn (Margot Robbie); an Australian killer with a deft use of the boomerang (Jai Courtney, in a roll intended for Tom Hardy); a former L.A. gang member, dubbed El Diablo (Jay Hernandez), with pyrotechnic prowess; and a hulking, scaled beast, Killer Croc (Adewale Akinnuoye-Agbaje). "Assisting" them are decorated soldier Rick Flag (Joel Kinnaman), Japanese assassin Katana (Karen Fukuhara) and, finally, Dr. June Moone (Cara Delevingne), who's become fused with the soul of the Enchantress. This latter predicament causes a major headache because – while this ancient sorceress can be tamed with control of her heart (which Waller keeps next to her in a briefcase!) – the Enchantress' desires include taking over the world if given the opportunity…which, of course, she gets.
That plot description is about the most sense I could make of "Suicide Squad," which plays out – especially in its first hour – as a film that's been given such a heavy going-over in the editing room that there isn't a single scene that doesn't feel "tampered with." Ayer's concept – or at least the completed film's concept – is to introduce each character, give a bit of backstory, spice it up with a one-liner and plaster it with loud rock music in every single sequence. I couldn't imagine the original screenplay was written out in this manner, because not only does the sequencing make little sense – just when you think the flashbacks are over, along comes, say, another scene between Harley Quinn and the Joker (an unimpressive debut for Jared Leto, who comes across as more of a poser than a psycho) – but there's nothing for the viewer to latch onto or care about.
The latter sentiment is the biggest problem with "Suicide Squad." In a summer filled with needless sequels, failed reboots and rampant mediocrity, here's one more to add onto the pile – a movie that demands no emotional investment from the viewer, that's content to flash its cast out in such a way that could sell a two-minute trailer, and climaxes with one more "been there, done that" special effects show as interchangeable from the likes of "Ghostbusters" or (Insert Movie Title Here). Dumb monsters that look like refugees from 1999's "The Mummy" serve as punching bags in the same manner that "Avengers: Age of Ultron" paraded out dull robots for its heroes to disperse with – the effect is loud, tedious, and utterly forgettable.
Faced with material that gives many of them little to do, the cast fares marginally at best. Smith's role was clearly intended as the film's anchor point for viewers, but his relationship with Kinnaman's stalwart Flag gets lost in the shuffle because of Ayer's momentum-killing structure. The much-discussed Harley – a fan favorite character – is embodied at least cosmetically well by Robbie, but it's less a performance than it is eye candy, the movie giving you glimpses of the character's back story without filling it in with, say, actual dramatic development. Ultimately, fans will likely be disappointed with the rather disposable manner in which she and her "origin" are portrayed. Ditto for Leto's Joker, which strains to be "weird" instead of scary – or interesting. Other performances can only do so much in lieu of the mayhem, though I will say I could have used more of Delevingne's scantily-clad Enchantress, who seems to do a dance as she ignites the end of the world. She's kind of fetching, even if the part – and the character's relationship with Flag – seems equally under-served by the movie's under-developed screenplay.
It's true, certainly, that Marvel/Disney has their formula down in such a way that their pictures now solidly – though mostly unspectacularly – roll off an assembly line, and that Warner Bros. is clearly searching for the right mix with their DC pictures. Being "darker" and "edgier" is all fine and good, but serving up unappealing characters, incoherent storylines and a lack of basic humanity are the bigger problems in the DC "Cinematic Universe" right now. Perhaps going back to Summer Movies Past might enable the series' producers to find the proper ingredients for success, back when the likes of Donner, Raimi and Nolan had their own, respective ideas about what comic book – and movie – escapism used to be, and ought to be, about.
---
Kino Lorber New Releases
There was a short window of time where JoBeth Williams could single-handedly headline a movie — something the likeable actress did to good effect in a handful of mid '80s films, including the silly piece of fluff known as AMERICAN DREAMER (**½, 105 mins., 1984, PG), debuting this August on Blu-Ray from Kino Lorber as part of their popular Studio Classics line.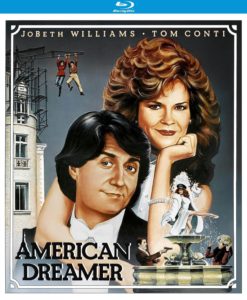 Williams stars as Cathy Palmer, an overworked and under-appreciated housewife with a pair of kids and a fondness for mystery novels. After Cathy enters a writing contest for her favorite author "Rebecca Ryan," she leaves her family behind and wins a trip to Paris, where she ultimately gets hit on the head, believes she IS "Rebecca Ryan," and lives a new life with Tom Conti along for the ride.
The script by Jim Kouf and David Greenwalt (who would later collaborate on the terrific 1985 teen comedy "Secret Admirer") offers its share of laughs, and Williams and Conti's chemistry clicks in a film obviously patterned after "Romancing the Stone" and even the Kate Jackson- Bruce Boxleitner TV series "Scarecrow and Mrs. King." Ultimately, the movie isn't as crisply directed as it might have been, with a few too many stock, comical characters (Williams' husband is such a dud he'd seem cliched even on an '80s sitcom) curtailing some of the fun.
Nevertheless, the CBS Films production "American Dreamer" is decent escapism with a fetching performance from Williams. Kino Lorber's Blu-Ray includes a fine 1080p (1.85) transfer with strong colors and detail, and an LPCM stereo soundtrack.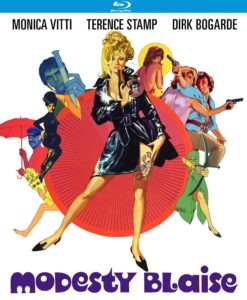 A contrasting comical spy adventure is also new to the KL Studio Classics line this month: the seldom-screened MODESTY BLAISE (**, 1966, 119 mins.), which plays out like a spoof without any jokes. Overlong and under-written, this Fox-released, would-be British parody stars Monica Vitti as the title anti-heroine: a jewel thief recruited by the government to stop a diamond heist. Terence Stamp plays her faithful sidekick, and there are supporting appearances turned in by numerous English character actors (Harry Andrews, Dirk Bogarde), but there's a reason why "Modesty Blaise" has never really been regarded as even a minor cult classic: it's deadly dull and rarely funny.
Director Joseph Losey seems to have completely missed the comedic potential of the material, resulting in a lumbering mess that quickly wears out its welcome. In fact, John Dankforth's score is about the only decent thing in the entire film (he also scored the Raquel Welch espionage fantasy "Fathom," which Kino Lorber will release in October).
The 1080p (1.85) Blu-Ray transfer is fine though the source materials aren't as clean as, say, the "Flint" Blu-Rays Twilight Time released. Still, for a movie that hardly ever plays on TV, it's more than acceptable. New extras include interviews with first assistant director Gavrik Losey; screenwriter Evan Jones and assistant art director Norman Dorme. Some of their anecdotes are more engaging than others, while a solid new commentary by David Del Valle with filmmaker Armand Mastroianni is a good deal more entertaining than the film itself. An animated image gallery, trailers, and DTS MA mono sound round out the package.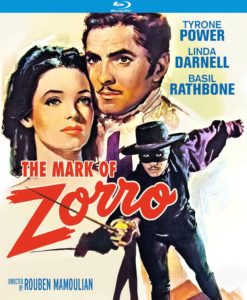 Classic entertainment of the Golden Age variety can be found in THE MARK OF ZORRO (***, 94 mins., 1940), the Fox swashbuckler starring Tyrone Power as Don Diego de Vega. After arriving in 19th century Los Angeles, Don Diego finds government corruption the reason for his father's removal from office and the dastardly Captain Pasquale (Basil Rathbone) the head of a new, oppressive Californian regime. To the rescue comes Don Diego's masked alter-ego, Zorro, who utilizes his sword skills to great effect, giving power to the people and romancing the lovely Linda Darnell.
Though it's a bit talkier than I expected (and, honestly, not as much fun as the modern "Mask of Zorro"), Kino Lorber's "Mark of Zorro" boasts extras from Fox's prior DVD editions (commentary by Richard Schickel, "Tyrone Power: The Last Idol" documentary and trailers) with the added benefit of a generally good looking 1080p (1.33) B&W transfer with DTS MA mono audio. This does not appear to be a 4K restoration but nevertheless boasts appreciable detail over the prior DVD.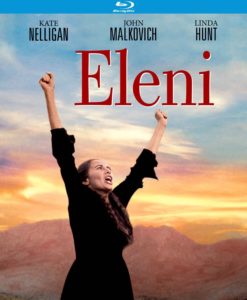 A film that was anticipated to be one of its year's major Oscar contenders, Peter Yates' ELENI (**½, 116 mins., 1985, PG) instead was deemed by most critics to be a major disappointment. Steve Tesich ("Breaking Away") adapted Nicolas Gage's own story about the crusading New York Times reporter (John Malkvoich) and the pursuit of his mother's (Kate Nelligan) killers, who executed the family matriarch in a Civil War-ridden Greece in the late '40s. Yates breaks up the film with flashbacks showing Eleni's efforts to get her children out of Greece before they're abducted by the Communists and sent to Russian internment camps, while her son tries to find answers to lifelong questions surrounding her death – and life – in the present. Linda Hunt co-stars in a movie that's both memorably shot by Billy Williams and scored by Bruce Smeaton, but just never comes together as a dramatic whole. Kino Lorber's Blu-Ray does include a marvelously detailed 1080p (1.85) AVC encoded transfer with 2.0 DTS MA stereo sound.
For Golden Agers, two Fox westerns starring genre stalwart Randolph Scott are also brand-new to the Kino Lorber library this month. In THE CARIBOO TRAIL (81 mins., 1950), Scott plays a cattle herder who clashes with younger Bill Williams over setting up their future prospects. When Williams' gold fever aspirations go bust, Scott tries to go it alone, eventually finding help from affable local "Grizzly" (Gabby Hayes) as he battles Victor Jory's heavy, his gang and assorted Indians. Meanwhile, CANADIAN PACIFIC (95 mins., 1949) offers Scott as a railroad engineer whose efforts to map territory through the Rockies is stalled by a trapper (Jory again) in another Fox western that was sabotaged for years – like "Cariboo Trail" – by inferior prints that were far removed from their original, intended "Cinecolor" process. Frankly, the restoration work in putting both of these dated, but entertaining enough, Scott vehicles is more compelling than either film, and Kino Lorber's Blu-Rays both include a full restoration doc, showing how "a 66-year-old Cinecolor puzzle of 400,000 pieces" was assembled for these respective high-definition versions. 8mm and 16mm print excerpts are also included for interested viewers (the former in B&W), while trailers round out the separate Blu-Ray releases.
DUKHTAR (93 mins., 2015) also joins Kino Lorber's library this month. Samiya Mumtaz plays a young mother who takes her ten-year-old daughter (Saleha Aref) out of an arranged child marriage to a tribal leader. With family members in pursuit, Mamtaz joins forces with an ex-Mujahid truck driver (Mohib Miraza) to drive them to Lahore and through Pakistan's vast landscape. Exciting and beautifully rendered, this is a taut and memorable import on Blu-Ray this week from Kino Lorber. The disc's 1080p transfer is complimented by commentary from director Afia Nathaniel, a Pakistani-born NYU professor making an impressive feature debut here. Extras include her commentary and the trailer.
---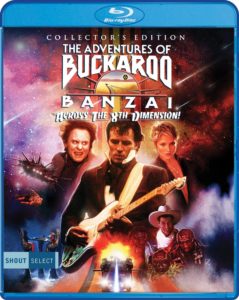 Shout New Releases
THE ADVENTURES OF BUCKAROO BANZAI ACROSS THE EIGHTH DIMENSION (***, 102 mins., 1984, PG; Shout! Factory): One of the all-time bizarro cult classics has been revisited in a new, deluxe Shout Factory "Select" release that should appeal to long-time Banzai buffs and newcomers alike.
W.D. Richter's impossible-to-describe 1984 sci-fi/comedy/adventure/spoof stars Peter Weller as the intrepid neurosurgeon/band leader/science pioneer trying to fight an alien invasion with the help of his "Hong Kong Cavaliers" (including Jeff Goldlbum and Clancy Brown). John Lithgow, in one of his most demented performances ever, plays the evil Dr. Lizardo while Christopher Lloyd essays another one of the slimy alien creatures and Ellen Barkin puts in an early performance as Banzai's new love interest.
It took me a very, very long time to warm to this movie, feeling on prior viewing occasions that Richter and screenwriter Earl Mac Rauch were straining too hard to make a "cult" film. Only when I finally caught the film in widescreen (in MGM's first DVD) did I find it not just comprehensible, but also more entertaining – this is a very dry comedy that gets by because of its wacky tone and engaging performances, two things that become clearer the more you see it.
Making its long-overdue Blu-Ray debut in North America, Shout's Blu-Ray boasts a colorful, almost spotless 2.35 transfer and both 5.1 and 2.0 DTS MA sound options. The image looks detailed and in generally superb condition, and all of the extras from the DVD have been carried over, albeit mostly on a corresponding DVD supplements platter: these include deleted scenes culled from the workprint, a strange commentary track with Richter and Mac Rauch (pretending to be a "real" member of Banzai's team!), the 2002 featurette "Buckaroo Banzai Declassified," the teaser trailer, and the alternate opening with Jamie Lee Curtis as Buckaroo's mom.
The big new addition in the package is "Into the 8th Dimension," a feature-length doc produced by Shout, featuring interviews with Peter Weller, W.D. Richter (shot at the same time as his "Invasion of the Body Snatchers" Shout conversation) and numerous others. It's one of those compulsively watchable behind-the-scenes retrospectives we don't see nearly enough of on Blu-Ray these days, and comes strongly recommended by itself. There's also a new commentary with "Star Trek" gurus Denise and Michael Okuda that's exclusive to this Shout Select package.
"Buckaroo Banzai: is certainly an oddity, an '80s version of "Flash Gordon" done in its own, unique fashion that might have been years ahead of its time. Fans ouight to appreciate both its HD presentation as well as a terrific documentary that signals great things ahead from Shout's new line of "Select" releases.
Also New From Shout: I remember, years ago, when local filmmaker Brad Anderson visited a small class I was taking during my Senior year at Boston College. It had to have been right before Anderson's supposed big break – selling an indie comedy named "Next Stop Wonderland," which Miramax hoped would become the next "Sleepless in Seattle" – occurred. While that amiable rom-com never achieved the mainstream success the Weinsteins hoped, Anderson nevertheless made a big splash for its sale (which was in the millions of dollars) and went onto direct, among other films, SESSION 9 (100 mins., 2001, R). This horror-thriller, shot in a very real mental institution in Danvers, Mass., offers David Caruso and Josh Lucas in its ensemble cast and is best left without an abundance of plot description. Suffice to say this tricky story, concocted by Anderson and Stephen Gevedon, is disturbingly off-kilter, and comes to Blu-Ray from Shout featuring a brand-new retrospective documentary and "Horror's Hallowed Grounds" featurette, plus extras from its DVD (commentary, deleted scenes, featurettes, the trailer). The 1080p (2.35) transfer and DTS MA 5.1 audio are both excellent.
---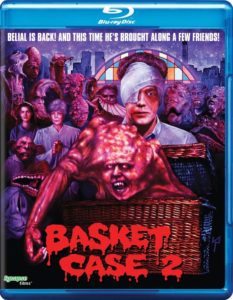 New From Synapse Films
BASKET CASE 2 Blu-Ray (90 mins., 1990, R; Synapse)
BASKET CASE 3: THE PROGENY Blu-Ray (90 mins., 1991, R; Synapse): Frank Henenlotter's unlikely 1980s cult horror hit gave birth to a pair of sequels, produced by Shapiro Glickenhaus Entertainment, and released in the early '90s.
"Basket Case 2″ finds Kevin Van Hentenryck and Annie Ross returning to the series as Duane Bradley and his deformed twin brother Belial – after surviving their fall at the end of the original – run into a similar group of freaks, hiding from the outside world, at a secluded mansion. There, they eventually fight for their privacy, while "Basket Case 3″ boasts Belial expecting an offspring that turns out to be a basic litter of baby monsters. He and Duane then fight for their monstrous rights after the police kidnap the creatures in this concluding portion of the "Basket Case" trilogy.
Fans of the series will find Synapse's Blu-Rays to be perfectly sufficient, though only the 2nd film has supplements, including an interview with actor David Emge, a featurette with makeup artist Gabe Bartalos, and a new high-def transfer from the original 35mm camera negative. "Basket Case 3″ also boasts a high-def transfer from 35mm original vault materials and the trailer, while both pictures include 2.0 DTS MA stereo soundtracks, featuring the scores of Joe Renzetti ("Child's Play," "Poltergeist III").
---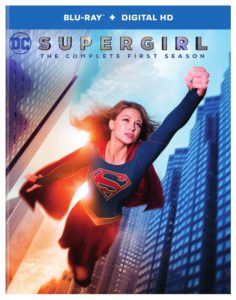 TV on DVD
BLACKLIST – Complete Third Season Blu-Ray (980 mins., 2015-16; Sony): NBC's hit series has dropped off a bit in the ratings, but still carries sufficient juice through the chemistry of stars James Spader and Megan Boone. For those who aren't aware, "The Blacklist" is a formulaic but engaging series that affords Spader one of his career defining roles playing Raymond "Red" Reddington, a former FBI agent turned fugitive who reappears on the scene after years in hiding. Mysteriously surrendering to officials and desiring only to work with a young agent (Boone), Red offers to spill the beans on a number of top criminals and take down crime while pushing his own agenda – whatever it may be. This time out, Boone's Liz Keen is on the run with "Red" with all of the FBI in reluctant pursuit, in a third season that tries to break up the formula of its prior installments. Delectably performed by Spader, "The Blacklist" ought to be prime viewing for folks who enjoy modern TV crime dramas, and Sony's Season 3 Blu-Ray set offers 1080p (1.78) AVC encoded transfers with DTS MA 5.1 audio and a Digital HD Ultraviolet digital copy. Extras include format exclusives (deleted scenes, commentaries, two featurettes) plus additional extras found on both DVD and Blu-Ray platforms (Making the Comic Book; Favorite Lines, etc.)
SUPERGIRL – Complete First Season Blu-Ray (877 min., 2015-16; Warner): Slickly produced and quite likeable series is – much like "The Flash" – a lot more appealing than Zach Snyder's leaden big-screen adventures of the DC Comics heroes. Marisa Benoist plays Kara Zor-El, aka Kara Danvers, aka Supergirl, who keeps her super-powers at a distance – until she can't bear not to share them with the world. Opting to fight crime and Kryptonian mutants in her National City home, Supergirl takes to the skies while juggling her "day job" – an assistant at a fashion magazine presided over by publisher Calista Flockhart. Chyler Leigh co-stars as Kara's human sister, Alex, with David Harewood as the head of a secret government agency who works with Alex in helping Supergirl's weekly case load. "Supergirl" was an expensive series for the CBS network and played to solid ratings for a genre program – eventually, its budget outweighed its usefulness to the predominantly older skewing network (this is the home of NCIS after all), which led Warner Bros. and CBS to move the series to the CW network for this fall. Either way, "Supergirl" is entertaining through most of its 20 episodes, anchored by Benoist's central turn, and Warner's Blu-Ray boasts unaired scenes, a gag reel, 1080p transfers, DTS MA 5.1 audio, a Digital HD copy, and new featurettes (two behind the scenes segments, 2015 Comic Con panel).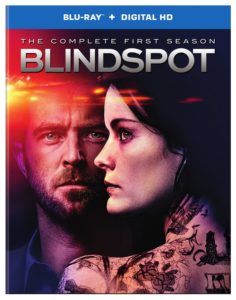 BLINDSPOT – Season 1 Blu-Ray (978 mins., 2015-16; Warner): Hits are hard to come by on the broadcast networks these days, which made the heavily-promoted NBC series "Blindspot" one of the few standouts of the 2015-16 season. Endlessly marketed before its debut last fall, "Blindspot" offers "Thor"'s Jamie Alexander as a female Bourne type: an amnesiac who awakens with plenty of physical prowess and no recollection of her past…save the tattoos that cover her body, pointing to an FBI agent (Sullivan Stapleton) and, of course, conveniently hinting at mysteries that tend to form the basis of each episode. It's pretty much by-the-numbers from what I sampled, but "Blindspot" offers well-executed action for fans of this kind of thing, and the public ate it up, earning an early renewal from NBC in the process. Warner's Season 1 Blu-Ray of "Blindspot"'s first season includes eight featurettes, from a 2015 Comic Con panel to behind-the-scenes segments, pilot commentary, unaired scenes, a gag reel, 1080p (1.78) AVC encoded transfers, DTS MA soundtracks and Digital HD Ultraviolet copies.
THE MAGICIANS – Season 1 Blu-Ray (9 hours, 2016; Universal): Entertaining Syfy Channel series stars Jason Ralph as Quentin Coldwater, a graduate student and aspiring magician who enrolls at Brakebills College, which he thinks is just the front for a Hogwarts-like "Harry Potter" location – only to find out the fantasy behind the books he's religiously read is, indeed, real. This 13-episode Syfy series crosses the likes of J.K. Rowling and "Now You See Me" with adult characters who find themselves, mostly, falling into a pair of warring factions, in an adaptation of Lev Grossman's novels. Fans of the series should check out Universal's Blu-Ray set, which includes deleted scenes, a gag reel, "World of The Magicians" featurette, 1080p transfers, 5.1 DTS MA soundtracks, and a Digital HD Ultraviolet copy across three discs.
---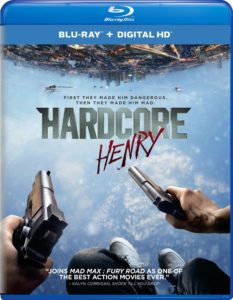 Also New & Noteworthy
HARDCORE HENRY Blu-Ray (**½, 97 mins., 2016, R; Universal): Gamers will be the prime audience for this cleverly designed, if repetitive, "single player" movie about a man named Henry who wakes up in Moscow with no memory of his past, a bad guy having kidnapped his wife, and seemingly the entire city populace trying to kill him. In Ilya Naishuller's independently produced film, "presented" by Timur Bekmambetov, "him" is really you, because the entire movie takes place from the viewer's point of view, with a pair of hands often shooting and punching in front of you. There are times in "Hardcore Henry" when you might be urged to get up and "play" the movie for yourself, and the film is a good 10-15 minutes too long, but the ways in which Naishuller crafts scenarios utilizing the perspective are interesting to see, and the film lightly engaging as a result. Universal's Blu-Ray includes deleted scenes, a fan chat, commentaries with Naishuller and star/executive producer Sharlto Copley, plus a 1080p (1.85) transfer and 5.1 DTS MA audio.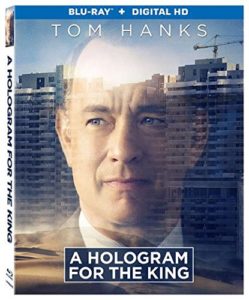 A HOLOGRAM FOR THE KING Blu-Ray (**½, 98 mins., 2016, R; Lionsgate): Tom Hanks tries extremely hard to anchor this uneven, but – like a lot of Tom Tykwer's films – strangely compelling drama about a divorced Boston businessman in a strange land. In this case, the foreign country is Saudi Arabia circa 2010, where Hanks' Alan Clay and his team are charged with producing a cutting-edge holographic communications system for the King, even though they can't get wifi in their small outdoor tent and the King himself hasn't been in the country in months. Tykwer adapted Dave Eggers' novel for this independently produced drama, which sputters when it comes to the nature of Hanks' backstory (relationship with his daughter and ex-wife, various Middle Aged crises, etc.), but functions well enough as a kind of travelogue about a foreigner in a very foreign culture. Vividly shot in Morocco and Egypt, "A Hologram For the King" died a quick death at the U.S. box-office but should find some takers – in spite of its shortcomings – on video. Lionsgate's Blu-Ray includes three featurettes, a Digital HD copy, spotless 1080p (2.40) transfer and 5.1 DTS MA sound.
BATMAN: THE KILLING JOKE Blu-Ray (**, 77 mins., 2016, R; Warner): It's been a strange journey for some of the most controversial comic book stories to hit the screen. Movies like "Watchmen," for example, served as just an uneven live-action adaptation of its source, while this week, Warner's DC Animation unit and producer Bruce Timm have produced a strictly workmanlike take on "The Killing Joke," one of the defining "adult" issues of the Batman comic that not only crippled Batgirl (Barbara Gordon) but served as a "mature" look at the genuine psycho lurking inside the Joker. Including a look at the Joker's life before and after his "origin," "The Killing Joke" today plays more like a story produced for shock value than, say, one of Frank Miller's "Dark Knight" tales, something that's amplified by this 77-minute adaptation, which trades the comic's offbeat imagery for a standard-issue, plain visual design similar to Timm's other DC animated offerings. If they can distance themselves from the alterations to the source material, comic-book die-hards might take to this, but casual viewers and younger audiences are advised to steer clear of the R-rated production, now on Blu-Ray featuring a number of format exclusive special features (two featurettes, two bonus cartoons, a sneak peek at the next DC title), a 1080p transfer, 5.1 DTS MA sound, DVD and Digital HD copy.
MARGUERITE Blu-Ray (129 mins., 2015, R; Cohen Film Collection): Catherine Frot is a riot in this French comedy about a wealthy socialite outside Paris in the 1920s, whose singing talent lacks a certain "quality." Her rise to fame – such as it is – takes shape through an audience of stuffy hypocrites and a journalist who writes a rave review of her efforts in Xavier Giannoli's 2015 import, now on Blu-Ray in the U.S. from Cohen Film Collection. An interview with Giannoli, four deleted scenes, the trailer, a DTS MA soundtrack (French with English subtitles) and a fetching 1080p transfer make this sparkling comic-drama well worth a gander, especially with Meryl Streep's simiarly-themed "Florence Foster Jenkins" due out in theaters this month.
THE TIGER Blu-Ray (140 mins., 2015, Not Rated; Well GO USA): Korean action-adventure stars Choi Min-sik ("Oldboy") as a retired sharpshooter hired to exterminate the last surviving tiger, but who changes his mind when Japanese forces and local poachers also try to claim the same prey. A lengthy, sprawling epic that earned kudos in its native country, Well Go brings "The Tiger" to Blu-Ray this week featuring a 1080p transfer and 5.1 Korean audio with English subtitles.
LAST DAYS IN THE DESERT DVD (100 mins,., 2015, PG-13; Broadgreen): The 40 days and 40 nights of Jesus' desert fasting and prayer are the subject of Rodrigo Garcia's uneven film, which at least boasts a strong performance from Ewan McGregor in the lead role. Ciaran Hinds and Tye Sheridan co-star in this barely-released religious drama, which kind of plays like "Last Temptation Lite" with a PG-13 rating and some imagery unsuitable for young viewers. Boradgreen's DVD exclusive release offers a 16:9 (2.40) transfer and 5.1 Dolby Digital sound.
NEXT TIME: Warner Archive new releases! Until then, don't forget to drop in on the official Aisle Seat Message Boards and direct any emails to our email address. Cheers everyone!