When THE WONDER YEARS (58 hours, 1988-93; Time Life) debuted following the Super Bowl in January, 1988, the American TV sitcom would be changed forever. The ABC comedy-drama from creators Neal Marlens and Carol Black made an immediate impact on viewers – with its perceptive nostalgia and lack of a laugh track, the series helped to innovate the stagnant genre and has remained a fan favorite ever since.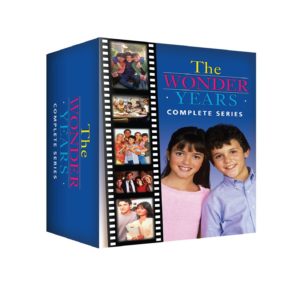 "The Wonder Years" chronicles the life of the Arnolds, a typical American family during the turbulent late '60s, through the prism of youngest son Kevin (Fred Savage). Mom (Allie Mills) is the understanding, compassionate wife to Kevin's domineering father (Dan Lauria), while older brother Wayne (Jason Hervey) is an obnoxious bully and sister Karen (Olivia d'Abo) is the rebellious free spirit caught up in the hippie craze. The family's dynamic is balanced with stories revolving around Kevin's school life, friends, and relationship with first crush Winnie (Danica McKellar), making for a vivid coming-of-age story based on incidents from Marlens and Black's actual adolescence.
Though I wasn't huge into "The Wonder Years" myself growing up, it's hard not to be impressed by the show's legacy. Often imitated over the years, the series was appealingly performed and sensitively written, often with sharp dialogue and colored by Daniel Stern's wry narration as the elder Kevin. The program made an immediate star out of Fred Savage, who appeared on everything from "Saturday Night Live" to starring in a couple of theatrical features – some more fondly remembered ("The Wizard") than others ("Little Monsters").
The New World-produced series has been a mainstay on TV via syndicated reruns – and basically has never left the airwaves since the show ended in 1993 – but never received a comprehensive home video release until Starvista's 2014 "Locker"-sized DVD retrospective. Now Time Life has returned with a more conveniently packaged DVD box that essentially repeats that essential purchase, just in specially-priced standard-case packaging. The release not only gives you all the supplemental bells and whistles you'd expect, but has also – like the label's prior "China Beach" box – gone the extra mile to ensure that all the licensed music (and there's a lot of it in "The Wonder Years") was restored, intact to the program. This Herculean effort has resulted in a release that's a love letter to "Wonder Years" fans, packaged with 22 DVDs including the entire run of the series – 115 episodes in their original 4:3 transfers and stereo soundtracks – and enough extras to keep viewers occupied for hours. Freshly produced retrospective interviews from all the principal cast and crew members are included, from Fred Savage to Neal Marlens and Carol Black, plus assorted outtakes and other goodies.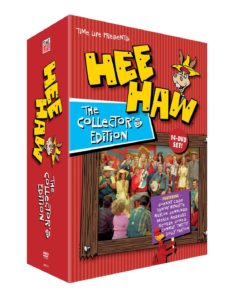 What's more, over 300 classic period songs are preserved here, keeping the show's legendary original pop-song soundtrack intact. I can't see any fan of "The Wonder Years" not being thrilled with the presentation, as this lower-priced set contains its predecessor's excellent, remastered transfers in a leaner package. Highly recommended!
Also new from Time-Life:
HEE HAW – THE COLLECTOR'S EDITION (1306 mins., Time Life): A series that began its life in 1969 as the "country" version of "Laugh-In," "Hee Haw" was canceled by CBS – despite high ratings – when the big networks decided to move away from "rural" programming in the early '70s. The series, though, quickly migrated to local stations through syndication, where it became one of the longest running series of all-time until its final episode aired in 1992. Time Life's 14-disc DVD retrospective is newly available on August 30th, including the 7-disc "Hee Haw Collection," featuring a mix of segments from the show's long run, with (decidedly corny) comedy and musical performances intertwining throughout an upbeat family entertainment. Performances from Merle Haggard, Loretta Lynn, Conway Twitty, Hank Williams Jr. and Tammy Wynette are present plus bonus interviews with Roy Clark and others. Also included is the 6-disc "Kornfield Klassics," with Roy, Buck and the Hee Haw gang on-hand along with musical guests Bill Anderson, Roger Miller and Loretta Lynn, while the bonus "Hee Haw Laughs" DVD rounds out the set. Over an hour of additional interviews make this a must for aficionados of the long-running, down home TV staple.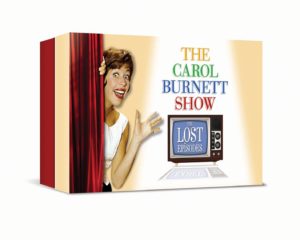 THE CAROL BURNETT SHOW: THE LOST EPISODES (62 hours, Time Life): Outstandingly packaged, deluxe box-set also arrives next week from Time Life. This 22-disc DVD retrospective includes 45 uncut, uncensored and (previously) seldom-screened "Carol Burnett Show" episodes from the CBS' series first five seasons as they originally were broadcast, along with over 20 hours (!) of bonus features.
Included here are a cornucopia of TV and movie parodies (Valley of the Dollars, Bony and Clod, Guess What's Coming to Dinner?), classic sketches (The Old Folks, The Ham Actors, Carol and Sis, As the Stomach Turns), guest stars including Jonathan Winters, Joan Rivers, Sonny & Cher, Paul Lynde, Art Carney, Betty Grable, Mickey Rooney, and cameos from Bob Hope to Ronald Reagan and others. Over 20 hours of bonus features include bonus, rarely-seen Carol TV specials, additional sketches, a backstage tour of Studio 33, and enlightening "tribute" comments from Steve Carell, Alan Alda, Julie Andrews, Tony Bennett and Tina Fey among others. There are also retrospective featurettes and never-before-seen outtakes, and – to cap it off – a 40-page "Guest Book" with notes from Carol herself, autographs from esteemed guest stars, Carol's friends and fans, and plenty more.
An essential release for TV comedy fans and a must-have for Burnett buffs!
---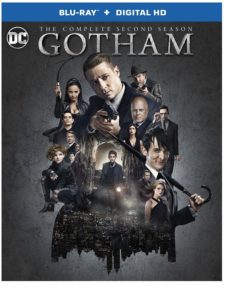 TV on Video: Warner New Releases
GOTHAM – Complete Second Season Blu-Ray (960 mins., 2015-16; Warner): For those who remained patient with the Fox series' first season, "Gotham" satisfingly continues its exploration of the events in Gotham City before the days of Batman. With Captain Nathaniel Barnes trying to clean up the streets, detectives Jim Gordon and Harvey Bullock run into more of the future Bat's rogue gallery of villains, including Edward Nygma (the eventual "Riddler"), professor Hugo Strange, Victor Fries (future "Mr. Feeze") and Barbara Kean. Meanwhile, Theo Galavan and his sister enlist Arkham Asylum crazies in an effort to finish off a festering, centuries-old vendetta. A young Bruce Wayne is, of course, also around in 22 episodes of "Gotham"'s second season, which should satisfy Bat-fans with its more confident, grounding storytelling. BLU-RAY SPECS: Over 90 minutes of extras include featurettes "Alfred: Batman's Greatest Ally," "Gotham By Noir Light," and "Cold-Hearted: The Tale of Victor Fries," character profiles, the 2015 Gotham Comic-Con panel and digital HD copies. The 1080p (1.78) transfers and 5.1 DTS MA soundtracks are all outstanding.
DC'S LEGENDS OF TOMORROW – Complete First Season Blu-Ray (681 mins., 2015-16; Warner): More proof that DC's TV division is ahead of its theatrical film counterpart in terms of producing coherent and satisfying entertainment, "Legends of Tomorrow" finds time-traveler Rip Hunter having witnessed the future – and it ain't good. Turning back the clock, Hunter recruits a series of mostly minor DC heroes, including Arrow's Atom (former Superman Brandon Routh) and White Canary (Caity Lotz), Victor Garber's Martin Stein (from "The Flash"), plus Captain Cold and Heat Wave ("Prison Break"'s Wentworth Miller and Dominic Purcell) among others, in an effort to save the planet. BLU-RAY SPECS: 16 episodes are included in Warner's Blu-Ray box, sporting 1080p (1.78) transfers, 5.1 DTS MA soundtracks, Digital HD copies, a 2015 Comic Con panel and plenty of extras.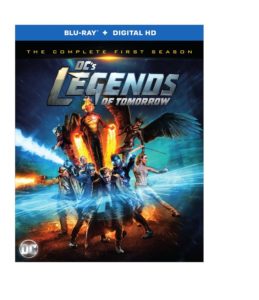 THE VAMPIRE DIARIES – Complete Seventh Season Blu-Ray (926 mins., 2015-16; Warner): With Nina Dobrev's heroine Elena having succumbed to a "sleeping curse," the Mystic Falls gang tries to rally minus her absence (Dobrev's contract expired, though she is expected to return for the series' concluding eighth season episodes). That includes Stefan, who grieves while growing closer to Caroline, and Bonnie, who explores her new powers. All 22 episodes from "The Vampire Diaries"' seventh season have been collected with 1080p (1.85) transfers and 5.1 DTS MA sound, plus unaired scenes, a gag reel, 2015 Comic Con panel and "Directing Vampires" featurette. Digital HD copies are also on-hand.
LUCIFER – Complete First Season DVD (566 mins., 2016; Warner): There's nothing like Lucifer teaming up with a lovely LAPD detective to help solve crimes – which is exactly what you get with the first season of the agreeable, if strictly formulaic, Fox crime procedural, which is more than reminiscent of "Sleepy Hollow." That series started off strong but lost its way, something that is entirely likely to happen with "Lucifer," though the concept is workable enough to sustain its initial 13 episodes. Warner's DVD includes unaired scenes, a gag reel, 2015 Comic Con panel, four character profiles, two featurettes, 5.1 audio and 16:9 transfers.
DC SUPER HERO GIRLS: HERO OF THE YEAR DVD (76 mins., 2016; Warner): Heroes – and villains – Wonder Woman, Supergirl, Batgirl, Poison Ivy, Harley Quinn, Bumblebee and Katana are all enrolled at Super Hero High where the teen heroines try to master their powers and get along in this feature-length original movie. This is an upbeat animated affair for kids, especially youngsters, with positive messages and light humor. Warner's DVD includes a 16:9 transfer, 5.1 audio, seven (!) different featurettes and other goodies.
ARROW: Season 4 Blu-Ray (1018 mins., 2015-16; Warner): The fourth season of the hit CW series opens up with billionaire playboy/super-hero Oliver Queen having left Star City alongside Felicity Smoak – only to have Laurel Lance and Thea, Oliver's sister, come calling once Star City needs rescuing again. The culprit this time is the arrival of H.I.V.E. under the command of leader Damien Darhk, who has dastardly plans up his sleeve. "Arrow" has managed to do quite well in the ratings for the CW, keeping DC's TV winning streak alive, and Warner's Blu-Ray box-set – out this week – includes high quality 1080p (1.78) AVC encoded transfers and 5.1 DTS MA soundtracks. In addition to a Digital HD copy, the set includes four featurettes (Star-Crossed Hawks, The Hunt For Vandal Savage, Smooth Criminal, and a 2015 Comic Con panel), plus the "Flash" crossover event, unaired scenes and a gag reel.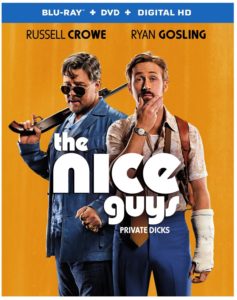 Also New From Warner
THE NICE GUYS Blu-Ray (**½, 116 mins., 2016, R; Warner): Everyone laments the dearth of adult movies making their way to movie theaters nowadays – but what can you do when a picture intended as an antidote to mindless CGI blockbusters itself turns out to be overrated?
That's the regrettable case with "The Nice Guys," Shane Black's tale of a former detective-turned-private eye (Ryan Gosling), who teams up with a grizzled dick (Russell Crowe) to investigate the death (or is it disappearance) of a porn star in Hollywood circa 1977. Black's film looks to have all the elements in place for a rollicking good time, but "The Nice Guys" feels more like posturing than it does an authentic recreation of not only time and place (outside of a few billboards, Pong-playing gamers and the era's fashions, what's the point of the setting?), but the very type of film Black wants to evoke here ("The Long Goodbye" by way of "Lethal Weapon," essentially). Gosling and Crowe, saddled with an especially unconvincing accent, strain to strike up a chemistry and never quite get there; the script thinks it's being funny and clever, but seldom hits the mark; and the sleazy case at the center of it all is never all that interesting. A movie you go in rooting for, "The Nice Guys" is still watchable – and Angourie Rice's performance as Gosling's teen daughter is a standout – yet it's ultimately a letdown, no matter how few films like it there were at this summer's mediocre, sequel-laden box-office.
Making its Blu-Ray debut this week, "The Nice Guys" is presented in a top notch 1080p (2.40) AVC encoded transfer from Warner with DTS MA 5.1 audio. Extras are limited to a pair of very brief featurettes and a Digital HD copy.
ME BEFORE YOU Blu-Ray (**, 110 mins., 2016, PG-13; Warner): Looking for a romantic comedy about euthanasia? Look no further than "Me Before You," an adaptation of Jojo Moyes' novel – scripted by the author – about the relationship between a kooky free spirit (a change of pace role for "Game of Thrones"' Emilia Clarke) and a handsome quadriplegic (Sam Claflin) with whose care she's entrusted. The duo establish an immediate chemistry, learn life lessons and fall for one another, but happy endings are a point of view in Thea Sharrock's well-acted but relentlessly contrived film, which never for a moment feels believable.
Warner's Blu-Ray, out this week, includes deleted scenes, outtakes, a "From Page to Screen" featurette, a 1080p (2.41) transfer, 5.1 DTS MA audio and a Digital HD copy.
---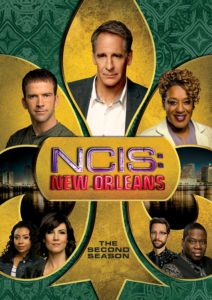 TV on DVD: CBS New Releases
NCIS: NEW ORLEANS The Second Season DVD (17 hours, 2015-16; CBS): Scott Bakula returns as Dwayne Cassius "King" Pride, protecting the homeland in this second season of the NCIS spin-off. The popular CBS series here has Pride teamed with former detective Christopher Lasalle (Lucas Black), Meredith Brody (Zoe McLellan), and ex-ATF agent Sonja Percy (Shalita Grant), who collect the evidence where forensics experts serve as the modern day equivalents of "Quincy", including Medical Examiner Dr. Loretta Wade (CCH Pounder). All 24 sophomore-season episodes of "NCIS: New Orleans" have been assembled on six discs by CBS along with quality 16:9 transfers and 5.1 audio. Extensive extras include selected episode commentaries; deleted scenes; Part 1 of an NCIS cross-over episode; and numerous behind-the-scenes featurettes.
Also new from the NCIS family is NCIS: LOS ANGELES Season 7 (17 hours, 2015-16), which finds "G" Callen (Chris O'Donnell), Sam Hanna (LL Cool J) and their gang (Eric Christian Olsen's Marty Deeks, Barrett Foa's Eric Beale, Renee Felice Smith's Nell Jones and Daniela Ruah's Kensi Blye) in taking down a variety of bad guys. This time out, international and domestic terrorists are on the agenda, including North Korean spies, Russian gangsters and ISIS brides. Linda Hunt and Miguel Ferrer are also back as the powers-at-be supervising the unit in this latest go-around for the hugely popular franchise. CBS' six-disc DVD includes deleted/extended scenes, a 150th Episode celebration, behind-the-scenes featurettes, 16:9 transfers and 5.1 Dolby Digital soundtracks.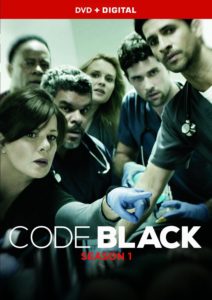 CODE BLACK – Season 1 DVD (13 hours, 2015-16; CBS): Marcia Gay Harden tackles the small screen in this new CBS series as Dr. Leanne Rorish, an uncompromising, no-nonsense Residency Doctor in the country's busiest Emergency Room. Leading a group of first-year residents – played by Bonnie Somerville, Melanie Chandra, Benjamin Hollingsworth and Harry Ford – Rorish's Angels Memorial Hospital is chock full of life-or-death situations, shepherded by its veteran doctors as well as Head Nurse Jesse Sallander, engagingly performed by Luis Guzman. All 18 episodes from the first season of "Code Black" have been packaged by CBS on DVD sporting a gag reel, deleted/alternate scenes, three featurettes, 16:9 transfers and 5.1 Dolby Digital sound.
ELEMENTARY – The Fourth Season DVD (17 hours, 2015-16; CBS): Sherlock Holmes and Dr. Joan Watson are back, rekindling their unusual chemistry in another season of whoduneits and how-doneits. CBS' six-disc DVD box set contains the complete Season 4 of the popular network crime procedural, here finding Jonny Lee Miller's Holmes having to deal with his father, Morland (John Noble, doing his usual shtick), who's moved full-time to NYC. Lucy Liu remains the show's anchor, however, and fans are sure to warm to this latest go-round for the series. Extras include deleted scenes, a gag reel, 16:9 transfers, 5.1 soundtracks and a handful of featurettes taking viewers behind the scenes.
THE AFFAIR – Season Two DVD (12 hours, 2015; CBS): One of the best shows on TV, this slick, intelligent adult drama also functions as a thriller with Dominic West as the teacher/would-be novelist who leaves his wife (the tremendous Maura Tierney) and kids for a Long Island waitress (Ruth Wilson) with a troubled past. Their relationship in the present is intercut with a future murder that puts West's character on the stand – but is he truly guilty? West and Wilson are terrific but it's Tierney as the scorned wife left to pick up the pieces who steals the show in "The Affair"'s second season, which is just as compulsively entertaining and watchable as its freshman year. CBS' DVD includes Character Profiles; a Tour of Montauk; 16:9 transfers, 5.1 sound and a bonus disc with episodes from sister Showtime series "Billions." Highly recommended.
---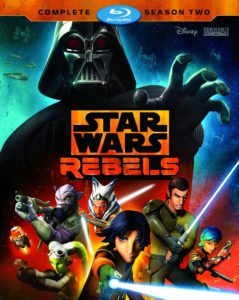 TV on Video: Buena Vista New Releases
GREY'S ANATOMY – Complete Twelfth Season DVD (1030 mins., 2015-16; Buena Vista): Bailey finds out running a hospital isn't all it's cracked up to be in this 12th season of the ABC night time soap perennial, as she also faces challenges in dealing with her husband. Meanwhile, Maggie dates a younger guy, Amelia battles personal demons, and Meredith – coming off a brutal attack – finds love and comfort. It all comes to a boil when Amelia and Meredith find the doctor responsible for Derek's death. All 24 episodes from the 2015-16 season of "Grey's Anatomy" are new to DVD from Buena Vista, featuring 16:9 (1.78) transfers and 5.1 Dolby Digital soundtracks. Extras include deleted scenes and a gag reel.
STAR WARS REBELS – Complete Season Two Blu-Ray (485 mins., 2015-16; Disney): "The Clone Wars" may be over, but young viewers and Star Wars fans should enjoy this Disney Channel/Lucasfilm series that's now entering its second season. This time out, Ezra continues down the path of becoming a Jedi while the "Ghost" crew teams up with a secret resistance cell and ex-Clone Wars soldiers to augment the fledgling rebel alliance – all while Darth Vader and company lurk about, looking to vanquish any and all resistance in the galaxy. A bit more "cartoony" than its predecessor, "Rebels" is still solid entertainment for buffs and kids alike, offering colorful and vibrant animation that looks outstanding in Disney's Blu-Ray set. The two-disc package includes its complete Season 2 episodes in 1080p (1.78) transfers with 5.1 sound and extras include the BD format exclusive featurette "From Apprentice To Adversary: Vader Vs. Ahsoka," plus "Connecting the Galaxy: Rebels Season 2″ and "Rebels Recon" segments with extensive behind-the-scenes interviews.
---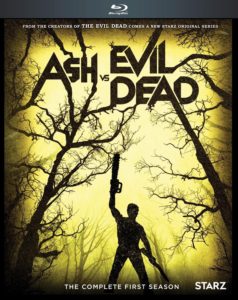 Anchor Bay New Releases
THE WALKING DEAD – The Complete Sixth Season Blu-Ray (752 mins., 2015-16; Starz): Rick and the rest of the Alexandria survivors have to battle both the undead and a deadly group of scavengers dubbed the Wolves in this sixth season of the still-massively popular series that continues to generate huge numbers for AMC. Aired in two sections, "The Walking Dead"'s sixth season opens up with those subplots before moving on to address the discovery of more survivor communities, not all of whom are friendly. Fans of the series are sure to gravitate towards the horror – both supernatural and otherwise – explored in this latest season of the show, though the execution of certain characters and downbeat nature may prove tiresome to some. Anchor Bay's box-set, out this week, includes the complete Season 6 of "The Walking Dead" with better-than-broadcast, excellent 1080p (1.78) transfers and 7.1 Dolby TrueHD soundtracks. Extensive extras include an extended version of Episode 616, "Last Day On Earth," a Making Of, several other behind-the-scenes segments, commentaries, deleted scenes, and Digital HD copies.
ASH VS EVIL DEAD – Season 1 Blu-Ray (294 mins., 2015-16; Anchor Bay): Fans of Sam Raimi's "Evil Dead" movies are likely to enjoy this fun, if repetitive, Starz series that brings back Bruce Campbell as everyone's favorite Deadite-slaying Supermarket worker, who is tasked with once again trying to stop an invasion of zombies from taking over the world. This time out, Ash has some help in the form of Pablo Simon Bolivar (Ray Santiago), his loyal sidekick, plus Dana DeLorenzo's Kelly Maxwell, in a supporting cast that also includes an appearance from executive producer Robert Tapert's wife, Lucy Lawless. "Ash Vs Evil Dead" starts out strong but seems to play all of its cards early on, mixing old-time make-up effects and gore with plenty of laughs – but a story that tends to max itself out after a couple of episodes. Still fun for fans, though. Anchor Bay's Blu-Ray boasts commentaries on all episodes, multiple featurettes, 1080p (1.878) transfers and 7.1 Dolby TrueHD soundtracks.
BLUNT TALK – Season 1 DVD (312 mins., 2016; Anchor Bay): Patrick Stewart dabbles in something different – playing a British cable news pundit trying to make it in the U.S., and finding his theories on how Americans should live being frequently met with resistance. Lots of it. Seth MacFarlane was one of the producers on this Starz cabale series, which offers some laughs but is a little bit uneven, staying afloat because of Stewart's disarming, atypical performance. Anchor Bay's DVD includes three featurettes, a 16:9 transfer and 5.1 Dolby Digital soundtracks.
---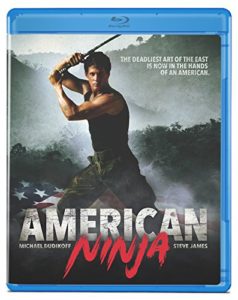 Catalog Corner
AMERICAN NINJA Blu-Ray (96 mins., 1985, R; Olive)
AMERICAN NINJA 2: THE CONFRONTATION Blu-Ray (90 mins., 1987, R; Olive): Two of Cannon's more fondly-remembered '80s action vehicles slice their way onto Blu-Ray in the U.S. for the first time courtesy of Olive Films, along with some superb new special features.
Michael Dudikoff stepped into a role originally planned for Chuck Norris in the original "American Ninja" as Joe Armstrong, a U.S. GI with martial arts skills who takes on the Black Star Order – plus corrupt military leaders – in an engaging and fun Sam Firstenberg film as satisfying as any of Golan-Globus' other B-level productions. The success of the picture lead to a variety of sequels, including 1987's okay albeit inferior "The Confrontation," which brings back Dudikoff and pal Steve James (aka Curtis Jackson) as they head for the Caribbean in order to find missing marines.
These are broadly played pieces of '80s escapism as only Cannon could produce them, striking the right mix of mayhem and bloodshed that's admittedly tame by today's standards. Olive's individual Blu-Ray releases each contain respectable 1080p (1.85) AVC encoded transfers licensed thru MGM with DTS MA mono audio (the second film was an Ultra Stereo product and was presented that way in the 88 Films British Blu-Ray, so who knows what happened here). Unusually for Olive, and most welcome to see here, are retrospective supplements, including commentaries with Firstenberg on both films as well as interviews with Dudikoff, Firstenberg and other cast members, including 1's lovely female lead, Judie Aronson. Trailers round out the discs.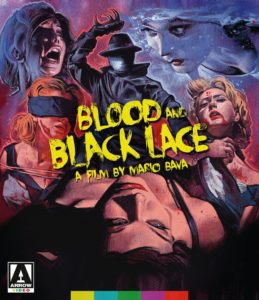 Arrow New Releases: Duccio Tessari's THE BLOODSTAINED BUTTERFLY (99 mins., 1971) is a fascinating mix of Argento/Bava-esque "giallo" thrills and a courtroom drama, resulting in an unusual Italian hybrid for buffs. Here, Giancarlo Sbragia plays a TV sports personality blamed for the death of a female student killed in a local park; despite the evidence being stacked against him, Sbragia tries to uncover the truth, which trickles out once his character is imprisoned…and the killer strikes again. Helmut Berger, Evelyn Stewart and Carole Andre co-star in this widescreen-shot import presented on Blu-Ray in a fabulous new 4K restoration from Arrow. The combo pack sports a 2.35 transfer from the original camera negative; Italian and English soundtracks in DTS MA mono; newly translated subtitles; a fresh and informative commentary with critics Alan Jones and Kim Newman; a new visual essay on the film from Troy Howarth; a new interview with Burger; a talk with Evelyn Stewart (aka Ida Galli); a conversation with Lorella De Luca, Tessari's wife; trailers; and booklet notes.
Recently released by Arrow is another giallo – BLOOD AND BLACK LACE (89 mins., 1971) – a thriller from the genre master himself, Mario Bava, set in a glamorous world where murder, blackmail, drugs and death permeate the Christian Haute Couture fashion house. Regarded as an all-time classic by Italian movie buffs, this influential film has been restored here in 2K in Arrow's Blu/DVD combo pack, which also boasts Italian and English audio and tons of special features. Among them are a commentary from Video Watchdog's Tim Lucas; "Psycho Analysis," a full documentary looking at the origins of the genre; an appreciation by Helen Cattet and Bruno Forzani; the "neo giallo" "Yellow," exclusively on Blu-Ray; a visual essay by Michael Mackenzie; a panel discussion on Bava from the 2014 Courmayeur Film Festival; an episode of David Del Valle's series about star Cameron Mitchell; alternate US credits from Joe Dante's private print; the trailer; and bonus interviews with Dante, Del Valle, and others. Highly recommended for fans!
---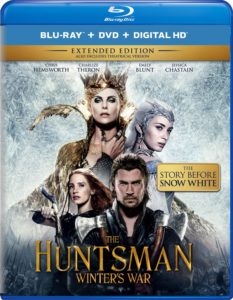 Universal New Releases
THE HUNTSMAN: WINTER'S WAR Blu-Ray Combo Pack (114/120 mins., 2016, PG-13; Universal): The sequel nobody wanted became one of many sequel/prequel/reboot box-office casualties this year. In reality, though, this just-for-the-money studio product is an agreeably goofy, at-times baffling fantasy adventure serving as both a prequel – diving into the Evil Queen's (Charlize Theron) relationship with her "good" sister (Emily Blunt) – and a sequel – with the Huntsman (Chris Hemsworth) and a fellow warrior (Jessica Chastain) helping the latter – to the original "Snow White & The Huntsman." No, Kristen Stewart's Snow is nowhere to be found here (more or less), but this well-mounted production – which tries to do for "The Snow Queen" (by way of "Frozen") what its predecessor did to the original "Snow White" fairy tale – is entertaining enough with a few interesting touches and swings of tone. And where else can you see Oscar winners Theron and Chastain, plus Blunt, all slumming in a strictly check-cashing venture? Universal's Blu boasts a gorgeous 1080p (2.40) transfer, DTS X audio, an extended version, deleted scenes, a gag reel, commentary with director Cedric Nicolas-Troyan, a featurette, and three additional BD exclusive featurettes. A Digital HD copy and DVD are also on tap.
RATCHET & CLANK Blu-Ray Combo Pack (94 mins., 2016, PG; Universal): Passable animated feature retells the origin story of the popular (or at least, once popular) Playstation video game characters: Ratchet, a lonely "Lombax" who hopes to save the galaxy from an alien who wants to blow it up, and Clank, a tiny robot with a big heart. Together, they uncover a massive weapon capable of destroying entire planets, leading them to join forces with the Galactic Rangers. Kids should enjoy the excitement of "Ratchet & Clank" with voices provided by the likes of Paul Giamatti, John Goodman, Bella Thorne, Rosario Dawson and Sylvester Stallone. Universal's Blu-Ray includes two featurettes, a 1080p (2.40) AVC encoded transfer with top detail and color, 5.1 DTS MA sound and a Digital HD copy.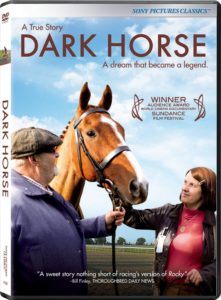 DARK HORSE DVD (86 mins., 2015, PG; Sony): British drama makes for a feel-good, family-friendly sports story. Set in Wales, "Dark Horse" follows a group of friends who breed a race horse from foal to an unlikely performer on the track – after a near-fatal accident (of course), he's nursed back to health in time to gun for a prospective championship. Louoise Osmond's film is short but sweet enough, touching upon well-worn "underdog" cliches but doing so with its own rhythm. Sony's DVD includes a 16:9 (2.40) transfer and 5.1 Dolby Digital sound, plus a photo gallery.
THE STRAIN – Season 2 Blu-Ray (546 mins., 2015; Fox): In "The Strain"'s Season 2, Doctors Ephraim Goodweather (Corey Stoll) and Nora Martinez (Mia Maestro) continue to prep a biological attack against the vampiric strain decimating New York City, while Abraham Setrakian (David Bradley) pursues a tome that could defeat the "Master." A faster pace permeates this second season of the FX series, which has generally been regarded as something of a disappointment critically and in terms of audience viewership (the third season is said to be its last). Fox's Blu-Ray boasts commentary on the episode "Night Train," deleted scenes, several featurettes, a gag reel, deleted scenes, solid 1080p (1.78) transfers and 5.1 DTS MA soundtracks.
MAGGIE'S PLAN Blu-Ray (99 mins., 2016, R; Sony): Rebecca Miller's comedy stars Greta Gerwig as a New Yorker who, after having failed to find true love, decides to have a child of her own – without a man. Eventually, she falls for a professor and would-be novelist (Ethan Hawke), who's suffering through an unhappy marriage to fellow academic Julianne Moore. Bill Hader and Maya Rudolph provide laughs as Gerwig's married friends in a movie that veers between Woody Allen-esque angst and a TV sitcom set-up – the result is forgettable but enjoyable enough while it's moving along, thanks to its appealing cast. Sony's Blu-Ray, out this week, offers outtakes, a Sundance Q&A, Making Of featurette, commentary with Miller, a 1080p (1.85) transfer, 5.1 sound and a Digital HD copy.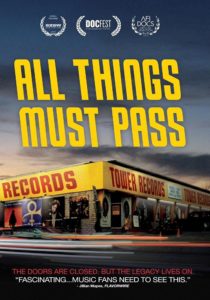 THE TITANIC – Complete Mini-Series Blu-Ray (174 mins., 1996; Mill Creek): American Zoetrope/Hallmark Entertainment co-production, produced to cash in on the James Cameron film, offers Peter Gallagher, George C. Scott, Catherine Zeta Jones, Eva Marie Saint and Tim Curry in a CBS mini-series rendition of the 1912 disaster. Mill Creek's Blu-Ray is 16:9 framed and looks okay for a show produced prior to the standard usage of high-def for broadcast TV.
SHOOTING THE PRODIGAL DVD (92 mins., 2016; Virgil Films): David E. Powers directed this faith-based comedy about a Jewish film student who attempts to help an Alabama Baptist preacher make a film about the Prodigal son. Definitely something different, and welcome, for the genre, "Shooting the Prodigal" is now on DVD from Virgil Films including a 16:9 transfer and 5.1 Dolby Digital sound.
THE FIRST MONDAY IN MAY DVD (92 mins., 2016, PG-13; Magnolia): Documentary from Andrew Rossi takes a look at the "China: Through the Looking Glass" fashion exhibit at the Metropolitan Museum of Art as well as the 2015 Met Gala. Interviews with Vogue's Anna Wintour and other fashionistas are included in the feature-length doc, now on DVD from Magnolia sporting deleted scenes, an interview with Rossi, the trailer, a 16:9 transfer and 5.1 Dolby Digital sound…also new on DVD from Magnolia is SUNSET SONG (136 mins., 2015, R), Terence Davies' lyrical adaptation of Lewis Grassic Gibbon's novel about a young woman's journey to independence in turn of the century Scotland. Epic in scope and moving provided you're willing to undertake its leisurely pace, Magnolia brings "Sunset Song" to DVD featuring a 16:9 (2.35) transfer and 5.1 sound…New on Blu-Ray from Magnolia is HIGH-RISE (120 mins., 2015, R), Ben Wheatley's flaccid adaptation of J.G. Ballard's novel, which, at least on-screen, provides more of a transparent social critique than a satisfying drama. Tom Hiddleston stars as a doctor who lives in an apartment complex where the rich live at the top and a handful of others struggle to put it all together on the floors below. Jeremy Irons, Sienna Miller, Elisabeth Moss and Luke Evans comprise the excellent supporting cast in a disappointing, heavy-handed picture now available on Blu from Magnolia. Extensive extras include commentary with Hiddleston and Wheatley, a handful of featurettes, the trailer, an attractive 1080p (2.39) transfer and 5.1 DTS MA sound.
ALL THINGS MUST PASS DVD (96 mins., 2015, Not Rated; MVD Visual): Colin Hanks directed this documentary on the history of Tower Records, from its first store through its franchising around the country. At the height of its popularity, Tower had hundreds of stores scattered about the U.S.A. and generated $1 billion in sales in 1999 – only to file for bankruptcy seven years later. The rise and fall of the beloved chain is conveyed in this highly entertaining production featuring appearances by Bruce Springsteen, Elton John, and David Geffen among many others. MVD's DVD includes a stereo soundtrack and a 16:9 widescreen transfer.
NEXT TIME: Twilight Time's latest! Until then, don't forget to drop in on the official Aisle Seat Message Boards and direct any emails to our email address. Cheers everyone!