Paul Schrader's tough 1979 thriller HARDCORE (108 mins., 1979, R) debuts on Blu-Ray this month from Twilight Time as part of the label's continuing series of 3,000 copy limited editions. Schrader's original script pits church-going, Midwestern father George C. Scott against the seedy underbelly of Southern California, where his daughter has run away from home and gotten involved in the porn industry.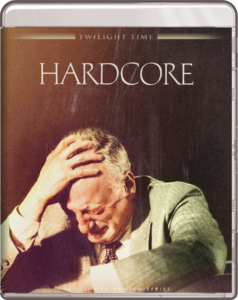 Scott's excellent performance is over-the-top at times – especially when he's forced to watch evidence of his beloved child's "employment" in a porno – but he's also flamboyantly entertaining in a John Milius-produced effort that's a modern variant on "The Searchers." Co-stars include Peter Boyle – his name "boxed" below the title – and, in a rare dramatic turn, Dick "Bewitched" Sargent. However, it's Season Hubley's performance as a hooker who helps Scott's conservative dad search the mean streets that really gives the film a strong emotional undercurrent.
"Hardcore" was vividly shot by Michael Chapman and debuts on Blu featuring a 1080p (1.85) AVC encoded transfer that boasts high detail, crisp color and elements in generally excellent condition. Some sequences look positively photo-realistic with outstanding detail, in fact. 1.0 DTS MA mono audio houses an okay Jack Nitzsche score (an isolated track is also on-hand, as usual), plus the trailer, a brand new commentary with Schrader — who discusses shooting the movie in his home town of Grand Rapids, Michigan and working with the notoriously difficult Scott — and another new commentary with historians Paul Scrabo, Lee Pfeiffer and Eddy Friedfeld.
Also new from Twilight Time this month are a pair of late '60s detective thrillers starring Frank Sinatra. Ol' Blue Eyes had something of a rocky feature film career, climaxing with a trio of Fox-produced, Gordon Douglas-directed pictures that met with mixed results. The most acclaimed of the group, "The Detective," has already been released by Twilight Time, and joining that picture in a single-disc double feature are Frank's comparatively more escapist outings as detective TONY ROME.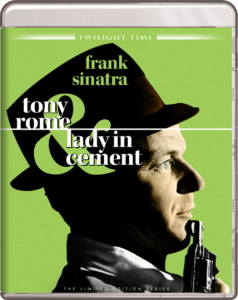 The original "Tony" (110 mins., 1967, Not Rated) finds Sinatra in properly relaxed form as the ex-cop turned Miami PI, hired to retrieve the missing diamond pin of a wealthy magnate's (Simon Oakland) hard-drinking young daughter (Sue Lyon). Jill St. John provides the eye candy as an estranged wife out on the town and peripherally involved in Rome's adventures, with Gena Rowlands, Richard Conte and Lloyd Bochner in support.
A bit bloated and filled with decidedly antiquated, if not downright offensive, stereotypes of both women and gays, "Tony Rome" is the kind of entertainment that's best appreciated by Sinatra fans and aficionados of the genre. The film captures Miami Beach in its late '60s glory and boasts a Billy May soundtrack that could've easily been mistaken for one of his scores for the "Batman" TV series, but it's also talky and slow-going in its second half.
Though regarded as an inferior sequel (and one that pretty much sank Sinatra's film career going forward), the immediately-produced 1969 follow-up LADY IN CEMENT (92 mins., 1969, PG) is sillier, less coherent – but in some ways more fun. From the opening notes of Hugo Montenegro's goofy score and premise that kicks off with Tony finding a female corpse floating on the ocean floor, this sequel – written by original author Marvin H. Albert and Jack Guss from Albert's novel – seems to aim lower in terms of ambition but nevertheless gets by due to the performances of Sinatra, Dan Blocker – good fun as the man who hires Rome to track down a missing woman – and a sultry Raquel Welch.
Though also chock full of innuen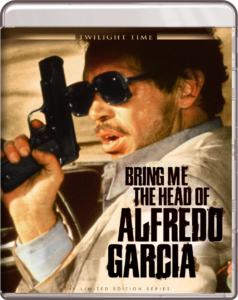 do and un-PC social mores, there's actually little sex in either picture, with "Lady in Cement" at least boasting a crisper pace and more widescreen photography of its Miami setting by veteran Joseph Biroc. Both pictures have been treated to superb 1080p (2.35) Fox transfers with high detail and DTS MA mono sound. Isolated score tracks with a few effects are also on-hand plus trailers and a new commentary on "Tony Rome" with historians Eddy Friedfeld, Anthony Latino, Lee Pfeiffer and Paul Scrabo.
Sam Peckinpah fans will be delighted that Twilight Time has pressed another Blu-Ray round of his 1974 cult favorite BRING ME THE HEAD OF ALFREDO GARCIA (112 mins., R), a narcissistic tale of a beaten-down ex-army officer – now tending bar in Mexico City – who tries to collect a bounty on the head of Alfredo Garcia, a man who knocked up a crime boss' daughter and now is the most wanted man south of the border. Peckinpah's harsh picture offers strong performances from Warren Oates as the unfortunate Bennie and Isela Vega as his doomed lover, as well as a fine Jerry Fielding score.
Twilight Time's transfer is effectively rendered and as satisfying as the gritty cinematography allows, and extras are in abundance: a pair of commentaries dive into where the movie fits in the context of Peckinpah's body of work (one track features writer-producer Gordon Dawson and Nick Redman; the other features Redman along with Paul Seydor, Garner Simmons and David Weddle); the hour-long "Passion & Poetry: Sam's Favorite Film" and "A Writer's Journey: Garner Simmons with Sam Peckinpah in Mexico" offer added insight; and a "Promoting Alfredo Garcia" segment, isolated score track, TV spots and the trailer put the finishing touches on the disc.
New to this release is a fresh commentary with assistant to the director Katy Haber with Seydor and Redman, while the same 1080p (1.85) transfer and 1.0 DTS MA audio comprise the technical side.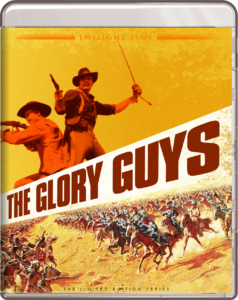 Peckinpah fans will also want to check out THE GLORY GUYS (113 mins., 1965), a United Artists western set against a real historical backdrop – in this case, Little Big Horn and Custer's Last Stand. That setting, though, is really just an aside for a conventional western tale involving Cavalry leader Tom Tryon whipping his recruits into shape and working – and occasionally clashing with – scout Harve Presnell over a number of things, including the love of widow Senta Berger.
Though predictable in its framework, "The Glory Guys" is notable for several key elements that western fans should gravitate towards: Peckinpah wrote the film nearly a decade before for producers Jules Levy, Arnold Laven and Arthur Gardner, and by the time the picture was eventually made, the writer had already broken out with his own film, "Major Dundee," which was also released in 1965. There's also striking widescreen cinematography by James Wong Howe, a strong early score from Riz Ortolani, and a memorable, star-making supporting turn from James Caan among the many familiar faces (Slim Pickens, Wayne Rogers, Michael Anderson Jr., etc.) in the cast.
TT's MGM licensed transfer is nifty (2.35 widescreen) with 1.0 DTS MA mono sound. Extras include commentary from TT's Paul Seydor, Garner Simmons and Nick Redman, discussing in particular the project's genesis and where it falls in Peckinpah's filmography; "Passion & Poetry: Senta & Sam" and "The James Wong Howe Story" featurettes; "Promoting The Glory Guys," a stills gallery and the original trailer. Atypical for TT, an isolated score track was not available for inclusion.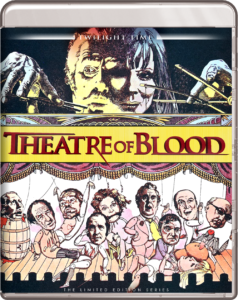 Vincent Price fans, meanwhile, are certain to celebrate the release of THEATRE OF BLOOD (104 mins., 1973, R), a British chiller that provides the legendary star with one of his juiciest, most memorable horror roles – a fading thespian who, after surviving a suicide attempt, exacts revenge on the critics who slammed his performances, and who executes it by way of murders that are positively Shakespearean. A better than average – make that far above board – supporting cast includes Robert Morley, Jack Hawkins, Michael Hordern, Ian Henry, Coral Browne and Diana Rigg as Price's daughter.
Douglas Hickox directed Anthony Greville-Bell's original script (from a Stanley Mann-John Kohn concept) in "Theatre of Blood," which is deliciously performed by Price, clearly relishing what was, especially for him, a superior project than some (most?) of the genre outings he was relegated to. The UK location shooting, scoring by Michael J. Lewis and mix of black comedy and outright horror – a good amount of it agreeably over-the-top – also successfully mix in one of Price's superior leading vehicles.
TT's Blu-Ray boasts a new commentary with David Del Vlle and Nick Redman, plus the trailer and an isolated score track. The 1080p (1.66) AVC encoded, MGM licensed transfer is as strong as the sometimes rickety source elements allow, while the 1.0 DTS MA mono audio is likewise rough in places.
Finally, another import starring a young Ornella Muti joins TT's ranks this month. THE MOST BEAUTIFUL WIFE [LA MOGLIE PIU' BELLA] (109 mins., 1970, Not Rated) stars a then-14 year old Muti as a Sicilian girl who goes to the police after she's been raped instead of being forced to marry the man who assaulted and kidnapped her (as per local customs at that time) – leading to consequences for both her and her family.
The real-life story of teen Franca Viola was brought to the screen by Damiano Damiani in a compelling, well-made Italian production scored by Ennio Morricone. Twilight Time's Blu-Ray includes an isolated score track for Morricone fans, an introduction from Damiani, the trailer, and "Sicily, Ornelia, The Mafia and Beyond" featurette. The 1080p (2.35) transfer and 2.0 DTS MA soundtracks are both just fine, the latter available in either its native Italian or an English dubbed mix.
---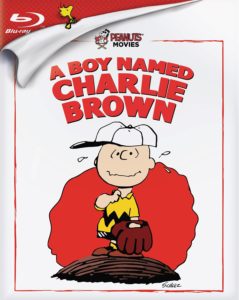 New From CBS
Charles M. Schulz's Peanuts gang had exploded into the popular consciousness by the time his beloved characters hit theaters in 1969. A BOY NAMED CHARLIE BROWN (***½, 86 mins.) marked the debut of the Peanuts clan on the big-screen, in what would be the first of four features starring "Good O'l" Charlie Brown, Snoopy and friends.
All of the principal talent behind the CBS TV specials worked on the movie, from director Bill Melendez to producer Lee Mendelson, with Schulz — of course — authoring the script, which here follows Charlie Brown from baseball season to participating in a spelling bee with a chance to show that he's not just an ordinary boy with ordinary problems (and lots of bad luck).
With the exception of occasional splashes of late '60s psychedelic colors, "A Boy Named Charlie Brown" very much feels like an extension of the Peanuts TV specials — which is to say it's thoroughly charming and holds up beautifully today. Vince Guaraldi's trademark score was orchestrated by John Scott Trotter (as were most of Guaraldi's scores for the TV specials), and was also joined in the movie by several songs from songwriter Rod McKuen. Though some viewers — kids in particular — might find McKuen's title song to be a bit sappy, it's a lovely, mellow tune that poignantly opens and closes the film, underscored in the latter by footage of the animators who worked so diligently on the production.
Making its Blu-Ray debut from CBS, "A Boy Named Charlie Brown" is presented — at last! — in its proper 4:3 (1.33) aspect ratio (prior DVD editions cropped the film to 16:9) and also in its full-length 86-minute theatrical version. Early CBS/Fox VHS and laserdisc issues contained an abbreviated, 79-minute cut that was apparently trimmed for television, but Paramount finally rectified the situation by including the original version of the film on DVD. Following their lead, CBS has included the longer version of the picture here in HD with its seven restored minutes intact (the "new" footage is comprised of two full sequences and a myriad of trims to other scenes).
While there's still dirt and numerous inconsistencies in the print (in no way are the materials as pristine as Warner's Peanuts TV special releases), the 4:3 AVC encoded transfer is the best, by far, the film has ever looked on home video, and the framing now has room to breathe. The movie was obviously animated for 4:3 and was matted for theatrical showings, but the 16:9 framing of earlier DVD releases was much too cramped, cutting off material on the top of the image. On the audio side, the 5.1 and 2.0 DTS MA soundtracks (the latter especially) do full justice to Guaraldi and McKuen's musical offerings with solid dynamic range.


The success of "A Boy Named Charlie Brown" resulted in a follow-up film, SNOOPY, COME HOME (***, 80 mins., 1972, G), which also marked the introduction of Snoopy's loveable feathered friend Woodstock into the Peanuts canon.
The Sherman brothers also migrated from Disney to work with Schulz, Mendelson and Melendez for this second Peanuts feature, which offers some undeniably sad moments when Snoopy leaves Charlie Brown to return to his former owner: a sick young girl currently in the hospital, who writes to the dog she had to give up when her family moved away.
"Snoopy Come Home" is downright depressing in places, with often sappy songs by the Shermans and perhaps a few too many tearful goodbyes for its own good. The lack of Vince Guaraldi's music, in concert with some of the songs, may have some lamenting the absence of Rod McKuen as well. The movie doesn't have the light, beautifully balanced tone of "A Boy Named Charlie Brown," but it's certainly an entertaining effort with numerous highlights for kids and Peanuts fans…it's just not up to the level of its predecessor.
CBS' Blu-Ray again preserves the film's 1.33 aspect ratio as well as includes 5.1 and 2.0 DTS MA sound offerings. Despite their lack of extras, this Blu-Ray pair is a must for Peanuts fans of all ages.
---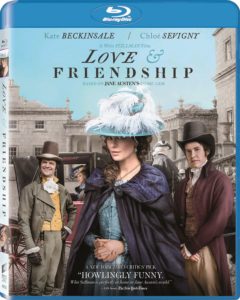 Also New & Noteworthy
LOVE & FRIENDSHIP Blu-Ray (93 mins., 2016, Sony): Something completely different for director Whit Stillman, this adaptation of Jane Austen's novella "Lady Susan" reunites the filmmaker with his "Last Days of Disco" stars Kate Beckinsale and Chloe Sevigny. The former, returning to her small-scale British roots after years of American action filmmaking, stars as Lady Susan Vernon, a young widow who visits her in-laws' estate where she attempts to find a new husband; Sevigny, meanwhile, plays her friend and confidant, who watches as Lady Susan quickly secures the interest of no less than three contrasting suitors.
Stillman's humanistic and also humorous eye informs this dry take on Austen, which is fast-moving and funny throughout. A co-production of Amazon Studios and seemingly a dozen different independent entities, "Love & Friendship" is quite a refreshing switch for the director after his misfired last outing ("Damsels in Distress") and ranks as one of the year's most surprising, and downright delightful, comedic affairs. Sony's Blu-Ray includes a single featurette, a sunny 1080p (1.85) transfer and 5.1 DTS MA sound.
NOW YOU SEE ME 2 4K UHD/Blu-Ray Combo Pack (129 mins., 2016, PG-13; Lionsgate): The Summer of Sequelitis claimed a number of victims at the box-office, including this "who cares" follow-up to the surprising 2013 hit – surprising not only because the original grossed over $100 million, but because it wasn't all that good to begin with.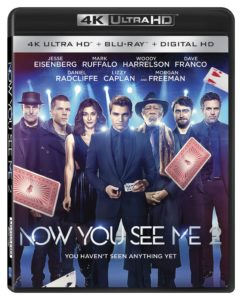 Jon M. Chu ("GI Joe Retaliation") came onboard to helm this likewise tepid affair reuniting "The Four Horsemen" – or at least three of them (Jesse Eisenberg, Woody Harrelson, Dave Franco) – magicians/stage illusionists assigned by their FBI handler (a returning Mark Ruffalo) to expose a tech magnate whose new software secretly collects personal data on its users. With Isla Fisher out, Lizzy Caplan joins the group – with Michael Caine and Morgan Freeman briefly returning, and Daniel Radcliffe a new addition to the cast. It's all by-the-numbers and convoluted, as unappealing as its predecessor, and this time viewers got the message, the sequel earning a fraction of the original's gross.
Lionsgate's 4K UHD disc includes HDR dynamic range and looks extremely impressive – perhaps not "demo disc" worthy but still a bit more impressive than the standard Blu-Ray, which is also housed in the studio's combo pack. The Dolby Atmos audio is immersive and extras include commentary by Chu, three featurettes (two of which are only included on the standard Blu-Ray), and a Digital HD copy.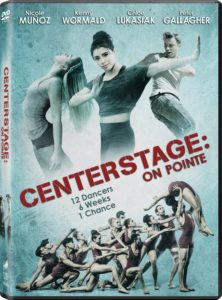 MONEY MONSTER Blu-Ray (99 mins., 2016, R; Sony): Preachy, heavy-handed politicking lays behind this would-be thriller starring George Clooney as a tart cable business TV host who gets his comeuppance when an investor (Jack O'Connell) barges into his studio wanting answers and vengeance after evil Wall Street billionaires rob him blind. Jodie Foster directed this well-acted but hard-to-believe affair (would New York City residents just stand idly by while a veritable suicide bomber walked down the street?) that seems to be a covert campaign commercial for Bernie Sanders or Hillary Clinton, and about as much fun. Julia Roberts, Dominic West and "Outlander"'s Caitriona Balfe co-star. Sony's Blu, out September 6th, includes deleted scenes, several featurettes, a music video, a 1080p (2.39 transfer) and 5.1 DTS MA sound.
CENTER STAGE: ON POINTE DVD (92 mins., 2016, PG; Sony): Looking to change up the roster at the American Ballet Academy, Peter Gallagher's Jonathan Reeves tabs his three top choreographers (Sascha Radetsky, Ethan Stiefel, Kenny Wormald) to find new talent at an exclusive camp. Among the hopefuls is Nicole Munoz's Bella Parker, looking to break out of her sister's shadow and who also strikes up an immediate chemistry with Wormald (who appeared in the prior "Center Stage" direct-to-video sequel, as well as the "Footloose" remake). "Director X" helmed this agreeable teen drama, coming to DVD September 6th from Sony. A dance tutorial with co-star Chloe Lukasiak is included plus a 16:9 (1.78) transfer and 5.1 Dolby Digital soundtrack.
---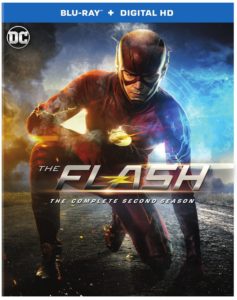 TV on Video
THE FLASH – Complete Second Season Blu-Ray (1020 mins., 2015-16; Warner): Season 2 of the extremely entertaining CW series finds Barry Allen's "Scarlet Speedster" taking down vile metahumans infiltrating Central City, all the while crisscrossing between two different universes and combating the dastardly bad guy dubbed "Zoom." As always, The Flash gets help from S.T.A.R. labs' crew, including Caitlin Snow, Cisco Ramon and Harrison Wells, as well as his adoptive family, the understanding detective Joe West and his daughter – the Flash's at-times love interest, Iris West. All 23 Season 2 episodes of "The Flash" have been collected by Warner Home Video in great looking 1080p (1.78) AVC encoded transfers with 5.1 DTS MA sound – both of which are "better than broadcast" in either department. A Digital HD copy and tons of extras include an Arrow crossover event; behind-the-scenes VFX featurettes on selected episodes; 2015 Comic Con panel; deleted scenes; a gag reel; multiple featurettes and plenty more.
Also new from Warner is the Complete Eleventh Season of SUPERNATURAL (970 mins., 2015-16), which plunges the Winchester brothers (Jared Padlecki and Jensen Ackles) into their hottest turmoil yet when they take on "The Darkness," the latest villain threatening all of humankind. Meanwhile, the duo continue their monster-hunting, "menace of the week" ways, which also bring them into contact with all kinds of bad guys, including a ghost in a stuffed bunny costume. Fans of this long-running series – vying at this point to become one of TV's longest running prime-time dramas – should most enjoy the 23 episodes assembled in Warner's Blu-Ray box set, sporting 1080p (1.78) transfers, 5.1 DTS MA sound, five featurettes, commentaries, deleted scenes, a gag reel and Digital HD copies.
Season 6 of SHAMELESS (652 mins., 2015), meanwhile, also debuts on Blu-Ray this month from Warner. This terrific Showtime series again follows the adventures of the Gallagher clan, where Frank and his clan reside on the South Side, tackling all kinds of episodic issues: Young Carl's return from juvie, Ian developing the hots for a firefighter, Debbie cultivating baby-mama drama, and Lip learning tough lessons in college. The temperamental family comedy-drama returns here with 12 episodes, presented on Blu-Ray by Warner with 1080p transfers and 5.1 DTS MA soundtracks. Extras include two new featurettes, unaired scenes, and Digital HD copies.
Still going strong in Season 9, THE BIG BANG THEORY (467 mins., 2015-16; Warner) charts Penny and Leonard's Vegas wedding plans, Sheldon and Amy invalidating their "Relationship Agreement," Howard and Bernadette expecting a baby, and Raj still living the single life. For fans of the long-running, still highly-rated CBS sitcom, Warner's Blu-Ray of "The Big Bang Theory"'s ninth season beams down on September 13th. Extras include the 2015 Comic Con panel, gag reel, multiple featurettes and behind-the-scenes segments, 1080p (1.78) transfers, DTS MA 5.1 sound and Digital HD Ultraviolet copies as well.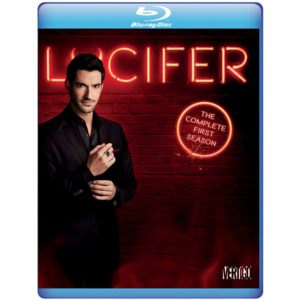 LUCIFER – Complete First Season Blu-Ray (566 mins., 2016; Warner): There's nothing like Lucifer teaming up with a lovely LAPD detective to help solve crimes – which is exactly what you get with the first season of the agreeable, if strictly formulaic, Fox crime procedural, which is more than reminiscent of "Sleepy Hollow." That series started off strong but lost its way, something that is entirely likely to happen with "Lucifer," though the concept is workable enough to sustain its initial 13 episodes. Warner's Blu-Ray includes unaired scenes, a gag reel, the 2015 Comic Con panel, four character profiles, two featurettes, 5.1 DTS MA audio and better-than-broadcast 1080p (1.78) transfers.
SOUTH PARK – Complete Nineteenth Season Blu-Ray (220 mins., 2015: Paramount): Featuring a serialized story line for the first time in its 19 seasons, "South Park"'s 2015 campaign sends up safe spaces, Donald Trump (with Mr. Garrison taking his "straight talk" to a bid for the White House), Caitlyn Jenner, racism, yuppies, urban living ("Sodosopa"!) and the folly of Political Correctness – and for a while, it works. Roughly the first half of "South Park"'s 19th season is utterly hilarious, on point and some of the show's best work – but then it runs out of gas in a series of clumsy concluding shows that seem to negate the entire point of what came before. Subsequently, fans are likely to be divided by this year, though some of its moments early on are priceless.
Paramount's Blu-Ray set of Season 19 includes #socialcommentary on all episodes, a game trailer for the upcoming "South Park: Fractured But Whole" console release, commentary by Trey Parker and Matt Stone, deleted scenes, 1080p transfers and 5.1 Dolby TrueHD soundtracks.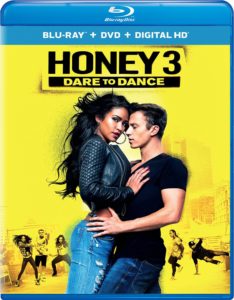 HONEY 3: DARE TO DANCE Blu-Ray Combo Pack (97 mins., 2016, PG-13; Universal): The hip-hop dancing series grinds its way down to South Africa, where a young girl (Cassie Ventura) and her boyfriend plan on staging a new version of "Romeo and Juliet" at a prestigious dance school. When she can't afford the tuition, Ventura's Melea rallies her new community in staging a contemporary dance take on The Bard. Bille Woodruff's small-screen musical drama at least embraces its South African setting – a refreshing change – in a watchable outing debuting on Blu-Ray and DVD September 6th from Universal. The set includes commentary with director Woodruff, extended dance sequences, deleted scenes, a Making Of featurette, a 1080p (1.78) AVC encoded transfer, 5.1 DTS MA sound, a DVD and Digital HD copy.
HARD TARGET 2 Blu-Ray Combo Pack (104 mins., 2016, R; Universal): Universal's direct-to-video sequels continue with this in-name-only follow-up to the Jean Claude Van Damme hit, which first debuted in theaters during my freshman year at college (seems like yesterday though!). Here, genre staple Scott Adkins plays a retired MMA star who's tricked into joining another "Most Dangerous Game" after taking a trip to Myanmar. A better-than-average supporting cast includes Rhona Mitra and Robert Knepper, though "Hard Target 2″ feels flabby at 104 minutes. Universal's combo pack includes commentary, a handful of featurettes, deleted scenes, a 1080p (1.85) transfer, 5.1 DTS MA sound, a DVD and Digital HD copy.
THE NIGHT MANAGER Blu-Ray (361 mins., 2016; Sony): Taut adaptation of the John LeCarre novel was translated, wisely, into a six-part BBC/AMC mini-series, allowing the various twists and turns of its source material room to breathe. Tom Hiddleston is tremendous as hotel manager Jonathan Pine, who finds himself being indoctrinated into the spy game in order to take down arms dealer Richard Roper (Hugh Laurie). Strong performances from both leads make for a compelling drama now on Blu-Ray from Sony. The 1080p (1.78) AVC encoded transfer and 5.1 DTS MA soundtrack are both strong, and a Digital HD copy is also on-hand.
---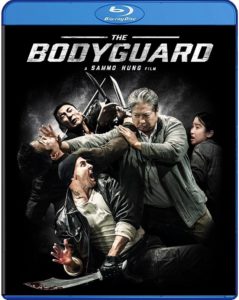 Quick Takes
THE BODYGUARD Blu-Ray (99 mins., 2016, Not Rated; Well Go USA): Hong Kong action-adventure provides the great Sammo Hung with a new vehicle for his talents. As an aging retired special agent living in the quiet Chinese/Russian border, Hung gives an informed performance as a veteran – complete with early dementia – pressed into duty when a young girl and her father, in debt to the mob, both go missing. Solid action and cameos from Hong Kong legends Yuen Wah and Tsui Hark among others should make this a treat for fans. Well Go's Blu-Ray includes Cantonese DTS MA audio, English subtitles, a Making Of and the trailer.Coming September 13th on DVD from Well Go is KING JACK (81 mins., 2015), Felix Thompson's film about a teenager (Charlie Plummer) juggling a bully, summer school, and having to deal with a younger cousin (Cory Nichols) who comes to stay with his family over the summer. This is a sensitively told and well-acted film debuting on disc next week with a 16:9 transfer and 5.1 sound from Well Go.
EQUALS Blu-Ray (101 mins., 2016, PG-13; Lionsgate): Orwell-Lite is on-tap in Drake Doremus' sci-fi drama about a pair of illustrators (Kristen Stewart and Nicholas Hoult) who defy the totalitarian government running their state and fall in love. Guy Pearce and Jacki Weaver co-star in this slickly made and well-acted, yet awfully familiar retread of "1984," "Brazil" and countless other dark future films. Perhaps younger viewers – for whom "Equals" was likely aimed – will find it to be more compelling than older audiences. Lionsgate's Blu includes three featurettes, crew commentary, a 1080p (1.85) AVC encoded transfer and 5.1 DTS MA sound…Coming September 13th from Lionsgate is MARAUDERS (107 mins., 2016, R), this month's latest direct-to-video thriller starring Bruce Willis. Here, Bruno plays a bank owner who may, or may not, be in on a robbery being investigated by the feds (top-billed Christopher Meloni, Dave Bautista and Adrian Grenier). Though pretty much standard-issue, Steven C. Miller's thriller is watchable for what it is and boasts an appealing enough cast, at least. Lionsgate's Blu includes commentary, a Making Of, cast/crew interviews, deleted scenes, a 1080p (2.40) transfer, Digital HD copy and 5.1 DTS MA audio.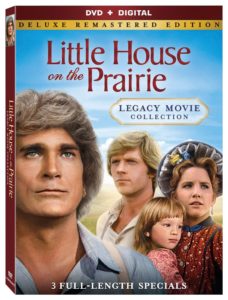 LITTLE HOUSE ON THE PRAIRIE – Legacy Movie Collection DVD (5 hours, 1983-84; Lionsgate): Completing Lionsgate's remastered run of "Little House on the Prairie" is this double-disc set, due September 13th on DVD. Included here are the three NBC TV-movies that aired following the conclusion of the weekly Michael Landon-produced series: Look Back to Yesterday, Bless All the Dear Children, and The Last Farewell, wherein the Ingalls family decides to blow up their small town (literally) to keep it away from grubby bankers. A Digital copy is included with remastered 4:3 transfers in line with Lionsgate's prior DVD releases…Also new on DVD from Lionsgate is COMPADRES (102 mins,, 2016, R), a Mexican action-comedy about a Mexican cop and a portly American teen hacker who team up to take down a ruthless crime boss. 5.1 English/Spanish audio (with corresponding subtitles) are provided in this import on DVD from Lionsgate September 6th also featuring a Digital copy and 16:9 (2.40) widescreen transfer.
ALL THE WAY Blu-Ray (132 mins., 2016, Not Rated; HBO): Bryan Cranston stars as President Lyndon B. Johnson, whose first year in office following JFK's assassination included the escalation of the Vietnam War and the launch of his civil rights bill. The latter is particularly examined in this drama from writer Robert Schenkkan and director Jay Roach, co-starring Melissa Leo and Anthony Mackie as Martin Luther King. HBO's Blu-Ray, available September 6th, includes two featurettes, a digital copy, 1080p transfer and 5.1 DTS MA sound.
THE ONES BELOW Blu-Ray (86 mins., 2016, R; Magnolia): Exceedingly unpleasant, dismal British horror about a couple expecting their first child who start wondering if the friends they've just made living downstairs in their flat have nefarious plans in store for them. Slow-going nonsense that pretty much goes exactly where you'd expect, this 2015 import debuts on domestic Blu-Ray for the first time on September 6th from Magnolia. The disc includes a 1080p (1.85) transfer, 5.1 DTS MA sound, the trailer and several behind-the-scenes featurettes.
---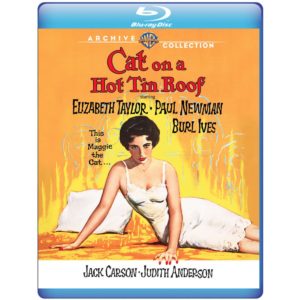 Warner Archive New Releases
On Blu-Ray: Richard Brooks' sultry 1958 filming of Tennessee Williams' CAT ON A HOT TIN ROOF (108 mins.) makes its Blu-Ray debut from the Warner Archive this month. Elizabeth Taylor and Paul Newman light up the screen together in Brooks' filming of the 1955 Pulitzer Prize-winning play, scripted by Brooks and James Poe and vividly shot. Burl Ives, Jack Carson and Judith Anderson co-starred in a film that's stagy in the best sense, with the MGM production earning Oscar nominations for both of its leads. Warner's attractively detailed 1080p (1.85) Blu-Ray is a winner all the way, complimented by DTS MA mono audio, commentary by Williams biographer Donald Spoto, a featurette and the original trailer.
Starring Edward G. Robinson: A pair of MGM programmers starring the great Edward G. Robinson are new to DVD this month from the Archive. BLACKMAIL (81 mins., 1939) stars Robinson as an Oklahoma family man whose life is ruined after a false robbery conviction brands him a fugitive. Eventually sent back to the Georgia chain gang he once was a part of, Robinson's John Ingram seeks revenge in a potent MGM studio product co-starring Ruth Hussey and Gene Lockhart. Meanwhile, Robinson and director Mervyn LeRoy reunited for another newspaper-set yarn, UNHOLY PARTNERS (94 mins.., 1941), nearly a decade after their success with the early talkie "Five Star Final." Here, Robinson returns from WWI and starts up a hot-selling tabloid, only to run into trouble after bankrolling it with cash from mobster Edward Arnold. Both pictures are great fun with the legendary star in fine form; each Archive DVD houses a 1.33 B&W transfer from the Turner library and mono sound.
Also on DVD: Volume 2 of James A. Fitzpatrick's TRAVELTALKS (518 mins.) includes more vintage travelogues from the MGM vaults, from locations both exotic and international to everyday and domestic. Serving as an invaluable capture of historical time and place, this three-disc set from the Warner Archive boasts 60 Technicolor shorts with locations as varied as Massachusetts to Ancient Egypt and "Quaint Quebec"…the rarely-circulated MGM epic ALFRED THE GREAT (122 mins., 1969, PG) also rolls out from the Archive this month with David Hemmings as Prince Alfred of Wessex, the reluctant warrior who leads the Saxons against Viking adversary Guthrum (Michael York). Prunella Ransome is the woman inbetween them in this Clive Donner-directed production with an outstanding supporting cast (Ian McKellen, Colin Blakely, Julian Glover) and cinematography by Alex Thomson. The Archive's DVD looks good (16:9, 2.41) and includes a mono soundtrack.
NEXT TIME: LADY IN WHITE, ROAD HOUSE and Shout's Latest Releases! Until then, don't forget to drop in on the official Aisle Seat Message Boards and direct any emails to our email address. Cheers everyone!