In Frank LaLoggia's wonderful LADY IN WHITE (***½, 118 mins., 1988, PG-13; Shout Factory), Lukas Haas plays a young boy in early '60s upstate New York who encounters the restless spirit of a murdered girl. After being locked up in his school closet on Halloween and witnessing the apparition, Haas' Frankie Scarlatti attempts to convince his family (father Alex Rocco, brother Jason Presson) that the haunting is real, and the girl's killer is still at large in the quaint, picturesque town they reside in.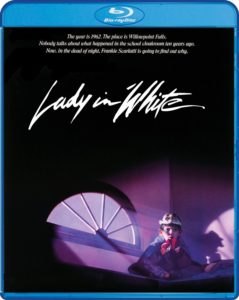 Writer-director-producer-composer LaLoggia's tour de force, "Lady in White" is a beautiful movie on many levels. It works not only as a ghost story (and a fine one at that) but also as a childhood memory and chronicle of family life that LaLoggia based, in part, on his own upbringing. Subsequently, the movie rings true with its warm, humorous sequences of Frankie and his family (which includes a pair of grandparents from the old country), nicely counterpointing the central story. There are times when LaLoggia's script extends to encompass "To Kill a Mockingbird"-like overtones – and the ending goes on a little long – but there are few movies that capture the Autumnal warmth of the Northeast and the Halloween season as effectively as "Lady in White."
MGM's DVD of "Lady in White" surfaced nearly a decade ago, minus many of the extra features that accompanied an Elite Entertainment laserdisc and DVD edition from even further back. Shout Factory's two-disc Blu-Ray isn't billed as a Collector's Edition but it might as well be, seeing as it recycles the supplements that were included on the Elite disc: these include LaLoggia's original laserdisc commentary, behind the scenes footage, deleted scenes, trailers (including several narrated by Percy Rodriguez), and a promotional "mock up" version produced for prospective investors. The director's introductory DVD segments are also included from the MGM release, so while this release doesn't have anything new to offer in terms of supplements, it is pretty much the definitive package that's been produced yet of "Lady in White" on home video.
Of course, the transfer on "Lady" is in full HD for the first time, and Shout's release includes no less than three different edits of the picture. Debuting here for the first time is a 126-minute "Extended Director's Cut," which houses some eight minutes of previously deleted material intercut into the film for the first time. The prior "Director's Cut," running 118 minutes, and the theatrical version, clocking in at 113 minutes, are also included, all of them culled from MGM's 1080p (1.85) master that offers good detail and colors that may be a little too "hot" at times, but are generally quite satisfactory. The 5.1 and 2.0 DTS MA stereo offerings do a nice job conveying LaLoggia's lyrical score, making for a strong technical presentation all around.
Suitable for older children, "Lady in White" is a perfect, non-gory genre film that offers superb performances, a satisfying story, wonderful atmosphere and a few chills to spare. For fans of this October perennial, Shout's two-disc Blu comes highly recommended!
Summer is the ideal time for dumb, plain o'l seasonal fun – the kind of drive-in movie embodied by 1989's Patrick Swayze brawler ROAD HOUSE (***, 114 mins., R, Shout), which at last receives a decent Blu-Ray release courtesy of Shout's new "Shout Select" line.
Action mogul Joel Silver (who then clearly had the Midas touch thanks to recent hits "Lethal Weapon" and "Die Hard" among others) helped turn Swayze's down-home, rough-and-tumble, silly and no-holds-barred action pic into a moderate box-office success at the time. The years, however, have morphed the movie into a full-blown cult favorite.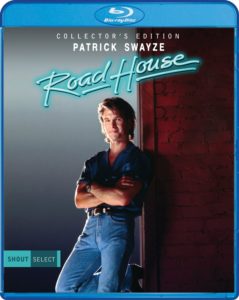 Swayze stars as Harvard-educated "peaceful warrior" (as its star likes to describe the role) James Dalton, hired to clean up a ragged bar in a small Missouri town in a film that's guilty-pleasure nonsense all the way. Shortly after arriving on the scene, Swayze's new, take-no-crap tactics turn the "Double Deuce" into a popular hangout, at least until our hero begins poking around town and finding out that things aren't so good. Sure, pretty local doctor Kelly Preston is easy on the eyes, but her dad — a noble hardware store owner — is being taken advantage of by resident bad guy Ben Gazzara, who owns the town and isn't afraid to collect from local business owners. It's up to Swayze and pal Sam Elliott to clean up the mess and take out the trash….any way they can!
You know that a film has truly crossed into cult territory when admitted-fans Kevin Smith and pal Scott Mosier provided a DVD commentary track for a late '80s action movie, but that's one of the assets to be found in Shout's 2-disc "Shout Select" release. Recorded for a Special Edition DVD back when Sony held MGM's home video distribution for a short window, Smith and Mosier engagingly discuss one of their favorite studio B-flicks, while director Rowdy Herrington provides a more traditional discussion on another audio channel.
What they see in "Road House" sums up the film's enduring appeal as a cable-TV and video favorite: the movie pretty much has everything. Lots of fisticuffs (and some extreme violence at the end!). Preston and Swayze making out on the top of his house. Brawls 'o plenty. Gratuitous, R-rated nudity. A giant monster truck destroying a Ford dealership. Even a Michael Kamen score — yes, my friends, "Road House" makes no apologies about its hoary, old western-influenced plot, or the absurd nature of David Lee Henry and Hilary Henkin's script in general. It's B-thrills on a 1989 studio scale, complete with Dean Cundey scope cinematography and rockin' musical performances by the Jeff Healey Band.
Both commentaries are included in Shout's Blu-Ray, which is mostly an upgrade on MGM's lousy, MPEG-2 compressed presentation. The major enhancement is a fresh 2K derived transfer, boasting appreciably less noise and finer detail thanks to its AVC encoding and superior source material. However, the brightness levels look to be set a bit too high, with night-set sequences exhibiting a lack of contrast in particular. The 5.1 and 2.0 DTS MA audio tracks are superbly rendered, and extras are bursting with new interviews. These include Swayze's widow, Lisa Niemi, plus Kelly Lynch, Kevin Tighe, and Dean Cundey. Vintage featurettes include "On the Road House," offering comments from Swayze, Lynch, Herrington, Healey and others. It's a nice, albeit short piece (under 20 minutes) with the stars reflecting on the movie's lasting appeal. "What Would Dalton Do?" is a brief featurette with comments from real bouncers about Swayze's security tactics, while other vintage featurettes and the trailer, featuring footage excised from the finished film, round out another great Shout release, save the transfer's questionable brightness levels.
BILL & TED'S MOST EXCELLENT COLLECTION Blu-Ray (Shout Factory): Coming on Blu-Ray September 20th in a spectacular three-disc "Shout Select" Special Edition are the two Bill & Ted comedies starring Keanu Reeves and Alex Winter, in a marvelous release that's truly definitive for fans.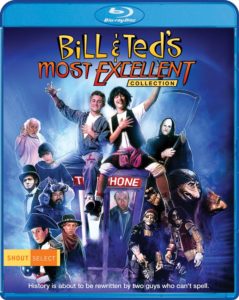 "Bill & Ted's Excellent Adventure" (**½, 90 mins., 1989, PG-13) remains one of the more improbable box-office hits of all-time considering its pedigree – shot in 1987 by DeLaurentiis Entertainment Group, the studio went bankrupt during production. In fact, DEG was going to sell it to HBO until Nelson Entertainment saved the day, investing cash in special effects and reshoots before selling it to Orion Pictures. After a near two-year delay, the movie opened in 1989 and became one of the biggest hits of the winter months, establishing Keanu Reeves as a star (not so much for Alex Winter) and generating a bigger-budgeted sequel in 1991. That sequel, "Bill & Ted's Bogus Journey" (***, 94 mins., PG) is a good-natured if strikingly unconventional follow-up that finds Bill & Ted being replaced with evil robot twins and relying on help from the Grim Reaper (a game comic performance from William Sadler) to save the day. Though not nearly the commercial success of its predecessor, "Bogus Journey" is, in some ways, a more refined cinematic vehicle, and just as, if not more, entertaining, depending on one's sense of humor.
Shout's three-disc set houses a bonus disc with hour-long documentaries on both films, including new interviews with producer Scott Kroopf, Alex Winter and Keanu Reeves (though Winter does most of the talking), composer David Newman and basically everyone else you can imagine. Extras carried over from the MGM DVD include an older Making Of (running a half-hour) and interview with the writers, a talk with guitarist Steve Vai, an archival EPK and more. The separate film discs include new commentaries with Alex Winter and Scott Kroopf, and another commentary with scribes Ed Solomon and Chris Matheson, along with 1080p (2.35 on "Excellent," 1.85 on "Bogus Journey") transfers and 5.1 and 2.0 DTS MA soundtracks.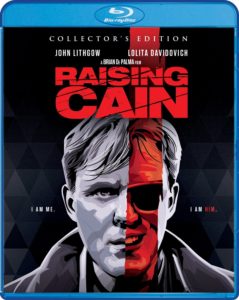 RAISING CAIN Blu-Ray (**, 91 mins., 1992, R; Shout Factory): Brian DePalma's "Psycho"-ized misfire is, at least, intriguingly recut in this two-disc Scream Factory Blu-Ray.
John Lithgow has fun as a fractured psychiatrist sporting multiple personalities, all of which manage to manifest themselves once his wife (Lolita Davidovich, at the height of her career) rekindles the spark with an old flame (DePalma's "Scarface" alum Steven Bauer). DePalma's "original" script bears a heavy "Psycho" influence, something that's even more pronounced in a "Director's Cut" that takes the lead from a fan-edit that re-sequenced the entire film to what the director had originally intended all along. This, alone, makes "Raising Cain" much easier to follow than the dramatically pointless released version, which plunged the viewer into Cain's insanity right out of the gate and then tried (and failed) to fill in the gaps chronologically. Though the movie is more accessible now, the film's weaknesses – an off-putting story with unlikeable characters that's hard to penetrate unless you're a devotee of the director – are still in evidence, and the movie, as a whole, still comes off as "odd" instead of being suspenseful or scary.
Shout Factory's Blu-Ray presents the theatrical cut of "Raising Cain" on one disc and the "Director's Cut" on the other, with a featurette on the latter discussing the alterations and the Dutch fan who first re-edited the movie to DePalma's initial conception. A half-hour interview with John Lithgow is the chief draw to the extras, with the star discussing his three films with DePalma and the strengths – and also weaknesses – of "Raising Cain," which he admits was something of a "challenge" to the viewer (he also admits he hasn't seen the film since 1992). Steven Bauer and fellow co-stars Gregg Henry, Mel Harris, Tom Bower and editor Paul Hirsch are also present and accounted for, plus the trailer, a good if somewhat oldish-looking 1080p (1.85) AVC encoded transfer and both 2.0 and punchier 5.1 DTS MA audio options, featuring a serviceable – if not particularly memorable – Pino Donaggio score.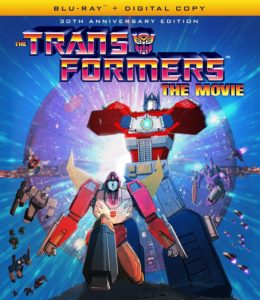 TRANSFORMERS: THE MOVIE (**½, 85 mins., 1986, PG; Shout Factory): Aaah, growing up in the '80s. For those of us fortunate enough to do so, we were treated to a handful of afternoon cartoons that often resembled toy commercials as much as they did actual animated entertainment. Marvel Productions teamed with Sunbow Ltd. to produce a pair of those highly successful cartoons based on the hottest Habro toys of the period: G.I. Joe, which rocked in its '80s incarnation with a motley crew of members (like Snake Eyes, Duke, and Sgt. Slaughter!), and the Transformers, big robots with the possibility to change into other cool vehicles.
The success of both properties on the small-screen lead to the creation of a pair of big-screen "movies," though only "Transformers: The Movie" received a theatrical release, through Dino DeLaurentiis' fledgling DEG Studios. The 1986 effort boasted voices by the likes of Eric Idle, Leonard Nimoy, Robert Stack, Judd Nelson, and Orson Welles, along with a hugely popular score by Vince DiCola that became a hot commodity among fans. If you were – or are – into Transformers at all, you'll love the look and feel of this PG-rated effort, which comes off as a slightly more "adult" version of the Sunbow-Marvel daytime TV cartoon with a few semi-raunchy lines and animated comic-book violence.
Shout Factory's Blu-Ray offers a brand new 4K transfer of the movie in both 1.85 and 1.33 aspect ratios, giving fans their choice of viewing presentation (the 1.33 rendering is far less cramped, the 1.85 tighter but arguably more "cinematic"). In either case, the transfer is crisp and superbly detailed in this first release of the film on Blu-Ray in the U.S. Extra features are configured differently than past releases, so fans will both want to track down Shout's release as well as hang on to their prior DVDs for completion's sake. Shout's supplemental package is highlighted by the documentary "'Til All Are One," a comprehensive feature sporting interviews with composer Vince DiCola, voice cast members, story consultant Flint Dille and others. There are also featurettes, storyboards, trailers, TV spots, and a commentary with director Nelson Shin, Dille and voice actor Susan Blu, and both 5.1 and 2.0 DTS MA audio offerings.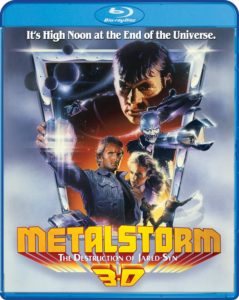 METALSTORM: THE DESTRUCTION OF JARED-SYN 3D Blu-Ray (**, 84 mins., 1983, PG; Shout Factory): The 3D boom of the early '80s resulted in a wide variety of mostly tepid cinematic endeavors, only a few of which – "Comin' At Ya!," "Amityville 3D" and more recently "Jaws 3D" – have made it to Blu-Ray in their native 3D format. Thankfully for starving format enthusiasts, Shout Factory has dusted off another relic from the era in its third-dimensional glory: the gloriously titled "Metalstorm: The Destruction of Jared Syn," a production of Albert and Charles Band that essentially functions as a PG-rated "Mad Max" ripoff. Jeffrey Byron plays the Mel Gibson lookalike in director Charles Band's film, which even drags out "Road Warrior" alumnus Mike Preston to play the title role: a vile dictator threatening the galaxy, and who abducts the lovely Dhyana (an early turn from Kelly Preston) with the intention of draining her life force.
"Metalstorm," which Universal picked up for release in the Summer of '83, is below par even as '80s low-budget post-apocalyptic outings go, but at least it doesn't linger around long enough to annoy or bore you. Its saving grace, as you'd expect, are a number of "in your face" pop-out 3D effects, preserved here in a superb HD transfer from Shout (a 2D transfer in an expectedly blurry rendering are housed on a separate disc). This may not be as much fun as "Jaws 3D" but the effects are still surprisingly robust in this affair, which Shout has commemorated with an all-new documentary. Sporting interviews with Charles Band, Jeffrey Byron, co-stars Tim Thomerson and Richard Moll, the trailer and a radio spot, this is the Special Edition "Metalstorm" fans (are you out there?!?) have long desired, with spirited 5.1/2.0 DTS MA offerings of Richard Band's agreeably derivative score on-hand as well.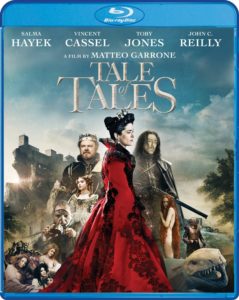 TALE OF TALES Blu-Ray (133 mins., 2015, R; Shout Factory): "Gomorrah" director Matteo Garrone constructed this dark fantasy anthology film, based on the writings of 17th century folklorist Giambattista Basile. The three, eventually-interlocking stories feature Salma Hayek as a Queen who wants a child at any cost; a neighboring monarch (Toby Jones) who marries his daughter off to an ogre; and another kingdom's ruler (Vincent Cassel) who falls for a woman who certainly isn't what she appears to be. An R-rated morality tale co-starring John C. Reilly, this is a stylishly made yet somewhat ponderous picture debuting on Blu this month from Shout. A Making of featurette and the trailer are included plus 5.1 DTS MA audio and a 1080p transfer.
Also New on Blu-Ray: THE DEAD ROOM Blu-Ray (78 mins., 2015, Not Rated): Weak New Zealand chiller offers the outline of a crackling good genre outing, with two scientists (Jed Brophy and Jeffrey Thomas) leading a psychic (Laura Petersen) to a farmhouse where they disrupt a demonic force. Chaos ensues – and nothing you haven't seen before – in Jason Stutter's formulaic enterprise. Check out "The Legend of Hell House" or "The Haunting" again instead. Shout's IFC Midnight-branded Blu includes a 1080p transfer and 5.1 DTS MA sound…Coming September 27th from Shout is the debut of HOWARD LOVECRAFT AND THE FROZEN KINGDOM (83 mins., 2016, PG), an animated outing that posits the childhood of H.P. Lovecraft in the form of a children's fantasy, wherein young Howard uses the Necronomicon to take a trip to a scary kingdom where only a giant creature he names "Spot" offers companionship. The voices of Christopher Plummer, Ron Perlman and Jane Curtin are included in this passable adaptation of a graphic novel Shout brings to video in a Blu-Ray/DVD combo pack sporting a digital download, one featurette, commentary, a 1080p (1.78) transfer and 5.1 DTS MA sound.
New on 4K UHD Disc: Two more, beautifully shot, IMAX-screened documentaries provide perfect eye candy for your 4K UHD set-up. WONDERS OF THE ARCTIC (44 mins., 2014) shines a spotlight on Arctic researchers and scientists trying to understand the impact of human activity elsewhere on the Earth and its day-to-day impact on the environment. Victor Garber narrates this attractively lensed, yet somewhat disappointing feature that tries to cram a lot of information into its short 45-minute running time; cinematography aside, you're probably better off watching an episode of PBS' "Nova" for a better-rounded production. THE LAST REEF (44 mins., 2012) is a bit more satisfying, as its producers take us to Palau, Vancouver Island, French Polynesia, Mexico and The Bahamas for a look at exotic life under the sea. Both 4K HDR transfers are marvelous, with Dolby Atmos audio provided on the UHD platter; the 3D and standard Blu-Ray transfers both look stellar as well, with DTS MA audio also on-hand, but it's the 4K discs that truly shine.
---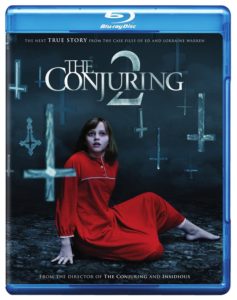 Also New & Noteworthy
James Wan's arguably even more confident follow-up to his 2013 horror smash, THE CONJURING 2 (***½, 134 mins., 2016, R; Warner) isn't just a superior sequel: it's one of the creepiest, and all around most-satisfying, supernatural thrillers since the original "Poltergeist." Bucking the trend of disastrous horror follow-ups like "The Exorcist II" and "Poltergeist III," Wan here tackles the controversial "Enfield Haunting" of the 1970s, wherein a working class British family was allegedly attacked by a poltergeist, garnering worldwide media attention in the process.
There's considerable debate over whether or not the case was a hoax, but frankly, as a film, reality takes a secondary concern when Wan is in such virtuoso control over a sequel that, in some facets, is even more satisfying than its predecessor.
Vera Fermiga and Patrick Wilson reprise their roles of Lorraine and Ed Warren, the husband-and-wife team of paranormal investigators, who are asked by the Catholic Church to investigate the claims of the Hodgson family. With other investigators both convinced and skeptical of the family, the Warrens arrive to find a group at the least emotionally tormented by the apparent breakdown of the youngest daughter in the single-mother raised clan: an 11-year-old named Janet, who serves as the vessel for the haunting. Plagued by sleepwalking and tormented visions of an old man still living in their home, Janet (a strong, natural performance from young American actress Madison Wolfe) becomes an exhausted, emotionally broken girl at the center of the inexplicable events occurring in their home – moving furniture and frightening conversations chief among them.
For the Warrens, the haunting comes at a time when Lorraine is frightened by visions of her husband's death, as well as a demonic presence – in the guise of a blasphemous nun apparition – that has been associated with her nightmares since the couple took on the Amityville case. Undaunted, the duo travel to England to lend assistance to a situation that's becoming increasingly volatile – and disturbing.
"The Conjuring 2″ is compelling and creepy from its first frames to its satisfyingly restrained fade-out (no last-second twist here). Wan takes the proper amount of time setting audiences up for the haunting, unfolding the scenario brilliantly with a running time that's leisurely but never dull. In fact, the mood and atmosphere of the early scenes are every bit as chilling as the more overt scares that eventually follow: even the scene of the youngest Hodgson boy walking down the stairs, late at night, to get a drink of water carries an eerie and disturbing vibe. Wan connects the Hodgsons' plight with the Warrens' family situation perfectly, and effectively uses a recurring motif of blindness – or at the least being unable to see clearly – as a metaphor for the Warrens' eventual solution to the case. The picture also feels slightly less "gimmicky" than its predecessor, which as effective as it was, felt a bit gratuitous when less would've been more; here, the R rating is basically for intensity as the picture carries scant violence or gore.
Of course, what truly works in the film are the scares, and there are plenty of them, as well as a number of brilliant directorial touches on Wan's part. The sequence in which Ed Warren "interviews" Janet for the first time, with her stationed, out of focus, on the right hand side of the frame, is bravura filmmaking, with Janet's guise transforming into that of an old man and back again – but always softly conveyed, right out of the line of clarity. The sound design and music are also outstandingly rendered, making for not just one of the best films of the summer, but one of the finest ghost stories produced for the screen altogether. (134 mins., R)
Warner's Blu-Ray of "Conjuring 2″ streets next week, sporting deleted scenes, two featurettes, an awesomely mixed Dolby Atmos/TrueHD soundtrack, and flawless 1080p (2.41) AVC encoded transfer. A Digital HD copy is also included.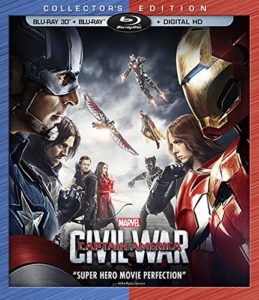 CAPTAIN AMERICA: CIVIL WAR 3D Blu-Ray (***, 147 mins., 2016, PG-13; Buena Vista): Entertaining albeit overstuffed Marvel production might be officially branded as the third "Captain America" movie, yet in reality is only a half (or a third) sequel in the Steve Rogers saga, and just as much – if not more so – an all-star comic-book romp that's the movie "The Avengers" sequel should have been.
Taking a page out of the "Batman V Superman" playbook, "Civil War" finds our Marvel heroes split over having to take accountability for their heroics, with Captain America falling on the side of super-independence, and others – like Robert Downey, Jr.'s Iron Man – taking a stand that the good guys had better register with the government and do things "the right way." This causes a rift between the group, all the while – in a continuation of the main running plot from the prior "Captain America" movies – Cap tries to find out the whereabouts of the Winter Soldier (Sebastian Stan), who's wanted for terrorism, and also uncover the bad guy seemingly ripping the friendship between the various super-folks apart.
The Russo Brothers returned to helm "Civil War," which make no mistake, is an entertaining comic-book movie that's fun to watch and filled with impressive set-pieces. That alone makes it much more satisfying than, say, "Avengers: Age of Ultron," yet there's still something unmistakably push-button about the film that holds it back from the greats in genre history. There's no real sense that emotional stakes are on the line, and not enough time for the movie's more important dramatic beats to breathe; instead, viewers are supposed to be held breathless as they're bounced around from "Avengers"-sized action, with cameos from a seeming dozen characters (Ant-Man! Giant-Man! Black Panther! The Vision! Scarlet Witch! Hawkeye!), one moment, to a whole section devoted to introducing the new Spider-Man (Tom Holland) the next. What the latter has to do with Captain America is anyone's guess, but it says something about this movie's long-term durability: in 10 or 20 years when viewers go back and look at "Civil War" on its own merits, they'll find something that's polished and professional, yet can't stand on its own. It's another Marvel assembly line roll-out that gets the job done, but that job here encompasses so much "busy work" setting up other characters, sequels and franchises that it forgets to hone in on what made, say, the prior "Captain America" outings two of the better Marvel "solo" vehicles.
Buena Vista's 3D Blu-Ray combo pack sports a spectacular 1080p (2.35) AVC encoded transfer with 7.1 DTS MA sound. Extras include a solidly produced behind-the-scenes documentary, commentary, deleted/extended scenes, a gag reel, Digital HD copy, and a sneak peek at the next Marvel cinematic entry, "Doctor Strange," coming in November.
Also recently released from Disney is THE JUNGLE BOOK (***, 106 mins., 2016, PG), arguably the year's most surprising box-office smash. Jon Favreau's technical marvel reconfigures Rudyard Kipling's original story (which of course is credited nowhere on the packaging) as a contemporary action-adventure, utilizing one human child (Neel Sehti) as Mowgli with the rest of the picture — and its various animal inhabitants (voiced by stars Bill Murray, Christopher Walken, Ben Kingsley and Scarlett Johansson among others)– produced with CGI. The result is a beautiful looking and generally entertaining picture that includes numerous "shout-outs" to the '60s Disney animated favorite, including the use of several Sherman Brothers songs, yet the accent on bombastic accent robs the material of any inherent heart and soul. Disney's Blu-Ray/DVD combo pack includes a stellar 1080p (2.40) AVC encoded transfer and 7.1 DTS MA soundtrack, a DVD, Digital HD copy, and extras including a commentary by Favreau and multiple behind-the-scenes featurettes.
POPSTAR: NEVER STOP NEVER STOPPING (**½, 87 mins., 2016, R; Universal): Amusing faux documentary — which completely bombed in theaters just a few months back — centers on a former "New Kids"-like teen star who becomes one of the world's highest-selling solo artists — only to flame out upon the release of his severely misguided new album. This production of "Lonely Island" — comedians Andy Samberg, Akiva Schaffer and Jorma Taccone — does boast some big laughs and engaging song parodies, particularly considering the wide swath of real-life talent — from Pink to Seal and Justin Timberlake — who cameo in the film. However, it eventually fizzles out, like a Saturday Night Live sketch stretched too far (and indeed, one of the songs in the film was even performed as an SNL music video last season). Worth a rental though for its decent quotient of laughs, "Popstar" has migrated to Blu-Ray from Universal boasting a large assortment of special features (deleted scenes, gag reel, bonus footage, commentary, etc.), a 1080p transfer (2.40) and 5.1 DTS MA audio.
---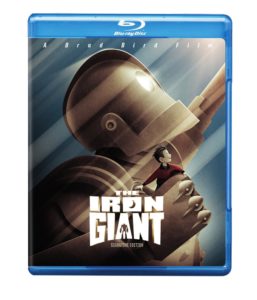 Warner New Releases
Studios have, for decades, challenged the superiority of Walt Disney's feature animation unit, and for the most part, have failed to reach the level of technical achievement that Disney has so often surpassed with each successive film they have produced. It's not as if there haven't been some strong challenges (the rise of Dreamworks' pictures for a time in particular), but overall, Disney hasn't had much reason to worry over the years, even if the competition has, in fact, gotten that much closer to topping the Mouse.
Warner Bros. certainly gave it their in the '90s with Brad Bird's THE IRON GIANT (***, 86/89 mins., 1999, PG), launching the picture to solid reviews in a summer that had been dominated by Disney's "Tarzan" up to that point. Unfortunately, the movie completely tanked at the box-office, leading many of the film's admirers to question Warner's marketing campaign and release date towards the end of the summer season.
Like a lot of viewers, I caught up with the film some time afterwards on DVD, and while I found it a tad underwhelming after going in with high expectations, it's still a solid production that's become something of a viewer favorite over the years since its release.
Bird – who animated the terrific "Family Dog" episode of Steven Spielberg's "Amazing Stories" before launching his career into the stratosphere with Disney's later "The Incredibles" – took a basic story to adapt into a feature film: a robot presumably produced for warfare befriends a small boy in a seaside Maine town during the 1950s. Recalling a lot of '50s sci-fi flicks in attitude and even appearance, the boy and robot share a bond together (with the boy teaching the Giant about the true nature of guns and war), but the government quickly rushes in and tries to destroy the automaton, thanks to an overzealous, scheming FBI agent who serves as the villain of the piece (no shocker there).
The widescreen animation boasts nicely detailed character design, but since a lot of the backgrounds and peripheral details are surprisingly static, the movie lacks the richness and fluidity of Disney animation. More over, the characters are only somewhat appealing and the story is predictable from every angle, making "The Iron Giant" best served for young children who haven't seen "The Day The Earth Stood Still" (and perhaps are too young for E.T.). At the time of the movie's release, I also was disappointed by Michael Kamen's score, which could have been one of the movie's strongest assets given how substantial a role the music plays in the film. "The Iron Giant" is scored wall-to-wall with original underscore, but Kamen's music, sadly, isn't one of his more memorable thematic works.
Nevertheless, viewers have warmed to "The Iron Giant" over the years since its original release, and while I remain a little bit underwhelmed by the picture, it has aged well – especially when viewed against the barrage of CGI cartoon features that have followed over the years since.
Making its Blu-Ray debut from Warner, "The Iron Giant" contains a brand-new documentary on the picture' s production. Eschewing the typical "talking head" approach, this hour-long production interviews all the major participants and utilizes animation, film fragments and storyboards to convey its look at the film's conception, Bird's career, the film's initial commercial failure and audience embrace since it hit home video. It's a wonderful piece, and is joined here by numerous extras from its prior DVD Special Edition. The 1080p (2.39) transfer is spectacularly colorful and vivid, with both the movie's 86-minute theatrical cut and its 89-minute "Signature Edition" (offering a couple of added sequences) both on-hand. The 5.1 DTS MA sound is also perfectly fine.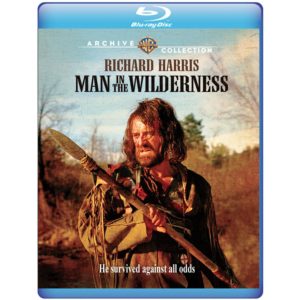 MAN IN THE WILDERNESS Blu-Ray (***, 104 mins., 1971, GP; Warner Archive): Rarely-circulated follow-up to "A Man Called Horse" from numerous members of that triumph's production team — star Richard Harris, producer Sandy Howard and writer Jack DeWitt — was an obvious influence on "The Revenant," and with good reason. DeWitt's screenplay adapts the same, allegedly true story of Hugh Glass, a 19th century fur trapper who was left for dead by the people he was working for in the Pacific Northwest. His fight for survival — after an encounter with a bear that nearly kills him — is told in vivid visual fashion by director Richard C. Sarafian, though "Man in the Wilderness" is ultimately a richer story than its later, more graphic Leonardo DiCaprio counterpart, at least from a humanistic angle: Harris' sensitive and credible performance as Glass, here dubbed Zachary Bass, carries an enhanced emotional component as his hero isn't driven by revenge, but more motivated to return to the family he left behind. Flashbacks are effectively intercut with excellent scope cinematography (the film was shot in Spain, Mexico and Arizona), making for a surprisingly moving film. In fact, Harris is marvelous here, dialed down and believable in what ranks as one of his best performances (the actor considered the film to be excellent and blamed bad marketing on its box-office failure), and even John Huston, playing the heavy, is far less villainous than one might expect.
Brought to Blu-Ray from the Warner Archive, "Man in the Wilderness" has been treated to a sumptuously detailed 1080p (2.40) AVC encoded transfer with near-photographic levels of detail, outstanding for a catalog title from that era. The movie, seldom screened on video save a 2008 DVD edition, looks spectacular, and the DTS MA mono audio houses a robust and lyrical score by Johnny Harris. The trailer is the sole extra on a highly recommended disc.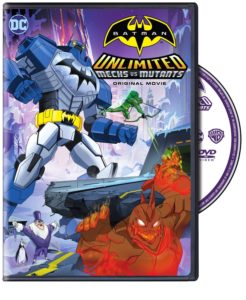 LONGMIRE: Complete Fourth Season DVD (597 mins., 2016; Warner): Fans of the A&E series will want to head back to Absaroka County, Wyoming, where Sheriff Walt Longmire (Robert Taylor) finds a new landscape awaiting him after the mysterious White Warrior who tormented Branch dies. With Henry Standing Bear (Lou Diamond Phillips) now a free man, "Vic" Moretti (Katee Sackhoff) newly divorced and the murder of Walt's wife seemingly solved, it looks like clear sailing for the "Longmire" crew – at least until the Reservation's new casino stirs up trouble in Big Sky Country. Warner's DVD edition of "Longmire"'s fourth season includes 16:9 (1.78) transfers and 5.1 Dolby Digital soundtracks.
2 BROKE GIRLS: Complete Fifth Season DVD (469 mins., 2015-16; Warner): Diner waitresses/cupcake bakers Max (Kat Dennings) and Caroline (Beth Behrs) attempt to roll out some fresh new business ideas in this fifth season of the popular CBS prime-time comedy. At the same time, Sophie and Oleg hatch plans on having a baby; Earl and Han hold the fort at the diner; and the girls fly to Los Angeles when Hollywood finds out about Caroline's story. All 22 Season 5 episodes of "2 Broke Girls" have been compiled by Warner in a DVD box set out September 22nd. Extra features include unaired scenes and a gag reel, plus 16:9 (1.78) transfers and 5.1 Dolby Digital soundtracks.
THE ORIGINALS: Complete Third Season DVD (927 mins., 2015-16; Warner): Now that original vampire-werewolf hybrid Klaus Mikaelson shares a daughter with hybrid Hayley, the stakes to protect the supernatural clan and hold them together are higher than ever. In Season 3 of the CW "Vampire Diaries" spin-off, Klaus and brother Elijah find themselves initially estranged while Marcel and Davina rule the city, and Cami and Vincent track down a mystery involving the Mikaelsons' first "sired" vampire. All 22 episodes from "The Originals"' third season have been collected by Warner in a fine, fan-friendly box-set sporting a 2015 Comic Con panel, unaired scenes, a gag reel, two featurettes, 16:9 (1.78) transfers and 5.1 Dolby Digital soundtracks.
BATMAN UNLIMITED: MECHS VS. MUTANTS DVD (75 mins., 2016, Not Rated; Warner): Mister Freeze and Penguin have utilized their respective, villainous talents to ice over Gotham City. Also, having turned Bane, Clayface and Killer Croc into massive, giant-sized mutants, Batman and Green Arrow – using giant robot suits of their own – are tasked with saving the city in this latest "Batman Unlimited" original movie from producer-director Curt Geda. Warner's DVD includes a 16:9 transfer, 5.1 Dolby Digital sound and a bonus cartoon from "Batman: The Brave & The Bold."
---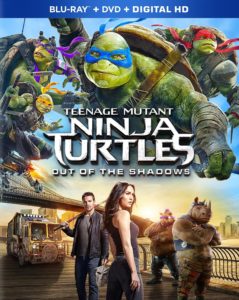 Also Newly Available
TEENAGE MUTANT NINJA TURTLES: OUT OF THE SHADOWS Blu-Ray (**½, 111 mins., 2016, PG-13; Paramount): One of many sequels that failed to perform up to the level of its predecessor this year, this bombastic follow-up to the Michael Bay-produced, live-action "Teenage Mutant Ninja Turtles" is much more entertaining than its first go-around. Here, Michelangelo, Donatello, Leonardo and Raphael are back to take on Shredder once again after he escapes custody, while April O'Neil (a returning Megan Fox) joins forces with TMNT pal Casey Jones (Stephen Amell) in helping the gang take down the villainous Krang, who has dastardly plans to invade Earth.
A convoluted story from writers Josh Applebaum and Andre Nemec takes a backseat to a cartoony and more upbeat piece of comic-book escapism that, if nothing else, is closer aligned to the popular '90s cartoon of Kevin Eastman's comic than the first film. Paramount's attractive 1080p (2.35) transfer is included on Blu along with deleted scenes, ILM featurettes, behind-the-scenes segments, a Digital HD copy and a DVD as well. Steve Jablonsky's incessant score, however, might lead you to turn down in the volume in the Dolby TrueHD/Atmos soundtrack.
AMERICAN CRIME STORY: THE PEOPLE V. O.J. SIMPSON Blu-Ray (486 mins., 2016; Fox): Thoroughly compelling, if seldom revealing, dramatization of the moment where fame, celebrity, the media and mass communication seemed to combine, all at once, into something more immediate and sensational than anything that came before.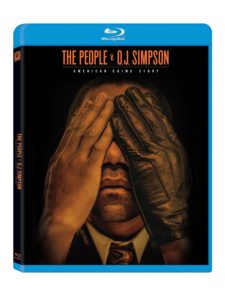 Viewers familiar with the O.J. Simpson case may not be shocked by any of the details divulged in producer Ryan Murphy's stylish but often superficial FX series, but some of the performances overcome the sometimes aimless storytelling (is there any reason the Kardashian kids get so much screen time?): Sarah Paulson is outstanding as harried, at-times over-her-head prosecutor Marcia Clark, whose own physical appearance became part of the case, and Sterling Brown is intense as her associate Christopher Darden. Less effective are the performances of stars John Travolta, who completely fails to embody defense attorney Robert Shapiro, while Cuba Gooding, Jr., is also a strikeout as Simpson in another instance of miscasting that seems to miss both "The Juice"'s physicality and inherent charisma. Nevertheless a highly watchable production, all 10 episodes from the first season of "American Crime Story" are housed in a three-disc Fox set sporting 1080p (1.78) transfers, 5.1 DTS MA sound and two featurettes.
QUANTICO – The Complete First Season DVD (945 mins., 2015-16; ABC/Buena Vista): Indian actress Priyanka Chopra was an inspired casting choice for this new ABC prime-time thriller. Playing a young FBI analyst stationed at the Quantico Base, Chopra gives a sexy and compelling central performance as Alex Parrish, who's framed for causing the largest terrorist attack on American soil since 9/11. Her efforts to catch the real culprit form the crux of the 22 first-season episodes of "Quantico," now on DVD from ABC. Extensive extras include a video commentary on "Run," bloopers, deleted scenes, two featurettes, 16:9 (1.78) transfers and 5.1 Dolby Digital soundtracks.
---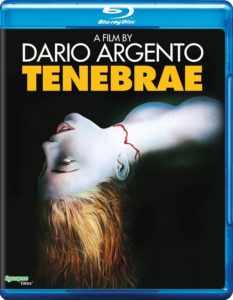 Quick Takes
TENEBRAE Blu-Ray (101 mins., 1982; Syanpse Films): Dario Argento fans should rejoice over the release of "Tenebrae" ("Unsane') on Blu-Ray in the US for the first time. This 1982 thriller is viewed as one of Argento's best films – a mystery thriller with Anthony Francoisa as a horror writer stalked by a killer who seems to be a fan of his work. From the synth score by Goblin members Claudio Simonetti, Fabio Pignatelli and Massimo Morante to its crazy ending and Argento's patented murders, "Tenebrae" delivers the goods for the Italian great's fans, and Synapse's Blu goes one further with an all-new 1080p high-def transfer from the original uncut camera negative – fully color-corrected and restored. English and Italian language options are included along with a commentary from historian Maitland McDonagh, English sequence insert shots (in 1080p and available for optional viewing inside the film), a feature length documentary on the "Giallo" genre, the U.S. release credits, trailers, and 2.0 DTS MA sound.
A BIGGER SPLASH Blu-Ray/DVD (124 mins., 2016; Fox): The performances – plus gorgeous Mediterranean settings – are the thing in Luca Guadagnino's new film, which tells the story of a rock star (Tilda Swinton), vacationing with her lover (Matthias Schoenaerts) in an Italian island paradise, when they meet one of her old flames (Ralph Fiennes) and his sexy young daughter (a very blonde Dakota Johnson). Surprises and all kinds of predicaments follow in this good-looking character piece, not for all tastes (with its wild swings of tone), but well-performed by all four leads. Fox's Blu-Ray includes promotional featurettes, the trailer, a 1080p (1.85) AVC encoded transfer, DVD, Digital HD copy, and 5.1 DTS MA sound.
STANDING TALL Blu-Ray (119 mins., 2015, R; Cohen Film Collection): Catherine Deneuve gives a strong performance in this moving French drama as Florence, a children's magistrate who gravitates towards a young man (Rod Paradot) who's been in and out of juvenile court. Expressing equal interest in Paradot's Malony is Yann (Benoit Magimel), a caseworker who can sympathize with his background in Emmanuelle Bercot's drama. Now available on Blu-Ray from the Cohen Film Collection, "Standing Tall" receives a 1080p transfer with 5.1 DTS MA sound and many extras, including eight deleted scenes with optional commentary, "Inside the Film" segments with Bercot, Magimel and Paradot, the trailer, and English subtitles.
SEE THE KEEPERS Blu-Ray (71 mins., 2015; Virgil Films): Documentary portrait of zookeepers working at the Memphis Zoo informs Saya Kaye Larson and Joann Selvidge's film, now on DVD from Virgil featuring a 16:9 transfer and 5.1 sound.
IN-LAWFULLY YOURS DVD (86 mins., 2016; Home Theater Films): Chelsey Crisp plays a recently divorced New York City girl who moves to her in-laws' small town following the death of her father-in-law. Where she goes romantically – choosing between her ex-husband or brother-in-law (himself widowed!) – forms the gist of this sometimes-dizzying but well-meaning faith-based rom-com with a good sense of humor. Home Theater Films' DVD includes deleted scenes 16:9 transfer, 5.1 sound and a Behind the Scenes documentary.
NEXT TIME: Kino Lorber September Studio Classics, including MY BODYGUARD, CABOBLANCO and more! Until then, don't forget to drop in on the official Aisle Seat Message Boards and direct any emails to our email address. Cheers everyone!