A product of the '80s in every way, GRANDVIEW, U.S.A. (**½, 97 mins., 1984, R) was "Grease"/"Blue Lagoon" director Randal Kleiser's "contemporary" drama about a teenager's coming of age, as well as the lives and loves of other residents of a small midwestern town. The movie can't ever figure out specifically what it wants to be – either a typical '80s teen picture or a more adult soap opera – so it roughly splits itself in half, one portion dealing with star student C. Thomas Howell aspiring for more than the life his real estate mogul dad has in store for him, the other revolving around tough girl Jamie Lee Curtis' frustration at running a demolition derby in town.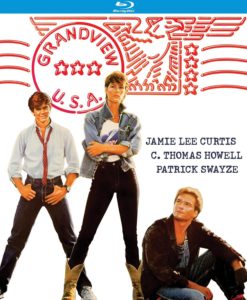 "Grandview U.S.A." opens with an original Air Supply song – always the right way to set the scene – and proceeds to unevenly tell both Howell's story – including his fling with Curtis – as well as Curtis' fading dreams and relationship with one of her married associates (Patrick Swayze), who's saddled with a floozy wife (a sexed-up, thankless role for Jennifer Jason Leigh). The trouble with the movie and Ken Hixon's script is that the film plays with too much "teen" element for adults, thanks to a pair of inexplicable MTV-styled musical dream sequences that Kleiser must've thought would've appealed to younger viewers. At the same time, Howell's story away from the Demolition Derby seems like it had to have been cut down, seeing as co-star John Cusack appears only fleetingly, and too much time is ultimately spent on Leigh's relationship with another man (former '50s matinee idol Troy Donahue). Kids wouldn't have cared about this subplot, while "grown ups" must have scratched their heads as to why the movie suddenly turned into an MTV music video not once but twice.
Despite the unevenness, "Grandview, U.S.A." is watchable for a number of reasons, primarily its cast. For fans of Curtis – nabbing top billing for a non-horror project for the just the second time in her career – the movie ought to be perfectly sufficient, as it will be for Swayze buffs. In theaters just days before "Red Dawn" was released, "Grandview" gives Swayze a serviceable showcase for his talents, and he brings appropriate charisma to the film's most interesting character. As for Howell, he's merely OK in a part that comes off as bratty and unlikeable at times – like most '80s movie teens, he knows more than the picture's rote adult/authority figures, but unlike, say, Matthew Broderick, Howell isn't all that appealing delivering the role. At least there are brief appearances from the likes of Michael Winslow (as the derby emcee), M. Emmet Walsh (Howell's girlfriend's father), and the Cusacks to help sweeten the film's appeal.
Shot in Pontiac, Illinois, "Grandview U.S.A." makes its Blu-Ray debut from Kino Lorber, and the disc is gorgeous. Like Kino's prior CBS-derived catalog releases, the 1.85 framed print is colorful, splendidly detailed and devoid of noticeable DNR. Two audio options are on-hand, and the original 2.0 DTS MA stereo mix is far ahead of a muddled 5.1 track that constrains the original multi-channel sound. Thomas Newman's early score is adequate.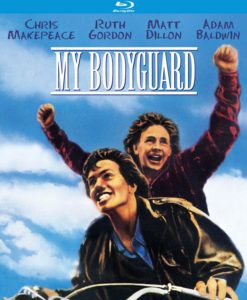 Also new from Kino Lorber is the welcome Blu-Ray debut of a superior teenage drama: Tony Bill's winning 1980 sleeper MY BODYGUARD (***½, 102 mins., 1980, PG), starring "Meatballs"' Chris Makepeace as Clifford Peach, the son of a Chicago hotel manager (Martin Mull), who manages to cross his new school's resident bully (Matt Dillon). After his dad's pleas to the school principal basically make things worse, Makepeace decides to strike up a relationship with the one student even Dillon is afraid of: a loner (Adam Baldwin) with a shady past that just may or may not involve mass casualties, and whom Clifford eventually forms a tentative friendship.
Alan Ormsby's appealing script is just beautifully performed by a cast that "gets it" – freed from the flash of the John Hughes era, this 1980 drama feels like an "indie" by today's standards, allowing peripheral details to Clifford's experience to color the drama. These include not only Clifford's dad but his wacky grandmother (Ruth Gordon) with some light humor involving the hotel sometimes feeling like a TV sitcom, though a lot of it is nevertheless quite amusing.
The dramatic component of Clifford's high school existence, though, works splendidly still, and both Makepeace and Baldwin cultivate what feels like a genuine friendship that's believable and worth rooting for. Punctuated by a marvelous Dave Grusin score – still criminally unreleased! – and you have the recipe for film that predated the "teen movie" genre of the 1980s by several years and still ranks as one of the more sensitive, credible films of its type.
Kino Lorber's Blu-Ray offers a 1080p (1.85) transfer that's a reasonably strong upgrade on the DVD. Grain persists in the transfer as well as a general haziness, but short of a full blown 4K restoration, this is likely as good as "My Bodyguard" will ever look. The DTS MA mono soundtrack is okay, though the soundtrack is afflicted by phasing in several sequences. The trailer and a new commentary with director Tony Bill and moderator Jim Healy is very enjoyable, with Bill relaying many informative anecdotes about how his directorial feature debut came to pass. Highly recommended!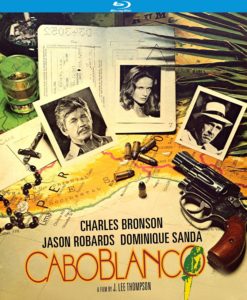 A rocky production, CABOBLANCO (**, 92 mins., 1981, R) was a strange attempt at recreating the romantic-drama dynamic of "Casablanca" with Charles Bronson as an American trying to run away from the world in a picturesque Peruvian port during the late '40s; Jason Robards as a former Nazi looking for sunken treasure; and Dominique Sanda as a newly arrived French woman, searching for her lost lover whom Bronson's Cliff Hoyt once knew.
Independently produced by Lance Hool, "Caboblanco" was shot in the late '70s but didn't make it to theaters until it was distributed by Avco Embassy in the winter months of 1981. By that point, the film had been edited quite severely, as evidenced by credited actors like Clifton James who doesn't appear in the film at all (!), as well as abrupt cutting that seems to drop in and out of scenes arbitrarily. The plot, credited to Mort Fine and Milton Gelman, is subsequently harder to follow than it ought to be, and the film itself a general misfire, in spite of its talent.
What does make it watchable are lovely Mexican beach locales (Robards' house is spectacular) captured in widescreen by director J. Lee Thompson (helming his third film with Bronson), plus an easy-going, more relaxed performance by the star than usual (he must have liked the surroundings?) and, last but not least, Jerry Goldsmith's score. Though not one of the maestro's best, the memorable main title boasts a bold, appropriately Latin flavor, and his use of "The Very Thought of You" tries valiantly to spice up DOA interplay between Bronson and the wooden Sanda.
"Caboblanco" certainly doesn't work, but it's an admirable failure that's been enhanced on Blu-Ray thanks to Kino Lorber. The 1080p (2.35) transfer seems identical to the German release from a few years back, boasting nice colors via source elements that aren't always in pristine condition. The 2.0 DTS MA sound is, thankfully, in stereo (and sounds pretty decent whenever Jerry's score is present), though there's persistent hiss on the track. Extra features in a worthwhile supplemental package include a vintage, half-hour archival "Making Of" shot on the set (in high definition); an informative, engaging interview with producer Lance Hool, discussing the film's independent financing and how Thompson not only retooled the script to emulate "Casablanca" (much to the film's detriment) but frequently failed to bring out Bronson's best as an actor; the trailer; and a commentary (more like an "audio essay") from Bronson expert Paul Talbot.
One could point to Mel Brooks' "Blazing Saddles" and "Young Frankenstein" star/co-writer Gene Wilder's decision to go off on his own and produce his own comedies as a pivotal turning point in the careers of both talents, with two of Wilder's post-Brooks projects debuting on Blu-Ray for the first time this month from Kino Lorber – just a few weeks after the actor's passing at age 83.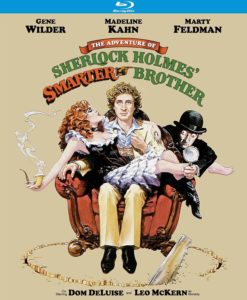 Striking out in his first directorial outing, Wilder reunited with his "Young Frankenstein" co-stars Madeline Kahn and Marty Feldman in the highly uneven THE ADVENTURE OF SHERLOCK HOLMES' SMARTER BROTHER (**½, 1975, 91 mins., PG), with Wilder directing, writing and starring as Sigerson Holmes in a Brooks-ian, slapstick romp with a pleasant score by John Morris and amusing supporting turns from Dom DeLuise and Leo McKern. The movie, though, is all over the map, with a few big laughs off-set by long stretches of tedium that even the most-die hard Wilder fan may have a hard time overlooking.
After several other, uneven outings – "The World's Greatest Lover" (1977) and the successful "The Woman in Red" (1984) – Wilder teamed with his wife, Gilda Radner, for his final directorial outing, HAUNTED HONEYMOON (*½, 82 mins., 1986, PG-13). This haunted house comedy, which Wilder wrote with veteran Brooks production designer Terence Marsh, offers Wilder, Radner and pal Dom DeLuise in a painfully, mostly unfunny mess that was seemingly cut to shreds by the time Orion released it in the Summer of '86. At that time, "Haunted Honeymoon" died quick death at the box-office, grossing just $8 million and ending Wilder's directorial career on top of it.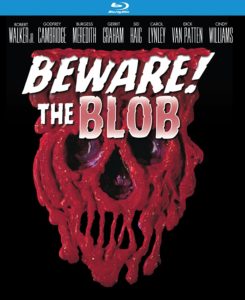 Still worth a (one-time) look for Wilder enthusiasts, "Haunted Honeymoon" debuts on Blu featuring a decent 1080p (1.85) AVC encoded transfer with 2.0 DTS MA stereo sound. "Sherlock Holmes," meanwhile, has always looked a little ragged in the modern home video era, but does fare much better than past releases thanks to Kino Lorber's Fox-licensed 1080p (1.85) AVC encoded transfer here. The 2.0 DTS MA soundtracks feature Morris' scores on both films, with "Sherlock Holmes" also including Wilder's commentary track from the prior DVD. The star wistfully recalls working on the picture, and is particularly enlightening when he discusses how Hollywood no longer has room for the kinds of fun, warm-hearted pictures both he and Mel Brooks turned out in the '70s and '80s.
BEWARE! THE BLOB (*½, 91 mins., 1972, PG; Kino Lorber): A heavily-lambasted critical disaster that I've wanted to see for years, Kino Lorber has resurrected this oddball 1972 parody/sequel to producer Jack H. Harris' '50s drive-in classic on Blu-Ray for the first time. "Beware! The Blob" is mostly a spoof of its predecessor, with director Larry Hagman (who's also a "Guest Star" in his own movie!) staging a lightweight affair that has the Blob causing havoc again after a geologist (Godrey Cambridge) accidentally thaws out a specimen from the North Pole. "Charlie X" himself, Robert Walker (Jr.), is the film's nominal lead, but the picture mostly functions as a series of self-contained sketches with various victims – from a Boy Scout leader (Dick Van Patten) to hippies (including Cindy Williams) and star cameos (Carol Lynley, Shelley Berman and an unbilled Burgess Meredith) – being knocked off one by one. It's certainly not high art, nor is it as much fun as its predecessor (to say nothing of Chuck Russell's superior 1988 remake), though the music score by Mort Garson is so dreadful and the film so lifeless it does generate a weird spell over the viewer as it progresses. Kino Lorber's Blu was mastered off a decent print and boasts good detail (1.85) for such a low-budget, rarely-screened opus. Extras include a commentary from historian Richard Harland Smith, trailers, an alternate title sequence and DTS MA mono sound.
---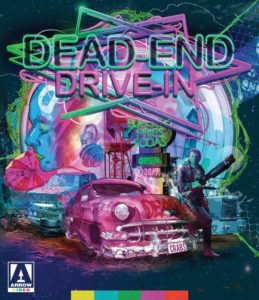 Arrow New Releases
The era of "Oz-poiltation" – Australian exploitation imports – came to an end in the mid '80s despite the efforts of directors like Brian Trenchard-Smith, whose pictures like "Turkey Shoot" and "The Man From Hong Kong" came to define the genre.
One of his later outings was DEAD END DRIVE-IN (88 mins., 1986, Not Rated), another post-apocalyptic tale of a young couple (Ned Manning, Natalie McCurry) who end up in a glorified concentration camp, where the government has rounded up the world's delinquents in musty old drive-in cinemas. With some socio-political commentary, lots of terrible fashions and a poky synth soundtrack, "Dead End Drive-In" is a decent B-movie though it does have some sections that tend to drag – Trenchard-Smith eventually stages a couple of his patented action bits but the wait in getting to them seems a little much.
Nevertheless, devotees of Aussie low-budget genre exercises from that era, and devotees of Trenchard-Smith in particular, will love Arrow's Blu-Ray edition. Sporting a new 2K restored transfer (2.35) from the original film materials, the film looks good and includes a commentary by the director; Trenchard-Smith's classic documentary "The Stuntmen"; his 1978 public service documentary "Hospitals Don't Burn Down!'; a behind-the-scenes gallery; and the original New World Pictures US trailer (interestingly, the film apparently did better in the U.S. on home video than it did in its native country theatrically).
New on DVD from MVD is BACK IN TIME (95 mins., 2016), an independent documentary on the production of the "Back to the Future" series featuring interviews with Michael J. Fox, Christopher Lloyd, Robert Zemeckis, Bob Gale, Lea Thompson, Alan Silvestri and many others. This is a watchable outing that treads over previously covered terrain and might be worth a look for BTTF die-hards – others are likely to be satisfied with the already-available documentaries on the Universal Blu-Ray/DVD releases of the trilogy. MVD's DVD includes a 16:9 transfer and stereo sound.
---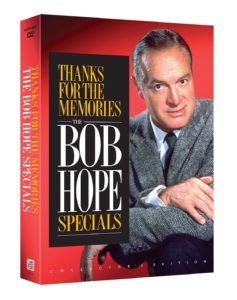 Time-Life New Releases
THANKS FOR THE MEMORIES: THE BOB HOPE SPECIALS DVD (804 mins., 2016; Time Life): Six-disc set offers 13 of Bob Hope's vintage prime-time comedy specials that aired on NBC over many decades. Included here in Time-Life's set are Hope's first "in living color" special with guests Bing Crosby, Jack Benny and Janet Leigh; "The Bob Hope Chevy Show" with Hope joined by the cast of "I Love Lucy" along with James Cagney and Diana Dors; a '70s special featuring a "Star Wars" spoof and other sketches featuring The Muppets, Barbra Streisand, Perry Como, Mark Hamill and others; "Joys" (A Comedy Whodunit) with Charo, Milton Berle, Dean Martin and many others; Hope's 1967 USO Tour highlights; plus bloopers, Hope's 90th Birthday celebration, and the exclusive bonus feature "Shanks for the Memory," focusing on Hope's love of the game of golf. Highly recommended nostalgia and chock full of material that should keep Hope enthusiasts happy for many years to come.
MOTOWN 25: YESTERDAY, TODAY, FOREVER DVD (Time Life): An early '80s NBC special that generated a significant amount of viewers during its original broadcast – thanks to reunions of legendary groups The Miracles, The Supremes and The Jackson 5 plus live performances from Richard Pryor and others – "Motown 25″ returns to DVD from Time Life in a deluxe, six disc package. Boasting electrifying performances from Smokey Robinson, Marvin Gaye, Stevie Wonder, Diana Ross, Lionel Richie and many others, all in remixed 5.1 surround, the special is a virtual treasure trove for Motown fans. Chief among the goodies are over 20 additional minutes of footage excised from the original special, over 14 hours of bonus features, an exclusive 48-page collector's booklet about the show and the artists, Stevie Wonder rehearsal footage, Marvin Gaye rehearsing "What's Going On," "Motown 25″ roundtable interviews, and plenty more.
THE WONDER YEARS – Season 6 DVD (638 mins., 1992-93; Time Life): The Arnold clan is back in the sixth season of the popular, influential network drama-edy. Time Life's remastered Season 6 DVD of the series features a fully licensed soundtrack, ABC broadcast of the Season Finale (extended to a full hour), "At Last: The Final Episode" featurette, interview with executive producer Bob Brush, and all 22 episodes from the series' 1992-93 season in 4:3 transfers and stereo soundtracks, spread across four discs.
---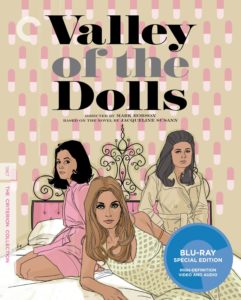 New From Criterion
Whether you're part of the cult that worships VALLEY OF THE DOLLS (***, 1967, 123 mins., PG-13) as one of the all-time Bad Movie Classics, there's little doubt that Criterion's long-overdue Blu-Ray edition of this 1967 Fox release – a box-office smash despite putrid reviews – is technically superior than all prior releases and packed with extras, several of which enhance its enduring value as a camp perennial.
This glossy adaptation of Jacqueline Susann's bestseller was directed with a straight face by Mark Robson, following the trials and tribulations of several aspiring starlets (Sharon Tate, Patty Duke and a new-to-the-scene Barbara Parkins) as they fight the perils of Hollywood, relationships, and drug addiction.
The Helen Deutsch-Dorothy Kingsley script boggles the mind with uproarious dialogue, which skirted the boundaries of the rating system at the time with its scandalous mention of substance abuse and tawdry sexual affairs, not to mention fading old dames who refuse to get out of the spotlight (a part played by Susan Hayward after Judy Garland vacated the role following several days of filming). Today "Valley of the Dolls" only has enough adult content to warrant a PG-13 rating, but this was heavy stuff for its day, and the performances of the stars — from Duke's bonkers performance as Nelly O'Hara and the bland, awful male leads (Tony Scotti? Martin Milner? Charles Drake?) — often go to extreme lengths to make the drama believable.
It's a weird, strange fusion of "old" Hollywood (the Andre and Dory Previn musical numbers; the lush widescreen cinemtography) with the increasingly more explicit adult content that would come to permeate films in the late '60s, capped off by unintentionally hilarious work from most of its leads.
Criterion's Blu-Ray of "Valley of the Dolls" includes a wonderful 2K transfer (2.40) of the film that only deepens one's appreciation of its scope cinematography, thanks to bold colors and clear detail. The 3.0 DTS MA sound preserves a left/right/center configuration and likewise has a bit more oomph than its comparable DVD mix as well.
For extras, the disc is a mix of new content and previously-available extras from Fox's "Cinema Classics" DVD (albeit minus that release's main documentary). For fresh content, writer Amy Fine Collins provides interview segments on Jacqueline Susann and the film's costumes; critic Kim Morgan contributes a visual essay on the film's themes and historical-sociological context; and a 2009 Q&A segment with Patty Duke and Bruce Villanch is included from San Francisco's Castro Theatre. There are also two hour-long, highly enjoyable archival documentaries: "Jacqueline Susann and Valley of the Dolls" plus "A World Premiere Voyage," which includes co-star Tony Scotti crooning the film's title song to host Bill Burrud while taking a gondola ride in Venice! (Portions of this were included in the DVD release).
Other materials are reprised from the earlier two-disc DVD release. Top of the list is a terrific audio commentary with Barbara Parkins and E! TV's Ted Casablanca, who share a candid and often hilarious conversation, touching upon the bad performances and general disinterest of Robson, whom Parkins says was only interested in his camera set-ups and lighting…leaving the door open for Duke among others to chew up the scenery with performances several decibels above and beyond what they should have been.
There's also an AMC Hollywood Backstories episode from 2001, which chronicles the film's production in a straightforward manner and sports the participation of Patty Duke, who didn't appear in any of the DVD's other supplements. Additional featurettes include a full half-hour of screen tests, with Parkins in the Nelly O'Hara role (they ultimately switched the casting since Parkins already played a "bad girl" in "Peyton Place"), and trailers.
It should be noted that an often overlooked element to the film's appeal is John Williams' musical underscoring, which is tremendous in "Valley of the Dolls," and no more so than in Warwick's vocal, which ranks as one of the movie's few positive artistic attributes. The fondly-remembered theme is still a gem and is further enhanced by Williams' lyrical, almost magical arrangement, which perfectly underscores the wintry sequences of rural Connecticut at the movie's beginning (and for some may rank as one of the film's highlights).
A must-have for fans of the movie or late '60s cinema in general.
---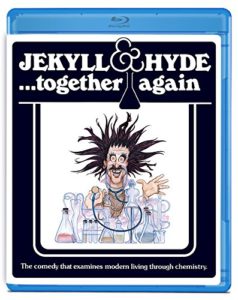 Olive New Releases
New from Olive this month is another Blu-Ray edition of JEKYLL & HYDE…TOGETHER AGAIN (**½ mins., 1982, R), which first materialized in HD courtesy of a Legend Films release that's been out of print for a whole now. This improved Blu boasts a superior AVC encode than its predecessor, making for a generally worthwhile upgrade for fans of this nutty comedy.
"Jekyll & Hyde Together Again" was an absolutely bonkers, raunchy 1982 Paramount release starring Mark Blankfield as Henry Jekyll, whose split personality turns him into a crazy "macho man" in a hit-or-miss spoof produced by Joel Silver and directed by comedy guru Jerry Belson (Belson and Monica Johnston, Albert Brooks' frequent collaborator, were two of the film's co-writers). Blankfield is amusing and the lovely Bess Armstrong is on-hand to lend support in this early '80s cult comedy favorite – and you have to love the last shot of Robert Louis Stevenson rolling over in his grave!
Olive's no-frills release looks crisper and less "noisy" than the Legend release with finer grain and a likewise upgrade via "lossless" DTS MA mono sound.
Also new from Olive this month is the Blu-Ray debut of YOURS, MINE AND OURS (***, 111 mins., 1967, Not Rated), the enjoyable family comedy with Lucille Ball and Henry Fonda as recent widowers who fall for each other – and bring their respective clans of 8 and 10 kids together in the process.
Similar to other "super-nuclear" family comedies of its era ("With Six You Get Eggroll," even "The Brady Bunch"), Melville Shavelson's film offers early turns for Tim Matheson, Morgan Brittany and Tracy Nelson, with veterans Tom Bosley and Van Johnson providing support to the two leads in a breezy late '60s family entertainment scored by Fred Karlin. The Desilu co-production bows on Blu from Olive sporting a decent 1080p (1.85) AVC encoded transfer and DTS MA mono sound.
---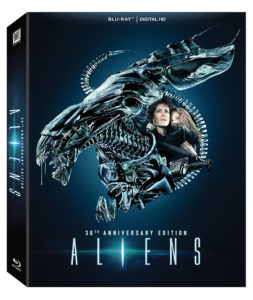 Also New & Noteworthy
ALIENS (****, 154 mins., 1986, R; Fox) still ranks as one of the great sequels of all-time, with James Cameron's brilliant reworking of the franchise opening up the story and characterizations from Ridley Scott's equally classic 1979 predecessor. Sigourney Weaver rightly copped an Oscar nomination for her work as Ripley here, and the supporting performances (especially Michael Biehn and Bill Paxton) add depth to a rollercoaster ride of a movie that's bigger and better than the first film. Fox's 30th Anniversary Blu-Ray is a really nicely packaged set, including a hardbound book featuring art from the Dark Horse Comics series, collectible art cards, a Digital HD copy, and a single downloadable, new featurette with James Cameron – one that has a 2019 expiration date and can be viewed up to (!) 10 times. The disc itself is exactly identical to the already-available Blu-Ray, so only die-hard "Aliens" fans need apply.
EMPIRE: Complete Second Season DVD (788 mins., 2015-16; Fox): With Lucious Lyon out of prison, Terrence Howard's protagonist does battle with Cookie (Taraji P. Henson) for complete control of the music industry – all the while sons Jamal and Hakeem continue to feud, putting the future of Empire Records in jeopardy. While fans continued to watch this second season of the highly rated Fox series in droves, critics noted a clear "Sophomore Slump" in these 18 episodes, with an appreciable drop-off in quality from its initial season. Nevertheless, those wanting to catch up on "Empire" before Season 3 debuts would do well to check out Fox's five-disc DVD set, now available with 16:9 transfers, 5.1 sound, uncut music performances and numerous extras.
TWO FILMS FROM DIRECTOR DOUGLAS SIRK Blu-Ray (Cohen Film Collection): Douglas Sirk aficionados will want to add Cohen Film Collection's superb Blu-Ray edition of two of Sirk's early B&W dramas to their libraries next week.
The two-disc "Two Films From Director Douglas Sirk" houses A SCANDAL IN PARIS (99 mins., 1946), a romantic melodrama starring George Sanders in an adaptation of Francois-Eugene Vidocq's memoirs, charting his progression from gentleman thief to Parisian chief of police. Sanders is paired with Carole Landis and Signe Hasso in this 1946 United Artists release, here fully restored. Even more interesting is LURED (103 mins., 1947), which stars Lucille Ball in one of her more memorable dramatic turns as an American dance hall girl, positioned as bait for a London serial killer with suspects (Sanders and Boris Karloff!) a-plenty to choose from.
Both pictures have been presented here with PCM audio and 1080p (4:3) B&W transfers. Extras include a commentary with historian Wade Major on "Scandal" and a commentary with historian Jeremy Arnold on "Lured," with both critics discussing the production of the two films, Sirk's background and other assorted bits of trivia. Worthwhile for Sirk buffs.
LONGMIRE: Complete Fourth Season Blu-Ray (597 mins., 2016; Warner): Fans of the A&E series will want to head back to Absaroka County, Wyoming, where Sheriff Walt Longmire (Robert Taylor) finds a new landscape awaiting him after the mysterious White Warrior who tormented Branch dies. With Henry Standing Bear (Lou Diamond Phillips) now a free man, "Vic" Moretti (Katee Sackhoff) newly divorced and the murder of Walt's wife seemingly solved, it looks like clear sailing for the "Longmire" crew – at least until the Reservation's new casino stirs up trouble in Big Sky Country. Warner's Blu-Ray edition of "Longmire"'s fourth season is available exclusively through the Warner Archive and includes 1080p AVC encoded (1.78) transfers and 5.1 DTS MA sound.
---
DVD Wrap
New From IFC: The life and times of Pele are recounted in the Image Entertainment production PELE: THE BIRTH OF A LEGEND (107 mins., 2015, PG), a dramatic work from writer-directors Jeffrey and Michael Zimbalist that was scored by A.R. Rahman and regrettably did not score a major studio pick-up in spite of its pedigree. For soccer fans, this is a terrific, feel-good outing that recounts Pele's upbringing through poverty, and his leading Brazil to a World Cup title at age 17. IFC's DVD includes a Making Of, the trailer, behind-the-scenes segment, 5.1 sound and a 16:9 (2.41) transfer…Laura Gabbert's CITY OF GOLD (90 mins., 2015, R) is a documentary with food critic Jonathan Gold heading to the strip malls and back rooms of Los Angeles to find strange ethnic dishes served up by immigrants trying to live the American dream. The trailer is the sole extra in IFC's DVD, presented with a 16:9 (1.78) transfer and 5.1 Dolby Digital sound.
Lionsgate Wrap: Kids may enjoy ELEPHANT KINGDOM (101 mins., 2016, PG), an animated story of an elephant named Rock (voiced by Carl Elwes) whose wife (Alexa PenaVega) is kidnaped by the human King (Patrick Warburton). Not all humans are necessarily bad in this Grindstone Entertainment production, though, as the human queen (voiced by Ambyr Childers) is sympathetic towards the elephants' rescue mission. Lionsgate's DVD includes a digital copy, 16:9 (2.40) transfer and 5.1 sound…THE REAL MVP: THE WANDA DURANT STORY (86 mins., 2016) is a Lifetime original movie about the single mother who raised her two kids "the right way," keeping them out of trouble and working hard at basketball. This true-life story of NBA superstar Kevin Durant's mom comes with a Digital copy, 16:9 (1.78) transfer and 5.1 soundtrack.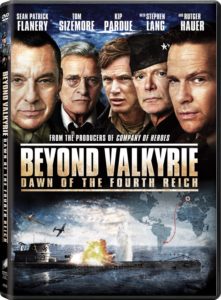 BEYOND VALKYRIE: DAWN OF THE THIRD REICH DVD (101 mins., 2016, R; Sony): The producers behind "Company of Heroes" tell the story of an Allied specials ops team who, after the busted operation to assassinate Hitler fails, is tasked with preventing a handful of Nazi Officers from fleeing to Argentina and establishing the Fourth Reich. Claudio Fah directed this moderately entertaining affair starring Sean Patrick Flanery, Tom Sizemore, Stephen Lang and Rutger Hauer. Sony's DVD includes a 16:9 (1.85) transfer and 5.1 Dolby Digital sound.
MY MANY SONS DVD (98 mins., 2015, Not Rated; Well Go): Inspiring bio-pic tells the story of coach Don Meyer and his recovery from a near-fatal car wreck. Judge Reinhold gives a strong performance as Meyer in Ralph Portillo's moving story of one of the all-time great college basketball coaches. Well Go's DVD includes a 16:9 transfer and 5.1 sound.
PRESENTING PRINCESS SHAW DVD (83 mins., 2016; Magnolia): Documentary recounts the unlikely rise of Princess Shaw, who became a Youtube sensation and garnered the attention of not just millions of viewers, but also "Youtube artist" Kutiman, who spurred on a collaboration between them. Esther Van Messel and Gitte Hansen's doc includes deleted scenes, an interview with Shaw, the trailer, a 16:9 transfer and 5.1 sound.
NEXT TIME: The '70s Canadian sci-fi epic THE SHAPE OF THINGS TO COME! Until then, don't forget to drop in on the official Aisle Seat Message Boards and direct any emails to our email address. Cheers everyone!