For a kid growing up in the '80s, Stephen King movies – which were flooding multiplexes every few months – were just a little bit out of reach. Their R-rated horror made them the kind of thing most of us elementary school kids didn't get to see back in the day, though every now and then, you might be able to attend a birthday party where someone's lenient Dad would rent a VHS of, say, "Christine" or "Children of the Corn," damaging our sleep patterns for days to come.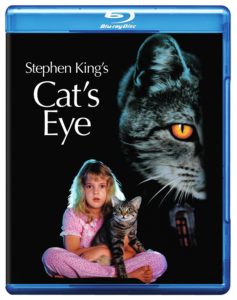 One King movie, though, proved to be more "acceptable" for pre-teens than the rest: the PG-13 rated CAT'S EYE (***, 94 mins.), which opened in the Spring of 1985 and marked King's first filmed screenplay by the author himself. By the time it was released on VHS (on CBS/Fox's "Key Video" label), most of us in the 5th grade latched onto it as one of the few King movies that parents would be OK renting for their older kids (even today, it remains one of the only adaptations of the author's material that didn't receive an R rating).
Rewatching the film again in Warner's new Blu-Ray release, I was surprised at how well the picture holds up – not just as a piece of nostalgia, but as one of the better King movies altogether, particularly from that era.
Dino De Laurentiis had already produced "The Dead Zone" and "Firestarter" from the author's works when he coaxed King to write an original anthology for the screen – a sound concept since genre anthologies were all over the place back in the mid '80s (King's film "Creepshow," "Twilight Zone: The Movie" and its subsequent TV revival on CBS, "Amazing Stories" and "Alfred Hitchcock Presents" on NBC, and "Tales From the Darkside" in syndication). Two stories – "Quitters, Inc." and "The Ledge" – were adapted from the author's bestselling "Night Shift" collection, and a third ("General") was expressly written for the film. There are reports King also wanted to use "Sometimes They Come Back" as a fourth story in the picture, but the producer persuaded him to save it for later (it became a CBS TV-film produced by De Laurentiis, and released theatrically overseas, in 1991).
The resulting movie, shot in North Carolina (as most of De Laurentiis' films were in the '80s), was directed by "Cujo"'s Lewis Teague and uses the adventures of a quick-thinking, resourceful feline as a link between the segments.
"Quitters, Inc." opens the film with a bang, as it follows a smoker (James Woods) who tries to kick the habit, but receives more than he bargained for when he signs onto a company presided over by a mafia-type (Alan King) who tells Woods' Dick Morrison that they'll be watching Morrison's every move. Not only that, but if Morrison so much as raises a cigarette, both the safety of his wife and child will be threatened.
This segment of the picture is well-made, darkly funny and well-executed by the entire cast. Woods is terrific as the everyman caught up in an unbelievably nightmarish scenario for any smoker, and the use of the Police's "Every Breath You Take" serves as an amusing commentary on the plot (the song is later reprised in "General" quite effectively as well). The late James Rebhorn can be seen in an early role as one of Woods' friends at a party, and Drew Barrymore – fresh off starring in "Firestarter" – makes the first of her several appearances in the picture as Woods' daughter.
The second tale in King's trilogy, "The Ledge," isn't quite as much fun, but it's still an entertaining tale of an Atlantic City crime boss (Kenneth McMillan) who decides to get his revenge on the younger tennis pro (Robert Hays) who's about to run away with his wife (Patricia Kalember). McMillan plants heroin in Hays' car, and informs him that he'll call the police – unless Hays can walk the ledge of their building, complete with gothic architecture and a stubborn pigeon who provides the story with its ultimate resolution.
Adeptly utilizing optical effects, miniatures and forced perspective, this is the most impressive visual segment in "Cats Eye." Credit goes out to the great cinematographer Jack Cardiff, who shot the picture in scope and provides the pre-CGI visuals with a sense of realism, heightening the tension in King's straightforward story.
King shifts to the supernatural for "General," the movie's grand finale directly involving our feline star, who hitches a train ride to Wilmington, N.C. and arrives on the doorstep of little girl Drew Barrymore and her parents (Candy Clark, James Naughton). While Mom worries about the old wives' tale of a cat stealing a child's breath, it turns out Barrymore's fears that a little monster lives in her walls are based in reality – and it's not just any little critter, but a tiny troll (designed by E.T.'s Carlo Rambaldi, voiced by veteran Frank Welker) who wants to steal Drew's lifeforce away. Making matters worse, our hero is initially framed for the death of Barrymore's pet bird and banished to death row at the animal shelter. Luckily, "General" breaks free and takes on the creature in a satisfying ending with superb visual FX.
At just over 90 minutes, "Cat's Eye" doesn't overstay its welcome and manages to be a lot of fun without the gore inherent in most Stephen King films. It's also witty and quite funny in places, offering a handful of King in-jokes (including cameos by Cujo and Christine), a surprising amount of black comedy and recurring themes (especially that cover of "Every Breath You Take") connecting the contrasting nature of the individual stories. It looks great – again, kudos to Cardiff and Teague for exploiting the wide JDC Scope frame – and Alan Silvestri's electronic score has a few "Back to the Future"-like flourishes that pop up whenever the cat springs into action. There's also an insanely catchy end credits song, performed by the Village People's Ray Stevens, that regrettably didn't make it onto any of the film's soundtrack releases.
For that reason, it's no surprise the movie was better received than most of King's '80s films (outside of "The Dead Zone," most critics panned the lot of them), with Roger Ebert giving the film "thumbs up" and Leonard Maltin tabbing the picture with a solid 3-stars in his Video Guide. One of the last De Laurentiis films to be produced before his short-lived DEG studio went into action, "Cat's Eye" was released – like Dino's "Red Sonja" – through MGM/UA in April of 1985 and generated a modest $13 million domestically (on a $7 mil budget) before becoming a larger success on home video.
Making its U.S. Blu-Ray debut, Warner has produced a new master of "Cat's Eye" via a satisfying 1080p (2.41) AVC encode with DTS MA stereo audio. Extras ported over from the DVD include a commentary from Teague, who discusses footage deleted from the movie's prologue (which explains why a ghostly Barrymore is playing a different little girl), plus the trailer.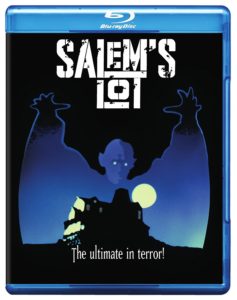 The other way that kids had the chance to watch Stephen King outside the multiplex was via a series of (usually) highly-rated TV mini-series – two of the best debuting on Blu-Ray for the first time this month from Warner Home Video.
The first King TV mini-series was Tobe Hooper's SALEM'S LOT (***, 183 mins., 1979, PG), which was initially broadcast on CBS in November of '79.
David Soul plays a writer who returns back to his native Maine hometown, only to find the place overrun by an antiques shop owner (James Mason) who's leading a parade of vampires into the community. Teacher Bonnie Bedelia is obviously concerned, as are many of the town's parents, once the undead even begin claiming some of the children in Salem's Lot.
"Salem's Lot" was the first King made-for-TV project (and was adapted, after languishing in feature development hell, by Paul Monash), and the medium illustrated that what it lacked in showing on-screen violence, it compensated for in allowing additional character development, the product of longer running times. King has always recycled elements of his work in various novels and scripts (there's a lot of "Salem's Lot" in "Needful Things," for example), but Hooper manages to create several memorable moments, and gets several good performances out of his cast (particularly the menacing Mason) along the way. The images of the undead child scratching on the bedroom window of his friend are disturbing and extremely effective, and the ending is satisfying even if the unnecessary epilogue was intended to launch a prospective weekly series that never materialized.
Filmed as a two-part TV movie, "Salem's Lot" was released to European theaters in an abbreviated 112 minute version that added several shots of gore not included in the official mini-series. Like prior Warner DVD releases, the Blu-Ray includes the full, 183-minute cut of the U.S. mini-series version, but with the extra shots from overseas prints inserted back into the picture.
Warner's new 1080p (1.33) master looks remarkably clear and colorful, so much so that one is alerted to the fact that the movie's occasionally brash cinematography is the result of a network television production. Harry Sukman's sometimes heavy-handed score also comes across well in the punchy, DTS MA encoded monophonic soundtrack, and there's a theatrical trailer (for the overseas version) included as well. A new commentary with Tobe Hooper is the sole new supplement on all three of these discs, with the director offering tidbits of information inbetween lengthy stretches of silence.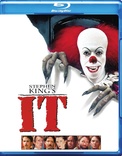 Another hugely popular King mini-series was IT (***, 187 mins., 1990, Not Rated), the 1990 ABC blockbuster which also debuts in HD for the first time this month on Blu-Ray.
"Halloween III" helmer Tommy Lee Wallace and "Carrie"/"Ghost Story" screenwriter Lawrence D. Cohen adapted one of King's more successful tomes about a small Maine town besieged by a demon that takes a number of forms in haunting the locals – including a creepy clown named Pennywise (played, memorably, by Tim Curry). The stellar cast is comprised of TV stars both past and (then) present, including Richard Thomas, John Ritter, Harry Anderson and Tim Reid, with Dennis Christopher, Richard Masur, Annette O'Toole and Olivia Hussey lending strong support.
"It" was adapted, like "Salem's Lot," into a two-part, four-hour mini-series, the first half of which deals with the lead characters as children, in their initial run in with "It." With a "Stand By Me Meets the Ghouls" type of set-up, this first section of the production is its strongest, while the concluding portion – while still compelling – is saddled with a typically underwhelming (for King projects) "final confrontation" sabotaged by weak special effects. Tellingly, it's no surprise that the forthcoming movie remake of "It" is only going to adapt "the kids'" half of the story, relegating its concluding section to a sequel if the film performs well enough to warrant it.
Warner's Blu-Ray of "It" offers the strongest HD transfer of all three new King releases. The original 1.33 framing is preserved for the first time since laserdisc (the DVD inexplicably cropped the transfer to 16:9) in a flawless transfer with good detail and – especially considering its small-screen origins – a robust 2.0 DTS MA stereo soundtrack. A commentary with Tommy Lee Wallace, Dennis Christopher, Tim Reid, John Ritter and Richard Thomas has been carried over from the DVD.
Special mention should be made of Richard Bellis' Emmy-winning score, which lends a cinematic sound to the action, backs up the horror and concludes with a particularly beautiful ending.
---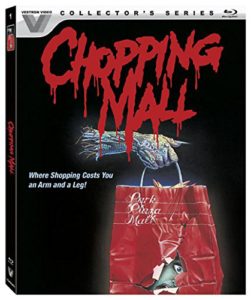 New From Lionsgate
Growing up in the '80s, one of the most distinctive home video logos belonged to Vestron Video. The independent label, initially based out of Connecticut, distributed a wide array of studio fare and smaller low-budget offerings on VHS and laserdisc during the company's halcyon days. Vestron later branched out into theatrical releases and hit the jackpot with "Dirty Dancing" before folding into a number of different conglomerates including Lionsgate, which has resurrected the Vestron brand for a new series of limited-edition Blu-Ray releases.
The initial two offerings hit stores next week, bearing the original Vestron logo and a souped-up new title animation, and should appeal to fans who remember renting titles like "Waxwork" (one of my favorites, and also due out this fall via this new line) or "Sundown: The Vampire in Retreat" and – occasionally – being pleasantly surprised by the results.
The superior of the duo is definitely CHOPPING MALL (**½, 76 mins., 1986, R), Jim Wynorski's enjoyable low-budget chiller about security robots running amok at a shopping mall – really the Sherman Oaks Galleria, also the cinematic setting for Spicoli and friends in "Fast Times at Ridgemont High."
"Night of the Comet"'s Kelli Maroney stars in this short, sweet little programmer – with decent action, some laughs, an appealing, fan-friendly supporting cast (Dick Miller, Paul Bartel, Mary Woronov) – that became synonymous with the kinds of horror outings Vestron routinely released, mostly through their "Lightning Video" niche label back in the '80s. Roger Corman's Concorde Pictures produced the film, which was apparently cut at some point for its principal release, though a TV version reportedly restored nearly 20 minutes of material.
This inaugural Vestron Collector's Series Blu-Ray boasts a pair of new commentaries: one with Wynorski, Maroney and co-writer/2nd unit director Steve Mitchell; another talk with horror journalists Nathaniel Thompson and Ryan Turek; and an older commentary with Wynorski and Mitchell, which I believe hails from the DVD release. A multi-part documentary includes interviews with most of the principals involved including composer Chuck Cirino, with the trailer and an isolated score track rounding out the disc. The 1080p (1.85) AVC encoded transfer and DTS MA mono sound are both very strong, with only the limitations of the source material cropping up every now and then.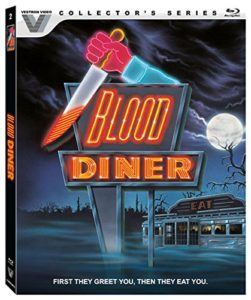 Far less amusing is BLOOD DINER (*½, 88 mins., 1987, Unrated), one of Jackie Kong's few directorial outings, and a movie that's, well, an "acquired taste" to be sure, revolving around a pair of brothers (Rick Burks, Carl Crew) who, under the influence of their homicidal uncle (a brain kept in a jar!), have to kill in order to resurrect an ancient goddess. To fulfill the prophecy they have to stitch together various body parts in a movie that's heavy on the gore but even heavier on low-brow comedy, the kind that you either run with or don't. Personally, I found this over-the-top, broadly played affair to be a shrill and unfunny mess, but there are nevertheless "Blood Diner" fans out there who should be thrilled with Lionsgate's Blu-Ray package.
A new commentary with Kong is included along with a multi-part look at the production (including its score by Don Preston), plus the trailer, TV spots, a still gallery, and archival interview with the late Eric Caidin, who worked as a consultant on the project. Visually the 1080p (1.85) AVC encoded transfer is colorfully grotesque and the DTS MA mono sound just fine.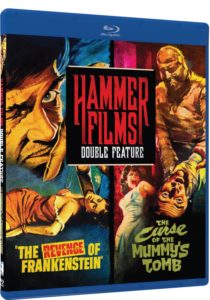 More fun for horror fans is on-tap in Mill Creek's new HAMMER FILMS DOUBLE FEATURE Blu-Ray releases, each of which include a pair of titles from Hammer's golden days that were released, stateside, by Columbia Pictures.
A coupling of traditional horror sequels can be found in the first set, which combines the first "Frankenstein" sequel, THE REVENGE OF FRANKENSTEIN (**½, 90 mins., 1958), with the second of four barely-connected Mummy adventures, THE CURSE OF THE MUMMY'S TOMB (**, 81 mins., 1964). The former brings back Peter Cushing as Victor Frankenstein, still working to resurrect the dead after having improbably escaped the gallows at the end of Hammer's first "Frankenstein" picture. This is a solid, if unspectacular, effort from Hammer's Terence Fisher, worth it for fans of the series. "Mummy's Tomb," meanwhile, is a talky affair from director Michael Carreras, nicely shot in scope but lacking in thrills.
The second Double Feature set is highlighted by the memorable THE GORGON (***, 84 mins., 1964), which pairs Peter Cushing and Christopher Lee in the story of a contemporary Medusa wrecking havoc in a rural English village; and THE TWO FACES OF DR. JEKYLL (**½, 89 mins., 1960), starring Paul Massie in the title role and Christopher Lee adding strong support, though the film itself was a commercial failure for Hammer.
Mill Creek's Blu-Rays each pair two features on a single layer BD25 disc, which means the overall compression isn't nearly as robust as it ought to be. Fortunately, this is a noticeable issue only on "Revenge of Frankenstein," with its 1.66 framing and elements that definitely display their age. The other three films are all presented in 2.35 scope and look healthy with strong colors and Dolby Digital mono soundtracks across the board.
---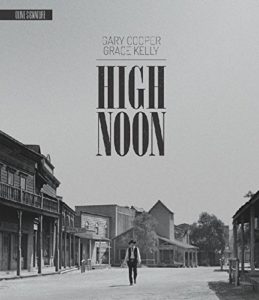 New From Olive
"Olive Signature," a new line of 4K remastered Blu-Ray titles, has been launched this month by Olive Films, with the first two titles already in stores.
Fred Zinnemann's classic western HIGH NOON (***½, 85 mins., 1952) has been issued on disc several times, and previously by Olive in a solid Blu-Ray a few years back – but never in such a satisfying package as Olive's new 4K remastered set. The newly restored transfer is a beaut, crisply preserving the original B&W (1.37) cinematography in a smashing new presentation with DTS MA mono audio. Extra features are freshly produced by Olive and include "A Ticking Clock," sporting an interview with editor Mark Goldblatt on the editing of the film; Michael Schlesinger discussing producer Stanely Kramer; blacklisted screenwriter William Bernstein and historian Larry Ceplair conversing in the segment "Imitation Of Life: The Hollywood Blacklist and High Noon"; an original essay from Sight & Sound editor Nick James; the trailer; and "Oscars and Ulcers: The Production History of High Noon," a visual essay with rarely-seen archival elements, narrated by the late Anton Yelchin. The lone caveat is that prior supplements haven't been ported over, so fans may want to hang onto the earlier disc for completion's sake.
The other new title from Olive in their Signature line is Nicholas Ray's JOHNNY GUITAR (***, 110 mins., 1954), the groundbreaking western starring Joan Crawford as Vienna, the saloon owner framed for robberies by her rival in town (Mercedes McCambridge). Vienna eventually gets help from the title hero, played by Sterling Hayden, in a McCarthy-era western that's potent for its tough female characters and performances from Crawford and McCambridge, leading a veteran supporting cast (Ernest Borgnine, Ward Bond, John Carradine) of familiar faces.
Olive's Signature package is, again, highlighted by a superb 1080p (1.66) transfer, plus an introduction from Martin Scorsese; commentary with critic Geoff Andrew; the featurette "Johnny Guitar: A Western Like No Other" featuring critics Kent Jones and Miriam Bale; "A Feminist Western," again featuring critics Jones, Bale and Joe McElhaney; "The Hollywood Blacklist and Johnny Guitar,"with Larry Ceplair and Walter Bernstein; historian/archivist Marc Wanamaker on "Free Republic: Herbert J. Yates and the Story of Republic Pictures"; "My Friend, the American Friend" featuring memories of Nicholas Ray with Tom Farrell and Chris Sievernich; "The First Existential Western" with critic Jonathan Rosenbaum; the trailer; and DTS MA audio featuring the Victor Young-Peggy Lee soundtrack in lossless form.
---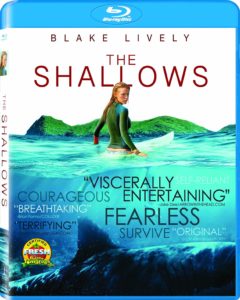 Also New & Noteworthy
THE SHALLOWS Blu-Ray (**, 87 mins., 2016, PG-13; Sony): Blah low-budget thriller pits surfer Blake Lively against a large Great White shark after she's stranded on a coral reef with literally nobody around. This Columbia release somehow made a decent sum at the summer box-office but it's little more than a direct-to-video type of affair – complete with mediocre digital effects – as Lively tries to outwit her opponent after getting thrashed about and severely injured. A few lambs for the slaughter, meanwhile, pop up on the mainland from time to time, just to break up the monotony of Lively talking to an injured sea gull (who ultimately generates less sympathy than Wilson in Tom Hanks' "Castaway").
Jaume Collet-Serra, whose checkered cinematic past includes the mediocre Liam Neeson entries "Non-Stop" and "Unknown," tries to spice up the action with eye-popping color cinematography of the movie's Australian shooting locales, but "The Shallows" never really registers on the suspense meter, mainly because Collet-Serra isn't particularly adept at generating thrills. The movie's shark attack sequences aren't particularly exciting, and there's next to no emotion generated by the bland Lively, even though the first 20 minutes are devoted to scenes of her sending texts and holding chat sessions with family back home (exciting!). In another, better movie, the film's hysterical finale might've fun, but alas, the unlikely success of "The Shallows" comes off as more a statement on this summer's meager movie roster than the film's actual quality.
Sony's attractive 1080p (2.40) transfer is a stunner, and the 5.1 DTS MA sound houses a better than average Marco Beltrami score. Special features include a host of behind-the-scenes featurettes and deleted scenes, along with a Digital HD copy.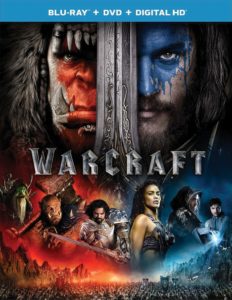 WARCRAFT 4K UHD/Blu-Ray Combo Pack (**½, 123 mins., 2016, PG-13; Universal): One of many box-office casualties among big-budget studio offerings this year, "Warcraft" salvaged its anemic U.S. box-office performance ($47 million) with a stellar performance overseas ($386 million!). That's not enough to generate a sequel, but fans of the popular PC game which the film is based upon are still likely to be, if nothing else, entertained by director Duncan Jones' colorful tale of the kingdom of Azeroth, which Orc warriors seek to colonize after being driven from their own, dying world. A series of warriors spread across the land come together in Jones and co-writer Charles Leavitt's script, which – make no mistake – is clearly aimed at "Warcraft" game players first and foremost, as the film's opening nearly feels as convoluted as the prologue to the TV version of David Lynch's "Dune," throwing too many characters and locations at viewers – especially those without a familiarity with the material. If you can get past the rocky opening, "Warcraft" provides an engaging set of characters and creatures with action to spare – it's no classic, but it's far from the dud its North American box-office indicated.
Universal's Combo Pack releases include a 4K configuration with a stellar, eye-popping use of HDR – this is clearly one of the best 4K UHD discs I've yet looked at, with saturated colors and details to spare. The standard Blu-Ray is also perfectly good as well, boasting a solid transfer also in 1080p (2.40). The Dolby Atmos audio should give any HD audio set-up a good workout, while extra features include deleted/extended scenes, a gag reel and three featurettes; plus a number of BD-format exclusive featurettes and a 2013 teaser. A digital HD copy is included in both configurations with a DVD to boot.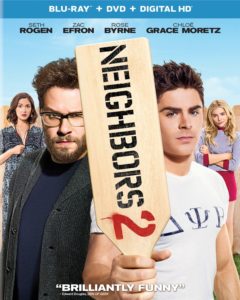 NEIGHBORS 2: SORORITY RISING Blu-Ray Combo Pack (**, 93 mins., 2016, R; Universal): Feeble, unnecessary sequel brings back Seth Rogen and Rose Byrne as a young couple living next to a college fraternity. This time out, Rogen and Byrne – expecting their second child – are ready to move out, but have to keep things in order for 30 days to complete their home sale; unfortunately for the duo, a hard-partying sorority moves in next door, lead by queen bee Chloe Grace Moretz. Looking for help, they turn to former nemesis Zac Efron in a follow-up from director Nicholas Stoller – and five credited writers – that nobody seemed to want, as evidenced by it returning roughly a third of its predecessor's box-office in-take. The stars are likeable enough and there are a couple of scattered laughs, but the forgettable end result didn't seem to be worth their time – or yours. Universal's Blu-Ray combo pack includes a 1080p (2.40) transfer, 5.1 DTS MA sound, a DVD, Digital HD copy, and a full slate of extras, including a gag reel, deleted scenes, featurettes, and commentary with director Stoller and producer James Weaver.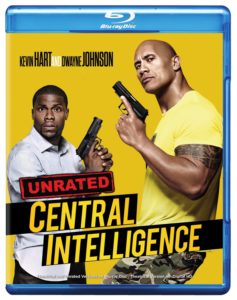 CENTRAL INTELLIGENCE Blu-Ray (**½, 107/116 mins., PG-13/Unrated; Warner): Box-office hit from this past summer stars Dwayne Johnson as a former geek-turned-ripped CIA agent who returns to his high school reunion looking for help from one-time "Big Man on Campus" Kevin Hart, who's living out his adult life as an accountant missing his adolescence. Yes, it's yet another buddy-flick action-comedy, though "Central Intelligence" works fairly well until it runs out of gas, with a higher quotient of gas than usual in the script by comic Ike Barinholtz, David Stassen and director Rawson Marshall Thurber, plus strong chemistry between Johnson and Hart. If only it weren't so overlong and repetitive. Warner's Blu-Ray combo pack includes the theatrical version of the film and an unrated cut running nine minutes longer; a gag reel; alternate scenes; other short segments; a 1080p (2.41) AVC encoded transfer and 5.1 DTS MA sound, plus a Digital HD copy.
BEAUTY AND THE BEAST 25th Anniversary Blu-Ray/DVD (****, 90 mins., G, 1991; Disney): Brand-new 25th Anniversary combo pack of Disney's 1991 classic offers a few new extras and the same technical presentation as its HD predecessor.
While Alan Menken and Howard Ashman's tuneful score for 1989's "The Little Mermaid" launched the revitalization of Disney feature animation, it was "Beauty" that truly marked the resurrection of the studio's artistic legacy.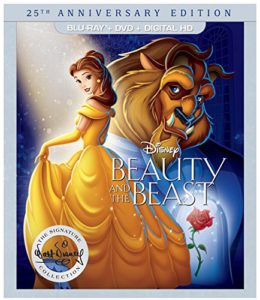 An enchanting retelling of the fairy tale, "Beauty" was initially shown at the New York Film Festival in a rough "Work in Progress" form, some two months prior to its national release. Critical kudos — even for the unfinished version — started the word-of-mouth vibe rolling, and once the film itself was released in time for the holidays, "Beauty" had established a widespread base of positive reviews that would be matched by an equally enthusiastic response from viewers of all ages.
In the end, the film was nominated for a handful of Oscars (including Best Picture, back when there wasn't any separate category for an animated feature), rightly sweeping the Original Score and Song awards for Ashman and Menken in the process.
Disney's 25th Anniversary release boasts a spectacularly vivid presentation of the picture, having been meticulously remastered for high-def (in 2010), along with a number of great supplements. Clearly one of the most satisfying features of this package is, once again, the inclusion of three different versions of the film: the original theatrical cut, the 2001 Special Edition that was released in IMAX theaters, and even the complete "Work In Progress" version are all on-hand. All three contain beautiful, crisp AVC encoded 1080p transfers and DTS Master Audio soundtracks on Blu-Ray, or 16:9 (1.78) and 5.1 soundtracks on DVD; note the Special Edition also boasts the fully animated song "Human Again," which was cut from the original version and added to 2001's re-release (it was also included in the Broadway musical adaptation, which is due out in its own Disney live-action film next spring).
For supplements, Disney has produced a brief assortment of fresh extras, with new goodies including an interview with Menken, "Hamilton"'s guru Lin-Manuel Miranda and "Frozen"'s composers, discussing the score (not coincidentally, Miranda has been tapped to rework "Little Mermaid" with Menken); an interview with "Belle"'s voice, Page O'Hara; short featurettes on the recording sessions and the film's early development; and a mercifully brief "25 Fun Facts About Beauty & The Beast" with a pair of Disney Channel kids.
In addition to a Digital HD copy of the movie, the disc includes the ability to access past extras from the Diamond Edition Blu-Ray — but only digitally, that is. A breakdown of those supplements can be found here. 
THE NEON DEMON Blu-Ray (117 mins., 2016, R; Broadgreen): Nicolas Winding Refn's stylishly shot mess puts poor Elle Fanning through an impenetrable story involving a young fashion model who runs into all kinds of gloominess once she arrives in Los Angeles, from cutthroat fellow fashionistas to a shady hotel manager (Keanu Reeves) – but that's just the skeletal outline of a hugely bizarre, albeit alluringly photographed, production that divided critics and failed to find much of an audience in theaters. Refn devotees will be the most likely to appreciate "The Neon Demon"'s hyper-designed visual sheen and often confounding messages, with Broadgreen's Blu-Ray including a gorgeous 1080p (2.40) transfer and 5.1 DTS MA sound. Extras include a commentary with Fanning and Refn, a featurette, and a segment on the creation of the film's soundtrack.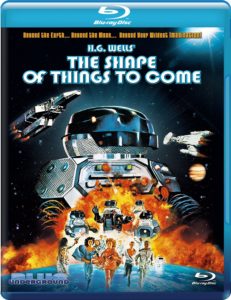 THE SHAPE OF THINGS TO COME Blu-Ray (98 mins., 1979, PG; Blue Underground): With all the cinematic trappings that a Canadian "Star Wars" rip-off from the late '70s promises, this nutty Canuck sci-fi fantasy stars Jack Palance as the villainous Emperor Omus, who launches an assault on the colony of New Washington – leading to a rebel assault led by Dr. John Caball (Barry Morse), who teams up with a trio of pilots and a renegade robot to save the day. For bad-movie fans, this is an enjoyable, no-budget action-adventure with a disco-tinged Paul Hoffert score and a barrage of hokey special effects, here captured in their full HD glory on Blu-Ray by Blue Underground. "Shape" offers interviews with star Nicholas Campbell (who stars along with Carol Lynley, Eddie Benton and John Ireland), plus composer Hoffert, still galleries, a TV spot and a French trailer. The 1080p (1.85) transfer is pretty decent save for some occasional use of DNR, while DTS MA audio is on-hand in both a 5.1 and mono track.
THE MIND'S EYE Blu-Ray (87 mins., 2015, Not Rated; RLJ): A couple with telekinetic powers are captured by an evil doctor who wants their abilities for nefarious purposes. After they break out of his institution, the duo find themselves on the run in Joe Begos' watchable throwback to "Scanners" and "Carrie," amplified with enough gore to satiate genre fans. RLJ's Blu-Ray arrives in stores October 4th, featuring a 1080p (2.35) transfer and 5.1 DTS MA sound. A good array of special features include a commentary from the writer/director/cinematographer, a separate "producer's commentary" with Begos and his associates, and "A Look Into The Mind's Eye" behind-the-scenes featurette.
---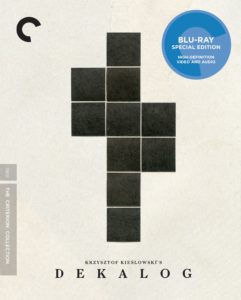 New From Criterion 
Before catapulting into international fame with his "Three Colors" trilogy, Polish filmmaker Krzysztof Kieslowski produced DEKALOG (583 mins., 1988), a television mini-series comprised of ten one-hour episodes, each one focusing on The Ten Commandments. As seen through the eyes of residents living in an apartment complex in post-Communist era Poland, Kieslowski explored the human condition in the ambitious, soulful "Dekalog," with each program exploring the tragic, triumphant, or unfortunate elements that occur through life.
Kieslowski collaborated with nine different cinematographers during the course of the mini-series, which was produced for Polish TV and never received much play outside Europe until the director had reached notoriety with "Three Colors." Marked by Zbigniew Preisner's scores, "Dekalog" is must-viewing for fans of the director, with Criterion's four-disc Blu-Ray Special Edition boasting new, 4K restored digital transfers (1.33 or 1.70) and uncompressed mono sound.
The box also includes the feature versions Kieslowski produced from two episodes: "A Short Film About Killing" and "A Short Film About Love," along with archival Kieslowski interviews, taken from 1987 and 1995 documentaries, as well as a 1990 audio interview; a program on the "formal and thematic patterns" of "Dekalog" by professor Annette Insdorf; new and archival interviews with cast and crew members, including writer Krzysztof Piesiewicz, over a dozen actors, three cinematographers, editor Ewa Smal, and Kieslowski "confidante" Hanna Krall; trailers; and an entire book featuring an essay and capsule commentaries on the films by historian Paul Coates plus excerpts from "Kieslowski on Kieslowski."
---
TV on Video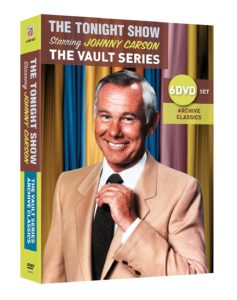 THE TONIGHT SHOW STARRING JOHNNY CARSON: ARCHIVE CLASSICS DVD (18 hours, Time Life): The vaults in the Carson Productions empire have at last been opened up to accommodate fan demands that full, unedited episodes – and not just clips – be available once again. This six-disc Time Life set includes 12 full shows, complete with commercials, starring the legendary Carson; episodes include segments with Carnac the Magnificent, Stump the Band, the spring 1974 "Streak Week," and Johnny's 1972 hosting week in New York City. Ample bonus clips include skits with Vincent Price and additional monologues, while the guest list includes David Brenner, Stockard Channing, Rodney Dangerfield, Joe Frazier, James Garner, Gene Kelly, Michael Landon, Steve Lawrence, Richard Pryor, Tony Randall, Carl Reiner and countless others. Highly recommended!
REIGN – Season 3 DVD (748 mins., 2015-16; Warner): CW series follows the life of Mary Stuart after she heads to France and marries King Francis, but with the King's ailing health a major concern, Mary's cousin – Queen Elizabeth – charts her own path to controlling the realm. This third season of the CW series continues its lightweight, soapy treatment of the historical record than we've seen in the past, yet fans of "Reign" have said the show doesn't take itself too seriously and knows exactly what it is – a teen-oriented series that's not exactly Merchant-Ivory in nature and proudly wears its slick, sexy approach to well-worn material on its sleeve. Season 3 of the series debuts on DVD this week sporting 16:9 transfers and 5.1 soundtracks in advance of its Season 4 debut on the CW, which is reportedly going to be its last.
BANSHEE – Season 4 Blu-Ray (480 mins., 2016; HBO): The final season of "Banshee" comes to Blu-Ray on October 4th. This Cinemax original series starred Antony Starr as an ex-con and master thief who – through a twist of fate – improbably became the sheriff of Banshee, Pennsylvania, a quiet town in Amish country. Banshee was also the home of his former partner (Ivana Milicevic) who was married to the local D.A. and has kids, though Season 4 opens with Starr's Lucas Hood returning to Banshee after a self-imposed exile, where he finds a serial killer on the loose and friend Job in the hands of a criminal gang.
"Banshee" is an entertaining, (very) quirky and at-times over-the-top series that does exactly what you'd anticipate any Cinemax original series would, and closes out its four-season run with a satisfying ending. HBO's Blu-Ray includes a cast retrospective; prequel videos; commentaries, deleted scenes, behind-the-scenes segments, 1080p transfers, 5.1 DTS MA soundtracks, and Digital HD copies.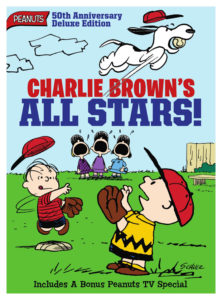 MODERN FAMILY: Season 7 DVD (499 mins., 2015-16; Fox): Calamity ensues when Phil adopts a gaggle of orphan ducklings at the same time the Dunphy kids strike out on their own in this seventh season of the multiple-Emmy winning ABC series. Also on tap in the seventh season of "Modern Family": Cam and Mitchell take on financial troubles, Haley and Andy's destiny is revealed, Jay and Gloria "farm" out Joe's preschool education and Manny tries dating. Fox's three-disc DVD includes all 22 episodes in 16:9 (1.78) transfers and 5.1 soundtracks. Extra features include deleted/alternate scenes, three featurettes, and an extended version of "Thunk in the Trunk."
THE CATCH: Complete First Season DVD (425 mins., 2016; ABC/Buena Vista): Mireille Enos stars in this ABC series as a private investigator who falls for a con man (Peter Krause) while she investigates the whereabouts of her former fiancee, who just committed fraud — with her savings. The chemistry between Enos and Krause is the main draw in this lighter-than-usual "ShondaLand" production, which opened on ABC as a mid-season replacement earlier this year. Running 10 episodes, "The Catch" seems to have more going for it than the likes of Shonda's popular, albeit overheated, other prime-time dramas, though we'll see where it goes from here. Now available, Buena Vista's DVD boasts bloopers, deleted scenes, 16:9 transfers and 5.1 soundtracks.
CHARLIE BROWN'S ALL-Stars! DVD (1966; Warner): Warner "50th Anniversary Deluxe Edition" DVD offers a new release of the 1966 special "Charlie Brown's All-Stars," which boasts a fine Vince Guaraldi score and was just the second Peanuts show produced for CBS. This baseball-centered Charles M. Schulz story has been released on disc a number of times before, but is included here alongside the DVD debut of "A Charlie Brown Celebration," an hour-long 1982 production that boasts a series of self-contained vignettes. In that regard, "Celebration" basically served as a pilot for the Saturday morning "Charlie Brown & Snoopy Show," which was launched on CBS the following year. 4:3 transfers and stereo soundtracks are just fine across both programs.
---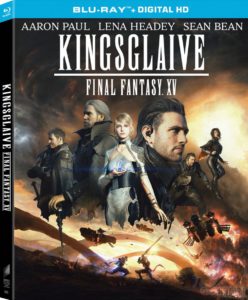 Also New & Noteworthy
KINGSGLAIVE: FINAL FANTASY XV Blu-Ray (115 mins., 2016, PG-13; Sony): Futuristic fantasy-adventure is set in the kingdom of Lucis, where a sacred Crystal is protected by good King Regis (voiced by Sean Bean). Despite hiring an elite group of commandos dubbed the Kingsglaive to watch over the kingdom, the vile Niflheim empire wants the Crystal for their own use. When the King attempts to peaceably solve the situation – including marrying his son to a captive Princess (Lena Headey) held captive by the Niflheim – disaster ensues, and the Kingsglaive have to rally in order to save their world.
Takeshi Nozue's CGI animated feature offers gorgeous visuals (compare this to the comparatively stilted animation of the first "Final Fantasy" movie) and elaborately staged fight sequences, rendered so effectively you may just forget about the convoluted and outlandish story. Sony's flawless 1080p (2.39) AVC Blu-Ray transfer and 5.1 DTS MA sound are both outstandingly presented, with extras including featurettes on the music by John Graham, vocal recording sessions, and a Digital HD copy.
HUNT FOR THE WILDERPEOPLE DVD (101 mins., 2016, PG-13; Sony): Taika Waititi's winning comedy-drama stars Julian Dennison as an overweight teen who has bounced around the foster system. Eventually, circumstances dictate that he and his latest surrogate parent, Uncle Herc (Sam Neill), hightail it into the bush in order to stay a step ahead of the authorities in a moving, often funny film perfectly punctuated by performances from Neill and Dennison, who's just remarkable. Sony's DVD includes a commentary with Waititi, Neill and Dennison, a blooper reel, behind the scenes featurette, 16:9 (2.35) transfer and 5.1 Dolby Digital sound. Note: a Blu-Ray "on demand" version is supposed to be available from select retailers next month.
EDGE OF WINTER DVD (89 mins., 2016, R; Sony): Joel Kinnaman stars in this independent offering as a divorced father trying to spend time with his kids (Percy Hynes White and new Spider-Man, Tom Holland) in a wintry cabin when it becomes obvious to his sons that something is, well, "wrong" with dear old dad. The cast is capable but Rob Connolly's film never gets into gear and ends with a spectacular thud on top of it. Sony's DVD, out this week, includes a 16:9 transfer and 5.1 Dolby Digital sound.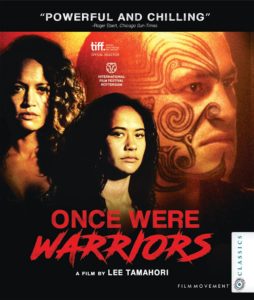 New From Film Movement: ONCE WERE WARRIORS (102 mins., 1994) was New Zealand director Lee Tamahori's breakout smash: a searing portrait of family dysfunction set in Auckland's tough tenaments, where married couple Rena Owen and Temuera Morrison battle with his alcoholism in a disturbing adaptation of modern Moari from novelist Alan Duff. "Once Were Warriors" made Tamahori into an instant commodity, as well as launched Morrison's international career, in one of the more acclaimed foreign imports of the decade. Film Movement's Blu-Ray is now available and includes a 1080p transfer, DTS MA 5.1 sound, one featurette, and an essay from Peter Calder.
Also new from Film Movement is the Blu-Ray debut of KAMIKAZE '89 (104 mins., 1982), starring director Rainer Werner Fassbinder as a police lieutenant investigating a bomb threat in a weird, wild dystopian future. Wolf Gremm directed this adaptation of Per Wahloo's 1964 novel, complete "with a friendly appearance by Franco Nero" (!) and music from Tangerine Dream's Edgar Froese. Film Movement's Blu includes a new 4K digital restoration (1.66 1080p) with 2.0 audio (German with English subtitles). Extras include a documentary on Fassbinder's "Last Year" by Gremm; commentary from producer Regina Ziegler; John Cassavetes radio spots; new essays; and a bonus DVD housing Gremm's "personal film memoir" "Wolf at the Door."
Lionsgate New Releases: New on DVD, POWER RANGERS DINO CHARGE: RISE (125 mins., 2016) boasts four episodes from the latest incarnation of the Saban heroes: Sync or Swim, True Black, Rise of a Ranger, and No Matter How You Slice It, along with the bonus Halloween special, The Ghostest With The Mostest. 16:9 (1.78) transfers and 5.1 soundtracks are included in the single-disc Lionsgate release plus a Digital Copy.
On Blu-Ray: The History series BARBARIANS RISING (6 hours, 2016, Not Rated) beams down on Blu-Ray, charting the rise and fall of the Roman Empire from the point of view of the respective Barbarian leaders – Hannibal, Spartacus, Arminius, Boudica, and Attila the Hun – who combined to bring it down over a period of centuries. Slickly produced with an accent on action – at least a lot more than old-school History Channel documentaries – "Barbarians Rising" debuts on Blu-Ray September 27th from Lionsgate, sporting a 1080p (1.78) transfer, 2.0 Dolby Digital sound and a Digital HD copy.
NEXT TIME: Shout's hugely anticipated THE THING and CARRIE! Until then, don't forget to drop in on the official Aisle Seat Message Boards and direct any emails to our email address. Cheers everyone!