One of the fondest memories I have, growing up during the Summer of 1982, was going to see "E.T." eight times in theaters – and being utterly freaked out by the trailer for John Carpenter's THE THING (****, 109 mins., R), Universal's other big movie that summer, which was attached to prints of Steven Spielberg's sci-fi classic. While Carpenter's film would eventually become the classic in its own right that it deserved to be, "The Thing" was initially pegged as a major disappointment that threw the director's career off-track to such an extent that it never entirely recovered.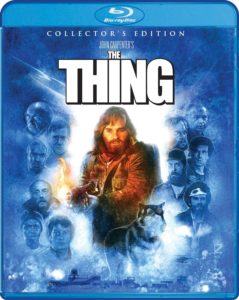 That point is raised a few times in Shout Factory's long-awaited, two-disc Blu-Ray Collector's Edition of Carpenter's masterwork, a remake of the '50s RKO/Howard Hawks production (based on John W. Campbell's story "Who Goes There") that placed an ensemble cast through a nailbiting alien invasion scenario with some of the most graphic – and all-time memorable – gore effects ever placed on-screen, especially by a major studio.
The movie, at this point, needs little description, suffice to say between Carpenter and Dean Cundey's elegant widescreen cinematography, Rob Bottin's make-up effects, the tense Ennio Morricone score (augmented with some Carpenter and Alan Howarth enhancements), and a pair of classic set pieces (the blood test!), "The Thing" is today regarded not just as one of the best remakes of all-time, but a certifiable sci-fi/horror masterpiece.
Coming October 11th, Shout's Blu-Ray, first and foremost, boasts the clearest, most satisfying release of the movie on home video to date. A fresh 2K scan of the interpositive, supervised by Cundey, offers less noise and finer detail than the prior Blu-Ray, which was saddled with an overly smooth, noise reduction-riddled appearance. The soundtrack is offered in a variety of DTS MA configurations, from a robust 5.1 track to a new 4.1 mix (a feeble 2.0 track is also included), allowing listeners the ability to pick and choose which design best suits their taste (the 5.1 still carries the strongest presence for my money).
The first disc retains the '90s laserdisc commentary (with a couple of edits) from Carpenter and Russell, while adding two new tracks: one with Dean Cundey, and another with co-producer Stuart Cohen that's very interesting from a conceptual, behind the scenes standpoint about the production's history. In addition to talking about the production's physical shoot, Cohen even divulges details on the aborted Tobe Hooper version of "The Thing," making for a nice contrast with the other commentaries. Several trailers – a couple of which I had never seen before – have been newly rescanned in HD, plus TV/radio spots and a still gallery.
Shout's second disc of special features offers goodies we've seen before (the "Terror Takes Shape" laserdisc doc, outtakes/deleted scenes), but then branches off into new supplements. These are especially terrific because Shout has, seemingly, avoided repeating the same anecdotes or discussions we've heard before. For example, the half-hour Mick Garris interview with Carpenter is wider-ranging than expected, talking about the movie's legacy and Carpenter's love of music — not so much, say, the casting, which is also covered in its own, hour-long interview featurette with Keith David and other supporting cast members (Russell, by the way, isn't on-hand in any of the new extras).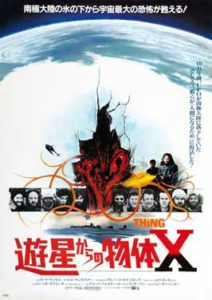 There are also several places where Morricone and Carpenter's relationship is discussed, which is particularly notable. Specifically, Alan Howarth talks about adding a few cues after Carpenter "wanted more" from the compositions that Morricone first handed in, and the main title came about because Carpenter asked Morricone for something more like his "Escape From New York" theme than what he initially provided. There is a sense Morricone was "taken aback" from Carpenter's instructions for alterations, and that he probably felt whatever he gave him the first time was good enough. Mick Garris asks Carpenter about this also, making for several revelations about the music none of us have been privy to before.
Among the other, new featurettes Shout produced, there are segments on the VFX (sporting a new Peter Kuran interview), an interview with novelist Alan Dean Foster, and a conversation with film editor Todd Ramsay, who talks about shooting the "safety ending" with MacReady taking a blood test after being rescued (though once again, this footage isn't actually included).
The vintage extras are fantastic, especially the Percy Rodriguez-narrated, 19-minute "Product Reel" that boasts some alternate footage; a copy of the Universal syndicated TV version, which embarrassingly cuts the film down and adds narration; original EPK interviews and footage; and annotated production archives which provide storyboards, poster concepts, and loads more goodies for fans.
In all, this is likely going to be Shout's legacy release, and the label has absolutely delivered the goods. The effort that went into it, the transfer and extras – "The Thing" delivers on all fronts, making for one of the genre's top Blu-Ray releases, period.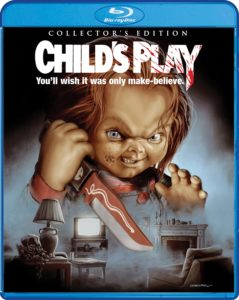 CHILD'S PLAY Blu-Ray (**½, 87 mins., 1988, R; Shout Factory): Before writer Don Mancini took over the Chucky series with the brilliantly subversive "Bride of Chucky" and its disastrous follow-up "Seed of Chucky," the killer doll was first launched on the big-screen in "Fright Night" director Tom Holland's 1988 box-office hit.
The original "Child's Play" has actually held up fairly well at that, with young Alex Vincent and mom Catherine Hicks stalked by Vincent's Cabbage Patch-like little doll, who's been possessed by the spirit of a dead serial killer (Brad Dourif). Unlike the later Chucky films Holland mixes ample horror with humor and comes away with an entertaining brew, somewhat let down by a bland Joe Renzetti score that's a product of its time and likewise vanilla supporting performances.
Shout Factory's new 2-disc Blu-Ray Collector's Edition is notable for the participation of director Tom Holland, who wasn't involved with prior DVD/Blu-Ray special editions. Holland here contributes a brand-new commentary (his first for the film), while Shout's second disc of special features offers over two hours of fresh supplements, including behind-the-scenes FX footage with Howard Berger and a separate interview with Berger, who discusses not just "Child's Play" but his entire career, and a lengthy talk with Ed Gale, the man in the Chucky suit. The 2K restored transfer from the interpositive (1.85) is very good and both 5.1 and 2.0 DTS MA audio tracks are also included, all roughly on par with MGM's prior Special Edition package.
Other extras have been ported over from that release, including three commentary tracks: one with effects master Kevin Yagher, Alex Vincent and Catherine Hicks, and another with Don Mancini and David Kirschner. Mancini and Kirschner's talk is of the most interest, discussing the 20+ minutes that were cut from the film, plus a scene-specific commentary with Dourif, in-character as Chucky, participating in some amusing improvisations with Mancini.
A three-part documentary, "Evil Comes in Small Packages," includes interviews with Mancini, Kirschner, Hicks, Vincent, co-star Chris Sarandon, Kevin Yagher (who's married to Hicks) and Brad Dourif. This is a nice overview of the film's production, and is complimented by a five-minute video of Hicks, Vincent and Sarandon at a horror convention, as well as a vintage featurette, the original trailer, and an additional look at Yagher's design of the Chucky doll.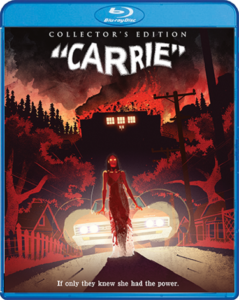 CARRIE Blu-Ray (***, 98 mins., 1976, R; Shout Factory): Brian DePalma's visceral 1976 take on Stephen King's novel is well-remembered for its blood-bath climax, as well as its interesting cast of young, future stars, from Sissy Spacek to John Travolta. As a movie, "Carrie" relies heavily on big shock moments, chronicling how a tortured teen with ESP (and a religious fanatic mom played by Piper Laurie) comes to take revenge on her classmates' repugnant behavior. Nancy Allen, Amy Irving, and William Katt are among the faces you'll spot in the terrific ensemble, which was assembled concurrently with the casting call for "Star Wars"! Like a lot of DePalma's early work, there are countless Hitchcock homages in both the movie and Pino Donaggio's score, but "Carrie" is still one of the filmmaker's better films all around.
Highlighted by a much-needed 4K remaster, Shout Factory's two-disc Collector's Edition offers a brand-new transfer that smokes the previous, poor appearance of the MGM Blu-Ray release. New featurettes (running about 2½ hours) include conversations with Nancy Allen, Betty Buckley, P.J. Soles, William Katt, Piper Laurie and Edie McClurg; writer Lawrence D. Cohen; editor Paul Hirsch; cinematographer Mario Tosi; casting director Harriet Helberg; composer Pino Donaggio; and a "Horror's Hallowed Grounds" segment on the film's locations.
Carried over from MGM's earlier "Special Edition" are a pair of excellent 40-minute documentaries — one addressing the cast with location stories from seemingly everyone sans Travolta, the other focusing on the production and DePalma's handling of the material. A six-minute featurette talks about the very, very short-lived "Carrie" musical, and still-frame articles are included that look specifically at Stephen King's novel and the changes from his work to the screen. Trailers round out the release.
"Carrie" set the standard for countless genre "revenge" films that followed, and it still poignantly taps into timeless themes of teenage alienation and acceptance, the gruesome gore notwithstanding.
Also New From Shout Factory: The Chiller TV/Shout Factory original movie FENDER BENDER (91 mins., 2016, Not Rated) stars Mackenzie Vega as a teenager who ends up in an accident right after receiving her driver's license. Unfortunately, the man who she ends up exchanging information with turns out to be yet another homicidal maniac who stalks her after her parents leave her home in Mark Pavia's small-screen affair. Like a lot of recent outings, the movie starts well but falls apart pretty quickly, relying too much on cliched storytelling and hackneyed thrills. Shout's Blu includes a digital copy, two commentaries, a behind-the-scenes featurette, a vintage trailer reel and a "retro VHS cut" along with a 1080p (2.35) transfer and 5.1 DTS MA sound…Kids might enjoy BLINKY BILL: THE MOVIE (82 mins., 2015, PG), an Aussie animated production about an adventurous Koala Bear who leaves his quaint home town for a wild trip into the Outback. Ryan Kwanten, Rufus Sewell, Barry Humphries, Barry Otto, Richard Roxburgh and David Wenham are a few of the familiar names who provide voices in "Blinky Bill," which streets October 11th from Shout featuring a 1080p (1.78) transfer, 5.1 DTS MA sound, featurettes, a music video, DVD and downloadable copy.
On DVD: Tyler Perry produced THE PASSION LIVE (2016), a Fox TV event about Jesus' final hours that's entirely sung by an all-star cast, including Perry, Seal, Trisha Yearwood, Jencarlos Canela and Chris Daughtry. Broadcast live initially from New Orleans, "The Passion" is a short and not entirely memorable from a musical angle, though the faithful are likely to find it entertaining. Shout's DVD includes 5.1 and 2.0 audio options and a 16:9 (1.78) transfer.
---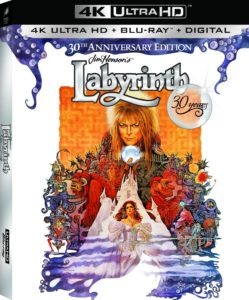 Also New & Noteworthy
When Jim Henson passed away in 1990, the creator of the Muppets left us with only a few, fleeting glimpses into his potential as a purveyor of fantasy projects beyond the scope of Kermit and Miss Piggy.
Henson only directed three theatrical features in his career: the second, and best, Muppet movie (1981's "The Great Muppet Caper"); the epic fantasy "The Dark Crystal" (1982), which he co-helmed with Frank Oz; and "Labyrinth" (1986), a live-action fantasy, produced with George Lucas.
"The Dark Crystal" did well at the box-office but if it had a failing, it was due to the fact that the movie had so many colorful, memorable creatures, its most human-like creations – the story's central protagonists, the Gelflings – seemed plastic and bland by comparison.
It's a problem that was magnified in Henson's follow-up, LABYRINTH (**½, 1986, 101 mins., PG; Sony), where Henson, Brian Froud, executive producer George Lucas and writer Terry Jones attempted to go a step further and add actual human beings into their storytelling pallet.
Jones' script (based on a story by Henson and Dennis Lee) follows the adventures of young American teenager Sarah (Jennifer Connelly) as she tries to rescue her toddler brother in a fantasy kingdom presided over by the wicked Goblin King (David Bowie).
A variant on "Alice in Wonderland" with several original songs performed by Bowie, "Labyrinth" is a great deal more upbeat than "The Dark Crystal," with brighter visuals and a more comical tone on-hand. It's also, unfortunately, a lot less satisfying, with a lethargic pace and predictable script accentuated by the fact that Connelly's heroine and her journey are never very interesting. It's clear Henson attempted here to parallel Connelly's quest with her passage into adulthood, but since it's difficult to take the somewhat fey Bowie seriously as a potential male suitor, that entire element of the film falls flat.
More over, "Labyrinth" feels downright static at times. There's no dramatic pull, no tension to be found, and even Trevor Jones' mostly electronic and thematically unmemorable score feels like a comedown from its predecessor. Aside from a couple of bouncy Bowie songs that intermittently bring the film to life, it's not hard to see why audiences were underwhelmed by it, leading to the film's initial commercial failure.
Nevertheless, between Bowie's presence and Henson's artistry, "Labyrinth" has still managed to cultivate a strong cult following over the years, and Sony's new 4K UHD/Blu-Ray combo pack includes an even more impressive presentation of the film in high-def than the studio's prior, excellent BD edition. The UHD end is punctuated by HDR capability and looks much better balanced than, say, Sony's catalog release of the original "Ghostbusters" in the format, but even the standard Blu-Ray is superior to its predecessor, and the Dolby Atmos audio on both UHD and Blu-Ray is robust.
For supplements, Sony's release is highlighted by several new extras, including the fresh "Reordering Time: Looking Back at Labyrinth," "The Henson Legacy," and "Remembering the Goblin King" segments, which offer recent interviews with Jennifer Connelly, Brian Henson and others, and total just under a half-hour. There's also a 40-minute "Labryinth Anniversary Q&A" featurette, all included along with several trailers for the first time. Carried over from the prior release is a commentary by Brian Froud that's highly satisfying and filled with recollections about his work on the picture. The track is complimented by the two-part documentary "Journey Through the Labyrinth," which offers comments from Froud, Brian Henson, puppeteers Dave Goelz, Karen Prell and others. The original, archival Making Of documentary, "Inside the Labyrinth," rounds out the disc alongside the previously-available "The Storytellers: Picture-in-Picture Track" and a Digital HD copy.
Hopefully Sony will provide a similar 4K upgrade to "The Dark Crystal" in the near future, as this new "Labryinth" release once again leaves one with the impression that Jim Henson had many more stories to tell before his premature passing in 1990.
---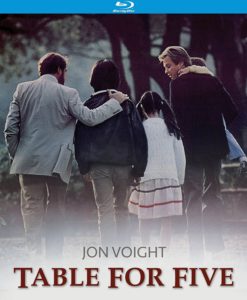 Kino Lorber New Releases
Jon Voight's superb performance as a father trying to reconnect with his family is one of the highlights of the 1983 drama TABLE FOR FIVE (***, 121 mins., PG), a sensitive – and mostly restrained – tearjerker from CBS Theatrical Films that debuts on Blu-Ray later this October from Kino Lorber.
Voight plays J.P. Tannen, an ex-golf pro divorced from his wife (Millie Perkins), who decides to take his three children on a cruise to the Mediterranean. Though his kids love him, Tannen has never been there to offer support on birthdays and other gatherings, which leads to a clash over parental responsibility (or lack thereof), the children's connection with their mother's new husband (Richard Crenna), and a tragedy that shakes all of them halfway through their journey.
Directed by Robert Lieberman, "Table For Five" works due to its poignant script by David Seltzer ("The Omen") and outstanding performances by the cast. Voight gives an earnest and well-rounded portrayal of a guy trying to renew his relationship with his kids, Roxana Zal plays his young but headstrong daughter, and Crenna is effective as the new man in his ex-wife's life. The movie shifts gears midway through and becomes a sad though not overly maudlin drama about loss, leading to some enormously moving scenes towards the end (and a wonderful final sequence between Voight and Crenna).
Vilmos Zsigmond's fine cinematography and the moving score – credited to both Miles Goodman and John Morris – also add immeasurably to this under-rated, low key character drama.
The 1080p (1.85) AVC encoded transfer isn't as sharp as Kino Lorber's other CBS-licensed catalog discs, offering a hazy source with elements that aren't always in pristine condition. The 2.0 DTS MA sound is fine, and you'll have to look fast to catch Kevin Costner as a newlywed.
Recently released from Kino Lorber is DR. MABUSE, THE GAMBLER (270 mins., 1922), Fritz Lang's hugely influential and still-entertaining 1922 German serial. Inspired by the work of Joe May and Louis Feuillade, Lang's adventure centers around the title character – a master of disguise and criminal mastermind who also happens to use hypnosis to benefit his nefarious plans. Through over four hours of action, Dr. Mabuse is packed with adventure, femmes fatales, and archetypes that would dominate spy screen thrillers for decades to come. Kino's Blu-Ray boasts a new 2K transfer of a 35mm restoration performed by the Fredrich-Wilhelm-Murnau-Stiftung, in cooperation with the Bundesarchiv-Filmarchiv of Berlin, the Filmmuseum Munich and L'Immagine Ritrovata of Bologna. The disc includes German intertitles with English subtitles, and an hour-long documentary looking at the movie, novelist Norbert Jacques, and the musical score by Aljoscha Zimmerman.
---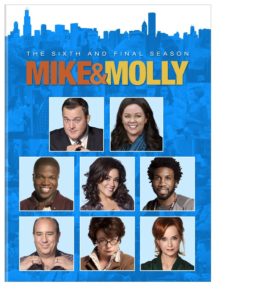 Also New & Noteworthy
MIKE & MOLLY: The Sixth and Final Season DVD (286 mins., 2016; Warner): One of prolific sitcom producer Chuck Lorre's more engaging shows, "Mike & Molly" came to a conclusion this past spring on CBS. With star Melissa McCarthy seemingly more interested in her big-screen career (understandably so), Season 6 was a good place for the show to end, especially considering the amount of recycled plots (Mike's problems with his in-laws, Molly's attempts at becoming a successful writer) that comprise the bulk of the episodes. Still, the cast is winning and it's hard for fans not to feel a bit of emotion upon seeing its finale. Warner's DVD, out October 11th, includes just the final 13 episodes from the show's final season in 16:9 transfers and 5.1 sound. 
MIKE AND DAVE NEED WEDDING DATES Blu-Ray (**, 99 mins., 2016, R; Fox): Zac Efron and Adam Devine play partying brothers who are tasked with finding "suitable" dates for their sister's wedding in Hawaii. They end up trying to con a pair of friends (Anna Kendrick, Aubrey Plaza) who out-con their male counterparts in this predictably tasteless comedy that generates a few laughs before overdoing it in the R-rated raunch department. At least there's energy to spare in the film, which hits Blu-Ray with a 1080p (2.39) AVC encoded transfer, 7.1 DTS MA sound, a Digital HD copy, deleted/extended scenes, a gag reel, an entire alternate storyline ("Pig Sequence"), and commentary from director Jake Szymanski.
WILD OATS DVD (86 mins., 2016, PG-13; Anchor Bay): Andy Tennant, prior A-list director ("Ever After," "Anna and the King"), helmed this character-driven comedy-drama about a widow (Shirley MacLaine) and former history teacher who receives a life insurance check for $5 million instead of $50,000. Promptly taking off with her best friend (Jessica Lange) for the Canary Islands, Eva is pursued by a life insurance agent (Howard Hesseman) and her own daughter (Demi Moore), not to mention runs afoul of the local wine "warlord" (Santiago Segura). Billy Connolly also stars in this watchable if forgettable outing worth it only for the performances of the two leads. Anchor Bay's DVD includes a 16:9 (2.40) transfer and 5.1 Dolby Digital sound.
COMPLETE UNKNOWN DVD (92 mins., 2016, R; Sony): Intriguing drama from director Joshua Marston stars Rachel Weisz as a chameleon-like woman who decides, every few years, to reinvent herself with a new name and identity. Michael Shannon plays a New Yorker who lost touch with Weisz in one of her guises years before, but sees her again while celebrating his birthday out – the nature of her identity and whereabouts forms the basis of "Complete Unknown"'s second half, which Marston and his co-writer Julian Sheppard use as a springboard for a fascinating character study. Sony's DVD, out October 4th, includes a 16:9 (2.39) transfer, 5.1 Dolby Digital sound and a commentary with the director.
IFC New Releases: LEN & COMPANY (97 mins., 2015, Not Rated) stars Rhys Ifans as a former punk rocker turned mogul producer, who retreats to his country home for some R&R, only to have to welcome his estranged son (Jack Kilmer) and pop-songstress protege (Juno Temple), who manage to get Ifans out of his funk. Tim Godsall's film was based on Carly Mensch's play "Len Asleep In Vinyl" and offers capable performances from all of its leads. IFC's DVD includes a 16:9 (2.40) transfer and 5.1 Dolby Digital sound.
NEXT TIME: Twilight Time's latest! Until then, don't forget to drop in on the official Aisle Seat Message Boards and direct any emails to our email address. Cheers everyone!