Late in August of 1990, William Peter Blatty's anticipated THE EXORCIST III (***, 110 mins., R) arrived in theaters. The Morgan Creek production, released by Fox, drew strong initial interest from audiences – and even a few positive reviews – before crashing quickly in the dumping grounds of late summer. Now a cult favorite, Blatty's own adaptation of his novel "Legion" has been resurrected as a Scream Factory Collector's Edition, complete with a reconstruction – from the best surviving sources – of Blatty's initial cut of the film, completed before anxious studio executives mandated a punchier, effects-laden conclusion be shot.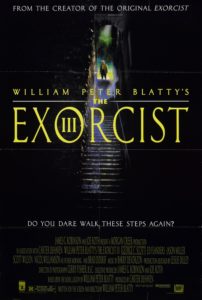 George C. Scott stars in the film as Lt. Kinderman, the Washington, D.C. cop played by Lee J. Cobb in the 1973 William Friedkin classic. Here tasked with solving a series of grizzly murders carrying an increasingly religious connotation, Kinderman's investigation includes both the death of his beloved friend Father Dyer (Ed Flanders, in funny scenes that make you wish he and Scott had more screen time together) and the strange presence of "Patient X" (Brad Dourif) – a hospital inmate who claims he's the "Gemini Killer." The only problem is that psycho died some 15 years before, on the same night the demon claimed the life of Father Karras (Jason Miller) in the Regan MacNeil exorcism…
Part psychological thriller, part supernatural chiller, "The Exorcist III" largely bypasses the shock effects of the 1973 film in favor of a moody, weird, off-kilter picture heavy on atmosphere and sound design. Blatty accentuates creaking floors, blowing winds, words muttered in whispers and the power of suggestion for the film's first half, making for an intelligent and uneasy mystery that connects intriguingly with the original film. Individual moments linger long after the film has concluded (Kinderman's dream sequence, an elderly hospital patient crawling on the ceiling!), making for a film that's endlessly repeatable and superbly performed by Scott, Dourif and Blatty's repertory company (Miller, Flanders, Scott Wilson).
Unfortunately for Blatty, Morgan Creek and Fox executives were horrified when they saw the first version of the picture, which – to be fair – fizzled out after a strong start. Thinking audiences needed to actually see an exorcism, a hefty sum was spent on extensive new shooting, bringing along scores of special effects artists and the participation of both Jason Miller – reprising Father Karras – and Nicol Williamson, who were added to the cast in post-production reshoots that, by all accounts, were problematic to produce. And, admittedly, the subsequent, ultimate transition between the subtle and the explicit was always a little bit jarring in "The Exorcist III," as the film's most effective passages – like that long shot down the hospital corridor, showing a nurse checking in and out of various rooms – were comparatively low-key.
Yet if there's anything this new Shout Factory Blu-Ray confirms, it's that those restless executives were onto something. The Director's Cut (104 mins.) of "The Exorcist III" illustrates that the tinkering was, in fact, necessary, as Blatty's original version promises more than it actually delivers.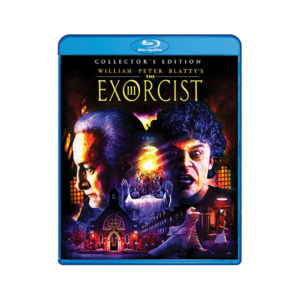 The main difference between the two cuts lies in Brad Dourif's performance. Dourif was cast to play both "Patient X" as well as Father Karras, with the film establishing Dourif via photographs as the protagonist of the first film. The problem, though, is that Dourif was neither Jason Miller nor did Blatty really dive into the suggestion that Father Karras was, somehow, buried inside the man claiming to be the Gemini Killer. The reshoots clarified and further developed that notion, and the casting of Miller himself added a major component lacking from Blatty's cut. It's not a knock on Dourif – whose performance in the Director's Cut is subtler and may have been altogether creepier – but the overriding story is crystalized in the theatrical version to palpable dramatic effect.
More over, all the razzle dazzle of the reshoots actually gave the film a climax that's also absent in Blatty's version. What begins as a tantalizing mystery turns into a frustrating, and emotionally chilly, thriller that abruptly ends on a major down note in Blatty's cut. There's just no pay off, nothing to justify the build-up, in what Blatty originally produced, making one conclude that what may have worked fine on the printed page needed the proverbial "more" en route to the screen.
Shout's Blu-Ray offers new interviews with surviving cast/crew members, including Brad Dourif, producer Carter DeHaven, production designer Leslie Dilley, loads of make-up artists, bit players in the supporting cast, and composer Barry DeVorzon among others. Editor Todd Ramsay relays several fascinating tidbits, including the revelation that he knew he was sitting with Blatty for the final time when he unspooled his edit of the film – to negative reaction from seemingly everyone involved, except Dourif, who thinks his performance was much better in Blatty's version. Meanwhile, DeVorzon's talk implies studio brass didn't like his score either – with even Carter DeHaven seemingly unenthusiastic over his initial hiring – which is no shock since there's less music in the film than there is sound design (though in that regard, DeVorzon's work was ahead of its time).
The interviews are all candid and interesting, and a full-length commentary (dubbed an audio interview) between Blatty and Michael Felsher is wide-ranging and accompanies the Director's Cut itself. There are also vintage EPK materials sporting interviews with the likes of Scott, Blatty, and Larry King (who has a cameo along with Samuel L. Jackson, C. Everett Koop and Fabio!), plus trailers and TV spots, several of which carry unused FX shots. A few minutes of deleted scenes/bloopers are on-hand as well, including a discarded prologue taken from film elements (albeit in black-and-white).
Most of the new/alternate materials, however, are derived from VHS dailies – all that remains of Blatty's first version of the picture. With that being considered, Shout has painstakingly assembled his "Legion" in a 104-minute reconstruction that varies between HD footage from the theatrical version and 1.33-based videotape material. It's unfortunate that the original materials couldn't be found, but Shout has done the best job possible with what they had to work with, and I'd imagine this cut will likely rank as just a curiosity for many to begin with.
The theatrical version, meanwhile, has been given a brand new 2K transfer and it's a knockout. Featuring clearer details, more consistent colors and contrasts than Warner's earlier Blu-Ray, this is a sterling 1080p (1.85) transfer that does justice to Gerry Fisher's cinematography in a way that no prior home video release ever has, and ranks with Shout's top Blu-Ray transfers to date.
The sound, regrettably, doesn't fare quite as well. When "The Exorcist III" transitioned from Fox over to Warner Bros. (Morgan Creek's most recent studio home), the movie's original stereo audio was remixed into a muddy 5.1 track that was, in short, an unmitigated disaster. Left/right separation and surround activity were all, inexplicably, fed into the center channel instead, making for a botched 5.1 track that's all viewers have had to listen to since the days of laserdisc and VHS.
Shout's Blu-Ray, overall, might be a small improvement, but it's still a far cry from the movie's intended stereo design. Apparently, Shout could not find the original audio materials, as the 5.1 and 2.0 DTS MA mixes on the theatrical version are just a little bit healthier in terms of fidelity than that terrible Warner mix. Shout's 5.1 track does boast a little bit of stereophonic presence from time to time, but mostly plays out like its predecessor in a cramped, one-channel presentation. The Director's Cut is even more "flat," housed in a 2.0 DTS MA mix that boasts no discernable stereo separation of any kind.
That disappointment aside, Scream's "Exorcist III" is yet another outstanding package from the label this Halloween – a must for horror buffs and a celebration of Blatty's personal "Exorcist" sequel that has weathered the years better than its unholy counterparts. Looking for a clear invitation to the dance? Well, we've got it!
Coming From Shout: Scream Factory brings Bo Mikkelsen's downbeat zombie-apocalypse offering WHAT WE BECOME (812 mins., 2015, Not Rated) to Blu-Ray on October 18th. This tale of a typical family turn apart by a plague takes a long time to get moving and only offers predictable twists and turns once it does – by that point, only genre die-hards are likely to be compelled by this Danish production. Shout's release is a combo pack sporting a 1080p (2.40) transfer and 5.1 DTS MA audio in Danish with English subtitles.
---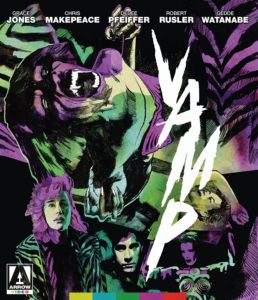 Arrow New Releases
Grace Jones didn't enjoy a lengthy career in the cinema, but she made a mark on a trio of mid '80s genre excursions: "Conan the Destroyer," Roger Moore's final sojourn as James Bond, "A View to a Kill," and Richard Wenk's low-budget New World Pictures offering VAMP (90 mins., 1985, R), now on Blu-Ray in the US from Arrow.
This murky, fang-in-cheek affair finds college students Chris "Meatballs" Makepeace and Robert Russler running afoul of undead stripper Jones and her friends in a movie that has a few laughs and a fairly amusing set-up. Alas, the movie sags the longer it drags on, draining what fun and goodwill it establishes in its early stages. That said, "Vamp" has its share of backers, and Arrow's Blu-Ray disc is exceptionally good in terms of its overall package – mostly, though not entirely, a reprise of the label's 2011 UK edition.
"One of Those Nights: The Making Of Vamp" is new to this release, featuring fresh interviews with Wenk, Russler, and DeeDee Pfeiffer (Michelle's cute younger sister, whose sunny presence is one of the few good things about "Vamp"). There are also behind-the-scenes rehearsal clips, a blooper reel, trailers, TV spots, and best of all, Wenk's short movie "Dracula Bites the Big Apple." This 1979 short was an NYU project Wenk sold to HBO, which aired it during the cable outlet's early days, and still offers more laughs in its 22 minutes than "Vamp" itself. Technically the disc looks and sounds great, the AVC encoded 1080p transfer freed of DNR and the uncompressed mono sound as satisfying as one can expect given the source materials.
I've never been crazy about "Vamp," but Arrow's marvelous Blu-Ray package is still worth owning if you're a fan of '80s horror, mainly for its great behind-the-scenes anecdotes and wide range of extras (this release is notably missing the commentary from the prior edition, however).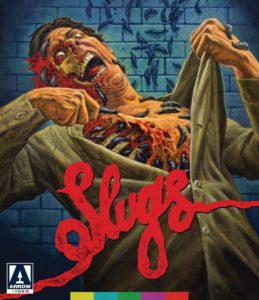 Also new on Blu-Ray, and highly recommended for horror fans, is the New World Pictures fave SLUGS (94 mins., 1988, Not Rated), a hysterically funny and also incredibly disgusting 1987 monster opus that finds a group of genetically-enhanced slugs wrecking havoc on the entire population of a small town.
Shot mostly in upstate NY by a Spanish crew and dubbed into English (often quite amusingly, I might add),"Slugs" is a movie that I rented on video while hanging out with some friends during a break from my freshman year at college in 1993. Obviously, with limited time on my hands, there was room for only a bit of movie-watching, but I can assure you "Slugs" fit the bill at the time and, after watching it in Arrow's fantastic new Blu-Ray, I can verify that it certainly works its "magic" for the blood n'guts lover of bad cinema.
Where else can you see a couple making out in a gratuitous sex scene — and then be promptly eaten by slugs? How can you properly describe a sequence where, at a posh restaurant, a man explodes because he's being consumed by the slimy creatures? "Slugs" is not a subtle movie by any means but, if you are ever in the mood for this kind of movie, I can't think of a better one off-hand than this one, which boasts a hilarious script that cobbles together elements of '50s B-grade sci-fi flicks with "Jaws" and the gross-out goo you'd expect from any solid '80s genre flick.
Arrow's Special Edition Blu rounds up a new 2K transfer from the original negative and PCM lossless audio of the movie's mono library score; commentary with "Slugs" author Shaun Hutson (incredibly, yes, this is a "based on the novel by" adaptation!); another commentary with writer/filmmaker Chris Alexander; interviews with actor Emilio Linder, FX artist Carlo De Marchis, art director Gonzalo Gonzalo, and production manager Larry Ann Evans; and the trailer. One of this Halloween's tastiest, gorriest Blu-Ray treats!
---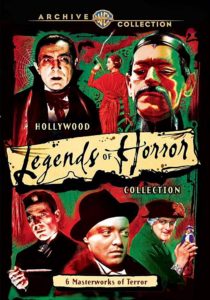 Warner Archive New Releases
Chief among this month's new Warner Archive releases is a repressing of the 2006 DVD compilation HOLLYWOOD LEGENDS OF HORROR COLLECTION.
From my original review: "Vintage horror fans rejoice! Warner has done it again, diving head-first into the MGM, First National, and Warner Bros. vaults to unearth this reasonably priced anthology of six 1930s chillers.
The three-disc "Legends of Horror" set (two films are coupled on each platter) is highlighted by the debut of two MGM films that the great Tod Browning produced in the wake of his tenure at Universal: the 1935 fan-favorite "Mark of the Vampire" with Lionel Barrymore, Bela Lugosi and Elizabeth Allan, and Browning's 1936 "The Devil-Doll," also starring Barrymore, this time as a Devil's Island escapee who uncovers the secrets of miniaturization and in turn sends shrunken subjects to exact revenge on the men who imprisoned him.
Also new to DVD here are the highly entertaining (if dated) 1932 MGM production of "The Mask of Fu Manchu" with Boris Karloff as Sax Rohmer's mad man and Myrna Loy memorably essaying his alluring daughter; the early 1932 First National-Vitaphone release "Doctor X" with Fay Wray, Lee Tracy, and Lionel Atwil in a Michael Curitz-directed outing that's talky but noteworthy for its use of two-strip Technicolor; that film's in-name-only 1939 sequel "The Return of Doctor X," co-starring Humphrey Bogart; and "Dracula" camera man Karl Freund's highly entertaining 1935 MGM production of "Mad Love," with a demented Peter Lorre performance and ample atmosphere to spare.
Newly remastered transfers on "Mark of the Vampire" and "The Mask of Fu Manchu" present the healthiest appearance for either film in decades; the other transfers tend to be just a bit less sharp, but are still nearly as satisfying, despite the age of the materials being utilized and the uneven condition of some elements. Supplements include informative historian commentaries (from the likes of Steve Haberman, Kim Newman, Scott Maqueen and others) on all of the movies except for "The Devil Doll."
With a good assortment of vintage features and enlightening commentaries on-hand, this is a sterling package for old-fashioned genre fans. Highly recommended!"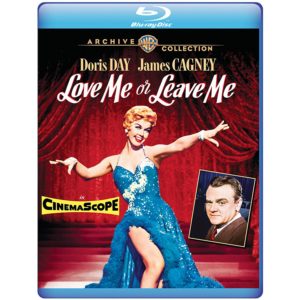 On Blu-Ray: LOVE ME OR LEAVE ME (122 mins., 1955) offers Golden Age fans a gorgeous restoration of the (mostly fictionalized) relationship between singer Ruth Etting (Doris Day) and gangster Marty Snyder (James Cagney), a Chicago hood who takes a vested interest in her career. This MGM musical gave Day one of her most potent dramatic roles – so much that fans heavily criticized her appearance in the picture – and the movie manages to work splendidly, alternating between songs and a melodrama that doesn't end the way it did in real life (no surprise there). Warner's Archive Blu includes a gorgeous 1080p (2.55) Cinemascope transfer and 5.0 DTS MA sound, along with a pair of 1930-32 vintage Etting shorts, a promo short for the film and the trailer…Clint Eastwood's filming of John Berendt's bestseller MIDNIGHT IN THE GARDEN OF GOOD AND EVIL (155 mins., 1997, R) isn't regarded as a classic – and disappointed at the box-office – but this is still a compellingly performed mystery that works better as an atmospheric portrait of the South and its colorful characters (which its first half functions as) than it does a prolonged trial thriller (which it becomes). Eastwood directed Kevin Spacey and John Cusack with all of his A-grade production team behind him (cinematographer Jack N. Green, production designer Henry Bumstead, editor Joel Cox, etc.). The Archive's Blu includes a razor sharp 1080p (1.85) transfer with 5.1 DTS MA sound, the trailer, and the featurette "The Real People in the Garden."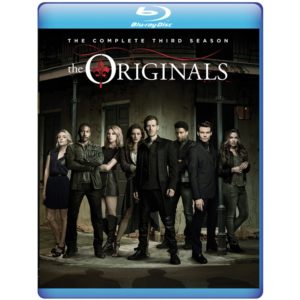 On DVD: A movie I went to see solo back in the Spring of 1995, THE MANGLER (106 mins., 1995, R) is best described as the "Killer Laundry Press" movie, based on a story by Stephen King! Ted Levine and Robert Englund star in this watchably bad US/Australian/South African co-production, written by Hooper, Stephen Brooks and Peter Welbeck. The New Line release was released on DVD but has been out of print for a while; the Archive disc brings "The Mangler" (which spawned a sequel!) back into print with a 16:9 (1.85) transfer and 5.1 Dolby Digital sound…THE MONOGRAM COWBOY COLLECTION VOLUME 9 (Not Rated) dives into the archives for a series of Monogram westerns from the mid '40s starring Johnny Mack Brown. These nine productions were produced in the post-"Nevada Jack" era for Brown, who stars here – with sidekick Raymond Hatton – in The Gentleman From Texas, Trailing Danger, Land of the Lawless, The Law Comes to Gunsight, Code of the Saddle, Flashing Guns, Frontier Agent, The Fighting Ranger and The Sheriff of Medicine Bow. All B&W 4:3 transfers of the respective features (produced from 1946-48) look good considering their age, with Brown utilizing his own "franchise brand" after starring as Nevada Jack in a number of audience-friendly westerns in the early 40s…Jackie Cooper plays a tenacious kid who wears a brace in WHEN A FELLOW NEEDS A FRIEND (74 mins., 1932), fighting off bullies both at school and within his own family. Fortunately he finds an advocate in his larger-than-life Uncle Jonas (Charles "Chic" Sale) in this early '30s melodrama now on DVD for the first time from the Archive. Boasting a 4:3 B&W transfer and mono sound, this is a worthwhile look for Golden Age fans.
THE ORIGINALS: Complete Third Season Blu-Ray (927 mins., 2015-16; Warner): Now that original vampire-werewolf hybrid Klaus Mikaelson shares a daughter with hybrid Hayley, the stakes to protect the supernatural clan and hold them together are higher than ever. In Season 3 of the CW "Vampire Diaries" spin-off, Klaus and brother Elijah find themselves initially estranged while Marcel and Davina rule the city, and Cami and Vincent track down a mystery involving the Mikaelsons' first "sired" vampire. All 22 episodes from "The Originals"' third season have been collected by Warner in a fine, fan-friendly Blu-Ray box-set sporting a 2015 Comic Con panel, unaired scenes, a gag reel, two featurettes, 1080p (1.78) transfers and 5.1 DTS MA soundtracks; available exclusively as an Archive release.
---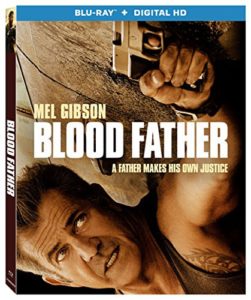 Lionsgate New Release Wrap
BLOOD FATHER Blu-Ray (**½, 88 mins., 2016, R; Lionsgate): Short but effective B-programmer makes you realize how much Mel Gibson has been missed on-screen. Playing a weary ex-con roped into helping his wayward teen daughter (Erin Moriarty), Gibson's John Link ends up taking on members of a drug cartel with whom she's mixed up with. Jean-Francois Richet's movie offers Gibson a decent forum for his on-screen charisma, and he effortlessly makes you care about his character, relationship with a fellow recovering addict (William H. Macy), and attempts to get his daughter clean. Ultimately, "Blood Father" is let down by a predictable climax and hampered by Moriarty's less-than-convincing, annoying performance (which seems more suited to a teen drama on the CW), but for Gibson fans, it's at least worth a rental. Lionsgate's Blu includes a 1080p (2.39) transfer, 5.1 DTS MA sound, a Digital HD copy and a single Making Of featurette.
New This Week: THE PRESIDENTS (6 hours, 2005-08) was a limited, eight-part History Channel series, narrated by Edward Herrmann, that examined the rise of American Presidents all the way through the 2008 election of Barack Obama. History's DVD includes 4:3 transfers and 2.0 stereo sound…the documentary AMAZONIA (83 mins., 2016, G) is a kid-friendly, pseudo-documentary that utilizes real wildlife footage to tell the story of Sal, a cauchin monkey, who ends up in the Brazilian rain forest, where adapting to his new environment requires that he manage to survive threats from all kinds of predators. Lionsgate's DVD offers a pleasing 16:9 (1.85) transfer, 5.1 sound, and a Digital copy along with a Making Of segment…another documentary, SHERPA (96 mins., 2015), hails from Australian director Jennifer Peedom, and intriguingly examines the local Sherpas who accompany climbers on their treks to the top of Mount Everest. This alternate look at a seldom-discussed subject makes for a strong, fascinating documentary, presented on DVD by Lionsgate sporting a 16:9 (2.35) transfer, 5.1 sound, deleted scenes, a Making Of, and digital copy…Ellen Page and Evan Rachel Wood play sisters in a post-apocalyptic world where society has fallen apart and….listen, we've heard it all before, and INTO THE FOREST (101 mins., 2016, R) doesn't give you anything fresh or original, other than serviceable performances as the sisters try to navigate through a harsh and increasingly volatile world relying only on each other. This Canadian production, produced by Page, was written and directed by Patricia Rozema from Jean Hegland's novel. Lionsgate's Blu includes a featurette, director commentary, Digital HD copy, 1080p (1.85) transfer and 5.1 DTS MA sound…Season 1 of FEED THE BEAST (432 mins., 2016) stars David Schwimmer and Jim Sturgess as struggling friends in the Bronx hoping to open their own upscale restaurant. The producers of "Nurse Jackie" and "Dexter" created this character-driven drama, but AMC found few takers and canceled the show after its one and only season. Thus, Lionsgate's DVD includes the Complete Series of the program on DVD with 16:9 transfers, 5.1 Dolby Digital soundtracks, Digital Copies, deleted scenes, commentaries, a gag reel and featurettes…75th ANNIVERSARY OF PEARL HARBOR (245 mins., 2001-09) is a History Channel compilation featuring a number of specials: "Live From Pearl Harbor," "Unsung Heroes of Pearl Harbor," "The Other Tragedy At Pearl Harbor," "Deep Sea Detectives," "Tech Effect" and "What Went Down," included on two discs in 1.33 full-screen.
Also Available From Lionsgate: "Silicon Valley"'s terrific lead, Thomas Middleditch, plays a nebbish dumped before heading to the altar in JOSHY (93 mins., 2016, R), an indie comedy from writer-director Jeff Baena. After Middleditch's jilted husband-to-be is left to wallow in his misery, his friends take him on a non-bachelor party of drugs, drinks and possibly even another female interest. Predictable stuff that we've seen numerous times before, but the performances – Middleditch in particular – are enough to keep one watching. Lionsgate's Blu-Ray boasts a commentary with Baena, Middleditch and co-star/producer Adam Pally, a Digital HD copy, 1080p (2.40) transfer and 5.1 DTS MA sound…6 PLOTS (87 mins., 2012, R) is a low-budget Australian thriller about a young woman who wakes up to a message that her friends have been abducted and buried in boxes around the city – all the while broadcasting footage of the kids online. The set-up is familiar and the execution less than competent in this affair, which is new to DVD in the U.S. from Lionsgate. The single-layer disc includes a 16:9 (2.35) transfer, 5.1 sound and a digital copy, plus a Making Of featurette…the drama BROKEN VOWS (91 mins., 2016, R) stars Jaimie Alexander ("The Blind Spot") as a woman who finds her life unraveling after mixing it up with bartender West Bentley during her own bachlorette party. When he stalks her in her California home, trouble follows in Bram Coppens' by-the-numbers affair. Lionsgate's DVD includes a Digital copy, 16:9 (2.40) transfer and 5.1 Dolby Digital sound.
---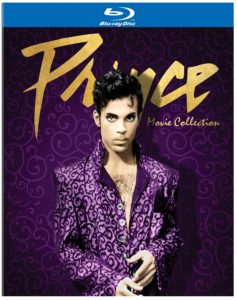 Warner New Releases
PRINCE MOVIE COLLECTION Blu-Ray (Warner): Box-set combines all three of Prince's starring vehicles, produced for Warner Bros. in the '80s to varying degrees of success.
Certainly the most important artistic achievement for Prince was starring in PURPLE RAIN (111 mins., 1984, R), the hugely influential "music video" film from director Albert Magnoli that offered Prince the perfect vehicle for his talents. The pic scored a major commercial success in theaters (where it grossed over $60 million in the summer of '84), on home video, and in record stores, selling over 25 million copies. Prince didn't want long to make his follow-up, producing UNDER THE CHERRY MOON (100 mins., 1986, PG-13) as a complete vanity project two years later – even directing this pretentious B&W drama co-starring Kristin Scott Thomas in a film that was reportedly hugely troubled (Mary Lambert was set to direct, and is still listed as a Creative Consultant). Despite poor box-office and tepid reviews, Prince returned to make a semi-sequel to "Purple Rain" itself, GRAFFITI BRIDGE (90 mins., 1990, PG-13), but this outing – again directed by Prince – bombed with audiences, grossing even less than its predecessor.
All three films have been included in a Warner commemorative box-set along with behind-the-scenes footage and music videos, plus other goodies, in a three-disc Blu-Ray package. The respective 1080p (1.85) transfers and DTS MA soundtracks (5.1 on "Purple Rain"; 2.0 on the follow-ups) are all superb, with "Cherry Moon" and "Graffiti Bridge" making their Blu-Ray debuts in this package ("Purple Rain" offers a supposedly new 2016 master, but otherwise includes the same extras as its previous Blu-Ray).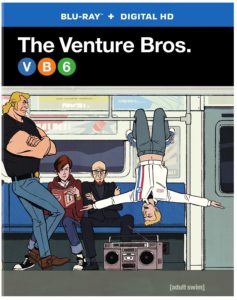 IMPRACTICAL JOKERS – The Complete Fourth Season DVD (572 mins., 2016; Warner): Sal, Joe, Murr and Q are back in this fourth season of the cult-favorite TruTV series, where the lifelong friends try out, each week, a new succession of "challenges" that run the gamut from hilarious to heart-wrenching. Warner's DVD includes all 26 episodes from Season 4, including the notable high-wire walk over NYC's South Street Seaport, which hit nearly 4 million viewers, as well as Murr's meeting with Danica McKellar ("The Wonder Years") while dressing up as a mostly-nude bodybuilder. Deleted scenes, bloopers, 16:9 transfers and 2.0 stereo soundtracks are also on-hand in Warner's box, out October 11th.
THE VENTURE BROS. Season 6 Blu-Ray (176 mins., 2016; Warner): Times are a-changin' for the Venture Bros. In this sixth season of the still popular Adult Swim series, brothers Hank and Dean move to a New York City home after Dr. Venture inherits a new fortune. There, their newfound wealth helps propel them on another series of mysteries and adventures, including run-ins with the dastardly Monarch. Warner's Blu-Ray package of "The Venture Bros." sixth season includes commentaries on every episode, deleted scenes, and the special "All This And Gargantua-2," which makes its home video debut here. The 1080p transfers and 5.1 DTS MA soundtracks are all fine, and Digital HD copies round out the release.
ADVENTURE TIME – Season 6 Blu-Ray (173 mins., 2016; Warner): Jake the Dog and Finn the Human are back for more fun and adventure in the sixth season of the Cartoon Network original series, which debuted in 2007, has won multiple Emmys and become a fave among viewers of all demographics. Season 6 of the series hits Blu-Ray October 11th from Warner, offering all 43 episodes in 1080p transfers and with 2.0 Dolby Digital soundtracks. Animatics, song demos, concept art, and a featurette comprise the special features along with a Digital HD copy.
---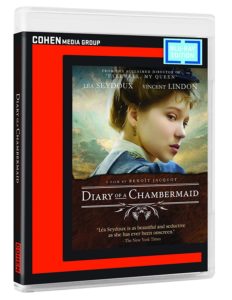 Cohen Film Collection New Releases
DIARY OF A CHAMBERMAID Blu-Ray (96 mins., 2015, Not Rated; Cohen): Lea Seydoux stars as Celestine, a Parisian chambermaid who's had it with a bourgeois mistress (Clotilde Mollet), has to avoid the interest of Monsieur (Herve Pierre) and deal with her own blossoming relationship with a gardener (Vincent Lindon), in this adaptation of Octave Mirbeau's 1900 novel. Previously brought to the screen by the lines of Bunuel and others, director Benoit Jacquot plays up the socio-political components of the story's era in a good-looking French production now on Blu-Ray from Cohen. The disc includes a Making Of, the trailer, a 1080p transfer, and DTS MA 5.1 audio (French with Englush subtitles).
Coming next week from Cohen is LES COWBOYS (104 mins., 2015, Not Rated), an unusual French film set in a country-and-western gathering in the eastern part of the country. There, a father (Francois Damiens) loses his daughter and sets out with his younger son to find him in a strange film that seems like it wants to update "The Searchers" in today's political climate, but ends up being heavy-handed and unsatisfying. Cohen's Blu-Ray includes the trailer, a Making Of, 1080p transfer and DTS MA audio with English subtitles.
---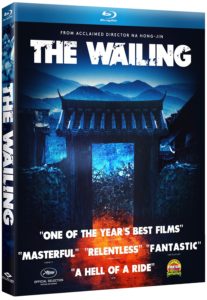 Label Wrap
Well Go New Releases: an elegantly shot and downright nutty Korean horror import, THE WAILING (157 mins., 2016), makes its North American debut from Well Go this month. Na Hong Jin's picture is set in a quiet village where the appearance of a foreigner triggers a series of brutal murders among seemingly ordinary townspeople, leading to the discovery of a demon and the infection of the investigating cop's daughter. This well-crafted, if leisurely told, genre exercise was actually financed by 20th Century Fox and could well be remade in the U.S., though many of the localized "ceremonies" may limit the appeal of this production for some viewers. Others may be spellbound by the weirdness, captured by Well Go in a fine 1080p transfer with 5.1 DTS MA Korean audio and English subtitles…New next week from Well Go is PHANTOM OF THE THEATRE (104 mins., 2015), a Hong Kong production about a theater group, who perished in a fire some 13 years before, who haunts the establishment's grand-reopening, looking for new victims. Raymond Yip's picture is available on DVD from Well Go sporting a 16:9 transfer and 5.1 sound in Mandarin with English subtitles.
Magnolia New Releases: An epic Scandinavian action-adventure, THE LAST KING (100 mins., R) is inspired by a true story set in Civil War-ravaged Sweden, where the infant son of a slain King is protected by a pair of loyal knights who seek to keep him safe across snowy mountain terrain. Not a lot of insight or character development here, but Nils Gaup's film is still impressively mounted with zesty action sequences. Magnolia's Blu-Ray includes an interview with actor Kristoer Hivju, a music video, the trailer, a 1080p (2.35) transfer and 5.1 DTS MA sound in Norwegian with subtitles or an English dubbed track…Standard-issue horror is on tap in SATANIC (84 mins., 2016, R), the story of a group of foolish college kids who visit old "Satanic Panic" sites in L.A., saving a "victim" from a sacrifice and then realizing she's got them in all kinds of trouble. "Modern Family"'s Sarah Hyland stars in a mercifully short exercise now on Blu from Magnolia featuring a 1080p (2.40) transfer with 5.1 audio and numerous special features (Making Of, cast interviews, etc.).
---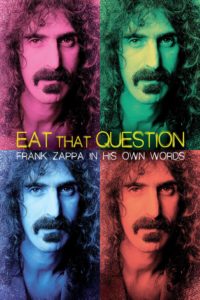 Also on DVD
EAT THAT QUESTION: FRANK ZAPPA IN HIS OWN WORDS DVD (93 mins., 2016, R; Sony): Utilizing rare and never-before-seen footage of musician Frank Zappa, culled from his many decades of work, this French/European production from director Thorsten Schutte is a must for Zappa-fans. Schutte's work took him to the vaults of obscure TV broadcasts around the world to assemble this portrait of Zappa and his legacy, and Sony's DVD includes a 1.33 transfer and 5.1 Dolby Digital sound. Highly recommended for fans, with Zappa performances that have been scarcely circulated, if ever, since their original broadcast (whereever that may have been).
APPROACHING THE UNKNOWN DVD (90 mins., 2016, R; Paramount): Mark Strong plays an astronaut who corresponds only with his friend back on earth (Luke Wilson) while on a one-way mission to Mars in this obvious "Martian" cash-in from writer-director Mark Elijah Rosenberg. No great shakes to be found here, though Strong at least tries hard – viewers are better off sojourning with Matt Damon instead. Paramount's DVD, out October 11th, includes a 16:9 transfer and 5.1 soundtrack.
THE HUNTING OF THE PRESIDENT REDUX DVD (92 mins., 2016; Virgil Films): Documentary from Clinton friends Harry Thomason and Nickolas Perry adapts Joe Conason and Gene Lyon's book, which explores – literally – the "vast right wing conspiracy" to take down the Clintons' political legacy, as well as HRC's current White House bid. Predictable stuff for the true believers, narrated by another Clintonian supporter, Morgan Freeman. Virgil's DVD includes a 16:9 transfer and stereo sound.
IT'S A ROCKABILLY WORLD DVD (76 mins., 2016; Virgil Films): Documentary by director Brent Huff looks at the odd world of "Rockabilly," where finely coiffed individuals act like it's the 1950s all over again, from their vintage fashion to hot rod cars and tattoos recalling the era. This look at a modern subculture is profiled in a feature length documeentary by Huff, presented on DVD by Virgil featuring a 16:9 transfer with Dolby Digital sound.
NEXT TIME: TARZAN and Twilight Time's latest! Until then, don't forget to drop in on the official Aisle Seat Message Boards and direct any emails to our email address. Cheers everyone!