One of the '80s better horror-comedy hybrids was HOUSE (**½, 93 mins., 1986, R; Arrow), producer-director Sean S. Cunningham's goofy haunted house thriller that met with solid box-office returns and even a few critical kudos when it was released in February 1986. Arrow Video has produced a lavish Blu-Ray set housing the high-def debut of "House" in the format, along with a massive 148-page accompanying book and the strange but fun sequel "House II: The Second Story."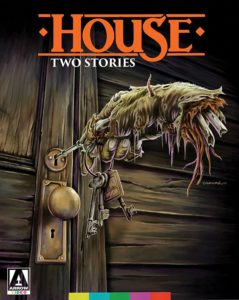 William Katt, our favorite "Greatest American Hero," stars in director Steve Miner's original "House" as Roger Cobb, a horror novelist and Vietnam vet who experiences all sorts of weird visions when he moves into his ancestral home – from slimy creatures to the ghost of then "Night Court"-star Richard Moll. Kay Lenz and George Wendt (who would be the first of the "Cheers" gang to make a token appearance in the original two films) co-star in this entertaining albeit highly uneven ride, which has held up better than virtually any of the other New World genre films from the same period. As Katt says in the disc's extras, if you have kids and need a gateway flick to get them into the genre, "House" – despite its R rating – fits the bill.
Writer Ethan Wiley – who put a humorous stamp on Fred Dekker's original conception for "House" – also took over the directorial reigns for the hastily-produced, PG-13 rated sequel, HOUSE II: THE SECOND STORY (**½, 88 mins., 1987), and it's an in-name-only follow-up with Arye Gross finding a whole slew of worlds packed into the mansion he now occupies. With as much fantasy adventure mixed in with horror, this amiable precursor to "Jumanji" is in some ways fresher and more fun than its predecessor, and features an offbeat cast including "Cheers" alum John Ratzenberger, future political pundit/comic Bill Maher, and genre vet Royal Dano.
Anchor Bay's prior DVD editions of "House" and "House II" are long out of print, and Arrow's massive Blu-Ray box-set is stuffed with extras. These include the old DVD commentaries with Cunningham and Wiley on each picture, plus Steve Miner and William Katt joining them on the original "House." New documentaries have been produced for both installments, including "Ding Dong, You're Dead: The Making of House" featuring interviews with Miner, Cunningham, Katt, Wiley, Dekker, Kay Lenz, George Wendt, composer Harry Manfredini and others; and "It's Getting Weirder: The Making Of House II," sporting additional comments from Arye Gross, Jonathan Stark, Lar Park Lincoln and others. The original "House" promo featurette, other vintage EPK materials and trailers are included for each film, which are presented in new 1080p (1.85) 2K-mastered transfers with either PCM mono/enhanced stereo or 5.1 DTS MA simulated stereo options available. The original mono tracks pack the most punch here, with the "enhanced stereo" options sounding overly cavernous.
The outstanding booklet assembled by "House" fansite webmaster Simon Barber adds more fun to the package, though fans will note that Arrow's corresponding UK release was able to include copies of the in-name-only "House III" (aka "The Horror Show"), which Scream Factory has already released here (check out my review), and the direct-to-video "House IV," which New Line controls in the U.S. (and as such was unavailable for Arrow to license). Seeing as those two entries share a tenuous connection, if that, with the first two "House" movies (Katt shows up in a "House IV" cameo playing a different character with the same name as his "House" I protagonist), my guess is most fans will be just as happy with Arrow's "House: Two Stories" box-set, now available for the first time on Blu-Ray domestically.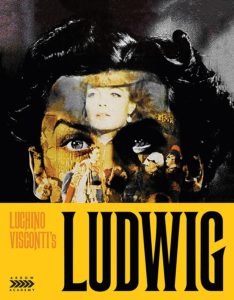 Also new from Arrow this week is an equally elaborate Blu-Ray box-set of Luchino Visconti's LUDWIG (257 mins.), an epic from the Italian filmmaker starring Helmut Berger in the title role, with Romy Schneider, Silvana Mangano, and Trevor Howard co-starring. Arrow's extensive package contains Visconti's full-length version, available in its theatrical showing or a five-part option, as well as its English language soundtrack for the first time ever on home video. The Italian soundtrack is also included with optional English subtitles, as well as a slew of extras including an interview with Helmut Berger; an hour-long documentary on the director with archival interviews featuring the likes of past Visconti stars Burt Lancaster and Claudia Cardinale; a talk with screenwriter Suso Cecchi d'Amico; a half-hour portrait of Mangano; the trailer; and an extensive, illustrated collector's booklet. The transfer has been restored in 4K and looks smashing in its 1080p (2.35) glory.
Finally, Arrow brings Takashi Miike's DEAD OR ALIVE TRILOGY to Blu-Ray this week in a two-disc set. Fans of the eclectic filmmaker should be the most receptive to Arrow's presentation, which includes "digital transfers" that don't offer much in the way of HD detail. Uncompressed PCM stereo audio is on-hand along with new interviews with stars Riki Takeuchi and Show Aikawa; a new interview with screenwriter Toshiki Kimura; a new commentary on the original film by Tom Mes; archive interviews and featurettes; and original trailers.
---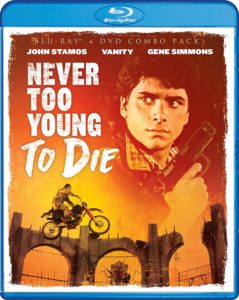 Shout Factory New Releases
Several cult favorites, new to Blu-Ray, are poised to capture the attention of fans and newcomers alike this month thanks to Scream Factory.
I had never previously seen NEVER TOO YOUNG TO DIE (*½, 97 mins., 1986, R), a VHS staple that starred a pre-"Full House" John Stamos as a college student whose secret-agent dad (George Lazenby!) is killed by a hermaphrodite criminal genius (Gene Simmons!) wanting to poison the city's water supply. Before you can say "Gymkata," Stamos applies his mad gymnastics skills to his newfound role as James Bond Jr., teaming up with dad's prior partner (Vanity!) as they ransack warehouses in search of Simmons' "Velvet Von Ragnar," who enjoys performing sexually suggestive songs at biker bars whenever he/she's not trying to take over the world.
This utterly bizarre B-movie somehow bridges the earnestness and production quality of an Afterschool Special with an R-rated exploitation picture that mixes elements of James Bond films and Mad Max rip-offs. It's a one-of-a-kind entertainment – horribly directed, amateurishly written and unintentionally hilarious – that's understandably maintained its status as an out-of-print cult favorite for decades.
With the old Academy VHS release still fetching decent coin on the secondary market, Shout Factory made a wise call issuing this one on Blu-Ray in a combo pack that includes a solid 1080p (1.85) catalog transfer licensed through MGM. The 2.0 DTS MA stereo sound is fairly boisterous, with a TV spot and terrible looking VHS transfer on-tap as an easter egg. While Stamos and Simmons have been receptive to talking about this cinematic turkey, the sole extra is a commentary by "pop culture historian" Russell Dyball.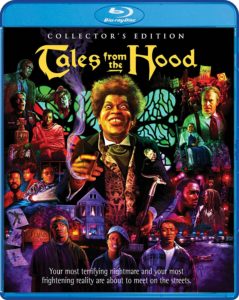 Another long out-of-print cult favorite, TALES FROM THE HOOD (**, 98 mins., 1995, R), makes its overdue Blu-Ray debut thanks to Scream Factory this April. This well-executed, if predictable, Spike Lee production basically applies the old E.C. Comics/"Tales From the Crypt" anthology formula to urban-set tales of racist white cops and overzealous politicians who receive their just desserts as told in stories woven by a crazed mortician (Clarence Williams III).
There's not a lot of subtlety to "Tales From the Hood," with director Rusty Cundieff and co-writer Darin Scott's villains pretty much falling into two camps: white racists or black gang members/drug dealers. That being said, and minus any surprising twists (every story's resolution is telegraphed from miles away), "Hood" is at least entertainingly performed and well-scored by Christopher Young, even with its "Aliens"-esque Horner string "stabs" and similar thematic components that were likely temp-tracked influenced.
Though not a box-office success, "Tales From the Hood" has commanded a solid amount of money on the collector's market seeing as HBO's DVD edition has been out of circulation for years. Shout's Blu-Ray, licensed through Universal (which apparently now distributes the Savoy Pictures library), includes a brand-new, hour-long documentary on the film's production with comments from Cundieff and others. TV spots, the trailer, a vintage featurette, a strong 1080p (1.85) transfer and 2.0 DTS MA stereo soundtrack (along with an odd, "alternate" 2.0 track) make for a splendid release for fans.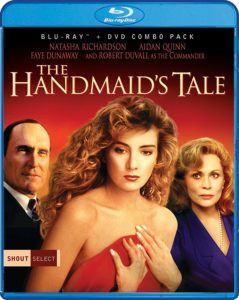 Also on Blu-Ray: Though not regarded as an especially strong adaptation of Margaret Atwood's novel, THE HANDMAID'S TALE (**, 109 mins., 1990, R) has been smartly reissued this month by Shout Factory in lieu of the new Netflix series adaptation of the book. This handsomely produced yet cold and uninvolving dystopian-future commentary offers an outstanding cast, including Natasha Richardson in the lead role, Aidan Quinn, Faye Dunaway, Robert Duvall and others, plus a Harold Pinter script that condensed Atwood's novel down to feature length. The film was a box-office bust that critics also shunned, yet fans of the material might find the feature to be of interest despite its flaws. Shout's Blu-Ray includes what looks to be a recent MGM transfer (1.85), 2.0 DTS MA stereo audio, the trailer and a DVD bundled within…In TANK 432 (88 mins, 2016, Not Rated; Shout Factory), writer-director Nick Gillespie attempts to craft a claustrophobic thriller in his tale of soldiers who seek refuge inside an old military talk in a post-apocalyptic, war-ravaged land. Outside, not just human enemies but potentially alien terror lurks about. Producer Ben Wheatley has been known for his provocative indies like "High Rise," and "Tank 432″ does offer an intriguing premise – it's the execution that's lacking in a misfired film starring Rupert Evans that's patience-testing even at a sub-90 minute running time. This IFC Midnight feature comes to Blu-Ray from Shout Factory offering a 1080p transfer and 5.1 DTS MA sound.
---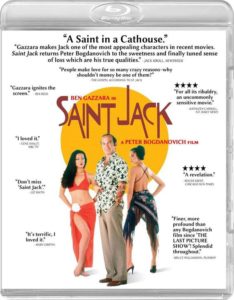 Scorpion New Releases
Scorpion Releasing's Limited Edition Blu-Ray of Peter Bogdanovich's little-seen 1976 drama SAINT JACK (***, 112 mins., R) preserves one of the director's more interesting cinematic experiments. An effectively low-key adaptation of Paul Theroux's novel, "Saint Jack" offers Ben Gazzara as an American living in Singapore who proves to be a smooth operator – even when the local mob squeezes in on his brothel business and, later, a shady fellow statesman (Bogdanovich himself) employs Jack to put a pair of eyes on a visiting U.S. senator (George Lazenby).
Minus a music score (though John Barry's "Goldfinger" LP proves significant in one sequence) and with a no-nonsense filmmaking approach that gives it a very contemporary feel in spite of its period setting, "Saint Jack" was brought to fruition when Bogdanovich and his then-girlfriend Cybill Shepherd settled a suit with Hugh Hefner's Playboy Publications. Part of the settlement involved the rights to Theruox's book, which Bogdanovich went ahead and produced with Roger Corman's New World Pictures putting up the budget.
Bogdanovich was able to shoot the film's at-times salacious story on-location only because he told local authorities he was filming an alternate script he billed as a cross between "Pal Joey" and "Love Is a Many-Splendored Thing." His efforts were worth the trouble, even if "Saint Jack" never generated much interest in the U.S., as this is a restrained film that's all about mood and atmosphere, capturing time and place, and offering a strong performance from Gazarra in a fully realized characterization. The film is leisurely yet never dull, with Denholm Elliott playing a British visitor to the Far East whose separate arrivals over a span of several years try to give the at-times meandering material something of a plot structure in the script primarily written by Howard Sackler ("Great White Hope," "Jaws" and "Jaws 2″) with contributions from Theroux and Bogdanovich.
Admittedly, "Saint Jack" may not be for every taste, but it's a film that feels positively fresh today thanks to its then-unconventional, realistic filmmaking approach. Scorpion's Blu-Ray follows their DVD release and offers a commentary from Bogdanovich, a lengthy interview with the director, a locations before/after featurette, the trailer, and a newer interview with Corman, who refutes Bogdanovich's claims that the film didn't receive enough promotion. Another commentary with writer Ben Slater is on-hand plus a half-hour collection of remembrances from mostly local cast/crew members about their work on the film. The 1080p (1.85) AVC encoded transfer is quite good and the DTS MA mono sound pleasingly robust given the location-based nature of the production. Well worth a look.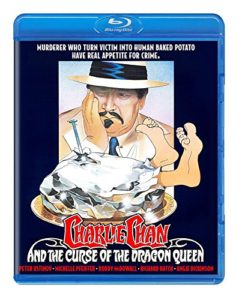 Also Recently Released From Scorpion
Before Peter Sellers passed, the actor was working on an unproduced "Pink Panther" project – "Romance of the Pink Panther" – albeit not with director Blake Edwards. The duo's relationship had been severed to the point of being irreparable, leading Sellers to work with director Clive Donner on the project instead.
While that sequel never came to fruition, one can only look at the spotty track record of both Sellers in his final years ("Prisoner of Zenda," "Fiendish Plot of Fu Manchu") and Donner as well – in movies like the ill-fated "Get Smart" feature "The Nude Bomb" and CHARLIE CHAN AND THE CURSE OF THE DRAGON QUEEN (*, 96 mins., 1980, PG) – to surmise that we may have been better off never getting that follow-up to begin with.
This American Cinema production looks to have all the parts in motion for a hilarious spoof, including a tremendous cast, yet the laughs in the Stan Burns-David Axelrod script simply aren't there. It's a shame, too, because Donner assembled a roster of talents including Peter Ustinov as the irrepressible detective, Richard Hatch as his half-Jewish son, a young Michelle Pfeiffer as the female lead, plus a who's-who of old pros (Lee Grant, Angie Dickinson, Brian Keith, Roddy McDowall) in support. The plot, with Chan butting heads with the Dragon Queen (Dickinson), is admittedly feeble but it's the painfully unfunny gags that sabotage this would-be counterpart to "Murder By Death" and other, better comedy offerings of the era.
Perhaps worth a viewing for buffs nevertheless, Scorpion's Blu-Ray of "Curse of the Dragon Queen" includes several short trailers and a DVD-era Making Of featurette, produced by American Cinema, that's comprised entirely of positive comments from the participants (including composer Patrick Williams).
BARBAROSA Blu-Ray (**½, 90 mins., 1982, PG): Little-seen, character-driven western stars Willie Nelson as the title character, a former Texas Ranger turned Mexican bandit, who stumbles upon a farmhand (Gary Busey) fleeing to the south after accidentally killing his brother-in-law. While Barbarosa eventually tutors Busey's Karl in the art of staying alive in the desert and robbing to survive, Karl in kind demonstrates there's room for Robin Hood-esque conscience in a movie from director Fred Schepisi and writer Bill Wittliff – no stranger to westerns, having worked on "Lonesome Dove" in addition to Nelson's previous cinematic excursion "Honeysuckle Rose." This ITC production, distributed by Universal, offers strong performances from Nelson, Busey and a cast of character actors like Gilbert Roland, Danny De La Paz and Isela Vega, not to mention crisp widescreen cinemtography. It's not a great film, but certainly worthwhile for western enthusiasts and well worth a vewing given how little the film was circulated on home video in the U.S. SCORPION SPECS: Scorpion's Blu-Ray is highlighted by a lengthy interview with Fred Schepisi, who discusses working with Nelson and the sometimes combustible Busey. Additional interviews include fresh conversations with De La Paz and Martinez, the trailer, and an isolated music/FX track of Bruce Smeaton's serviceable score. The 1080p (2.35) AVC encoded transfer and DTS MA mono sound are both terrific.
---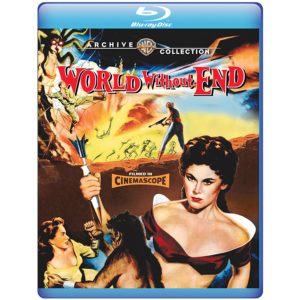 Warner Archive New Releases
Billed as Cinemascope's first sci-fi adventure, WORLD WITHOUT END (80 mins., 1956) sends a group of astronauts (Hugh Marlowe, Nelson Leigh, Rod Taylor, Christopher Dark) on a recon mission to Mars. Shortly after the group takes the turn to return home, they're time-tripped into a future Earth decimated by war, where one-eyed beasts live above ground and educated, albeit effete, males – and quite frustrated women – live below, representing the last vestiges of humankind.
This Allied Artists production offers an interesting enough premise – with elements viewers would later see in the likes of "Planet of the Apes" and "The Time Machine" – but the execution is positively uproarious in "World Without End," marked by over-the-top performances and run-ins with giant plush spiders our intrepid heroes encounter. The camp factor is high with this one, making its Blu-Ray debut from the Warner Archive this month. Out of print on DVD, '50s sci-fi fans should enjoy the disc's vivid 1080p (2.35) AVC encoded transfer with clear DTS MA mono sound.
New on DVD from Warner Archive: Miriam Hopkins, Joel McCrea and Fay Wray star in the entertaining THE RICHEST GIRL IN THE WORLD (76 mins., 1934), an RKO release with Hopkins essaying Dorothy Hunter. A Titanic survivor who becomes the world's wealthiest debutante, Dorothy switches places with her secretary (Wray) in an effort to snag a regular guy (McCrea). Enjoyable fluff now on DVD for the first time sporting a crisp B&W transfer…Groucho Marx's final vehicle (before years of cameo work), A GIRL IN EVERY PORT (86 mins., 1952), stars Groucho as a Navy vet who can't believe his friend (William Bendix) just blew his inheritance on a horse with a secret twin. Marie Wilson co-stars with Don DeFore plus Joel McCrea and Fay Wray (again!) in an entertaining RKO lark also making its DVD debut this month from the Archive. The B&W 4:3 transfer and mono sound are both perfectly acceptable.
---
Mill Creek New Releases
Mill Creek has turned out a number of quality, budget-conscious Blu-Rays over the last few years while the independent label sifts through the back catalogs of various studios, including Sony. Here's a rundown on their April releases:
THRILLER TRIPLE FEATURE (Mill Creek): Single-disc compilation offers a trio of Sony-licensed titles from the mid 2000s, two of which are new to Blu-Ray.
Making their high-def debuts are "Wind Chill" (see below) and CLOSURE (**, 80 mins., 2006, R), a tepid British thriller with "X-Files"' Gillian Anderson and Danny Dyer playing a couple assaulted by hunters who later exact their revenge on them. Known as "Straightheads" in the UK, this Dan Reed film was previously only released on Blu-Ray in its native country, and is presented here in a 1.85 AVC encoded transfer.
PERFECT STRANGER (*½, 109 mins., 2007), meanwhile, is an unbelievably nutty suspense-thriller starring Halle Berry as a newspaper columnist who sets out to confirm that advertising mogul Bruce Willis murdered her friend, who told Berry of her affair with the married executive prior to her grizzly demise. James Foley's film is glossy but completely insane, with Berry trying to hold it together as a dogged reporter and Willis sleepwalking his way through a thankless role that offers no pay off at the end (perhaps a sizeable check and the opportunity to smooch Berry convinced Bruno to participate?). Speaking of which, the movie goes even more haywire in its final moments than you'd anticipate, unconvincingly introducing a "twist" that only the film's fragmented flashbacks (poorly incorporated into the Todd Komarincki script) make any hint towards. The top cast and glitzy NYC settings, combined with a script that just gets nuttier and nuttier (I didn't even mention Giovanni Ribisi's creepy sidekick), could've made "Perfect Stranger" a camp favorite as the years pass. However, it's mostly become just another failed vehicle for its Oscar-winning star. "Perfect Stranger" was previously released by Sony on Blu-Ray in a 2.40 transfer with PCM lossless audio; Mill Creek's rendition is similarly configured minus the PCM audio, while also dropping a disposable Making Of featurette from the Sony package.
Finally, WIND CHILL (**½, 91 mins., 2007, R) is the best of this batch – a fairly well-executed little thriller about a college student (Emily Blunt) who hitches a ride with a fellow classmate (Ashton Holmes) before the duo are stranded in a snowstorm. Gregory Jacobs' film was produced by George Clooney and Steven Soderbergh, offering effectively wintry atmosphere and fine performances from Blunt and Holmes. Writers Joseph Gangemi and Steven Katz don't entirely reach a satisfying conclusion with their premise, but this is still worth a look for thriller fans, and Mill Creek's 2.40 AVC encoded transfer marks the film's Blu-Ray debut.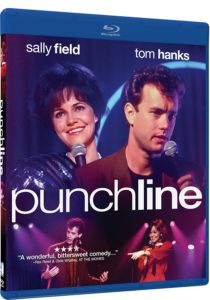 Also New From Mill Creek: Affordable Blu-Ray packages also abound for a pair of Columbia catalog titles new to HD. PUNCHLINE (**½, 123 mins., 1988, R) is a passable yet flawed character study of struggling stand-up comics, principally a housewife (Sally Field) trying to assert her independence from her business-obsessed husband (John Goodman) and a med school dropout (Tom Hanks) with major personal demons. The latter end up comprising the bulk of writer-director David "The Omen" Seltzer's second hour, making for a film that's really not very funny and somewhat contrived – though the performances by Field and Hanks, who strains to be unlikeable here, do keep it afloat. Mill Creek's Blu-Ray is serviceable with its 1080p (1.85) MPEG-2 encode and the Dolby Digital stereo sound is fine…Sidney Poitier and River Phoenix, meanwhile, teamed in the barely-released LITTLE NIKITA (**½, 97 mins., 1988, PG), a watchable enough film about a high schooler (Phoenix) who's forced on the run after learning his parents (Richard Jenkins, Caroline Kava) are Russian sleeper spies who refuse to be activated. Sounds something like "The Americans," only this PG-rated outing from director Richard Benjamin is a family adventure that strains credibility. Despite the presence of Poitier as the FBI agent trying to help, a script by veterans John Hill and Bo Goldman, and a score by Marvin Hamlisch, "Little Nikita" was mostly unseen in theaters and managed to develop just a small following on home video. The presence of Phoenix and Poitier does give "Little Nikita" some relevance these days, and Mill Creek's 1080p (1.85) MPEG-2 transfer and uncompressed PCM stereo audio are acceptable.
---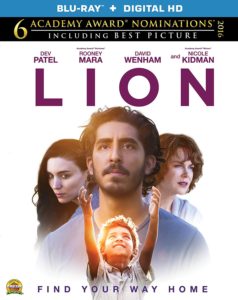 Quick Takes
LION Blu-Ray (***½, 118 mins., 2016, PG-13; Lionsgate): Enormously moving adaptation of Saroo Brierley's autobiographical tale "A Long Way Home," Garth Davis' film stars Dev Patel as the author – an Indian boy adopted out of the slums of Kolkata by an Australian couple (Nicole Kidman, David Wenham). As an adult, Saroo seeks to find the family he was separated from, taking him on an emotional journey that's inspiring and heartbreaking. "Lion" is unquestionably one of the best films of 2016, beautifully acted and told, and especially relevant for those of us whose lives have been touched by adoption. Lionsgate's Blu-Ray, out this week, includes a flawless 1080p (2.40) transfer, 5.1 DTS MA sound, a Digital HD copy, and extras including deleted scenes, a still gallery and music video.
SPLIT Blu-Ray Combo Pack (**½, 117 mins., 2017, PG-13; Universal): M. Night Shyamalan fully returned to the good graces of Hollywood studios after his latest thriller, "Split," returned $137 million domestic on the director's modest budget ($9 million). It's also one of Shyamalan's more watchable films after several minor, even lower-budgeted horror outings ("The Visit"), with James McAvoy playing a disassociative-personality-disorder afflicted man who abducts three teenage girls in preparation for one of his 23 personalities to feast upon. Anya Taylor-Joy ("The Witch") isn't just one of them, but her own, troubled past – shown in flashbacks throughout the movie – directly plays into her eventual fate; meanwhile, our antagonist's psychiatrist (Betty Buckley) tries reasoning with a couple of McAvoy's characters, including a young child, an effete fashionista and a scary psycho starting to take over "the horde."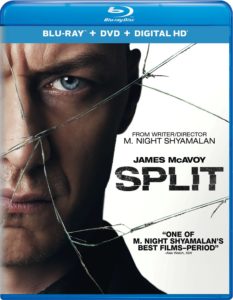 "Split" is compellingly packaged by Shyamalan with PG-13 levels of restraint, in keeping with his past films. Its most effective moments come about midway through, when Buckley's shrink begins to believe that something isn't entirely right in "Kevin Land," and McAvoy's various personas take on even larger, creepier levels of insanity. The resolution, though, is curious, and as Shyamalan "opens up" the film from the confines of a twisty "Psycho" homage to a "world building" franchise starter (or, in this case, continuation, which will baffle many viewers), it loses its claustrophobic grip. Taylor-Joy, meanwhile, is merely serviceable as the heroine, with the actress mostly welling up with tears and often staring blankly into the camera.
Universal's Combo Pack includes a very brief alternate ending (wisely discarded) and several minutes of deleted scenes with Shyamalan's introduction; three featurettes; a 1080p (2.40) transfer and 5.1 DTS MA sound, featuring a score by West Dylan Thordson that makes one long for the director's prior work with James Newton Howard. A DVD and Digital HD copy are also included.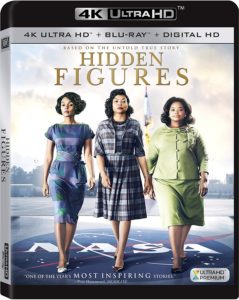 HIDDEN FIGURES 4K UHD/Blu-Ray (**½, 127 mins., 2016, PG; Fox): Box-office smash tells the true story of three African-American mathematics wizards – Katherine Johnson (Taraji P. Henson), Dorothy Vaughan (Octavia Spencer) and Mary Jackson (Janelle Monae) – who broke not just the color barrier but played a major, mostly unheralded role in the halcyon days of NASA, including the groundbreaking orbit of astronaut John Glenn.
Well-meaning and energetically performed, director Theodore Melfi's film veers from moving and earnest to contrived and calculated. At times, "Hidden Figures" comes dangerously close to feeling like more of a cinematic concoction than an accurate depiction of time and place, with several grandstanding sequences – like a NASA supervisor (Kevin Costner) ripping down a segregated bathroom, the ladies one-upping a stuffy superior (Jim Parsons), and Katherine delivering a sermon about the inherent injustice involved with their roles – seemingly designed more for audience applause than anything else. Ultimately, the film is an unquestioned crowd-pleaser, but mostly comes off as phony in spite of its strong trio of lead performances.
Fox's 4K UHD presentation is, however, a stunner, even though there doesn't appear to be a ton of difference between it and the standard 1080p Blu-Ray (both with 2.39 aspect ratios) I viewed. The 7.1 DTS MA soundtrack is fine, featuring a predictable Hans Zimmer & Friends score with Pharrell contributions and a few expected pop songs from the era. Extras include Making Of featurettes, deleted scenes, commentary from Melfi and Henson, a DVD (with the Blu-Ray combo pack) and a Digital HD copy.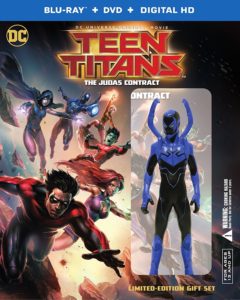 TANGLED – BEFORE EVER AFTER DVD (57 mins., 2017; Disney): Cute animated continuation of the Disney hit finds Rapunzel wanting to postpone her wedding to Eugene and explore life outside the walls of Corona first. Mandy Moore and Zachary Levi returned to voice their characters in this agreeable small-screen continuation with new music by Alan Menken and Glenn Slater, making for a kid-centric outing that's perfectly palatable for adults as well. Disney's DVD includes four "Short Cuts," a 16:9 transfer, 5.1 sound and a replica of Rapunzel's Journal housed inside.
TEEN TITANS – THE JUDAS CONTRACT Blu-Ray Combo Pack (84 mins., 2017, PG-13; Warner): The Teen Titans find themselves battling an ancient evil named Brother Blood while Deathstroke lurks in the backdrop and a mysterious new teammate, Terra, threatens to ruin the dynamic of Beast Boy, Raven, Blue Beetle, Robin and Nightwing. Can the Teen Titans overcome their internal squabbles in time to save the day? "The Judas Contract" adapts a fan-favorite '80s DC storyline for this entertaining outing that's one of the better animated Warner offerings of late. Warner's Limited Edition Gift Set houses an attractive 1080p (1.78) Blu-Ray transfer, 5.1 DTS MA sound, a DVD, Digital HD copy, and a nicely articulated Blue Beetle figure. Extras include two featurettes, a pair of bonus cartoons, and a sneak peek at the next DC animated feature, "Batman and Harley Quinn." Good fun for fans.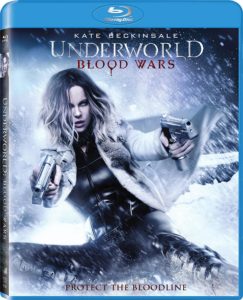 UNDERWORLD: BLOOD WARS Blu-Ray (*½, 91 mins., 2017, R; Sony): Time has passed the "Underworld" franchise by, as witnessed by the meager box-office returns that greeted this fifth entry in the series – even with star Kate Beckinsale's heroine Selene back in the fold, having skipped the prior installment. A particularly limp entry (even by the declining standards of this franchise), "Blood Wars" finds vampire heroine Selene having to join the "Nordic Clan" as both vampires and werewolf clans continue to hunt for her, in order to fulfill their own agendas. Action and light character development greet this seemingly final go-around for a series that opened in the wake of "The Matrix" and whose popularity peaked over a decade ago. Sony's Blu-Ray includes a format-exclusive graphic novel and two additional featurettes, plus a 1080p (2.40) AVC encoded transfer, 5.1 DTS MA sound, two featurettes from the DVD and a Digital HD copy.
PUNCHING HENRY Blu-Ray (95 mins., 2016, Not Rated; Well Go USA): Henry Phillips stars in this indie as a comedian coerced by a producer (J.K. Simmons) into becoming the brunt of a reality TV series joke. Sarah Silverman, Mike Judge and other familiar faces appear in Gregory Viens' satire, new on Blu-Ray from Well Go. The 1080p transfer and DTS MA audio are fine, and extras include deleted scenes, the trailer and other goodies.
Lionsgate DVD New Releases: Anthony Padilla and Ian Hecox, the creators of the comedy website Smosh, perform voices in ARCTIC ADVENTURE ON FROZEN POND (87 mins., 2017, PG), the story of a group of frogs on a mission to save their kingdom by way of preserving a sacred artifact. This animated Chinese production has been westernized with additional voices by Jon Lovitz and others, and Lionsgate's DVD offers a 16:9 (2.35) transfer, 5.1 Dolby Digital sound, and a voice-cast recording featurette…Available exclusively at Walmart, ISOLATION (94 mins., 2017, R) stars Luke Mably and Tricia Helfer as a couple vacationing in the Bahamas who are preyed upon by a menacing Stephen Lang, Dominic Purcell and Marie Avgeropoulos. This is a watchable, better-than-average thriller of the direct-to-video variety, with decent performances from a capable cast. Lionsgate's DVD looks good with a 16:9 (2.35) transfer, 5.1 sound and is exclusive to Walmart for the time being.
CATFIGHT Blu-Ray (95 mins., 2016, Not Rated; Dark Sky/MPI): Anne Heche and Sandra Oh star in Onur Tukel's "Catfight," the story of ex-college friends who end up in disparate situations and eventually come to physical blows in a surprisingly depressing, dark "black comedy" that's not very funny but is, at least, violent enough to put off most viewers who might be interested in its two stars. Dark Sky's Blu-Ray is packed with extras including two commentaries (one with Tukel, the other with Oh and Heche), deleted scenes, the trailer, an Art slideshow, a featurette, 1080p transfer and 5.1 Dolby Digital sound.
A COWGIRL'S STORY DVD (98 mins., 2017, PG; Sony): Hallmark Channel favorite Bailee Madison starred in — and also produced — this family film about a teenager who goes to live with her grandfather (Pat Boone) after her military parents are deployed in Afghanistan. She quickly finds new friends at high school and starts an equestrian drill team in this tearjerker coming to DVD next week from Sony, with a 16:9 transfer and 5.1 Dolby Digital sound.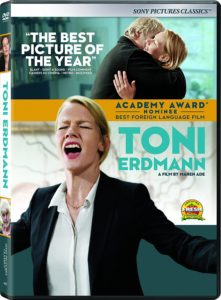 TONI ERDMANN DVD (163 mins., 2016, R; Sony): Something a little different in German cinema is on-hand in Maren Ade's film about a workaholic woman whose father, trying desperately to reconnect with her, ends up disguising himself as a corporate "life coach." Entanglements both comedic and dramatic follow in "Toni Erdmann," a film that nearly screams for an inevitable English-language remake – so long as it doesn't star Adam Sandler, the material might just work in the guise of a shorter, more concise U.S. product. This German film certainly has its moments but goodness, is it long, clocking in at nearly three hours. Sony's DVD includes a 16:9 (1.85) transfer, 5.1 sound in both German (subtitled) and English (dubbed), an AFI Fest Q&A and commentary with stars Peter Simonischek and Sandra Huller plus producer Janine Jackowski.
THE BOUNCE BACK DVD (104 mins., 2016, PG-13; Fox): Shemar Moore plays a bestselling self-help author whose new book, "The Bounce Back," seems to be widely embraced — except by a psychologist (Nadine Velazquez) who proves to be a combative adversary with him on the talk show circuit. Bill Bellamy co-stars in this enjoyable romantic comedy debuting this week from Fox on DVD. The disc sports a 16:9 (1.78) transfer, 5.1 Dolby Digital sound and a Digital HD copy.
THE BEST OF TIM CONWAY DVD (153 mins., Time Life): Four episodes from "The Carol Burnett Show" are included in this single-disc tribute to Tim Conway's outstanding work on the classic TV sketch comedy. Several long-running sketches are here along with the immortal "The Dentist" and plenty more for the budget-conscious Carol Burnett Show aficionado.
LEGEND OF BRUCE LEE Volume Two DVD (456 mins., 2008; Well Go USA): Danny Chan plays Bruce Lee in the second batch of episodes from the Hong Kong-produced "Legend of Bruce Lee" TV series to generate a domestic DVD release. Here, Lee tries to spread his martial arts instruction in the U.S. after opening a kung fu school in Seattle. Well Go's three-disc DVD set includes 5.1 English soundtracks and 16:9 transfers.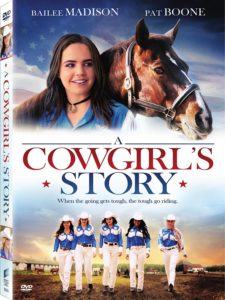 THE VIOLENT SHIT COLLECTION DVD (Synapse): I can't say I have much familiarity with the "Violent Shit" movies — low-budget German imports produced back in the '80s when government censorship made the release (or at least uncut release) of certain horror films impossible. These engagingly low-budget gross-out affairs were apparently produced as a response back in those days, with director Andreas Schnaas compiling no less than three series entries — shot between 1989 and 1999, with a belated 2010 fourth entry — that have captured the hearts of gorehounds around the world. Synapse's three-disc DVD set includes remastered versions of "Violent Shit," "Violent Shit II: Mother Hold My Hand," "Violent Shit III: Infantry of Doom" and "Violent Shit 4.0: Karl The Butcher Vs. Axe," all in anamorphic widescreen presentations (the movies were shot in standard-def so a Blu-Ray wouldn't have enhanced these transfers all that much). Extras include the English language dub of "Zombie '90: Extreme Pestilence," liner notes and "4.0" bonus features.
NEXT TIME: The latest reviews! Until then, don't forget to drop in on the official Aisle Seat Message Boards and direct any emails to our email address. Cheers everyone!