For reasons I still don't understand, THE LAWNMOWER MAN (108/141 mins., 1992, R) opened in Rhode Island during February 1992, several weeks ahead of the rest of the nation. Even the Boston Globe's review, from a critic who was sent south to cover the film, mentioned this oddball fact, enabling those of us in the Ocean State to brag about seeing the Pierce Brosnan/Jeff Fahey virtual reality thriller before everyone else. If only social media was prevalent back in the early '90s, we could've also warned the movie-going public to avoid this goofy turkey, which nevertheless managed to gross a potent $30 million on a budget that threw nearly all of its funding behind then-cutting edge CGI animation.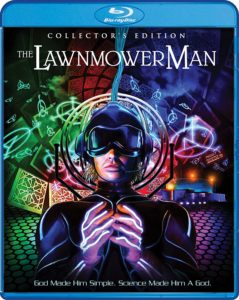 Fahey stars as the title character, Jobe, a man-child who lives in a churchyard and is routinely beaten by his caretaker priest. He's also a comic book fan and budding genius in the making, thanks to scientist Dr. Angelo's (Brosnan) virtual reality technology, which was being used for nefarious means by government spooks. Unfortunately for our future James Bond (billed under Fahey – telling you how lean these post-"Remington Steele" years were for the actor), his mind experiments were scuttled after one of his primate subjects went rogue and escaped. Now conducting his research on devices destined for Dave & Busters in his basement, Angelo opts to turn his attention to a human guinea pig, using his friendly neighborhood "Lawnmower Man" as the basis for his work.
If you want to know how anemic this independent production is, consider that Stephen King – whose name adorned many an awful genre exercise in the '80s and '90s – sued the movie's distributor, New Line, for using his name to sell the film. Though connected to a King story, the movie bears scant resemblance to his writing, and the author actually won the case, prompting New Line to remove any mention of his brand from the film's advertising.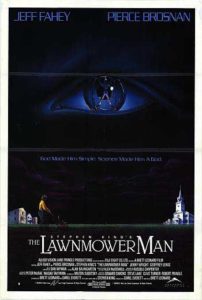 However, by that point, "The Lawnmower Man" had already made its money, making it one of the more curious box-office sleeper hits of the early '90s. It is, however, a limp piece of science fiction, sporting a blonde Fahey in an (to put it charitably) overly broad performance as Jobe – never once do you feel as if you're watching a mentally challenged man gain the power of intelligence, as Jobe's transition basically involves him wanting to dress up like a cowboy and making out with neighbor Jenny Wright (third billed in a role that's thinly drawn at best). Unsurprisingly, while Dr. Angelo's work is wildly successful at first, it eventually takes its toll on Jobe, who becomes a crazed God in a virtual world that looks barely more defined than a typical Nintendo 64 game.
Those computer sequences, dated as they are (and they were never that exciting in the first place), comprised the bulk of the "Lawnmower Man"'s reported $10 million budget, as the rest of the threadbare production plays out on just a few sets, many of them dismal looking, thinly decorated corridors. To his credit, Brosnan doesn't phone in his performance, at times nearly matching Fahey's level of enthusiasm, though he has little to do but record banal monologues on where his experiments are going. What's worse, though, is that director Brett Leonard and producer Gimel Everett's script is so dismal and unappealing, serving up an interesting premise that goes the way of a rote revenge thriller in its second act.
Still a financial success that clicked with viewers likely because of its special effects, "The Lawnmower Man" has been freed from the restraints of New Line Cinema distribution. Shout Factory's Collector's Edition Blu-Ray, out June 20th, offers the movie's debut in the HD realm, courtesy of a sensational two-disc set that fans of the movie should enjoy – just be warned that time has not been kind to Jobe's trip into the VR world, which itself has failed to materialize into a viable consumer market, even 25 years after the picture's release.
Shout's presentation includes both the movie's 108-minute theatrical cut and 140-minute Director's Cut which was previously only seen, intact, in a deluxe laserdisc release in the mid '90s. That longer edit does flesh out the respective characters but also drags on interminably at times, especially in an opening act that grows repetitious quickly (there are only so many scenes of Brosnan talking into his tape recorder one can endure). Shout assembled this edit from different sources that sometimes vary in sharpness (and offer some brief jumpcuts, albeit less prevalent here than they were on laserdisc), but the underlying transfer on both versions (1.85 AVC encode) is truly superb – in line with Shout's recent excellence of remastered 1080p transfers, marked by fine grain and detail. 5.1/2.0 DTS MA stereo offerings are each nicely mixed with discrete separation on both, though Dan Wyman's droning synth score is not a plus.
The set's main new supplemental feature is a 50-minute documentary on the film sporting interviews with Brett Leonard, who's still working in VR, plus Jeff Fahey and other crew members. This is a wide-ranging and interesting conversation that hits upon the movie's independent production, how New Line wanted to shorten the movie once they purchased it for distribution, Fahey's casting (Paramount was high on him thanks to "Body Parts" and was originally going to distribute the film), and the work of Leonard's late wife, Gimel Everett, who co-wrote and produced the picture with him.
You will notice, as a result of the lawsuit, that Stephen King's name appears nowhere on the disc – the documentary refers to "the short story" but never its author, and even the original trailer has been edited to remove any mention of King, which is ironic considering the film was initially sold as "Stephen King's The Lawnmower Man"! Other, vintage extras include Leonard and Everett's laserdisc commentary (on both cuts) and numerous standard-def extras (the deleted scenes used in the Director's Cut, virtual reality sequences, vintage interviews) culled from prior releases. There's also a delightful "easter egg" that fans should find particularly hilarious!
Shout's "Shout Select" line is also introducing a quartet of new releases this month from the Universal catalog, all with unique supplemental content.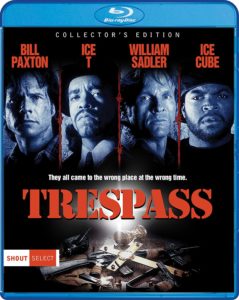 TRESPASS Blu-Ray (101 mins., 1992, R): The L.A. riots took a major commercial toll on this urban action-thriller from writer/producers Robert Zemeckis and Bob Gale, which Walter Hill directed and Universal planned as a major release for the summer of '92. Unfortunately, the riots forced the studio to delay the film and produce reshoots that changed the film's ending – when the picture was eventually released, "Trespass" was just a footnote in the news, playing to meager box-office and hitting home video shortly thereafter. While not a great movie by any means – hampered significantly by claustrophobic staging by Hill – "Trespass" is nevertheless a watchable piece about a pair of Arkansas firemen (Bill Paxton, William Sadler) hoping to find a treasure's trove of gold in an abandoned St. Louis warehouse that's now home to a tough mobster (Ice-T) and his associate (Ice Cube). A passable picture that never quite fulfills its premise, "Trespass" has been restored by Shout in a full-fledged special edition featuring brand-new interviews with Bob Gale, who discusses the script's genesis (it was written in the '70s as an urban "Deliverance" variant that sounded more ambitious than the finished film), plus producer Neil Canton and William Sadler, all of them covering the movie's rocky production. Additional featurettes detail the stunts and weapons used in the film, while vintage materials reprised from the DVD include deleted scenes, a music video, the trailer, and an archival featurette. The 1080p (1.85) AVC encoded transfer and 2.0 DTS MA stereo soundtrack are both terrific (an uncompressed PCM track is also included).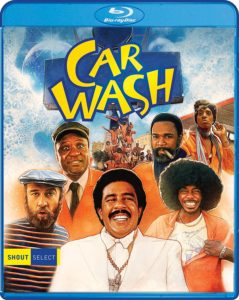 CAR WASH (97 mins., 1976, PG) offers an ensemble cast including George Carlin, Richard Pryor, Antonio Fargas, Professor Irwin Corey and Franklyn Ajaye in an amusing period piece, set at an L.A. car wash, that functions most especially today as a time capsule of its era – and where else can you see a movie with both Lorraine Gary and The Pointer Sisters? Some of the humor in Joel Schumacher's script is dated and creaky, but there's still an infectious energy to Michael Schultz's film, especially if you are a fan of that time and place. Shout's Blu-Ray transfer is nice and solid, offering a 1080p (1.85) AVC encode that's about as healthy as the studio's mid 70s catalog releases typically appear in HD. The DTS MA mono sound is fine, and extras include a new interview with producer Gary Stromberg discussing the film, a talk with Otis Day, radio spots, the trailer, and the DVD commentary with Michael Schultz. Note the disc does not contain the added footage for NBC's TV broadcasts, which featured several excised scenes with Danny DeVito (who does not have a speaking line in the theatrical version).
CHEECH AND CHONG'S NEXT MOVIE Blu-Ray (95 mins., 1980, R) was the follow-up to the comedy duo's 1978 breakthrough hit "Up in Smoke," and offered the boys once again enjoying the reefer while taking a ride on a UFO, running afoul of a nosy neighbor and stumbling into various episodes around L.A. Cheech Marin here plays a dual role in a film directed by Tommy Chong, sprinkled with familiar supporting faces like Paul Reubens, Edie McClurg, Phil Hartman and a pre-Elvira Cassandra Peterson. These C&C films are heavily motivated by drug-era humor so one needs to be a fan to extract much entertainment from them today – if you're among that group, Shout's Blu-Ray is worth a gander for its new Cheech interview, 1080p (1.85) transfer and DTS MA mono sound.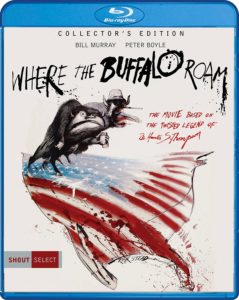 WHERE THE BUFFALO ROAM Blu-Ray (96 mins., 1980, R): Years before Terry Gilliam tapped Johnny Depp to play gonzo journalist Dr. Hunter S. Thompson, Bill Murray filled the role in the infamous 1980 turkey "Where the Buffalo Roam." This poorly-reviewed Art Linson production also features a top-billed Peter Boyle as Hunter's best friend, who joins Thompson on an episodic ride through the '60s and '70s – alas, little of this film is funny, despite all the talent involved, and neither Thompson nor Universal were reportedly happy with the result. Still worth a look for curious viewers, "Where the Buffalo Roam" makes its Blu-Ray debut on June 20th from Shout. The film has been released with its complete Neil Young soundtrack intact for the first time on home video, and includes a 1080p (1.85) transfer with 2.0 DTS MA stereo audio. An interview with writer John Kaye, newly filmed for this edition, is interesting and the trailer completes the package.
Also New From Shout: Now available on DVD is KINGDOM – Seasons 1 and 2 DVD (22 hours, Shout Factory). Frank Grillo plays a former pro fighter who joins a MMA gym in Venice, California, where tensions immediately mount with his ex-wife (Joanna Going). Meanwhile, his current girlfriend's (Kiele Sanchez) former fiancé (Matt Lauria) is out of prison and resuming his fighting career with Grillo's character as his trainer. This mix of mixed-martial arts action and family drama has been a fairly well-received series on DirecTV's Audience Network; Shout's nine-disc DVD set contains all 30 episodes from the series' first two seasons in 16:9 (1.78) transfers with 5.1 Dolby Digital sound…A Walmart exclusive, Shout's Blu-Ray/DVD combo pack of DON'T KNOCK TWICE (93 mins., 2016, R) finds Lucy Boynton playing a teenager who has to reunite with her estranged, equally troubled mom (Katee Sackhoff) after she knocks at the door of a haunted house and lets out the spirit of a witch. Caradog James' formula film generates a couple of scares but is pretty much nothing to write home about, though Boynton and Sackhoff make for a well-matched pair. Shout's Blu-Ray boasts a Making Of featurette, the trailer, 1080p transfer and 5.1/2.0 DTS MA stereo options.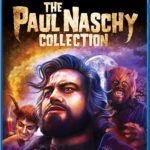 Finally, THE PAUL NASCHY COLLECTION is a five-disc Blu-Ray set from Scream Factory celebrating the "Spanish Lon Chaney," who starred in countless genre exercises over the years, earning him widespread celebrity in his native country and the Spanish-speaking world. Naschy is a name I recall reading in many a horror movie guide, but I confess to having actually seen little of his work — goofy efforts that get the job done through Naschy's unique charisma and enthusiasm, with the actor often writing/producing/directing many of his own efforts. Shout's Blu-Ray set includes "Horror Rises From the Tomb" (89 mins., 1973, with commentary by Rob Barnett and Troy Guinn, Naschy authorities); "Vengeance of the Zombies" (90 mins., 1973); "Blue Eyes of the Broken Doll" (90 mins., 1974, with commentary by Barnett and Guinn); "Human Beasts" (84 mins., 1980) and "Night of the Werewolf" (93 mins., 1982, with commentary by Barnett and Guinn). Soundtracks include both Castilian and English dubs, along with alternate credit sequences, trailers, deleted scenes on "Werewolf" and a superb 24-page booklet detailing Naschy's film legacy. Warmly recommended for fans.
---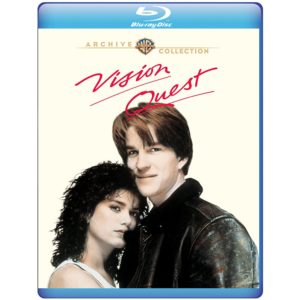 Warner Archive New Releases
Splendidly unrolling one Blu-Ray catalog favorite after another of late, the Warner Archive debuts VISION QUEST (**½, 107 mins., 1985, R) in HD for the first time this month.
Harold Becker's 1985 film is an interesting, though not altogether successful, tale of a working-class high school kid (Matthew Modine) who lives with single dad Ronny Cox in Spokane, Washington, and decides to lose weight in order to take on the state champion. Along the way he falls for a drifter (Linda Fiorentino) who takes residence in their home, subsequently navigating the ins and outs of his high school universe and the very adult world that Fiorentino represents.
"Vision Quest" has the feel of "Reckless," one of my favorite '80s films with Aidan Quinn and Daryl Hannah (another great WB Archive release – hopefully coming one day on Blu-Ray!), and the natural setting enables the film to have a flavorful mood and atmosphere unlike other Hollywood films of the era. Darryl Ponicsan adapted Terry Davis' book and Owen Roizman's cinematography is terrific – but there's ultimately something missing in the film, as if Becker couldn't make up his mind whether to produce a coming-of-age teen film, a more authentic "adult" picture along those lines (a la "Risky Business"), or a "Karate Kid"-like, rah-rah underdog sports movie.
In the end "Vision Quest" is a little bit of everything and not enough of any one of those aspects, but the movie is still satisfying in spite of its flaws, with good performances from Modine and Fiorentino, early turns from the likes of Daphne Zuniga and Forrest Whitaker, and an effective Tangerine Dream score (augmented with plenty of pop tunes, including Madonna – who appears on-screen here for the first time – crooning her hit "Crazy For You").
Warner Archive released "Vision Quest" on DVD in 2012. This Blu-Ray package is even more impressive, sporting a wonderful 1080p (1.85) AVC encode with all the gritty texture and grain you'd want to see from a film of the era – Owen Roizman's cinematography was never intended to be overly "clean" and the Blu-Ray preserves its intended appearance. The 2.0 DTS MA stereo sound is also just fine. For fans of the movie, this comes as an easy-to-recommend purchase.
Debuting on DVD from the Archive this month in widescreen is PROTOCOL (**, 95 mins., 1984, PG), a limp Goldie Hawn comedy about a Washington, D.C. waitress who improbably becomes a political superstar after she saves an Arabian dignitary from an assassination plot. "Protocol" had all the makings of a hit with A-listers up and down its roster of talent, from director Herbert Ross and writer Buck Henry, down to cinematography from William A. Fraker and a score by Basil Poledouris. Regrettably, "Protocol" doesn't really catch fire and fails to provide nearly as many laughs as you'd anticipate, though it's still a recommended view for Goldie fans. The Archive's DVD includes a new 16:9 (1.78) transfer and stereo soundtrack, besting the previously available full-screen retail DVD release.
---
Also New & Noteworthy
A CURE FOR WELLNESS Blu-Ray/DVD (**½, 146 mins., 2017, R; Fox): Engagingly nutty horror about a young American executive (Dane DeHaan) sent to a mysterious "wellness center" in the Alps overseen by an extremely odd doctor (Jason Isaacs). There to retrieve his company's CEO, DeHaan's troubled hero instead runs into a thriller version of Alan Parker's movie "The Road to Wellville," but one that takes an absurd length of time to get to "the good stuff." Once it does, "A Cure For Wellness" scores with a bonkers climax reminiscent of a '50s movie – and all of it is gorgeously shot by Bojan Bazelli and scored by Benjamin Wallfisch – but the film needed tightening, especially during an opening hour that too often plays like a Deleted Scenes reel. Fox's gorgeous 1080p (1.78) Blu-Ray transfer and 7.1 DTS MA soundtrack are both outstanding with a Digital HD copy and DVD also included. Worth a look – but be prepared to hit fast-forward during the movie's opening stretch.
BAMBI Anniversary Edition Blu-Ray/DVD (****, 70 mins., 1942, G; Disney): Disney's restorative work on its all-time classic "Bambi" is a joy to behold: looking brighter, sharper and more colorful than ever, one of Walt's greatest achievements has been lovingly brought to Blu-Ray for the second time in a two-disc "Anniversary Edition" combo pack also offering a standard DVD of the picture and, for the first time, a Digital HD copy. Presented in both 1.33 and a 16:9 "Disney View" full-frame version that simply adds borders around the original image, "Bambi" looks fantastic in HD, while the remixed 5.1 soundtrack (presented in DTS HD) is likewise superlative, adding immeasurably to the beautifully realized outdoor adventure tale of the orphaned fawn and his trials and tribulations with a cast of colorful characters.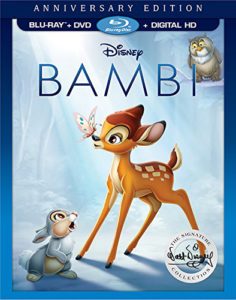 A bevy of extras – from recreations of Disney's story meetings (hosted by Patrick Stewart) to deleted scenes – make this worthwhile for those who might've missed Disney's earlier "Diamond Edition" release, as it reprises basically that entire package save a couple of supplemental features nobody is going to miss.
THE VAMPIRE DIARIES – The Eighth And Final Season Blu-Ray (674 mins., 2016-17; Warner): Eighth and final season of the WB/CW series opens with Damon and Enzo still on their killing spree; Bonnie, Stefan and Caroline teaming up to look into their subsequent disappearance; and surprise reappearances (that probably aren't that surprising) that color the final 16 episodes of the popular teen series. Fans should be satisfied with Warner's Blu-Ray package, which comes with a 2016 Comic Con panel featurette, deleted scenes, a behind-the-scenes "Last Days as a Vampire" segment, 1080p transfers, 5.1 DTS MA soundtracks and Digital HD copies.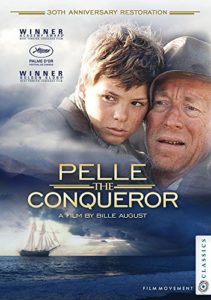 JUICE Blu-Ray (94 mins., 1992, R; Paramount): 25th Anniversary edition of the 1992 inner-city thriller made a name out of Tupac Shakur, who essays one of four Harlem friends who becomes infatuated with increasingly violent crime – much to the frustration of one of his "crew," an aspiring DJ played by Omar Epps. Atmospherically drawn and finely-executed, this directorial debut of cinematographer Ernest Dickerson feels authentic and sustains a level of tension throughout its brief running time. Paramount's Blu-Ray includes new commentary from Dickerson, fresh featurettes on the film, the cast, and the film's popular soundtrack, plus vintage interviews. The 1080p (1.85) transfer and 5.1 DTS MA soundtrack are both superb in this welcome catalog release from Paramount – here's hoping more will follow.
PELLE THE CONQUEROR Blu-Ray (150 mins., 1987, PG-13; Film Movement): I'm not sure why Swedish films are so painful to sit through, as its characters typically aren't mowed down in a flurry of bullets, but rather subjected to torturous personal and emotional harm – usually over the course of many hours. This 1987 Billie August-directed adaptation of Martin Andersen Nexo's novel is one of those instances, starring Max Von Sydow as a widowed farmer to a young son (Pelle Hvengaard) who try and make it after moving from Sweden to Denmark. Problems – many of them – follow in a finely textured and performed drama that gives Von Sydow one of his career highlights; on the other hand, it's hard to sit through some of the movie's more harrowing passages, making for a long, and downbeat, view. Film Movemenet's superlative 1080p (1.85) AVC encoded Blu-Ray transfer, from a new 2K digital restoration, is striking with its level of detail and satisfying colors – the movie looks terrific and uncompressed stereo sound (English subtitles) graces the film's subtle sound design. A commentary by critic Peter Cowie and booklet essay from Terrence Rafferty comprise the extras.
---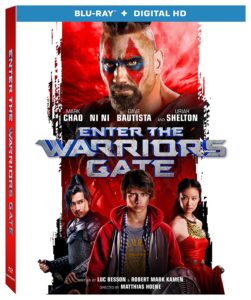 Lionsgate New Releases
ENTER THE WARRIORS GATE Blu-Ray (105 mins., 2015, PG-13; Lionsgate): Luc Besson produced and wrote – with longtime collaborator Robert Mark Kamen – this by-the-numbers fantasy about an American video gamer (Uriah Shelton) magically whisked away to an ancient empire after opening a mysterious chest. There, he finds himself romancing a beautiful princess and battling a barbarian (Dave Bautista) threatening the land. Kids might enjoy this overly familiar remix of "The Karate Kid" and "The Neverending Story," which was released overseas some time ago but has been sitting on the shelves in the U.S. It's certainly watchable but inferior to the movies it "borrows" from, with a decent, if unsurprising, score by Klaus Badelt covering the action. Lionsgate's Blu-Ray package includes commentary with director Matthias Hoene, a deleted scene, two featurettes, a 1080p (2.40) transfer, 5.1 DTS MA sound and a Digital HD copy.
Family Finds From Lionsgate: SHAUN THE SHEEP: ANIMAL ANTICS (45 mins., 2010) should delight Nick Park fans with its seven episodes from the entertaining TV series. Lionsgate's DVD includes Foxy Lady; Whistleblower; Frantic Romantic; Who's The Caddy?; Everything Must Go; In The Doghouse; and Cock-a-Doodle Shaun. The 16:9 transfer and 2.0 stereo sound are both fine, with a "Building-a-Pig" video included as an extra…An animated offering with a Mexican flavor, AMERICANO (88 mins., 2017, G) follows a young parrot who wants to break away from his feathered family's bird circus. He sets out for Hollywood after his dad is injured in a stunt, an incident that leads the fam business to be taken over by his rival. Cheech Marin, Rico Rodriguez, Lisa Kudrow and Edward James Olmos – who also produced the film – provide some of the voices in this breezy family film, thankfully absent of the kind of rude bathroom humor seen in typical Dreamworks productions. Lionsgate's DVD is out this week sporting a 16:9 (1.78) transfer that's plenty vibrant with 5.1 Dolby Digital sound in English or Spanish.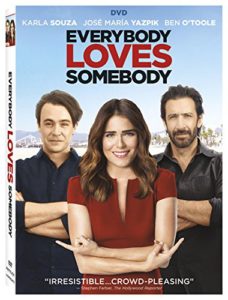 Rom-com fans looking for something a little different would do well to check out the bilingual effort EVERYBODY LOVES SOMEBODY (106 mins., 2016, PG-13) starring Karla Souza as a young doctor who heads to Mexico for a family wedding and has to choose between an old flame and a coworker who's posing as her current boyfriend. Catalina Aguilar Mastretta's good-natured and entertaining film is out on DVD June 20th from Lionsgate sporting a 16:9 (2.40) transfer and 5.1 English/Spanish audio…The Walmart exclusive SHOWING ROOTS (100 mins., 2015, Not Rated)  pairs Maggie Grace and Uzo Aduba as two women from different sides of the racial divide who come together to further integrate their southern town after "Roots" is broadcast in the '70s. This is a heavy-handed dramedy that debuted on Lifetime, and manages to waste a fine cast (Elizabeth McGovern and Cicely Tyson co-star). Lionsgate's DVD includes a Making Of, 16:9 (1.78) transfer and 5.1 Dolby Digital sound…A Mexican comedy, UN PADRE NO TAN PADRE, translated as FROM DAD TO WORSE (97 mins., 2016, PG-13), is also out this month from Lionsgate. Hector Bonilla plays Don Servando, an 85-year-old who moves in with his son and his eccentric friends in a premise that seems perfectly suited for a TV pilot. Lionsgate's DVD includes 5.1 Spanish audio with English subtitles and a 16:9 (2.39) transfer.
BITTER HARVEST (104 mins., 2016, R) is a superior film about the "Holodomor," a Soviet-produced famine that took the lives of some 7-10 million Ukrainians in the early 1930s. Max Irons, Terence Stamp and Samantha Barks star in this important historical film from director George Mendeluk, scored by Benjamin Wallfisch and available on DVD this week from Lionsgate. The disc's 16:9 (2.35) transfer and 5.1 English audio are both superb (an Ukranian dubbed track is also on-hand as the film was shot in English)….Coming from Lionsgate on June 20th is ALTITUDE (88 mins., 2017, R), an action-thriller that gives Denise Richards a lead vehicle. Playing an FBI agent who's been relegated to a desk job, Richards' heroine has to choose sides after a criminal gang member (Kirk Barker) offers her ample funds to keep him alive on a flight back to D.C. Dolph Lundgren co-stars in "Altitude," which comes to Blu-Ray featuring a solid 1080p (2.40) transfer and 5.1 DTS MA sound along with an Ultraviolet copy.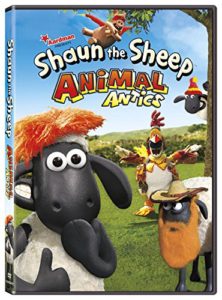 Anchor Bay New Releases: Director Gaby Delial and Nikole Beckwith wrote 3 GENERATIONS (92 mins., 2016, PG-13), a well-intentioned and yet treacly film about a teenage girl (Elle Fanning) who's about to transition to a boy, and the efforts by her mom (Naomi Watts) and grandmother (Susan Sarandon) to cope with the situation – not to mention gain the consent of the youth's father (Tate Donovan) to perform the gender-reassignment surgery. Delial's film at times feels like it's been assembled from a checkbook of types – the single mother, lesbian grandmother, etc. – instead of real people, though the performances are all admirable enough. Anchor Bay's Blu-Ray, available this week, includes deleted scenes, a Digital HD copy, 1080p (1.85) transfer and 5.1 DTS MA sound…New on DVD from Anchor Bay is CHAPTER & VERSE (99 mins., 2016, R), Jamal Joseph's atmospheric film starring Daniel Beaty as a reformed gang leader who struggles to adapt to life in a changed Harlem after spending eight years in prison. New friendships and old relationships are part of Joseph's nicely textured character drama, out this week from Anchor Bay sporting a 16:9 (2.40) transfer and 5.1 Dolby Digital sound.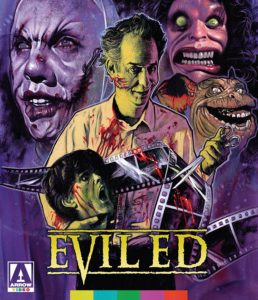 Arrow New Releases: I was not familiar with EVIL ED (93/99 mins., 1995), a gory, playful Swedish import about a film editor who loses his mind while working on a horror movie. Eventually, he decides to commit actual murders in a movie influenced by the likes of "The Evil Dead" and "Dead Alive" – the kind of thing that's "not for everybody" but should satisfy hardcore horror fans. Arrow's 3-disc Limited Edition includes two versions of the film (its "Special ED-ition" and standard theatrical edit), an introduction from director Anders Jacobsson, a lengthy Making Of documentary, look back at the early work of the "Evil Ed" crew and the gang's subsequent output, restoration featurette, trailers, a look at the new scenes added to the film, and even a three hour (!) Making Of documentary that's never been seen before. Add in cast/crew bloopers, 5.1 DTS MA and stereo options, a collector's booklet and adjoining DVD and you've got the definitive "Evil Ed" package.
Also new this month from Arrow is SPOTLIGHT ON A MURDERER (92 mins., 1961), French filmmaker Georges Franju's little-known third feature that spins a black-and-white variation on Christie/Hitchcock tropes courtesy of a script by Pierre Boileau and Thomas Narcejac of "Les Diaboliques" and "Vertigo" fame. Arrow's Blu-Ray/DVD combo pack includes a vintage 1960 production featurette sporting interviews with Franju and stars Pierre Brasseur and Jean-Louis Trintignant; the trailer; uncompressed PCM French mono, newly translated English subtitles, and a Gaumont-restored 1080p (1.37) B&W transfer….Finally, fans of goofy Italian horror – especially ones made in the USA like "The Visitor" and "Tentacles" – might want to check out the silly MADHOUSE (93 mins., 1981, Not Rated), another Ovidio Assonitis production that balances '80s slasher elements with the added benefit of over the top Italian gore. It takes a certain viewer to mine the proper entertainment value out of something like "Madhouse" (which was shot in Savannah, Georgia), but those who count themselves in that camp are sure to appreciate Arrow's new 2K Blu-Ray restoration (2.35) from the original camera negative; 2.0 and 5.1 DTS MA options; a new commentary; interview with star Edith Ivey, plus conversations with cinematographer Roberto D'Ettorre Piazzoli and Assonitis; alternate titles; the trailer; and a DVD copy.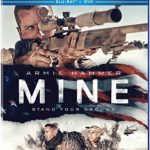 Well Go New Releases: Armie Hammer stars in MINE (107 mins., 2017, Not Rated), the story of an American soldier stranded in the desert for over two days with the enemy and a hostile environment bearing down on him. While he fights to survive he has visions of his life beforehand, leading to an unsatisfying ending in Fabio Guaglione and Fabio Resinaro's war drama. Well Go's Blu-Ray/DVD combo pack sports deleted scenes, vfx/storyboards, a Making Of, the trailer, a 1080p transfer and DTS MA audio…More entertaining is Well Go's Blu-Ray of the recent Hong Kong production RAILROAD TIGERS (125 mins., 2016, Not Rated), a period epic with ample doses of comedy that pits star Jackie Chan and his railroad freedom fighters against an army presiding over a train of military provisions. This one is too long but Chan fans should find ample amusement in the movie's action sequences, nicely presented in a crisp 1080p Well Go Blu-Ray transfer with both Mandarin (English subtitled) audio and an English dub track in DTS X. Extras include a handful of featurettes, the trailer, and a DVD copy.
---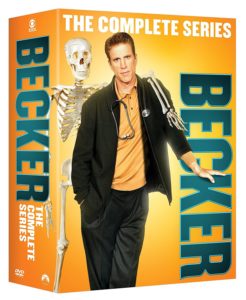 Quick Takes
BECKER – The Complete Series DVD (1998-2004, 46 hours; CBS): I never much warmed to Ted Danson's post-"Cheers" sitcom vehicle as an abrasive Bronx doctor, but clearly someone did as "Becker" enjoyed a healthy run on CBS (and is it possible "Becker" really did end its run 13 years ago?). Fans of the series enjoyed the show's humor with Danson anchoring a supporting ensemble including Terry Farrell (his love interest for the first few seasons), Nancy Travis (who filled that role in its later years), plus a pre-"Lost" Jorge Garcia and Shawnee Smith. All 129 episodes of "Becker" have been collected by CBS in one their oversized clamshelled DVD box sets, featuring 17 discs, 4:3 transfers and stereo soundtracks. Extras culled from the individual season releases include a "Sizzle Reel," cast interviews, a gag reel and audience warm-up footage.
KILL 'EM ALL Blu-Ray (96 mins., 2017, R; Sony): As someone who once in a while engages in Hallmark Channel viewing, I've become familiar with the work of actress Autumn Reeser. The charismatic small-screen leading lady gets a chance to topline an R-rated action vehicle in "Kill 'Em All," starring Reeser as a nurse who recounts how a mysterious stranger (top-billed Jean-Claude Van Damme) saved her life and took out the bad guys. A late-game twist makes Peter Malota's film superior to much of JCVD's output of late, as does Reeser's strong performance. Sony's Blu-Ray of the film is now available offering a 1080p (2.40) transfer and 5.1 DTS MA sound.
RWBY – Volume 4 Blu-Ray/DVD Combo (190 mins., Flatiron/Cinedigm): The creators of "Red Vs. Blue" are behind this anime-styled series, set after the Fall of Beacon where the Remnant is still recovering. Team RWBY finds their allegiances tested with each of our heroines seeking their own journey in this fantasy adventure created by the late Monty Oum, whose brother was in my high school graduating class at Moses Brown in Providence, RI. Cinedigm's Volume 4 Blu-Ray/DVD combo pack includes, on the BD side, 1080p transfers, 5.1 Dolby Digital sound, behind-the-scenes featurettes, trailers and commentaries.
HEE HAW: PFFT YOU WAS GONE! DVD (191 mins., Time Life): A series that began its life in 1969 as the "country" version of "Laugh-In," "Hee Haw" was canceled by CBS – despite high ratings – when the big networks decided to move away from "rural" programming in the early '70s. The series, though, quickly migrated to local stations through syndication, where it became one of the longest running series of all-time until its final episode aired in 1992. This latest DVD compilation from Time Life is a two-disc set that includes four complete shows from "Hee Haw" that aired between 1969-73, out on DVD for the very first time. Merle Haggard, George Jones, Tammy Wynette, Marty Robbins, and Dolly Parton are a few of the guests who perform chart-topping hits along with participating in assorted comedy sketches. Fans should be happy with this new package, now available from Time Life and including new interviews with Aaron Tippin and Moe Brandy.
NEXT TIME: 1492 Sets Sail on Blu-Ray at last! Until then, don't forget to drop in on the official Aisle Seat Message Boards and direct any emails to our email address. Cheers everyone!