When it premiered as a one-shot NBC special on September 9th, 1967, ROWAN & MARTIN'S LAUGH-IN broke new ground on television. Viewers had scarcely seen such a rapid-fire comic anthology on TV before, and the hour-long program was the right show at the right time in the turbulent late '60s. "Laugh-In" was timely, motivated by generation-gap/culture-clash jokes, the hippie movement, and provided the right tonic for audiences looking to laugh while the country was embroiled in numerous struggles socially, politically and militarily. Ratings for the initial special were strong, leading to a weekly series that aired on Mondays at 8pm starting in January of '68 – a time slot the series would occupy until it signed off, finally, in May of 1973.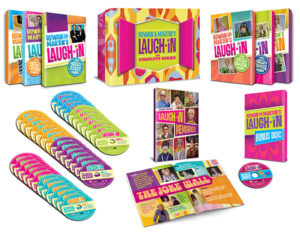 Along the way, the series introduced a series of comedians to the public who quickly became stars, most notably Goldie Hawn, Arte Johnson, Henry Gibson, Lily Tomlin, Jo Anne Worley, and Richard Dawson among others – the majority of them embodying characters whose lines became synonymous with the time. "Sock it to me" was even uttered by then-presidential candidate Richard Nixon in an oft-referenced clip that became one of the series' signature moments in 1968, while guest stars seemed to encompass every major celebrity of the time: where else could you see John Wayne, Cher, Bob Newhart, Jack Lemmon, Bob Hope, Michael Landon, Don Rickles, Liberace, The Monkees, Jonathan Winters, James Garner and Diana Ross together, along with then-unknowns like Tiny Tim who became, however fleeting, stars overnight through their appearances on the program.
Though a little bit before my time, I recall seeing reruns of "Laugh-In" during the early '80s, in what I imagine were edited-down, half-hour versions in syndication. Even with its "mod-specific" jokes and references, there's ample entertainment to be found in these programs, which remain indelible broadcasts of their era, through their comic timing and amazing roster of talent.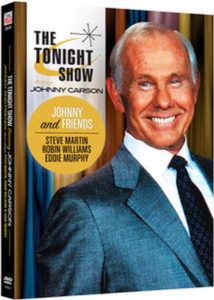 Time-Life's brand new, 38-disc DVD box-set includes, for the first time on home video, the entire series in one, 140-episode collection (including the seldom-screened pilot episode). It's a deluxe packaged, beautifully presented set in line with Time-Life's recent Complete Series retrospectives, complimented by a bonus DVD, liner notes from producer/creator George Schlatter in a 32-page book, interviews with Dick Martin, stars Ruth Buzzi and Gary Owens (the only two cast members, besides Rowan & Martin, to appear throughout all six seasons of the show), featurettes, and interviews with Lily Tomlin and George Schlatter that are available only in this set.
With 89 of these episodes never having been released before, and the videotaped transfers having been assembled from the original broadcast elements, this "Laugh-In" box is one of the year's finest home video releases to date. Kudos to Time Life and Proven Entertainment for a marvelous release that presents vintage TV at its finest on DVD. The set is available for ordering here. 
THE TONIGHT SHOW STARRING JOHNNY CARSON: JOHNNY AND FRIENDS DVD (Time Life): New three-disc set from Time Life includes nine previously unreleased-to-video Tonight Show episodes starring Johnny Carson, each sporting comedy superstars Steve Martin (from 7/21/76, 5/21/82 and 12/19/91); Robin Williams (4/3/84, 1/10/91 and 9/19/91); and Eddie Murphy (1/1/82, 2/10/82 and 7/30/82) with bonus commercials also included. Highly recommended for Carson buffs, and those who lament where late-night TV has gone in the decades since his departure.
---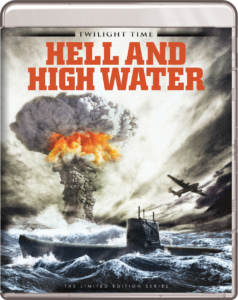 Twilight Time New Releases
Charles Bronson, Richard Widmark, and Jackie Chan are just a few of the stars appearing in Twilight Time's roster of recently-released limited edition Blu-Rays. The 3000 copy limited editions, available both through Screen Archives and TT's own website, should appeal to a wide swath of movie buffs with summer heating up – and the usual, mostly formulaic teeny-bopper fare currently dominating what's been a lame summer movie season thus far.
HELL AND HIGH WATER (***, 103 mins., 1954). THE MOVIE: Rip-roaring 20th Century-Fox Cinemascope adventure places commander Richard Widmark onboard a Japanese submarine, tasked with finding out who's behind atomic activity in waters north of Japan. Along with a French scientist (Victor Francen) who was reported missing and his female associate (Bella Darvi), Widmark's Captain Jones follows a Chinese freighter with suspicious cargo on a mission with another world war possibly at stake. TWILIGHT TIME TECH SPECS: A glorious 1080p (2.55) AVC encoded transfer with outstanding grain, warm colors and top detail marks Twilight Time's Blu-Ray. This is one of those instances where you can clearly see what a new scan can bring to 1080p, and this fresh transfer enhances the film at every turn. Alfred Newman's rousing score is a big plus to the film, and its presentation here in either 5.1 or 2.0 DTS MA tracks is most welcome, with stereophonic activity on-hand throughout – the 5.1 track in particular offers all kinds of directional work in a truly superb mix. Trailers, isolated score and an A&E Biography special on Widmark comprise the extras. AISLE SEAT BOTTOM LINE: Fans of submarine movies or Cinemascope affairs in general are urged to give a look at Twilight Time's marvelous Blu-Ray of "Hell and High Water," which boasts one of the top transfer/soundtracks of a catalog release I've seen so far this year. Colorful '50s studio fare with ample energy provided by director Samuel Fuller, and a boisterous Widmark performance to match.
THE VALACHI PAPERS (125 mins., 1972, PG). THE MOVIE: Interesting if crudely-made Dino DeLaurentiis production stars Charles Bronson as Joseph Valachi, one of the earliest mob informants. After being given the "kiss of death" by crime boss Vito Genovese (Lino Ventura) while in prison, an aging Valachi spills the beans to the FBI, becoming an informant in the early '60s. Valachi then recounts his life on the streets of New York City, with another mafia don, Salvatore Maranzano (Joseph Wiseman), his marriage to another mobster's daughter (Jill Ireland), assorted grizzly mafia adventures (including putting a castrated man out of his misery), and eventual conviction on heroin trafficking. James Bond vet Terence Young helmed "The Valachi Papers," which Stephen Geller (along with a pair of Italian writers) adapted from Peter Maas' non-fiction account of Valachi's testimony to the federal government. It's a compelling but sometimes hard to follow film, shot mostly in Italy, that gives off a strange vibe with its mostly-dubbed dialogue and sloppy production errors – including a NYC skyline with the World Trade Center front and center of the frame, in scenes set in the 1920s! The narrative also feels disjointed at times, compounding its shortcomings. Nevertheless, "The Valachi Papers" is worth a look for Bronson aficionados and mafia movie buffs alike – even if it does not live up to "NBC-TV Chicago"'s hilarious critic quote that asks "Is it as good as 'The Godfather'? The answer is…no, it is better"! TWILIGHT TIME TECH SPECS: "The Valachi Papers" makes its Blu-Ray debut courtesy of a satisfying Sony-licensed 1080p (1.85) AVC encoded transfer. Detail is as strong as the occasionally weathered source material allows; I'm not sure what kind of budget "Valachi" was shot with, but it certainly does not give off the impression of an expensive production, with claustrophobic sets and rather flat cinematography dominating most of the action. The DTS MA mono sound is a bit rough as well, with Riz Ortolani's score backing up the action. A partially isolated score is the disc's single supplemental feature. AISLE SEAT BOTTOM LINE: Bronson's third and final outing with Terence Young isn't as entertaining as the offbeat Japanese western "Red Sun" (I've never seen the scarcely-distributed "Cold Sweat"), but it's an intriguing film from its era – with fascinating source material – let down by inferior production values.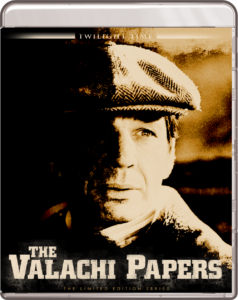 THE BRIDGE AT REMAGEN (117 mins., 1969, R). THE MOVIE: Well-mounted if a tad routine David L. Wolper production offers up a strong cast in a typical WWII movie scenario, albeit with heightened blood and violence, in keeping with its late '60s production. George Segal and Ben Gazzara play two members of an American squadron assigned to take out a bridge over the Rhine that both represents the Allies' path into the heart of the enemy and a worn-out German army's only chance to escape. Roger (O) Hirson penned the initial story that Richard Yates and William Roberts developed for John Guillermin's film, co-starring Robert Vaughn as the German colonel who goes against orders to destroy the bridge – opting instead to delay and give his men a chance – plus Bradford Dillman and "Guest Star" E.G. Marshall among the familiar faces on the American side. The action is effectively delivered and Elmer Bernstein's rousing score is well done, though as technically sound as the picture is, there's nothing overly memorable about it. TWILIGHT TIME TECH SPECS: The MGM-licensed 1080p (2.35) AVC encoded transfer is very good though source materials show their age at various points, including brief instances of print damage. Colors are warm and the DTS MA mono sound – along with an isolated score track of Elmer's musical contribution – is equally well delivered. The trailer is the sole extra. AISLE SEAT BOTTOM LINE: Recommended most especially for WWII buffs, "The Bridge at Remagen" offers effective widescreen cinematography and a strong cast in a true story from the waning days of the conflict.
THE QUIET AMERICAN (122 mins., 1958). THE MOVIE: In this adaptation of Graham Greene's book, a cynical British journalist (Michael Redgrave), living in Saigon during the early '50s, sees his existence threatened by a brash American (Audie Murphy), an aid worker (a CIA operative in Greene's book), who eventually falls in love with his Vietnamese mistress (Giogia Moll). Themes of colonialism – particularly prescient given the US' involvement in the country – are analyzed, to a degree, in this Joseph L. Mankiewicz film that takes the novel's anti-American tone and changes it to suit the anti-Communist mood of the late '50s – something that put off Greene, naturally. A proper adaptation of the source would have to wait until a more faithful rendition of his messages prevailed in a 2002 film starring Michael Caine. TWILIGHT TIME TECH SPECS: A box-office failure at the time of its original release, "The Quiet American" comes to Blu-Ray in the form of a perfectly respectable 1080p (1.66) transfer. Mario Nascimbene's score is fairly effective with an isolated score track (with some effects) and the trailer on-hand for extras. AISLE SEAT BOTTOM LINE: Well-acted and interestingly shot partially on-location in Vietnam (before filming shifted to Rome), this Mankiewicz production is certainly worthwhile for its performances and mood, though aficionados of Greene's novel would be better served by the much later screen adaptation.
SNAKE IN THE EAGLE'S SHADOW (98 mins., 1978, PG)/DRUNKEN MASTER (111 mins., 1978, PG): Two of Jackie Chan's earliest features have been remastered for Blu-Ray in an entertaining double-bill from Twilight Time. "Snake in the Eagle's Shadow" marked a turning point for Chan, mixing comedy and martial arts with director Yuen Wo Ping. The movie is regarded as a prototype for Chan's subsequent formula and was fine-tuned even more effectively into "Drunken Master," a Hong Kong classic that's long been a fan favorite around the world. Both 1978 features are now on Blu-Ray from Twilight Time featuring an English dubbed track plus Cantonese and Mandarin audio (all 1.0 DTS MA mono mixes); note portions of the "Drunken Master" native audio are missing so English dubbed material is tracked in during those instances. Isolated music/effects tracks and commentaries from martial arts historians Ric Meyes and Jeff Yang put both pictures into the proper genre context.
---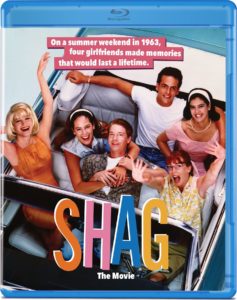 Olive New Releases
For summer-time fun, 1989's SHAG: THE MOVIE (***, 99 mins., PG) rates as an agreeable time-killer. Phoebe Cates, Bridget Fonda, Annabeth Gish (who keeps harping about her weight – even though she looks the same size as the other leads!), and Page Hannah are the girls on a beach vacation to the South Carolina coast in an amiable "coming of age" story set in the early '60s, co-written by Robin Swicord ("Little Women"). Zelda Barron's film boasts an appealing soundtrack (with Kenny Ortega choreography marking the dance sequences) but this isn't exactly "Dirty Dancing" – just a likeable little film with appealing performances that marked one of UK production house Palace's few forays into the U.S. market. Olive's Blu-Ray is derived from what seems to be a recent MGM scan with pleasantly warm colors and details, plus a DTS MA 2.0 stereo soundtrack.
Also new from Olive this month on Blu-Ray is DEJA VU (*½, 95 mins., 1985, R), an interminably slow-moving Cannon production billed as a vehicle for former "Charlie's Angel" Jaclyn Smith – except the actress spends too much time on the sidelines as her fiancee ("Excalibur"'s King Arthur, Nigel Terry) uncovers a reincarnation past for the couple involving a famous dancer who died tragically and her choreographer. Nicolas Roeg cinematographer Anthony Richmond helmed this adaptation of Trevor Meldal-Johnsen's novel "Always," which moves at a snail's pace through a premise that's never that interesting to begin with. The MGM-licensed 1080p (1.85) AVC encoded transfer is fine, as is the 2.0 DTS MA audio sporting a Pino Donaggio score.
---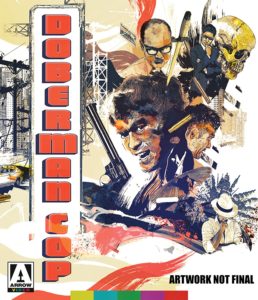 Also New & Noteworthy
DOBERMAN COP Blu-Ray/DVD (90 mins., 1977, Not Rated; Arrow): Japanese movie buffs and Sonny Chiba aficionados should be delighted by Arrow's Special Edition of this 1977 production. A reunion between Chiba and director Kinji Fukasaku, "Doberman Cop" stars Sonny as an Okinawa cop who arrives in Tokyo hoping to find out who brutally murdered a local girl working as a prostitute. An action-comedy with a yakuza-genre plot, "Doberman Cop" has long been regarded as one of Chiba's more entertaining films by fans, despite never having been released to video outside Japan. Arrow's combo pack rectifies that situation, boasting a new high-def transfer on Blu-Ray, uncompressed PCM audio, new English subs, an appreciation of the film by biographer Sadao Yamane, interviews with Chiba and writer Koji Takada, the trailer, and artwork  from Chris Malbon.
Also new from Arrow is a Special Edition of Kiyoshi Kurosawa's PULSE (119 mins., 2001, Not Rated), the influential "J-Horror" genre exercise about a website that seems to play a prominent role in the suddenly dwindling populace of Tokyo. Junichiro Hayashi's cinematography is a main draw in "Pulse," which includes a new 1080p transfer on Blu-Ray (the combo set also includes a DVD), plus a new interview with Hayashi, a video appreciation with Adam Wingard and Simon Barrett, an original Making Of documentary, premiere footage from the Cannes Film Festival, cast/crew introductions, trailers and TV spots, the original 2.0 audio and improved English subtitles.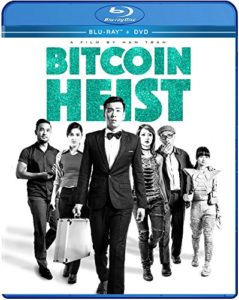 Well Go New Releases: BITCOIN HEIST (116 mins., 2016, Not Rated) is a Vietnamese thriller about an Interpol agent who's tasked with assembling a group of computer hackers in order to find "The Ghost," one of the world's most notorious online criminals. Ham Tram's film makes its Blu-Ray debut in the US from Well Go in a BD/DVD combo pack, with the high-def side boasting a 1080p transfer and 5.1 DTS MA sound, in Vietnamese with English subtitles…Coming July 18th from Well Go is the indie drama BUSTER'S MAL HEART (98 mins., 2016, Not Rated), the strangely titled film about a traditional family man who meets a drifter that changes the course of his life. Sarah Admina Smith wrote and directed this effort, which might be worth a look for fans of the "Mr. Robot" star. Well Go's Blu-Ray includes deleted scenes, a 1080p transfer and 5.1 DTS MA sound.
NORMAN DVD (118 mins., 2016, R; Sony): Richard Gere gives a fine performance in the somewhat convoluted Joseph Cedar drama "Norman: The Moderate Rise and Tragic Fall of a New York Fixer." Here, Gere plays a NYC fiscal hustler who befriends a young politician (Lior Ashkenzai) who eventually becomes the Prime Minister of Israel. When the PM ends up being linked to one of Norman's schemes, he has to come clean and rehabilitate the situation in a superbly cast film that also includes Hank Azaria, Steve Buscemi, Charlotte Gainsbourg, Michael Sheen and Dan Stevens. Sony's DVD is out this week featuring a Q&A with Gere and Cedar, a Red Carpet featurette, 16:9 (1.85) transfer and 5.1 Dolby Digital sound.
TOM AND JERRY: WILLY WONKA AND THE CHOCOLATE FACTORY DVD (79 mins., 2017; Warner): The latest Tom & Jerry animated "adaptation" places Hanna-Barbera's beloved characters into Roald Dahl's classic book, helping little Charlie secure a Golden Ticket that enables him to tour the magical chocolate factory – and meet an eccentric Willy Wonka who's not as crazed as Gene Wilder's '70s interpretation (and far less fey than Johnny Depp's characterization!). These Tom & Jerry animated features are nicely animated and quite fun for kids, and stick close enough to the source material to hold the attention of adults as well. Warner's DVD out this week, includes a slew of bonus cartoon shorts, a 16:9 transfer and 5.1 Dolby Digital sound.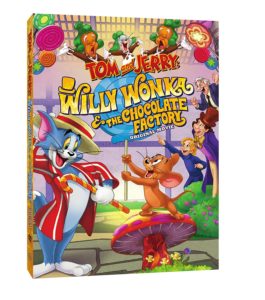 THE MISSING Season 2 DVD (8 hours, 2017; Anchor Bay): Acclaimed British series returns for its second season, with Tcheky Karyo leading the way as French detective Julien Baptiste, the sole returnee from Season 1. Here, "The Missing" finds Baptiste working on another missing persons case, this time a young girl who returns 11 years following her kidnapping and tries to put the pieces of her abduction – and captivity – behind her. The mystery over the circumstances of her disappearance fuel the flashbacks that intermingle with the current investigation in this densely plotted series with fine performances across the board. Anchor Bay's Season 2 DVD boasts 16:9 transfers and 5.1 sound, and streets on July 11th.
Lionsgate New Releases: Craig Fairbrass and his cohorts steal from a London depot, only to have their haul stolen and his father murdered in LONDON HEIST (95 mins., 2017, R), a twisty, double-crossing thriller Fairbrass also co-wrote and produced. Lionsgate's DVD is out on July 11th featuring a 16:9 (2.40) transfer and 5.1 Dolby Digital sound…Out on July 18th from Lionsgate is LOVE BY THE 10TH DATE (88 mins., 2016), a rom-com with Meagan Good, Kellee Stewart, Keri Hilson and Kelly Rowland as friends who work at an L.A. internet site by day and try and get their dating lives together at night. Brandon T. Jackson and Jeffrey Bowyer-Chapman co-star in this Lifetime movie streeting on DVD with a 16:9 transfer and 5.1 soundtrack. The disc is a Walmart exclusive for the time being.
AMERICAN FABLE DVD (96 mins., 2016, Not Rated; IFC/MPI): Odd drama from writer-director Anne Hamilton follows a pre-teen (Peyton Kennedy) around her family's Midwest farm when she discovers a strange man (Richard Schiff) being held captive in their silo. Some fantasy sequences are briefly introduced to liven up a kidnapping plot that doesn't really connect in "American Fable," out July 11th on DVD from IFC and MPI. Extra features include deleted scenes, still galleries, the trailer, a 16:9 (2.40) transfer and 5.1 audio.
AMERICAN EPIC Blu-Ray (310 mins., 2017; PBS): Excellent PBS/BBC documentary, narrated by Robert Redford, examines the dawn of sound recording in the United States during the 1920s, with a specific focus on regional, frequently rural, performers whose primitive but fascinating records serve as a historical document of their time. The three-part effort from director Bernard MacMahon, executive produced by T Bone Burnett and Redford, concludes with current artists recording new music — with the only working 1920s recording device in existence. PBS' Blu-Ray boasts uncompressed mono sound (in keeping with the era's technology) and 1080p transfers. Highly recommended.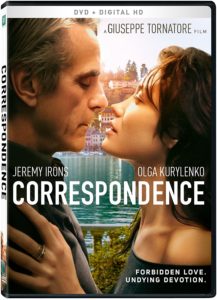 MONEY DVD (85 mins., 2017, R; Fox): A pair of pharmaceutical reps are held hostage by a con artist after they nab $5 million for selling trade secrets in "Money," an independent thriller starring Jamie Bamber, Kellan Lutz and Jesse Williams. Fox debuts the film exclusively on DVD but with a Digital HD copy for those desiring 1080p capabilities; a 16:9 transfer, 5.1 sound and Behind the Scenes featurette are also included.
THE STRAIN Season 3 DVD (440 mins., 2016; Fox): FX's vampire series continues in its Complete Third Season, featuring Corey Stoll's Dr. Ephraim Goodweather trying to piece together a new plan after his bioweapon only took a partial toll on the "strigoi" that have decimated humanity. With his son kidnapped, Eph teams up with Ruta Gedmintas' Dutch to find new weaknesses in the mutated vampires. Fox's DVD boasts the "Strain: Under Siege" companion series with intros from producer Carlton Cuse, a music video, deleted scenes, a gag reel, 16:9 transfers and 5.1 soundtracks.
Also new this week from Fox are two international productions just making their domestic debuts on home video. ABSOLUTELY ANYTHING (85 mins., 2015, R) is a disappointing final feature (seemingly) for Monty Python's Terry Jones, starring Simon Pegg as a teacher who's tapped by a "galactic council" to show what can happen to humanity in 10 days when one individual is granted unlimited powers. Even with Jones' Python mates John Cleese, Michael Palin and Terry Gilliam comprising the Council, and Kate Beckinsale appearing opposite Pegg, "Absolutely Anything" is a limp outing that was released in the UK two years ago and is just making its way to DVD. Fox's disc includes a Digital HD copy, 16:9 transfer and 5.1 sound…Jeremy Irons, meanwhile, stars in CORRESPONDENCE (116 mins., 2016, NR), the latest film from "Cinema Paradiso" director Giuseppe Tornatore. Irons plays an astrophysics professor with Olga Krylenko as a PhD student who falls in love with him — and still receives messages from him, even after he's seemingly passed on — in this Italian production scored by Ennio Morricone, who wrote one of his most memorable outings for "Paradiso." Fox's DVD boasts a Digital HD copy, 16:9 transfer and 5.1 sound (English).
NEXT TIME: 4K Summer Rundown! Until then, don't forget to drop in on the official Aisle Seat Message Boards and direct any emails to our email address. Cheers everyone!