Christopher Nolan's new film DUNKIRK (**½, 107 mins., PG-13) is likely to divide viewers into two camps: those who feel the picture is a brilliant piece of cinema, and everybody else. Despite the mostly positive reviews, I regrettably found myself in the latter camp as this clinical "immersive viewing experience" played itself out.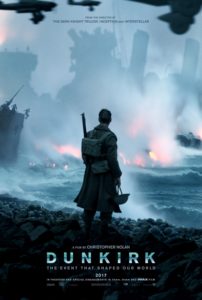 There's no denying "Dunkirk" is technically brilliant and beautifully shot — like everything Nolan has made. Yet, the film is also emotionally empty, with no character development of any kind — and I realize that may have been Nolan's point, to submerge the viewer (at times literally) into the mayhem of Dunkirk and the rescue mission of British troops surrounded by a faceless (and, here, nameless) enemy, yet I found the final product sterile and cold. Instead of feeling an emotion at the end of the journey, I just felt exhausted and worn out from the endless barrage of bullets and explosions, which left me with an ear-splitting headache from a subwoofer that must have been cranked up too much (ditto for Hans Zimmer's thankless score, which ventures into some Vangelis Lite territory at the end, to no discernible emotional effect).
A few lines intended to convey the scattershot nature of war are thrown around here and there, but nothing is developed as Nolan spends most of the film showing an assault of near-misses and dire confrontations with "The Enemy," including aerial dogfights that are surprisingly disjointed in their editorial presentation. The "story", meanwhile, crosscuts between several characters — Mark Rylance's pleasure boater, corralled into participating in the evacuation; Tom Hardy's ace fighter pilot; Kenneth Branagh's concerned admiral, and a young solider, played by Fionn Whitehead, whom most of the action revolves around — but somehow never connects together, making for a film that manages to be tense without ever really being suspenseful. And then it just ends.
Although viewers were initially surprised by the thrifty running time (especially considering Nolan's prior works), 107 minutes was ultimately more than sufficient for this kind of purely technical exercise — and while it's still worthwhile to see on that level, and may enthrall some viewers on those grounds alone, "Dunkirk" sadly doesn't offer more than that.
---
Shortly before Michael J. Fox's big-screen career took off with "Back to the Future," he starred in TEEN WOLF (***, 90 mins., 1985, PG; Shout Factory), an Atlantic Releasing Corporation film as a typical high schooler who finds out he's got lycanthrope blood inside him. Despite being shot before that Steven Spielberg-produced blockbuster, "Teen Wolf" debuted later in that same summer of '85, with Atlantic being smart to hold on to the picture until audiences craving more Fox had already devoured multiple viewings of the still in-theaters "BTTF."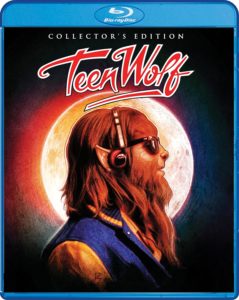 "Teen Wolf" is a typical '80s teen comedy with a bit of a supernatural twist, but the movie still coasts along on Fox's appeal and a solid supporting cast (prolific TV comedy writer Jay Tarses is a howl as Fox's basketball coach and Susan Ursitti is quite appealing as Michael J.'s gal-pal). The script, in fact, is surprisingly well-laid out for what it is, wasting little time getting Fox's werewolf shenanigans underway and setting up its various types – Fox's party-hungry best friend, the attractive blonde Fox wants but can't have, and Ursitti's "Boof," who harbors a deeper crush on him – quite effectively given the thrifty running time.
MGM previously released "Teen Wolf" in a movie-only Blu-Ray several years ago, making this Scream Factory Collector's Edition an easy upgrade for fans of the picture. A new 2K scan (1.85) from the interpositive offers a more detailed upgrade to the MGM release, and the DTS MA mono audio is punchy considering its source materials. Supplements are comprised of "Never. Say. Die: The Story of Teen Wolf," a lengthy, two hours-plus (!) documentary featuring interviews with writers Jeph Loeb and Matthew Weisman; co-stars Susan Ursitti, Jerry Levine, Matt Adler and James MacKrell; plus countless behind-the-scenes personnel, all of whom reflect on the underdog movie's origins and fortuitous box-office success. A trailer and still gallery round out the release.
The commercial success of "Teen Wolf" led Atlantic to try their luck with TEEN WOLF TOO (**, 95 mins., 1987, PG), recruiting another young TV sitcom star – Jason Bateman – to play Fox's cousin. Instead of basketball, this college freshman is an aspiring boxer/veterinarian who finds out that he, too, is cursed (or blessed?) with the lupine bloodline in a bland, less satisfying recycling of its predecessor. Kim Darby, John Astin and Estee Chandler co-star with James Hampton and Mark Holton reprising their roles from the original – while perfectly watchable, this unremarkable sequel was too little, too late at the box-office, and laid an egg upon its release in November of '87.
Scream Factory's Blu-Ray debut of "Teen Wolf Too" boasts a 1080p (1.85) AVC encoded transfer, DTS MA 2.0 mono sound, and extras including interviews with director Christopher Leitch, stars Kim Darby, Stuart Fratkin, and Estee Chandler, along with costume designer Heidi Kazenski. A still gallery rounds out the Scream Collector's Edition package.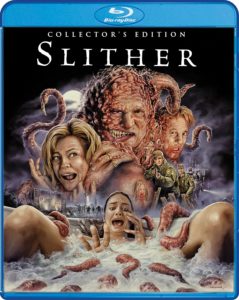 SLITHER (**, 96 mins., 2006, R; Shout Factory): James Gunn's gross-out horror comedy about an extraterrestrial presence that mutates the poor residents of a small town is gooey and not nearly as funny as it thinks it is. Too-good-for-this-material Nathan Fillion and Elizabeth Banks try and rise above the fray, but other than a few chuckles (I loved the use of Air Supply's "Only Woman In The World") "Slither" wears out its welcome pretty fast.
The movie has, however, managed to generate a cult following since its original release, driven substantially by Gunn's success with Marvel's "Guardians of the Galaxy" movies. Scream Factory's Blu-Ray includes two new special features along with a slew of extras carried over from the prior Blu-Ray package. Among the exclusives are a commentary with Gunn and the cast, plus a fresh interview with Gunn and actor Gregg Henry. Carried over from Universal's earlier Blu-Ray and DVD are deleted/extended scenes, Making Of featurettes, commentary with Gunn and Fillion, a gag reel and other goodies. The 1080p (1.85) AVC encoded transfer and 5.1 DTS MA soundtrack are both nicely handled in a release that's sure to satisfy "Slither" buffs.
Also New From Shout Factory: Bryan Cranston plays a successful family man who decides to take a break from life – by hiding in his garage's attic – in WAKEFIELD (108 mins., 2017, R), where he promptly spies on his wife (Jennifer Garner), kids and neighbors. E.L. Doctorow's novel was written and directed by screenwriter Robin Swicord for this indie, making its debut on home video August 1st from Shout. The Blu-Ray side of the label's combo pack offers both 5.1 and 2.0 DTS MA stereo soundtracks and a 1080p (2.35) transfer…Coming August 15th from Shout is DIGIMON ADVENTURE TRI. – DETERMINATION (96 mins., 2016), the latest anime entry in the long-running series. Shout's DVD includes both Japanese and English audio tracks, a 16:9 transfer, and a behind-the-scenes look at directing the vocal cast.
---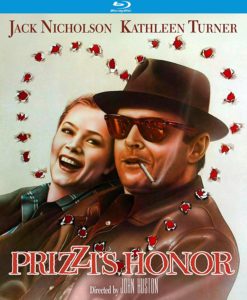 Kino Lorber New Releases
Due out soon from Kino Lorber are the label's first releases from the ABC Motion Pictures library, with long-desired cult titles like "Spacecamp," "The Flamingo Kid," and "Young Doctors In Love" due out over the next few months. Among the first batch of ABC (Disney) licensed titles coming out in August are two acclaimed films from the mid '80s: "Silkwood" and "Prizzi's Honor."
While "Silkwood" holds up as a potent character-driven picture with a strong social message (and boasts solid performances by Meryl Streep, Cher, and Kurt Russell), John Huston's PRIZZI'S HONOR (**½, 130 mins., 1985 R) comes across as a rather leaden comedy that teases more than it entertains, and leaves the viewer with a sour taste in the mouth.
Jack Nicholson does, at least, generate sparks with co-star Kathleen Turner, with the duo essaying competing assassins who marry – only to find out their latest assignment is bumping off each another. Huston's picture – an adaptation of Richard Condon's novel scripted by the author with Janet Roach — moves along at a snail's pace and always seems to think that it's funnier than it actually is; its black comic tone is rather obvious and one-note from start to finish, despite a winning supporting performance by Anjelica Huston (as the mob boss's daughter) that earned the actress a well-deserved Oscar.
Alex North's musical chores on "Prizzi" included interspersing generous operatic passages into its none-too-subtle soundtrack, which often functions as a sarcastic contrast to the action on-screen. Kino's Blu includes a fine 1080p (1.85) AVC encoded transfer with mono DTS MA sound and a quite listenable new commentary with Nathaniel Thompson and Howard S. Berger, similar to their work on recent KL Studio Classic titles.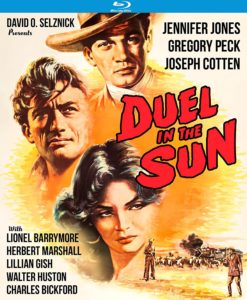 Another title remastered from the ABC library is DUEL IN THE SUN (***, 144 mins., 1946), the well-regarded Gregory Peck-Jennifer Jones western that makes its Blu-Ray debut and return to home video for the first time since out-of-print MGM and Anchor Bay DVD releases over a decade ago. A mammoth David O.Selznick production, this often over-the-top movie is best known for its fiery performances (Jones plays a half-breed who falls into a trap between brothers Peck and Joseph Cotten), splendid color cinematography, and best of all, a grand score by Dimitri Tiomkin. In fact, Tiomkin's score is highlighted here in a reconstructed "Roadshow" version with the composer's Prelude, Overture and Exit Music restored to the film.
The 1080p (133) AVC encode is excellent, far surpassing those earlier, hazy looking DVD editions though the print is, at times, a little banged up. The DTS MA mono sound is functional and extras include a fresh commentary from historian Gaylyn Studlar, a brief interview segment with Cecilia, Carey and Anthony Peck recalling their father's work on the film (under 10 minutes), and a myriad of trailers. (Available August 15th)
NO MAN'S LAND Blu-Ray (***, 106 mins. 1987, R; Kino Lorber). WHAT IT IS: Underrated and entertaining '80s character-driven drama finds D.B. Sweeney – in one of his first lead roles – as a young undercover cop who puts his mechanical knowledge to good use after he's assigned to investigate a chop shop overseen by slick Charlie Sheen. "Law & Order" creator Dick Wolf initially wrote this Orion production, which manages to develop its appealing set of contrasting characters while interspersing decently executed action sequences. The film is well-paced by director Peter Werner and highly entertaining, complete with a pulsating, mostly synth-laden Basil Poledouris score. KINO LORBER TECH SPECS: Kino Lorber serves up a terrific Blu-Ray with superb new interviews with D.B. Sweeney, who discusses how he gladly took second billing behind Sheen (coming off "Platoon"'s success) for a few extra dollars and a rental car, as well as director Werner, who came in to replace another director just a few days before shooting began. Nathaniel Thompson and Steve Mitchell provide a commendable commentary track with the trailer, a nice 1080p (1.85) transfer and 2.0 DTS MA stereo sound comprising the technical end. AISLE SEAT BOTTOM LINE: Sweeney and Sheen spar well off one another in the kind of character-centric action thriller that's all but absent from the multiplex in 2017. Recommended.
THE DEVIL'S BRIGADE Blu-Ray (***, 130 mins., 1968). WHAT IT IS: The training and first mission of the famed Devil's Brigade – a group of American and Commando commandos – is portrayed in this entertaining David L. Wolper production. Like "The Bridge at Remagen" (which Twilight Time released last month on Blu-Ray), Wolper here assembled an all-star cast – William Holden, Cliff Roberson, Vince Edwards plus Carroll O'Connor and Claude Akins – for a slick WWII film that's formulaic but nevertheless finely executed by the reliable Andrew V. McLaglen. TWILIGHT TIME TECH SPECS: The MGM-licensed 1080p (2.35) AVC encoded transfer offers a respectable high-def image from source elements in generally good shape. Alex North's score adds an able assist to the 2.0 DTS MA mono soundtrack, with extras including a trailer and a new commentary from movie historians Steven Jay Rubin and Steve Mitchell. AISLE SEAT BOTTOM LINE: Superior to "The Bridge at Remagen," "The Devil's Brigade" is an entertaining, old-fashioned WWII movie produced at a time when the genre was winding down in the turbulent late '60s. Well worth a look.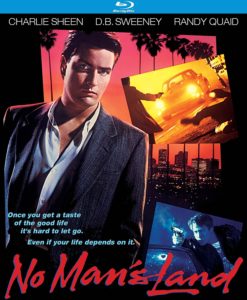 THE GOOD SON Blu-Ray (**, 87 mins., 1993, R; Kino Lorber). WHAT IT IS: Slick but unpleasant Fox thriller evolved from a small little B-picture to a major studio undertaking once Macaulay Culkin came on-board. The young "Home Alone" star's attachment to the project – which Fox agreed to in exchange for his appearance in "Home Alone 2" – essentially doubled the film's initial budget, becoming a fairly major movie overseen by "Sleeping With The Enemy" thriller specialist Joseph Ruben at the helm. Despite the strong behind-the-scenes personnel, "The Good Son" is little more than a gender-switching "Bad Seed" variant with Mac as a pre-teen psychotic who causes trouble for visiting cousin Elijah Wood, the truly "good son" who has trouble convincing his extended family that Culkin's really a nut with murder on his mind. "The Good Son" is watchable and competently executed, with a lush Elmer Bernstein score, but the subject matter is unpleasant and unappealing, no matter how classy the production happens to be. KINO LORBER TECH SPECS: "The Good Son" debuted to robust box-office in the solid Fall of '93 (a season that also saw the release of "Malice," "Rudy" and "Demolition Man" among others), and Kino Lorber's Blu-Ray offers a fine Special Edition of the film for the first time on home video. Interviews with Ruben, cinematographer John Lindley and co-stars Wendy Crewson, David Morse and Daniel Hugh Kelly comprise a robust supplemental section with the trailer, a satisfying 1080p (1.85) AVC encoded transfer and 2.0 DTS MA stereo audio rounding out the release. AISLE SEAT BOTTOM LINE: Interesting but off-putting, "The Good Son" makes for an intriguing revisit, showing that the massive success of a movie like "Home Alone" could result in even a nasty little film like this one being made, solely on the basis of Culkin's then-essential involvement.
CLAMBAKE Blu-Ray (**½, 99 mins., 1967; Kino Lorber). WHAT IT IS: Hilarious, as in hilariously campy, late-period Elvis musical offers a comedic spin on "The Prince and the Pauper," as rich oil heir Elvis switches places with a water-ski instructor (Will Hutchins) – all the better to romance pretty Shelley Fabares and challenge playboy Bill Bixby to a speedboat competition off the Florida coast. This isn't one of Elvis' better musicals, but it is one of his more memorable, with a dumb story, bubblegum music and an appealing supporting cast making for a rollicking good time for those in the mood. KINO LORBER TECH SPECS: "Clambake" hasn't been newly restored but this 1080p (2.35) AVC encode is as good as can be expected given the sometimes erratic nature of the print used for MGM's master. Speckles, grain, and the occasional splotch are all present, but it's still a big improvement on poor, non-anamorphic transfers MGM used on their DVD releases. Trailers and an enjoyable new commentary with Atlanta video store "Videodrome" owners Gideon Kennedy, Matt Owensby and John Robinson puts the film into the proper perspective. AISLE SEAT BOTTOM LINE: "Clambake" is a perfect summer tonic for folks looking for a little silliness starring The King at the tail end of his Saturday Matinee appeal.
FREEWAY Blu-Ray (**½, 91 mins., 1988, R; Kino Lorber). WHAT IT IS: Superior New World Pictures release is a moody thriller centered around a religious psycho (Billy Drago) who throws L.A. into a panic when he drives around, shooting drivers at random. Darlanne Fluegel, meanwhile, plays a nurse haunted by the death of her husband, with James Russo a former cop who joins her in tracking down the killer before more innocents are slain. Francis Delia directed this potent little movie, which is quite well executed on a technical level with an unexpected visual sheen. Richard Belzer also appears in "Freeway," one of the better low-budget efforts from "Highlander" producers Peter S. Davis and William Panzer. KINO LORBER TECH SPECS: The 1080p (1.85) AVC encode is superb on all fronts, with DTS MA mono sound and an interview with Delia, discussing the picture's genesis and production. AISLE SEAT BOTTOM LINE: While not a great film, "Freeway" is precisely the kind of underrated cult item that Kino Lorber does a great job unearthing for their Studio Classics line. Worth a look.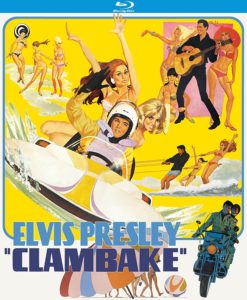 STAR CRYSTAL Blu-Ray (*½, 91 mins., 1986, R; Kino Lorber). WHAT IT IS: Another New World Pictures production, "Star Crystal" was a movie I had never watched before but was familiar with from passing by its VHS cover at a local video shop for many years. Now on Blu-Ray for the first time, this is a lousy "Alien" knockoff that turns surprisingly "E.T." in its climactic stages, with director Lance Lindsay following an alien that's jumped onboard a Mars expedition ship, causing all kinds of problems for its crew. The nameless cast and bland visuals are unmemorable, but Doug Katsaros' score includes a hilarious end credits song that may put the movie over the top for Bad Movie fans, assuming they make it that far. KINO LORBER TECH SPECS: While no extras are housed in "Star Crystal"'s high-def debut, the disc boasts a perfectly acceptable 1080p (1.85) AVC encoded transfer and DTS MA mono sound – both of which are undoubtedly far superior to that VHS tape I never rented. AISLE SEAT BOTTOM LINE: Hardcore sci-fi fans and "Alien" rip-off completists might warm to "Star Crystal," one of many instances of a movie's artwork being more interesting than the film itself!
CORONET BLUE: The Complete Series DVD (650 mins., 1967). WHAT IT IS: Short-lived CBS series from the summer of '67 starred Frank Converse as Michael Alden, a man who wakes up muttering the words "Coronet Blue" but with no knowledge of his past – and a slew of killers out to knock him off. With the help of a monk (Brian Bedford) and a coffee shop owner (Joe Silver), "Michael Alden" attempts to piece together his past while staying alive. Larry Cohen created "Coronet Blue," which ran for only 13 episodes (and, as such, has no conclusion) but boasts a massive array of talent who guest starred on the series – Alan Alda, Dick Clark, Candice Bergen, Roy Scheider, Brenda Vaccaro, Jon Vought and Billy Dee Williams among them. KINO LORBER TECH SPECS: A new interview with cult fave Cohen is included here along with CBS-licensed 1.33 transfers and mono soundtracks. Worth it for nostalgic TV fans from that era.
---
TV on DVD
THE 100: Complete Fourth Season DVD (548 mins., 2017; Warner): With Earth's nuclear reactors melting down and the atmosphere about to be impacted as a result, the survivors on "The 100" face an uncertain future. With the world hanging on by a thread to begin with, there are even more fractured alliances and corrupted relationships in this fourth season of the CW series, which debuts its 2017 campaign – all 13 episodes – this week on DVD. All-new featurettes include "From Outcasts to Leaders," "Creating a Post-Apocalyptic World," "The 100: Jasper's Journey," "Battle Tested: The 100 Season 4 Stunts," a 2016 Comic Con panel, gag reel, and unaired scenes. All the 16:9 (1.78) transfers and 5.1 soundtracks are just fine in Warner's now-available DVD.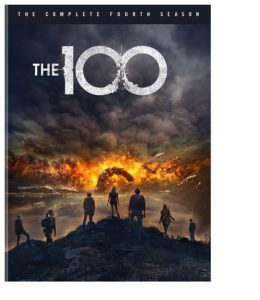 PRETTY LITTLE LIARS The Seventh and Final Season DVD (890 mins., 2016-17; Warner): The "Pretty Little Liars" band together for one last go-around in this conclusion to the popular ABC Family/Freeform series. This time around, the PLL group seek answers to the final mysteries surrounding them, most notably the identity of "Uber A." Meanwhile, Hanna tries to overcome the emotional scars surrounding her kidnapping, Aria is haunted by Ezra's past, Ali's life is on trial and Emily turns to a former flame for comfort. All the narrative strands at last come together in one last run of  20 episodes that conclude the series, all of which have been compiled in this Season 7 DVD from Warner. In addition to 16:9 transfers and 5.1 soundtracks, nine all-new featurettes include "Inside the PLL Sheets," "That PLL Boy is Mine," "A PLL Proposal," "A Surprising Mary Drake," "Hot For Haleb," "Say I Do: A PLL Wedding, "The Final Send Off From Rosewood," "AD: The Ultimate Suspect," "Thank You to Fans," plus deleted scenes and a bonus episode, "A-List Wrap Party." Warner's box-set is available this week.
Also wrapping it up this week is the Sixth and Final Season of GIRLS (310 mins., 2017; HBO), the controversial HBO comedy-drama. Lena Dunham returns as Hannah, here revitalized after the success of "The Moth" and assigned to a new project with life-changing potential. Meanwhile, a newly single Marnie finds her new relationship with Ray being hamstrung by her independence, while couple Jessa and Adam strike out on their own project that could have contentious obstacles of its own. Fans of "Girls" may want to check out this goodbye season to the series with HBO's Blu-Ray boasting 1080p (1.78) transfers, 5.1 DTS MA soundtracks, the extended cut of the series finale, commentary with Dunham plus Judd Apatow and Jenni Konner, "Inside the Episodes" and "Favorite Moments" segments, and Digital HD copies.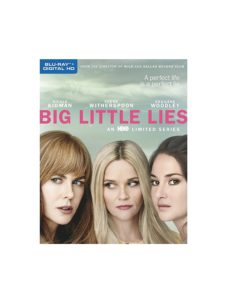 Also New From HBO: One of the finest series of the year, BIG LITTLE LIES (370 mins., 2017) is a glossy, compulsively watchable HBO mini-series adapted from Lianne Moriarty's book. Reese Witherspoon, Nicole Kidman and Laura Dern play three wealthy California housewives overly occupied with their young children's respective lives at school – Shailene Woodley, meanwhile, is the new, younger mom with a tortured past and a son who may or may not be responsible for unruly classroom behavior in this hugely entertaining soap opera that's well-acted and comes to a satisfying conclusion that's worth the wait. HBO's Blu-Ray features a strong 1080p (1.85) transfer, 5.1 DTS MA soundtracks, "Inside the Episode" segments, extended interviews and previously unseen cast interviews.
Fans of stand-up comic Pete Holmes will warmly welcome HBO's First Season release of CRASHING (240 mins., 2017), a Judd Apatow-produced comedy with Holmes playing "himself," a stand-up comic whose crumbling home life forces him to move to New York City and rely on the generosity of others – and their couches – in order to keep his dreams alive. If you like Louis CK's series, "Crashing" offers a caustic viewing experience of comedic embarrassment along those lines, though if you aren't able to warm to Holmes' sensibilities, it might be a long view. HBO's Blu-Ray of the series' first season includes the bonus Holmes HBO comedy special Peter Holmes: Faces and Sounds," plus 1080p transfers, 5.1 DTS MA soundtracks and Digital HD copies.
THE UNTOUCHABLES: THE SCARFACE MOB DVD (102 mins., 1959; CBS): The classic "Untouchables" TV series launched with this feature-length TV movie, released to theaters overseas. Robert Stack is Eliot Ness with Neville Brand as his archnemesis, Al Capone, in his introduction to the subsequent weekly series, making its DVD standalone debut this week from CBS. The single-disc release includes a 4:3 B&W transfer with archival introductions from producers Desi Arnaz and Walter Winchell.
---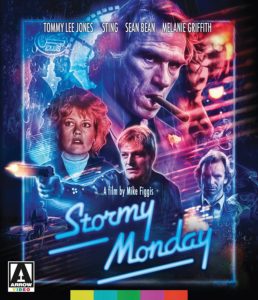 Label Wrap
Arrow New Releases: Mike Figgis' directorial debut nets a Blu-Ray release for the first time in North America. The moody but slow-going STORMY MONDAY (**, 93 mins., 1988, R) is a modern (late '80s) noir starring Sean Bean as a young man living in Newcastle who finds himself wedged in the middle of a squabble between a local club owner (Sting) and an American gangster (Tommy Lee Jones), not to mention a blossoming relationship with the latter's ex (Melanie Griffith). The casting of top-billed Jones and Griffith tried to give "Stormy Monday" some appeal in North America, but this Atlantic Entertainment co-production barely made a blip on the box-office radar domestically. Figgis devotees might find the picture to be more palatable than most, seeing as "Stormy Monday" suffers from a fragmented narrative and self-conscious editing, though Roger Deakins' location cinematography is a plus. Arrow's dual-format Blu-Ray/DVD features PCM stereo audio and a 1080p (1.85) transfer on the BD end. Extras include commentary with Figgis and critic Damon Wise; a video appreciation by critic Neil Young and a "then/now" tour of the film's Newcastle locations; and the trailer.
Also new from Arrow this month is TERROR IN A TEXAS TOWN (**½, 80 mins., 1958), a pungent B-movie from director Joseph H. Lewis. Here, Sebastian Cabot plays a hotel owner trying to drive farmers in the dusty town of Prairie City off their land; Sterling Hayden is the son of a slain whaler who shows up for payback in this Dalton Trumbo-penned script (credited under the name Ben L. Perry) that manages to bridge Lewis' penchant for film noir and westerns, and is graced by a potent Gerald Fried score as well. Arrow's Blu-Ray offers a new 2K restoration (1.85 B&W) from original film elements exclusively for this release; uncompressed PCM mono sound; an introduction by author Peter Stanfield and a "visual essay" from the author; and the original trailer.
Well Go New Releases: Coming July 25th from Well Go is THE FINAL MASTER (10 mins., 2015). Set in 1930s China, this Hong Kong import focuses on the final Wing Chun master who arrives in town to teach his craft, only to become a pawn in a struggle between the local Grandmaster, an underworld Madam, and assorted military leaders. Action and period atmosphere mesh in this well-executed production, presented here on Blu-Ray by Well Go with a director interview, featurette, 1080p transfer and DTS MA audio in Mandarin with English subtitles.
---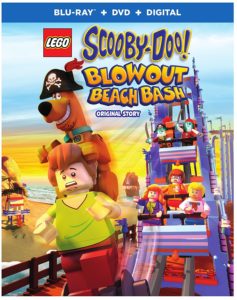 Quick Takes
LEGO SCOOBY-DOO! BLOWOUT BEACH BASH Blu-Ray Combo Pack (77 mins., 2017; Warner): Sunny and goofy Lego original movie finds the Hanna-Barbera crew – specifically Shaggy, his canine pal Scooby-Doo and the rest of the Mystery Machine crew – heading down to the annual Blowout Beach Bash for fun in the sun. Of course, there's a mystery to be solved, here involving ghost pirates that threaten to dampen the festivities. Frank Welker is Scooby to Matthew Lillard's Shaggy, with the actor reprising the same character he essayed on-screen in a pair of live-action comedies a decade ago. This is a superior entertainment than those uneven affairs, offering Lego-patented goofy humor and appealing animation that kids should enjoy. Warner's Blu-Ray combo pack is out this week offering three bonus cartoons, a spotless 1080p (1.78) AVC encode, DTS MA audio, a DVD and Digital HD copy.
1944 DVD (100 mins., 2015, Not Rated; Film Movement): Estonian men are drafted by the Nazis into repelling the Red Army during the 1944 Battle of Tannenberg – forcing the Serbs to fight their own countrymen in this import from director Elmo Nuganen. Making its DVD debut on August 1st as a Walmart exclusive, "1944" includes a brief short, "Le Deux Vies De Nate Hill," plus a 16:9 (2.39) transfer and 5.1 sound in either an English dub or the original Estonian with English subtitles.
NEXT TIME: Twilight Time, WARLOCK and more! Until then, don't forget to drop in on the official Aisle Seat Message Boards and direct any emails to our email address. Cheers everyone!