After being poorly treated on DVD by MGM a decade ago, Twilight Time does right by both of the Sherman Brothers' Mark Twain musicals – the wonderful 1973 adaptation of TOM SAWYER (***½, 103 mins., G) and its inferior, though not unworthy, follow-up HUCKLEBERRY FINN (**½, 118 mins., 1974, G) – which bow together as part of the label's 3000-copy Blu-Ray limited editions this month.
Following terrific laserdisc editions back in the early '90s, MGM cropped both films for their 2005 DVD releases, robbing viewers of their original Panavision cinematography and much of each film's impact. Twilight Time's single-disc Blu-Ray packs an awful lot of content onto their release, reprising all of the laserdisc's extras while adding a new commentary, isolated mono score tracks (minus song vocals), and best of all, detailed 1080p (2.35) AVC encoded high-definition transfers.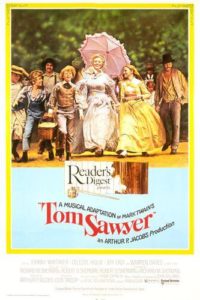 On their own terms, the two movies are highly entertaining, especially the 1973 "Tom Sawyer." Starring "Family Affair"'s Johnny Whittaker as Tom, Jodie Foster as Becky, future Clark Kent Jeff East as Huck Finn, and veterans Celeste Holm and Warren Oates, director Don Taylor's movie benefits from a spirited Sherman Brothers score — marvelously adapted and underscored by John Williams — and exceptional scope cinematography. The opening sequence alone is worth the price of the disc – Williams' underscoring (his final "Supervised"/"Adapted" credit) beautifully matches shots of young Tom running along the banks of the Mississippi River, with director Don Taylor's camera utilizing overhead shots to produce a glorious image that memorably captures a romanticized time and place.
This Reader's Digest presentation was one of the Sherman Brothers' first projects they set up after leaving Disney, where they had penned scores for "The Jungle Book" and "Mary Poppins" among many others. Their script is an effective distillation of the source material and benefitted from tuneful songs (some sung, others told over montages, almost as if they were leveraging the decline in the genre's popularity by the early '70s) and fine performances across the board. It's not an exaggeration to say, however, that Williams' work elevated the entire project – giving the songs a wonderful "Reivers"-esque flavor, the soundtrack boasts a splendid sense of Americana, and while Williams may not have written the songs, the backing he gives to all of them – as well as their interpolation throughout his score – is purely indicative of his musical genius.
"Huckleberry Finn" was filmed the subsequent year, and it's a comparatively disjointed, inferior follow-up, with East reprising Huck Finn and Paul Winfield co-starring as Jim, the runaway slave our wayward young hero befriends and attempts to help. Director J. Lee Thompson proved to be a less-than-satisfactory replacement for Taylor, and what's worse, Fred Werner proved to be a less than stellar replacement for Williams, who by 1974 was well on his way to major scoring assignments like "The Towering Inferno" with "Jaws" looming just a short time later.
The movie, though, isn't a total loss, especially its evocative opening sequence (the film's high point, in fact) showing black slaves working in the field set to the Shermans' lovely ballad "Freedom," performed by Roberta Flack. Thompson was wise to close the film with the song as well, but while those images and the respective performances of Winfield and East are commendable, the movie otherwise is flabby, running on for a full two hours and lacking both the musical conviction and overall entertainment of its predecessor. Given the passing of producer Arthur P. Jacobs during shooting and Thompson's reported difficulty working in a genre he was unfamiliar with, perhaps it's no surprise the finished product has a number of flaws. That said, "Huck" is still worthwhile as an interesting, if substantially more problematic, companion piece to its predecessor.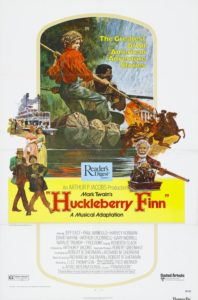 Twilight Time's Blu-Ray does a very good job considering the amount of content it houses on one disc. There are times the bit-rate drops under 15 mbps but the compression is quite good for the most part, and the 1080p (2.35) transfers, by themselves, are well executed, with wear and tear (and some discoloration) only present in the opening credit sequences of each film.
"Tom Sawyer" features no less than three soundtracks for the film: the original 2-channel stereo mix, as well as newly remastered 5.1 and 4.0 DTS MA offerings. The latter two mixes offer a broader stage for the music with discrete separation, though I found the dialogue a little bit clearer in the original 2.0 stereo mix, which is also present here. No matter which way you go (and there are advantages to each), Williams' Overture and Exit Music is presented as an option to view in conjunction with the movie. "Huckleberry Finn" solely contains the movie's 2.0 DTS MA stereo mix and a transfer in generally not quite as healthy a condition as "Tom Sawyer," but it's still quite good and a welcome presentation considering it hasn't been seen in scope since its laserdisc release over 20 years ago.
For supplements, in addition to the isolated scores, Twilight Time's major new extra is a commentary between Richard M. Sherman and Bruce Kimmel, which touches upon both "Tom Saywer" and "Huckleberry Finn"'s rocky production as well. Carried over from the laserdisc is a wonderful, vintage commentary track with the Shermans and Don Taylor, plus brief rehearsal footage of Williams and the Shermans, an unintentionally funny promotional featurette from 1973, and the original trailer. "Huckleberry Finn" also offers its trailer in a disc that should come as a warm and welcome release for musical lovers and devotees of both the Sherman Brothers and maestro Williams.
Also new from Twilight Time on the musical front this month is the lesser-regarded 1962 version of Rodgers and Hammerstein's STATE FAIR (**½, 118 mins.), which still provides fun Cinemascope entertainment and a bevy of stars to boot.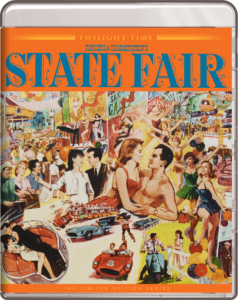 Phillip Stong's novel had previously been brought to the screen in a non-musical production in the early '30s, but the 1945 film adaptation of R&H's Broadway show — starring Jeanne Crain, Dana Andrews, Vivian Blaine and Dick Haymes — remains the cream of the crop when it comes to various screen incarnations of "State Fair." The '62 version, by contrast, offers a more dated, teeny-bopperish experience with Pat Boone and Bobby Darin partnered with the likes of Pamela Tiffin and Ann-Margret. Rodgers also added some new songs for this version, which still boasts impressive Cinemascope photography and lush arrangements from Alfred Newman and Ken Darby.
TT's Blu-Ray features a finely detailed 1080p (2.35) AVC encoded transfer plus 4.0 and 2.0 DTS MA audio options. In addition to an isolated score, the disc also includes an older commentary with Pat Boone, who offers some infrequent, nostalgic comments on the project. Two trailers and a half-hour retrospective featurette on the various versions of "State Fair" (which was also included on the Blu-Ray of the 1945 version, housed in Fox's Rodgers & Hammerstein box-set) are also on tap on the supplemental side.
Most unusual of all, however, is the very rare 1976 TV pilot for "State Fair," starring Vera Miles, former child actor Mitch Vogel ("The Reivers"), and a pre-"Buck Rogers" Tim O'Connor. This saccharine reworking of Stong's novel feels more like a rip-off of "The Waltons" than a cousin of its predecessors, with Vogel performing an original song at a county singing contest and Linda Purl as the object of his affections. Vogel's boyish charm had worn off by the time this project was produced and, as a result, it's easy to see why the pilot stalled out here, though Laurence Rosenthal's background score is nice enough, and Twilight Time's transfer is genuine HD (4:3).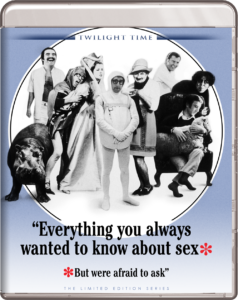 Woody Allen's filmography is once again tapped by Twilight Time for a Blu-Ray edition of EVERYTHING YOU ALWAYS WANTED TO KNOW ABOUT SEX BUT WERE AFRAID TO ASK (**½, 88 mins., 1972, R), a scattershot sketch comedy that features a litany of stars in a succession of blackout sketches. Gene Wilder, Burt Reynolds, Tony Randall, Louise Lasser, and Lynn Redgrave appear along with, of course, Allen himself, in a ribald comedy that also lampoons Fellini and Italian auteurs, game shows, and '50s monster movies (complete with mad scientist John Carradine), as it bounces through an Allen adaptation of David Reuben's book of the same name. Several segments of this, including its concluding bit with Allen as a sperm, are quite funny with others falling flat – one's mileage, as they say, may vary though there's no denying the film was a box-office hit at the time of its original release. Twilight Time debuts "Everything You Wanted To Know…" on Blu-Ray with a 1080p (1.85) transfer typical of their past Allen releases with DTS MA 1.0 mono sound, an isolated music track and the trailer.
Finally, film noir enthusiasts and Samuel Fuller buffs will want to check out THE CRIMSON KIMONO (81 mins., 1959), a short but affective B-entry with James Shigeta and Glenn Corbet as Korean War vets now L.A. cops who fall for the same girl (Victoria Shaw) who's also a witness to the slaying of a stripper in Little Tokyo. Racial plot elements play a role in Fuller's original screenplay, which moves so quickly that none of it comes off as overly melodramatic. An isolated score track of Harry Sukman's score, a featurette with Curtis Hanson on "The Culture of 'The Crimson Kimono'," plus trailers and the featurette "Sam Fuller Storyteller" round out the disc which includes a crisply detailed 1080p (1.85) Sony-licensed transfer and mono sound.
---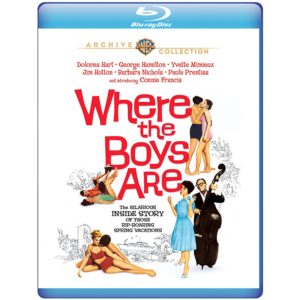 Warner Archive New Releases
Looking for fun in the sun on-screen this summer? Warner Archive continues to turn out an array of terrific new Blu-Rays perfect for seasonal consumption – or, even better, later on this year once the doldrums of winter have set in.
There are few "spring break" movies as entertaining as WHERE THE BOYS ARE (99 mins. 1960), the pleasingly dated MGM comedy about a quartet of young college students (Dolores Hart, Paula Prentiss, Yvette Mimieux and then-hot siren Connie Francis) who head down to Fort Lauderdale where they encounter a series of not-very-mysterious guys  — George Hamilton, Jim Hutton (who partnered with Prentiss on several comedies afterwards), and Frank Gorshin, effectively paired with Francis – during Easter vacation.
"Where the Boys Are" may have been a tiny bit scandalous for its time, with Hart debating her college professor on the merits of pre-marital sex at the outset, but it's overall an innocent and still-amusing studio romp with appealing stars and a breezy tone. The movie's Cinemascope photography – a mix of location filming and backlot sets – is naturally enhanced by Warner's splendid 1080p (2.35) Blu-Ray transfer, heightening all the colors and keeping its natural grain structure mostly intact. The DTS MA mono audio, meanwhile, houses a soundtrack that includes Francis' Neil Sedaka-penned hit title song. Extras, carried over from the 2003 DVD, include Prentiss' commentary, a brief interview segment crosscutting between Francis and Prentiss' remembrances of the production, a vintage newsreel and the trailer.
Also new from the Archive are the high-def debuts of two widescreen John Wayne vehicles from the mid '50s – neither one of them classics, but still sturdy Cinemascope productions whose technical assets are heightened by the Archive's superlative HD presentation.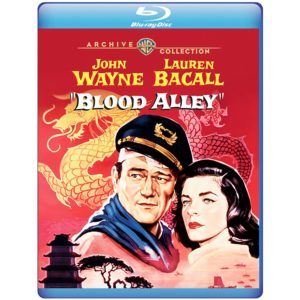 The superior of the duo is arguably BLOOD ALLEY (115 mins., 1955), William Wellman's Asian-set actioner that finds a grizzled Merchant Marine captain (Wayne) busting out of prison and tasked with transporting a cargo down a Chinese river to freedom in Hong Kong. That cargo is comprised of an entire village in this Batjac production that offers Wayne paired with Lauren Bacall, essaying a physician's daughter. The duo have little chemistry together but the film, with its pungent anti-communist message (no surprise), is enjoyable escapism, especially for Golden Age buffs, just the same. Warner's Blu-Ray boasts a robust 1080p (2.55) transfer and 2.0 DTS MA stereo audio that enhances Roy Webb's score. A couple of extras include newsreels and a pair of "Behind the Cameras" promo featurettes from the "Warner Bros. Presents" TV series.
THE SEA CHASE (117 mins., 1955) teamed The Duke with Lana Turner in the story of a German officer (yes, you know who!) commanding a freighter in Australia who despises Hitler but has to choose between love of country or British capture when WWII breaks out. This uneven high-seas adventure – with a weird, abrupt ending —  co-stars James Arness and Tab Hunter under the direction of John Farrow. While certainly not one of Wayne's best, "The Sea Chase" is still perfectly watchable '50s entertainment with the Cinemascope trappings and stereo soundtrack (once again featuring a Roy Webb score) being immeasurably lifted by Warner's Blu-Ray presentation. The 1080p (2.55) AVC encode is superb and the stereo sound robustly captured in another fine DTS MA 2.0 stereo track.
---
Lionsgate New Releases
An unlikely modest box-office success, WARLOCK (**½, 103 mins., 1989, R) is an entertaining New World Pictures riff on "The Terminator," starring Julian Sands as a warlock from Salem,Mass., circa the late 1600s, who travels ahead 200 years to bring Satan's wrath down on the world. Richard E. Grant is terrific as the medieval hunter likewise propelled ahead in time and tasked with stopping him; Lori Singer is somewhat less so as the modern valley girl who gets mixed up in their battle.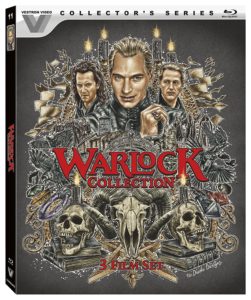 Steve Miner directed "Warlock" from a script by David Twohy that has some engaging bursts of humor and an intriguing story, elements that helped this New World movie become something of a hit — even after it was banished to the vault when the studio went bankrupt in 1989. Once the film was bought by Trimark Pictures, hopes were low that the film — promoted in trailers seen years before — would be commercially viable, yet it did make enough money in the spring of 1991 to generate a sequel.
While it's unfortunate Jerry Goldsmith didn't get into the spirit with a serviceable if at-times overly moody (and synth heavy) score that fails to energize the movie, "Warlock" is still fun on its modest level, particularly for Sands and Grant's lead performances.
Selected for the Lionsgate "Vestron Video Collector's Series" treatment, "Warlock"'s U.S. Blu-Ray debut offers an okay 1080p (1.85) AVC encoded transfer that's similar to its German counterparts, save for some inferior compression. The 2.0 DTS MA stereo sound is serviceable, but the extras are truly enjoyable: Jeff Bond presents an astute analysis of the music with isolated score portions on one channel, while the director's commentary with Steve Miner and the now-prolific Nathaniel Thompson offers a decent amount of chat about Goldsmith's music as well. Miner hasn't seen the movie since he finished it, but remembers Goldsmith's process as well as working on the score in Australia. It's a very listenable track that benefits from Thompson's knowledge and ability to keep the track moving along without trampling upon Miner's anecdotes, covering all the bases about the film and its Boston/Plymouth location shooting as well.
Other extras are highlighted by new interviews with Miner, Sands and make-up artists Carl Fullerton and Neal Martz. Vintage featurettes and behind-the-scenes interviews, the trailer, TV spots and video trailer round out a robust supplemental section that's worth the price of the disc alone.
Also on-tap here on a second Blu-Ray disc are WARLOCK: THE ARMAGEDDON (**, 98 mins., 1993, Unrated), a big-screen sequel that brought back Sands in an otherwise unconnected — and much gorier — film, and the lousy direct-to-video WARLOCK III: THE END OF INNOCENCE (*, 95 mins., 1999, R), with Bruce Payne as the Warlock and "Hellraiser"'s Ashley Laurence as the reincarnated Druid warrior who battles him.
"Armageddon" features Chris Young ("Max Headroom") and Paula Marshall as teens who do battle with the Warlock, who's reborn — fully grown — in a grizzly opening sequence that sets the stage for Anthony "Waxwork" Hickox's film. Not nearly as entertaining as the original, this is nevertheless a competent and watchable outing that performed okay for Trimark in theaters during September 1993. They followed it up with "The End of Innocence," which doesn't offer much to talk about in comparison with the first two films.
Special features on the sequel disc include a candid commentary with Hickox and vintage featurettes. Archival materials comprise the extras on "Warlock III" with both movies featuring 1080p (1.78) AVC encodes and 2.0 DTS MA stereo soundtracks.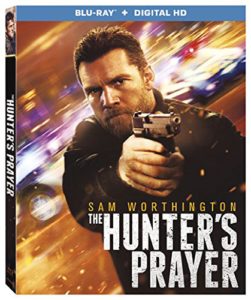 Also From Lionsgate: Coming August 8th on Blu-Ray, THE HUNTER'S PRAYER (91 mins., 2016, R) is a tidy and watchable thriller from director Jonathan Mostow, who scored a couple of hits years back with "U-571" and the third "Terminator" movie. Relegated now to direct-to-video affairs, this one stars Sam Worthington as an assassin who forges an alliance with his latest target: a young woman (Odeya Rusa) whose family has been murdered. John Brancato and Michael Ferris, who wrote the third and fourth "Terminator" films, reunite with Mostow for this efficient genre exercise coming to Blu-Ray from Lionsgate. Four featurettes, a Digital HD copy, 1080p (2.39) transfer and 5.1 DTS MA sound comprise the studio's package…Amy Johnston plays Rebecca, a female fighter who shuns the ring after a tragedy in FEMALE FIGHT SQUAD (90 mins., 2017, R). This independent actioner finds Rebecca having to pick up her fighting identity and help her sister overcome a debt that threatens both her and her daughter in Miguel Ferrer's film, co-starring Dolph Lundgren. Lionsgate's DVD is out August 8th exclusively at Walmart, featuring a 16:9 (2.40) transfer and 5.1 Dolby Digital sound.
THE LOVERS Blu-Ray (94 mins., 2016, R; Lionsgate): Offbeat and somehow endearing relationship drama from writer-director Azazel Jacobs pairs Debra Winger and Tracy Letts as a long-married couple ready to call it quits and already seeing other people – when they rekindle their romance and begin to cheat on their "exterior partners." Jacobs' movie is entirely driven by the performances of Winger and Letts, who are terrific together in a movie about finding new life in a relationship that's pretty much run its course. Lionsgate's Blu-Ray, out this week, includes a featurette on Mandy Hoffman's music, a Making Of segment, Jacobs' commentary, a 1080p (1.85) transfer, 5.1 DTS MA sound and a Digital HD copy.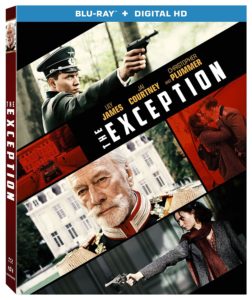 A box-office bust based on Dave Eggers' novel, THE CIRCLE (110 mins., 2017, PG-13) stars Emma Watson as a bright young woman who heads out to work for a social media conglomerate overseen by an enigmatic founder (Tom Hanks) who wants her to engage in new tech that hits every hot-button issue of internet privacy and surveillance one could imagine. This Europacorp disappointment wastes an all-star cast, from young stars like John Boyega and Karen Gillan to vets like Bill Paxton, in a flaccid, obvious picture that seldom exhibits cinematic energy. Lionsgate's Blu-Ray includes a four-part making of, featurettes including a tribute to the late Paxton, DVD, Digital HD copy, 1080p (2.40) AVC encoded transfer and 5.1 DTS MA sound.
Richard Gere and Steve Coogan play estranged brothers whose kids have been up to no good in THE DINNER (120 mins., 2016, R). A meal between the duo and their respective significant others (Laura Linney, Rebecca Hall) fuel this psychological drama from director Oren Moverman, who adapted Herman Koch's novel – one that's been adapted to the big screen in Europe already, and functions here as an actors' showcase for both Gere and Coogan. Lionsgate's Blu-Ray offers commentary from Moverman and Linney, a photo gallery, 1080p (1.85) transfer, 5.1 DTS MA sound and a Digital HD copy…Also coming August 8th from Lionsgate is THE EXCEPTION (107 mins., 2017, R), a well-executed WWII drama from director David Leveaux. Jai Courtney stars as a German officer sent to protect the exiled Kaiser (Christopher Plummer) now residing at a Dutch mansion – Lily James, meanwhile, is the maid who harbors a couple of secrets in a well-acted period piece. Lionsgate's attractive Blu-Ray houses a fine 1080p (2.39) transfer, 5.1 DTS MA sound, Digital HD copy, commentary by Leveaux and a Making Of featurette.
Coming August 15th from Lionsgate is the daffy comedy HOW TO BE A LATIN LOVER (115 mins. 2017, PG-13), starring Eugenio Derbez as an aging playboy forced to move in with his far more practical sister (Salma Hayek) and her young son (Raphael Alejandro) after his elderly significant other dumps him. Actor Ken Marino helmed this co-production between Lionsgate and Pantelion, which aimed for a broader audience than prior Latino-centric comedies and scored over $30 million in the U.S. alone. Kristen Bell and Rob Lowe also appear in "How to Be a Latin Lover," which Lionsgate bows on Blu-Ray August 15h with deleted/extended scenes, two featurettes, commentary, a DVD and Digital HD copy, plus a 1080p (2.40) transfer (the film was shot by John Bailey) and 5.1 DTS MA sound.
---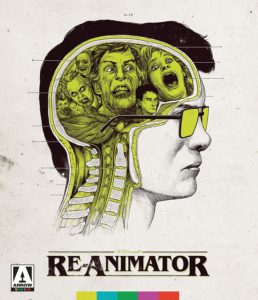 Also New & Noteworthy
RE-ANIMATOR Blu-Ray (***, 86 mins., 1985, Unrated; Arrow): This 1985 Empire Pictures release, inspired by H.P.Lovecraft's story "Herbert West, Re-Animator," is a certified B-movie favorite about a mad scientist (Jeffrey Combs) driven to bring the dead back to life. Filled with black humor and gory effects, "Re-Animator" – directed by Stuart Gordon from a script by Dennis Paoli, William J. Norris and the director –  was one of those rare horror movies that was embraced by both genre fans and critics, making the movie a bona-fide cult classic over the years since its initial theatrical and video premieres.
Still as much fun today as it was back then, "Re-Animator" originally made its Blu-Ray debut a decade ago in a low-priced Image release. Arrow's awesome new 2-disc Limited Edition blows past that package thanks to a flurry of extras and, best of all, new 4K restorations of not just the original Unrated version of the film but its 105-minute "Integral Version," adding nearly 20 minutes of material, to go along with mono, stereo and 5.1 DTS MA surround mixes. Though still resembling a low-budget horror outing, this transfer is a massive upgrade on the Image release, which appeared dirty and soft by comparison.
Supplements are a mix of the all-new and returning bonuses from prior releases. What's new? A commentary with Stuart Gordon plus actors Graham Skipper and Jesse Merlin from the musical stage incarnation; an isolated score track; a 2015 interview with Barbara Crampton; a conversation with Stuart Gordon on his stage work, as well as a separate featurette on "Re-Animator: The Musical"; Chris Lackey's guide to "Lovecraftian Cinema," and a 92-page hardbound book including the 1991 comic book adaptation among other goodies. Returning extras run the gamut from Perry Martin's 2007 doc "Re-Animator: Resurrectus," an extensive doc on the film that includes most of the surviving personnel, along with two additional commentary tracks, an interview with Richard Band, deleted/extended scenes, the trailer and TV spots.
Arrow's essential set offers additional goodies including four postcard-sized lobby card reproductions and an additional collector's booklet in one of the year's top genre releases to date.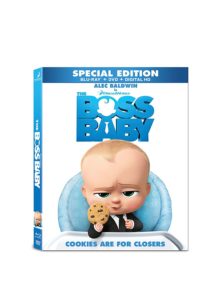 THE BOSS BABY 4K UHD Combo Pack (97 mins., 2017, PG; Dreamworks/Fox): What might have worked as an old "Looney Tunes" short – a manic look at what happens when a new sibling is brought into a family, in the form of a baby business executive (voiced by Alec Baldwin) – is here stretched, at times interminably, into a 90-plus minute Dreamworks animated offering that quickly overstays its welcome. Writer Michael McCullers' original script is good for a few laughs, and might've been perfect in a shorter format, but here, the idea behind "The Boss Baby" only sustains itself for a short duration, with the usual Dreamworks array of bathroom comedy and movie references – that will one day date the film badly – comprising a very uneven slapstick brew. Unsuited for young kids, "Boss Baby" is colorfully animated and drawn, but doesn't stay afloat very long.
4K Rundown: Fox's UHD presentation of "The Boss Baby" makes, as one might expect, superb use of HDR. Vivid colors stand out in this 4K presentation (2.39) with pinpoint accuracy, even more than the standard 1080p AVC Blu-Ray encode. Dolby Atmos audio is present on the 4K end (the Blu-Ray offers 7.1 DTS MA), with an Ultra HD copy also on-hand. Extra features on the Blu-Ray side include the short "The Boss Baby and Tim's Treasure Hunt Through Time," deleted scenes and short featurettes.
GIFTED Blu-Ray (101 mins., 2017, PG-13; Fox): "500 Days of Summer" director Marc Webb returns to his comfort zone – after helming the overhyped "Amazing Spider-Man" – by recruiting another super-hero star, Chris Evans, to anchor this saccharine yet expertly engineered melodrama. Evans plays a good guy raising his special-needs genius niece when he's drawn into a custody battle with her grandmother (Lindsay Duncan). McKenna Grace is superb as the young girl at the center of "Gifted," which isn't a great movie yet fills a need for the type of human-centric cinematic drama we scarcely see these days. Fox's Blu-Ray combo pack boasts a 1080p (2.40) transfer, 5.1 DTS MA sound, a DVD, Digital HD copy, and extras including deleted scenes and numerous featurettes.
Also new from Fox is the little-seen PHOENIX FORGOTTEN (87 mins., 2017, PG-13), yet another "found footage" horror outing about a young woman who goes searching for her br other, who vanished looking for the real-life "Phoenix lights" seen in March of '97. What makes this a little bit different than the usual genre exercise is the participation of Ridley Scott as a producer, but separated from the pedigree of his name, Justin Barber's film doesn't go anywhere and ends on a spectacularly unsatisfying note. Fox's Blu-Ray includes two featurettes, commentary, a 1080p (1.78) transfer, 5.1 DTS MA sound and a DVD copy.
S.W.A.T. UNDER SIEGE Blu-Ray (89 mins., 2017, R; Sony): Watchable and competently executed direct-to-vid action entry finds the SWAT team having to defend a wanted prisoner dubbed "The Scorpion" who has all kinds of bad guys wanting him dead. When it turns out the prisoner is really a special agent planted deep inside a cartel, the SWAT gang including Sam Jaeger and Adrianne Palicki have to take up major arms to keep him safe. Sony bows "S.W.A.T.: Under Siege" on home video this week with their 1080p (1.78) transfer and 5.1 DTS MA sound being right on par with the studio's typically strong releases. No extras are included but this should do the trick for genre buffs looking for a decent rental.
GOING IN STYLE Blu-Ray Combo Pack (**½, 96 mins., 2017, PG-13; Warner): This riff on the 1979 George Burns comedy "Going in Style" is  one of many remakes to hit the screen this year. A watchable if unremarkable comedy from actor/director Zach Braff, the new "Style" puts Morgan Freeman, Michael Caine and Alan Arkin into the roles previously essayed by Burns, Art Carney and Lee Strasberg: a trio of lifelong buddies whose advancing age, increasing frustration and continued zest for living lead them to try and knock off a bank that's responsible for their decreased pensions. Ann-Margret, Christopher Lloyd and Matt Dillon (as the FBI agent trying to nail them) comprise the superb supporting cast to the lead ensemble, who are relaxed and great fun to watch together. "Going In Style" itself less so, as Theodore Melfi's script goes down completely predictable avenues, but at least this isn't "Superhero Rumble Part XII: Kicking Robots In the Groin For 45 Minutes." Warner's fine Blu-Ray presentation boasts a 1080p (2.41) transfer, 5.1 DTS MA sound, a DVD, Digital HD copy, commentary from Braff and deleted scenes.
POWERPUFF GIRLS: THE LAST DONNYCORN DVD (143 mins., Warner): With Unicorn Land under attack, it's up to the Powerpuff Girls to team up with none other than Donny the Unicorn to save the day and find out the identity of the Chosen One. 12 episodes from the long-running Cartoon Network series are presented in Warner's latest DVD compilation: The Last Donnycorn, Odd Bubbles Out, People Peaser, The Wrinklegruff Girls, Presidential Punchout, Claw Dad, Once Upon a Townsville, Blue Ribbon Blues, Electric Buttercup, Rainy Day, The Big Sleep and 15 Minutes of Fame, all in 16:9 transfers and 2.0 stereo sound. Available August 15th.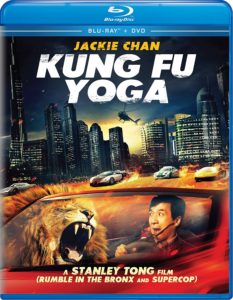 LEGO DC SUPER-HERO GIRLS: BRAIN DRAIN DVD (75 mins., 2017; Warner): Supergirl, Wonder Woman, and Batgirl lead a team of smart young heroines who've seemingly committed a series of wrong-doings but have no recollection of their involvement. It's up to the girls to question Bumblebee, Katana, Harley Quinn and others who are also up to no good at Super Hero High in this Lego Original Movie with the brand's colorful animation and appealing characterizations making for kid-friendly entertainment. This feature-length original is now on DVD from Warner offering a 16:9 transfer and 5.1 Dolby Digital sound.
KUNG FU YOGA Blu-Ray/DVD (108 mins., 2017, Not Rated; Well Go USA): Jackie Chan reunited with director Stanley Tong for this Hong Kong/Indian co-production which failed to ignite box-office sparks internationally (or at least outside China) earlier this year. Chan plays an archeologist on a quest to retrieve an Indian treasure when he and his team are taken out by a group of bad guys. The usual hyjinks ensue (along with an embarrassing Bollywood musical number over the end credits), though the locations – including Tibet, China, and India – are colorful and give the picture some interest on that end. Well Go's Blu-Ray Special Edition includes both Mandarin and English DTS X audio (with optional English subtitles), bloopers and a slew of behind-the-scenes featurettes. The 1080p AVC encode is terrific and a DVD copy is also included.
---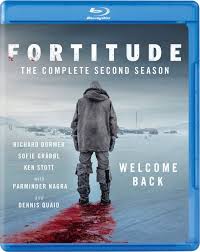 PBS New Releases
Available this week on Blu-Ray, FORTITUDE (455 mins., 2016) returns for its second season. This is an offbeat, compelling series set in a tiny town near the Arctic Circle – once the safest place to live on the planet, until a murder sends its residents reeling. Richard Dormer is the local Sheriff who investigates once again with Sofie Grabol returning opposite new faces like Parminder Nagra and Dennis Quaid, for mysteries that here involve yet another murder and some very strange goings-on around the town. PBS' three-disc Blu-Ray set offers two featurettes, 1080p transfers and 2.0 Dolby Digital soundtracks.
Also new from PBS is REMEMBER ME (180 mins., 2016), a BBC production that stars Michael Palin, Mark Addy and Jodie Comer in a fascinating, eerie mix of ghost story, police procedural and coming-of-age drama. Palin plays a retiree who wants out of his Yorkshire home and into a retirement community due to his relationship with a restless spirit in a finely written, absorbing production from director Ashley Pearce, a "Downton Abbey" vet, and writer Gwyneth Hughes. PBS' DVD houses the entire cycle of "Remember Me" with a 16:9 transfer and stereo soundtrack.
NEXT TIME: MR.MOM – The Collector's Edition! Until then, don't forget to drop in on the official Aisle Seat Message Boards and direct any emails to our email address. Cheers everyone!