A strange sequel that's half "Alien" rehash and half "Prometheus" follow-up – albeit with none of the latter's "bigger questions" actually being addressed – Ridley Scott's ALIEN: COVENANT (**, 123 mins., 2017, R; Fox) serves up a serviceable but ultimately unsatisfying ride over narrative terrain we've covered many times over by now.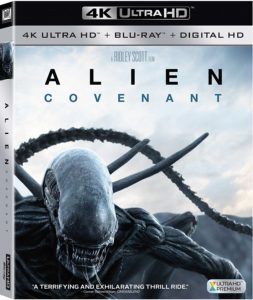 This latest Scott-helmed affair sends a colony ship into deep space, where its crew comes across another radio signal (sound familiar?) that leads to crazy robot David (Michael Fassbender), now the sole inhabitant on the Planet of The Engineers along with some creepy crawly creatures he's as fond of as his new human guests.
After a promising start establishing the Covenant and its crew – from Katherine Waterston's sympathetic heroine to Billy Crudup's weak captain – Scott then turns the picture into the Michael Fassbender Show, with all the other characters taking a backseat to sequences of two Fassbenders talking and the true mystery of whatever happened to the Prometheus survivors — including Noomi Rapace — solved at long last. Err, sort of.
Reasonably effective with some bloody special effects, "Covenant" nevertheless manages to be ultimately less than the sum of its parts. There's not enough of the Engineers and their world here — in fact, their planet is so sparsely decorated that you feel like you're watching a '60s Star Trek episode, with David functioning as the Squire of Gothos. The "Prometheus" element aside, the movie is laid out like a typical "Alien" film, with the requisite shocks you expect, but it's all been done before — at this point, what can anyone do to make the Alien and its friends interesting, beyond perhaps introducing musical numbers? What's worse, the ending serves up a downbeat twist (telegraphed from miles away), cynically intended to lead into another sequel like any other cheapjack horror movie from decades past.
It makes you wonder what Scott's endgame is with all of this — beyond just making more stacks of money — and the film's poor box-office showing seems to indicate his idea of using Fassbender's anti-hero as a dramatic centerpiece was a severe miscalculation. While there's a delicious irony in watching a movie open and close with the very same Jerry Goldsmith theme that the director mostly threw away in 1979, "Covenant" otherwise leaves a bad taste in the mouth and doesn't get any better on a second viewing.
4K Rundown: As with most Ridley Scott films, Fox and Scott Free have packaged a solid array of special features for the movie's home video release, though they're not nearly as extensive as "Prometheus"'s bounty of extras. Technically, this is another superb UHD release in terms of HDR usage, with a wider variety of colors evident and preferable to the standard Blu-Ray platter. Dolby Atmos audio bounces from speaker to speaker while supplements offer a good selection of deleted scenes (just under 20 minutes), Scott's commentary, roughly an hour's worth of documentary segments on the production, a production gallery, Blu-Ray and Digital HD code for good measure.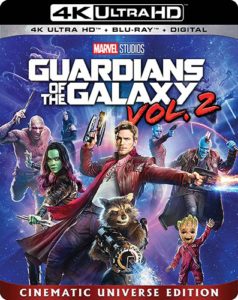 GUARDIANS OF THE GALAXY VOL. 2 4K UHD Combo Pack (***, 136 mins., 2017, PG-13; Marvel/Buena Vista): In the Marvel stable, "Guardians of the Galaxy" is clearly the most unpretentious and consistently amusing series from the "brand," a confident and occasionally very moving fantasy that really sings in its best moments. James Gunn's "Guardians" sequel also, like "Alien: Covenant," recycles the formula of an old Star Trek episode, where the gang follows Peter Quill (Chris Pratt) and company as Quill finds his long-lost father (Kurt Russell) mysteriously living on a planet all his own and seemingly holding back some secrets that might place the entire galaxy in jeopardy.
"Guardians" 2 offers colorful action (that looks amazing in HDR), a bouncy soundtrack, lots of humor and an enormous amount of heart – far more than most of its genre counterparts. Its sole problem is another protracted, endless climax that drags on for seemingly the entire last third of the movie. Just like the film's predecessor (equally good natured), Gunn is in dire need of an editor, because there's just no reason why a movie that's driven by character and humor has to end on yet another mind-numbing, forgettable special effects spectacle that just goes on…and on…and on…and on. Otherwise, it's pretty great — even the "Young Kurt Russell" CGI in the opening sequence works! — but could've been even better if Gunn knew when to quit…or if someone told him to.
4K Rundown: Disney's inaugural 4K UHD release is a stunner. "Guardians Vol. 2" is so vivid in its visual design and use of eye-popping color that it's tailor-made for the benefits of HDR. In fact, the UHD delivers a presentation that – at least for me – surpassed its theatrical exhibition at my local theater. Constantly swirling Dolby Atmos audio, exclusive to the UHD presentation (the Blu-Ray includes a 7.1 DTS MA mix), is flawlessly rendered while extras include several light featurettes (totaling about 40 minutes), deleted scenes, a gag reel, music video and Gunn's commentary. A Digital HD presentation rounds out the disc.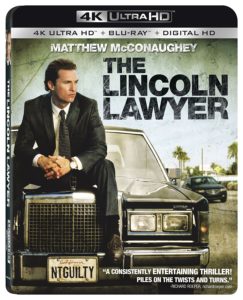 THE LINCOLN LAWYER 4K UHD Combo Pack (**½, 116 mins., 2011, R; Lionsgate): Matthew McConaughey's performance as Mick Haller – a cocky defense attorney hired to get pretty rich-boy Ryan Phillippe off an assault charge – is the sole reason to watch this adaptation of Michael Connelly's book.
Equal parts confident, arrogant and sympathetic, McConaughey's Haller finds himself in over his head with a client who clearly knows more than he's letting on, and whom Haller eventually believes might be connected with an earlier case of his. Once partner William H. Macy is murdered, Haller's suspicions prove correct, but trying to get himself out of the case and expose the truth ends up putting the attorney in a web of deception.
"The Lincoln Lawyer" boasts a tremendous cast and is slickly directed by Brad Furman, though the story requires a major suspension of disbelief at a few key moments during its running time. The movie also suffers from some pacing issues (it's been a while since I've seen one of those old-time fake climaxes where a character says "everything's okay now, I'll be right over," only to end up in another life-or-death struggle) along with a supporting cast that's not always well utilized (I'm looking squarely at you, Marisa Tomei!). Still, "The Lincoln Lawyer" makes for a moderately entertaining view, carried throughout by one of its star's finest performances.
4K Rundown: Lionsgate has a smattering of UHD catalog releases due out over the next few weeks, and "The Lincoln Lawyer" is a perfectly serviceable presentation, albeit not one necessarily suited to show off the advantages of HDR. Detail and colors are all nicely presented but given a lack of variety in the film's cinematography, I wouldn't deem this a needed upgrade unless you are a major fan of McConaughey (or the film). Dolby Atmos audio is perfectly rendered though, again, this is not an especially aggressive mix to begin with. Three featurettes, deleted scenes and a Digital HD copy are carried over from the prior Blu-Ray edition (also included).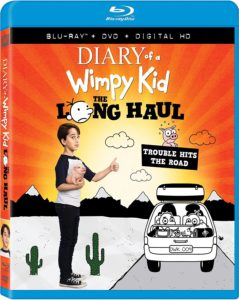 SNATCHED 4K UHD Combo Pack (**, 90 mins., 2017, R; Fox): Amy Schumer's second feature vehicle stars the comedienne as an extroverted woman who takes her reserved mom (Goldie Hawn) to Ecuador to get away from a recent break-up, only to see the mismatched pair become involved in human trafficking. Writer Katie Dippold's scripts run hot ("The Heat") and cold (the "Ghostbusters" remake) and this one really struggles to find a focal point, with director Jonathan Levine favoring the comedic element of the film – a succession of mostly strained gags – while the dramatic underbelly is thinly drawn at best. A box-office disappointment, "Snatched" hopes to find more takers on home video, with Fox's 4K UHD combo pack offering a HVEC transfer, DTS MA 7.1 audio, a Digital HD copy, a slew of deleted scenes, gag reel, and commentary from Levine. The UHD is attractively presented though its advantages over the standard Blu-Ray, also on-hand here, are mostly negligible.
DIARY OF A WIMPY KID: THE LONG HAUL Blu-Ray Combo Pack (**½, 91 mins., 2017, PG; Fox): Third feature adapted from Jeff Kinney's bestselling kids books recasts its principal roles, with Jason Drucker as the mischievous pre-teen who joins his family on a cross-country trip to his Meemaw's 90th birthday, only to run into a series of comic detours en route. Alicia Silverstone and Tom Everett Scott are the parents this time around in a good-natured if formulaic feature that should please younger viewers. Fox's Blu-Ray/DVD combo pack includes bloopers/deleted scenes, deleted animation, a handful of featurettes, a 1080p (2.39) AVC encoded transfer, 7.1 DTS MA audio, a DVD and Digital HD copy.
---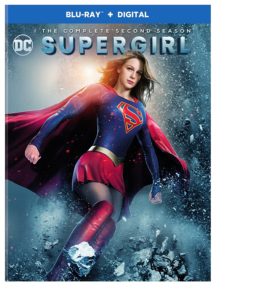 TV on DVD: The August Assault, Part 2
SUPERGIRL – The Complete Second Season Blu-Ray (931 mins., 2016-17; Warner). WHAT IT IS: Slickly produced if uneven series is – much like "The Flash" – a lot more appealing than most of DC's leaden big-screen adventures of their comic-book characters. Season 2 of "Supergirl" once again finds Marisa Benoist playing Kara Zor-El, aka Kara Danvers, aka Supergirl, who keeps her super-powers at a distance – until she can't bear not to share them with the world. Opting to fight crime and Kryptonian mutants in her National City home, Supergirl takes to the skies after leaving her job as an assistant at a fashion magazine presided over by publisher Cat Grant (Calista Flockhart). Chyler Leigh co-stars as Kara's human sister, Alex, in an expensive series that outweighed its usefulness to its initial network — the predominantly older skewing CBS — which led this sophomore season to air on the CW instead. Some of the storytelling is a bit creaky as well, but fans should enjoy the action, as well as the appearance of Superman himself here. BLU-RAY TECH SPECS: Warner's excellent 1080p (1.78) transfers and 5.1 DTS MA soundtracks comprise a robust BD package with extras including five featurettes, commentary with Andrew Kreisberg and Kevin Smith on the "Supergirl Lives" episode, and Digital HD copies. AISLE SEAT BOTTOM LINE: "Supergirl" hasn't exactly lived up to its potential but the series is still entertaining enough, with Warner's Blu-Ray boasting all 22 episodes from its second season in an excellent a/v presentation.
LUCIFER – The Complete Second Season DVD (787 mins., 2016-17; Warner). WHAT IT IS: There's nothing like Lucifer teaming up with a lovely LAPD detective to help solve crimes – which is exactly what you get with the second season of the agreeable, and steadily improving, Fox crime procedural, which is more than reminiscent of "Sleepy Hollow." However, while that Fox series started off strong and bombed out, "Lucifer"'s wackiness and humor have kept it afloat as it's about to kick off its third season. DVD TECH SPECS: This Season 2 set from Warner presents "Lucifer"'s sophomore season in fine 16:9 (1.78) transfers and 5.1 soundtracks. Two featurettes (2016 Comic Con panel, "Reinventing Lucifer" segments), a gag reel and unaired scenes comprise the extras. AISLE SEAT BOTTOM LINE: Devilish fun, as they say, "Lucifer" is worth a look now that the series has found its footing and embraced its offbeat nature.
BLUE BLOODS – The Complete Seventh Season DVD (16 hours, 2016-17; CBS). WHAT IT IS: I'm not sure it's some kind of a law in certain states, but is it mandatory to watch "Blue Bloods" when you hit the age of 65-70? Every older family member I know of is a devoted fan of this Friday night CBS series, which continues to draw in big viewers after seven seasons. CBS' DVD package of "Blue Bloods"' latest year finds the Reagan family in all kinds of predicaments: Frank (Tom Selleck) continues to navigate through high profile NYPD cases; eldest son Danny (Donnie Wahlberg) becomes a target for a cartel while battling the Russian mob; and younger brother Jamie (Will Estes) finds himself balancing work and romance at the same time as he falls for his partner. DVD TECH SPECS: CBS six-disc DVD set includes deleted scenes, a gag reel, a 150th episode celebration, two additional featurettes, 16:9 (1.78) transfers and 5.1 Dolby Digital soundtracks. AISLE SEAT BOTTOM LINE: There's some kind of hypnotic spell buried inside "Blue Bloods," and enraptured fans will surely be satisfied with CBS' latest DVD release, out in front of the show's upcoming eighth season premiere.
NCIS: LOS ANGELES – The Complete Eighth Season DVD (17 hours, 2016-17; CBS). WHAT IT IS: CBS' crime procedurals have had a good run over the last 10-15 years, though the venerable "CSI" franchise has given way to "NCIS" as TV's most popular dramatic series – leading, naturally, to this first spin-off from what was originally a spin-off of "JAG." In the eighth (already?!) season of "NCIS – Los Angeles," partners Chris O'Donnell and LL Cool J top-line the west coast investigative team who go after criminals threatening national security. Linda Hunt co-stars in these 23 latest episodes from the popular series, on DVD once again this week from CBS. DVD TECH SPECS: CBS' six-disc set features 16:9 (1.78) transfers, 5.1 sound, deleted scenes, commentary on the episode "Getaway," and four featurettes including a heartfelt tribute to the series' late co-star Miguel Ferrer. AISLE SEAT BOTTOM LINE: Aficionados of "NCIS: LA" will want to check out CBS' top-notch Season 8 DVD, which looks good and offers over an hour of supplements for good measure.
BILLIONS – The Complete Second Season DVD (12 hours, 2017; CBS). WHAT IT IS: Season two of the Showtime series brings back Damian Lewis as hedge fund guru Bobby Axelrod, once again taking on tough U.S. attorney Chuck Rhoades (Paul Giamatti) by turning tables that result in Rhoades being investigated. Giamatti and Lewis are fun to watch in this series from Brian Koppelman, David Levien and Andrew Ross Sorkin, with a top-notch supporting cast that includes Malin Akerman and "Sons of Anarchy" alumnus Maggie Siff. DVD TECH SPECS: Three featurettes are included in CBS' Season 2 set of "Billions" along with 16:9 (1.78) transfers and 5.1 Dolby Digital soundtracks. AISLE SEAT BOTTOM LINE: "Billions" isn't great but its cast is, and if you're a fan of the two leads in particular, the program makes for an enjoyable enough view.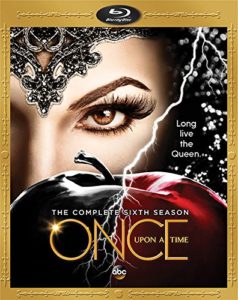 ONCE UPON A TIME – The Complete Sixth Season Blu-Ray (946 mins., 2016-17; Disney). WHAT IT IS: Sixth season of the popular ABC Sunday night staple brings a number of storylines to a seemingly definitive end: Regina has to take on the Evil Queen once again, despite having vanquished her from Storybrooke seemingly for good, while Gold and Belle's relationship is put to the test before their child is born; Snow and David are tasked with another curse; and a reformed Emma finds out she's destined for a nasty fate unless she changes course. BLU-RAY TECH SPECS: All 22 episodes from "Once Upon a Time"'s sixth season have been compiled by Disney in a multi-disc Blu-Ray set featuring excellent 1080p (1.78) AVC encoded transfers and 5.1 DTS MA soundtracks. Extras include a look behind the show's musical episode, deleted scenes, commentary, bloopers and several format-exclusive deleted segments as well. AISLE SEAT BOTTOM LINE: My wife has long been a fan of "Once Upon a Time," and the various character evolutions – actual growth – has been interesting to see over time. If things feel like they come to a natural close at the end here, it's because they really have – although renewed for a seventh season, most of the cast has opted to leave Storybrooke, making for what's likely going to be, in many fans' minds, the final "true" season of the long-running program.
THE BLACKLIST: The Complete Fourth Season Blu-Ray (946 mins., 2016-17; Sony). WHAT IT IS: Liz (Megan Boone) is back, resurrected and trying to make sense of her lost childhood in this fourth season of "The Blacklist." Meanwhile, Red Reddington (James Spader) continues to take on blacklisters of all persuasions even while the Task Force has issues dealing with Liz's return in Season 4, which debuted to solid ratings on NBC last fall before losing an alarming chunk of its audience by season's end. It may be that "The Blacklist" has pretty much run its course, and with the series ending with a revelation fans have expected since the start, it'll be interesting to see where the program goes next…if it's not too late. BLU-RAY TECH SPECS: Sony's currently-available Blu-Ray boasts the Blu-exclusive "A Darker Shade of Red" featurette, plus deleted scenes, a gag reel, episode commentaries on three shows, and two extra featurettes. The 1080p (1.78) transfers and 5.1 DTS MA soundtracks are all superb, and a Digital HD copy is also on-tap. AISLE SEAT BOTTOM LINE: "The Blacklist" looks like a show that's reached its peak, though Boone and Spader continue to have good chemistry together, holding the series together.
BLACK SAILS – The Complete Fourth Season Blu-Ray (10 hours, 2016; Anchor Bay). WHAT IT IS: The "Treasure Island" prequel finds Captain Flint (Toby Stephens) and Long John Silver (Luke Arnold) taking on the British for control of New Providence Island, while Eleanor Guthrie and Woodes Rogers preside over Nassau. A goodbye season for the Starz dramatic series, "Black Sails" tempered some of its more grizzly components (seen in the early episodes) and managed to carve out an attractive pirate drama throughout the course of its four seasons. BLU-RAY TECH SPECS: Anchor Bay's Blu-Ray, out August 29th, includes "Inside the World of Black Sails," "Creating the World," "Roundtable: Women in Piracy," "Roundtable: The Legends of Treasure Island" and "Roundtable: Fearless Fans" featurettes.  The 1080p (1.78) transfers and 7.1 DTS MA soundtracks are strongly rendered with Digital HD copies also on-hand. AISLE SEAT BOTTOM LINE: "Black Sails" buffs will want to drop an anchor and savor this final assortment of series episodes, flawlessly brought to Blu-Ray by Anchor Bay.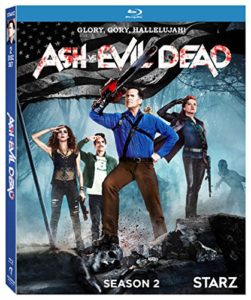 ASH VS. EVIL DEAD – Season 2 Blu-Ray (288 mins., 2017; Anchor Bay). WHAT IT IS: Fans of Sam Raimi's "Evil Dead" movies are likely to enjoy this fun, if repetitive, Starz series that brings back Bruce Campbell as everyone's favorite Deadite-slaying Supermarket worker, who is tasked with once again trying to stop an invasion of zombies from taking over the world. This time out, Ash leaves Jacksonville for his home in Elk Grove, where – naturally – the dead have followed, causing trouble for Ruby, with whom Ash forms an uneasy alliance. BLU-RAY TECH SPECS: Anchor Bay's Season 2 Blu-Ray, out this week, includes commentaries, a Season 2 "First Look," "Inside the World" and "Women Who Kick Ash" featurettes, additional featurettes (Puppets Are Cute; Dawn of the Spawn; Bringing Henrietta Back, The Delta, and How to Kill a Deadite) plus a "Fatality Mash-Up." The 1080p transfers and 7.1 Dolby TrueHD soundtracks are all excellent across the board. AISLE SEAT BOTTOM LINE: Any episode of "Ash Vs. Evil Dead" is guaranteed to raise a smile, but stringing together several of these (repetitive) shows at any one sitting grows tiresome. If you're a Campbell buff and can consume "Ash Vs. Evil Dead" in small doses, you'll likely be satisfied.
LAUGH-IN: The Complete First Season DVD (869 mins., 1967-68; Time Life). WHAT IT IS: Standalone DVD release of the influential TV comedy's inaugural season streets on September 5th from Time Life. When it premiered as a one-shot NBC special on September 9th, 1967, "Rowan & Martin's Laugh-In" broke new ground on television. Viewers had scarcely seen such a rapid-fire comic anthology on TV before, and the hour-long program was the right show at the right time in the turbulent late '60s. "Laugh-In" was timely, motivated by generation-gap/culture-clash jokes, the hippie movement, and provided the right tonic for audiences looking to laugh while the country was embroiled in numerous struggles socially, politically and militarily. Ratings for the initial special were strong, leading to a weekly series that aired on Mondays at 8pm starting in January of '68 – a time slot the series would occupy until it signed off, finally, in May of 1973. DVD TECH SPECS: This four-disc set includes the first 14 episodes of the series including its pilot episode, plus bloopers, 25th Anniversary Cast Reunion highlights and a new interview with executive producer George Schlatter. AISLE SEAT BOTTOM LINE: Well worth it if you can't afford Time Life's pricier box-set, which I reviewed earlier this summer.
---
Also New & Noteworthy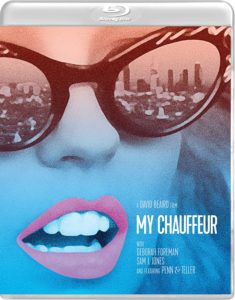 MY CHAUFFEUR Blu-Ray/DVD (97 mins., 1986, R; Vinegar Syndrome): Another superb catalog release plucked from the Crown International library by Vinegar Syndrome, "My Chauffeur" is an odd duck: a 1986 comedy from writer-director David Beaird that offers the always-appealing Deborah Foreman as a free-spirited woman who breaks the ranks of stuffy L.A. limo drivers. Her hiring at an agency presided over by E.G. Marshall leads to her falling for an upper-crust guy (Flash Gordon himself, Sam J. Jones) in a movie that can't quite make up its mind whether it's a romantic comedy, screwball farce, or Crown exploitation fare, complete with R-rated nudity. In the end, "My Chauffeur" is a bit of all of those elements, which under Beaird's direction, don't entirely gel – the 97-minute running time feels padded with extraneous gags that, in particular, could've been trimmed. Had it been a bit more focused, "My Chauffeur" might've been a genuine sleeper – as it is, it's still a worthwhile little movie worth a single viewing for Foreman's bubbly performance.
There's no quibble with Vinegar Syndrome's Blu-Ray/DVD combo pack on any front, though: a newly restored 2K transfer presents a detailed, satisfying (1.85) HD image with DTS MA mono sound, featuring a plodding score by Paul Hertzog that doesn't give the picture much energy. Extra features include a revealing interview with Foreman; a commentary track with Beaird and co-star Leland Cooke; another commentary with production assistant Jeff McKay; an isolated score, trailers, TV spots, and still galleries.
AMSTERDAMNED Blu-Ray/DVD Collector's Edition (113 mins., 1988, Not Rated; Blue Underground): The latest deluxe package from Blue Underground presents a definitive package of Dick Maas' 1988 Dutch thriller. Huub Stapel stars as a detective out to find out who's responsible for a series of Amsterdam murders before his girlfriend (Monique Van De Ven) might be next on the killer's list. Some genre buffs have long been admirers of this obscure, interesting outing that mixes cop-procedural elements with a dynamic boat chase that's worth a viewing by itself. Blue Underground's Blu includes a new 2K restoration approved by Maas with extras including a Making Of; interview with Huub Stapel; conversation with stunt coordinator Dickey Beer; commentary with Maas and editor Hans van Dongen; trailers, a music video, poster and still gallery, a collectible booklet, and DTS MA audio in 5.1 (English subtitled) or 2.0, featuring an English track with several of the stars having at least performed their own dubbing.
---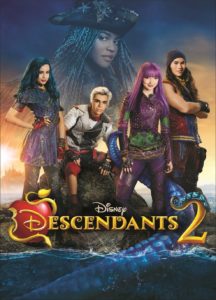 Quick Takes
DESCENDANTS 2 DVD (90 mins., 2017; Disney): The young offspring of Disney's villains return for another adventure in this sequel to one of the Disney Channel's highest-rated programs ever. In this follow-up, Mal flees Auradon and heads back to the Isle of the Lost; Evie and the gang go looking for her, while Ursula's daughter, Uma, has seized power there – and is planning on using her pirate crew to cause all kinds of nastiness. Veteran choreographer/director Kenny Ortega spins another colorful brew for teens and kids, with Disney's DVD including a 16:9 transfer and Dolby Digital sound.
MICKEY AND THE ROADSTER RACERS: START YOUR ENGINES DVD (72 mins., 2017; Disney): Mickey and the gang are back in this new DVD compilation of episodes from the popular Disney Junior series. Episodes include Agent Double-O-Goof; Its Wiki Wiki Time; Ye Olde Royal Heist; Abra-Ka-Goof!; Guru Goofy; and Going Uppppppppppppp! The vivid colors of the animated production are preserved in 1.78 transfers and 5.1 soundtracks via Disney's now-available DVD.
DEAN DVD (93 mins., 2017, PG-13; Lionsgate): Demetri Martin wrote, directed and starred in this nicely-performed relationship drama as a New York illustrator who heads to Los Angeles where he reconnects with his father (Kevin Kline) and strikes up a relationship with the lovely Gillian Jacobs. "Dean" isn't exactly Woody Allen in his prime but this is a very watchable character piece that has its moments. Lionsgate's DVD of the CBS Films production is out on August 29th featuring three featurettes, a 16:9 (2.40) transfer and 5.1 Dolby Digital sound.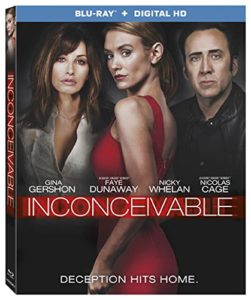 Also new on August 29th from Lionsgate is INCONCEIVABLE (106 mins., 2017, R), the tale of a doctor (Gina Gershon) who takes to her new live-in nanny (Nicky Whelan) and eventually asks her to become a surrogate mother. Not a good idea, as her husband (Nicolas Cage) and mother-in-law (Faye Dunaway) realize in this clichéd thriller that finds most of its leads well past their prime. Lionsgate's Blu-Ray offers commentary from director Jonathan Baker, a single deleted scene, cast/crew interviews, and a behind-the-scenes featurette. The 1080p (2.40) transfer on this Grindstone/Emmett Furla production is fine, as is the 5.1 DTS MA sound. A Digital HD copy is also included.
HEAL THE LIVING Blu-Ray (104 mins., 2016, Not Rated; Cohen Media Group): Katell Quillevere's French import revolves around a trio of connected stories: a teen and his friends on a surfing road trip that features a tragic end; a woman who finds out her failing heart is giving in; and a pair of doctors and medical personnel who end up having to deal with both issues. This kind of story line could've easily lead to melodrama but "Heal the Living" is restrained and doesn't overplay its hand, leading to a richly emotional conclusion, and all of it graced by an effective Alexandre Desplat score. Cohen's Blu-Ray of "Heal the Living," available August 29th, includes an interview with Guillevere, a 1080p transfer and 5.1 DTS MA audio in French with English subtitles
KIKI DVD (94 mins., 2016, Not Rated; Sundance Selects/MPI): New York City's "underground ballroom" scene is revisited a quarter-century after the release of the documentary "Paris Is Burning." Here, LGBTQ youths of color are profiled in elaborate dance competitions that personify the "Kiki community." Sara Jordeno's portrait of gay NYC is out on DVD this week offering a 16:9 transfer, 5.1 Dolby Digital sound, a music video and the trailer.
FIRST DAUGHTER AND THE BLACK SNAKE DVD (94 mins., 2016; Virgil Films): Keri Pickett's documentary follows Winona LaDuke, who believes Big Oil is the black snake prophesized in the "indigenous prophecy" that's going to lead to the destruction of the Earth. This prequel to "Standing Rock" is now available from Virgil featuring a 16:9 transfer and 2.0 stereo sound.
BLUEBEARD Blu-Ray/DVD (117 mins., 2017, Not Rated; Well Go USA): "The Handmaiden"'s Cho Jin-woong stars in this Korean import as a doctor who begins to suspect he may be surrounded by serial killers in a weird, slow-moving drama that offers moments of dread but a narrative that's not entirely coherent. There's a big twist involved – which you might see coming from miles away – in "Bluebeard," now on video courtesy of Well Go's Blu-Ray/DVD combo pack. DTS X audio (Korean with English subtitles) and a 1080p transfer comprise the BD portion of things.
NEXT TIME: FREEBIE AND THE BEAN from the Warner Archive! Until then, don't forget to drop in on the official Aisle Seat Message Boards and direct any emails to our email address. Cheers everyone!