A box-office dud in the U.S. that seemed to sum up the disinterest audiences had with much of Hollywood's Summer '17 offerings, the Tom Cruise version of THE MUMMY (**, 110 mins., 2017, PG-13) makes a fast track to home video this week, hoping there will be a more interested set of viewers for its meager brand of "contemporary monster fantasy."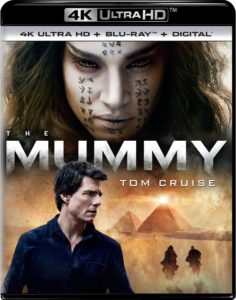 An uneasy marriage of a modern "Mummy" reboot, a would-be franchise starter for Universal's so-called "Dark Universe" and a "Tom Cruise Movie" all at once, this thoroughly underwhelming adventure finds Cruise's rogue-ish army captain and his compatriot ("New Girl"'s Jake Johnson) stumbling upon the ancient tomb of a cursed princess (Sofia Boutella) who killed her father and his infant son in order to claim power over their Egyptian kingdom. Unwittingly setting the female Mummy free, Ahmanet raises an army of the undead in London, where the mysterious Dr. Henry Jekyll (Russell Crowe) and his associate (Annabelle Wallis) preside over a secret team of researchers included to connect this "Mummy" with future Universal Monster reworkings – presuming any of those films now get made.
Boasting no less than a half-dozen credited screenwriters, this "Mummy" offers little of the rousing fun of Steven Sommers' "Raiders"-esque period adventures, which were far more popular with audiences back in 1999 and 2001. Cruise tries extremely hard to inject some "fun" into Alex Kurtzman's direction, but this is not a particularly well-executed film, showing strain from its thrifty (considering the material) budget and set-pieces completely by-the-numbers in their execution. Unimpressive special effects – look, underwater zombies! – and shockingly drab, mundane cinematography result in a dreary looking movie that doesn't even make for an attractive 4K UHD presentation.
Producing a more female-centric, modern "Mummy" may have well looked better on paper in Jon Spaights' original concept (Spaights had also written "Prometheus" before Ridley Scott decided, unwisely, to take the aliens out). The final result, though, is a movie that feels like it's being pulled in specific, contrasting directions (no surprise with Cruise surrogates David Koepp and Christopher McQuarrie among the movie's writing staff): the Russell Crowe sequences stop the movie dead, there's no chemistry between Cruise and either Wallis or Boutella, and the ending is a total whiff, setting up future adventures for Cruise's reborn Monster God (or whatever he's supposed to be) while failing to provide this particular story with a satisfying climax. It's the total embodiment of a film being used as a commercial prop for a prospective series as opposed to a living, breathing cinematic entity of its own – a new kind of cinematic Mummy in all the wrong ways.
4K Rundown: Universal's 4K UHD of "The Mummy" streets next week. As a result of the picture's unappealing visual design, this is a competent yet mostly unremarkable UHD presentation that doesn't offer a whole lot of pop or color texture in its HDR attributes. There are the occasional moments when flickering light or a splash of brightness makes one take notice of HDR, but this disc is not one you'll be reaching for to show off the benefits of 4K UHD to your friends (in fact, there's more HDR "zing" in Universal's 4K UHD releases of the original "Mummy Trilogy"). The Dolby Atmos audio is expectedly robust but also not entirely as aggressive as one might expect, while ample extras include a commentary track, deleted/extended sequences, a handful of featurettes taking viewers behind the scenes, the Blu-Ray release (whose transfer isn't far removed from the UHD at all) and a Digital HD copy.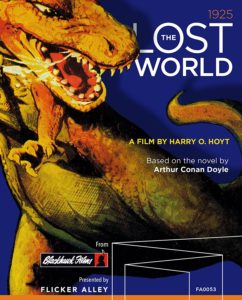 One of the original "Monster Movies" has been painstakingly reconstructed and restored by Lobster Films and a myriad of other outlets, including Flicker Alley, whose Blu-Ray release of THE LOST WORLD (104 mins., 1925) ranks as one of the year's finest catalog releases to date.
This silent adaptation of Sir Arthur Conan Doyle's novel boasts a bevy of stop-motion dinosaurs from special effects pioneer Willis O'Brien – all a precursor to his genre-defining work in "King Kong" just a few years later. Most interesting is a brontosaurus (my son's favorite, having sat through all 55 installments of "The Land Before Time"!) who ends up wrecking havoc in London in the movie's finale – a sequence that laid the groundwork for countless film fantasies that followed.
The movie's history and its various restorations have been documented in Flicker Alley's booklet and a commentary track by Nicolas Ciccone – without specifically rehashing them, the bottom line is this Blu-Ray presents the most comprehensive version of "The Lost World" ever seen, utilizing (wherever possible) original film elements to create a version that is jaw-droppingly detailed given its age. Obviously, various splices, jump cuts and other issues are seen throughout, but it is ultimately stunning how good this 1080p (1.33) transfer appears given its history. The PCM audio houses a new orchestral score by Robert Israel that enhances the action, and an assortment of terrific extras include "The Ghost of Slumber Mountain," a 1918 O'Brien short presented in a new 2K restoration; O'Brien's 1917 short "R.F.D, 10,000 B.C." and excerpts from his unfinished 1930 production "Creation," along with deleted "Lost World" special effects sequences and an image gallery. Highly recommended for all sci-fi/fantasy enthusiasts, most especially for its immeasurable historical value.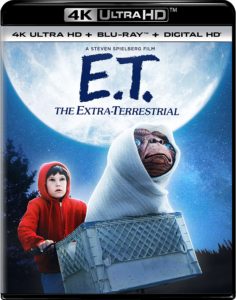 E.T. THE EXTRA-TERRESTRIAL 4K UHD Combo Pack (****, 115 mins., 1982, PG; Universal): The old cliché that you cannot go home again happily doesn't apply to Steven Spielberg's E.T.,  the 1982 classic that makes a welcome debut this week in the early days of the 4K UHD format (it took years to secure a Blu-Ray release).
The last time I had seen the film theatrically was in 2002 for its 20th Anniversary re-release — the ninth time I had seen the movie in theaters, but the first viewing I had on the big screen since E.T. first opened in 1982. At that point, I was not quite eight years old, and my lifelong love for the movies was about to take hold during that magical summer of genre favorites.
Watching the film again, as an adult, is a fascinating experience – not just because of how well the movie holds up, but in how it captivates children as well as adults, who can watch the film from a different perspective and yet be every bit as moved and spellbound by the story as kids are. I was finally able to see what critics had described in 1982, about how Speilberg's movie works for grown-ups in profound yet subtle ways. Whereas kids primarily identify with Elliott's plight to help E.T. get home, on this viewing I carefully studied the reaction of the other characters in the film, and was in awe of how Spielberg carefully painted every character's nuance in seemingly small background detail so effectively. Specifically, I was moved by how Elliott's older brother (a perennially underrated performance by Robert McNaughton) aids his younger brother and gains his uncompromising trust, and how Peter Coyote's initially-villainous, ultimately sympathetic "Man With The Keys" is essentially Elliott as a grown-up, understanding his emotions and wanting to help the abandoned alien but not knowing how.
The movie is told with beautiful economy — each scene creates and sustains an emotion integral to the characters, or serves to propel the story forward. The sequences with Elliott showing E.T. his room, his Star Wars figures, are so genuine, feel so real, that you forget you are watching a sci-fi fantasy that tugs on your heartstrings. It's the kind of movie that cynics love to bash because it makes them feel emotional, but E.T.'s cinematic virtues are plentiful. The movie is anything but saccharine emotion, and it makes you care about Elliott and his family because Spielberg and writer Melissa Mathison make them seem like real people. There aren't any moments early in the film that don't feel like real life, and this timeless quality makes one get past the occasional '80s staple like an Atari 2600 camping out on the top of the family TV.
We all know and love the film's operatic ending, but there are scenes throughout E.T. that are subtle and yet every bit as sublime. This is illustrated perfectly in the sequence in which E.T. watches the mother (Dee Wallace) read "Peter Pan" to Gertie (Drew Barrymore), with the creature almost as interested in studying their interaction as he is in Elliott's plan to help him return to the mothership. Henry Thomas' performance is still the greatest juvenile performance I've ever seen, and the sequence in which Elliott says goodbye to E.T. — whom he believes to be dead — is as moving as any moment in the entire film.
Making all of it work, of course, is John Williams' music, still arguably his finest score for not only its outstanding lyricism, but its unforgettable, symbiotic relationship with the movie itself. From the quiet, poignant cues underscoring Elliott and E.T.'s scenes together – to the glorious finale that says every word in musical terms that Spielberg happily didn't feel the need to spell out with dialogue – Williams' music is E.T. It's another character in the film, punctuating every emotion in a fashion that's as restrained at times as it is powerful at others.
It's a marvelous, wonderful film and Universal's 4K presentation is a terrific addition to a fledgling roster of UHD catalog releases that effectively utilize High Dynamic Range (HDR) and really take advantage of the 4K format. The 2012 Blu-Ray (also included) boasted a crisply detailed transfer without any obvious noise or DNR filtering; this presentation does one better, enhancing the colors of Allen Daviau's cinematography in often subtle ways that become more obvious when you circle back to the standard 1080p Blu-Ray. Though not as jaw-dropping as the likes of Warner's "Blade Runner," Universal's UHD boasts an impressive array of enhanced colors, detectable in its opening sequences as E.T. misses his initial flight home and is sustained through the interiors of Elliot's house. The warmth of Daviau's work is also more accurately conveyed in a UHD that's among the better 4K catalog releases of the year, boasting a more satisfying, darker yet richer image on the whole compared to its Blu-Ray counterpart. On the audio side, the DTS X mix is effectively rendered though not in revisionist ways, providing a broad stage for Williams' masterful score.
A Digital HD copy is also included plus the 2012 Blu-Ray, which added a then-new interview with Spielberg, more of John Toll's 1982 behind-the-scenes footage, and recycled various extras from the 2002 DVD. For a full rundown on that disc – and what it didn't carry over from its 1990s Laserdisc – check out my 2012 review here (there's also a Limited Edition gift-pack which wasn't sent for review).
---
Warner Archive New Releases
One of those "'70s movies" you frequently see critics raving about, Arthur Penn's NIGHT MOVES (***, 100 mins., 1975, R) is a convoluted and overpraised detective thriller that's still consistently watchable because of Gene Hackman's central performance.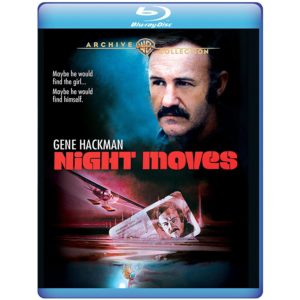 Less a revisionist commentary on its genre than Robert Altman's more durable "The Long Goodbye," and not as aesthetically compelling as Roman Polanski's classic "Chinatown," "Night Moves" finds Hackman's sad-sack L.A. detective, Harry Moseby, hired to find the nubile teen daughter (Melanie Griffith) of an aging actress. Facing an already failing marriage to his cheating wife (Susan Clark), Harry travels to south Florida to retrieve the impetuous girl, and eventually stumbles into a smuggling ring that he unfortunately becomes an unwitting part of.
Alan Sharp's original script and Penn's direction want to say "something important" about the Watergate era, in the context of a modern film noir. That's all fine and good, except "Night Moves"'s plot becomes increasingly, and unnecessarily, complicated after a straightforward start. The editing is choppy and only after a couple of viewings does the story become clearer, elements that prevent this film from really being the classic some critics claim that it is. Hackman, though, is terrific throughout, giving his character a sympathetic dimension in spite of his flaws, and it's fun to watch Griffith and a young James Woods just starting their careers in key supporting roles.
Debuting from the Warner Archive this month on Blu-Ray, "Night Moves" has been treated to a high bit-rate, wonderfully detailed 1080p (1.78) AVC encoded transfer. Bruce Surtees' cinematography is surprisingly plain in its approach for the most part, but the transfer itself is excellent, while the pungent DTS MA mono sound houses a jazzy score by Michael Small that's unmistakably the work of its composer. The trailer and the vintage featurette "The Day of the Director" (in standard-def) are also included.
A pair of Steve Martin comedies are also new on Blu-Ray from the Warner Archive this month.
THE MAN WITH TWO BRAINS (***, 90 mins., 1983, R) was released in the midst of Martin's collaborations with director Carl Reiner, and stars Martin as Dr. Michael Hfuhruhurr, who loses his beloved wife and then tries to bring her back – in the guise of his new spouse, a gorgeous but icy cold vixen played by Kathleen Turner. David Warner co-stars in a generally funny bit of comic lunacy written by Martin, Reiner and George Gipe, who worked together on "Dead Men Don't Wear Plaid" the previous year. Warner's new 16:9 (1.85) transfer is miles ahead of their prior, 4:3 DVD effort with mono audio.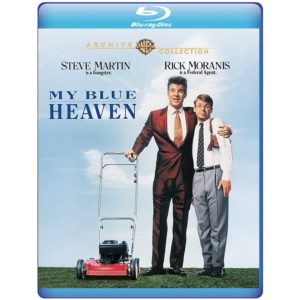 Not as satisfying was MY BLUE HEAVEN (**, 96 mins., 1990, PG-13), with Martin miscalculating his performance as Vinnie Antonelli, a mob informant who makes life difficult for FBI agent Barney Coopersmith (Rick Moranis) after he enters Witness Protection. "My Blue Heaven" had some big names attached to it: director Hebert Ross had just directed "Steel Magnolias" and previously worked with Martin on "Pennies From Heaven," while writer Nora Ephron's "When Harry Met Sally" had recently cemented itself as one of its era's top box-office comedy hits. Unfortunately, something just didn't connect in the finished product, starting with Martin's grating performance and extending through a labored farce that's seldom funny, and more interesting for its off-screen elements than its on-screen components. Those included the rumored original casting of Arnold Schwarzenegger in the mobster role, to the fact that Ephron was then married to "Goodfellas" author Nicholas Pileggi – and essentially wrote this as a comedic sequel to that then-unreleased classic, using Henry Hill's time in witness protection as a springboard for various concepts in "My Blue Heaven."
It's too bad the movie isn't funnier, but at least the Blu-Ray is a big improvement over the movie's ancient 4:3 full-frame DVD, and contains a peppy 2.0 DTS MA stereo track.
Finally, the Archive has also released THE CORN IS GREEN (93 mins.) on DVD. This 1979 TV-movie marked the 10th and final collaboration between Katharine Hepburn and director George Cukor, in an enjoyable adaptation of the Emlyn Wiliams play about a feisty old woman (guess who?) who turns a Welsh mining community on its ear after relocating there during the early 1900s. John Barry scored the production, shot by Ted Scaife though presented here on DVD by Warner in a cropped 16:9 framing that seems to lob off some details at the top and bottom of the frame.
---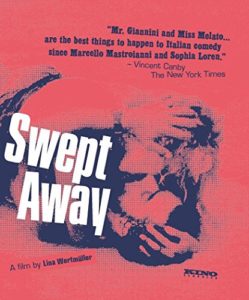 Kino Lorber New Releases
Everybody has one of those "Rites of Passage" movies they watch when they're younger, long before they're suited to see them.
One of my fondest such memories happened when I was 13 years old, on the night that Boston's WSBK TV-38 decided to show Lina Wertmuller's erotic SWEPT AWAY… (114 mins. 1974) at 8pm on a cold February night in New England.
Not only did they screen the movie, but they also aired it uncut with no commercial breaks. Better yet, the fact that it was on over-the-air, pre-cable TV enabled me to convince my parents that it was certainly fine for me to watch through my fever (I was also staying home sick from school) — pretty much a happy set of circumstances that would have been the only way anyone would have let a young teen sit through the erotically-charged, comedic, and dramatic escapades of Wertmuller's acclaimed 1976 film!
I'm fairly sure I didn't get all of Wertmuller's satirical components and class warfare plot elements, yet there's something incredibly compelling about the film  — and its relationship between Giancarlo Giannini's gruff Communist sailor and Mariangela Melato's pampered, socialite capitalist, shipwrecked on a remote island off the coast of Sardinia – that still kept me watching…that, and lots of sex, too!
Kino Lorber's Blu-Ray of the film took me back to that memorable night watching "The Movie Loft" and Dana Hersey on TV-38, offering a strong 1080p (1.85) AVC encoded transfer with 2.0 DTS MA Italian audio and English subtitles. This is a terrifically entertaining movie that's been enhanced here on Blu-Ray, offering crisper detail and colors than I obviously saw that night on UHF broadcast television. Kino Lorber's extras include commentary by Valerio Ruiz, booklet essays, a documentary excerpt on Wertmuller, and an interview with director Amy Heckerling.
Also available from Kino  Lorber is Wetmuller's follow-up feature, SEVEN BEAUTIES (116 mins., 1975), an equally offbeat – if not altogether stranger – tale that reunited the director with Giancarlo Giannini. Here playing an Italian thief/con artist, Giannini gives a commanding performance in a film that takes him into a German concentration camp in a movie with wild swings of emotion that's a must for the director's devotees. In addition to a new 1080p (1.85) transfer and 2.0 DTS MA Italian audio, the Blu-Ray boasts another documentary extract on Wertmuller and conversation with Amy Heckerling, plus booklet note essays.
---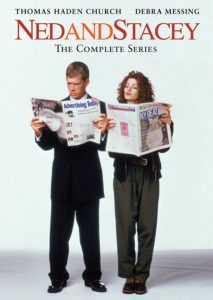 TV on DVD
NED AND STACEY: THE COMPLETE FIRST SERIES DVD (1995-97, 17 hours, Shout Factory): Before Debra Messing became a big hit on "Will and Grace" and Thomas Haden Church earned kudos in "Sideways," the duo starred in this appealing, underrated mid '90s Fox sitcom.
The set-up is, admittedly, a bit forced: Ned (Haden Church) is an arrogant, acerbic businessman who marries would-be journalist Stacey (Messing) to curry favor with his bosses and gain a promotion in the process. Despite the fact that the duo hardly know each other, Stacey agrees, mainly because she needs a place to live. From there, the would-be couple engage in a battle of the sexes, hang out with pals Greg Germann and Nadia Dajani, and spar over pretty much everything.
Though some view the show as merely a warm-up for Messing's subsequent success with "Will and Grace," "Ned and Stacey" is, for the most part, a funny, well-written sitcom with an edge. The series only lasted two seasons and never did the expected by pairing the two romantically (something that could well have been developed if the show wasn't cancelled prematurely), and as a result focuses strictly on the comedic interplay between its cast. Haden Church and Messing work great together here, and Germann and Dajani are frequently hilarious as their equally bickering friends.
Shout Factory's Complete Series DVD streets on September 25th, featuring the debut of the show's second season on home video – including some 11 episodes that never aired during its initial network run. The transfers (1.33) and stereo soundtracks are fine, and a pair of extras have been ported over from Sony's 2005 Season 1 DVD: a 20-minute retrospective offers then-new interviews with the stars, while creator Michael J. Weithorn offers a commentary on the pilot episode. Like Messing, Weithorn's next show ("The King of Queens") would become a full-blown success, but "Ned and Stacey" still offers plenty for its cast and creators to be proud of. This piece of fluff is highly appealing on its own terms and worthy of a second look by those who might have missed it the first time around.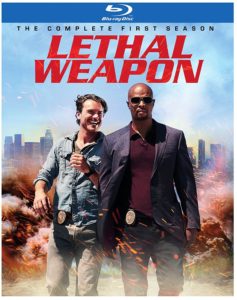 ARROW: The Complete Fifth Season Blu-Ray (970 mins., 2016-17; Warner). THE LOWDOWN: Oliver Queen finds himself appointed as the new Mayor of Star City, challenged both politically and in his super-hero alter-ego guise as the Green Arrow. This time around, in Season 5 of The CW's "Arrow," Oliver is nearly alone in terms of support, with buddy John Diggle back in military service and his sister, Thea, ready to hang up her own brand of vigilante justice as Speedy. With Felicity Smoak still by his side, Olvier has to contend with another array of masked villains, plus the addition of Echo Kellum as inventor Curtis Holt. BLU-RAY SPECS: Warner's Fifth Season of "Arrow" hits stores on September 19th featuring the studio's customary 1080p (1.78) transfers and 5.1 DTS MA soundtracks. Extras include four fan-friendly featurettes (The New Team Arrow, Allied, Arrow: 2016 Comic-Con Panel and Returning to the Roots of Arrow), deleted scenes, a gag reel, the DC Crossover event with the Legends of Tomorrow, The Flash and Supergirl, and a Digital HD copy. AISLE SEAT BOTTOM LINE: "Arrow" has grown a little long in the tooth and fans are likely to be the most satisfied audience by this superb Warner Blu-Ray package.
LETHAL WEAPON: The Complete First Season Blu-Ray (790 mins., 2016-17; Warner). THE LOWDOWN: For every successful film-to-TV translation there are at least a dozen misfires, a ratio that makes the surprising performance of "Lethal Weapon" something to admire at least a little bit. This Fox series from Warner Bros. TV reworks the original concept of mismatched L.A. cops – a veteran officer named Robert Murtaugh (Damon Wayans) and Martin Riggs, his new, loose-cannon partner (Clayne Crawford) – fairly effectively. Wayans and Crawford generate decent chemistry and play off each other well, making the police procedural plots seem a little less formulaic than usual. "Lethal Weapon" may not be anything groundbreaking, but it's sturdy and fun from what I sampled this past winter during its Season 1 run. BLU-RAY SPECS: Warner's Season 1 Blu-Ray includes an uncensored Extended Pilot episode, a single featurette "Reloading Lethal Weapon" plus deleted scenes, a gag reel, a Digital HD copy, 1080p transfers (1.78) and 5.1 DTS MA sound. AISLE SEAT BOTTOM LINE: Headed back for a Season 2 this fall on Fox, the small-screen "Lethal Weapon" may not rekindle your memories of Mel Gibson and Danny Glover, but as network TV series go these days, it's an old-fashioned throwback that seems to embrace what it is.
Also new this week on DVD from Warner is Season Three of LEGO NEXO KNIGHTS: STORM OVER KNIGHTON (220 mins., 2017). This double-disc DVD set includes its entire third season of episodes – The Cloud, A Little Rusty, Mount Thunderstrax, Rotten Luck, Storm Over Rock Wood, Miner Setback, Knight at the Museum, Hot Rock Massage, Rock Bottom and In Charge – in colorful 16:9 transfers with 2.0 soundtracks. Recommended most especially for young viewers and Lego fans.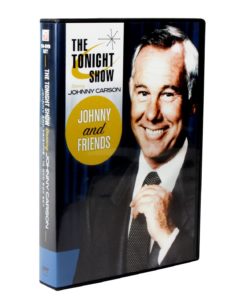 CODE BLACK – Season 2 DVD (12 hours, 2016-17; CBS): Marcia Gay Harden tackles the small screen in the second season of this CBS series as Dr. Leanne Rorish, an uncompromising, no-nonsense Residency Doctor in the country's busiest Emergency Room. Leading a group of now second-year residents, Rorish's Angels Memorial Hospital is chock full of life-or-death situations, shepherded by its veteran doctors as well as Head Nurse Jesse Sallander, engagingly performed by Luis Guzman. Rob Lowe also joins the cast as a military doctor in Season 2 of "Code Black," coming to DVD on September 19th from CBS. The four-disc DVD set features over an hour of extras, including a featurette, gag reel, deleted/extended scenes on several episodes, 16:9 transfers, 5.1 sound and other goodies.
MADAM SECRETARY – Season 3 DVD (17 hours, 2016-17; CBS): Third season of CBS' popular Sunday night dramatic series finds Elizabeth McCord (Tea Leoni) trying to juggle being a wife and mother as well as a Secretary to State to a President (Keith Carradine) fighting for re-election. Tim Daly co-stars as McCord's husband – here tasked with taking down a doomsday cult – while Zelijko Ivanek fills his traditional heavy role of the combative White House Chief of Staff. CBS' third-season DVD of "Madam Secretary" includes deleted/extended scenes, a Season 3 feaurette, 16:9 transfers and 5.1 soundtracks.
THE TONIGHT SHOW STARRING JOHNNY CARSON: Johnny & Friends, 10-Disc Set (Time Life): 28 full shows from the classic era of "The Tonight Show" wing their way onto a 10-disc DVD set on September 19th from Time-Life. Sporting commercials and bonus material, this latest anthology of vintage Carson goodness offers appearances by Eddie Murphy, Jerry Seinfeld, Burt Reynolds, Jay Leno, David Letterman, Rodney Dangerfield, Steve Martin and Tonight Show staple Jim Fowler among others.
SILICON VALLEY: The Complete Fourth Season Blu-Ray (300 mins., 2017; HBO): Fourth season of one of the funniest shows on TV isn't quite as satisfying as its prior years, with the Pied Piper guys splintering off into different factions: Richard (Thomas Middleditch) attempting to use Hooli to get his algorithm running, while the rest of the gang tries to launch PiperChat on a worldwide scale. Things continue to go upside down at Hooli, while Big Head gets a job – as a visiting professor. Mike Judge and Alec Berg's series continues to be funny and sharp, but the writing is a bit uneven through the first half of the season before settling down for a strong wrap up. HBO's Blu-Ray is out this week offering a Digital HD copy, 1080p transfers, 5.1 DTS MA sound and deleted scenes for extras.
Also new this week is the Complete Sixth Season of  VEEP (285 mins., 2017), the Emmy-winning HBO series. Here, Selina Meyer finds herself trying to navigate the Washington swamp after a failed Senate vote forces her out of office. With much of her staff pursuing other endeavors, Meyer (Juia Louis-Dreyfus) tries to mark her mark, to often hilarious results, in Season 6 of "Veep." Seven audio commentaries are on-hand in HBO's Blu-Ray plus Digital HD copies, 1080p transfers and 5.1 DTS MA soundtracks.
---
Arrow New Releases
Mario Bava's wide-ranging career kicked off with work in a variety of genres, including the sword-and-sandal category of the late '50s and '60s. One such Italian import, ERIK THE CONQUEROR (90 mins., 1961) has been given the Special Edition treatment from Arrow this month, and it offers a modest array of entertainment, especially if you're a fan of these kinds of pictures (which, so far, have been mostly underrepresented on Blu-Ray).
Bava's reworking of "The Vikings" finds the son of a Viking king having been raised in England as the "Duke of Helford" after his father is slain. His brother, meanwhile, takes command of his Viking clan years later, sending both on a collision course that's vividly shot in widescreen and scored by Roberto Nicolosi.
Bava's comic-book adventure should appeal to viewers who enjoyed the Steve Reeves "Hercules" films and similar cinematic excursions shot on the lower end of the budgetary spectrum. Not that this is an entirely cheap production, however, as "Erik" boasts a few nifty sets that Bava takes full advantage of, as well as a quick pace and plenty of action.
The dramatic engagement is limited, but again, for folks who enjoy this kind of thing, Arrow's Blu-Ray boasts a terrifically detailed 1080p transfer based off a 2K restoration of the original camera negative. Both English and Italian audio are included, along with a brand-new commentary from Tim Lucas, Bava authority and Video Watchdog extraordinaire. Also included is a new audio interview with star Cameron Mitchell, the original ending, a comparison between the film and "The Vikings," plus English subtitles and a DVD copy.
Also new from Arrow this month on Blu-Ray: Robert Aldrich followed his Mickey Spillane thriller "Kiss Me Deadly" with THE BIG KNIFE (111 mins., 1955), an adaptation of Clifford Odets' stage play about a floundering Hollywood star. Jack Palance, Rod Steiger, Ida Lupino, Jean Hagen and "Miss" Shelley Winters star in James Poe's adaptation of "The Big Knife," debuting on Blu-Ray in a new 2K restoration from original film elements, produced exclusively by Arrow for this release. Extras include commentary from critics Glenn Kenny and Nick Pinkerton; a segment on Saul Bass, whose opening credits adorn the film; a TV promo for the film; and the original trailer…Arrow also dips into the contemporary realm with their Blu-Ray of THE GHOUL (85 mins., 2016), Gareth Tunley's debut film about a homicide detective who goes undercover after investigating a double murder, and runs into the occult. Commentary from Tunley, a documentary on the film, a 2013 Tunley short, the trailer, a 1080p transfer and 5.1 sound comprise Arrow's Blu-Ray.
---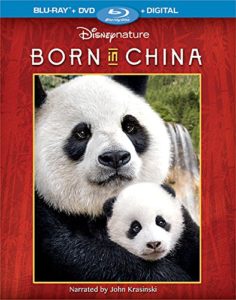 Quick Takes
BORN IN CHINA Blu-Ray Combo Pack (79 mins., 2017, G; Disney): Another superb Disney Nature documentary follows a panda family, a clan of golden monkeys and a gaggle of snow leopards as they traverse and tackle China's varied terrain. Remarkable footage is mixed into a straightforward narrative that should appeal to kids and adults alike, and Disney's Blu-Ray delivers a superb 1080p transfer with 5.1 DTS MA audio, a DVD and Digital HD copy. Extras include a music video and interesting behind-the-scenes content, showing viewers how the filmmakers shot the picture.
CARTELS Blu-Ray (100 mins., 2017, R; Lionsgate): Steven Seagal is back in a Keoni Waxman-directed action outing also starring genre fave Luke Goss. Here, Goss plays a U.S. Marshal safeguarding a drug kingpin (UFC champ Georges St-Pierre) under attack from hitmen who want him dead after he turns informant. Seagal essays an agent who's out for the mole who compromised their operation in "Cartels," making its way to Blu-Ray next week from Lionsgate. The disc includes a 1080p (1.78) AVC encode, 5.1 DTS MA sound and a Digital HD copy.
Film Movement New Releases: Zhang Yang's newest feature, SOUL ON A STRING (142 mins., 2017), makes its home video debut on DVD this week from Film Movement. The acclaimed film follows a Tibetan man who treks out to reclaim a divine artifact and deliver it to the holy mountain of Buddha in an offbeat fantasy-western that drew raves on the festival circuit both here and abroad. Film Movement's DVD features a 16:9 (2.35) transfer, 5.1/2.0 sound in Tibetan (with English subtitles) plus Oualid Mouaness' short "The Rifle, The Jackal, The Wolf, And The Boy"…Coming next week on Blu-Ray from Film Movement is HANA-BI (103 mins., 1997), one of Japanese filmmaker Takeshi Kitano's earliest, and most acclaimed, thrillers about a police detective who borrows from a yakuza boss and then robs a bank in order to pay off his debt. Things, naturally, don't go smoothly from there in a film that launched Kitano's reputation on the international circuit. Film Movement's Blu-Ray includes a commentary from David Fear, a Making Of featurette, Jasper Sharp's essay, a 1080p (1.85) transfer and Japanese soundtrack with English subtitles.
Lionsgate New Releases: Coming September 26th from Lionsgate on DVD is 3 IDIOTAS (106 mins., 2017, PG-13), the story of a pair of nerdy friends (Antonio Abascal, Carlos Bolado) who decide to reunite their long-lost pal with the love of his life (Martha Migareda). This Mexican import comes to DVD later this month from Lionsgate offering a 16:9 transfer with 5.1 Spanish audio and optional English SDH subs…An elaborate Hong Kong fantasy, L.O.R.D: LEGEND OF RAVAGING DYNASTIES (118 mins., 2017, Not Rated) makes its DVD debut also on September 26th. Guo Jungming's film finds supernatural warriors sparring with evil forces after one of the seven lords who govern the universe fall. Extensive motion-capture work and CGI creatures adorn this teenage-centric picture, coming to home video featuring 5.1 English audio (no Mandarin!) and a nice 16:9 (2.39) transfer.
I LOVE YOU BOTH DVD (87 mins., 2017, Not Rated; Magnolia): Strange, occasionally funny tale of twins (real-life siblings Doug and Kristin Archibald) who are charmed by the same man (Lucas Neff) at their birthday party – and end up both having an interest in him from a dating perspective. Doug Archibald also directed this indie quirkfest, on DVD this week from Magnolia. The disc boasts interviews with the Archibalds, deleted scenes, a photo gallery, 16:9 transfer and 5.1 sound.
THE TREASURE DVD (89 mins., 2015, Not Rated; Sundance Selects/MPI): Corneliu Porumboiu's comedic caper "The Treasure" stars Cuzin Toma as a family man who helps his neighbor (Adrian Purcarescu) dig for his family's lost fortune at their country estate – only to dig up some of Romania's darkest history along with it. This Romanian import comes to DVD on September 19th featuring a 16:9 transfer and 5.1 sound with English subtitles from MPI.
NEXT TIME: More of the latest reviews! Until then, don't forget to drop in on the official Aisle Seat Message Boards and direct any emails to our email address. Cheers everyone!