The fact that we haven't had many female super-hero flicks makes  WONDER WOMAN (***, 143 mins., PG-13; Warner) a novelty by itself – and within the parameters of the genre, this lavish DC Comics box-office smash is a sturdy and well-made fantasy that pits the Amazon Princess against the German forces of WWI…or, to be more precise, Aries, the God of War, whom Diana (Gal Godot) believes is the source of all of mankind's horrifying military struggles.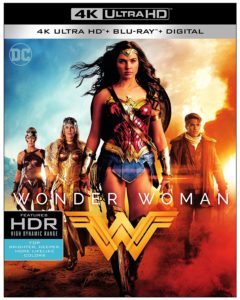 Naturally, Diana's naivete fuels most of this "origin" movie from director Patty Jenkins, who was once slated to helm "Thor: The Dark World." Her eventual work in the genre proves to be a far more satisfying package that nevertheless is firmly formulaic and breaks no ground in terms of how these comic book movies play out – but is a lot more likeable than, say, DC's brainless, headache-inducing one-two punch of "Batman V Superman" and "Suicide Squad" a year ago.
Most of the credit has to go to Jenkins and her work with the cast, particularly Godot, who serves up an athletic and punchy Wonder Woman who's easy to pull for. So, too, is Chris Pine – never the most compelling big-screen leading man, Pine is much more relaxed as Steve Trevor than he's been elsewhere, the American hero here recast as a WWI spy trying to track down German forces in the waning days of the war. Pine's humor meshes well with Godot's physical presence, which is stronger than her overall acting ability, and once Steve accidentally crashes on the secret island of the Amazons, he unlocks Diana's desire to seek adventure elsewhere – as well as marks her first encounter ever with a male. Allan Heinberg's script gives the duo ample opportunity to develop their relationship as they cross the ocean to fight the "Good War," along with reveal the truth about Diana's ancestral heritage.
"Wonder Woman" is told in multiple "acts" – the initial third on Diana's island paradise is engaging enough though forgettable, offering fleeting appearances by Robin Wright and Connie Nielsen that aren't going to linger long in the memory bank. The second section, with Diana and Steve taking off for WWI, drags on for a lengthy chunk of time, making one wonder why a set-piece wasn't brought in to break up the flagging pace. Things perk up for the (stop me if you've heard this before) big effects-filled climax, with everything told in a flashback-framework that gives off a "Captain America" vibe.
There are also (sometimes sketchily-defined) supporting characters who aid Diana and Steve's trek to the front lines, including Lucy Davis as Trevor's British secretary (she has a few funny lines before disappearing), plus Saïd Taghmaoui and Ewan Bremner as skilled fighters (more or less) who serve as Steve's pals on and off the battlefield. David Thewlis plays a prominent role as a British bureaucrat and Danny Huston essays the chief German heavy – though the film is so non-committal in terms of its "global" political perspective that it surprisingly goes out of its way to paint Germans somewhat sympathetically (outside Huston's vile general) and offer some "modern" commentary on the war itself along the way (as Steve himself intones, "maybe we're all wrong"). For a character conceived on the Red, White and Blue, this trendy "revisionism" of the backdrop, not to mention Wonder Woman herself, smacks of an obvious play for international box-office revenue – all the better to sell the film where most of these "tentpoles" make their money today.
The result is still a film that is, by and large, quite entertaining and ultimately falls somewhere in the upper-middle of the pack in terms of its genre – between the more cookie-cutter Marvel films but a step below its truly inspired works. Given Warner/DC's spotty track record, though, you know that's something they'll be content to corral with a few spins of Wonder Woman's magic lasso.
4K Rundown: Warner's 4K UHD of "Wonder Woman" offers an abundant array of HDR enhancements, from Diana's weapon of choice to vivid reds that stand out in an otherwise mostly bland visual scheme. Still, the HDR gives the movie a nice boost and is far more impressive than how the film appeared in my theatrical screening, which appeared murky and drab by comparison, and likewise offers an upgrade from its standard 1080p Blu-Ray. Dolby Atmos audio is constantly active though the music score by Rupert Gregson-Williams quickly grows grating. Supplements include a bonus epilogue that helps tie up some loose ends among the supporting cast, additional extended scenes, a blooper reel, and mostly fluffy behind-the-scenes segments (making one surmise a Collector's Edition will follow down the line), plus a Digital HD copy.
---
Shout! Factory New Releases
One of the big busts from the late '70s, SGT. PEPPER'S LONELY HEARTS CLUB BAND (112 mins., 1978, PG) is a surreal cinematic experience – a paper-thin story, told entirely through Beatles songs (mostly culled from the title album and "Abbey Road") but without any of the Beatles themselves present. It's like a party without the celebrant on-hand to partake in the festivities.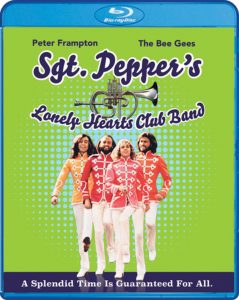 In place of John, Paul, George and Ringo, we've got The Bee Gees and Peter Frampton, who don't have to stretch much (they don't even speak!) in playing a group of pals who form the new "Sgt. Pepper's Lonely Hearts Club Band." Theirs is a tale of small-town guys who have problems handling fame after record producer Donald Pleasence catapults them onto the national stage – while the conniving "Mr. Mustard" (Frankie Howerd) steals the boys' magical instruments, thanks to some high-tech robots and sound effects stolen from "Star Wars"!
This Robert Stigwood production fizzled in theaters despite an enormous amount of promotion and the fact that Frampton and the Bee Gees were riding the top of the record charts – the latter highlighting the soundtrack from "Saturday Night Fever," which opened just a few weeks prior. In fact, RSO Records reportedly shipped millions of "Sgt. Pepper's" soundtracks only to have them recalled and later destroyed, tarnishing the Bee Gees' reputation in the process.
These days, there's an undeniable fascination one generates while watching the film, mainly through its remarkable array of stars who pop up, mostly in the film's climax. Of course, "Sgt. Pepper" itself is beyond ridiculous, packed with a George Martin-produced soundtrack that loosely connects Beatles tunes with a flimsy story that functions like an extended prototype for music video programming that would become dominant on MTV just a few years later. Director Michael Schultz occasionally gets a jolt from a musical performance that's not altogether awful (Aerosmith handling "Come Together," Earth Wind & Fire's terrific "Got To Get You In My Life"), or so cringe-inducing (Steve Martin's "Maxwell's Silver Hammer") that you can't keep your eyes off it – though, on balance, this is a film that's naturally best left for '70s nostalgia buffs, with whom it may well hold a lot of appeal.
Shout's Blu-Ray definitely looks terrific. The Universal-licensed 1080p (2.35) AVC encoded transfer seems a bit soft at times – as much of the studio's output from the late 70s typically does — but colors are accurately rendered and details aren't hampered by noise-reduction. The 2.0 DTS MA stereo audio is fine but the 5.1 DTS MA track is even better thanks to discrete channel separation that gives the music an extra punch. Extras include several still galleries, the trailer, and an excellently researched commentary by Russell Dyball discussing the film's unique charms and its complicated production history (not to mention its notorious reputation!).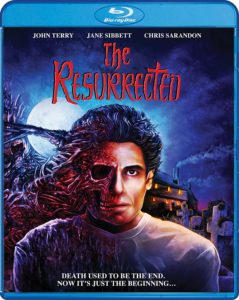 Also New From Shout on Blu-Ray: One of record label Scotti Bros.' few cinematic endeavors from the late '80s/early '90s, THE RESURRECTED (105 mins., 1991, R) is an effective, low-key H.P. Lovecraft adaptation from "Alien" screenwriter Dan O'Bannon. This detective thriller/horror affair stars John Terry as a Providence, R.I. private detective hired by the wife (Jane Sibbett) of an ambitious scientist (Chris Sarandon) who's trying to resurrect not only the experiments of his late ancestor but the dead themselves! Though not billed as a Scream Collector's edition, there are plenty of extras in Shout's Blu-Ray, including a new 2K scan of the Interpositive, a new interview with Jane Sibbett, another talk with S.T. Joshi on Lovecraft's source material "The Strange Case of Charles Dexter Ward," plus older extras including deleted/extended scenes, an audio commentary and various interviews. The MGM licensed 1080p (1.85) transfer and 5.1 DTS MA sound are both fine…From Shout's "Select" line comes Alan Rudolph's THE MODERNS (126 mins., 1988, R), one of the art-house favorite's more acclaimed films from the '80s. This Paris-set tale finds Keith Carradine playing an American painter living in Paris circa 1926, working for a divorcee (Geraldine Chaplin) and hoping he can nab the wife (Linda Fiorentino) of a manipulative businessman (John Lone). Genevieve Bujold and Wallace Shawn co-star in a film here mastered in 2K (1.85) from original film elements by Shout. New interviews with Rudolph, Carradine, and producer Carolyn Pfeiffer comprise the extras.
THE HERO Blu-Ray (97 mins., 2017, R; Lionsgate): We've seen it before – an old man learns he has only so much time left, and spends it on both new and old social pursuits before his time expires – but "The Hero" at least has a fine performance from the great Sam Elliott anchoring it. A former western star reliving his past successes with his co-star (Nick Offerman), Elliott's Lee Hayden finds he has cancer, and subsequently goes about trying to set things right with his daughter (Krysten Ritter) while striking up a new relationship with a stand-up comic (Laura Prepon). "The Hero" is awfully familiar material, and Brett Haley's film does little to make one forget about other, better films with a similar story line ("Crazy Heart" comes first and foremost to mind among recent fare), but Elliott is worth watching regardless. Lionsgate's Blu-Ray is out this week featuring a commentary from Haley and Elliott, a photo gallery, a 1080p (2.35) AVC encoded transfer, Digital HD copy and 5.1 DTS MA sound.
THE BIG SICK Blu-Ray (***, 120 mins., 2017, R; Lionsgate): Terrific comedy tells the true story of couple Emily V. Gordon (essayed here by Zoe Kazan) and Kumail Nanjiani ("Silicon Valley"), playing himself in a movie that charts the relationship between the Pakistani-American writer/comic and his Caucasian girlfriend, not to mention their cultural differences and the relationship between Nanjiani and Gordon's parents (Ray Romano, Holly Hunter). There's also a rather large medical scare involved – which actually happened – and those real-life events that inspired Gordon and Nanjiani's screenplay inform this comedy with its strongest elements. While director Michael Showalter's film also boasts just a dash of producer Judd Apatow's raunchy humor and a bloated running time that overstays its welcome, "The Big Sick" is nevertheless a very satisfying and heartfelt film that definitely warrants a recommendation. Lionsgate's Blu-Ray includes a handful of extras, from commentary to deleted scenes, numerous featurettes, a Digital HD copy, 1080p (1.85) transfer, 5.1 DTS MA sound and a Digital HD copy.
---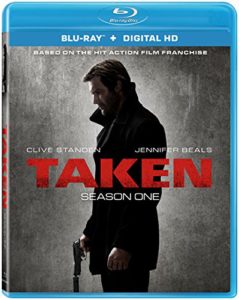 TV on DVD
TAKEN: Season 1 Blu-Ray (7 hours, 2017; Lionsgate). WHAT IT IS: Small-screen rendition of Luc Besson's popular Liam Neeson action franchise stars Clive Standen, a veteran of the "Vikings" series, as Bryan Mills – the ex-Green Beret who's recruited to join a group of CIA operatives after a mission goes wrong. This "Taken" examines the motivations of the Mills character long before the action in the movies, which makes sense as this prequel series fills in the gaps for fans and allows a younger actor the chance to strut his stuff. It follows that, if you like the films, you'll probably like this too. BLU-RAY BREAKDOWN: Out September 26th, Lionsgate's Season 1 set of "Taken" includes a single on-set featurette, 1080p transfers (1.78), 5.1 Dolby Digital soundtracks (no lossless here) and Digital HD copies. AISLE SEAT BOTTOM LINE: "Taken" buffs should enjoy this prequel series, hitting stores in a couple of weeks. A Season 2 is coming later this season on NBC, albeit with an almost entirely new cast (save Standen and co-star Jennifer Beals, who plays Mills' handler).
THIS IS US: The Complete First Season DVD (775 mins., 2016-17; Fox). WHAT IT IS: Breakout hit of the 2016-17 season is a moving family drama told from two timeframes: a clan's beginning, as seen through its parents (Mandy Moore, Milo Ventimiglia), and its decades-later storyline, told through the prism of its now-grown children (as embodied by the terrific Chrissy Metz, Sterling K. Brown and Justin Hartley). This is a rich and effective tearjerker that showcases (though not heavy-handedly) a "diverse" family and its various trials and tribulations with a great soundtrack and heartfelt performances, becoming an instant hit for NBC in the process. DVD BREAKDOWN: Fox's Season 1 DVD includes "Aftershow" segments on all episodes plus 16:9 transfers and 5.1 soundtracks. AISLE SEAT BOTTOM LINE: I struggled to avoid watching "This Is Us," as my wife became a big fan early on. Try as I might to resist it, I became instantly engaged in the series' appealing characters and relatable storylines. Highly recommended.
Also new from Fox is The Complete Third Season of EMPIRE (792 mins., 2016-17), the still-popular Fox series that reunites Taraji P. Henson's Cookie with Terrence Howard's Lucious, who here deals with launching Empire's new streaming music division. Meanwhile, Cookie's romance heats up with mayoral candidate Angelo Dubois and the Lyon brothers face issues from their respective pasts. Though not quite the consistent ratings performer it was upon its launch, "Empire" still nets a decent rating and Fox's DVD includes uncut music performances, studio session footage, 16:9 transfers and 5.1 soundtracks.
Finally, Season 8 of MODERN FAMILY (474 mins., 2016-17) is also new from Fox on DVD this week. The long-running, much-celebrated ABC comedy kicks off with the Dunphys finishing off a trip to New York, while Claire struggles to keep things straight at Pritchett's Closets and Phil and Jay form a new business alliance. With Manny and Luke fumbling away their final year in high school, there's ample comedy to go around in Season 8, which is now on DVD featuring 16:9 (1.78) transfers, 5.1 Dolby Digital soundtracks, deleted/alternate scenes and a gag reel.
THE BIG BANG THEORY: Season 10 Blu-Ray (471 mins., 2016-17; Warner). WHAT IT IS: Leonard and Penny decide to recreate their ninth-season ending wedding, bringing along their respective families, including Penny's mom (Katey Segal) and brother (Jack McBrayer) and Leonard's parents (Judd Hirsch, Christine Baranski). While Sheldon and Amy attempt to elevate their relationship to the next level, he drafts a new Roommate Agreement while Howard and Bernadette prepare for their baby's arrival and Raj offers his parental advice. BLU-RAY BREAKDOWN: Warner's Season 10 Blu-Ray, out this week, includes all 24 episodes in 1080p (1.78) transfers and 5.1 DTS MA soundtracks. Five all-new featurettes include #JustAskBBT, Mad Props, The Ever-Expanding Universe, Who's the Baby Now, and 2016 Comic-Con panel segments. A gag reel and Digital HD copies round out the package. AISLE SEAT BOTTOM LINE: Still one of TV's highest-rated series, "Big Bang Theory"'s tenth season should continue to mine laughs among fans.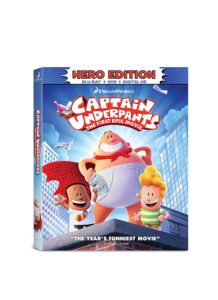 ELENA OF AVALOR: CELEBRATIONS TO REMEMBER DVD (92 mins., 2017; Disney): Crown Princess Elena is back and ready to participate in a series of celebrations, including Navidad, Dia de los Muertos and Carnaval, in this new Disney DVD compilation. Currently available in stores, the single-disc DVD includes six episodes (A Day to Remember, Navidad, King of the Carnaval, My Fair Naomi plus the bonus shows Crystal In The Rough and Captain Turner Returns), 16:9 transfers and 2.0 Dolby Digital soundtracks. The package also comes complete with an 18" necklace and small locket for young "Elena" fans.
CAPTAIN UNDERPANTS: THE EPIC FIRST MOVIE 4K UHD Combo Pack (90 mins. 2017, G; Fox): Having a three-year-old around has meant being exposed to all kinds of children's books – some timeless classics but also newer titles that folks over the age of, say, 8-10 would have no clue about. Dav Pilkey's "Captain Underpants" books aren't exactly in our son's age group, but I can only imagine that they'll still be around once he reaches grade school age – the target audience for this comical franchise about a pair of fourth graders, George and Harold, who hypnotize their adversarial principal into thinking he's the super-hero "Captain Underpants." The boys' plan though works all too well after he downs some alien juices and actually becomes the goofy hero himself.
Dreamworks' "Captain Underpants" movie, scripted by Nicholas Stoller, is very engagingly animated and should delight its intended audience. It's frenetic, has some PG-level "rude humor" like most DW productions, and is amusing in spurts – adult viewers are likely to grow tired of the film over its 90-minute running time, but kids should have a good time just the same.
4K Rundown: Fox's UHD presentation takes great advantage of its HDR capabilities, offering a notably wider color gamut than the standard 1080p Blu-Ray, though either format affords a superb rendering of the picture. The soundtrack, featuring Theodore Shapiro's original score, is presented in comparable Dolby Atmos (UHD) and 7.1 DTS MA (Blu-Ray) mixes, with both formats including Digital HD copies. Over 30 minutes of extras include music videos, deleted scenes, featurettes and a motion comic that kids should enjoy.
NEXT TIME: More of the latest reviews! Until then, don't forget to drop in on the official Aisle Seat Message Boards and direct any emails to our email address. Cheers everyone!