The wonder of Cinemascope and the majesty of Bernard Herrmann's score are the two main reasons to take a trip BENEATH THE 12-MILE REEF (102 mins., 1953), a musty old 20th Century-Fox melodrama that's been supremely rendered in high-definition this month by Twilight Time. Given the movie's checkered past of tepid home video releases, the glossy high-def Blu-Ray image may come as a revelation for many viewers, presenting a vibrant color presentation that enhances this early Fox anamorphic adventure.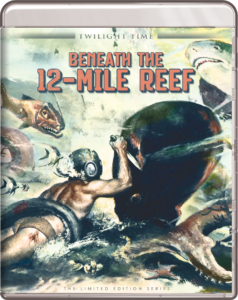 No amount of remastering, though, can help the film's silly plot and mostly one-note performances. Robert Wagner stars as the youngest member of a Greek family of sponge-divers in Florida – he also falls in love with the daughter (Terry Moore) of a rival Floridian clan vying for the same undersea treasures. The lightweight "Romeo & Juliet" comparisons are obvious and A.I. Bezzerides' "socially conscious" elements are likewise soggy – as are the tepid accents and boisterous performances of Wagner's fellow on-screen family members.
Fortunately, the film is still watchable because of Herrmann's music, which gives the picture some dramatic heft and majestic "underwater music" that seriously sells the drama, and the widescreen lensing of Edward Cronjager. One of the earliest (second or third) Cinemascope productions, "12-Mile Reef" is enhanced immeasurably here by Twilight Time's pungent 1080p (2.55) AVC encoded presentation, and matched by equally strong 5.1 and 2.0 DTS MA stereo soundtracks. In both, dialogue comes flowing out of the left and right channels to match the action on-screen, as well as provides Herrmann's music with the broad stage it deserves. An isolated score track and 45-minute '90s Wagner Biography/AMC documentary round out the disc.
Westerns are also a major component to Twilight Time's September releases.
LAWMAN (99 mins., 1971, R) is an interesting, if not altogether successful, "revisionist western" from producer-director Michael Winner. A director whose work ran hot and cold – and more often than not the latter – Winner's sensibilities were a good match for this western affair that's most interested in examining the wavering morality of its lead character – a veteran sheriff (Burt Lancaster) out to bring a rancher (Lee J. Cobb) and his clan to justice. The only problem? Cobb's sometimes sympathetic baron essentially owns the local town, its resident peace officer (Robert Ryan) and its residents, who understand they'd be nowhere without him.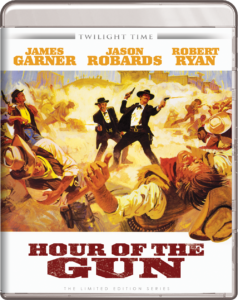 "Lawman" is entirely watchable because of its cast – Winner recruited a wide swath of talent, from an array of character actors (Joseph Wiseman, Albert Salmi, John Hillerman) to young, up-and-coming talent like Robert Duvall, Richard Jordan, and John Beck. The film was shot in Mexico with a mostly British crew – buffs will note cinematographer Robert Paynter and "dubbing editor" Terence (Terry) Rawlings among the credits – and Jerry Fielding provides a bold score. It doesn't entirely work, and the conclusion provides a typically flat "'70s ending," but the performances make it worthwhile. TT's Blu-Ray includes a passable MGM catalog transfer (1.85 AVC encode, 1.0 DTS MA mono) considering the source elements aren't entirely pristine, with coarse dialogue and a limited dynamic range for the music. A far healthier isolated stereo score track and trailer are both on-hand.
Director John Sturges followed his '50s favorite "Gunfight At The O.K. Corral" with HOUR OF THE GUN (101 mins., 1967), a western that was deemed something of a letdown at the time of its original release. James Garner plays Wyatt Earp with Jason Robards as Doc Holliday in writer Edward Anhalt's follow-up to that earlier Sturges classic, once again featuring Robert Ryan (as Ike Clanton) and Albert Salmi in a picture that focuses on Tombstone following the legendary events depicted at the O.K. Corral. Despite the premise, the dramatics are a bit stilted here, with slack pacing making for a movie that never seems to get into first gear; luckily, Jerry Goldsmith's flavorful score and Lucien Ballard's widescreen lensing compensate to a degree, with TT's 1080p (2.35) AVC encoded transfer aiding the visuals. The DTS MA mono sound is more robust than "Lawman," and extras include the trailer and a music/effects track.
The prolific Raoul Walsh produced only one 3D film in his career — the 1953 Columbia programmer GUN FURY (82 mins.), which makes its home video debut in the third dimension this month thanks to Twilight Time. Rock Hudson stars as a Civil War-veteran rancher bound for California when he and his bride-to-be (Donna Reed) are involved in an attack on their stagecoach by the vile Philip Carey and his gang (including Neville Brand and Lee Marvin). Able to recover after being left for dead, Hudson rounds up an ostracized member of the gang (Leo Gordon) and a local Indian (Pat Hogan) to save the day.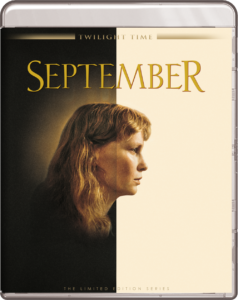 The Sedona, Arizona cinematography and the novelty of 3D make for a tidy albeit fairly forgettable genre exercise Twilight Time has brought to Blu-Ray. The Sony-licensed 1080p (1.85) AVC encode is fine, the 3D capability will be most welcome for format enthusiasts (alas my 3D plasma is on the fritz, so I was unable to screen the 3D portion), and DTS MA mono sound round out the disc. Extras include the trailer and a partial isolated score track.
Finally, Twilight Time has dipped back into Woody Allen waters with a Blu-Ray of SEPTEMBER (83 mins., 1987, PG). One of Woody's "domestic dramas" shot on a soundstage from the late '80s, "September" is a claustrophobic outing featuring a group of characters gathering at a summer house in Vermont, most significantly a matriarch (Elaine Stritch) and her daughter (Mia Farrow), who's recovering from a traumatic event. Jack Warden, Sam Waterston, Dianne Weist, and Denholm Elliott are the other members of the sextet who appear in Allen's chamber piece – a Chekovian drama that had been filmed by Allen with a different cast, including Sam Shepard (who himself replaced Christopher Walken in what eventually became Waterston's part), Charles Durning (in Jack Warden's role), and Maureen O'Sullivan (Stricth's role).
Allen didn't care for his initial version, leading to extensive reshoots and alterations in a film that followed his triumph of "Hannah and Her Sisters" and the wonderful "Radio Days." One of those "serious" Allen films that appeals strictly to his fans, "September" was not a commercial success – and likely cost a fair amount of Orion's money — but is nevertheless a well-acted piece. TT's Blu-Ray includes a 1080p (1.85) AVC encoded transfer similar to MGM's other Allen HD masters with mono DTS MA sound, the trailer, and a music/effects track.
---
Sony New Releases
CLOSE ENCOUNTERS OF THE THIRD KIND 40th Anniversary Blu-Ray (****, 1977, 132-137 mins., PG; Sony) is a movie that needs precious little introduction for most viewers. One of Steven Spielberg's greatest works, this thrilling sci-fi fantasy stars Richard Dreyfuss at the top of his game as Roy Neary, the everyday family man who becomes swept up in the appearance of UFO's one fateful night in his Midwestern suburb.
Few genre films offer the scope and wide array of emotions Spielberg's film entails. The filmmaker, working from his own story, balances evocative visuals (courtesy of Douglas Trumbull) with a globe-spanning premise while simultaneously capturing its protagonist's personal journey — and increasingly obsessive behavior — after experiencing a life-changing event. John Williams' outstanding score, the cinematography of Vilmos Zsigmond, terrific performances and an optimistic, wondrous story that has lost none of its power make CE3K an enduring, perennial genre landmark worth frequent viewing.
Sony's new 40th Anniversary package of CE3K on home video is a real mixed bag. The standard Blu-Ray sent for review gives fans a roughly identical package to its 30th Anniversary set, but with a notably inferior soundtrack and a transfer that may, or may not be, worth another purchase for viewers.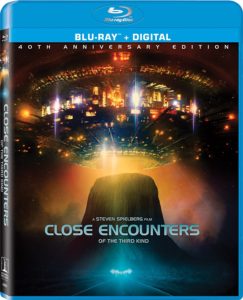 Not that there haven't been an abundance of releases of CE3K on video before, of course — there have been no less than three different cuts of the movie available to the general public (the 1977 theatrical cut, the 1980 "Special Edition," and 1998's "Collector's Edition", now dubbed the "Director's Cut"), plus a fourth screened on ABC network television (which combined all footage from the '77 cut with the new "Special Edition" scenes).
Viewers originally had their choice of the '77 theatrical cut, or the '80 "Special Edition," back in the early days of VHS. After a few years, however, the "Special Edition" usurped the original cut as the only version of CE3K that would be available for many years.
In 1990, the Criterion Collection released a magnificent, pricey ($125) deluxe laserdisc set that included the first-ever letterboxed transfer of the movie on video, as well a restoration of the original 1977 cut — which, after many years, came as a revelation for many viewers. Spielberg's original intention behind the "Special Edition" re-edit had been to tighten up the movie's domestic-strife mid-section, though in the process, he lost some of the film's humor (i.e. when Roy Neary tears up his neighbor's yard) and humanity from the original '77 version.
Combined with the fact that he hated the pointless "inside the Mothership" addendum to the film's finale (which Columbia forced him to shoot as a hook to releasing the "Special Edition"), Spielberg had ample reason to re-visit the movie — yet again– with his "Collector's Edition" cut in 1998. Despite a few complaints from viewers that they once again had to buy another version of the movie, I didn't mind, since it seemed to me that the best version of the film lied somewhere between his '77 cut and the '80 "Special Edition" — and this is exactly what we got in the latest "Collector's Edition" (now "Director's Cut") version.
Basically, Spielberg's 137-minute preferred edit is comprised of his original '77 edit minus two scenes (Dreyfuss at the electric plant, and a later conversation with military honcho Carl Weathers), with the addition of the new scenes shot for the "Special Edition" — minus the superfluous ending with Dreyfuss inside the UFO. This version, then, restores most of the lost domestic scenes between Dreyfuss and wife Teri Garr, while adding the neat additions Spielberg shot for the "Special Edition," while axing the unnecessarily extended climax.
Just like the 2007 Blu-Ray, Sony's 40th Anniversary package allows viewers to choose between all three edits on one convenient platter: the "Director's Cut" as well as the "Special Edition" and the original 1977 theatrical release, all via seamless branching.
Extras are also on-hand — primarily serving to reprise previous extras from the prior DVD and laserdisc editions, while offering a few new special features as well. What's new is a 20-minute featurette sporting Spielberg and CE3K fans like Denis Villeneuve and J.J. Abrams discussing the picture, plus five minutes of Spielberg's outtakes he shot on his personal 8MM camera. Carried over from prior releases is a 2007 interview between Spielberg and Laurent Bouzereau, and the much superior, 102-minute 1998 documentary filmed for DVD and laserdisc release.
Like Bouzereau's "Jaws" and "1941" documentaries, the straightforward "Making of CE3K" touches upon all facets of the production, including interviews with Spielberg (on the set of "Private Ryan"), Dreyfuss, co-stars Bob Balaban, Teri Garr, and Melinda Dillon (who must have had a face-lift or two), John Williams, special effects wizards Douglas Trumbull and Robert Swarthe, and even a grown-up Carey Guffey, who must either have the most incredible memory of anyone's childhood on the planet or who is vividly recalling stories his mother told him from the set (my bet is that it's latter). Among the goodies in the documentary: hilarious unused footage of the aliens literally flying around on the set on wires, and discarded scenes of the extraterrestrials in rapid-motion that clearly didn't work out.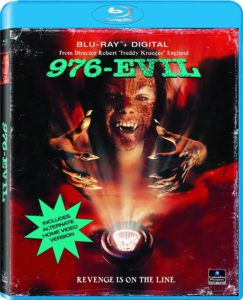 Some 15 minutes of deleted scenes are also carried over from previous releases. These latter scenes — not featured in any version of the film — include the movie's original opening, where Francois Truffaut and interpreter Bob Balaban actually arrive at Chicago's O'Hare airport to investigate the Air East flight, whose run-in with a UFO is delineated in the film's early air-traffic control sequence. As interesting as these scenes are, however, they're also incredibly slow-paced and won't take you long to understand why they were excised (or — in the case of Truffaut's introduction — refilmed as the discovery of WWII planes in the Mexican desert).
Two theatrical trailers (the five-minute "preview" for the 1977 cut and the 1980 Special Edition trailer) and a seven-minute, vintage featurette ("Watch the Skies") also re-appear, while extensive still-frame extras offer outstanding production shots, storyboards, publicity stills, promotional artwork and other forms of memorabilia.
The downside with this new 40th Anniversary package mostly lies with the disc's soundtrack – the prior Blu-Ray housed robust DTS MA and Dolby TrueHD 24-bit mixes. The Blu-Ray only includes a 16-bit DTS MA mix, and it just seems to lack the punch of the earlier release. On the transfer side, the AVC encoded BD transfer is arguably a little less vibrant color wise but otherwise is comparable, offering a tiny bit more information on the right hand side of the frame. A Digital HD copy is also included.
Though completists may desire the slender new supplemental offerings, my suggestion if you already own the prior CE3K Blu-Ray is to bypass this edition and upgrade to Sony's 4K UHD release instead, which wasn't sent for review but offers much more incentive to upgrade.
976-EVIL Blu-Ray (92 mins., 1988, R; Sony): Horror "Collector's Editions" are becoming all the rage on Blu-Ray these days, with various labels following the lead of Shout's Scream Factory imprint. With Lionsgate jumping into the fray over the last year with their Vestron line, Sony has wisely decided to try their hand with fans, relaunching their (RCA-less) "Columbia Pictures Home Video" VHS moniker with a Blu-Ray special edition of "976-Evil."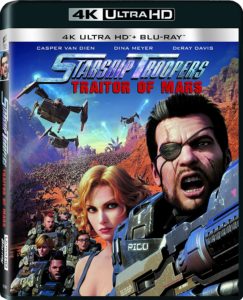 Choosing this 1988 Cinetel Films release for their inaugural outing is a bit odd, however, seeing that the feature directorial debut of Robert Englund – then riding the peak of his Freddy fame with the "Nightmare on Elm Street" sequels tearing up the box-office – made little noise with audiences. Grossing a paltry $2.9 million in March of '88, "976-Evil" came and went with most viewers, though has generated a small following among horror fans over the years.
Englund's assured direction at least carries this surprisingly low-key story of cousins — Stephen Geoffreys, "the nerd," and Patrick O'Brien, "the bad boy" – who get wrapped up with black magic after Geoffreys phones a "Horrorscope" line directly connected to a real demon, resulting in Geoffreys overtaken by evil (in a similar manner to his fate in Tom Holland's classic "Fright Night"). Sandy Dennis co-stars in this leisurely affair – co-written by future Oscar-winner Brian Helgeland — that's well-acted for its low-budget and worth a look for '80s horror buffs. Sony's Blu-Ray, out October 3rd, includes a brand new commentary by Robert Englund and his wife, Nancy Booth Englund, along with a VHS-level alternate home video version that adds 14 minutes of footage and was released on tape back in the day.
STARSHIP TROOPERS: TRAITOR OF MARS 4K Ultra HD Combo Pack (88 mins., 2017, R; Sony): Second animated sequel in the "Starship Troopers" franchise follows 2012's "Starship Troopers: Invasion," with Johnny Rico (voiced by executive producer Casper Van Dien) back for more bug slaughter, this time on Mars where a Federation conspiracy is hatched and only Carl Jenkins knows the truth. Fan-favorite characters Carmen Ibanez and even Dizzy Flores (a returning Dina Meyer) also reappear in a story penned by Ed Neumeier, who also wrote the original Paul Verhoeven film. Once again animated in Japan, "Traitor of Mars" isn't great but it's at least an improvement on "Invasion" thanks to a more engaging, cinematic script – and an easy enhancement on the low-budget live-action sequels that preceded even that. Die-hard series fans are most likely to enjoy this one, with Sony's 4K UHD combo pack boasting a solid, if not spectacular, HDR-enhanced transfer with Dolby Vision and Dolby Atmos audio (the disc plays back in standard HDR10 for those minus Dolby Vision capabilities, which would be most players and TVs on the market). The production's color pallet isn't jaw-dropping—and the animation is fairly basic all things considered – but textures and colors are still enhanced over the standard 1080p Blu-Ray (also included). Extras include a deleted scene and a slew of behind-the-scenes featurettes.
---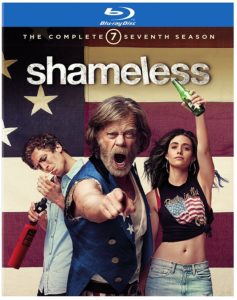 Also New & Noteworthy
SHAMELESS – Complete Seventh Season Blu-Ray (657 mins., 2016; Warner): The Gallagher clan returns for another go-around in the seventh season of the hit Showtime series. After Frank wakes up from a coma and uncovers the truth about his condition, he sets out to find a new family, while Fiona decides to cast aside her siblings as she lives out her upwardly mobile desires. Meanwhile, Debbie learns how to be a mom, and Carl encounters various rites-of-passage as he approaches manhood. With William H. Macy and Emmy Rossum continuing to lead the way, "Shameless" still mines laughs and drama out of its dysfunctional on-screen family. Warner's 12-episode Season 7 Blu-Ray houses two featurettes (Growing Up Shameless, The Shameless Politics of Frank) plus unaired scenes, 1080p (1.78) transfers and 5.1 DTS MA sound.
Also new from Warner on DVD this week is the Complete Fifth Season of LONGMIRE (618 mins., 2016). This time around, Robert Taylor's Sheriff is back and right in the midst of a wrongful-death civil suit. With his best friend (Lou Diamond Phillips) and daughter (Cassidy Freeman) now working for nemesis Jacob Nighthorse (A Martinez), it's up to Walt and his deputies to solve a new series of mysteries in this 10-episode fifth season, based on Craig Johnson's popular novels. Warner's DVD includes the "Scoring Longmire" featurette, 16:9 transfers and 5.1 Dolby Digital soundtracks.
A GHOST STORY Blu-Ray (92 mins., 2017, R; Lionsgate): Writer-director David Lowery's painfully pretentious drama offers Casey Affleck as a ghost wearing a white sheet that Charlie Brown would've proud of – a mute, seemingly yearning (I guess?) remnant of a husband married to Rooney Mara, whose relationship is played out in a most unconventional manner by the director of the "Pete's Dragon" remake. It goes without saying that "A Ghost Story" isn't for everyone – there's scant dialogue present in this strange affair that really goes off in some odd directions in its final third, but if you can extract sufficient meaning from the film, it may be worth a view. Lionsgate's Blu-Ray of this indie darling, out October 3rd, includes a single deleted scene, Making Of featurette, segment on composer Daniel Hart's score, commentary with Lowery and crew, a 1080p (1.78) AVC encoded transfer, 5.1 DTS MA sound and a Digital HD copy.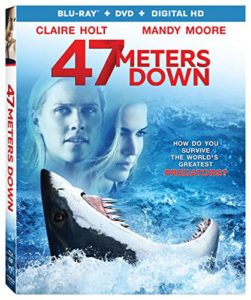 47 METERS DOWN Blu-Ray (89 mins., 2016, PG-13; Lionsgate): Claire Holt and Mandy Moore play sisters who head out for a sightseeing shark trek when their cage accidentally sinks to the bottom of the ocean floor. Their struggle to stay alive comprises the bulk of this ridiculous summer time-killer, which managed to gross north of $40 million at the box-office. Alas, "47 Meters Down" is no "Shallows," struggling to provide thrills and totally drowned by an awful ending. Lionsgate's Blu-Ray hits stores this week sporting a 1080p (2.40) transfer, 5.1 DTS MA sound, a Digital HD copy, DVD, "Making Of" featurette, and commentary with writer-director Johannes Roberts and producer James Harris.
THE SON – Season 1 DVD (aprx. 8 hours, 2016; Anchor Bay): Truthfully I hadn't even heard of this AMC original series based on Philipp Meyer's popular novel. In "The Son," Pierce Brosnan stars as Eli McCullough, a man attacked by Comanches on the frontier and is driven to start a Texas oil empire that also slowly turns him into a killer. Three generations of the McCullough family are chronicled in this 10-episode first season of "The Son," which Anchor Bay releases on DVD October 3rd. The multi-disc set includes deleted scenes, 16:9 (1.78) transfers and 5.1 Dolby Digital soundtracks.
CHURCHILL Blu-Ray (105 mins., 2017, PG; Cohen Media Group): Extremely dour biopic of England's Prime Minister, specifically the events the leading to D-Day, does offer Brian Cox a plum role as Churchill, with John Slattery filling Dwight D. Eisenhower and Miranda Richardson as Churchill's faithful wife. Director Jonathan Teplitzky, however, working off a script by Alex Van Tunzelmann, seems intent on ripping apart preconceptions about Churchill and his abrasiveness (and drinking) – resulting in a strident film that's not very appealing to watch. Cohen's Blu-Ray is out October 3rd, featuring a 22-minute Making Of, the trailer, a 1080p transfer and 5.1 DTS MA sound.
Film Movement New Releases: Coming September 26th on Blu-Ray are two of Joseph Sarno's independent sexploitation features, newly restored and presented with extras and commentary from Video Watchdog's Tim Lucas. The double-feature includes Sarno's ALL THE SINS OF SODOM (87 mins., 1968), the story of a New York City photographer and his escapades with a pair of models after opting to produce a daring (for the late '60s) portfolio of one of his subjects. VIBRATIONS (75 mins., 1968), meanwhile, was shot simultaneously, telling the story of a sexually repressed young female writer who moves to Manhattan and finds she can't get in on the action – but does, eventually, after her freewheeling sister comes to town. Both B&W films have been enhanced here by new 2K digital restorations and extras including an interview with Sarno, commentary from Tim Lucas and Peggy Steffans-Sarno and Lucas' booklet notes.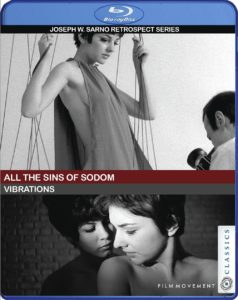 A Bulgarian import from directors Kristina Grozeva and Petar Valchanov, GLORY (101 mins., 2017) is a modern parable about a railroad linesman who recovers millions on the tracks – his good deed of returning the money, however, backfires in a film now available on DVD from Film Movement. The label's DVD also includes Anders Walter's short "Glory," a 16:9 (1.85) transfer and 5.1 and 2.0 soundtracks, in Bulgarian with English subtitles.
THE BEST OF THE CAROL BURNETT SHOW DVD (Time Life): Six-disc DVD set features 16 episodes culled from the legendary, 11-season run of "The Carol Burnett Show." Stella Toddler, The Oldest Man, Mr. Tudball and Mrs. Wiggins, Mother Marcus and Eunice and Mama Harper are present in these classic sketches, with Time Life's anthology here including both the first – and the emotional last – episodes from the CBS comedy series. Exclusive bonus features feature the newly-produced featurettes "11 Years of Laughter on The Carol Burnett Show," "The End of 11 Years: Saying So Long," plus never-before-seen bloopers and a brand new interview with Burnett herself. Highly recommended.
Well Go New Releases: Available on Blu-Ray October 3rd, THE GAME CHANGER (133 mins., 2017, Not Rated) is a Hong Kong gangster thriller from director Gao Xixi. When two escaped prisoners join one of Shanghai's most ruthless gangs, the duo quickly become right-hand men to its leader, Mr. Tang. After the kingpin decides he can't trust even his own minions, it's every man for himself in this lengthy HK import coming to BD featuring Mandarin DTS MA audio with English subtitles and a 1080p transfer.
GIRL IN THE BOX DVD (88 mins., 2016; Lionsgate): Harrowing true story of a 20-year old hitchhiker who took a ride with a married couple with a baby – and was promptly kidnapped, chained and bound inside a box for the next seven years, only to be let out for an hour a day where she was often raped and brutalized. Lifetime's account of the life of Colleen Stan is disturbing and well-acted given the parameters of the TV movie genre, and the Walmart-exclusive DVD is available this week, sporting a 16:9 transfer and 5.1 Dolby Digital soundtrack.
2:22 Blu-Ray (99 mins., 2016, PG-13; Magnolia): Michel Huisman plays Dylan Branson, a New York City air traffic controller who experiences a brief flash of paralysis. Thereafter, he finds that life seems to follow a certain pattern, making him question whether fate is dictating the world around us, and even his relationship with Sarah (Teresa Palmer). Paul Currie's Aussie time-travel thriller treads over previously traveled terrain but the two leads help make this at least a watchable time-killer. Magnolia's Blu-Ray includes three featurettes, the trailer, a 1080p (2.39) AVC encoded transfer and 5.1 DTS MA sound.
---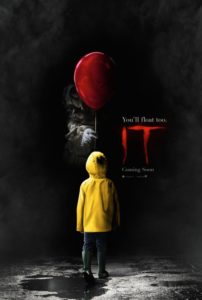 IT (***, 135 mins., 2017, R): One of the year's biggest box-office hits, this glossy adaptation of Stephen King's book – previously made into a solid TV mini-series in 1990 – is an entertaining studio product that's more thrilling than it is actually scary.
King's horror-ized variant on "Stand By Me" once again finds a group of youngsters in Derry, Maine some 30 years ago terrorized by a demonic clown named Pennywise (Bill Skarsgard) – a horrifying entity that claims the life of Bill Denborough's (Jaeden Lieberher) little brother, Georgie, in the film's terrifying opening sequence. The so-called "Loser's Club," newly augmented by a female social outcast at their school, then bands together to take on Pennywise, whose form shapeshifts from dancing clown to something entirely alien altogether.
Andy Muschietti, who previously helmed the almost-good "Mama," has produced a slick, completely competent film with a solid cast of young unknowns (save "The Kid From Stranger Things") who end up being quite appealing. Shot on location in Canada, with Ontario doubling for Maine, "It" resembles the type of quality studio product we'd see decades ago, taking its time setting up its premise, albeit a period switch to the '80s (the original novel was set in the late '50s) doesn't amount to very much in terms of atmosphere and mood.
The result is an entertaining film with a few effective jump-scares, and Skarsgard's Pennywise is a vivid cinematic creation, even if the actor doesn't get as much to do in terms of performance as Tim Curry did in the earlier TV version. Some of the youthful characters aren't developed all that well either (perhaps excising one or two of them could've given the others more screen time), but Lieberher is emotive in the lead and Sophia Lillis is quite good as the new female (and quite troubled) addition to the club.
That the film has become a major commercial success is something of a surprise – it's not as if the Stephen King "brand" means anything these days (the long-in-development film of the author's popular "Dark Tower" just laid an egg a few weeks ago), and the property itself is several decades old. Perhaps the rise of "social media clown sightings" gave "It" a real jolt, especially among younger viewers unfamiliar with King and his novel. Combine that with an awful summer and Hollywood had a hungry audience desperate to see anything decent at the movies at their disposal.
"It" certainly fits that bill, and almost feels like a horror movie designed for viewers who don't like them in the first place – the picture isn't at all disturbing, with most of the scares relegated to faux corpses or zombies who frighten the young protagonists. While there's nothing here you haven't seen before, it's been a while since we've seen anything as entertaining in terms of major studio fare, making "It"'s unexpectedly stellar box-office performance perhaps not surprising at all.
NEXT TIME: PIRATES and TRANSFORMERS in 4K, plus Shout's THREE O'CLOCK HIGH! Until then, don't forget to drop in on the official Aisle Seat Message Boards and direct any emails to our email address. Cheers everyone!