The modern preoccupation with belated film sequels and remakes has trickled down to even "Blade Runner," Ridley Scott's seminal sci-fi classic that drew neither widespread critical kudos or commercial acceptance when it was first released in 1982. A cult favorite that's obviously been more warmly embraced as the years have passed, Scott is onboard as a producer of BLADE RUNNER 2049 (***, 163 mins., R), an ambitious follow-up from one of its predecessor's original writers and director Denis Villeneuve, architect of glacially paced works like "Sicario" and "Arrival."
Ryan Gosling here plays the title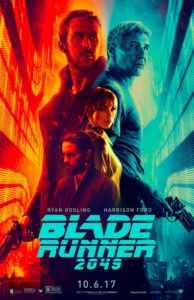 role: a replicant named K working for the LAPD to hunt down the last remnants of the now-defunct Tyrell Corporation's original automatons. After taking down one such target, K's latest job involves the discovery of a crate bearing human(oid) remains that offer possible evidence of a replicant birth. This leads factions of both corporate interests – in the form of a brilliant but psychotic android maker (Jared Leto) – and the replicants themselves to pursue K and the existence of a "child" that could tilt the playing field towards the androids who desire inalienable rights in a world uncertain of whether they possess a soul.
The hint of a possible replicant uprising feels like the type of modern "sequel building" so prevalent in today's franchise-oriented fare, but such a follow-up would likely betray the more intimate, character-driven dimensions of both "Blade Runner" and this successor, which has a lot of nifty ideas floating around a movie that's not always convincingly tied to its classic forerunner.
Villeneuve and cinematographer Roger Deakins don't attempt to recreate the blue-hued, musty futuristic visuals of Scott and "Blade Runner" DP Jordan Cronenweth, instead crafting an emptier, less colorful visual scheme that's a byproduct of both modern CGI and Budapest shooting locations. Certain plot elements do, of course, directly connect with what came before, though even here, when Harrison Ford reappears as Rick Deckard, he seems like's playing Harrison Ford, not an extension of the original character – ditto for Edward James Olmos' cameo as Gaff, who again doesn't even sound like he did in the original (did he just forget his accent after all these years?). For these reasons, stylistically and otherwise, I'm not sure if "Blade Runner 2049" wouldn't have worked better with a clean slate and/or without as much of a direct line to the first picture – though I have to credit Villeneuve and writers Hampton Fancher and Michael Green for going against the tide of Scott's later "Blade Runner" recuts and bringing back the mystery surrounding Deckard's potential Replicant identity (for those of us who never really cared for that narrative "twist," this picture can be satisfyingly interpreted as if it never happened at all).
If one takes a step back from the sequel component, "Blade Runner 2049" works well enough as a futuristic noir on its own terms, though the movie even here isn't without its problems. The running time could've been spruced up by a good 15-30 minutes or with an action set-piece or two added into the mix – Villeneuve's overly methodical pacing doesn't always serve the story well, with the few sections of fisticuffs feeling like a total afterthought in relation to the movie's more "existential" moments. Gosling, meanwhile, provides a mostly one-note performance in keeping with his character's background, but he's never a compelling presence – and the less said, the better about the score by Hans Zimmer and Benjamin Wallfisch, which reprises the 1982 "electronic sound" of Vangelis without any of that classic score's nuance or melodic components.
Eventually, "Blade Runner 2049" goes to a satisfying place with a surprisingly emotive ending, ultimately resembling in many respects a hard-boiled detective story updated to futuristic terms. The interesting use of a holographic companion (Ana de Armas) for K is also consistently engaging, and there are moments of brilliance scattered throughout an overlong film that's thoughtful in its extension of its predecessor's themes, even if it never quite feels like it's directly related to them.
---
It's unfortunate that, despite producing four sequels that have generated literally billions of dollars, Disney and producer Jerry Bruckheimer have never been able to successfully follow through on the promise of the original "Pirates of the Caribbean." Their latest sequel, PIRATES OF THE CARIBBEAN: DEAD MEN TELL NO TALES (**½, 129 mins. 2017, PG-13), likewise plays to diminishing returns, though unlike most of its predecessors, at least it provides a satisfying ending to the entire franchise – righting some of the narrative stumbles that plagued the various entries that followed 2003's original "Curse of the Black Pearl."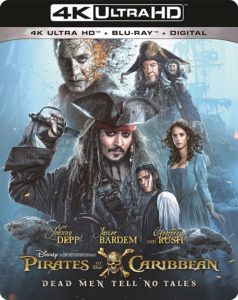 Though still overlong (clocking in at a full two hours minus credits), this shortest series installment finds Will Turner's son, Henry (Brenton Thwaites), trying to break his father (Orlando Bloom) from the Dutchman's curse. He finds a solution in Poseidon's Trident, a mysterious artifact that can reset all the various curses of the sea, but is being pursued by the villainous, ghostly Captain Salazar (Javier Bardem), who wants vengeance on Jack Sparrow (Johnny Depp), who sent him to the bottom of the ocean floor as a teenager. Using the help of a budding female scientist (Kaya Scodelario), Jack and Henry form an uneasy alliance as they search for the Trident, with Captain Barbossa (Geoffrey Rush) also in hot pursuit for reasons of his own.
It will surprise no one that "Dead Men Tell No Tales" is best recommended for series fans. If you found the previous "Pirates" movies loud, overbearing and tedious, you're basically going to have a similar issue here, as the movie plays right along the formula set by its predecessors. What's different though is a seemingly reduced budget that results in both positive and negative attributes: on the one hand, this fifth adventure seems to lack a certain energy, relying heavily on CGI instead of actual shooting locales (no Caribbean settings here – this one was shot in Australia and sound stages in England and Canada). "Kon-Tiki" directors Joachm Ronning and Espen Sandberg fail to bring a distinctive voice to the shenanigans, though there's at least one set-piece (ghost sharks!) you haven't seen before. Among the cast, Depp tries as always, but Sparrow as a character hasn't grown at all since he was first on-screen, making him more of a prop than ever before, while young leads Thwaites and Scodelario aren't going to linger long in the memory.
Even if the energy flags, at least Jeff Nathanson's script is straightforward and avoids the clutter of prior scripts in the series. The third "Pirates," "At World's End," supplied a strenuously unsatisfying ending to the franchise's initial trilogy, and after a fourth picture that generally functioned as a standalone, Nathanson's job here was clearly to provide a less cluttered finale that directly addressed fans' disappointment over that sequel. In that regard, "Dead Men" does its fairly job well, particularly considering that endings haven't been the strong suit for this particular franchise. Bardem is fun when the movie gives him the fleeting chance to exact villainy (even if he's bathed in too much CGI), and there are just enough reflective moments here to balance out the action.
It may not be surprising or all that involving, but if this is Jack Sparrow's swan song, at least it's a respectable adventure that should please series buffs, and that's more than one can say for the waterlogged outings that preceded it.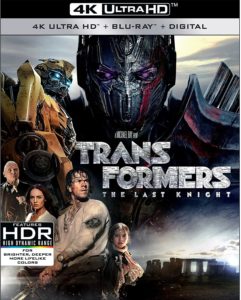 Disney's 4K UHD presentation of Pirates V is generally very good, though the use of HDR isn't as widespread or impressive as you might expect. Too many sequences in the film come off as dark and murky, and while colors pop in certain scenes (especially outdoors), its overall appearance compared to the 1080p Blu-Ray isn't a night/day enhancement by any means. On the audio end, the UHD boasts a Dolby Atmos mix with 7.1 DTS MA on the Blu-Ray side, with Geoff Zanelli recycling Hans Zimmer's original themes with a slightly more orchestral flavor. Extras include a decent 47-minute documentary taking fans behind the scenes, Bruckheimer's photo gallery, plus a couple of minutes each of deleted scenes and bloopers. A digital copy is also included in the combo pack.
TRANSFORMERS: THE LAST KNIGHT (*½ , 154 mins., 2017, PG-13: Paramount): Also debuting on 4K UHD this week is the latest "Transformers" adventure, which – like most sequels released in Summer 2017 – generated far less enthusiasm with audiences than its previous franchise installments.
It's no better or worse, really, than any of its predecessors, with Michael Bay's film set in a post-TF world where Optimus Prime has taken a vacation to the far reaches of the galaxy in search of his origins. Back on Earth, his absence is felt as Mark Wahlberg's returning Cade Yeager is recruited by a mysterious British benefactor (Anthony Hopkins) into finding an ancient alien staff which helped King Arthur centuries before. Throw in a goofy Stanley Tucci cameo as Merlin (!) and you can pretty much guess what kind of entertainment "The Last Knight" has to offer.
Four different writers collaborated on this fifth "Transformers" movie, which still managed to gross over $600 million worldwide – a hefty sum that's nevertheless a sizable drop from even its immediate predecessor. The game of declining franchise returns seen throughout this past summer seemed to particularly affect this sequel, though taken on its own merits, "The Last Knight" offers the same form of entertainment as Bay's first four TF movies: it's big, loud, brainless, packed with dopey humor, painfully overlong and gorgeously designed.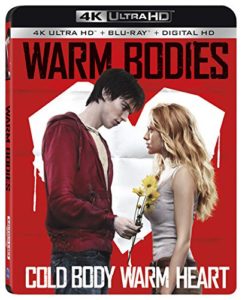 Especially in Paramount's new 4K UHD combo package, "Transformers" boasts a spectacular image with great use of High Dynamic Range, with HDR highlights accentuating scene after scene – big alien ships, shapeshifting robots, and vivid locales are presented with eye-popping clarity and color….and yet a few minutes of this is likely to suffice for all but the most hardcore "Transformers" fans, the movie concluding on a cliffhanger setting up a sixth adventure that may or may not happen at this rate. Paramount's release also includes a boisterous Dolby Atmos soundtrack, a number of mostly fluffy featurettes on the standard Blu-Ray, plus a Digital HD copy.
Also new on 4K UHD this week from Lionsgate is WARM BODIES (**½, 97 mins., 2013, PG-13), Jonathan Levine's agreeable zombie-sleeper that pairs a human survivor in a post-apocalyptic world (Teresa Palmer) with a member of the undead (Nicholas Hoult) who's starting to exhibit signs of humanity. Their Romeo & Juliet-esque relationship makes for a movie that's a lot more entertaining than its genre contemporaries – and certainly unique with its comedic and romantic components, a mix that helped the film do fairly well at the box-office.
Like most of Lionsgate's recent UHD releases, this 4K catalog title offers a decent uptick in color and lighting over its Blu-Ray counterpart (also included), though the color scheme of "Warm Bodies" doesn't always make great use of HDR. There's Dolby Vision capability and Dolby Atmos to match, along with the Blu-Ray reprising the various extras from its prior release (deleted scenes, commentary, short-ish featurettes). A Digital HD copy is also included in a package that may be worth a look for hardcore fans of the film.
---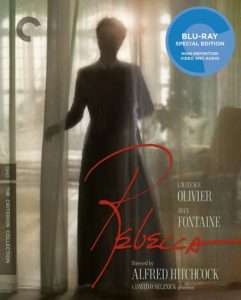 Aisle Seat Picks of the Week
A Criterion title that went out-of-print years back, and is now happily back with the label, Alfred Hitchcock's REBECCA (****, 131 mins., 1940) is a spellbinding classic that needs little introduction to movie buffs. Hitch's first American film produced by David O. Selznick is a supremely memorable adaptation of Daphne Du Maurier's novel starring Joan Fontaine and Laurence Olivier, beautifully scored by Franz Waxman and packed with old-fashioned Hollywood entertainment that's a must for Hitchcock fans and Golden Age aficoonados in general.
Previously available in a fantastic, discontinued Criterion DVD release, "Rebecca" was later issued on Blu-Ray by MGM with extras produced for several Hitchcock releases roughly a decade ago. This new Criterion edition usurps all of those thanks to a 4K restoration that offers finer detail, a cleaned-up image and a more balanced one at that when matched with the MGM release, which appears overly bright and comparatively banged up. There are a few instances when it seemed some "digital work" had been applied, resulting in a fleetingly glossy image, but in general, this is a notable enhancement on the earlier MGM Blu-Ray with clear mono sound.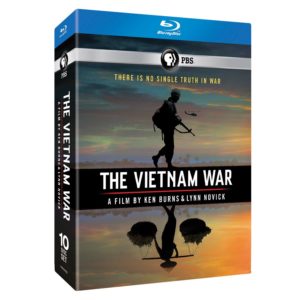 Supplements include several extras that haven't been seen since the older Criterion package, including Leonard Leff's audio commentary, three different radio versions of the Du Maurier story, plus a number of galleries with screen tests, costume tests and optional commentary from Leff. New additions to this release are a conversation with critics Molly Haskell and Patricia White on the film's feminist overtones, effects specialist Craig Baron discussing the film's visuals, and terrific segments from Tom Snyder's '70s talk show with Hitchcock and Joan Fontaine, plus a 2008 documentary from the MGM release, a music/effects track and 2016 French TV documentary on Du Maurier. Unquestionably recommended!
Ken Burns and Lynn Novick's THE VIETNAM WAR (18 hours, 2017, PBS) is the latest effort by the award-winning documentary filmmakers – a comprehensive chronicle of the Vietnam conflict with every side, from North and South Vietnam participants, to anti-War protestors and American soldiers, represented throughout the course of its 18 hours.
With this being an obviously more recent occurrence in history compared to some of Burns' prior productions, "The Vietnam War" benefits from extensive archival footage and first-hand testimony from the various perspectives involved – but what's truly revelatory are the government audio recordings from the Kennedy, Johnson and Nixon administrations, giving the political angle and lending enormous insight into the history being portrayed. As always, Peter Coyote's narration seeks a detached objectivity that tries to paint as balanced a portrait of the event as possible, though as always seen through Burns and Novick's distinctive lens.
Ample period music is also on-hand (over 100 licensed tracks) in the mammoth production, now airing on PBS and available on Blu-Ray from the label. A Making Of is present in addition to 1080p transfers and both 5.1 and 2.0 soundtracks.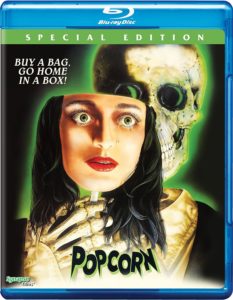 POPCORN Blu-Ray (91 mins., 1991, R; Synapse): An offbeat early '90s horror entry that was plagued with production problems, the minor-cult item "Popcorn" stars Jill Schoelen as a college student who works at a local movie theater. There, her class – under the tutelage of professor Tony Roberts – is instructed to stage a revival of '50s/'60s era shlockers in the style of William Castle. The only problem? The gimmicks like Smell-O-Vision are being matched by a series of murders related to Schoelen's recurring nightmares.
"Cat People" screenwriter Alan Ormsby began helming "Popcorn," only to be fired and replaced by Mark Herrier. Schoelen was also a replacement for another actress in a movie filmed in Jamaica (!) with quick supporting performances from Ray Walston and Dee Wallace Stone as Schoelen's mother. The behind-the-scenes element of "Popcorn" is actually more interesting than the mostly mundane film itself, though horror buffs might enjoy the goofy movie-within-a-movie elements (Ormsby is still credited with directing those, even though he removed his name from the screenplay), which play out like Joe Dante's later "Matinee" mixed with a standard-issue slasher.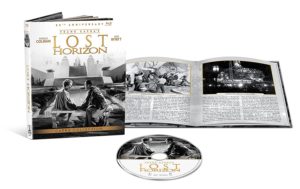 Synapse's terrific Blu-Ray package includes a full, hour-long documentary recounting "Popcorn"s oddball, troubled shoot (producer Bob Clark also had his name removed, although his frequent composer Paul Zaza remained onboard to score the film). Schoelen, Herrier, plus Dee Wallace, co-star Malcolm Danare and others are present in this revealing, compelling piece. A separate interview with actor Bruce Glover, trailers, a still gallery and commentary round out the disc, which comes with a superbly detailed 1080p (1.85) AVC encoded transfer and 7.1/2.0 DTS MA soundtracks.
Later the focal point of an unintentionally funny Burt Bacharach-Hal David '70s musical, James Hilton's novel LOST HORIZON (133 mins., 1937) was brought to the screen most memorably in Frank Capra's 1937 fantasy. This serious and entertaining drama – albeit a highly troubled production for Capra and Columbia at the time – finds a a group of disparate individuals encountering the lost, famed paradise of Shangri-La, including Ronald Colman's diplomat, who meets Jane Wyatt's native girl and Sam Jaffe as the "High Lama" presiding over the legendary lost kingdom. Meticulously designed, "Lost Horizon" was plagued by cost overruns and cutting room floor predicaments, which ultimately removed several hours of material following poor test screenings. The resulting film was not a major commercial success, either, requiring several re-releases to break even, though has been regarded as a classic early screen fantasy ever since.
Sony's Blu-Ray of "Lost Horizon" offers a 4K restored transfer (1.37) that preserves the movie's crisp B&W cinematography in an exceptional presentation, with DTS MA mono sound doing as much justice as single-channel sound can for Dimitri Tiomkin's score. This extensive restoration results in a beautiful image as satisfying as the source material allows, while insightful extras include a commentary by critics Charles Champlin and Robert Gitt, a photo gallery, trailers, a restoration featurette with three uncovered deleted scenes, and an alternate ending. Beautifully presented in a glossy Digibook package with an essay from historian Jeremy Arnold, this is one of the year's top Golden Age catalog releases to date.
---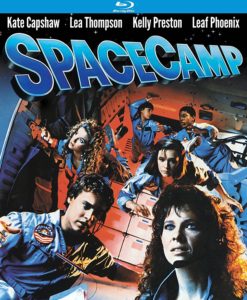 Kino Lorber Sept. Wrap
It's been terrific to see Kino Lorber releasing catalog titles that have languished for too long in the Disney vaults – particularly catalogs belonging to ABC, from Cinerama Releasing to Palomar Pictures and even ABC's own label that released a handful of movies back in the 80s.
One of ABC Motion Pictures' final offerings was SPACECAMP (**½, 107 mins., 1986, PG), an ill-timed family adventure that tried to capitalize on the good vibes of "E.T." and other Speilbergian fantasies then popular at the box-office throughout the decade.
This Leonard Goldberg production lacks the charm and authenticity of Spielberg's output, though, as it tells the improbable story of how a counselor at NASA's Spacecamp (Kate Capshaw) and several of her pupils (Lea Thompson, Kelly Preston, Larry B. Scott, Tate Donovan and young Leaf [aka Joaquin] Phoenix) are launched into actual orbit as part of a training mission and must use all of their resources to return home safely to Earth.
"Spacecamp" was one of several Fox-released sci-fi/fantasies back in 1986 (along with "Aliens, "The Fly," "Big Trouble in Little China" and "The Manhattan Project") but became an instant liability when the Challenger disaster occurred months before its opening. That undoubtedly sabotaged much of "Spacecamp"'s commercial potential, though truthfully, there's an artificial component to the script by Casey Mitchell and W.W. Wicket (a pseudonym for "Baby" writers Clifford and Ellen Green, who removed their credit for unknown reasons) that prevents it from truly taking flight. The contrived nature of the story makes it hard to fully embrace, though the appealing cast tries hard, especially Capshaw, Preston and Thompson, then fresh off "Back to the Future," while John Williams' lyrical score also lends a big hand.
A favorite amongst some younger kids from the time (though I can't say I was one of them), "Spacecamp" has been resurrected by Kino Lorber for its overdue Blu-Ray debut. The AVC encoded 1080p (1.85) transfer and 2.0 DTS MA stereo sound are both robust upgrades from its prior DVD releases, and extras include new interviews with Thompson, who recalls a difficult shoot, and director Harry Winer (totaling together about a half-hour) and the original trailer.
From the vaults of Cinerama Releasing and Palomar Pictures (also part of Disney's live-action catalog) come a pair of productions starring Robert Shaw: CUSTER OF THE WEST (**½, 141 mins., 1968, G) and THE BIRTHDAY PARTY (***, 123 mins., 1968, G).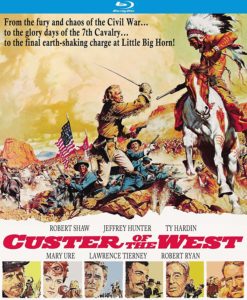 The former is a large-scale epic, shot in Spain, starring Shaw as Custer in an interesting curio that needs to be viewed in the full widescreen proportions presented here to be effective at all; despite several historical inaccuracies, this is still an intriguing take on the subject matter, with a good performance by Shaw and a fine supporting cast including Mary Ure (Mrs.Shaw), Laurence Tierney, and Jeffrey Hunter. The latter is the searing Harold Pinter work, starring Shaw in William Friedkin's well-received – though not always widely circulated – 1968 filming of Pinter's late '50s play, here preserved on screen with Patrick Magee, Sydney Tafler and Dandy Nichols opposite Shaw in one of his more potent performances.
Both films were licensed through Disney and haven't been seen since Anchor Bay DVD releases years back. These HD masters (2.35 on Custer, 1.78 on Birthday) look their age but do display more detail than those ancient standard-def presentations, with light extras including a Friedkin interview on "The Birthday Party."
Kino Lorber has also dusted off the infamously titled KRAKATOA, EAST OF JAVA (**, 131 mins., 1969 G), the Cinerama-produced 1967 flop that tried to capitalize on the Jules Verne/all-star cast fantasies of the period. A handful of treasure-seeking fortune hunters arrive on the isolated isle, only to find that a long-dormant volcano is about to erupt, ruining the fun for one and all. You get Rosanno Brazzi, Brian Keith, and other assorted character actors fumbling around for the better part of some two-plus hours, but also some great special effects miniatures (courtesy of "Gorgo"'s Eugene Lourie) at the end and songs by Mack David (with score by DeVol) that make it almost worthwhile. Another ABC-owned title that hasn't been seen since the early DVD era, Kino Lorber's 1080p (2.35) AVC encoded transfer looks terrific and includes the long version of the movie – not the re-cut edit that was quickly rushed to theaters after the film opened – along with mono DTS MA audio (the original stereo tracks are reportedly lost). And, of course: Krakatoa is WEST of Java!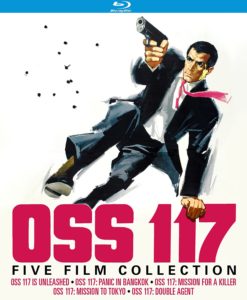 Finally, Bond fans and '60s spy thriller buffs are urged to check out Kino Lorber's superb OSS 177 box-set, which is now out on Blu-Ray. A long-running film series recently relaunched over the last decade via a pair of lighter Jean Dujardin vehicles, "OSS 177" was a French creation that predated Ian Fleming's 007, and was first seen in a late '50s movie that never made it to American shores.
While the majority of these "OSS 177" films also never saw a domestic release (two of the later sequels eventually did), their relaunch in the early '60s —  in the wake of "Dr.No" and the rise of Bond-mania – led to a series of colorful widescreen romps throughout the decade, and it's these loosely connected entries that Kino has brought to the U.S. in a three-disc Blu-Ray anthology.
Included here are OSS 117 IS UNLEASHED (103 mins., 1963) with Kerwin Matthews in the title role. This B&W shot (1.66) production was quickly followed by the full-color, widescreen OSS 117: PANIC IN BANGKOK (118 mins., 1964), also with Matthews, who was replaced by Frederick Strafford in OSS 117: MISSION FOR A KILLER (102 mins., 1965) and OSS 117: MISSION TO TOKYO (100 mins., 1966). The particularly intriguing OSS 117: DOUBLE AGENT (103 mins., 1968) stars John Gavin, who was one of Eon's leading candidates to replace Sean Connery as Bond, along with "Thunderball" vet Luciana Paluzzi and future "Spy Who Loved Me" villain Curt Jurgens.
These films are leisurely paced but their location lensing is impressive, the scores of Michel Magne varied and enjoyable, and the Gaumont-licensed 1080p (2.35 on all except 1.66 on "Unleashed") transfers all offer exceptional clarity. All soundtracks are in French with English subtitles as well. Very recommended for those with an appetite for '60s spy adventure.
---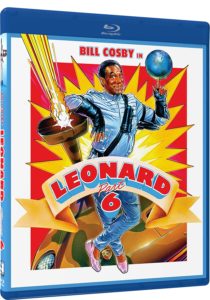 Mill Creek New Releases
I honestly never thought I'd see the day when Bill Cosby's infamous 1986 bomb LEONARD PART 6 (**, 1986, 85 mins., PG) – which the star warned audiences away from while appearing on talk shows days before the movie opened – would arrive on Blu-Ray, but that day has actually come thanks to the catalog crazies at Mill Creek.
The "Cos" was at the height of his "Cosby Show" popularity when he produced, co-wrote and starred in this outlandish secret agent comedy as Leonard Parker, a former Bond-type who has to don his old outfit and try to stop a nefarious villainess (Gloria Parker) intent on destroying the world with her crazy collection of animals.
"Leonard Part 6" certainly had all the makings of a hit. Cosby brought in a top-notch production crew to support the movie, including cinematographer Jan DeBont, visual effects master Richard Edlund and composer Elmer Bernstein, but forgot one basic element: an actual script. The movie is a mess, offering an off-kilter balance of action and slapstick, as well as tedious "domestic" sequences involving Cosby's ex-wife and daughter. There's also the fact that Leonard has become a restaurant entrepreneur since his secret agent retirement, which leads to the movie's unabashedly ridiculous end credits sequence.
Despite the problems (and there are a ton of them), "Leonard Part 6" isn't the worst Bad Movie ever made. The off-the-wall mix of elements, combined with solid effects and a terrific soundtrack, makes for a fascinating genre curio, and the icing on the cake is Peabo Bryson and Regina Belle's gorgeous end credits ballad "Without You." Several years prior to their award-winning teaming on "A Whole New World" from "Aladdin," Peabo and Regina offer what is unquestionably one of the best songs ever written for a flop movie, and enjoying the ballad over a marathon end credits sequence (where Leonard and his ex-wife engage in a food fight) is unquestionably the highlight of the movie.
Mill Creek's Blu-Rays typically shun lossless audio and AVC encoded video, but not here. The 1080p (1.85) transfer is indeed AVC encoded and the audio is lossless LPCM, offering a pretty nice stage for the original Dolby Stereo sound design. The bit-rate is high though compression issues occasionally manifest themselves – otherwise, this is one of the better Mill Creek Blu-Ray releases to date. In fact, it'll be hard for Golden Turkey fans not to soak up the fun of this fiscal turkey from Christmas of '86, now nicely preserved in high-def.
Also new from Mill Creek: Available this week from Mill Creek is the first domestic Blu-Ray release of NIGHT OF THE LIVING DEAD (96 mins., 1968), George Romero's seminal zombie classic. This high-def 1080p (1.33) B&W transfer hasn't been restored, and with rumors of an upcoming Criterion release, zombie-fans may want to hold off for their more "definitive" package. Still, for the sub $10 price point this is currently going for, the transfer is decent and an included digital code includes an exclusive audio commentary as well. One to tide Dead-heads over for this Halloween at least…Cher and Dennis Quaid toplined Peter Yates' 1988 courtroom thriller SUSPECT (***, 122 mins., R), one of those star-driven dramatic vehicles we seldom see at the movies these days. Peter Yates' assured direction makes for a suspenseful film with an Eric Roth script and a terrific supporting cast including Liam Neeson, John Mahoney and Joe Mantegna. Michael Kamen didn't write one of his more memorable scores for "Suspect," which debuts on Blu-Ray this month from Mill Creek in an okay 1080p (1.78) MPEG-2 encode with 2.0 Dolby Digital stereo audio…WATCH AROUND THE CLOCK is an ambitious DVD compilation offering 24 hours of TV from the Golden Age, simulating a full day of typical broadcast programming. This means kids cartoons, daytime programming (game shows, variety series), prime-time classics (Dragnet, Dick Van Dyke, Andy Griffith) and a trio of public-domain late-night movies are on-hand in a multi-disc Mill Creek set that also includes a bonus holiday DVD and digital content through Mill Creek's website. The set is also available in a "Color" release featuring 24 different hours of vintage TV, with both packages also including classic commercials.
---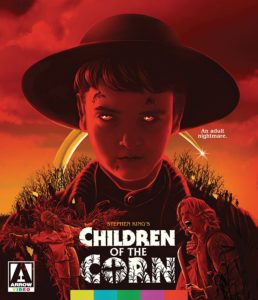 Arrow New Releases
Arrow's Fall crop of new Blu-Rays include several foreign titles and newly remastered presentations of two cult favorites. Here's a look:
CHILDREN OF THE CORN Blu-Ray (**, 92 mins., 1984, R): Lame-brained but still-watchable 1984 adaptation of Stephen King's story, released at a time when audiences were being deluged with all kinds of King projects hitting the silver-screen. Peter Horton and Linda Hamilton star as a couple that stumble upon a weird religious cult of kids in a Nebraska town in this low-budget effort which spawned a series of increasingly awful direct-to-video sequels. Arrow's Blu-Ray special edition offers a notably improved transfer from the previous Anchor Bay release, marked by an insanely high bit-rate and gorgeous detail (1.85) via a new 2K restoration from the original negative. Matching 2.0 and 5.1 DTS MA stereo tracks give oomph to Jonathan Elias' score, one of the film's strongest assets. All-new extras include a talk with screenwriter George Goldsmith, a lengthy chat with stars Julie Maddalena and John Philbin, and a new commentary with genre historian John Sullivan and writer Justin Beahm. Copious extras carried over from prior releases include a commentary with director Fritz Kiersch and other cast and crew members; interviews with composer Jonathan Elias, producer Donald P. Borchers and Linda Hamilton; plus trailers, storyboards, an earlier Making Of doc. Also on hand is the 1983 short "Disciples of the Corn," the first adaptation of King's story featuring an AVC encoded 4:3 transfer.
A FISH CALLED WANDA (***, 1988, 108 mins., R): This delightful comedic concoction remains one of the 80s' funniest flicks, with pitch-perfect performances from the ensemble of John Cleese, Jamie Lee Curtis, Kevin Kline and Michael Palin essaying Cleese's script and the direction of veteran Charles Crichton hitting all the right notes. MGM's prior Blu-Ray was a decent Special Edition but Arrow's disc benefits from a new 4K restoration of the original negative, produced by the label expressly for this release. On-hand here for extras are the hour-long vintage doc "John Cleese's Final Farewell Performance," comprised of extensive on-set footage, plus a new appreciation with Vic Pratt of the BFI National Archive and a talk with production designer Roger Murray-Leach. Extras brought back from the MGM disc include over 25 minutes of deleted scenes; commentary from Cleese; a 15th Anniversary retrospective; trivia track; and other amusing odds and ends. One of the last major studio movies to be released in mono, the original track has been encoded here as PCM mono though a fake 5.1 remix has been included in DTS MA form. A worthwhile upgrade for fans.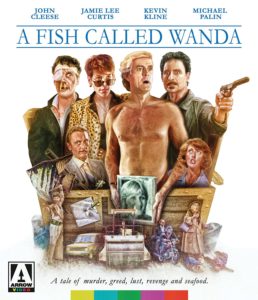 Also new from Arrow this month are a pair of Italian giallo thrillers: DON'T TORTURE A DUCKLING (105 mins., 1972) is Lucio Fulci's masterwork, starring Thomas Milian and Barbara Bouchet as a pair of outsiders who attempt to solve a series of brutal murders of young boys in the rural town of Accendura. Unsettling themes and grizzly violence make this recommended mostly for Fulci fans and genre buffs, though the film is unquestionably well-executed on a technical level. Making its high-def Blu-Ray debut, Arrow's Blu-Ray includes both English and Italian soundtracks; a new commentary from Troy Howarth; a new video discussion with giallo authority Mikel J. Koven; a video essay from Kat Ellinger; a 1988 audio interview with Fulci; and extensive additional interviews with assorted cast/crew. The 1080p (2.35) transfer is satisfying rendered as well…Another giallo from the era, Sergio Martino's THE SUSPICIOUS DEATH OF A MINOR (100 mins., 1975), also receives the Arrow treatment this month. This last of six Martino works in the genre stars Claudio Cassinelli as a cop on the trail of a Milanese gang apparently responsible for the murder of an underage prostitute. Mel Ferrer co-stars in this 1975 genre favorite, here presented in a new, Arrow-exclusive 2K restoration from the original negative. Supplements include both English and Italian audio tracks, a commentary from Troy Howarth, and a new interview with Martino. Both "Duckling" and "Death of a Minor" include accompanying DVD versions as well.
Finally, Rutger Hauer delivered one of his strongest performances in Italian director Ermanno Olmi's 1988 drama THE LEGEND OF THE HOLY DRINKER (127 mins). Hauer plays Andreas Kartack, a homeless man living in Paris who can't – try as he might – defeat his alcoholism in a downbeat but superbly acted picture that Arrow has restored in a label-exclusive 4K transfer from the original negative. Hauer is also present in a brand-new interview on the disc, along with a conversation from writer Tullio Kezich, and 5.1 and 2.0 DTS MA English/Italian audio with optional subtitles, plus a DVD copy.
---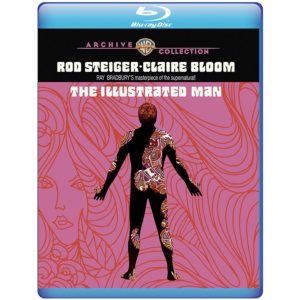 Warner Archive New Releases
As a fan of Ray Bradbury's works growing up, I was always disappointed with the film versions of the author's novels. Disney's "Something Wicked This Way Comes" ended up being an entertaining if flawed take on one of Bradbury's best books, which is at least more than you can say about the '70s TV mini-series of "The Martian Chronicles" which was dated – even when it first aired!
More along the lines of the latter than the former is THE ILLUSTRATED MAN (*½ , 103 mins., 1969, PG), an unappealing anthology that stars a scenery-chewing Rod Steiger and Claire Bloom in a trio of sci-fi tales adapted from the 1951 Bradbury collection of the same name: "The Veldt" is a tale of nasty kids who have grizzly plans in store for their parents via their futuristic zoo; "The Long Rain," about astronauts on Venus struggling to endure the planet's endless precipitation; and "The Last Night of the World," where a couple go through the standard rituals of domestic life even with the knowledge that the world's about to end.
Shot in scope and scored by Jerry Goldsmith, "The Illustrated Man" is nevertheless a disappointing exercise that was greeted with tepid reviews and poor box-office receipts. Howard Kreitsek's script seems intent on playing up the shock element of the material, and there's no nuance at all in either Jack Smight's direction or the overbearing performance(s) of Steiger, who's at his most "method" and tough to take. Aficionados of the era and Bradbury fans may want to check out the film just for its curiosity value, but it's an abrasive and unsatisfying affair that Bradbury himself wasn't fond of.
Warner's Archive Blu-Ray, however, is more than satisfying in its technical attributes, sporting a nifty, highly detailed 1080p (2.35) AVC encode that enhances the movie's anamorphic lensing, plus a DTS MA 2.0 mono soundtrack. The trailer and a vintage featurette, "Tattooed Steiger," comprise the extras.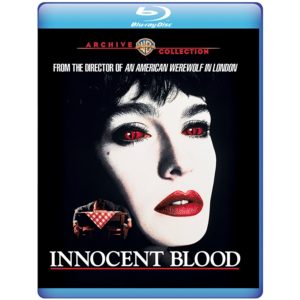 More fun can be found in John Landis' INNOCENT BLOOD (**½, 115 mins., 1992, R), an uneven – and overlong — but generally entertaining vampire tale with Anne Parillaud, then fresh off "La Femme Nikita," starring as a vampire whose moral code usually leads her to rub out lowlifes like a Pittsburgh mafia boss played by Robert Loggia – only here, she inadvertently turns him into a vampire, causing all kinds of subsequent trouble for both her and undercover cop Anthony LaPaglia.
Don Rickles, Chazz Palminteri, David Proval and Angela Bassett appear along with a number of Landis' filmmaking cohorts (Dario Argento, Frank Oz, Tom Savini, Sam Raimi) in this agreeable mix of gore, guns and sex – and the appealing Parillaud, who made her American debut (and exit) in this September '92 box-office flop that's nevertheless generated a small following over the years.
Featuring a 1080p (1.85) AVC encode and 2.0 DTS MA stereo sound, "Innocent Blood" makes its way to Blu-Ray with an attractive a/v presentation that should make it a catalog favorite for fright fans this Halloween.
Also new on Blu-Ray from the Archive is THE LAW AND JAKE WADE (86 mins., 1958), a John Sturges MGM western starring Robert Taylor as a reformed outlaw who's now a sheriff in the High Sierras. Unfortunately for Jake Wade and his fiancée (Patricia Owens), trouble comes to town in the form of Wade's former partner, Clint Hollister (Richard Widmark), whom Jake springs out of jail but refuses to reveal the whereabouts of the loot from a robbery their gang pulled off a year before. DeForest Kelley and a young Henry Silva are two of Hollister's goons who also come looking for payback in a Cinemascope release scored by Fred Steiner and generally well-received by western fans. There's certainly no quibble with the Archive's beautiful 1080p (2.35) AVC encoded transfer with 2.0 DTS MA mono audio and the trailer as the sole extra.
New on DVD: A pair of early First National releases are also new to the Archive this month. Alice White tap-dances her way through Mervyn LeRoy's BROADWAY BABIES (86 mins., 1929), the story of a trio of chorus girls who run afoul of a gangster (Fred Kohler). Plenty of tunes, guns and girls dominate this early talkie, while BIG BUSINESS GIRL (74 mins., 1931) features Loretta Young and Joan Blondell in a pre-Code rom-com about a coed (Young) who heads for Manhattan where she joins an advertising agency. Years before "Mad Men," "Big Business Girl" spins its story of a secretary who becomes a copywriter while trying to avoid the advances of her boss (Ricardo Cortez), at the same time her college boyfriend (Frank Albertson) returns from Paris, only to be matched with a noted homewrecker (Joan Blondell). An appealing cast makes this early affair watchable, with the Archive offering B&W transfers on both early sound efforts.
---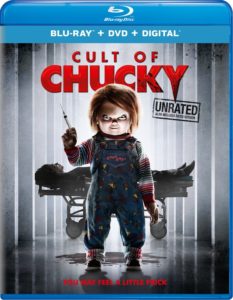 Also New & Noteworthy
CULT OF CHUCKY Blu-Ray Combo Pack (90 mins., 2017, R/Unrated; Universal): Don Mancini, the "Child's Play" creator, apparently can't let go of his iconic horror creation, Chucky, as he turns out yet another sequel in the now endlessly-running series. The good news, at least, is "Cult of Chucky" is an improvement on its immediate predecessor, with Fiona Dourif returning as a young woman haunted by the Chuckster and sent to an insane asylum to deal with her not-really-psychotic issues, with Chucky (voiced by her dad, Brad) in hot pursuit. Alex Vincent, the young star of the 1988 movie, reappears with Jennifer Tilly chipping in a cameo in a pretty routine, yet watchable, direct-to-video creation that's livelier than the last outing if nothing else. Universal's Blu-Ray combo pack includes deleted scenes, commentary, numerous featurettes, a Digital HD copy, 1080p (1.78) transfer and 5.1 DTS MA sound, along with a DVD and both rated and unrated versions, the latter featuring an extra minute of footage.
2 BROKE GIRLS – The Complete Sixth and Final Season DVD (468 mins., 2016-17; Warner): Though not designed, apparently, as a goodbye season, this CBS sitcom closed up shop this past spring after six seasons. Fans will want to check out Warner's Season 6 DVD of "2 Broke Girls" to complete their series' collections, as Max (Kat Dennings) and Caroline (Beth Behrs) find themselves trying to balance work with ownership of the Brooklyn diner hey're now co-owners of. Meanwhile, Caroline tries her hand at romance while the duo watch their improbable success story reach the screen in Hollywood – with some natural deviations. Warner's DVD box-set is available this week featuring unaired scenes, a gag reel, 5.1 sound and 16:9 soundtracks.
iZOMBIE: The Complete Third Season DVD (550 mins., 2016-17; Warner): With Team Z uncovering a secret army of the undead living in Seattle, it's up to Liv and friends to uncover their motives and whether or not they offer help or hindrance in this third season of the CW series. Liv also takes on a number of roles after consuming a number of brains, including a stuntman, dominatrix and role-playing game master in 13 Season 3 episodes of "iZombie." Now on DVD from Warner, the three-disc set includes a 2016 Comic Con panel and deleted scenes, 16:9 (1.78) transfers and 5.1 soundtracks.
JUSTICE LEAGUE: THE NEW FRONTIER Commemorative Edition Blu-Ray Combo Pack (75 mins., 2008, PG-13; Warner): Darwyn Cooke's acclaimed graphic novel — focusing on the origins of the Justice League during the early 1960s — makes for a decent, if decidedly uneven, 2008 made-for-video effort from Warner Bros. Animation. Stan Berkowitz's script and David Bullock's direction aim for a less frenetic pace than most DC direct-to-video efforts, and the overall artistic design does a competent job capturing the nuances of Cooke's work. Regrettably, the narrative has a hard time holding up in the confines of its 75-minute running time, the movie doing a fine job establishing the characters and setting in its first half, but turning routine and dull in its final third. Regardless, DC fans will still enjoy the action and unique setting of "The New Frontier," with Warner's new Commemorative Edition boasting a fresh 5.1 DTS MA soundtrack (the prior release offered Dolby TrueHD), 1080p AVC encoded transfer, documentaries on Darwyn Cooke, "Super Heroes United," "The Legion of Doom," and "Comic Book Commentary," audio commentaries, a sneak peek of the next DC movie, a Digital HD copy, DVD and – best of all for comic book fans – spiffy new steelbook packaging.
SLEEPY HOLLOW – The Complete Fourth Season DVD (506 mins., 2017; Fox): Few shows in recent memory have started out as promisingly as Fox's "Sleepy Hollow," only to quickly fall apart in a dismal sophomore season that became overly wrapped up in its own, convoluted mythology. After dispensing with most of its cast members, Season 4 attempts to press the reset button by sending Ichabod Crane (the still charming Tom Mison) to Washington where he joins a top-secret organization – sadly, it's too little, too late, with the show veering into some kind of "Supernatural CSI" that betrays most of its origins. With ratings on the fringe to begin with, it was no shock that Fox soon canceled the series, making its fourth season also the show's final one. Fox's DVD, out now, includes 16:9 transfers, 5.1 sound and deleted scenes.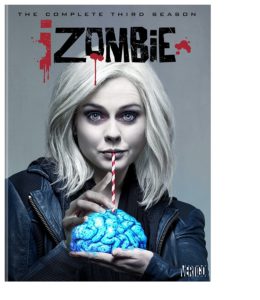 SPONGEBOB SQUAREPANTS: The Complete Ninth Season DVD (588 mins., 2012-17; Nickelodeon/Paramount): The ninth season of the hit Nickelodeon series finds "Spongebob Squarepants" squeezing into a number of wild adventures, including the search for a new job, a mysterious goo bubble battle, and a food craze that sweeps Bikini Bottom. Spongebob, Sandy, Patrick, Squidward and Plankton return with Mr. Krabs getting married (to money!) in over 20 episodes from the most-watched animated series on TV, including three double-length episodes. All have been compiled here in Paramount's four-disc set, along with five bonus "Krabby Patty" shorts, in 16:9 transfers and 5.1 Dolby Digital soundtracks. Available October 10th.
THE WIZARD OF LIES Blu-Ray (133 mins., 2017; HBO): The life and times of Bernie Madoff are retold in director Barry Levinson's HBO movie. Robert DeNiro stars as the Wall Street mogul in this chronicle of Madoff's Ponzi scheme which defrauded over $65 billion from investors nearly a decade ago. Michelle Pfeiffer co-stars as his wife, Ruth, in a competent yet surprisingly blah production that's never as captivating as the subject matter suggests; DeNiro is alright but this is not one of the better HBO films we've seen of late. HBO's Blu-Ray, out October 3rd, includes interviews with the stars along with author-writer Diana B. Henriques, a 1080p transfer, 5.1 DTS MA sound and a Digital HD copy.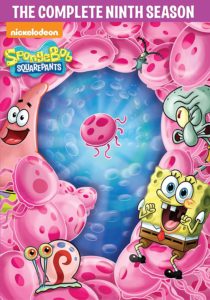 Lionsgate New Releases: Lifetime's original movie output of late has tackled a number of celebrity stories, including MICHAEL JACKSON: SEARCHING FOR NEVERLAND (106 mins., 2017), which looks at the troubled pop superstar's relationship with his kids and final years through the prism of bodyguards Bill Whitfield (Chad l. Coleman) and Javon Beard (Sam Adegoke). A bit more fleshed out than the usual Lifetime tele-films, "Neverland" comes to DVD on October 10th from Lionsgate with a 16:9 (1.78) transfer and 5.1 Dolby Digital sound…Wesley Snipes' most recent adventure into the realm of B-grade filmmaking, ARMED RESPONSE (94 mins., 2017, R), finds him leading an elite team into a government compound to investigate the deaths of everyone working there. A mix of routine action and light horror/sci-fi elements play into this pedestrian fare from WWE Studios, directed by the once-promising John Stockwell ("Blue Crush") who's likewise slid into direct-to-video work. Lionsgate's Blu-Ray, out October 10th, includes a Making Of featurette, 1080p (1.85) transfer and 5.1 DTS MA soundtrack.
Coming on DVD From Lionsgate: Season 10 of ANCIENT ALIENS (6 hours, 2017) beams down on DVD October 17th from Lionsgate. The popular History series this time out looks at amazing new evidence of alien "intervention" on Earth, including an aluminum object resembling a lunar lander that dates back over 40,000 years. Episodes in the two-disc DVD release include The Alien hunters, Forged By the Gods, The Mystery of Rudloe Manor, The Alien Architects, The Pharoah's Curse, The Science Wars, City of the Gods and The Alien Frequency, with 16:9 transfers and 5.1 sound on each episode…Also coming October 17th is LADY MACBETH (90 mins., 2016, R), an effective, short drama bout a woman (Florence Pugh) in rural England, circa 1865, whose unloving marriage to an older man is challenged when she meets a young worker on her husband's estate. Pugh is superb in this BBC Films production, written by Alice Birch and directed by William Oldroyd — a low-budget period piece, "Lady Macbeth" is finely acted as it marches down a familiar narrative path with its own distinct atmosphere. Lionsgate's DVD includes a behind-the-scenes segment, photo gallery, 16:9 (2.35) transfer and 5.1 soundtrack.
Available October 10th from Anchor Bay is DEMONIC (83 mins., 2017, R), a movie which presumably was intended for theatrical play given the involvement of Dimension Films and producer James Wan. Alas, outside of Wan's credit, there's precious little excitement generated by this feeble formula horror outing starring Frank Grillo and Maria Bello as a detective and psychologist called in to investigate the deaths of amateur ghost hunters whose most recent investigation has gone terribly wrong. There's certainly nothing right – or at least interesting – about Will Canon's by-the-numbers genre exercise, which comes to DVD on October 10th featuring a 16:9 (2.40) transfer with 5.1 Dolby Digital sound.
IT STAINS THE SAND RED Blu-Ray (92 mins., 2017, R; Dark Sky/MPI): Brittany Allen plays a woman in Vegas who's pursued throughout the nearby desert by a single member of the infected (Juan Riedinger) undead in this suitably different genre exercise from director Colin Minihan. By now, we've seen so many zombie movies that "Red"'s main appeal will remain mostly horror fans, but they're likely to be entertained by this independent production, out on Blu-Ray from MPI's Dark Sky imprint. Extras include a Behind the Scenes segment, On the Set featurette, the trailer, a 1080p (2.35) transfer and 5.1 Dolby Digital sound.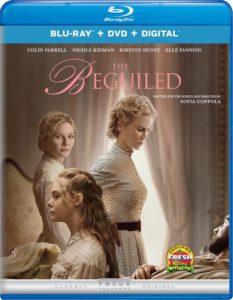 THE BEGUILED Blu-Ray (93 mins., 2017, R: Universal): Sofia Coppola's remake of one of Clint Eastwood's more offbeat vehicles is a well-acted, if ultimately unnecessary, cinematic excursion. Here, Colin Farrell steps into Eastwood's shoes as a Union soldier who's holed up at a girls boarding school in Civil War-era Virginia. The reaction of the respective women (Nicole Kidman, Kirsten Dunst, Elle Fanning) to Farrell's arrival makes for a somewhat underwhelming psychological drama based, like its predecessor, on Thomas Cullinan's novel "A Painted Devil." With the shock element played down somewhat and the sexual tension increased, Coppola is able to sustain a different take on the material with an accent from the female perspective, but ultimately, the picture doesn't offer enough power or development to really click as the Don Siegel original did. Universal's attractive Blu-Ray includes a 1080p transfer (1.66), 5.1 DTS MA audio (sporting a score by the French group Phoenix), two featurettes, a DVD and Digital HD copy.
OPEN WATER 3: CAGE DIVE Blu-Ray (81 mins., 2017, R; Lionsgate): A trio of friends (Joel Hogan, Megan Peta Hill, Josh Potthoff) travel down to Australia's Gold Coast for some shark diving fun, only to have their accompanying tour boat wrecked by a rogue wave and a whole swarm of sharks subsequently surrounding them. With sharks still generating decent box-office revenue thanks to the likes of "The Shallows" and "47 Meters Down" over the last two summers, it makes sense for Lionsgate to continue to tap the same well with their "Open Water" franchise, but this pedestrian outing is strictly by-the-numbers with weak special effects and unappealing characters. Lionsgate's Blu-Ray is out October 10th featuring commentary with director Gerald Rascionato and cast members, a featurette, deleted scenes, outtakes, a trailer gallery, 1080p (1.78) transfer and 5.1 DTS MA sound, plus a Digital HD copy.
PILGRIMAGE Blu-Ray/DVD (96 mins;, 2016, Not Rated; RLJ): Tom Holland plays a young Irish man who joins a group of monks and an ex-Crusader (Jon Bernthal) on a trek to transport a holy relic to Rome in Brendan Muldowney's 2016 Irish period piece. With the group encountering Norman soldiers and primitive tribes, "Pilgrimage" tries to balance action with dramatic introspection, but the result is a slow-going, depressing ride that's nevertheless well photographed. RLJ's Blu-Ray/DVD combo pack is out October 10th, featuring five behind-the-scenes featurettes with cast/crew interviews, photo and poster galleries, a 1080p (2.35) AVC encoded transfer and 5.1 DTS MA sound.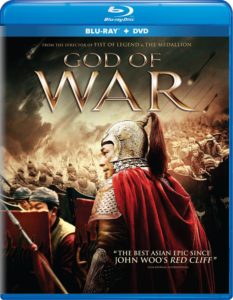 Well Go New Releases: On October 17th, GOD OF WAR (129 mins., 2017) hits Blu-Ray from Well Go. This is an expensive Hong Kong period actioner, set during the 16th century where pirates pillage villages and rule the Chinese coast. The great Sammo Hung plays a commander who enlists the help of a young general (Vincent Zhao) in combating the menace in Gordon Chan's mix of drama and potent action, vividly captured on Blu-Ray by Well Go. The 1080p transfer and DTS X audio (Mandarin with English subs) are both terrific with extras including a Making Of and the trailer.
LEGO NINJAGO Masters of Spinjitzu: HANDS OF TIME DVD (229 mins., 2017; Warner): Two-disc DVD compilation includes the complete seventh season of the popular series. On-tap are the episodes The Hands of Time, The Hatching, A Time of Traitors, Scavengers, A Line in the Sand, The Attack, Secrets Discovered, Pause and Effect, Out of the Fire and Into the Boiling Sea, and Lost in Time. 16:9 transfers and 5.1 soundtracks adorn Warner's DVD, which is out October 3rd.
Also new on DVD this week is the Complete 5th Season of HOUSE OF CARDS (683 mins., 2017; Sony), which once again finds Frank and Claire Underwood continuing to navigate Washington and its literal swamp of players. Now on DVD after Netflix release earlier this year, fans generally seemed to think this was an improvement on a couple of comparatively tepid years that preceded it. Sony's DVD includes 16:9 transfers, 5.1 sound, and bonus interviews.
NEXT TIME: Shout Fall Wrap with THREE O'CLOCK HIGH! Until then, don't forget to drop in on the official Aisle Seat Message Boards and direct any emails to our email address. Cheers everyone!