At the head of the class among October's catalog releases is Shout Factory's "Shout Select" Blu-Ray edition of THREE O'CLOCK HIGH (***½, 90 mins., PG-13), director Phil Joanou's underrated 1987 high school gem that was stealth-produced by Steven Spielberg, who either couldn't – or wouldn't – put his name on the film, depending on whose story you believe.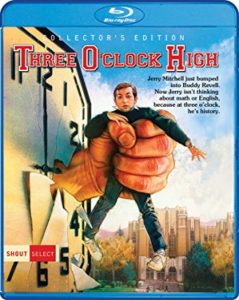 This clever variation on "High Noon" stars Casey Siezmako as an average high schooler who runs afoul of the new class bully, and is coerced into a fight in the parking lot right after school ends at 3 o'clock. Siezmako's attempts to get out of his predicament makes for a hilarious, even suspenseful high school yarn that's stylishly directed by Joanou and filled with deft comedic touches.
The Richard Christian Matheson-Thomas Szollosi script is a cut above for the genre, but the movie's style and presentation put it over the top as one of the better teen comedies of the '80s. Joanou was unfairly criticized for "over-directing" the film when it was first released, and it's his visual panache that separates "Three O'Clock High" from the works of John Hughes and so many other youth comedies released in the last 30 years.
"Three O'Clock High" was produced by Steven Spielberg and set up through Amblin Entertainment, as it was Spielberg who matched his protégé Joanou with the screenplay. Rumors abound as to why Spielberg's name doesn't appear on the film — some anecdotes claim that Spielberg didn't "get" the film's humor, while others state that he was outright embarrassed by it. Joanou here states that Spielberg "ghost produced" the movie because mogul Aaron Spelling owned the script and wouldn't relinquish the material without receiving full credit, forcing Spielberg to go uncredited for contractual purposes. Matheson and Szollosi, however, offer a different story in the disc's supplements, recalling that Spielberg had complained about Joanou's camera set-ups and general direction while visiting the set – suggestions that went unaddressed, much to Spielberg's alleged displeasure.
Without Spielberg's name on the production – for whatever reason – "Three O'Clock High" struggled to find an audience in theaters, grossing a paltry $3 million, and Joanou never worked with his mentor (for whom he directed an "Amazing Stories" episode previously) again.
Time, though, has enabled the film to become a minor cult classic, and the title is perfect for Shout's Select Blu-Ray line. The affordably priced disc (currently under $15 at Amazon, in fact) boasts a 1080p (1.85) AVC encoded transfer with more detail and crisper colors than the movie's earlier, DNR'd HD master, which first appeared on Blu-Ray in a German multi-film release. The film has nicks and scratches popping up here and there, but it's an unblemished and satisfying transfer with 2.0 DTS MA stereo sound.
The movie's soundtrack was also the subject of much discussion. Joanou here discusses working with Tangerine Dream and heading to Germany for the scoring of the picture – a process which didn't entirely go as planned. The director is quite amusing as he recalls "working" with the group; suffice to say, the eventual score was augmented with additional music by Sylvester Levay, who apparently remixed some of the Dream's overly maudlin tracks, and a bouncy title song from one of Joanou's friends that opens and closes the project.
Shout's extras include a commentary from Joanou and a half-hour interview with the director; a 15-minute talk with Matheson and Szollosi; a conversation with costume designer Jane Ruhm; a still gallery; and a trailer that seems to have been culled from an MCA Home Video tape.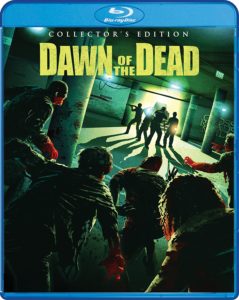 DAWN OF THE DEAD Blu-Ray (**½, 2004, 101/110 mins., R/Unrated; Universal): I have to be honest — I was originally a little too harsh on Zack Snyder's 2004 remake of the George A. Romero zombie classic. My original review netted only a star and a half, and truth be told, a fresh viewing of the 2004 "Dawn of the Dead" cleared my mind and at least made me realize this remake is an energetic piece of filmmaking with several effective set-pieces, plus a solid, understated performance from Sarah Polley at the film's center. While some of my initial reservations hold firm (like Mekhi Phifer's "zombie baby" and the unneeded, should've-quit-while-you-were-ahead end credit "shock sequences"), there's enough juice in Snyder's film to satisfy zombie fans and horror buffs, especially given the amount of genre junk we've seen in recent years – and it's also infinitely preferable to most of Snyder's output since.
Scream's Blu-Ray boasts new HD masters from the 2K Digital Intermediate, with HD Inserts spliced in for Snyder's 110-minute unrated cut. This is just about as satisfying a presentation as one could imagine, capturing the flavor of Matthew F. Leonetti's cinematography and Snyder's sometimes intentionally-grainy visuals splendidly. The DTS MA audio is finely engineered, with new extras including fresh interviews with writer James Gunn, stars Jake Weber and Ty Burrell, and VFX artists, plus behind-the-scenes footage. Carried over from prior Universal releases are commentary from Snyder, deleted scenes, numerous mini-film featurettes and more.
"Dawn"'s financial success lead Universal to bring George Romero back for another follow-up, LAND OF THE DEAD (** ½, 97 mins., 2005, R), a mostly robust return to the genre from its director, short on character development but satisfying in its depiction of a world where humans attempt to survive by alluding the dead that lurk outside their guarded metropolis.
In this future — set some time after Romero's then-most recent zombie predecessor (the disappointing "Day of the Dead") — Dennis Hopper essays a Trump-like megalomaniac who provides a luxurious living for wealthy inhabitants in the "living" city's tallest buildings, while all others attempt to survive on the streets below. All, though, share a distaste for the dead, who continue to mope around outside the city but are showing gradual signs of evolving into….well, something more than simply brainless zombies. Rebel leader Simon Baker attempts to cool off brash mercenary John Leguizamo by telling him the enemy isn't as clueless as before, but Baker's attempts are futile as our hero joins hooker Asia Argento and others in a last-minute run for the Canadian border.
Poorly marketed by Universal and ill-timed as a summer release, "Land of the Dead" now makes for an ideal Scream Factory Blu-Ray. Romero coaxes solid performances out of his able cast, adds a bit of subtext to the story (asking who's worse — the zombies or the calculating Hopper?), and doesn't forget to include humor and some fresh narrative touches. Mostly more entertaining than the overpraised Snyder film, this one isn't overwhelmingly gory or as predictable as you might anticipate, and even ends on a strangely optimistic note.
Shout's double-disc Collector's Edition of "Land of the Dead" includes a 2K scan of the theatrical cut with new extras like cast interviews with John Leguizamo, Robert Joy, Pedro Miguel Arce and others. Copious extras carried over from previous releases run the gamut from commentary to deleted footage, Romero's "Dream of the Dead," a 5.1 DTS MA soundtrack and a new commentary on the Unrated cut by a slew of "zombie performers."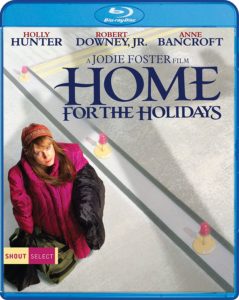 Shout Select Blu-Ray New Releases: Also now available in Shout's Select line are a completely contrasting pair of titles. HOME FOR THE HOLIDAYS (103 mins., 1995, G-13) is director Jodie Foster's "anti-Christmas movie" starring Holly Hunter as a woman who loses her job and reluctantly flies home for a Thanksgiving with her parents (Anne Bancroft, Charles Durning). The resulting gathering of disparate types includes her gay brother (Robert Downey, Jr.), his friend (Dylan McDermott), her sister (Cynthia Stevenson) and her stuffy husband (Steve Guttenberg). W.D. Richter's scripts are often offbeat but "Home For the Holidays" is strident and not especially funny, with Hunter annoyingly sneezing through most of the film and bad '90s haircuts on-hand for nearly everyone else. Though a Paramount release, MGM retains home video distribution through their ownership of much of Polygram's film catalog, and Shout's 1080p (1.85) transfer is in good shape throughout. An older commentary by Foster, the trailer, still gallery, and 5.1 DTS MA sound – which goes to great lengths to not include the usual holiday standards – round out the disc…Coming October 10th from Shout is a Blu-Ray/DVD combo pack of DUDES (90 mins., 1987, R), the extremely strange road-trip movie that sends a trio of punks (Jon Cryer, Daniel Roebuck, and Red Hot Chili Peppers' Flea) on the open highway where they meet up with – and cross – a gang led by a psycho (Lee Ving). Catherine Mary Stewart, with an especially terrible late '80s chop-cut, helps them out in Penelope Spheeris' film, a release from the New Century/Vista label which has entertained some cult movie buffs over the years, despite it being hard to find. I personally found the punk soundtrack grating – but if you gravitate towards that music, "Dudes" is likely to hold some appeal at least. Shout's Blu-Ray/DVD combo includes all-new interviews with Spheeris (who went on to helm "Wayne's World"), writer J. Randall Johnson, producer Miguel Tejada-Flores, and Cryer, Stewart, Roebuck and Flea; a vintage featurette, the trailer, still gallery; a 1080p (1.85) transfer in decent shape and 2.0 DTS MA stereo sound. Could "Fright Night: Part 2" be next from the Vista catalog? One can only hope!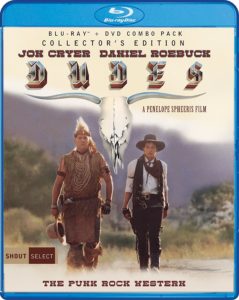 Also New From Shout Factory: "Loved Ones" director Sean Byrne returns with THE DEVIL'S CANDY (80 mins., 2015, Not Rated), out this month from Scream Factory on Blu-Ray. This short but effective thriller sends a metalhead dad (Ethan Embry), his wife (Shiri Appleby) and daughter (Kiara Giasco) to a small Texas town, unaware that the home they now inhabit was (and still is!) the home of a psycho killer (Pruitt Taylor Vince) who has a connection with the devil. Plenty of metal tracks populate the soundtrack of "The Devil's Candy," a movie that works quite well but seems a bit underbaked, especially given its overly-thrifty running time. Shout's Blu-Ray boasts a commentary with Byrne, a VFX featurette, "Advantage Satan" short film, music video, art gallery, trailer, 1080p (2.40) trailer and 5.1 DTS MA stereo sound…JACKALS (87 mins., 2016, Not Rated) is a nasty, sadistic thriller about a family trying to get their kidnapped son back from a ruthless cult and hiring Stephen Dorff as a specialist to help. Things, naturally, go wrong in a relentlessly downbeat affair that offers scant surprises and doesn't satisfy at all. A commentary with director Kevin Greutert and writer Jared Rivet, a 1080p (2.39) transfer and 5.1 DTS MA sound comprise Scream's Blu-Ray…Finally, the grizzly THE POUGHKEEPSIE TAPES (86 mins., 2008, R) at last nets a wide release after languishing in the MGM vaults for nearly a decade. John Erick Dowdle's faux-documentary profiles a fictional serial killer in upstate New York and how he captured, mutilated and killed a series of victims, from a teenage girl to a slew of young prostitutes. The subject matter isn't pleasant and perhaps that's why MGM kept toying with releasing this admittedly well-made indie, only to yank it back from wide distribution a couple of times over the years. Either way, Shout's Blu-Ray includes new interviews with Dowdle and actress Stacy Chbosky, along with the trailer, a 1080p (1.85) AVC encoded transfer, DTS MA mono sound and an accompanying DVD…Coming October 31st is the elaborate Blu-Ray box-set HALO: THE COMPLETE VIDEO COLLECTION (6 hrs.), a dynamite anthology that includes "Halo Legends," "Halo 4: Forward Onto Dawn," "Halo: Nightfall," and "Halo: The Fall of Reach," all adapting in CGI rendered video form some of the more popular storylines from Microsoft's long-running video game franchise. 1080p transfers and either Dolby Digital 5.1 (Legends, Fall of Reach) or 5.1/7.1 DTS MA mixes (Dawn, Nightfall) adorn the package along with ample extras. These include a bonus disc with four all-new commentaries from the "Halo" creative team and a smattering of featurettes. Perfect for Master Chief fans both now and later on this holiday season.
Also Available From Shout Factory: Newly available in a Blu-Ray/DVD combo pack is THE SURVLVAIST (104 mins., 2017, Not Rated). Stephen Fingleton's film set in a post-apocalyptic world where a lone survivor (Martin McCann), protecting his small amount of property from intruders, forms an uneasy reliance with a mother (Olwen Fouere) and her daughter (Mia Goth). This low-budget UK import includes a Making Of featurette, bonus short films, the trailer, 1080p (2.40) AVC encoded transfer, 5.1 DTS MA sound and a DVD copy…Werner Herzog's latest, QUEEN OF THE DESERT (128 mins., 2017, PG-13), stars Nicole Kidman in the true story of a British woman in turn-of-the-century England, who leaves her life behind for an Arab adventure beginning in Tehran. Her encounters with a British officer (James Franco) and T.E. Lawrence (Robert Pattinson) mark this well-shot drama debuting in a Blu-Ray/DVD combo pack from Shout. The 1080p (2.35) transfer and 5.1 DTS MA sound sports a Klaus Badelt score, and a DVD copy is also on-hand.
---
Holiday '17 New Releases
PEANUTS HOLIDAY COLLECTION 4K UHD (Warner): The three arguably most popular specials starring Charlie Brown and the gang make the leap to 4K UHD this month in a 4K/Blu-Ray combo pack that should be a must for Peanuts fans.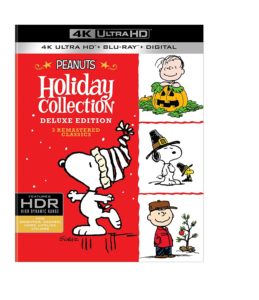 In addition to "It's the Great Pumpkin, Charlie Brown," Warner's set sports the classic "A Charlie Brown Christmas" and the enjoyable "A Charlie Brown Thanksgiving," all in new HVEC encoded transfers with HDR enhancement. Though none of the Peanuts specials were elaborately animated, these 4K transfers are surprisingly pleasing in their enhancement over 1080p Blu-Ray, offering a slight uptick in detail and a more appreciable upgrade in contrast and diverse splashes of color. The leaves in "Great Pumpkin" and the backgrounds have a slightly wider color pallet, for example, over standard-def, though HDR hasn't been excessively utilized, respecting the source materials and not "colorizing" segments that don't require its implementation.
Also included here are a smattering of other specials, only a few of which accompanied their Blu-Ray counterparts. These include "The Mayflower Voyages," "It's Christmastime Again, Charlie Brown," "It's Magic, Charlie Brown," "Play It Again, Charlie Brown," "Charlie Brown's All-Stars," and "It's Flashbeagle, Charlie Brown," with the latter four specials making their HD debuts in this package. Meanwhile, Digital HD copies, the DVD Making Of retrospectives, and 5.1 DTS MA stereo remixed soundtracks round out the release. Viewers have the option of watching the specials in either 4:3 ("Classic") or new 16:9 widescreen aspect ratios which crop the top and bottom of the frame, and Blu-Ray owners should note the "Christmas" disc is a new remastered presentation offering the extra contents (multiple aspect ratios, "Flashbeagle" special) from the 4K disc (the "Great Pumpkin" and "Thanksgiving" specials, however, are the same prior Blu-Ray releases).
Highly recommended for all "Peanuts" fanatics and a particularly attractive title as we head right into the holiday season.
Several new holiday releases are also newly available, in plenty of time for Christmas (our local Home Depot had all their yuletide gear out – on Columbus Day!):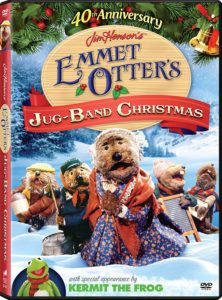 EMMET OTTER'S JUG-BAND CHRISTMAS 40th Anniversary DVD (53 mins., 1977; Sony): Growing up without the benefit of HBO, I didn't see this 1977 special produced by Jim Henson until many years later its initial broadcast. Since then, "Emmet Otter" has become a holiday perennial in my family – a wonderful tale of a young otter and his widowed mom who each enter a singing contest for their own respective reasons. Paul Williams' marvelous score is alternately moving and toe-tapping, and was later adapted into a terrific stage version at the Godspeed Opera House in East Haddam, Connecticut. Sony's 40th Anniversary DVD of "Emmet Otter" restores Kermit the Frog broadcast segments that had been cut from home video due to licensing issues, along with deleted/alternate scenes, the lost song "Born in a Trunk," outtakes, a 4:3 transfer and mono sound.
MICKEY MOUSE: MERRY & SCARY DVD (43 mins., 2017; Disney): Enjoyable Disney DVD couples the retro-animated "Duck the Halls: A Mickey Mouse Christmas Special" and "The Scariest Story Ever: A Mickey Mouse Halloween Spookacular," both in 16:9 (1.78) transfers and 2.0 stereo sound. Bonus shorts include Ghoul Friend, The Boiler Room, Black and White, Entombed and Split Decision.
ONCE UPON A SESAME STREET CHRISTMAS DVD (114 mins., Warner): New DVD compilation of Sesame Street specials includes the "Once Upon a Sesame Street Christmas" special along with the previously-released "A Sesame Street Christmas Carol," plus classic Street Christmas clips, six Sesame Studios shorts, and the downloadable storybook version of "Once Upon a Sesame Street Christmas." The single-disc DVD offers nearly two hours of content for families.
CBS New Holiday DVDs: CBS has just released a handful of new yuletide DVDs for the season. THE HONEYMOONERS: CHRISTMAS LAUGHTER (1955-56) includes the classic TV comedy's lone Christmas episode, "'Twas the Night Before Christmas," along with five bonus episodes; A VERY BRADY CHRISTMAS (93 mins., 1988) was the high-rated CBS TV movie that brought the Bunch back together (with the exception of "Cindy," here played by "Ghostbusters"' Jennifer Runyon) for a sentimental reunion; FRASIER: CHRISTMAS EPISODES (1993-2003) includes no less than eight holiday episodes from one of TV's longest-running, most successful sitcoms; and SABRINA THE TEENAGE WITCH – THE CHRISTMAS EPISODES (1996-2002) includes six Christmas themed episodes plus the TV film "Sabrina Goes to Rome," all starring Melissa Joan Hart.
Another comedy classic, John Hughes' PLANES, TRAINS & AUTOMOBILES (***½, 93 mins., 1987, R), should draw the attention of high-def enthusiasts this yuletide season in spite of a mediocre transfer that hasn't been improved in a new 2-disc Blu/DVD combo.
One of Hughes' best films (and arguably his finest feature as a director), this teaming of John Candy and Steve Martin (both tremendous) was just a modest box-office performer back in December '87, when it was out-grossed by the saccharine, cuddly "Three Men and a Baby." Decades later, "Planes, Trains" is the movie audiences keep coming back to — a spirited holiday travel comedy with a heartwarming ending. It's a shame Hughes subsequently abandoned making movies for audiences outside of the 13-and-under crowd, since this picture (one of his few R-rated efforts – albeit only for one well-remembered, profanity-laced Martin tirade) remains a perennial favorite.
Paramount's Blu-Ray/DVD combo includes a Digital HD copy for the first time, but alas, the Blu-Ray is the same AVC encode from the earlier BD release. This means the image is affected by some noise reduction and other processing which detracts from its high-def crispness. The DTS MA remixed soundtrack is more impressive, featuring an eclectic mix of songs and Ira Newborn score.
For extras, the BD boasts a couple of excellent supplements devoted to Hughes' career. Presented in HD, "John Hughes: The Voice of a Generation" and "Heartbreak and Triumph: The Legacy of John Hughes" examine his creative process and lasting legacy in an enlightening pair of half-hour programs (included among the interviewees are Hughes collaborators Lauren Shuler Donner, Howard Deutch and Marilyn Vance, plus film alumni Matthew Broderick, Alan Ruck, Jon Cryer and Lea Thompson). A pair of older featurettes (in SD) are mainly comprised of material from the picture's EPK, along with a three-minute deleted scene (in HD) that was restored to syndicated TV broadcasts of the film.
---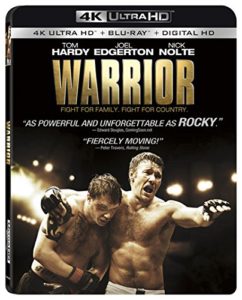 Also New & Noteworthy
WARRIOR 4K UHD Combo Pack (***, 140 mins., 2011, PG-13; Lionsgate): Overlong but well-performed sports-movie drama from director/co-writer Gavin O'Connor ("Miracle") applies the "Rocky" formula to the increasingly popular world of mixed-martial arts (MMA). Estranged, and down-trodden, brothers Tom Hardy and Joel Edgerton find themselves both trying to win the same MMA tournament in a fairly predictable film that's nevertheless compelling due to its performances (Jennifer Morrison offers strong support as Edgerton's wife) and authentic feel. While O'Connor stretches the material out to a bloated running time, it's hard not to feel moved by the time "Warrior" concludes with an expectedly rousing finish. Not the box-office success Lionsgate was hoping for (in spite of generally enthusiastic reviews), "Warrior" enjoyed decent numbers on home video and is now available on 4K UHD from Lionsgate.
4K Rundown: The HVEC encoded transfer is pretty much in line with Lionsgate's recent roster of UHD releases, offering a perfectly acceptable transfer that doesn't boast a big upgrade in detail. Instead, the shadows and contrasts are enhanced by the High Dynamic Range implemented on the disc, one which results in brighter bursts of light and texture to the cinematography. "Warrior" does not offer a wide spectrum of colors so the visual pallet isn't that overwhelming, but fans should be satisfied with the presentation just the same. In addition to a Digital HD copy, supplements here include a commentary from O'Connor, Edgerton and others; one deleted scene; a gag reel; a documentary and additional Making Of featurettes.
DREAMGIRLS Director's Extended Edition BluRay (**½, 140/130 mins., 2006, PG-13; Paramount): Bill Condon's big, brassy adaptation of the popular Henry Krieger-Tom Eyen Broadway musical is a mixed, but moderately entertaining, assembly of musical numbers (some dazzling, many others forgettable), a somewhat vacuous story, and uneven performances.
"Dreamgirls" takes the rise and fall of the Supremes and turns it into a fictional account of a '60s musical group (Beyonce Knowles, Anika Noni Rose, and Jennifer Hudson) that hits the big-time, only to endure the usual fall-out seen in most showbiz rags-to-riches tales; Jamie Foxx, meanwhile, essays the group's calculating promoter and Eddie Murphy is the manic superstar who takes them under his wing.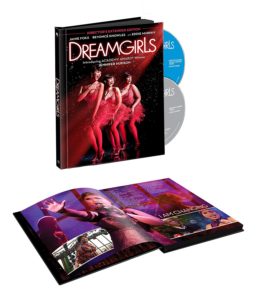 Condon wrote and directed the screen version of "Dreamgirls," which is oddly paced as a sort of "performance musical" in its first half with songs performed primarily over montages and during concert sequences, and then turns into more of a standard genre piece in its second half with numbers being sung "outwardly," substituting for dialogue. The shift is a little jarring, and Condon can only do so much to enhance the superficial source material, which served on the stage as a showcase for its original stars, including Jennifer Holliday. Here, though, Beyonce Knowles fails completely to take hold of the screen the way Holliday did on stage, despite taking the showy central leading role. Beyonce's surprising lack of charisma leaves a hole at the center of "Dreamgirls," but solid work from Murphy and the vocals of Hudson (who earned a Supporting Actress Oscar for her role of Effie, though I didn't entirely buy her affected performance) keeps you watching.
"Dreamgirls" isn't as satisfying as, say, Rob Marshall's adaptation of "Chicago," but neither was the original show it was based upon. Musical fans will still find enough to enjoy here, despite its drawbacks, through its visuals and evocation of time and place.
Paramount's new Director's Extended Edition of "Dreamworks" is now available on Blu-Ray sporting spiffy Digibook-like packaging with selected song lyrics, plus extended/alternate scenes that restore some 10 minutes to the film, Jennifer Hudson's previously unreleased screen test, a Digital HD copy, DTS:X audio and a 1080p (2.35) AVC encoded transfer. The theatrical cut is also available as a viewing option.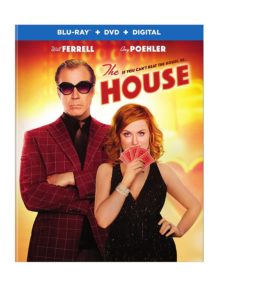 THE HOUSE Blu-Ray Combo Pack (88 mins., 2017, R; Warner): How bad has it gotten for big-screen comedies in the US? Consider the anemic "The House," a New Line offering about a married couple (Will Ferrell, Amy Poehler) who can't afford their daughter's college tuition after her scholarship falls through. To compensate, they open up a casino in friend Jason Mantzoukas' house, to all kinds of distressingly predictable results.
Ferrell and Poehler's names might have sold "The House" 5-10 years ago in spite of its lame, unfunny script and lifeless direction. These days, though, this summer-time flop couldn't draw flies to theaters, barely scrounging up $25 million in receipts and adding another nail to the coffin of "adult" comedies that have misfired over the last couple of years. Warner's Blu-Ray, out this week, includes deleted/extended scenes, a gag reel, two featurettes, a DVD, Digital HD copy, 1080p (2.40) transfer and 5.1 DTS MA sound.
Fox New Releases: FX's "American Horror Story" franchise's Season 6 entry, AMERICAN HORROR STORY: ROANOKE (399 mins., 2016), is sadly not as compelling as its title suggests – spinning a silly story of a couple moving to a haunted North Carolina farmhouse, where they find supernatural shenanigans (naturally). An ersatz documentary series capturing the horrors is a major stumbling block in "Roanoke," which manages to waste the talents of Cuba Gooding Jr. and series regular Sarah Paulson in a regrettably trite concoction that even fans seemed divided upon. Fox's Blu-Ray of "AHS: Roanoke" includes a Paley Center Q&A, promos, 1080p (1.78) AVC encoded transfers and 5.1 DTS MA soundtracks.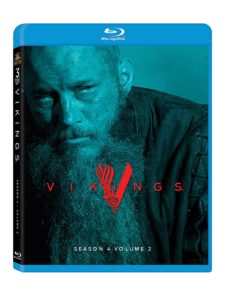 Also new from Fox is Season 4, Volume 2 of THE VIKINGS (441 mins., 2017), following events that saw King Ragnar returning from battle and on death's door in Kattegat. This time out, Ivar the Boneless heads out to fight the Saxons, while Aslaug and Lagertha's feud deepens with the prophecy that a woman will rule the Viking kingdom. Ten unrated episodes from the History series – specifically the second half of its fourth season – are included in MGM's Blu-Ray along with 1080p (1.78) transfers and 5.1 DTS MA sound, both uncut and broadcast-length shows and more extras than were included in the Season 4, Volume 1 set, including commentary on selected episodes from creators Michael Hirst and Linus Roache, deleted scenes, and featurettes…the dopey drug comedy GROW HOUSE (96 mins., 2017, R) is also new to DVD this month from Fox. DeRay Davis and Lil Duval star in this story of two potheads who decide to start their own medicinal marijuana business, to predictably comic results. Fox's DVD includes a Digital HD copy plus a 16:9 (1.85) transfer and 5.1 Dolby Digital sound. STEP (83 mins., 2017, PG), meanwhile, is a documentary set in the inner-city of Baltimore, where a group of seniors on a girls' high school step-dance team aspire for a championship and college beyond it. Deleted scenes, commentary from director Amanda Lipitz, featurettes, a Digital HD copy, 16:9 transfer and 5.1 sound adorn Fox's now-available DVD…the 25th Anniversary edition of BUFFY THE VAMPIRE SLAYER (**½, 85 mins., 1992, PG-13) is a repackage of Fox's earlier Blu-Ray, offering a 1080p (1.85) AVC encoded transfer, 7.1 DTS MA sound, a featurette, the trailer/TV spots, and for the first time, a Digital HD copy. Similar new repackages with Digital HD inclusions are available for L.A. CONFIDENTIAL: 20th ANNIVERSARY EDITION (138 mins., 1997, R), including all its prior Warner-released extras with DTS MA audio, and MIRACLE ON 34TH STREET: 70th ANNIVERSARY EDITION (1947), which includes a glossy slipcover and a Digital HD copy as does Curtis Hanson's 1997 noir favorite.
Mill Creek New Releases: Two Sony catalog titles are new to Blu-Ray this month from Mill Creek. The more entertaining proposition of the two is VICE VERSA (***, 98 mins., 1988, PG), the genial body-switching comedy with harried workaholic Judge Reinhold trading places with his precocious 11-year-old son, played by Fred Savage at the height of his "Wonder Years" popularity. With Dick Clement and Ian La Frenais' script enjoyably mixing up the usual "Freaky Friday" formula, this Columbia effort is good fun, scored by David Shire and hitting HD for the first time October 17th. Less entertaining is MARY REILLY (**, 108 mins., 1996, R), the disappointing riff on "Dr. Jekyll & Mr. Hyde" told from the viewpoint of Jekyll's maid. All the stops were pulled out for "Mary Reilly," including a reunion of the "Dangerous Liasions" team of director Stephen Frears and writer Christopher Hampton, who adapted Valerie Martin's novel, not to mention Julia Roberts in the title role and John Malkovich as Jekyll. Unfortunately, the troubled film endured numerous reported reshoots after bad test screenings, and not even Roberts' star power could help the picture's anemic box-office gross. What's worst of all is the fact the good-looking film is just a total bore, making one wonder what drew all the participants to the project to begin with. Both Mill Creek discs include PCM uncompressed 2.0 stereo sound and acceptable 1080p (1.85) AVC encoded transfers.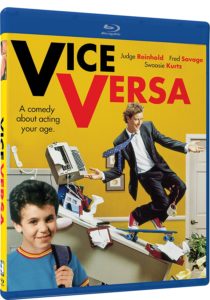 BABY DRIVER Blu-Ray (112 mins., 2017, R; Sony): Edgar Wright's movies always seem to especially appeal to his fanbase, though "Baby Driver" crossed over with mainstream viewers enough to propel it to a $100 mil domestic gross. Angel Ensort plays a young getaway driver who plays music over all the heists he's involved with, thanks to a crime boss (Kevin Spacey) who employs his skills along with a team of cutthroat thieves (Jamie Foxx, Jon Hamm, Eiza Gonzalez). He sees a way out with a waitress (Lily James) whom eventually gets wrapped up in his hard-driving lifestyle in this "adrenaline rush" that's heavy on car chases and throbbing music, but also light on character development and dramatic engagement. As with some of Wright's previous films, though, you might find yourself completely captivated by it – while others might struggle to grasp what the fuss is all about. More entertaining on a visceral level than anything else, "Baby Driver" makes for a potent 1080p (2.35) AVC encoded technical presentation on Blu-Ray, with 5.1 DTS MA sound and format exclusive extras like 20 minutes of deleted scenes, animatics, featurettes and a Digital HD copy.
GIRLS TRIP Unrated Blu-Ray/DVD Combo Pack (122 mins., 2017, R; Universal): One of this year's few sleeper smashes, "Girls Trip" sends Regina Hall, Tiffany Haddish, Jada Pinkett Smith and Queen Latifah on a girls weekend to New Orleans for the "Essence Festival." There, they mix it up with the locals, finding romance and causing major shenanigans along the way in Malcolm D. Lee's lengthy but satisfying picture, which tapped into the same audience that turned "Bad Moms" into a box-office hit a year ago. Though overlong and formulaic, this is still an appealing film with likeable characters, and Universal's Blu-Ray boasts both the R-rated theatrical cut and an Unrated version, plus ample extras, including deleted scenes, commentary with Lee, numerous featurettes, a DVD, Digital HD copy, 1080p (2.40) AVC encoded transfer and 5.1 DTS MA sound.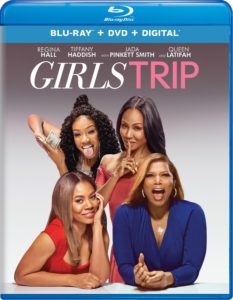 SNIPER: ULTIMATE KILL Blu-Ray (93 mins., 2017, R; Sony): The latest entry in the direct-to-video action franchise – which once started out in theaters – finds Chad Michael Collins, Billy Zane and Tom Berenger back together. This time the group is in Colombia to wage their brand of warfare against a drug cartel who themselves are targeting a local Special Agent (Danay Garcia). If you enjoyed the prior "Sniper" sequels, you might find sufficient satisfaction out of this modest thriller, now on Blu-Ray from Sony featuring a 1080p (2.40) transfer and 5.1 DTS MA sound.
WISH UPON Blu-Ray/DVD (90/91 mins., 2017, PG-13/Unrated; Broadgreen): Joey King's performance as Clare Shannon, the heroine of the predictable "Wish Upon," is pretty much the sole reason to check out this tale of a girl who finds a music box that magically grants wishes – for a heavy price. John R. Leonetti, who helmed the lame, first "Annabelle" prequel, spins a dull tale that's essentially a "Final Destination" rehash, but is made watchable by King's performance – the kind you'd wish she'd give in another, better film. Broadgreen's Blu-Ray of this box-office underachiever includes an Unrated Director's Cut running a minute longer than the PG-13 theatrical version, plus several featurettes, a 1080p transfer, 5.1 DTS MA audio and a DVD copy.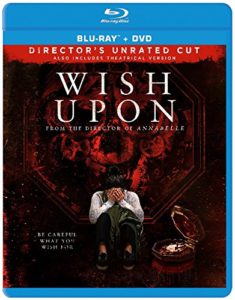 RED CHRISTMAS Blu-Ray (81 mins., 2017; Artspolitation Films): Low-budget – and by that I mean essentially micro-budget – Australian horror indie profiles a Christmas gathering amongst a family that goes seriously wrong when a disfigured man appears seeking revenge. Dee Wallace was reportedly one of the few paid cast members of "Red Christmas," which goes to some great lengths to introduce heady topics in a seasonal stew that only hard-core horror aficionados will likely tolerate. The Blu-Ray is out this week from Artspolitation, offering an interview with Wallace and other cast members, a quick deleted scene, director's commentary, 1080p transfer and 5.1 surround.
BUSHWICK Blu-Ray/DVD (94 mins., 2016, Not Rated; RLJ): Dave Bautista seems to be everywhere these days, from "Guardians of the Galaxy" to "Spectre" and "Blade Runner 2049." He even managed to star in and produce this low-budget story about a college student (Brittany Snow) who holes up with a former Marine (Bautista) while Texas attempts to secede from the US! I'm not sure what inspired this slice of Trump-era paranoia other than the obvious, but this is a strange affair that gets by only due to its stars. RLJ's Blu-Ray/DVD combo pack is out October 24th featuring a Making Of, photo and poster galleries, a 1080p (2.39) transfer and 5.1 DTS MA sound.
MEAT Blu-Ray (75 mins., 2017; MPI): New Zealand documentary from producer/director David White profiles a number of people involved in food production, including "The Kiwi Bushman" – hunter Josh James – through a family farmer whose humanitarian streak may be surprising to vegetarians. Interestingly handled, with MPI's Blu-Ray out this week featuring a 1080p transfer and 5.1 Dolby Digital sound.
---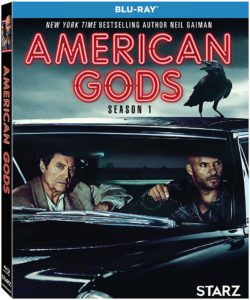 Lionsgate New Releases
On Blu-Ray: Neil Gaiman's AMERICAN GODS (8 hours, 2017) isn't going to be for everybody: this graphic and controversial series takes a contemporary look at mythical beings both "Old" and "New," doing battle in a strange, surreal dramatic work amped with sexual and violent content. There's no denying the quality production on-hand in this Starz series, which adapts a chunk of Gaiman's novel over its initial eight episodes, and boasts fine performances from the likes of Ricky Whittle and Emily Browning, plus Crispin Glover, Ian McShane, and recurring roles as eclectic as Cloris Leachman, Kristin Chenoweth, Dane Cook and Orlando Jones. Lionsgate's Blu-Ray of "American Gods"' first season is now available featuring a documentary on the series, a handful of featurettes, cast/crew commentaries, 1080p (1.85) transfers, 5.1 Dolby Digital soundtracks and Digital HD copies…Nikolaj Coster-Waldau gives a strong performance in Ric Roman Waugh's prison drama SHOT CALLER (121 mins., 2017, R), a tough piece about a businessman hardened by his prison experiences, where he becomes a gangster who can't re-adjust back to his old life once he's freed from behind bars. Waugh effectively intercuts the before/after of Coster-Waldau's role in a predictable, yet potently played piece now on Blu-Ray from Lionsgate. The BD boasts a Digital HD copy, 1080p (2.40) transfer and 5.1 DTS MA sound…The History series AMERICA: PROMISED LAND (180 mins., 2017) is a four-part production chronicling how immigrants transformed America through a specific theme (Land, War, Opportunity, Disaster). Digital HD copies and 1080p (1.78) transfers adorn the Lionsgate package, available October 17th.
New on DVD from Lionsgate is ESCAPE ROOM (81 mins., 2017, R), a low-budget "Saw" knockoff where Evan Williams' girlfriend gets him a ticket to an "escape room" game along with four friends – only to have the fun turn deadly when she's abducted and shown naked in a cage. A commentary from director Will Wernick in on tap in Lionsgate's DVD along with a 16:9 (2.35) transfer, 5.1 Dolby Digital sound, deleted scenes and bloopers for good measure.
---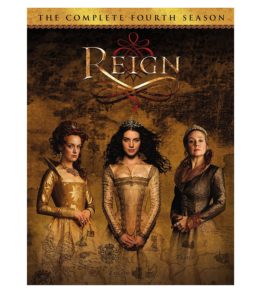 DVD Capsules
REIGN: The Complete Fourth and Final Season DVD (669 mins., 2017; Warner): CW series about the life of Queen Mary wraps up its unlikely four-season run (considering the shows that have managed as long a lifespan on the network) with this final collection of 16 episodes. Here, Queen Mary establishes her rule in a new, seemingly foreign Scotland while the French court has likewise mixed up its players, with Catherine giving the country too many heirs. Fans of the glossy, soapy "Reign" will surely enjoy this conclusion to the series, which Warner has released in a no-frills DVD edition with attractive 16:9 (1.78) transfers and 5.1 Dolby Digital soundtracks.
FALLEN DVD (91 mins., 2017, PG-13; Sony): Director Scott Hicks, who once notched a critically acclaimed hit with "Shine," has been relegated to the "young adult" market with this mediocre adaptation of Lauren Kate's novel. Addison Timlin plays a young girl who goes to a reform school for misfits after an accident, where she finds herself torn between two handsome guys (Jeremy Irvine, Harrison Gilbertson) and an overarching biblical component. Fans of Kate's novels might want to check out this (heavily condensed) feature-length version of her novel, which is out on DVD from Sony this week after a brief theatrical run last month. Three featurettes include an interview with the author, while the disc itself boasts a 16:9 (2.35) transfer and 5.1 soundtrack, featuring a score by Mark Isham.
IMPRACTICAL JOKERS – The Complete Fifth Season DVD (632 mins., 2017; Warner): Sal, Joe, Murr and Q are back in this fifth season of the cult-favorite TruTV series, where the lifelong friends try out, each week, a new succession of "challenges" that run the gamut from hilarious to heart-wrenching. Warner's DVD includes all 26 episodes from Season 5, plus deleted scenes, "Inside Jokes," and the "British Invasion" special. 16:9 transfers and 5.1 stereo soundtracks are also on-hand in Warner's box, now available in stores.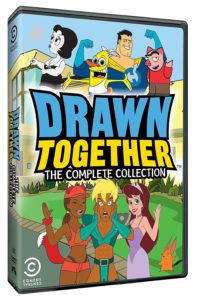 DRAWN TOGETHER – The Complete Collection DVD (Paramount): Comedy Central's animated production, the first and so far only "reality series" starring hand-drawn characters, serves up a "Big Brother" scenario wherein super-heroes, talking animals and Betty Boop-like heroines share a house together. This cult series is back on DVD in a new Complete Collection package from Paramount, boasting its 2004-07 36-episode run and 2010 movie, along with audio commentaries, a karaoke sing-along and network promos, plus extended, uncensored versions of every episode, featuring additionally raunchy gags and uncut dialogue tracks.
Film Movement New Releases: With her son killed in a hit-and-run accident, Emmanuelle Devos' Diane Kramer searches for answers after being put off by the police in MOKA (90 mins., 2017). Frederic Mermoud's thriller is more of a psychological drama than a tension-builder, but its tidy running time makes for a tight little picture worth checking out on disc. Film Movement's DVD is available October 17th, featuring an interview with Mermoud, and his own short film "Le Creneau," also starring Devos.
MINDBLOWN DVD (88 mins., 2016; Anchor Bay): The Syfy Channel favorites CineTel Films are back with this tale of telekinetics who are brought together in a high-tech facility for the greater good…only to find out they've been assembled to wage destruction instead. Decent cable-TV fare with Jessica Uberuaga and direct-to-video staple Luke Goss starring. Anchor Bay's DVD is out October 24th featuring a 16:9 transfer and 5.1 surround.
NEXT TIME: The SUPERMAN TV Version Flies on Blu-Ray at last! Until then, don't forget to drop in on the official Aisle Seat Message Boards and direct any emails to our email address. Cheers everyone!