After five Spider-Man movies, you might wonder what was left in the tank of Peter Parker's webslinging adventures to translate to the big screen. Sony's newest "reboot," SPIDER-MAN: HOMECOMING (**½, 133 mins., 2017, PG-13), may not provide overwhelming evidence that its existence was actually necessary, but the film still overcomes a bumpy start and a bland overall feel to provide an appealing enough ride for fans.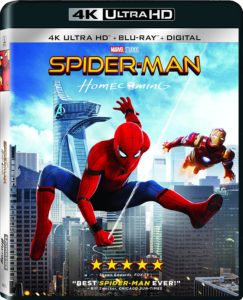 Notable for being the first Spider-Man produced in conjunction with Marvel itself, "Homecoming" fits right inside the branded "cinematic universe" of "The Avengers" and friends, meaning the start of the film has to work overtime to establish its timeline. Anyone who doesn't rewatch these movies a few times a year might be confused by an opening that introduces new villain The Vulture (Michael Keaton) right after the events of the first "Avengers" movie (I think) before fast-forwarding ahead eight years, beyond the action in "Captain America: Civil War," which is referenced in an overly frantic, handheld "Parker-Vision" cellphone video that threatens to sabotage this picture before it really begins.
If you can make it through, "Homecoming" finds its footing by re-introducing Peter as a high school student who actually looks like one. In the form of the alternately eager/annoying Tom Holland, Parker finds trying to fit in and work alongside his Academic Decathlon friends mundane, preferring instead to be a "Friendly Neighborhood Spider-Man" in a series of auditions for The Avengers. This specifically means phoning Tony Stark (Robert Downey, Jr.) and his go-to contact Happy Hogan (Jon Favreau), most of whom brush off Parker's messages, at least until he begins to trail The Vulture himself – a former construction worker who inherited some alien tech left over in the rubble of the Avengers Tower and is using it to craft powerful weapons for bad guys.
"Spider-Man: Homecoming" does feel like an overly-massaged product at times. With no less than a half-dozen credited screenwriters, a series of redundant CGI action scenes where Spider-Man seems overtly cartoonish in his movement, and planted "franchise seeds" in Iron Man's appearance, the movie goes through its checklist of preordained story elements almost like a machine. Add in Disney's patented racially-progressive casting and doses of left-ish humor, and there's no question where the film — which feels more than usual like a product than a work of specific filmmaking talents — hails from (the "what the f—k" final line also seems strenuously out of place in a movie seemingly designed for children). More character development would've grounded the film further as well, as the movie mostly suffers from a case of the cutes, jumping from one quick set-piece and comedy punchline to the next with as little dramatic engagement as possible.
Still, once director Jon Watts revs up the story in its second half, "Homecoming" becomes modestly entertaining. The plot introduces some effective twists that aren't, for a change, telegraphed well in advance, the relationship between Peter and his best friend (Jacob Batalon) comes off as genuine and funny, and the visual scheme of the movie – bathed in bright, primary colors – is a refreshing switch from the dark and grungy appearance Marvel's competitor DC has embraced in recent years. Casual viewers may still feel that they've seen it all before, and with this being Spider-Man #6, they're not going to be entirely wrong. Perhaps unsurprisingly, even with all the Marvel-branded attributes, "Homecoming" only moderately outperformed its Andrew Garfield-starring "Amazing" predecessors at the worldwide box-office, meaning not even Spider-Man was totally free from the "franchise fatigue" exhibited in countless sequels/remakes this year.
That said, "Homecoming" is – unlike the miserable "Alien," "Transformers" and "Mummy" films – still an appealing enough adventure when it's allowed to exist on its own terms. Hopefully its inevitable sequels don't push so hard on the "Marvel branding" that fans, ironically, so desperately wanted this series to have, and spend more time creating an engaging dramatic component.
4K Rundown: A gorgeous visual presentation awaits 4K owners with Sony's Ultra HD combo pack of "Spider-Man: Homecoming." A movie that doesn't shy away from candy-coated colors, there's something to be said for this film's visual scheme, easily the brightest and cheeriest-looking of all the Spider-Man films. That look (2.40) perfectly translates to 4K UHD, where HDR replicates, and enhances, the movie's color gamut. When the movie does go dark, bursts of light and color also make great use of HDR, particularly during Spider-Man's climactic showdown with The Vulture (who, in the form of John Malkovich, once was supposed to fight Tobey Maguire in the abandoned 4th Sam Raimi Spider-Man film). In all, this is one of the most satisfying UHD discs I've seen in the format so far, and the active Dolby Atmos sound design is always whirling and whizzing by your ears, though often to the detriment of Michael Giacchino's score, which is mixed low in relation to the FX and doesn't make much of an impression (save his use of the '60s animated "Spider-Man" theme over the Marvel logo). The standard Blu-Ray, housed within alongside a Digital HD copy, offers roughly an hour of the expected deleted scenes, gag reel and assorted short featurettes that accompany most Marvel home video releases.
---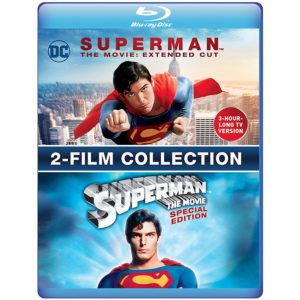 Warner Archive New Releases
One of the most surprising and welcome Blu-Ray releases in recent memory has to be the Warner Archive's SUPERMAN THE MOVIE: EXPANDED EDITION (188 mins., 1978, PG) package, which preserves – entirely in high def – the Salkinds' three-hour plus TV edit of their 1978 smash.
When Richard Donner's film was sold to ABC, the Salkinds goosed their product by adding material to cover two full nights of prime-time programming. These outtakes run the gamut from trivial asides (a little Lois Lane watching a teen Clark Kent speeding by a train; baby Supes passing the Phantom Zone villains on his trip to Earth) to additional John Williams music excised from the theatrical cut, most notably during the Krypton sequences, leading up to little Kal-El's spaceship launch. On ABC, the expanded running time totaled nearly three hours, and when the film ended up in syndication years later, even more material was added to create a full 188-minute running time.
Whether you saw all of these added bits depended on the TV station airing the movie and the slot it ran in – stations broadcasting the syndicated version could trim certain scenes to fit however many commercials they were airing. On one UHF broadcast I recall in the late '80s, the movie faded out as Superman did his "audience flyby," cutting out the lengthy end credits altogether!
It's worth noting that all the added footage does not actually improve "Superman" itself. The strongest edit of the film for my money remains the 142-minute theatrical version, but for fans, these outtakes are still absolutely fascinating, and provide an invaluable insight into the filmmaking process – not to mention illustrate how different, and less effective, the film would've been without editor Stuart Baird's work in the cutting room.
A bit of this material was restored to Richard Donner's "Director's Cut" which became available on DVD and Blu-Ray, where the director added back in some 10 minutes of material, including the unnecessary scene where Gene Hackman's Lex Luthor tests out Superman's abilities. A few other deleted scenes were included in the supplemental section of that release, but in order to watch the entire TV cut, you had to own a copy of the actual tape itself.
Warner's Blu-Ray edition – which also includes a copy of the Director's Cut BD from the label's essential "Superman: Motion Picture Anthology" box-set – now renders those "black market" tapes and discs basically useless. A copy of the TV version, presented in full 1080p (2.35), was found in the archives and boasts a crisp, satisfying transfer of the "kitchen sink cut" with all its odds and ends in anamorphic widescreen for all to see. The image is – no surprise – not as pristine as the other releases of "Superman" in HD, but that it's as sharp and detailed as it is will come as a revelation for fans. The audio, meanwhile, offers a DTS MA mono soundtrack in keeping with its source materials. It's passable – approximating what the majority of theater-goers heard in monophonic theaters in the late '70s – but stumbles during the opening titles, where someone at Warner decided to craft a new stereo mix just for the movie's credit sequences. This is a case of (as my wife would say) someone being "helpful but not helpful," as this editorially-created track, cobbled together from what sounds like both the main and the end credits, offers several noticeably abrupt edits.
Other than that, there's nothing to quibble with here. Warner's release of this TV cut is a milestone for movie fans, as numerous expanded versions of assorted films, created for television, exist in various studio vaults, waiting to be (re)discovered. Years ago Sony pulled the plug on a laserdisc release of the 3-hour version of Peter Benchley's "The Deep," while Kino Lorber tried but failed to license the TV version of Stephen King's "Needful Things," which added a full hour of excised material for cable airings – improving the movie substantially.
With Warner's "Superman – Extended Cut," the doors have hopefully blown open for future releases along similar lines (the Salkinds produced similarly extended versions of "Superman II," "III" and "Supergirl" for TV). Movie buffs can only hope the title sells well enough for us to appreciate those elongated versions in a proper home video presentation as well.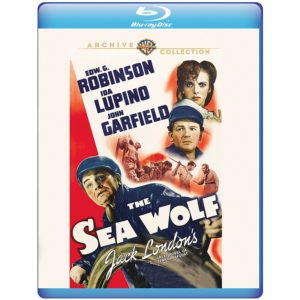 Also New From the Archive on Blu-Ray: Another of the Warner Archive's most exciting Blu-Ray releases of the year is THE SEA WOLF ( 100 mins., 1941), a robust Michael Curtiz-directed adaptation of the Jack London novel. Edward G. Robinson plays Wolf Larsen, a vindictive sea captain who cares not about his crew or a pair of castaways (Alexander Knox, Ida Lupino) he takes in. John Garfield, Barry Fitzgerald and Gene Lockhart co-star in this first-class Warner production, scored by Erich Wolfgang Korngold but also the subject of a series of cuts that occurred for a 1947 re-release. Some 14 minutes were excised for that re-issue and "The Sea Wolf" hasn't been seen in its original 100-minute cut again — until now. This brand-new Warner Blu-Ray is restored from 35mm nitrate elements and presents the full-length "Sea Wolf" on home video for the first time. The B&W cinematography is sufficiently crisp and detailed as Archive titles typically are, with extras including a 1950 "Screen Director's Playhouse" radio adaptation and the original trailer. Highly recommended!
In time for Halloween consumption is an equally welcome Blu-Ray edition of THE HIDDEN (97 mins., 1987, R), a low-budget but effectively played crime thriller with a sci-fi twist that pairs Michael Nouri as an L.A. detective who teams up with a mysterious FBI agent (Kyle MacLachlan) to pursue a series of crimes being committed by seemingly ordinary people. Jack Sholder's B-movie received some A-grade scores from critics, and while "The Hidden" has always seemed to be a bit overrated for my taste, it's certainly an entertaining vehicle written by "Bob Hunt" (a pseudonym for prolific '80s screenwriter Jim Kouf, whose original work was augmented by the director). It's no "Terminator" but the interplay between Nouri and MacLachlan is fun and Michael Convertino's score a cut above for the genre. Warner's Archive Blu-Ray looks great, boasting another of the label's clear 1080p (1.78) AVC encoded transfers with 2.0 DTS MA mono audio. Commentary from Sholder and Tim Hunter, the trailer, and production footage narrated by Sholder comprise the extras…More sci-fi mania is on-hand in the truly terrible – and entertaining – THE GREEN SLIME (90 mins., 1968, G), an MGM/Toei co-production that offers astronauts having to combat an oozing extraterrestrial mass. Robert Horton, Richard Jaeckel and "Thunderball''s Luciana Paluzzi are on-hand in this colorful widescreen romp that's chock full of unintentional silliness, terrible special effects, and a score credited to both Charles Fox and Toshiaki Tsushima. A sci-fi romp from the psychedelic late '60s, the Archive's 1080p (2.35) AVC encoded transfer preserves all the "Green Slime" mania in a terrifically crisp and satisfying image – a true bad movie fave with DTS MA mono sound and the trailer as the sole extra.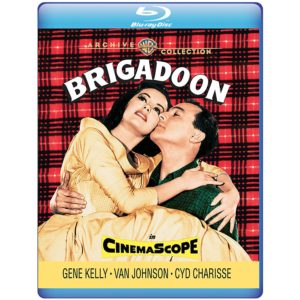 The MGM musical BRIGADOON (108 mins., 1954) offers a lush Lerner-Loewe score, which yielded standards like "Almost Like Being In Love," and glossy Cinemascope cinematography, shot under the watchful eye of director Vincente Minnelli. Gene Kelly and Van Johnson play the vacationers who find a Scottish Shangri-La in the form of a mystical village that appears only every 100 years for 24 hours – just enough time for Kelly to fall in love, and dance with, local Cyd Charisse. Warner's Archive transfer presents a spectacular 1080p (2.55) image that accentuates the movie's colors and widescreen splendor, with outtake numbers and the trailer comprising the supplements. The 5.1 DTS MA sound also packs a pleasing stereophonic presence…Finally, also debuting on Blu-Ray is one of Christopher Guest's satires, WAITING FOR GUFFMAN (84 mins., 1996, R), with Guest essaying small-town theater director Corky St. Clair in a typical "mockumentary" with many of Guest's repertory players (Eugene Levy, Catherine O'Hara, Parker Posey, Fred Willard) on-hand. If you found "Best in Show" or Guest's other comedies amusing, you'll get the most mileage out of the film, which is new to high-def thanks to the Archive's BD presentation. In addition to the label's customary strong 1080p (1.85) transfer and 2.0 DTS MA stereo sound, the disc includes commentary from Guest and Levy, additional scenes and the trailer.
DVD From the Archive: Early Lucille Ball antics are on-hand in BEAUTY FOR THE ASKING (68 mins., 1939), an RKO programmer featuring Ball as a manicurist who finds out a millionairess (Freida Insecourt) has married her boyfriend – a salesman played by Patrick Knowles. For those of us unfamiliar with Ball's earlier, pre-TV career, this B&W effort is interesting to watch, preserved here by Warner Archive with a 4:3 B&W transfer…Finally, even hardcore haunted house buffs will likely have a difficult time getting into WITHIN (88 mins., 2016, R), a weak tale of a widower (Michael Vartan) who moves with his daughter and new wife (Erin Moriarty, Nadine Velazquez) into a home occupied by a force that turns out to be less than supernatural – or interesting. Phil Claydon's film is absolutely tedious until it presents a horrifying finale that's also absolutely unsatisfying. Warner's DVD includes a 16:9 (2.40) transfer and 5.1 sound featuring a Benjamin Wallfisch score.
---
Aisle Seat Pick of the Week
Despite growing up as a fan of Universal's '30s and '40s monster mashes, James Whale's THE OLD DARK HOUSE (72 mins., 1932; Cohen Media Group) was a title I was completely unfamiliar with. This adaptation of the novel "Benighted" by J.B. Priestly became a casualty of Universal's cost-cutting directives when the author sold off the property decades later (leading to a tepid remake from gimmick-meister William Castle in the early '60s). Thinking the film had no additional monetary value, the studio ordered all prints of the film destroyed, resulting in the movie vanishing from the public eye for many years. Thanks to the efforts of Whale aficionado (and cult film director) Curtis Harrington, a surviving print of "The Old Dark House" was eventually located and rescued, and numerous restoration efforts over the decades since have resulted now in a sparking 4K-mastered presentation of this essential Whale work from the Cohen Film Collection.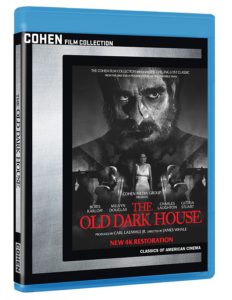 If you're a fan of "The Bride of Frankenstein," you'll likely find "The Old Dark House" to be great fun along similar lines: a witty and deliciously played drama of three travelers – bickering couple Raymond Massey and Gloria Stuart, along with cynical traveling companion Melvyn Douglas – who find themselves stranded in the Welsh mountains during a driving rainstorm. They come across a mansion hoping to find safe harbor for the night, only to encounter the Femm family: a group of eccentrics led by a brother ("Bride"'s resident mad doctor, Ernest Thesiger) and sister (Eva Moore) who could be possibly psychotic…but also, perhaps, saner than another member of their clan (Brember Wills) they keep under lock and key. Add in a scary butler (Boris Karloff) and the addition of two other travelers who stumble upon their home (Charles Laughton, Lilian Bond) and you have a recipe for mayhem and a heaping dose of black comedy.
With its crisp dialogue and colorful performances, "The Old Dark House" is entertaining pre-Code entertainment that ranks as one of Universal's strongest genre-related efforts from a decade when it specialized heavily in the macabre. Whale devotees will recognize the director's camera set-ups and editorial technique, which effectively adds to some of its characters' memorable monologues. The mix of personalities makes for a film that will likely enhance its appeal on repeat viewing, even if Karloff's unsurprising turn as the butler is ultimately one of its least compelling components.
After extensive work by a number of restoration teams, "The Old Dark House" makes its way to Blu-Ray from Cohen in a 4K-mastered Blu-Ray. The source materials show a pleasing amount of detail and look quite healthy for the most part, and the PCM mono sound is likewise sufficiently clean so viewers won't miss any of Benn Levy's dialogue. Extras include a new interview with Sara Karloff and extras carried over from the out of print Kino DVD, including two commentaries (one from Gloria Stuart, another from Whale biographer James Curtis), a brief interview with Curtis Harrington, and the 2017 re-release trailer.
---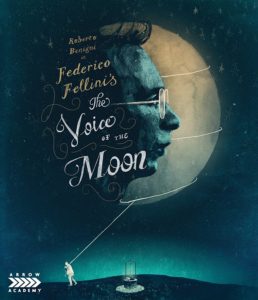 Other Halloween Horrors
BLOOD FEAST Blu-Ray/DVD (67 mins., 1963; Arrow): Gorehounds looking for something appropriately bloody this Halloween might want to check out Herschell Gordon Lewis' "Blood Feast," a 1963 romp about a woman who hires the wrong man to cater her new party. Black-and-white vulgarity that was ahead of its time in the early '60s, "Blood Feast" is regarded as one of the very first "splatter" films, and has been preserved by Arrow in a newly remastered combo pack. Sporting both a 1080p (1.85) AVC encode and DVD edition, Arrow's new Special Edition includes Lewis' 1963 "Scum of the Earth," commentaries on both films, HG Lewis' introductions, Nicholas McCarthy and Rodney Acher on "Blood Feast," an archival 2007 interview with Lewis, bonus archival Lewis interviews, a 1959 short "Carving Magic," "Blood Feast" outtakes, alternate "clean" sequences from "Scum," and reversible art.
Also new from Arrow on October 31st is Federico Fellini's final film, THE VOICE OF THE MOON (121 mins., 1990), which stars Roberto Benigni as a man, recently released from a mental institution, who wanders around a Fellini-esque landscape with odd characters while trying to win the heart of Nadia Ottaviani, who wants little to do with him. It's surprising, after a lifetime of filmmaking, that Fellini's career ended with a movie that couldn't even find a distributor in English language territories, premiering out of competition at Cannes and receiving decidedly mixed reviews. If you're a fan of the director, this career swan song might be worth a look thanks to Arrow Academy's Blu-Ray/DVD combo pack, offering a new 2K restoration from original film elements. Extras include an hour-long documentary on the film, uncompressed mono sound, and a Felliniana photo gallery.
Upcoming From Blue Underground: How many ways can you make a movie about a killer elevator? Leave it up to Netherlands auteur Dick Maas, who managed to not just direct one but two movies about an elevator repairman who teams up with a reporter to find out who – or, more precisely, what – is causing a certain elevator to cause all kinds of mayhem.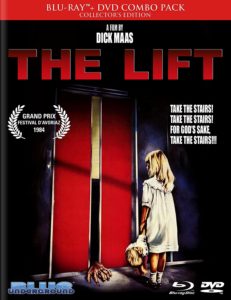 Maas first, and most effectively, dove inside the theme in his native land's THE LIFT (99 mins., 1983, R), which was then adapted to the United States for Maas' own, English-language remake, DOWN (111 mins. 2001, R). Despite boasting a ridiculously good cast — with leads James Marshall and a pre-stardom Naomi Watts teamed with character actor greats Michael Ironside, Ron Perlman and Edward Herrmann — "Down" is a sillier, flabbier take on the same subject that loses much of the original's charm in the process.
Both pictures are heading to Blu-Ray/DVD in separate combo packs on Halloween courtesy of Blue Underground. "The Lift" boasts a commentary from Maas and editor Hans van Dongen; an interview with star Huub Stapel (from Maas' "Amsterdamned"); Maas' 2003 short "Long Distance," plus trailers, still galleries, and Chris Alexander's booklet notes. "Down" meanwhile, features a commentary with Maas and stunt coordinator Willem de Beukelaer, a Making Of, BD-exclusive behind-the-scenes footage, trailers, another still gallery, and booklet notes from Michael Gingold. "Lift" sports a 1080p (1.66) transfer with Dutch 5.1 DTS MA and Dutch/English dubbed 2.0 DTS MA audio, while "Down" sports a 1080p (2.35) AVC encode with 5.1 DTS MA audio.
AN INCONVENIENT SEQUEL Blu-Ray (97 mins., 2017, PG; Paramount): Sequelitis affected everything this year – including super-hero environmentalist Al Gore's return to the "documentary" genre. This follow-up effort to Gore's 2006 alarm-bell on global warming managed to gross a paltry $3 million, down "bigly" from the $24 million (unadjusted) gross of its predecessor a decade ago. While not all the science supports Gore's claims from his original endeavor, his (dwindling) devoted audience is likely to still find red meat in this sequel, now on Blu-Ray from Paramount. The "environmental-friendly" cardboard packaging houses a BD with a 1080p transfer, DTS MA audio, a music video, two featurettes, and a Digital HD copy.
---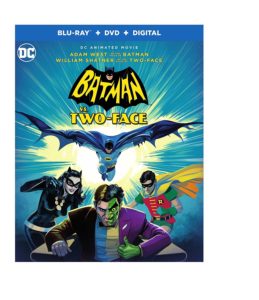 Animation Corner
BATMAN VS. TWO-FACE Blu-Ray/DVD (72 mins., 2017, PG; Warner): Second and presumably final "Batman" animated offering to feature Adam West, Burt Ward, and Julie Newmar in a '60s "throwback" mode also introduces us to Harvey Dent – the Gotham City District Attorney who turns into his villainous Alter-Ego, Two-Face, and jumps in with other foes The Joker, The Penguin and the Riddler in a manic DC animated outing. William Shatner also provides his brand of energy as Two-Face, though it's disappointing "The Shat" didn't go further over-the-top as he seems to be lifelessly delivering his lines here. That letdown aside, this is mostly a better-than-average small-screen Bat-affair, with Warner's Blu-Ray including a West tribute panel from this year's Comic Con, Burt Ward and Julie Newmar featurettes, a 1080p (1.78) transfer, 5.1 DTS MA sound, a DVD and Digital HD copy.
SAMURAI JACK – The Complete Fifth Season Blu-Ray (220 mins., Warner): 50 years has passed and time hasn't been kind to Samurai Jack in the interim, with Aku destroying every time portal and Jack, as a result, no longer aging…still haunted by his past and pursued by assassins out to take him down. This Blu-Ray package from Warner, now available, includes all 10 episodes from "Samurai"'s fifth season with 1080p transfers (1.78) and 5.1 DTS MA soundtracks. Pitch Movies and "The Evolution of Jack!" featurettes comprise the extras.
DISNEY VAMPIRINA DVD (92 mins., 2017; Disney): Disney Junior animated series offers breezy monster fun for kids, with little Vampirina and family having moved to Pennsylvania from (of course) Transylvania. How she fits in with her new friends makes for a light series that's like a younger-skewing variation on "Monster High" and "Hotel Transylvania." Episodes include Going Batty/Scare B&B; The Sleepover/Portrait of a Vampire; Vee's Surprise Party/Vee Goes Viral; and The Plant Predicament/Mummy Mayhem, all in 16:9 transfers and 5.1 soundtracks.
NEXT TIME: Kino Lorber Autumn Harvest, with Gary Marshall's FLAMINGO KID and more! Until then, don't forget to drop in on the official Aisle Seat Message Boards and direct any emails to our email address. Cheers everyone!