One of the largest silent-film finds in history occurred in the former Canadian Gold Rush town of Dawson City during the late '70s. A treasure trove of films, news reels and short subjects were discovered while a new building was being constructed – the result of the town being the last stop on the distribution line for theatrical exhibition in the early 20th century. With nowhere else to put the nitrate reels and their respective owners not wanting them returned, the films were buried, leading to an eventual rediscovery that became a watershed moment for silent film fans and historians.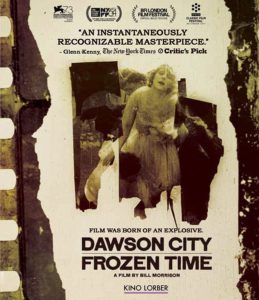 In the hands of filmmaker/documentarian Bill Morrison, DAWSON CITY: FROZEN IN TIME (120 mins., 2017, Kino Lorber) is an absorbing if leisurely-paced chronicle — not so much of the film footage's rediscovery, but rather a portrait of its time and the town itself. Morrison utilizes footage from the "Dawson City Film Find" reels along with archival photographs to chronicle the mad dash to mine gold from the Yukon hills, bringing together names like Sid Grauman and Donald Trump's grandfather Fred. The town's population swelled but quickly crashed in huge numbers once the gold had been depleted, and Dawson City's continual construction and reconstruction makes for a fascinating peak into history.
Throughout, Morrison eschews talking head testimony in favor of letting the images (and some text captions) tell the story. The result should appeal to silent movie and history buffs in equal measure, though the picture may be limited in its reach through two issues: first, an overly generous running time, and second, Alex Somers' repetitive, at-times monotonous score. Kino Lorber's Blu-Ray features "Dawson City" in a 1080p (1.33) AVC encoded transfer with 5.1 DTS MA sound; an interview with Morrison; booklet essays; and original Dawson City film reels.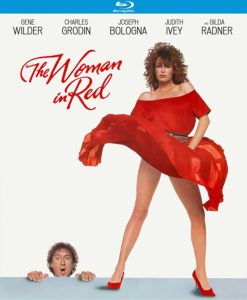 THE WOMAN IN RED Blu-Ray (***, 86 mins., 1984, PG-13; Kino Lorber): Gene Wilder's last gasp at the box-office until he reunited with Richard Pryor on a series of pedestrian (though financially successful) late '80s comedies, this Americanization of a French farce remains a scattershot, though generally entertaining, comedy.
Wilder plays a married businessman who runs into Kelly LeBrock (once the big thing back in the mid '80s) in a fitfully funny sequence that mimics Marilyn Monroe's memorable twirling dress in "The Seven Year Itch." From there, Wilder takes to trying to cheat on his wife (Judith Ivey), while getting an office co-worker (Gilda Radner) mixed up in the shenanigans and Charles Grodin and Joseph Balogna look on.
There's an energy inherent in Wilder's madness here, with the actor also writing and directing this somewhat bittersweet comedy. The performances are all on-target, while John Morris contributes a typically breezy score. However, most of the soundtrack consists of a terrific collection of original Stevie Wonder songs, including the classic "I Just Called To Say I Love You." Does it get any sweeter than that?
Uneven but likeable, "The Woman in Red" debuts on Blu-Ray from Kino Lorber later this month. The 1080p (1.85) transfer and DTS MA stereo sound are both fine; extras include the trailer and a commentary from historian Jim Hemphill.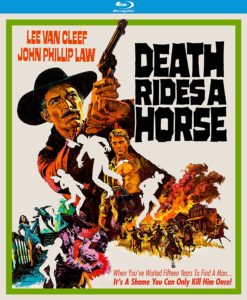 DEATH RIDES A HORSE Blu-Ray (114 mins., 1967, R)/THE MERCENARY Blu-Ray (110 mins., 1968, PG-13): Spaghetti western fans can fill up their pasta bowls thanks to a pair of late '60s United Artists releases coming to Blu-Ray for the first time courtesy of Kino Lorber – even though the two films are starkly different in tone.
"Death Rides a Horse" is a rather unpleasant, albeit well-made and violent affair starring John Phillip Law as a man who's family was wiped out at the hands of a quartet of bandits. The man they framed for the murders – a grizzled gunslinger played by Lee Van Cleef – joins him in his quest for revenge in this Luciano Vincenzoni-scripted, Gulio Petroni-hemed widescreen effort. Ennio Morricone's score is appropriately offbeat and dissonant, but despite a straightforward story, I found that the film leaves a bit of a bad taste in the mouth.
"The Mercenary," meanwhile, was produced the following year with several of the same crew associated with its production, including Vincenzoni and a score credited to Morricone and Bruno Nicolai. This is a comparatively lighthearted effort starring Franco Nero as the title character, who joins up with a Mexican peasant turned revolutionary (Tony Musante) to rob a Texas mine. The lovely Giovanni Ralli co-stars with Jack Palance as "Curly" in this ultimately more entertaining effort.
Both films debut on Blu-Ray in HD transfers that are only hampered by the MGM provided source elements. There are some odd speckles on "Death" that actually made me question whether I had a group of dead pixels on my TV – thankfully for me, this was not the case, so no need to break out the screen-friendly, microfiber cleaning cloth when these abnormalities pop up. There are other limitations to the source materials on both, yet the images are each satisfactorily framed with DTS MA mono audio. Extras include "Repo Man" director Alex Cox providing commentaries on both films along with two still galleries on "The Mercenary."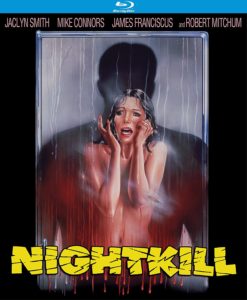 THE HIGH COMMISSIONER Blu-Ray (101 mins., 1968; Kino Lorber): Entertaining late '60s espionage thriller stars Rod Taylor as a Down Under detective who's sent to London to arrest a commissioner (Christopher Plummer) for murder – only to find the circumstances are much more dangerous and complicated than expected. Taylor produced "The High Commissioner" for the Rank Organization, recruiting a number of lovely ladies (Lilli Palmer, Daliah Lavi) and even Georges Delerue to provide one of his trademark orchestral scores. Released as "Nobody Runs Forever" in the U.S., "The High Commissioner" is taut and straightforward, and stays in its lane instead of trying to provide Bond-esque fantasy on a smaller scale. Kino Lorber's Blu-Ray boasts a 1080p (1.66) AVC encoded transfer and DTS MA mono sound that's occasionally afflicted by warbled passages.
NIGHTKILL Blu-Ray (97 mins., 1980, R; Kino Lorber): Tepid thriller was intended to be one of "Charlie's Angels" star Jaclyn Smith's big-screen breakout features – instead, this Canadian production ended up on the small screen the same year it was completed. In spite of its slasher advertising, "Nightkill" is more a thriller with Smith's unhappy wife forever tied to her tycoon husband (Mike Connors) until her lover (James Franciscus) decides it's time to poison her spouse. Director Ted Post's movie feels like an R-rated TV movie, complete with a very pokey synthesizer score, but those who enjoy watching Smith, Connors and even a sleepwalking Robert Mtchum (playing a grizzled detective) may find it to be of marginal interest. Kino Lorber has unearthed "Nightkill" in an OK transfer (1.85) from adequate source materials. I'm not sure where the score originated from but it sounds suspiciously "clean" given the faded and not always pristine visual source elements. Nathaniel Thompson and Howard Berger provide an enjoyable commentary with a welcome new interview with Smith detailing the project's genesis.
---
Genre Corner
WEB OF THE SPIDER Blu-Ray (93 mins., 1971, Not Rated; Garagehouse): Attractively lensed widescreen Italian genre exercise offers Klaus Kinski as Edgar Allan Poe, whose tales of madness pushes a reporter (Anthony Franciosa) to verify his wild tales of hauntings and supernatural shenanigans at the spooky Blackwood Castle. After accepting a bet from its chief inhabitant, Franciosa's Alan Foster finds his 24 hours in Lord Blackwood's home to be far grizzlier than what Don Knotts endured in "The Ghost and Mr. Chicken."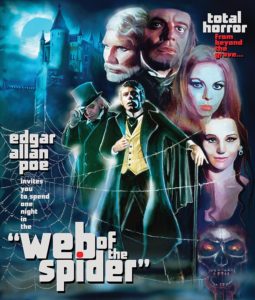 A color remake of "Castle of Blood" from its director – Antonio Margheriti (aka Anthony M. Dawson) – "Web of the Spider" makes its first high-definition debut this month from Garagehouse, which has already brought us three volumes of spectacular "Trailer Trauma" releases and unearthed long-lost exploitation pics like "Ninja Busters." This is certainly something different from Garagehouse that should appeal to Italian horror buffs with its color cinematography, here restored in an AVC (2.35) encode of the movie's domestic theatrical negative. The BD boasts two commentary tracks (one by Stephen Romano, another featuring George Reis and Keith Crocker), plus a deleted scene, a pair of German Super 8 versions, a Margheriti trailer reel, art gallery, and the uncut Italian version of the film (in standard-definition).
J.D.'S REVENGE Blu-Ray (96 mins., 1976, R; Arrow Video): Deliriously entertaining black-exploitation thriller stars Glynn Turman as a law student who becomes inhabited by the spirit of a slain '40s gangster. This isn't so much an "Exorcist" wannabe as it is an appealing hodgepodge of a '70s AIP genre exercise with some supernatural overtones – but the key to the fun is the acting, and some overacting, by Turman and Lou Gossett, Jr. as a preacher who tries to save the day. Satisfying for its target audience, "J.D.'s Revenge" makes its Blu-Ray debut from Arrow sporting a 2K (1.66) restoration with a new documentary on the making of film, featuring interviews with Turman and director Arthur Marks among others; a rare audio interview with actor David McKnight; Kim Newman's booklet notes; and trailers making for a superb release all around. Also new from Arrow this month is a Blu-Ray edition of ZOOLOGY (91 mins. 2017), Ivan Tverdovsky's film about a middle-aged zoo worker who lives a quiet, withdrawn life with her mother. After she grows a tail, she meets a radiologist and her life turns around in this offbeat Russian import making its North American home video debut. Arrow's Blu-Ray includes a 1080p (1.85) AVC encoded transfer with 5.1 DTS MA Russian audio, English subtitles, interviews with star Dmitry Groshev and historian Peter Hames and the trailer…Steve Buscemi's second directorial feature after the amiable "Trees Lounge," ANIMAL FACTORY (94 mins., 2000) nets a Blu-Ray release from Arrow later this month. This tale of prison life as seen through the lens of a young man (Edward Furlong) sentenced for a drug conviction is marked by strong performances (Willem Dafoe, John Heard, Mickey Rourke, Buscemi himself) even though the film itself has been forgotten almost entirely over the years. Arrow's Blu-Ray includes a new HD transfer (1.85), PCM 2.0 audio, an interview with critic Barry Forshaw, and commentary by co-star Danny Trejo and "Reservoir Dogs" author Eddie Bunker, whose semi-autobiographical novel served as the basis for the film.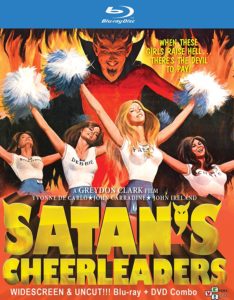 VCI New Releases: A pair of Special Editions are new to Blu-Ray from VCI this fall, including Curtis Harrington's RUBY (85 mins., 1977, R), a low-budget picture that managed to net the involvement of Piper Laurie – then coming off her acclaimed performance in Brian DePalma's filming of Stephen King's "Carrie" – and Stuart Whitman. This chronicle of a '30s gangster who's slain and brought back, to some degree, in the guise of his teen daughter suffers from vanilla atmosphere (even though it's set in the '50s) and a languid pace, though horror completists may still find it of interest. VCI's Blu-Ray is claimed to have been derived from a 2K transfer (1.85) but the image is hazy and at times unfocused. Extras include a DVD commentary with Harrington and Laurie, a 2001 interview with the director conducted by David Del Valle, two earlier interviews with Harrington circa 1988, a 2017 commentary with Del Valle and historian Nathaniel Bell, the trailer and a DVD copy…VCI has also rolled out another Blu-Ray Special Edition for SATAN'S CHEERLEADERS (92 mins., 1977, R), another modest production from director Greydon Clark that mixes '70s soft-core T&A flicks with the horror genre. The result is pretty tame but may be worthwhile for nostalgic genre buffs, with VCI's combo pack including two commentaries: one with Clark, another with Full Moon veteran David DeCoteau and historian David Del Valle, plus a photo gallery, 1080p transfer from a new 2K scan (thankfully it fairs better than "Ruby"), and mono sound.
PREACHER: Season 2 Blu-Ray (578 mins., 2017; Sony): More eclectic storytelling permeates this second season of the offbeat DC Comics creation, following a Texas preacher (Dominic Cooper) who becomes endowed with super-powers and heads out on a road trip with ex-girlfriend (Ruth Negga) and vampire pal Cassidy (Joseph Gilgun). After numerous starts and stops, Seth Rogen was one of the producers who launched Sony's AMC version of the show, which again features alternately clever and off-putting graphic novel shenanigans. The good news is that this second season is easier to follow than the show's initial one, which was overly bogged down in back story. Still most recommended for fans, Sony's Blu-Ray is out this week featuring a 1080p (1.78) transfer, 5.1 DTS MA sound, the "Raising the Stakes" featurette, gag reel, and an Ultraviolet Digital HD copy.
AMITYVILLE: THE AWAKENING Blu-Ray (87 mins., 2017, PG-13; Lionsgate): Troubled "Amityville" entry was shot in 2014 and in development for some time prior to that. After being reshot, "The Awakening" finally premieres on home video as a decent if predictable tale from writer-director Franck Khalfoun. Bella Thorne stars as a teen who moves with her mother (Jennifer Jason Leigh) and siblings into the famed haunted home, but this time there's a twist involving the usual supernatural shenanigans and possessions, including her comatose brother. A Dimension production, "The Awakening" should check the box for horror fans but its biggest surprise is that Lionsgate removed Harvey Weinstein's name from the back cover. A Making Of featurette is the sole extra here along with a Digital HD copy, 1080p (2.40) AVC encoded transfer and 5.1 DTS MA sound.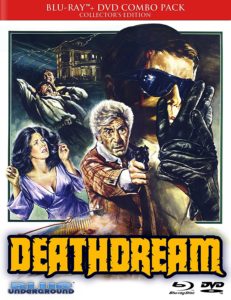 DEATHDREAM Blu-Ray/DVD (88 mins., 1974, R; Blue Underground): Bob Clark's well-acted if minor 1974 cult item stars John Marley and Lynn Carlin as a couple distraught over the death of their son in combat over in Vietnam. One night, however, their Andy (Richard Backus) returns home – but seemingly changed, and with a craving for human blood…Tom Savini worked on the make-up for "Deathdream" (also known as "Dead of Night") which turns out to be an anti-climactic horror outing, though the build-up is palpable and the atmosphere strong throughout. Blue Underground's Limited Edition package, out November 28th, includes two commentaries (one with Clark, another with writer Alan Ormsby), interviews with Ormsby, star Anya Liffey, composer Carl Zittrer, production manager John "Bud" Cardos, Backus, alternate opening titles, trailers, a collectible booklet, all-new 2K restoration from the 35mm negative (in its "most complete version" ever), a DVD and essay from critic Travis Crawford.
THE LOST WORLDS OF GERRY ANDERSON DVD (354 mins., 2017; MPI): Two-disc DVD special edition offers a treasure trove of "lost" goodies for Gerry Anderson enthusiasts. Included here are a number of Anderson's pilots, including his final Marionette production, "The Investigator"; "The Day After Tomorrow," a busted TV pilot that served as a rough basis for "Space 1999"; and "Space Police," a precursor to "Space Precinct." Additional shorts, commercials and even a limited-edition postcard are on-hand in this new MPI release, out this week on DVD…Also new from MPI this month is INDISCRETION (100 mins., 2017 mins., Not Rated), a steamy psychological thriller starring Mira Sorvino as a psychologist who has an affair with a younger artist (Christopher Backus). Unfortunately for her, the man doesn't want to break it off in John Stewart Miller and Laura Boersma's film, co-starring Cary Elwes. "Indiscretion" is new to DVD this month with extras including a commentary from the filmmakers, 16:9 (2.35) transfer and 5.1 Dolby Digital sound.
---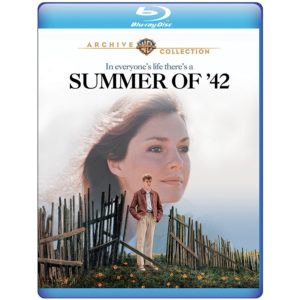 Warner Archive New Releases
Five more welcome Blu-Rays have surfaced this month from the Warner Archive, offering something completely different for movie buffs.
Michel Legrand's unforgettable main theme from SUMMER OF '42 (104 mins., 1971, PG) is one of the most beautiful of all-time – a flowing and melodic piano motif that manages to be both sad and uplifting simultaneously. Legrand's classic – if sparse – score eloquently punctuates director Robert Mulligan's WWII-era coming-of-age drama about a teenager (Gary Grimes) whose infatuation with a young military wife (Jennifer O'Neill) comes to mark a memorable summer in a small New England coastal community. Writer Herman Raucher's script is poignant and convincingly captures the friendship between Grimes and his friends (Jerry Houser, Oliver Conant) as they engage in typical teenage shenanigans before the film takes a strong dramatic turn in a concluding frame that's hard to forget.
Set in Nantucket though obviously shot on the West Coast, "Summer of '42" became one of the biggest hits of the early '70s, even if it seldom gets discussed these days. Sadly, no special edition of the film has ever been released on home video, and Warner's Archive Blu-Ray presents just a trailer for a film that became a blockbuster success, leading to a forgotten sequel ("Class of '44") a few years later and Broadway adaptations of Raucher's screenplay. The 1080p (1.78) AVC encode is perfectly fine though the film's rather vanilla cinematography results in a sometimes soft-looking, hazy image that doesn't necessarily offer a big enhancement in high-def detail. The DTS MA mono sound is likewise faithful to its source.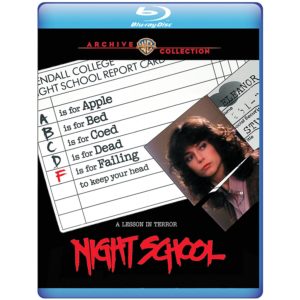 British director Ken Hughes ended his career by helming NIGHT SCHOOL (89 mins., 1981, R), a Lorimar thriller that was sold as a slasher but really plays out as more of an Italian "giallo" picture. Atmospherically shot on location in Boston, "Night School" finds a killer preying on young women via a series of ritualistic murders. Detective Leonard Mann is on the case but only has a series of suspects to work with, including a philandering college professor and his live-in girlfriend (Rachel Ward).
Ward's nude scene is one of the more memorable elements of this well-crafted little picture, which nevertheless is hampered in any real effectiveness by Ruth Avergon's silly script. Worth it for a single look over (repeat viewing is pretty much nil once you've seen the resolution), "Night School" has arrived in a pleasing 1080p (1.78) AVC encoded Blu-Ray from Warner, the image looking like unadulterated film and boasting a clear DTS MA mono soundtrack with an early Brad Fiedel score. The trailer is the sole extra.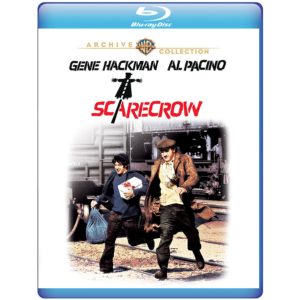 The performances of Gene Hackman and Al Pacino are the main reasons to check out SCARECROW (112 mins., 1973, R), an early '70s mood piece about a pair of down on their luck drifters who hope to shift their fortunes – Hackman's Max by opening up a car wash in Pittsburgh, Pacino's Lion by seeing the child he's never met in Chicago. Jerry Schatzberg's film is pretty much a dated downer in terms of its dramatic construction, but it's fascinating to see Hackman and Pacino, both in the early days of their storied careers, playing off one another in a film that fans of both stars should at least find relevant in that regard. Warner's Archive Blu-Ray again boasts a fine 1080p (2.40) transfer with Vilmos Zsigmond's cinematography beautifully capturing the wide Midwestern frame, DTS MA mono audio, a vintage featurette and the trailer rounding out the extras.
Aficionados of both '50s crime thrillers and film noir buffs should find ample entertainment in Alan Ladd's 1955 production HELL ON FRISCO BAY (98 mins.), a zesty Cinemascope outing starring Ladd as a recently-released ex-cop parolee out to find out who really killed the man he was framed for. Packed with a terrific cast, "Hell on Frisco Bay" co-stars stars Edward G. Robinson as a Frisco mobster, Joanne Dru as Ladd's estranged wife and William Demarest as his former partner – not to mention Fay Wray and Paul Stewart as one of Robinson's top men — in a memorable mid '50s widescreen exercise scored by Max Steiner. Warner's gorgeous 1080p (2.35) AVC encoded transfer is one of their best catalog discs from the era, marked by healthy detail and crisp Warnercolor hues, and the DTS MA mono sound is just fine….Finally, a WWII movie that takes its cue more from the soap opera angle, BATTLE CRY (148 mins., 1955), garners a Blu-Ray release from Warner this month as well. This episodic adaptation of Leon Uris' novel (scripted by the author) offers a cavalcade of '50s stars – Van Heflin, James Whitmore, Tab Hunter, Dorothy Malone, Anne Francis among numerous others – in a film directed by Raoul Walsh that shifts gears from the service to the homefront. Max Steiner's score and widescreen photography make out well in Warner's superb Blu-Ray, boasting another excellent 1080p (2.55) transfer and 5.1 DTS MA stereo sound, along with the trailer.
---
Criterion New Releases
Rough around the edges but well worth seeing for its gritty visuals and playful medieval tone, Terry Gilliam's JABBERWOCKY (105 mins., 1977, PG) may not offer levels of Monty Python hilarity, but makes up in its Dark Ages setting and characterizations what it might lack in humor. Gilliam recruited fellow Python cast member Michael Palin to star in this loose adaptation of Lewis Carroll's poem of the same name, which finds the English countryside plagued by a deadly dragon.
We don't see the beast until the end in "Jabberwocky," which was sold as a "Holy Grail" type of lampoon in spite of the fact that the film's humor is much more subtle and its pace far more leisurely. Still more lively, in retrospect, than many of Gilliam's directorial outings, the film launched his solo feature career and serves as an interesting precursor to the likes of "Time Bandits," and is brilliantly preserved here on Blu-Ray by Criterion.
Featuring a BFI restoration funded by George Lucas' estate and presented here in a flawless 4K (1.85) transfer, "Jabberwocky" looks crisper and more detailed than you've ever seen it before, while still retaining all its grimy settings. The 5.1 DTS MA stereo audio works off a 2001 remix which occasionally, and quite noticeably, shifts from a full sound field to the movie's primitive mono source materials. Extras include a commentary from Gilliam and Palin, a new documentary on the film featuring the duo, an interview with creature designer Valerie Charlton, a 1998 audio interview with cinematographer Terry Bedford, Gilliam's storyboard gallery, and the original UK opening sequence.
Also new from Criterion is a marvelous Blu-Ray of THE PHILADELPHIA STORY (112 mins., 1940), George Cukor's classic comedy starring Cary Grant, Jimmy Stewart and Katharine Hepburn at the height of her talents, as a Philly socialite about to be imminently married when her ex (Grant) shows up. Philip Barry's stage play was scripted by Donald Ogden Stewart and directed by Cukor in a brilliant farce that was later remade as one of the '50s best screen musicals, "High Society." Criterion's Blu-Ray includes a 4K restored transfer; 2005 commentary with Jeanine Basinger; a documentary on Hepburn's heroine Tracy Lord; two Dick Cavett episodes with Hepburn; a 1943 Lux Radio Theatre adaptation; and restoration comparison.
---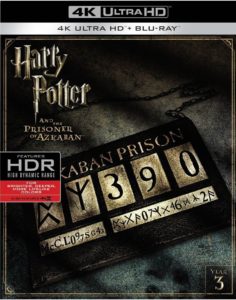 Harry Potter 4K
If you were one of the many thousands who went out to see HARRY POTTER AND THE SORCERER'S STONE (****, 152 mins., 2001, PG) on its opening, record-shattering opening weekend in 2001, you were treated to one of the most exquisitely filmed "children's" films ever, and, according to the majority of my colleagues, one of the most faithful book-to-film adaptations one could possibly have hoped for. All of it set the stage for what became one of the most successful film franchises of all-time – and the first four installments of which have landed on 4K UHD this month from Warner Home Video (the final entries were released on UHD earlier this year).
Even at 153 minutes, this sterling production — complete with lavish sets, evocative cinematography by John Seale, and another magical score by John Williams — managed to keep any and all children I was sitting next to entertained from beginning to end. Chris Columbus was able to sustain an atmosphere of childlike wonder in every scene, staying away from any gooey, saccharine emotions that would have been so easy to drift into. The few critics who have carped that it didn't retain the magic of the book are overlooking the obvious fact that they already know the story — the sort of thing that happens when you know the ending and therefore aren't surprised by the narrative. (On the other hand, I didn't read the books and was completely caught up in it.)
One of the reasons I enjoyed the film so much was that it would have been easy for the filmmakers to get it wrong. It could have been "Hook," or a later-era Spielberg effort that would have fallen right into the realm of sentimental ickiness. It might have been filled with American stars, or scored with hideous pop-rock tracks. Instead, it's still astounding to me as to how right Columbus, screenwriter Steve Kloves, and a talented cast and crew got this material.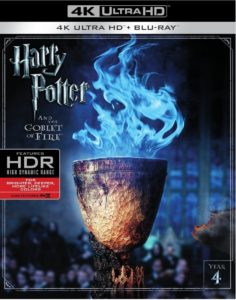 HARRY POTTER AND THE CHAMBER OF SECRETS (***½, 161 mins., 2002, PG) followed in 2002 and proved to be more relaxed and even more entertaining than its first installment.
This time, the beloved boy wizard is wrapped up in an unknown evil that's causing harm to various students at Hogwarts, which — speaking of the magical campus – – boasts a new teaching wizard (Kenneth Branagh, in a delicious performance as Gilderoy Lockhart) and plenty of surprises for Harry (Daniel Radcliffe), Hermione (Emma Watson), and Ron (Rupert Grint), all enrolling in their sophomore year. Among the highlights: a spectacular confrontation with giant spiders in the dark forest, a slithering serpent, a young girl's ghost, and the introduction of Fawkes the Phoenix.
All of the same cast and crew members that brought "Harry Potter and the Sorcerer's Stone" to life returned for this sequel, which results in more wonderful sets and plenty of memorable moments. John Williams' now-classic themes were reprised by conductor William Ross, though fortunately this is a far from an "Adapted and Conducted by Ken Thorne" situation (indeed, as rumors have swirled since its release, it seems Williams was much more "hands on" in this score than in similar circumstances in the past). Steve Kloves' script, meanwhile, takes its time establishing character and setting here, but the basic story is more captivating because there's less set-up and more time spent on the basic premise and mystery at-hand.
While the identity of the villain, once revealed, may prove to be a little convoluted for those who didn't read the books, "Chamber of Secrets" is a thrilling ride most of the way. The performances of the child actors are solid and contrast nicely with the uniformly fine work of the adults, particularly Jason Isaacs as the deceitful father of Harry's rival.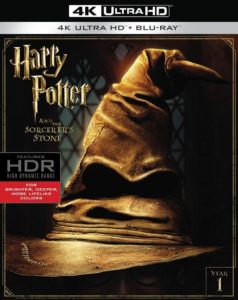 HARRY POTTER AND THE PRISONER OF AZKABAN (**½, 142 mins., 2004, PG): Third cinematic adaptation of J.K. Rowling's books opened strong, but tailed off faster at the summer '04 box-office than most prognosticators predicted. Some attributed the film's diminishing (though still profitable) receipts to non-Potter fans having grown tired of the series, but I actually think it has something to do with the film itself.
Here, Harry's quest to uncover the truth behind his parents' death takes a turn when the man accused of their murder — criminal Sirius Black (Gary Oldman) — escapes from prison. There's also the introduction of Haggrid's new pet — the majestic Buckbeat — plus the arrival of Professor Lupin (David Thewlis), who harbors a deep, dark secret.
Director Alfonso Cuaron ("A Little Princess") took over the directorial reigns from Chris Columbus for this installment, and many viewers who apparently subscribe to the auteur theory instantly bestowed kudos on his work in "The Prisoner of Azkaban." This is, after all, the same filmmaker who made the art-house smash "Y Tu Mama Tambien" — not the director of mainstream blockbusters like "Home Alone" — and more than a few folks seemed to go out of their way to praise this movie for doing things right that Columbus's preceding two films didn't.
Unfortunately, as much as I admired "A Little Princess," Cuaron's directorial stamp in "Azkaban" is all too obvious. Sure, the movie may be "darker" and "edgier," but it also lacks the magic of the previous two films. There's a certain warmth and humanity inherent in the earlier Potter adventures that's notably lacking here — in its place, there's a lot of story, some delightful moments, but a certain dramatic flat-line to the drama. The performances of the now-growing youthful cast are all on the mark, David Thewlis and Gary Oldman are excellent (though I wish Oldman had more screen time), and I certainly was entertained for the most part. When it was all over, though, the film left me cold, as if something was missing from all the fuss about werewolves and the search for a killer wanted for the death of Harry's parents.
Surely some of the blame has to be placed on the director. Cuaron drains the color out of the film and often places the cast in modern day attire (jeans?), giving the movie a supposedly more "realistic" look which clashes with its fantastical story. He throws in the same fade-in and fade-out transitions he used in "A Little Princess," but they're used so often here that they're worn out before it's over.
I realize I'm focusing on the negatives of "The Prisoner of Azkaban," yet there are certainly some wonderful moments in the movie. I just felt, when all was said and done, that the movie didn't resonate nearly as much as its predecessors, and Cuaron's attempts to differentiate this film from its predecessors robbed the picture of its heart.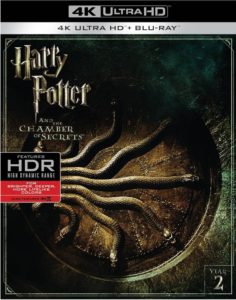 Not as magical as the first two films, not as stylized as the third, HARRY POTTER AND THE GOBLET OF FIRE (***, 157 mins., 2005, PG-13) nevertheless struck box-office gold worldwide and offers an efficient, entertaining continuation of Rowling's saga.
In "Year Four," Harry's name is entered into the prestigious Triwizard Tournament, despite young Potter not being old enough to officially participate. More than just your typical Quidditch tournament, the Triwizard tourney involves terrifying tasks involving dragons, ethereal water sprites, labyrinthine hedges, and the distinct possibility that something far more sinister is at play for our young wizard.
With the characters getting older, it's wonderful to see the young trio proving to be just as adept performers in their teenage years as they were as cute young kids when initially cast: Daniel Radcliffe in particular displays superior acting chops as Harry inches closer to his destiny, while Emma Watson and Rupert Grint lend solid support as always. The adult supporting cast is uniformly fine, though I never really warmed to Michael Gambon's strident Dumbledore and Ralph Fiennes' performance (as Voldemort) comes off like a reject from a Wes Craven film.
Director Mike Newell stages some lovely scenes and keeps the moving rolling, despite its lengthy 157 minute running time. Unlike his "Azkaban" predecessor Alfonso Cuaron, Newell doesn't have any pretense about stamping "The Goblet of Fire" with his own artistic agenda and, consequently, the movie retains the fantastical feel of Chris Columbus' initial installments, even if the picture ultimately feels more workmanlike than visionary. Technically the movie still boasts top-flight talent across the board: Roger Pratt's cinematography is moody and the effects as accomplished as those in the preceding pictures (I especially loved the aquatic demons Harry encounters), though Patrick Doyle's mostly unmemorable score fails utterly to approximate the wonderful work of John Williams from its predecessors.
4K Rundown: As with the prior UHD releases for the last batch of "Potter" adventures, Warner's HVEC encoded (2.41) 4K presentations have been graced with HDR enhancements. What's unsurprising is that the earlier films benefit more from the new remasters, boasting a clear advantage in contrast and detail over early Blu-Ray transfers that were never as crisp and pristine as they could've been. The comparatively muted color schemes of "Azkaban" and "Goblet of Fire" receive a benefit from the HDR usage as well, but in comparison with their Blu-Ray counterparts, those upgrades are much more modest. All the films tout DTS X soundtracks and seem finely engineered, and Warner has re-used the Special Edition supplements from the films' Ultimate editions along with including Blu-Rays and Digital HD copies as well. For more information on those extras check my individual reviews of the prior Blu-Rays in the Aisle Seat Archives.
---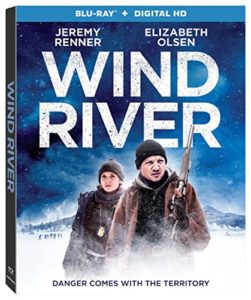 Also New & Noteworthy
WIND RIVER Blu-Ray (107 mins., 2017, R; Lionsgate): Taylor Sheridan, who notched major successes with his scripts for "Sicario" and "Hell Or High Water," wrote and also directed this effectively downbeat thriller set on a Native American reservation in Wyoming. Jeremy Renner stars with his "Avengers" cohort Elizabeth Olsen as a tracker and rookie FBI agent, respectively, out investigating the death of a young girl in the snow – a murder that ties into Renner's own past. Atmospherically shot, "Wind River" earned critical kudos but, much like "Hell or High Water," didn't generate a lot of noise at the box-office. Home video should provide a wider forum for Sheridan's introspective, character-driven drama, which Lionsgate debuts on disc this week. The label's Blu-Ray boasts deleted scenes, a video gallery, 1080p (2.39) transfer, 5.1 DTS MA sound and a Digital HD copy.
Also New From Lionsgate: Antonio Banderas is back in another small-screen action affair with ACTS OF VENGEANCE (87 mins., 2017, R), offering Banderas as a lawyer who takes a vow of silence and transforms himself into a machine in order to find out who killed his family. Karl Urban and Paz Vega co-star in a decent genre outing with Robert Forster also on-board. Lionsgate's Blu-Ray includes a behind-the-scenes featurette, Digital HD copy, 1080p (1.85) transfer, 5.1 DTS MA sound and streets November 28th…Also coming November 28th on Blu-Ray is WOODSHOCK (100 mins., 2017, R), a strange and unsatisfying story that wastes the talents of Kirsten Dunst, who also produced. In Kate and Laura Mulleavy's film, Dunst plays a cannabis dealer whose mother dies, sending her into alternately grief-stricken and drug-induced hallucinations. Slow going stuff that has bounced around the festival circuit for a while, "Woodshock" debuts on Blu-Ray in a 1080p (2.39) AVC encoded transfer from Lionsgtate. Extras include a Making Of, 5.1 DTS MA sound and a Digital HD copy…Peter Dinklage nabs a lead role in Mark Palanasky's REMEMORY (112 mins., 2017, PG-13), a thriller about a scientist (Martin Donovan) who dies after he unveils his new, groundbreaking "memory recording" device. Julia Ormond co-stars in this reasonably compelling piece co-starring Henry Ian Cusick and the late Anton Yelchin. Lionsgate's Blu-Ray includes a commentary with Palansky and Dinklage, a featurette, 1080p (2.40) AVC encoded transfer, 5.1 DTS MA sound and a Digital HD copy (also available November 28th)…I'm not entirely clear why James Franco decided to make a Lifetime TV movie – especially one like HIGH SCHOOL LOVER (86 mins., 2017), which plays out in a totally by-the-numbers manner, with Franco essaying a dad whose teen daughter (Paulina Singer) meets a Hollywood actor on a night out, causing problems for all involved. Franco enthusiasts might find this of interest, but even by Lifetime standards, this one is pretty meager. Lionsgate's DVD includes a 16:9 transfer and 5.1 sound…Also new on DVD from Lionsgate is SAVING CHRISTMAS (88 mins., 2017, PG), a holiday affair starring Ed Asner as the real St. Nick, who's barraged by a group of kids searching for the truth about Santa Claus. Patrick Muldoon and Brooke Langton provide the adult interest in a movie slightly "edgier" than your traditional Hallmark affair, but is still acceptable for most kids. Lionsgate's DVD is out this week sporting a 16:9 transfer and 5.1 sound.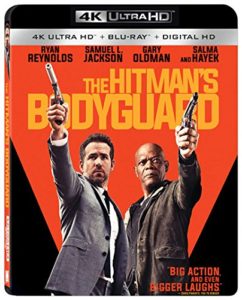 THE HITMAN'S BODYGUARD 4K UHD Combo Pack (118 mins., 2017, R; Summit/Lionsgate): Entertaining, silly summer-movie lark generated a decent amount of box-office thanks to the chemistry between Ryan Reynolds, playing a bodyguard, and Samuel L. Jackson, here essaying a hitman who's the one witness that can put away a European mobster (Gary Oldman). Salma Hayek, Elodie Yung and Richad E. Grant are also along for a bullet-ridden, lightweight ride that overstays its welcome a little in director Patrick Hughes' bloated running time – yet "The Hitman's Bodyguard" still provides enough humor and action to satisfy, and should prove to be a strong performer on home video. Lionsgate's 4K UHD looks dynamic with HDR and Dolby Atmos audio as well as Dolby Vision capability. Extras on the Blu-Ray include a slew of deleted/alternate scenes, Making Of featurettes, commentary by Hughes, the standard Blu-Ray and a DVD as well.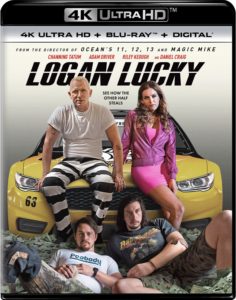 LOGAN LUCKY 4K UHD Combo Pack (119 mins., 2017, PG-13; Universal): Steven Soderbergh's latest was a box-office misfire – a shame considering this minimalist "down home" comedy about a struggling West Virginia construction worker (Channing Tatum) who decides to rob the Charlotte Motor Speedway during their biggest NASCAR race offers something of a rural spin on the director's "Ocean's 11" films. Soderbergh introduces a slew of characters who are vaguely more developed than stereotypes but brings them to life with an eclectic cast – including Adam Driver, Sebastian San, Dwight Yoakam, Seth MacFarlane, Hilary Swank and "introducing" Daniel Craig – that's clearly having fun. Viewers are likely to as well, provided they embrace the film's tone. Universal's 4K UHD looks terrific, colorful and detailed with HDR, and includes DTS MA 5.1 audio, a Digital HD copy, Blu-Ray and deleted scenes for extras.
THE DEFIANT ONES Blu-Ray/DVD (4 hours, 2017; Universal): Compulsively watchable HBO documentary charts the partnership between Dr. Dre, at the start of the hip-hop movement, and Jimmy Iovine, the legendary record executive who helped launch the "Beats By Dre" headphone/speaker business which they both made a couple of dollars from. An interesting portrait of the music industry in addition to the two men, this lengthy documentary hits Blu-Ray November 28th featuring a 1080p transfer and 5.1 DTS MA sound.
PATTI CAKE$ Blu-Ray/DVD (108 mins., 2017, R; Fox): Geremy Jasper's independent film looks at the life and times of a female wannabe-rapper from New Jersey whose attempts to make it big make for an offbeat, if predictable, character drama. A Sundance favorite, "Patti Cake$" is now on home video from Fox, with the Blu-Ray/DVD combo pack sporting ample extras (commentary by music video veteran Jasper, music videos, featurettes), a 1080p (1.85) transfer and 5.1 DTS MA sound, plus a Digital HD copy.
JULIAN SCHNABEL: A PRIVATE PORTRAIT Blu-Ray (85 mins., 2016; Cohen Media Group): Documentary traces the life of the Brooklyn-born artist and filmmaker from his formative years in Texas, his rise on the NYC art scene during the '70s and 80s, work in the Neo-Expressionist movement and turn towards filmmaking in the 1990s. Friends, family, admirers and associates like Al Pacino, Bono and Laura Anderson are on-hand to pay tribute to Schnabel along with comments from the artist himself in this documentary. Cohen's now-available Blu-Ray includes a 1080p transfer and DTS MA 5.1 sound…Also new from Cohen this month is MY JOURNEY THROUGH FRENCH CINEMA (192 mins., 2017), a wonderful, lengthy documentary from filmmaker Bertrand Tavernier, who recounts his love affair with the cinema through some of France's legendary auteurs. Cohen's Blu-Ray presents Tavernier's work in a single disc Blu-Ray with 5.1 DTS MA audio (French with English subtitles) and offers a bonus interview with the director and producer Jean Olle-Laprune.
---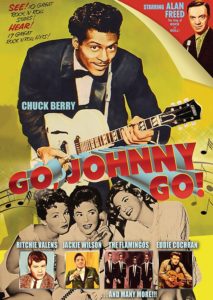 DVD Capsules
Sprocket Vault New Releases: Debuting on DVD for the first time is MUSSOLINI: THE UNTOLD STORY (1985), the NBC mini-series starring George C. Scott as the infamous Italian dictator in a top-flight production offering a marvelous cast (Lee Grant, Mary Elizabeth Mastrantonio, Virginia Madsen, Raul Julia, Robert Downey, Jr.), a taut Stirling Silliphant script and score by Laurence Rosenthal. Sprocket's DVD is now available featuring a full-screen (1.33) transfer and 2.0 stereo sound…Sprocket has also released GO, JOHNNY GO! (75 mins., 1959), a rock 'n roll goldmine featuring DJ Alan Freed as the man looking out for the next big thing, and encountering a succession of early rock faves who pop up to perform their real-life hits. Vintage performances from Chuck Berry, Ritchie Valens, Jackie Wilson, The Cadillacs and the Flamingos, among others, are on-tap in this fascinating document of early rock music, preserved here on DVD by Sprocket with a historian commentary, the trailer, a 16:9 transfer and 2.0 mono sound.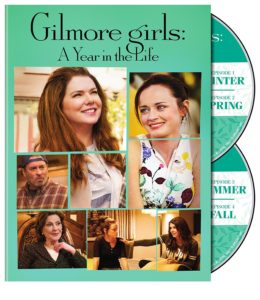 GILMORE GIRLS: A YEAR IN THE LIFE DVD (368 mins., 2016; Warner): Amy Sherman Palladino created "Gilmore Girls" and returned to produce this Netflix follow-up, reuniting the original cast of Lauren Graham (Lorelai) and Alexis Bledel (daughter Rory), along with the denizens of Stars Hollow, Connecticut. The quartet of long-form episodes should delight "Gilmore Girls" fans even if the ending's left ajar for another follow-up. Warner's DVD includes 5.1 sound and 16:9 transfers for those who weren't able to stream the series.
HAMILTON: Building America DVD (84 mins., 2017; Lionsgate): History Channel documentary looks at the founding father who's become a Broadway smash sensation thanks to Lin-Manuel Miranda's award-winning work. This feature-length documentary is a throwback from History, which has mostly moved on from historical accounts in favor of lame reality shows, and offers interviews from the likes of Tom Brokaw, Maria Bartiromo and biographer Ron Chernow. Lionsgate's DVD includes a 16:9 transfer and 2.0 stereo sound.
SLAMMA JAMMA DVD (109 mins., 2017, PG; Sony): A national slam dunk competition is at the center of this family-friendly inner-city drama about a former player (Chris Staples) who attempts to make a comeback. Plenty of uplifting messages are bounced around a meager drama offering cameos from the likes of Michael Irvin and Jose Canseco (!?!). Sony's DVD includes deleted scenes, dunk footage, a 16:9 transfer (1.77) and 5.1 sound.
WHOSE STREETS? DVD (101 mins., 2017, R; Magnolia): The Ferguson uprising is told through the prism of Sabaah Folayan's lens in this look at the racial tensions that exist in the St. Louis suburb. Magnolia's DVD includes commentary, deleted scenes, additional interviews, the trailer, a 16:9 transfer and 5.1 sound…Coming November 21st from Magnolia is LEMON (83 mins., 2017, Not Rated), a lame indie comedy about a "mediocre white man" (Brett Gelman) whose life falls apart. Gelman's wife, Janicza Bravo, directed and co-wrote this self-indulgently "quirky" outing that you'll either gravitate towards or (more likely) drift the other way from. Magnolia's DVD offers deleted scenes, interviews with Bravo and Gelman, the trailer, a 16:9 transfer (2.37) and 5.1 sound.
ATHEIST AMERICA DVD (88 mins., Film Movement): German-produced documentary looks at Austin, Texas' "The Atheist Experience," the only atheist-centric series on television, from its roots over 20 years ago to its current popularity on the internet. Film Movement's now-available DVD includes a 16:9 transfer and 5.1 sound.
NEXT TIME: Aisle Seat Holiday Gift Guide with new Time-Life titles and more! Until then, don't forget to drop in on the official Aisle Seat Message Boards and direct any emails to our email address. Cheers everyone!