Our pre-schooler loves dinosaurs – brontosauruses in particular – and has worn out every entry in the "Land Before Time" saga (including its short-lived series) over the last year or so. You would imagine he'd be a perfect audience for BABY: SECRET OF THE LOST LEGEND (***, 95 mins., 1985, PG), yet I'm going to hold off on a viewing of this early Touchstone release with him until he's ready for some oddly placed violence which makes an otherwise entertaining African-set adventure unsuitable for what should've been its main demographic.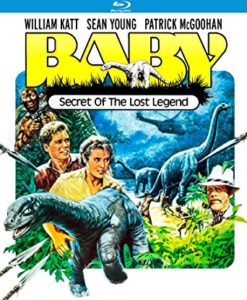 B.W.L. Norton, whose main directorial credits up to that point were the memorable Cornel Wilde TV-movie "Gargoyles" and the uneven "More American Graffiti," stepped into direct "Baby" after Roger Spottiswoode left the project in pre-production. Working from a Clifford and Ellen Green ("Spacecamp") screenplay, "Baby" runs the gamut from being a wholesome Disney-esque genre film to an action-packed tale with married couple William Katt and Sean Young uncovering a living Brontosaurus family in the African jungle, and then trying to protect little "Baby" from evil scientist Patrick McGoohan.
"Baby"'s animatronic effects are a mixed bag – the larger dinosaur is well-designed but the expressiveness of the younger "Baby" is stiff — but what makes the film appealing are the widescreen location cinematography of John Alcott and Jerry Goldsmith's marvelous score. Goldsmith's gorgeous, lyrical theme – one of his finest from an especially prolific period of film scoring — sells the material in a way the story can't do, while Katt (who I always thought should've been a bigger star) and Young work well together as the leads. In spite of its flaws, it's hard not to be emotionally involved by the time the credits roll with Goldsmith's music welling with emotion.
"Baby" is certainly an odd mix of a cute kids fantasy with more adult overtones and violence than you'd ordinarily expect in this type of film. There are stabbings, shootings and the slaying of Baby's father (a la "Bambi") in a grizzly sequence that, today, would've easily netted a PG-13 rating. You have to wonder what was going through Norton's mind in how these sequences were handled, yet I can't deny that the film is fun to watch – an old-fashioned jungle adventure with dinosaurs that may have been a breakout smash had it been made with CGI effects in the wake of "Jurassic Park" just a few years later.
As far as the myriad of "E.T." clones we endured in the '80s go, "Baby" is one of the better ones, and Kino Lorber's Blu-Ray sports a Special Edition with revealing new interviews with Katt (15 minutes) and Norton (10 minutes). In fact, Katt's description of an arduous shoot – complete with crocodiles, insanely humid conditions, a lack of quality food and intermittent power – is even more fun than watching the film. That Katt reflects so fondly on the picture at the same time he divulges the extreme difficulty the crew encountered shooting in Africa speaks to the actor's graciousness and good humor. Norton's conversation, by comparison, is more technically oriented as far as the special effects go, and he only mentions in passing that Disney didn't want Spottiswoode directing the film (one wonders if Spottiswoode, who retained an Executive Producer credit, wanted to push the film even further into "adult territory"). The theatrical trailer is also on-hand.
Visually the disc sports a roughly equivalent transfer to Mill Creek's prior 1080p (2.35) Blu-Ray encode – it's passable but has clearly been derived from an older master. However, the audio is configured differently, mostly in a good way: Kino Lorber's release includes both the movie's preferred 2.0 DTS MA Dolby Stereo mix and a 5.1 DTS MA track that's too front-heavy by comparison. The Mill Creek disc only housed a strange 4.0 track that was missing center channel information, making the 2.0 mix the most satisfying forum for stereo separation and Jerry's lovely score.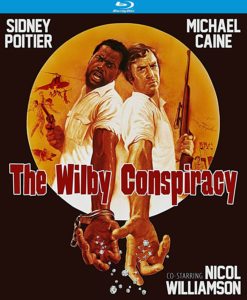 THE WILBY CONSPIRACY Blu-Ray (***, 105 mins., 1975, PG; Kino Lorber): Not a title that rolls off the tongue – or is well remembered (if at all) in the filmographies of stars Sidney Poitier and Michael Caine – Kino Lorber dusts off the 1975 UA release "The Wilby Conspiracy" this month for Blu-Ray. It's a welcome presentation at that, for even though this somewhat perfunctory adventure-thriller is a bit too "by the book" for its own good, the cast and flavorful locations make it a worthwhile view.
Reuniting with his "Lilies of the Field" director, Ralph Nelson, Poitier here plays a South African political activist, just released from prison, when he's thrown on the run along with his lawyer's boyfriend (Caine), an engineer who hopes Poitier's connections in Johannesburg can get them out of the country. A dogged detective (Nicol Williamson) is on their trail, but there's something else involved in Poitier's escape plans which Caine soon becomes keenly aware of.
Scripted by Rod Amateau (who's also credited with directing "Action Scenes") and Harold Nebenzal, "The Wilby Conspiracy" is pretty much a strict pursuit thriller that doesn't always make great use of its leading men's abilities. That said, Caine still looks engaged while Poitier delivers his usual intensity as the duo escape through South Africa – actually Kenya, which is photographed quite vividly here by Nelson and his director of photography, John Coquillon, who worked on a number of later Peckinpah films. The cast is also fascinating, with Rutger Hauer and Persis Khambatta appearing in very early roles, making for a movie that's more satisfying as a travelogue, and opportunity to watch the cast in-action, than it is a "contemporary thriller with a social statement."
Kino Lorber's Blu-Ray debuts "The Wilby Conspiracy" on Blu-Ray in an MGM-licensed 1080p (1.66) transfer with DTS MA mono audio. Stanley Myers' sporadic score is passable when called upon, though this being a "70s film," the end credits unspool in dead silence. The trailer is the disc's sole extra.
Though the Pink Panther film series endured a long hiatus and a few misses at the box-office, the affable, loveable title character enjoyed an even longer, and more consistently successful, career as the star of over 100 animated shorts (not to mention numerous TV series and commercials).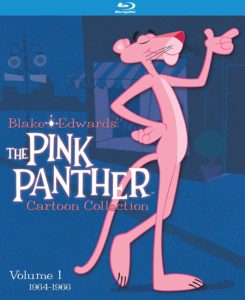 Produced by David DePatie and Friz Freleng, the Pink Panther made his solo debut as the star of 1964's "The Pink Phink" and promptly won an Oscar for his efforts. If that wasn't enough, the Panther would go on to star in 123 other shorts, the 1964-66 portion of which are now on Blu-Ray for the first time in Kino Lorber's THE PINK PANTHER: CLASSIC CARTOON COLLECTION Volume 1 (128 mins.).
The Pink Panther cartoons — for anyone who didn't grow up having seen them (which was tough to do since every generation has had the shorts or series available for viewing in one form or another) — are almost always amusing for kids and adults alike. The general lack of dialogue made the shorts easily accessible to all countries and they remain of universal appeal today, with the Depatie-Freleng staff having concocted ingenious trappings for the Pink Panther's brand of physical comedy to play off, whether it was in a modern setting, in prehistoric times, or in parodies of familiar literature or film.
If there's one downside to watching the Pink Panther cartoons included here, it's that — after viewing several shorts in a row — you may get tired of hearing Henry Mancini's classic theme repeated ad nauseam. There's not a whole lot of variety in the soundtracks themselves, though there are some amusing variations on the Panther motif depending on the theme of the respective short. Not every short is a winner, either, as this first assortment of 20 cartoons attests – clearly the formula was being worked out in these early stages, as entries that offer dialogue (at times performed by the likes of Mel Blanc, Paul Frees and Rich Little) often strikeout completely.
Still, Pink Panther fans should be pleased with Kino Lorber's 1080p (1.33) MGM-licensed transfers. The source materials do show their age and haven't been digitally cleaned-up, but there's still detail and bolder colors than MGM's past DVD versions. Extras include commentaries from a number of historians including Jerry Beck, putting the series into the proper context with behind the scenes information. Subsequent volumes are presumably going to follow throughout the year.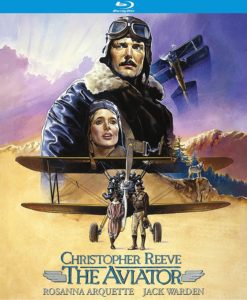 THE AVIATOR Blu-Ray (* ½, 96 mins., 1985, PG; Kino Lorber): Somewhere along the line I avoided seeing this Christopher Reeve flop, a movie that some may confuse with Tom Selleck's similarly-themed period disappointment "High Road to China" from two years prior. As uneven as the latter is, though, it looks like a masterwork of cinematic excellence compared to "The Aviator," an entirely unconvincing adventure that's DOA right from its opening minutes.
Giving one of his weakest performances, Reeve plays a WWI aviation instructor who's disfigured in an accident that claims the life of one of his students. Flash ahead several years and Reeve's Edgar Anscombe is a mail pilot who hasn't flown with a passenger since, until he's coerced into taking a rebellious young lass (Rosanna Arquette) whose father (Sam Wanamaker) wants her sent off to her Aunt to be "straightened out." En route, the duo crash and have to make it through the tough Pacific Northwest mountains (really Yugoslavia) together.
If you dropped in on a couple of minutes of "The Aviator" you might actually think you're watching a spoof. Reeve's intensity tries (but fails) to make amends for an anemic script adapted from a book by Ernest Gann, whose novels formed the basis for far better movies like "Fate Is The Hunter" and "The High and the Mighty."  The stilted dramatics, handled in a flavorless manner by George Miller (the "Man From Snowy River" George Miller, to be exact), make for a weirdly disconnected film, while Reeve's persona clashes with Arquette's contemporary sensibilities in a pairing that doesn't come off at all. Supporting turns from the likes of Jack Warden, Scott Wilson, and Tyne Daly seem to indicate there had to have been more to the film at some point, leading only Dominic Frontiere's sweeping romantic score to leave a positive impression.
Kino Lorber's Blu-Ray debuts a fine 1080p (1.85) AVC encoded transfer from the barely-released United Artists production. The Dolby Stereo audio is housed in a 2.0 DTS MA track that's surprisingly robust, providing a full stage for Frontiere's music, whose only liability is that it easily overpowers the film's meager (and at times unintentionally funny) drama. The trailer is the sole extra.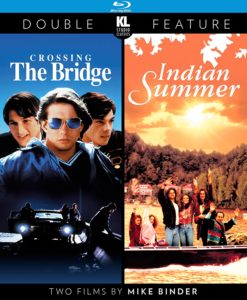 CROSSING THE BRIDGE (**½, 103 mins., 1992, R)/INDIAN SUMMER (***, 97 mins., 1993, PG-13; Kino Lorber): One of the more engaging romantic-comedies of the early-mid '90s, Mike Binder's "Indian Summer" has been combined on Blu-Ray alongside Binder's 1992 debut feature, "Crossing the Bridge."
INDIAN SUMMER is sort of a "Meatballs Grows Up" with a group of friends reuniting back at the camp where they spent their adolescent years. Diane Lane, Bill Paxton, Elizabeth Perkins, Kevin Pollak, Vincent Spano, Julie Warner, Matt Craven and Kimberly Williams comprise the not-quite-"Big Chill" alumni who travel back to the gorgeous Ontario camp still run by sage counselor Alan Arkin. Sam Raimi (a childhood friend of the director's) also chips in a few laughs in a rare acting role as the camp's resident weirdo, but it's really the beautiful Newton Thomas Sigel lensing and Miles Goodman's breezy score that puts "Indian Summer" over the top.  CROSSING THE BRIDGE, meanwhile, is a more personal film from Binder, chronicling the lives of several post-high schoolers struggling to grow up in Minnesota during the late '70s. Josh Charles, Stephen Baldwin, and Jason Gedrick are the trio with familiar faces like David Schwimmer, Abraham Benrubi and others appearing in support. It's a well-worn tale that's entertaining enough albeit rough around the edges.
This Kino Lorber double-feature from the Touchstone Pictures vaults is the second time "Indian Summer" has been released on BD (it was a low-priced Mill Creek release in 2011) while "Crossing the Bridge" makes its format debut. "Indian Summer" looks to be a slightly superior encoding than the Mill Creek release from the same source materials: Sigel's 2.35 cinematography has been reproduced splendidly here in the form of a 1080p AVC encoded presentation while the 2.0 DTS MA stereo track has bit of "wow"-like flutter at the beginning (something that also affected the laserdisc way back when) but gets back on track shortly after the front credits. "Crossing the Bridge," meanwhile, looks even more impressive in what appears to be a newer scan, offering the kind of fine detail often lacking from older Buena Vista catalog releases.
Kino Lorber's Blu-Ray also includes a 20-minute interview with Binder. He's insightful about the process of making his first two films, and is especially candid about how he felt Touchstone brass sold "Indian Summer" short by insisting on an orchestral score and not the pop songs he felt were vital to the film's appeal. Binder does praise Goodman's score but says studio executives made the decision to use an original score instead of his intended song soundtrack, likely out of cost concerns – and, in his mind, to the ultimate detriment of the film.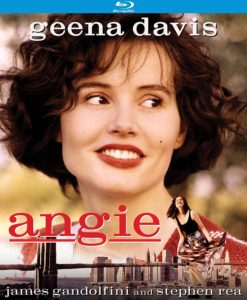 ANGIE Blu-Ray (**, 107 mins., 1994, R; Kino Lorber): One of several vehicles featuring star Geena Davis that wiped out at the box-office (though "Cutthroat Island" is the only one people seem to recall), "Angie" is a well-intentioned yet syrupy tale of a Brooklyn woman who gets knocked up by her boyfriend (James Gandolfini) but decides not to get married – setting off a series of misadventures that end up as much in heartbreak than they do the "irrepressible fun" the film's marketing initially promised. Less a "rom-com" than a soapy domestic drama, "Angie" is certainly watchable, with director Martha Coolidge getting good mileage out of its cast, but it's eventually too much, too episodic and overly glossy, to convincingly work. Davis is barely believable in the lead and the supporting cast (Gandolfini, Aida Turturro, Philip Bosco) easily outshines her on the authenticity scale – it's all capped by Jerry Goldsmith's syrupy score, stamping the picture strictly as a product of its time. (At least "Working Girl" – a film "Angie" seems to emulate – knew it was a modern fairy-tale of sorts). Kino Lorber's Blu-Ray is superior to Mill Creek's prior rendering, retaining extras that haven't been seen since the film's deluxe laserdisc release (commentary, a deleted scene, interviews), though the transfer and sound otherwise are essentially the same as that earlier BD release (2.35 AVC encoded 1080p with 2.0 DTS MA stereo sound).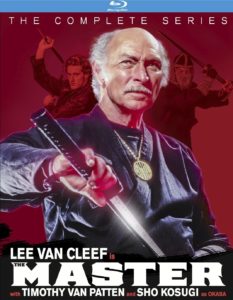 THE MASTER – The Complete Series Blu-Ray (624 mins., 1984; Kino Lorber): Short-lived NBC series tried to mix the then red-hot ninja action genre – pioneered by the work of Sho Kosugi in several memorable Cannon productions – with the formula antics of "The A-Team." The result, "The Master," didn't entirely work, but it's still an enjoyable slice of nostalgia that stars Lee Van Cleef as the title character – a master ninja trying to train his brash new pupil/traveling companion ("Class of 1984"'s Timothy Van Patten). The duo motor along in a van (sound familiar?) looking for Van Cleef's daughter while helping out others and being pursued by Master ninja Okasa – played by Kosugi himself. "The Equalizer"'s Michael Sloan created "The Master," whose 13 episodes have been collected here on Blu-Ray in satisfying 1080p (1.33) AVC encoded transfers by Kino Lorber. The no-frills, three-disc set enables viewers to enjoy this fast-moving, formulaic but fun series, several episodes of which were re-edited into feature-length TV-movies (at least one of which was mocked on Mystery Science Theater 3000). Guest stars run the gamut from young Demi Moore and Crystal Bernard to veterans David McCallum, George Lazenby, George Maharis and many others, adding to the program's entertainment value.
OLD STONE Blu-Ray (80 mins., 2016, Not Rated; Kino Lorber): Chen Gang gives a powerful performance in this short but dynamically potent Johnny Ma film. Gang plays a cab driver who accidentally hits a motorcyclist while carting around a drunken passenger. Despite taking the injured man to the hospital, his noble act is rewarded with medical bills that plunge him into the pits of despair – all thanks to a bureaucracy that punishes responsibility. At only 80 minutes, "Old Stone" doesn't overstay its welcome and manages to pack an awful lot into its brief running time – anger, compassion, frustration and pain, all in equal measure. It's a memorable directorial debut for Ma, with Kino Lorber's Blu-Ray likely to earn the film a wider audience. In addition to a 1080p (1.85) transfer and 5.1 audio in Mandarin with English subtitles, the disc includes Ma's short "Grand Canal," deleted scenes and behind-the-scenes footage.
---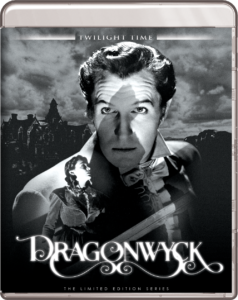 Twilight Time January Releases
MY COUSIN RACHEL Blu-Ray (98 mins., 1952). THE MOVIE: Making its Blu-Ray debut following Twilight Time's 2011 DVD release is "My Cousin Rachel," 20th Century Fox's 1952 answer to "Rebecca" with Nunnally Johnson adapting another Daphne Du Maurier novel for the screen – albeit one that's a bit less romantic than that earlier screen classic. Here, Richard Burton won an Oscar for his second-billed, first American role as a young and naive Englishman whose beloved guardian-cousin passes away, leaving him his Cornwall estate and vast sums of wealth. He also grows attached to his cousin Rachel (Olivia De Havilland), a mysterious and alluring woman whom Burton later believes might have something to do with his cousin's death.
Chock full of atmosphere, beautiful black-and-white cinematography and a fine score by Franz Waxman, "My Cousin Rachel" is a highly entertaining and well-performed studio picture that "Rebecca" admirers ought to particularly enjoy, in spite of its tonal differences. TWILIGHT TIME BLU-RAY BREAKDOWN: Since the film has faded into relative obscurity over the years, fans should be pleased with Twilight Time's Blu-Ray offering a 1080p (1.33) AVC encoded transfer and 1.0 DTS MA offering – the visuals are crisper and pleasingly detailed compared to TT's prior DVD, which marked its first release on home video. Extras include the trailer and isolated score track along with a vintage radio dramatization of the story.
DRAGONWYCK Blu-Ray (103 mins., 1946). THE MOVIE: The atmospheric gothic melodrama "Dragonwyck" was Joseph L. Mankiewicz's first feature, starring Gene Tierney as a Connecticut country girl who's tapped to be the governess of a young girl in the home of the mysterious Nicholas Van Ryn (played by Vincent Price), a Hudson Valley estate owner retaining secrets of the macabre variety. Previously available on DVD in a Fox Horror anthology, "Dragonwyck" is a moody Golden Age affair with delectable performances from Price, Tierney, and Walter Huston as Tierney's pious father. It's also talky and somewhat static, best recommended for genre enthusiasts and for Alfred Newman's score. TWILIGHT TIME BLU-RAY BREAKDOWN: Twilight Time's Blu-Ray reprises all the extras from Fox's older DVD edition, including Steve Haberman and Constantine Nasr's commentary; a pair of excellent A&E Biography programs on Tierney and Price; two different radio adaptations; retrospective featurette; the trailer; and an isolated score track. The 1080p (1.33) transfer and 1.0 DTS MA mono sound are both fine.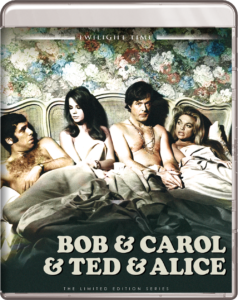 HUSBANDS AND WIVES Blu-Ray (108 mins., 1992, R). THE MOVIE: Woody Allen addresses his own personal crises of the era in this typically well-acted affair, following Allen and Mia Farrow as a couple following the lead of friends Sydney Pollack and Judy Davis as their relationship falls apart – the latter are surprisingly accepting of their split, while Allen and Farrow react with shock to their break-up, only to go down the same road. Allen and Farrow's off-screen problems informed a lot of this 1992 Woody outing, notable also for being his first feature since departing Orion Pictures. It's at-times abrasive and also marred by some annoying hand-held camera work that strains to give the material even more of an "edge" than it already has. Still certainly worthwhile for fans. TWILIGHT TIME BLU-RAY BREAKDOWN: The Sony-licensed 1080p (1.85) AVC encoded transfer of "Husband and Wives" is quite satisfying, with 1.0 DTS MA mono sound, an isolated music/effects track and the trailer included for extras.
BOB & CAROL & TED & ALICE Blu-Ray (105 mins., 1969, R). THE MOVIE: Another tale of couples trying to adjust through changing times and social mores, Paul Mazursky's late '60s piece is a fascinating portrait of a free-swinging couple (Natalie Wood, Robert Culp) trying to rub their newfound "openness" off on a couple living on a far more traditional tact (Elliott Gould, Dyan Cannon). Both a capsule of its time as well as a still-relevant portrait of people struggling to maintain an emotional connection, this Mazurksy-Larry Tucker script is both incisive and dryly satirical. Quincy Jones' score is predictably offbeat but it's the debut of Burt Bacharach and Hal Davis' "What The World Needs Now," performed by Jackie DeShannon, that helped propel "Bob & Carol & Ted & Alice" into being one of its year's top grossing films. TWILIGHT TIME TECH SPECS: Like most Sony licensed transfers, Twilight Time's 1080p (1.85) presentation of "Bob & Carol & Ted & Alice" is superlative: strong colors and flesh tones are accentuated by crisp detail throughout. The mono DTS MA sound delivers clear dialogue, with extras including a new commentary from TT's Julie Kirgo and Nick Redman and isolated score track, plus an older group commentary with Mazursky, Culp, Gould and Cannon as well as a featurette.
---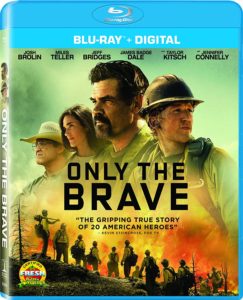 Also New & Noteworthy
ONLY THE BRAVE Blu-Ray (***, 134 mins., 2017, PG-13; Sony): Joseph Kosinski previously helmed "Tron: Legacy" and "Oblivion" – superior examples of modern studio sci-fi fantasy – and he makes the successful transition in "Only the Brave" to a real-life, harrowing chronicle of Arizona firefighters training and, later, fighting a wildfire that tragically comes to engulf them. Kosinski's visuals are again the thing during the movie's special effects sequences, but outside of an explosive finale, most of "Only the Brave" recounts the lives of the Granite Mountain Hotshots, an elite team of firemen led by veteran Josh Brolin and populated with courageous young men including newbie Miles Teller. This is a formulaic yet solid piece of filmmaking that met with commercial disappointment – Sony's Blu-Ray (sadly, no 4K UHD was released of the picture) offers a decent though not spectacular 1080p (2.39) AVC encoded transfer and 5.1 DTS MA soundtrack, along with numerous extras (deleted scenes, Kosinski and Brolin commentary, featurettes) and a Digital HD copy.
LBJ Blu-Ray (97 mins., 2017, R; Sony): Another disappointing outing from director Rob Reiner, whose once A-list status has fallen as the years have progressed. "LBJ" does offer a well-meaning turn from Woody Harrelson as JFK's once-rival turned Vice President, who has to honor Kennedy's legacy by championing the Civil Rights Act of 1964 after the tragic events of November 22, 1963. Alas, Joey Hartstone's script feels like it's been condensed from something much more substantial, as this picture barely skirts the surface of those tumultuous times, and boasts a number of miscast actors including Jennifer Jason Leigh as Ladybird Johnson and Jeffrey Donovan as JFK. Sony's Blu-Ray is now available featuring a 1080p (1.85) transfer and 5.1 DTS MA sound.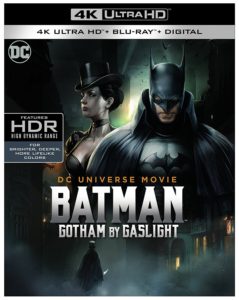 ROMAN J. ISRAEL, ESQ DVD (122 mins., 2017, PG-13; Sony): A rare box-office bust for star Denzel Washington, who also produced this story of a high-functioning autistic defense attorney recruited by a law firm after spending much of his life working for a partner who has a heart attack. His social-justice driven ideology is challenged by his new corporate employer in this Dan Gilroy picture, which offers a typically strong performance from Washington despite coming off as heavy-handed and unconvincing at times. Sony's DVD includes eight deleted scenes, several featurettes, 16:9 widescreen, 5.1 sound and a Digital copy.
KEEP WATCHING DVD (89 mins., 2017, R; Sony): Oft-delayed Screen Gems outing – once intended for theatrical release in 2016 – stars Bella Thorne in the story of a home invasion where a family finds their captors are streaming their plight all over the world. Ioan Gruffudd co-stars in a mundane "found footage" exercise that's also the second Thorne-led horror film that ended up sitting on the shelf for several years (her ill-fated "Amityville" sequel was the other). Sony's DVD is out this week featuring a 16:9 transfer, 5.1 sound and no extras.
WONDER 4K UHD Combo Pack (***, 113 mins., 2017, PG; Lionsgate): Sensitive performances make this adaptation of R.J. Palacio's inspiring book well worth catching. While the story of a boy with a facial deformity encountering bullying and assorted adjustment problems after he transitions from home-schooling to elementary school might sound like the stuff of icky TV-movies, director/co-writer Stephen Chbosky's film is believably drawn with excellent performances from Julia Roberts and Owen Wilson as the boy's parents, not to mention Jacob Tremblay in the central role. Well-acted and memorable, "Wonder" bucked all expectations and became a word-of-mouth hit at the box-office last fall, earning $130 million domestically. Lionsgate's attractively packaged 4K presentation of "Wonder" offers HDR and a generally satisfying image with 7.1 Dolby TrueHD audio, Dolby Vision capability, commentary, featurettes, trailers, a Blu-Ray and Digital HD copy.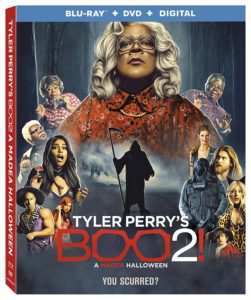 TYLER PERRY'S BOO2! A MADEA HALLOWEEN Blu-Ray Combo Pack (*½, 100 mins., 2017, PG-13; Lionsgate): Tyler Perry made a fortune off "Boo!" – his initial Madea Halloween comedy – and returned for this hastily-filmed follow-up that made not quite as much candy at the box-office last fall. "Boo2!" is, naturally, a "comedy" for Perry devotees only, as Madea, Bam, Hattie and Joe head out on Halloween to round up Brian's daughter, who's snuck off to attend a party at a haunted campground. Feeble stuff, to be sure, with Lionsgate's Blu-Ray including two featurettes, deleted scenes, outtakes, a 1080p (1.85) transfer, 5.1 DTS MA sound, DVD and Digital HD copy.
DAY OF THE DEAD: BLOODLINE Blu-Ray Combo Pack (91 mins., 2017, R; Lionsgate): George Romero may be gone but the assorted spin-off/rip-offs from his "Dead" legacy run rampant in the zombie genre, whose collective popularity seems to have peaked at this point. "Bloodline" is "connected" officially to one of Romero's franchises – in fact this is a veritable remake of "Day of the Dead" itself, where a group of survivors, scientists and military types find themselves holed up underground, trying to save themselves from a zombie outbreak. The original film was not one of Romero's better undead outings and this Bulgarian-shot sequel isn't either, with Lionsgate's Blu-Ray out this week, sporting a featurette, Digital HD copy, 1080p (2.39) transfer and 5.1 DTS MA audio.
THE BALLAD OF LEFTY BROWN Blu-Ray (112 mins., 2017, R; Lionsgate): Small-scale, slow-going western at least affords a plum role for Bill Pullman, playing the veteran sidekick of former lawman and Montana's first elected senator (Peter Fonda), who's gunned down, leading Pullman's Lefty Brown to go hunting for revenge. Kathy Baker and Jim Caviezel co-star in Jared Moshe's film, which nets a Blu-Ray release this week from Lionsgate. The attractive 1080p (2.40) AVC encoded image is matched by 5.1 DTS MA sound, two featurettes, commentary from Moshe and Pullman, and a Digital HD copy.
HELLRAISER: JUDGMENT Blu-Ray (81 mins., 2016, Not Rated; Lionsgate): After too many terrible direct-to-video sequels to count, "Hellraiser" make-up artist Gary J. Tunnicliffe sits in the director's chair for this surprisingly "OK" outing concerning a trio of detectives pursuing a serial killer — and running afoul of Clive Barker's ghastly Cenobites, who have moved into the neighborhood just in time to claim more souls. Apparently a contractual obligation project to keep the "Hellraiser" rights with Dimension Films, "Judgment" isn't half bad for what it is, with Tunnicliffe keeping the modest project moving right along and overcoming the lack of the original "Pinhead," David Bradley (Paul T. Taylor fills the role just fine). Fans should be satisfied if nothing else. Lionsgate's Blu-Ray boasts deleted/extended scenes, a gag reel, a 1080p (1.78) AVC encoded transfer, 5.1 DTS MA sound and a Digital HD copy.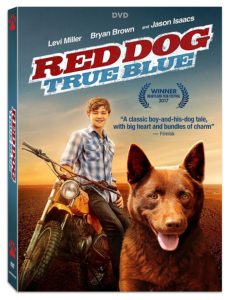 Lionsgate New Releases: The Mexican hit HAZLO COMO HOMBRE (109 mins., 2017, R) is new to DVD from Lionsgate this week. Mauricio Ochmann and Aislinn Derbez star in this comedy about a macho man who finds out his best friend is gay. Nicolas Lopez's film includes a Making Of segment, 16:9 transfer and 5.1 Spanish audio with English subtitles in Lionsgate's package…the Australian drama RED DOG – TRUE BLUE (88 mins., 2017, Not Rated) is a family film about an 11-year-old who's sent out to his grandfather's (Bryan Brown) ranch, where he befriends a scrappy canine. This prequel to the 2011 Aussie hit "Red Dog" co-stars Jason Isaacs and should come as a recommended view for older kids and adults, especially if you've seen the original film. Lionsgate's DVD offers a variety of extras including deleted scenes, storyboards, a still gallery, featurettes, a 16:9 (2.39) transfer and 5.1 sound…Coming February 20th is another wacky Cinetel Films TV-film, DOOMSDAY DEVICE (85 mins., 2017), starring Corin Nemec as an FBI agent trying to find whoever stole a Japanese artifact…that has the power to end the world! Robert Carradine pops up in this silly affair featuring a 16:9 (1.78) transfer and 5.1 sound…Also available on February 20th from Lionsgate is RISE OF THE FOOTSOLDIER PART II (111 mins., 2016, R), a sequel to the 2011 film starring Ricci Harnett as Carlton Leach, still reeling over the death of his friends and trying to take vengeance after rising through the criminal underworld ranks. Harnett also wrote and directed this violent follow-up, on DVD sporting a Making of, Harnett's commentary, a 16:9 (2.40) transfer and 5.1 Dolby Digital sound…Jon Heder, Chevy Chase, and internet stars Anthony Padilla and Ian Hecox (Smosh creators) provide a few of the voices in HEDGEHOGS (94 mins., 2017, PG), the tale of an idealistic hedgehog who joins forces with a pigeon en route to the big city where they attempt to calm its nervous human residents. Social media star @jennxpenn also serves as one of vocal cast in this imported Chinese production, now on DVD from Lionsgate sporting a recording casr featurette, 16:9 (2.40) transfer and 5.1 English sound.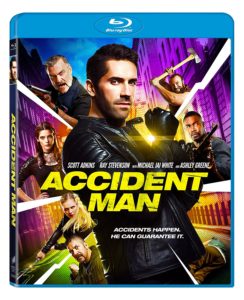 ACCIDENT MAN Blu-Ray (105 mins., 2017, R; Sony): Scott Adkins' latest entry in the low-rent direct-to-vid genre stars the prolific actor as the "Accident Man," a hitman who becomes an avenger after his ex-girlfriend is killed, forcing him to take out some of his own fellow assassins in the London underground. Pat Mills created "Judge Dredd" and co-wrote a British comic named "Toxic!," which "Accident Man" is derived from. This Adkins-produced Destination Films production is a cut-above for the action hero's filmography, offering some colorfully bombastic action helmed by Jesse V. Johnson. Sony's Blu-Ray is out February 6th featuring a commentary from Adkins and fellow producer Stu Small, two featurettes, a 1080p AVC encoded transfer and 5.1 DTS MA sound.
BATMAN: GOTHAM BY GASLIGHT 4K Ultra HD Combo Pack (78 mins., 2018, R; Warner): Definitely one of the more satisfying DC Comics animated offerings, "Gotham By Gaslight" posits an alternate-universe timeline where, in the late 19th century, Bruce Wayne's Batman tracks down Jack the Ripper against the backdrop of the World's Fair coming to Gotham City. Brian Augustyn and Mike Mignola's 1989 graphic novel provides a unique setting for this finely rendered adaptation, filled with atmosphere and R-rated gore which makes it unsuitable for kids. Older Bat-fans should be satisfied, though, especially with Warner's 4K UHD presentation offering HDR highlights, a pleasing amount of colors, DTS MA 5.1 audio, commentary with director Sam Liu, writer Jim Krieg and executive producer Bruce Timm, plus a featurette, two bonus cartoons and a sneak peek at the forthcoming DC animated movie "Suicide Squad: Hell to Pay."
ANIMAL KINGDOM – Complete Second Season DVD (640 mins., 2017; Warner): TNT's attempt to corner the "Sons of Anarchy" crowd after the conclusion of that hit FX series is set in a Southern California beach town. As seen through the eyes of a 17-year-old whose troubled mother just died from an overdose, "Animal Kingdom" profiles yet another crime family presided over by a particularly fierce matriarch (here essayed by Ellen Barkin), with its conflicted lead character having issues acclimating himself to his extended family. Sounds familiar, but it's slickly executed just the same, with Season 2 of "Animal Kingdom" once again finding the crew dealing with their manipulative matriarch over the course of 13 episodes. Though initially released on Blu-Ray, "Animal Kingdom''s second season is DVD only, available this week sporting deleted scenes, a "Dissecting Pope" featurette, 16:9 transfers and 5.1 sound.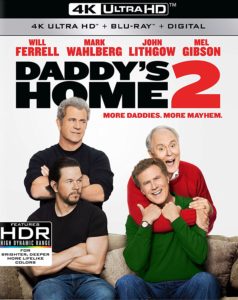 SAME KIND OF DIFFERENT AS ME Blu-Ray (119 mins., 2017, PG-13; Paramount): Adaptation of the New York Times bestseller stars Greg Kinnear as an art dealer who befriends a homeless man (Djimon Hounsou), transforming both his life and his marriage to wife Renee Zellweger. Michael Carney's film of "Same Kind Of Different As Me" leaves out a lot of its religious components but still functions as a passable feel-good picture with earnest performances from the cast. Poised to make more noise on home video after a meager box-office showing, the film is now on Blu-Ray in a 1080p transfer with 5.1 DTA MA sound, commentary from Carney and the screenwriters, deleted/extended scenes, featurettes and a Digital HD copy.
DADDY'S HOME 2 4K UHD Combo Pack (99 mins., 2017, PG-13; Paramount): Easy-to-please sequel with a holiday setting reunites Will Ferrell and Mark Wahlberg as the bickering duo brought together again for a single family outing – this time with the added complication of their respective dads (John Lithgow, Mel Gibson) thrown into the mix. Director Sean Anders' sequel adheres to the same blueprint as its predecessor with a rapid-fire pace and lots of gags, only some of which hit the mark; for a family comedy, it also never veers far from the PG part of its PG-13 rating. Pretty much by-the-numbers, the Boston-lensed "Daddy's Home 2" is worthwhile mainly to see Lithgow and Gibson relaxed and having fun here – and hopefully earning some money to support a worthwhile cinematic endeavor on the latter's behalf as well. Paramount's attractive 4K UHD combo pack is out February 20th featuring a host of extras (gag reel, deleted scenes, featurettes), a Digital copy, Blu-Ray disc, and an HDR-boosted, just-fine HVEC transfer with Dolby Atmos audio and Dolby Vision capability.
HOMELAND – The Complete Sixth Season Blu-Ray (604 mins., 2017; Fox): Disappointing sixth season of the once-great Showtime series reconfigures its premise, throwing troubled CIA analyst Carrie Mathison (Claire Danes) towards domestic strife involving the new President, her former boss Saul's (Mandy Patinkin) increasingly odd behavior and the depressing decline of friend Peter Quinn (Rupert Friend). "Homeland" very clearly bet on the reality of a Hillary Clinton presidency as this uneven season struggles to break away from its usual terror-centric plots — the result is a real letdown with scattered moments of interest that, ultimately, make for its least satisfying season. Fox's now-available Blu-Ray includes a 2016 Paley Center Q&A, two featurettes, 1080p (1.78) transfers and 5.1 DTS MA soundtracks.
---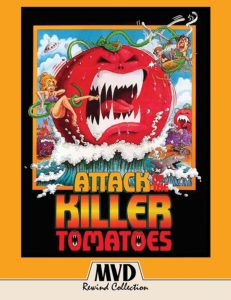 Arrow/MVD New Releases
ATTACK OF THE KILLER TOMATOES Blu-Ray/DVD (**, 87 mins., 1978, PG; MVD): One of the great horror titles of all-time, "Attack of the Killer Tomatoes" is a modestly amusing spoof from director John DeBello that became a cult favorite over the years. Indeed, the movie spawned a 1988 New World Pictures sequel (with George Clooney, one that Arrow has already covered on Blu-Ray), several made-for-video follow-ups in the early '90s, and even a Fox Kids animated Saturday morning cartoon!
It's a great story of an improbable franchise success, though let's be honest: the original movie itself isn't all that funny, filled with awkward performances and sporadic laughs that can't quite sustain its feature length. There is, however, a certain charm in the movie's quaint, homespun feel, and viewers nostalgic for memories of seeing the movie 30 years ago will love MVD's Special Edition BD/DVD, which reprises the bulk of the extras from Rhino's 2003 Special Edition DVD while – most significantly – including an attractively detailed 1080p (1.85) AVC encoded transfer that's leaps and bounds superior to the film's prior standard-def renderings.
On tap here is a commentary from the filmmakers, a Making Of with interviews, trailers, radio spots, deleted scenes, director John DeBello's original 8mm home movie, and plenty more. There's actually nothing new here in terms of extras, but the excellent transfer – colorful and detailed – makes this an enjoyable release for "Killer Tomatoes" fans.
Also new from MVD is THE AFTERMATH (96 mins., 1982), a low-budget, post-apocalyptic thriller from the early '80s which owes as much to "Planet of the Apes" as it does "Mad Max." In Steve Barkett's film, a spaceship returns from space to find a bombed-out Earth overrun with psychotic gangs led by character actor fave Sig Haig. Forrest J. Ackerman has a role in a film clearly shot on a thrifty budget, and which gets mileage out of FX by Robert and Dennis Skotak and Jim Danforth. MVD's Blu-Ray has been remastered in 2K from the original 35mm negative (1.85) with PCM mono audio, commentary, video supplements including interviews with composer John Morgan and other filmmakers, and Barkett's award-winning short "Night Caller," adapted from a Ray Bradbury story.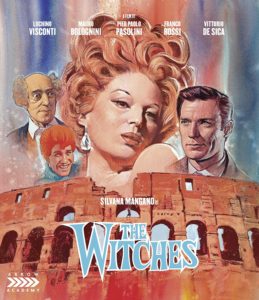 Arrow New Releases: A trio of new Blu-Rays highlight Arrow's latest releases. THE WITCHES (121 mins., 1968) stars Silvana Mangano in an anthology film that regrettably has little do with witches and less to do with entertainment. This Dino DeLaurentiis production offers a series of segments finding Mangano in stories ranging from lightly comic to melodramatic and unsatisfying, despite the involvement of directors Luchino Visconti, Mauro Bolognini, Pier Paolo Pasolini, Franco Rossi and Vittorio DeSica and co-stars like Clint Eastwood. Maybe worth a look for Italian cinephiles, "The Witches" makes its Blu-Ray debut from Arrow featuring a 2K restoration (1.85) from original film elements, Italian audio (PCM), new commentary by Tim Lucas, the English language version of the film presented on home video for the first time in any form, and reversible artwork…Roberto Rossellini's VIVA L'ITALIA (129 mins., 1961) is a documentary, commissioned by the Italian government, about the life of Giuseppe Garibaldi, his adventures with "The Thousand" and role in the country's unification. Arrow's Blu-Ray marks the film's debut in the North American home video market, sporting a 2K restoration from the original negative (1.66), Italian mono (PCM) with English subtitles, a shorter cut ("Garibaldi") prepared for the U.S. market, an interview with Rossellini's assistant, Ruggero Deodato, and a visual essay on the film from Tag Gallagher…Federico Fellini's ORCHESTRA REHEARSAL (72 mins., 1979) is a pseudo-documentary shot for Italian TV, following an orchestra performing in a dilapidated auditorium under the auspices of a crazy conductor. This late Fellini outing marked his final collaboration with the great Nino Rota, and Arrow's Blu-Ray boasts a new, exclusive 2K restoration from original film elements; a featurette with scholar Richard Dyer talking about Rota; a visual essay on the film from John Baxter; a gallery with rare poster/press material and other goodies.
Henri-Georges Clouzot followed classics like "Les Diaboliques" and "The Wages of Fear" with INFERNO (100 mins.), an ill-fated project starring Romy Schneider that went unfinished after three turbulent weeks of bickering and other issues. Serge Bromberg and Ruxandra Medrea's 2009 documentary takes viewers behind the scenes into the production with screen tests, interviews, and dramatizations of unfilmed scenes. Arrow's Blu-Ray includes a 1080p (1.78) widescreen transfer, 5.1 DTS MA (French with English subtitles), additional featurettes and interviews with Bromberg among others…Finally, the "Godfather of Gore" Herschell Gordon Lewis' THE GRUESOME TWOSOME (72 mins, 1967) hits Blu-Ray in a Special Edition from Arrow. This low-budget affair has been coupled with Lewis' "A Taste of Blood" as a bonus feature, with Arrow's Blu offering uncompressed PCM audio, 1080p widescreen (1.85) transfers, Lewis' introductions and archival commentaries, conversations with Lewis, Fred Olen Rey, trailers, and plenty more.
---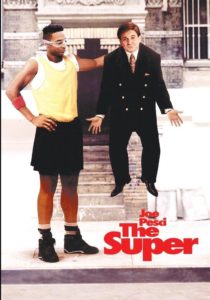 Warner Archive New Releases
THE SUPER DVD (86 mins., 1991, R): One of Joe Pesci's box-office misfires is this heavy-handed 1991 comedy starring Pesci as a slumlord sentenced to spend six months – in his own building! There, he learns how much his actions have impacted the lives of his tenants, including Ruben Blades in a Largo Entertainment production (released theatrically by Fox) that was sandwiched inbetween Pesci's box-office hits "Home Alone" and "My Cousin Vinny." Despite being savaged by critics and a commercial failure, "The Super" has generated something of a cult following apparently since its release. Warner's Archive DVD is the first release of the film on home video in some time, and offers a 16:9 transfer with 5.1 Dolby Digital sound of this oddball and occasionally quite Politically Uncorrect outing directed by Rod Daniel, and notable for housing the final performance of Vincent Gardenia.
Two new Blu-Rays are also available from the Archive this month: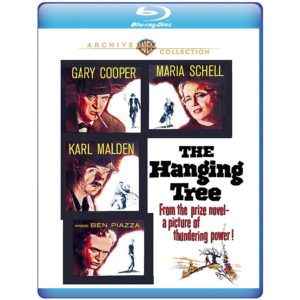 THE HANGING TREE Blu-Ray (107 mins., 1959): Interestingly if not completely successful late '50s western offers Gary Cooper as a doctor who settles into practice near a Montana gold camp, where he counters types ranging from a shady miner (Karl Malden) to an overzealous preacher (George C. Scott), as well as an immigrant (Maria Schell) blinded in a stagecoach accident. There's also the issue of Cooper's own past which comes into play in this Wendell Mayes-Halsted Welles script, effectively directed by Delmer Daves but trapped somewhere between the traditional studio films that preceded it and the more explicit genre exercises that followed. Max Steiner's score and some lovely cinematography help, not to mention the performances, with Scott hysterically chewing up the scenery and character actor Ben Piazza in an impressive "introductory" role. Warner's Archive Blu-Ray offers a sterling 1080p (1.78) color transfer and 2.0 DTS MA mono sound.
THE FLIGHT OF DRAGONS Blu-Ray (95 mins., 1982): Average animated TV-movie from the Rankin-Bass crew gets a surprise Blu-Ray release from the Warner Archive. Peter Dickinson's book was adapted by Romeo Muller for this feature-length tale of dueling wizards and dragons doing battle between the realm of magic and the 20th century real world, where a normal guy (voiced by John Ritter) is plucked to save the universe. Wayne Anderson's design is in line with Rankin-Bass' Tolkien adaptations and the storytelling on a similar level; Maury Laws' score is of that era also, featuring a sappy title tune crooned by Don McLean. Kids might enjoy it nevertheless, as well as Rankin-Bass completists. Warner's Archive Blu-Ray boasts a colorful transfer though the widescreen (1.78) framing seems overly cramped; the 1.33 TV version is also included, though sadly only in standard definition.
Pre-Code DVD Mania: Fans of pre-Code '30s releases have ample reason to get excited thanks to the Warner Archive this month. CHANCES (71 mins., 1932) stars Douglas Fairbanks, Jr. and Rose Hobart in the story of a chance meeting between a couple during WWI, leading to romance (he's unaware that she's his former childhood nemesis!) and tragedy. Fairbanks is also on-hand in I LIKE YOUR NERVE (62 mins., 1931), a zany affair with the star as a playboy who's kicked out of one Latin American country; he holes up in another one, just in time to stop lovely Loretta Young from entering into a loveless marriage. Boris Karloff chips in an early turn in a pre-Frankenstein appearance. Finally, THE FINGER POINTS (85 mins., 1931) offers a then-contemporary tale of Chicago's underworld, where an aspiring, just-arrived reporter (Richard Barthelmess) from the South finds himself in over his head at his job and with the mob. Clark Gable and Fay Wray lead a terrific cast in a taut pre-Code outing. All three titles are new to DVD and contain 4:3 B&W transfers.
---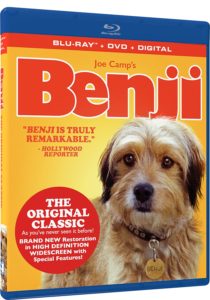 Label Wrap
Mill Creek New Releases: THE KIDS IN THE HALL COMPLETE COLLECTION DVD (aprx. 50 hrs, Mill Creek): Reissued Mill Creek 12-disc box-set offers the entire collection of episodes from "The Kids in the Hall," including all five seasons of the sketch comedy troupe's series. Best of all is the inclusion of "Death Comes to Town," which boasts over 90 minutes of original performances from the Rivoli Theater, archival footage that was previously never been seen before, the original pilot, interviews with the cast and producer Lorne Michaels, audio commentaries, full-screen transfers, 5.1 soundtracks and other extras for series fans.
BENJI Blu-Ray/DVD (86 mins., 1974, G; Mill Creek): Joe Camp's independently-produced 1974 feature became one of its year's Top 10 box-office hits, telling the story of a stray dog who gets wrapped up in all kinds of misadventures in and around the Dallas, Texas area. Largely forgotten now by the masses, "Benji" spawned a series of sequels and also raised the bar for live-action family films during its era, particularly as Disney was churning out one lousy film after another during the Ron Miller regime. Mill Creek's Blu-Ray/DVD combo pack includes commentary with Joe and Brandon Camp, the trailer and archival featurettes, a newly restored 1080p (1.85) transfer and PCM 2.0 audio.
MINNIE: HELPING HEARTS DVD (96 mins., 2018; Disney): Minnie and Daisy Duck are BFF's who take on a different task each day as "Happy Helpers," running the gamut from babysitters to cruise ship directors. Eight episodes from the Disney Junior series are out on DVD this week in time for Valentine's Day, including The Happiest Helpers Cruise, The Big Broadcast, Adventures in Buddysitting, Lights Camera Help!, Grandpa Beagle's Day Out, Artful Helpers, Cuckoo La-La, and Figaro's New Friend, all in 16:9 transfers and 2.0 Dolby Digital sound.
Film Movement New Releases: Andrei Konchalovsky's PARADISE (132 mins., 2016) is a tough Holocaust drama centering around a trio of characters – a Russian countess working for the French resistance, a French-Nazi collaborator investigating her case, and a German SS officer who once was in love with her – whose lives intersect. This acclaimed recent effort from Konchalovsky is now on DVD from Film Movement offering a 1.33 transfer, 5.1 sound (English subtitles) and Luke Popadic's German short "Red Snow"…Tanja Cummings' LINE 41 (96 mins, 2017) is a Holocaust documentary that looks at the city of Lodz, where the title streetcar would pass through the Jewish ghetto and never stop for a series of multiple years. One of the ghetto's survivors returns to the city after 70 years, looking for his brother, in Cummings' superb picture, available February 13th from Film Movement featuring a 16:9 transfer, 5.1/2.0 soundtracks and 25 minutes of bonus footage.
Well Go New Releases: Coming February 13th from Well Go is BROTHERHOOD OF BLADES II: THE INFERNAL BATTLEFIELD (121 mins., 2017), a prequel that brings back director Lu Yang and star Chang Chen, the latter playing Shen Lian in a story of how he became an imperial guard. Yang Mi and Zhang Yi co-star in this follow-up to Yang's popular original, here presented on Blu-Ray with a behind-the-scenes segment, both DTS: X Mandarin (with English subtitles) and dubbed English audio, a 1080p transfer and the trailer. A DVD is also included in Well Go's combo pack.
Magnolia New Releases: Takashi Miike's BLADE OF THE IMMORTAL (141 mins., 2017, R) is an epic, occasionally off-the-wall samurai affair about a warrior who becomes cursed with immortality, and who has to protect a young girl and avenge her parents in order to break the spell. The prolific Japanese filmmaker's riff on "Highlander" doesn't offer a ton of surprises and is burdened by a lengthy running time, but if you like the genre, Magnolia's Blu-Ray (out this week) is certainly worth a look. The label's BD includes an interview with star Takuya Kimura and other cast members, a featurette, poster gallery, 1080p (2.39) transfer and 5.1 Japanese or dubbed English DTS MA audio.
NEXT TIME: More of the latest releases! Until then, don't forget to drop in on the official Aisle Seat Message Boards and direct any emails to our email address. Cheers everyone!