By equal measure a mix of "Serpico," "Law & Order" episode and B-grade actioner, the very entertaining SHAKEDOWN (***, 96 mins. 1988, R) makes its Blu-Ray debut this month from Shout! Factory.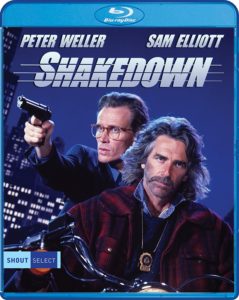 A well-reviewed Shapiro/Glickenhaus Entertainment production that met with modest box-office after being picked up by Universal for theatrical release, "Shakedown" stars Peter Weller as a burned out NYC defense attorney assigned to represent a drug dealer (future "Law & Order" prosecutor Richard Brooks) who guns down a "Blue Jean" (undercover) cop he claims was in self-defense. Weller uncovers vast corruption in the police department during his investigation and requires the help of a grizzled detective (Sam Elliott) to work his client out of trouble – all while avoiding bad cops who want both of them dead.
James Glickenhaus' directorial career is mostly populated with low-grade thrillers and "Shakedown" pretty much represents his peak – working with a larger budget than usual, "Shakedown" makes exceptional use of Big Apple location shooting and gives Weller a plum role that showcases his intensity. He bounces off Elliott well, though the veteran co-star doesn't have nearly as much to do outside of several gut-busting action sequences: a car chase through 42nd Street, a Coney Island rollercoaster pursuit of a suspect, and finally, a one-of-a-kind, bonkers climax involving a red Ferrari and a jet that eventually makes its way through the World Trade Center towers in an outlandish bit of filmmaking that's nevertheless an awful lot of fun.
"Shakedown" received the coveted Two Thumbs Up from Siskel & Ebert and a number of other solid reviews (*** stars from Leonard Maltin too), and it's a tidy, effective little film that tries to say something meaningful about police corruption at the same time it just wants to entertain by any means necessary. The action scenes are silly but they're also finely executed, especially the climax (shot at a runway in Quonset, R.I.) that showcases the kind of old-school, real stuntwork that's sadly become a dying artform in the 21st century due to Hollywood's heavy reliance on CGI.
Shout's Blu-Ray features a respectable 1080p (1.85) AVC encoded presentation that's far from pristine yet is still a cut above most Universal catalog transfers. The 2.0 DTS MA stereo audio is more impressive in its delivery, featuring a fine mix of effects and location-based audio; even Jonathan Elias' electronic score is superior for its genre as well. Extras here include a sporadic commentary with Glickenhaus, an interview and introduction from the director, plus a segment where the director discusses his run-in with jazz great Miles Davis after an accident in New York City. A still gallery and trailer round out the disc. Recommended!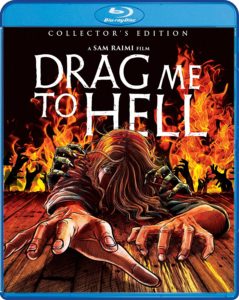 Also New From Shout!: Like a veteran conductor returning to supervise the performance of a symphony he knows by heart, Sam Raimi's 2009 film DRAG ME TO HELL (**½, 99 mins., 2009, PG-13/Unrated; Shout!) represents a coming home of sorts for the director of the "Evil Dead" and "Spider-Man" films.
The fetching Alison Lohman stars as Christine Brown, a normal, everyday young woman working in a bank who has a gypsy curse thrust upon her by an old woman seeking an extension on her mortgage payment. Soon Christine is stalked by a demon that lurks in the shadows; has nightmarish visions of the old woman sleeping in her bed; and seeks out spiritual counseling from a medium who tells her she could try to appease the demon by murdering her kitten! And if all that wasn't bad enough, she's been passed over for a promotion at work, while the stuffy family of her boyfriend (Justin Long) thinks she's not prime material for their son.
After overseeing Sony's three blockbuster "Spider-Man" films, there's little doubt Sam Raimi could have selected basically any type of film he wanted for his next project. However, instead of trying to go "serious" and make an "important" film as other genre filmmakers have in the past — or continue along the big-budget path established by the Spidey films — Raimi chose to go back to his roots with "Drag Me to Hell."
Working from a screenplay he wrote with his brother Ivan, Raimi's modestly-budgeted "small" horror piece is a throwback movie in many ways: from the opening Universal Pictures logo of decades past, to the old-time morality play at the story's center, "Drag Me to Hell" looks and feels like the kind of chiller Hollywood left behind years ago. Eschewing the washed-out cinematography and explicit violence of modern "torture porn" movies as well as the sterile, humorless tone of Japanese horrors we've seen over the last 15 years (one series of which — the "Grudge" films — Raimi helped to import to these shores), "Drag Me" is an intimate, playful though not entirely lightweight tale of a girl who makes a bad decision and feverishly spends the next few days attempting to find a way — any way — out of it.
It's a movie that's quite entertaining on balance, mixing horror with some humor, backed by a fine performance from Lohman (in a role that's not completely sympathetic) and virtuosic filmmaking from its director. There's gore, but the movie's fantasy angle diminishes its edge to the degree where, these days, its PG-13 rating doesn't feel entirely out of place. There are numerous scary moments (and some tremendous sound design), but they're mostly of the "old school" variety where Raimi works in shadows, editing and camera work to suggest the supernatural instead of relying on an endless parade of CGI to explicitly show it. And there's a message lurking underneath it all, which is likely to be lost on younger viewers just in it for the ride, that you'd better be a genuine person and respect others or else suffer the consequences — as in, being attacked by a demon that, as long-time Raimi fans will fondly recall, just wants to swallow your soul.
All that said, it's easy to overrate "Drag Me to Hell" because most of what we've seen in the horror genre is so reprehensible these days that anything that doesn't follow that trend comes across as a breath of fresh air. And it's true that the film's structure proves repetitive, with an ending so predictable that horror fans are likely to be sitting there wondering when the "big shock" is going to happen far in advance of its reveal. What's worse, Raimi holds that moment until the very end, concluding the film on a "that's all there is?" type of note that really hurts this film's replayability (and perhaps one reason the film doesn't seem to have developed much of a following, even with its box-office success).
Scream Factory's Blu-Ray is due out in a few weeks and sports a brand-new HD master of both the theatrical version and an unrated cut (with some extra gore), each derived from the 2K Digital Intermediate. Both the transfer and active 5.1 DTS MA soundtrack are superb and new extras include interviews with Alison Lohman, actress Lorna Raver and Christopher Young (who contributes a haunting score), with "Production Video Diaries" reprised from the prior Universal format release.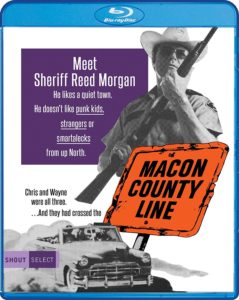 "Beverly Hillbilles"' Jethro, Max Baer, co-wrote, produced and starred in MACON COUNTY LINE (88 mins., 1974, R), a taut drive-in hit that became one of the major independent success stories of the '70s. This unpleasant though admittedly effective exploitation drama is loosely based on a true story, with a couple of brothers (Alan and Jesse Vint) joyriding around the south along with a hitchhiker (Cheryl Waters) when they run afoul of a psychotic sheriff (Baer) whose wife was just killed by a a pair of drifters. A case of mistaken identity paves the way for a nasty, atmospheric film now on Blu-Ray from Shout Factory. In addition to an effectively crisp 1080p (1.85) AVC encoded transfer, the Blu-Ray offers director Richard Compton's commentary from an older Anchor Bay DVD release (a subsequent Warner DVD left it off), the fine documentary "Macon County Line: 25 Years Down the Road," the trailer, plus a new interview with editor Tina Hirsch…Coming February 6th from Shout in their IFC series is WALKING OUT (96 mins., 2017, PG-13), a downer from writer-directors Alex and Andrew Smith. Josh Wiggins plays a teenager who travels to visit his father (Matt Bomer) in the Montana mountains each year – after the duo encounter a bear, Wiggins has to rise to the occasion to save them both in a talky and grating picture with an unsatisfying ending. Shout's Blu-Ray includes behind-the-scenes footage and the trailer, a 1080p (2.40) AVC encoded transfer and 5.1/2.0 DTS MA stereo.
GKids New Releases: Coming February 6th from GKids are two more entries in GKids' new Blu-Ray/DVD retrospectives from the Studio Ghibli library. POM POKO (119 mins., 1994, PG) is Isao Takahata's action-oriented fable about a group of "tanuki" (raccoon dogs) whose woodland home is being threatened by vile humans looking to put up a proverbial parking lot. They shapeshift into a group of humans and spirits to save their home in this 1994 Ghibli production, here presented with a 1080p (1.85) transfer, 2.0 Japanese or English DTS MA audio, DVD, storyboards and trailers. Also due out in early February is TALES FROM EARTHSEA (116 mins., 2006, PG-13), Goro Miyazaki's animated film derived from Ursula K. Le Guin's bestselling novels and Hayao Miyazaki's adaptation "Shuna's Journey." Colorful animation make for an entertaining fantasy backed here by a 1080p (1.85) transfer with 5.1 DTS MA English or Japanese audio, segments on the soundtrack, an NTV Special, storyboards, trailers, TV spots, a DVD copy and exclusive booklets in both releases…GKids also has NAPPING PRINCESS (106 mins., 2017, Not Rated) due out on Blu-Ray/DVD January 30th. This anime offering from Kenji Kamiyama focuses on a teenager who, three days before the opening of the 2020 Tokyo Olympics, finds herself dreaming of a future world named Heartland filled with amazing mechanical creations. GKids' combo pack includes an interview with Kamiyama, Japanese premiere footage, Okayama scenery, cast interview, TV special, trailers, a 1080p (1.85) transfer and both 5.1 DTS MA English/Japanese soundtracks.
---
Also New & Noteworthy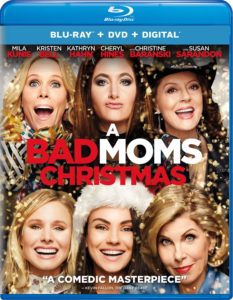 A BAD MOMS CHRISTMAS Blu-Ray Combo Pack (105 mins., 2017, R; Universal): Weak sequel to "Bad Moms" brings back Mila Kunis, Kristen Bell and Kathryn Hahn as the not-really "bad" mothers who this time have to contend with their own parental units (Cheryl Hines, Christine Baranski, Susan Sarandon). Can they all survive Christmas? A few mild laughs probably aren't going to be enough to sustain interest for most in this mediocre follow-up to a movie whose charms were modest to begin with; Christina Applegate is also sorely missed as the trio's adversary from the first film (she only shows up in a token cameo). Universal's Blu-Ray boasts a 1080p (2.40) AVC encoded transfer, 5.1 DTS MA sound, additional scenes, a gag reel, music video, trailers and a Digital HD copy.
GOODBYE CHRISTOPHER ROBIN Blu-Ray Combo Pack (107 mins., 2018, PG; Fox): The life and times of author A.A. Milne weren't as rosy as his enchanting Winnie the Pooh stories might imply – something that's rammed home repeatedly in the well-intentioned yet heavy-going "Goodbye Christopher Robin," a biopic from director Simon Curtis. Domhnall Gleeson – the First Order's resident bad guy – gives a capable performance as Milne with Margot Robbie as his stuffy wife, but the Frank Cottrell-Boyce/Simon Vaughan screenplay doesn't make for a particularly appealing film, nor is it suitable for family audiences despite its rating and marketing. Fox's Blu-Ray includes commentary from Curtis and Cottrell-Boyce; numerous featuretes; a 1080p (1.85) transfer, 5.1 DTS MA sound, a DVD and Digital HD copy.
THE DEUCE – Complete First Season Blu-Ray (500 mins., 2017; HBO): The rise of the porn industry in and around New York City is given a workout in David Simon and George Pelecanos' new HBO series. James Franco and Maggie Gyllenhaal are two of the players who jump in on the fledgling world of porn in a grimy Times Square circa 1970, and over the course of eight episodes, Simon delivers a gritty, character-driven show that's interesting while not always easy to embrace. HBO's Season 1 Blu-Ray is out February 13th offering commentaries with cast/crew, Inside the Episode segments, two featurettes, 1080p transfers, 5.1 DTS MA audio and a Digital HD copy.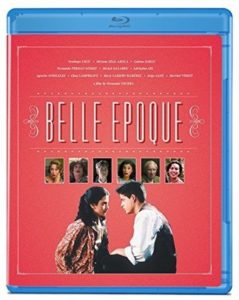 RESET (106 mins., 2017, Not Rated; Well Go USA):  In "Reset," Yang Mi plays Xia Tian, a scientist on the verge of a major discovery involving time travel when her son is kidnapped and held for ransom. After the deal to get him back goes wrong, Xia goes back in time in an effort to save him and herself in this Jackie Chan-produced Hong Kong import, on Blu-Ray February 6th from Well Go. The 1080p transfer and DTS X soundtrack (Mandarin with English subtitles) are both top notch.
BELLE EPOQUE Blu-Ray (109 mins., 1992, R; Olive Films): Fernando Trueba's playful Spanish film makes its Blu-Ray debut this month from Olive Films. The 1994 Oscar winner for Best Foreign Film, Rafael Azcona's original story is set in a politically divided, 1931 Spain, where a soldier (Jorge Sanz) decides to go AWOL – and does it in the best place possible: a home owned by Fernando Fernan Gomez that's populated by his four visiting daughters, one played by Penelope Cruz. Olive's Blu-Ray includes a 1080p (2.35) transfer and 2.0 DTS MA sound in Spanish with English subtitles.
MPI/Sundance Selects New Releases: Surfing fans should love TAKE EVERY WAVE: THE LIFE OF LAIRD HAMILTON (118 mins., 2017), a documentary on the sports legend who both revolutionized surfing at the same time he irritated purists with some of his innovations. Hamilton's life is chronicled alongside some terrific surfing footage, enough that you'd wish this doc from Rory Kennedy had been released on Blu-Ray. MPI's DVD is out this week featuring a 16:9 transfer and 5.1 sound…Luke Korem's DEALT (86 mins., 2013-17) is a documentary on magician Richard Turner, whose amazing sleight of hand feats are made even more incredible by the fact that he's blind. A fascinating documentary out on DVD February 13th from MPI sporting deleted scenes, a featurette, 16:9 transfer and 5.1 Dolby Digital sound.
---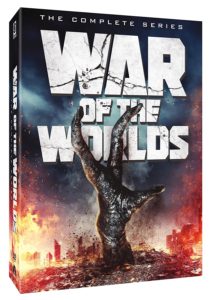 TV on DVD
WAR OF THE WORLDS: THE COMPLETE SERIES DVD (1988-90, 33 hours; CBS): 25 years after the events of the original "War of the Worlds," the dormant alien bodies that the government rounded up return to life…just in time to complete the job they didn't finish in George Pal's classic film. Brash scientist Harrison Blackwood (Jared Martin), the surrogate son of the late Dr. Forrester, teams up with his beautiful new assistant (Lynda Mason Green) and an initially reluctant army colonel (Richard Chaves) in tracking down the extraterrestrials, who can now assume human bodies for a time before they decompose.
Though highly promoted by Paramount and paired in syndication with "Star Trek: The Next Generation" on most local stations, "War of the Worlds" never took off in the ratings. Now out on video in a "Complete Series" box for the first time, this somewhat pedestrian but well-acted show is a good deal more entertaining than I recall it being. Martin, Green and Chaves end up developing a decent chemistry with each other, and the references to the original Pal film (and even Orson Welles' 1938 radio broadcast, here designated as the Martians' first, failed invasion!) are neat.
Alas, despite using the design of the Martians and their ships from the Pal classic, the special effects were always meager at best and remain a sore point. The synthesized '80s score and modest production values have aged the show from a technical standpoint as well – and what's worse, the series returned for a second year by abruptly killing off two of its key characters and added a different group of aliens trying to invade the Earth (and fans, naturally, weren't happy).
CBS' 11-disc set features all 43 episodes from the series including its 90 minute pilot. CBS previously issued a Season 1 only set back in 2005 so this new DVD release features the debut of the show's poorly-received second season on home video for the first time. The full-screen transfers are fine, in keeping with the program's modest production values, and any softness or grain inherent in the image is almost certainly a product of the latter. The stereo soundtrack is moderately effective.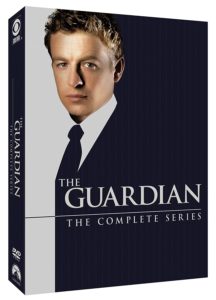 Also making its inaugural appearance in a "Complete Series" DVD is the relatively short-lived but certainly fondly-remembered ABC comedy BOSOM BUDDIES (15 hours, 1980-82; CBS), which boasted Tom Hanks and future "Newhart" star Peter Scolari as a pair of young professionals, tossed out of their condemned apartment, who find a new place to live — in a women's hotel, necessitating some very "Some Like It Hot" shenanigans! While "Bosom Buddies" only ran for two seasons, the series has remained in the public eye due to various cable airings and the very appearance of Hanks, here fine-tuning his comedic skills in a somewhat pedestrian but at least amiable series which co-starred Wendie Jo Sperber and Donna Dixon.
CBS' six-disc set includes all 37 episodes of "Bosom Buddies," including the banged-up pilot (shot on film) as well as its subsequent episodes, which were recorded on video tape. The image quality does vary and some music was changed for the DVD — including the theme song, which was originally Billy Joel's "My Life" during its initial network run. Not wanting to pay Joel's surely-exorbitant fees, the theme was switched to an original Stephanie Mills song written by the series' composers, Dan Foliart and Howard Pearl, during its USA network run, and that theme has been retained here. However, it's possible there are other edits during the episodes, as a disclaimer on the back jacket indicates "some music has been changed and some episodes may be edited from their original network versions."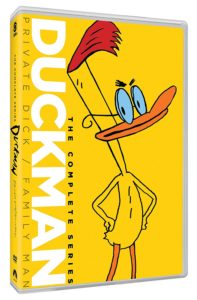 THE GUARDIAN – The Complete Series DVD (49 hours, 2001-04; CBS): Before he became "The Mentalist," Simon Baker made his first splash on U.S. TV in this 2001-04 CBS series as a high-powered attorney who has to perform community service after being arrested on a drug charge. Subsequently Baker finds he'd rather work with the Children's Legal Services of Pittsburgh instead of his usual day job, setting the stage in motion for a typical "court procedural" series relying on the charms of its star to get by. Certainly Baker made enough of a name for himself in "The Guardian" to establish future roles for the star, and CBS's new boxed set houses all three seasons (67 episodes) of the show – co-starring Dabney Coleman, Alan Rosenberg, Wendy Moniz and Raphael Sbarge – on 18 DVDs with 16:9 transfers and 2.0 Dolby Digital soundtracks.
DUCKMAN – The Complete Series DVD (26 hours, 1994-97; CBS): Jason Alexander voiced this animated private eye in an Emmy-nominated USA Network comedy that's been collected here in a Complete Series package from CBS. The 10-disc set includes all 70 episodes from four seasons of "Duckman" with 4:3 transfers, stereo soundtracks and numerous extras, including animatic mock-ups, promo spots, pencil tests and other goodies for series fans.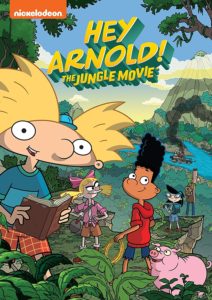 RUGRATS – Season 3 DVD (639 mins., 1993-95; Nickelodeon/Paramount)/RUGRATS – Season 4 DVD (413 mins., 1996-98; Nickelodeon/Paramount): One of the most popular cable cartoons of all-time, Nickelodeon's "Rugrats" was also one of the highest-rated series for Nickelodeon during the '90s. Paramount has at last listened to fans clamoring for comprehensive DVD releases of the program and produced Season 3 and 4 packages streeting this week on disc (following Season 1/2 sets that were released last summer). Season 3 is a 4-disc set featuring over 10 hours of fan-favorite shows, while Season 4 includes a pair of discs, including the popular episodes "Spike's Babies" and "Chicken Pops." Stereo soundtracks and 4:3 transfers make these a must for "Rugrats" fans, some of whom likely have kids of their own by this point…Also new from Nickelodeon this month is HEY ARNOLD! THE JUNGLE MOVIE (80 mins., 2017), an original, feature-length effort that finds Arnold trying to locate his lost parents during a class trip to San Lorenzo, where they were last seen. Jungle adventure and fun dominate this fan-friendly follow-up to the popular series, on DVD February 13th from Nickelodeon and Paramount sporting a 16:9 transfer and stereo sound.
STEVEN UNIVERSE – The Complete First Season DVD (572 mins., 2018; Warner): Popular Cartoon Network series beams down on DVD in "Complete" form for the first time. This double-disc DVD set from Warner houses the first 52 episodes from "Steven Universe," as Steven discovers his powers for the first time and impacts the lives of Beach City residents as well as his friends. Exclusive featurettes, musical performances, song demos and animatics adorn Warner's DVD set plus 16:9 transfers and 2.0 Dolby Digital soundtracks.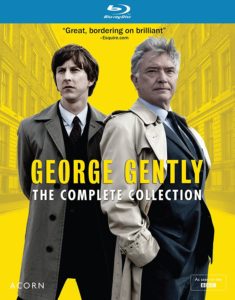 Acorn New Releases
New to Blu-Ray and highly recommended from Acorn is the Complete Collection of GEORGE GENTLY (37 hours, 2007-15) starring Tony nominee Martin Shaw as Inspector George Gently, a London detective who teams with young cop John Bacchus (Lee Ingleby) and – later – constable Rachel Coles (Lisa McGrillis) to investigate a series of crimes in Northumberland, a remote region of Britain during the mid '60s. Guest stars Richard Armitage, Phil Davis and Jon Kavanagh appear throughout this superb series, which Acorn has previously released in separate Series 1-8 Blu-Rays.
This box-set houses all 25 Gently mysteries on 13 Blu-Ray discs with 1080i (Series 1-5) and 1080p (6-8) transfers, PCM (1-5) and 2.0 DTS MA (6-8) stereo audio, and numerous extras. Among the latter are 47 minutes of behind-the-scenes featurettes, a half hour of cast/crew interviews, a 20-page booklet with information and additional interviews, production notes, a photo gallery, and other goodies. Affordably priced and well worth a look for British mystery lovers.
Also new from Acorn on Blu-Ray: Dr. Martin Ellingham (Martin Clunes) and his estranged wife (Caroline Cayz) are back together with their son, but domestic problems still abound in Season 8 of DOC MARTIN (413 mins., 2017), now on video from Acorn. Guest stars include Sigourney Weaver and Caroline Quentin in this 8th series of the program, which features 70 minutes of behind-the-scenes featurettes, 40 minutes of interviews, 1080p transfers and 5.1 soundtracks…in ACCEPTABLE RISK (322 mins., 2017), Elaine Cassidy plays a woman whose husband is killed while working for an international pharmaceutical company; a dogged detective (Angeline Ball) is on the case, investigating the possibility that the death of Cassidy's first husband might be in play. Acorn's Blu-Ray includes 1080p transfers, 5.1 DTS MA soundtracks, cast/crew interviews and over an hour of behind-the-scenes featurettes.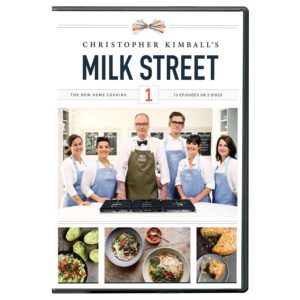 PBS New Releases
CHRISTOPHER KIMBALL'S MILK STREET Season 1 DVD (7 hours, 2017; PBS): The creator of "America's Test Kitchen" turbulently broke from his successful series to start up his own new program. "Milk Street Television" features a mix of cooking segments from Kimball's Boston title studio as well as material shot around the globe, including Thailand, Mexico, Peru, Israel and London. Both traditional recipes and new cuisine are balanced in each episode, from Georgian Chicken Soup to Italian Flatbread, with Spanish, Japanese, and Tahini recipes all interspersed throughout. PBS' Season 1 DVD includes widescreen transfers, stereo audio and nearly seven hours of content on two DVDs.
AMERICAN EXPERIENCE: INTO THE AMAZON DVD (120 mins., 2018; PBS)/AMERICAN EXPERIENCE: THE GILDED AGE DVD (120 mins., 2018; PBS): A pair of excellent new "American Experience" documentaries also are new to DVD from PBS. "Into The Amazon," narrated by Oliver Platt with voice-overs provided by Alec Baldwin and Wagner Moura, relays the story of how President Teddy Roosevelt and Brazilian explorer Candido Rondon lead over 20 adventurers into the Amazon rainforest in 1914, only to have one man commit murder and another drown en route. "The Gilded Age," meanwhile, offers an examination of how the US population doubled during a single generation in the latter part of the 19th century. Both documentaries offer historian interviews, archival photographs and both 16:9 transfers and 5.1 soundtracks.
FINDING YOUR ROOTS – Season 4 DVD (10 hours, 2017; PBS): Henry Louis Gates, Jr.'s terrific PBS series once again divulges the lineage of a wide variety of guests, including Ted Danson, Christopher Walken, Amy Schumer, Paul Rudd, Lupita Nyong'o, Bryant Gumbel, Scarlett Johansoon and Larry David among others. Season 4 of "Finding Your Roots" is now available in a three-disc DVD set from PBS sporting 16:9 transfers and stereo sound.
---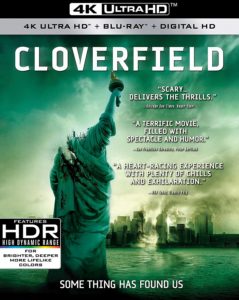 4K New Releases
With Paramount having just recently pushed back its mysterious new "Cloverfield" sequel to later this spring, fans have more time to revisit both of the (loosely-connected) series' prior entries now on 4K UHD: CLOVERFIELD (**½, 84 mins., 2008, PG-13) and 10 CLOVERFIELD LANE (**½, 103 mins., 2016, PG-13; Paramount).
CLOVERFIELD was the Winter '08 box-office hit that finds New York City under attack from a giant behemoth, as seen through the lens of a hand-held camcorder being operated by one of the Big Apple's residents trying — along with his buddies — to get away from the beast.
No matter that Roland Emmerich and Dean Devlin captured a bit of this same feeling in their 1998 "Godzilla" (indeed, some of this movie's more evocative shots of the creature running amok bear more than a passing resemblance to that much-ballyhooed 1998 box-office disappointment) — producer J.J. Abrams, writer Drew Goddard and director Matt Reeves (both veterans of Abrams' stable) have fashioned a film that lives up to its billing as "Godzilla meets the 'Blair Witch Project'", at least to some degree.
"Cloverfield" opens with a group of nameless faces congregating at an apartment party. In what is easily the film's weakest stretch, Reeves and Goddard try to establish their limp set of lead characters in nearly interminable sequences that feel like a poorly-shot WB soap opera. You never care about any of these twentysomething protagonists, their relationships and current dating status (who dumped and slept with who, etc.). It's all routine and less than interesting, with all of these early bits feeling like the filmmakers were just killing time getting to "the good stuff."
When it does, "Cloverfield" functions much like any other giant monster movie: the big lug cuts a path of destruction throughout the Big Apple, before shaking loose a group of tiny offspring that look like a cross between "Alien" face-huggers and a smaller version of the central creature. Buildings are leveled, bodies are stockpiled, and what military figures the core group of characters encounter have less information than you'd anticipate.
There's nothing groundbreaking about "Cloverfield" in terms of its thrills or special effects, though what it makes it unique is how it portrays the creature's arrival. The shaky, hand-held camera barely stays level for long, and some 70+ minutes of this approach tends to go a long way. Watching the film at home may make the effect less potent than it was in theaters (where there were countless reports of audiences feeling ill), but it still could prove to be a turn-off for some viewers.
That disclaimer aside, "Cloverfield" is really just an old-fashioned monster mash, and its effects (from Double Negative and Phil Tippett's Studio) are effective enough to provide satisfying entertainment for sci-fi/fantasy aficionados. Had the human element of the movie worked at all, Abrams and his group would've had something special here, but the weak and unappealing characters come across more as types than real people.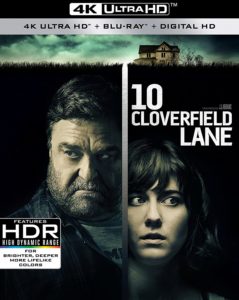 Eight years after the original's release, the more conventionally shot 10 CLOVERFIELD LANE made a surprising drop into theaters, and was greeted with similar fan enthusiasm (as well as mixed/positive reviews).
Saved from the wreckage of her trashed car by a survivalist (John Goodman) who may or may not be a psycho, Mary Elizabeth Winsted's heroine is subsequently held captive after an – apparent – apocalyptic event sends the world into a basic blackout. Loud noises can be heard from above, horrifying moans and the occasional human victim reveal themselves – but is Goodman's character lying about the terror, or is there really an "invasion" of some kind happening above?
This oddball, loosely connected sequel to "Cloverfield" tries hard to throw viewers off and keep them guessing about the true motives of Goodman's character. The actor is delicious here, savoring the quirky creepiness of an ayptical role for the actor, but there does come a point in the Josh Campbell-Matt Stuecken-Damien Chazelle script when you feel as if you've been played one too many times ("he's a psycho! No, he's a nice guy! No, he really IS a psycho!").
Ditto for "10 Clovefield Lane" itself, which functions as an engaging little B-movie that doesn't really offer the potential of repeat viewing. Director Dan Trachtenberg, working from a heavy Abrams influence one would imagine, can't entirely seem to make up his mind as to what, precisely, the film is: a tiny, three-character isolationist thriller – or the movie it turns into its last 20 minutes, which feels like a different picture altogether? Frankly, I rather liked the last part of the movie more than the three-character "play" section, which is hampered by its sub-Hitchcockian script and some overscored musical passages by Bear McCreary (which essentially opens at a "10″ on the dramatic scale and has nowhere else to go, despite how well-written it is). Winsted, though, provides a heroine who's easy to pull for, and the wild finale is nearly enough to whet one's appetite for future – and very likely more straightforward – "Clovefield" adventures, one of which is due out in a couple of months.
4K Rundown: Both "Cloverfield" films make their way to 4K UHD this week in HDR enhanced HVEC transfers with the added benefit of Dolby Vision for those with that capability. Dolby Atmos (10 Cloverfield Lane) and Dolby TrueHD (Cloverfield) audio also adorn the discs, which in general offer a nice boost over their Blu-Ray counterparts – especially the more cinematic "10 Cloverfield Lane," which offers a richer spectrum of colors and lighting effects than its Blu-Ray predecessor. With handheld video factoring into the original "Cloverfield," its gains are more minimal though I still found the overall presentation quite satisfactory on its own terms, and a step up from Blu-Ray, especially during its FX sequences. Extras are all carried over on the Blu-Ray discs from their prior releases with Digital HD copies on tap for good measure.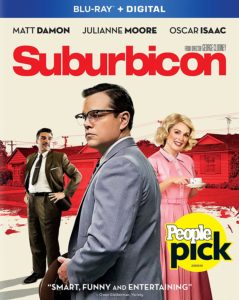 New on Blu-Ray from Paramount on February 6th is SUBURBICON (**, 105 mins., 2017, R), a box-office wipe-out from director George Clooney, who helmed this heavy-handed castoff from the Coen Brothers and Dark Castle Entertainment. Reworking a Coen original script with collaborator Grant Heslov, Clooney's film stars Matt Damon as a "normal guy" who questions his existence – and his idyllic '50s suburban surroundings – in a "thriller" version of "Pleasantville" that leaves a nasty taste.
Allegedly written by the Coens back in the '80s then scheduled as a Clooney project in 2005 before being delayed again, "Suburbicon" is a morose, unappealing waste that should've stayed buried. Viewers who nevertheless intrigued can check out Paramount's Blu-Ray, which does offer an attractive 1080p transfer with DTS MA audio, commentary with Clooney and Heslov, three featurettes (including a segment on Alexandre Desplat's score), and a Digital HD copy.
---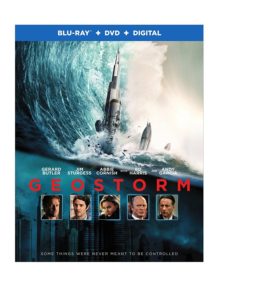 Warner New Releases
Writer-producer Dean Devlin's cred in the "disaster genre" is pretty high – the co-architect of Roland Emmerich's "Independence Day" among others, Devlin struck out on his own – and struck out altogether – with GEOSTORM (109 mins., 2017, PG-13; Warner), a preposterous box-office dud that blew in and out of U.S. theaters last fall (overseas it's fared better at least, opening higher than "The Last Jedi" in China last week!). This absurd outing stars a typically bombastic Gerald Butler in the story of how mankind has been able to engineer the weather for the benefit of all – alas, American political interests get in the way, causing problems for everybody.
Standard-issue stereotypes and ideological sermonizing make for a fast-moving but brainless outing Devlin directed and co-wrote with Paul Guyot. Even for the genre, this is a wash, though perhaps hardcore genre buffs might mine a few unintended laughs provided they've been properly intoxicated prior to viewing. Warner's Blu-Ray bows on Blu-Ray featuring several behind the scenes featurettes, a 1080p (2.41) AVC encoded transfer, 5.1 DTS MA sound, a DVD and Digital HD copy. While there's no 4K release, a 3D Blu-Ray is supposed to be available at some point.
Also new from Warner on 4K UHD is THE LEGO NINJAGO MOVIE (101 mins., 2017, PG), a so-so featurization of the TV series that kids familiar with the property should enjoy. This time around, Lloyd (voiced by Dave Franco) takes on evil wizard Garmadon (Justin Theroux) while balancing high school with his "Green Ninja" alter-ego outside the classroom. Jackie Chan is also on-hand as Master Wu in a film that should play fine for its intended audience minus the broader appeal the original "Lego Movie" offered. 4K RUNDOWN: Dazzling colors make Warner's 4K UHD of "The Lego Ninjago Movie" the superior presentation of the picture at home, with HDR augmenting an already robust pallet of colors. Dolby Atmos audio is also on tap along with a Blu-Ray, Digital HD copy, Mini-Movies, Music Videos, and a Lego Ninjago TV sneak-peak.
---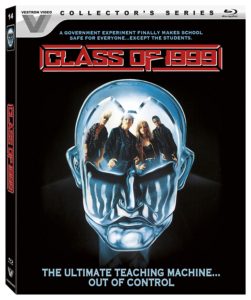 Lionsgate New Releases
Lionsgate's Vestron Video Collector's Series is back this month after taking a bit of a break over the holidays. While neither of their new releases, due out January 30th, restores an extraordinary piece of cinema, fans of the two respective pictures should still be pleased with their Blu-Ray presentations.
Mark L. Lester's eclectic filmography is highlighted by one of my favorite exploitation films of all-time: "Class of 1984," a brilliantly trashy, guilty-pleasure classic that's long been a staple in my collection for viewing among friends.
Lester followed the film with the loosely-connected 1990 Vestron production CLASS OF 1999 (97 mins., R), a low-rent and disappointing effort that serves mainly to recycle "Terminator" as a scientist (Stacy Keach) brings in a trio of automated teachers (including Pam Grier and John P. Ryan) to straighten out a gang-ridden Seattle high school. Bradley Gregg is the ex-gang member trying to stay straight with Traci Lin as the daughter of the helpless principal (Malcolm McDowell) in a dismally shot picture that looks to have been at least partially sabotaged by a non-existent budget. The actors try, and C. Courtney Joyner's script offers a few choice lines, but this is a major comedown for Lester in the wake of "Class of 1984," and doesn't hold up at all as well as its counterpart.
Lionsgate's Blu-Ray includes a fresh 1080p (1.85) transfer from elements that sometimes show their age and seem a little too contrasty at times. Nevertheless, it's a satisfying presentation that accentuates how threadbare the picture appears. The DTS MA 2.0 stereo track is aggressively mixed though Michael Hoenig's heavy-handed synth score doesn't help matters. All-new supplements include interviews with Lester, Joyner, producer Eugene Mazzola, special effects artists, cinematographer Mark Irwin, the trailer, TV spots, a still gallery and archival video promo, and Lester's commentary.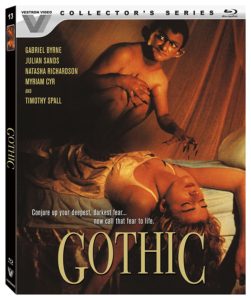 The other Vestron new release this month boasts the Blu-Ray debut of Ken Russell's GOTHIC (87 mins., 1986, R), the tale of how Percy Shelley, Mary Godwin, Claire Clairmont and Dr. John Polidori engaged in a "haunted summer" of debauchery at Lord Byron's Villa Diodati in Switzerland. Out of wild and woolly sex, drugs and rock 'n roll (at least in terms of Thomas Dolby's score) came the inspiration for "Frankenstein" and "The Vampyre," which Russell fixates on via a series of disturbing, hallucinatory images.
Most Russell films are an acquired taste and "Gothic" is no exception. Gabriel Byrne, Julian Sands, Natasha Richardson and Timothy Spall do their best but often come off as props in Stephen Volk's thinly-drawn script – Russell's visuals are the whole show here, and one's tolerance for his excessiveness is likely going to dictate how much of "Gothic" the viewer will be able to endure (for me, not much!).
Lionsgate's Vestron Blu-Ray offers commentary with Lisi Russell, an isolated score and interview track with Dolby, interviews with Sands, Volk and cinematographer Mike Southon, plus the trailer and TV spot. The 1080p (1.85) AVC encoded transfer and 2.0 DTS MA mono track are both in a healthier condition than "Class of 1999," though the film's entertainment value is scarcely higher.
JIGSAW 4K UHD Combo Pack (91 mins., 2017, R; Lionsgate): The Spierig Brothers broke out of Australia and managed to direct a pair of at least watchable genre exercises: the vampire mash-up "Daybreakers" and the disturbingly weird time travel/sex change drama "Predestination." While their output has been uneven, they're also capable of more than this belated "reboot" of the sagging "Saw" franchise, which sees John Kramer – aka Jigsaw – back from beyond the grave…or is he? A new game and series of murders are underway, but all is not what it seems in this well-directed yet mostly yawn-worthy continuation of the series, which played to diminishing returns at the box-office last year (though did, at least, turn a profit on a slender budget).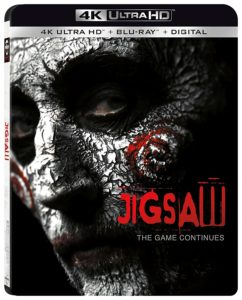 4K Rundown: Lionsgate's 4K UHD combo pack of "Jigsaw" is now available and includes an HDR-infused (Dolby Vision capable), and quite solid, HVEC encoded transfer (2.40). From a quick comparison to the Blu-Ray, one can detect superior compression and color pallet, though the film is so dark and dingy I can't imagine using "Jigsaw" as any kind of demo disc. The Dolby Atmos soundtrack is finely engineered with a "Legacy of Jigsaw" 7-part documentary, prop featurette, and commentary with the producers included on the extra side.
24 HOURS TO LIVE (94 mins., 2017, R) streets on February 6th from Lionsgate. This is a typically bombastic, overbearing action outing from the producers of "John Wicke," following Ethan Hawks' former special ops-agent turned mercenary who's gunned down but comes back to life thanks to a regeneration process a la Jason Statham in "Crank." If you enjoyed the over the top action of those two (superior) action vehicles, you might get some mileage out of "24 Hours to Live," which features Rutger Hauer, Liam Cunningham and Xu Qing in support. Lionsgate's Blu includes a 1080p transfer, 5.1 DTS MA sound and a Digital HD copy.
COOK OFF! Blu-Ray (98 mins., 2017, R; Lionsgate): If you're puzzled by what Melissa McCarthy is doing in a minor comedy like "Cook Off!," then a quick look into the film's troubled production history explains it all – this adaptation of Cathryn Michon's book concerning a group of contestants at a cooking contest was actually shot (mostly) a decade ago, and has reportedly undergone extensive re-edits over the years. That included adding as much McCarthy as possible after her career took off, which makes sense though the Frankenstein-like editorial approach to "Cook Off!" results in a jarringly fragmented assortment of scenes – some funny, some not – with a wide array of comic talents (Wendi McLendon-Covey, Markie Post, Stephen Root, Louie Anderson and Gavin MacLeod as himself!) popping up here and there. It's certainly an uneven stew Lionsgate has brought to Blu-Ray sporting a Making Of, outtakes, deleted scenes, a 1080p (1.85) transfer, 5.1 sound and a Digital HD copy.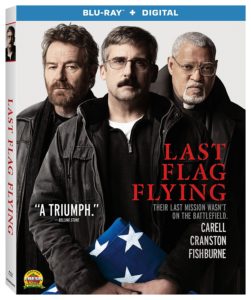 LAST FLAG FLYING Blu-Ray (125 mins., 2017, R; Lionsgate): The performances of stars Steve Carell, Bryan Cranston and Laurence Fishburne are the main draw in this follow-up to "The Last Detail," based on Darryl Ponicsan's novel of the same name. Carell is particularly good here as "Doc" Shepherd, who reunites with pals Cranston and Fishburne on a trip to bury his son, who's been killed in the Iraq war. Richard Linklater directed and co-wrote "Last Flag Flying," which is a bit meandering and saccharine at times (as some of Linklater's films are), yet the chemistry between the three leads is hard to deny and the film works well enough as a character piece as a result. Lionsgate's Blu-Ray includes deleted scenes, outtakes, two featurettes, a 1080p (1.85) AVC encoded transfer and 5.1 DTS MA audio. A Digital HD copy is also included in this Amazon Studios production.
A DOG AND PONY SHOW (98 mins., 2017, PG) offers a family-friendly affair about a circus dog left behind by the big top who befriends a lonely city kid who's just moved to the country. Mira Sorvino and Ralph Macchino chip in the human element while Mae Whitman is the lead voice in this Grindstone Entertainment production, new to DVD this week from Lionsgate sporting a 16:9 transfer and 5.1 sound…Also on DVD this week from Lionsgate is JAWBONE (92 mins., 2017, R), a boxing drama starring "RocknRolla"s Johnny Harris as a retired prizefighter lured back into the ring for an unlicensed match that could end not only his comeback but his life as well. Lionsgate's DVD of this British import co-starring Ian McShane and Ray Winstone boasts a Making Of, trailer gallery, 16:9 transfer and 5.1 sound.
---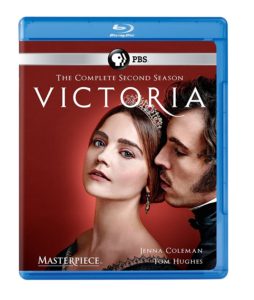 TV on Disc
VICTORIA Season 2 Blu-Ray (8 hours, 2017; PBS): Daisy Goodwin wrote and created this dramatization of the early years of Queen Victoria, focused most specifically here on her marriage to Prince Albert (Tom Hughes) and dealings with a number of historical challenges, including the Chartist movement, Irish Potato Famine, and European revolutions. Though saddled with a soapy set of subplots that were apparently intended to evoke the feel of "Downton Abbey," "Doctor Who"'s Jenna Coleman is again terrific as Victoria in this second season of the ITV series, which was recently brought to the US by PBS and run under the Masterpiece banner. PBS' uncut Season 2 Blu-Ray set includes complete, unedited episodes in 1080p transfers and 5.1 Dolby Digital soundtracks; extras include a number of featurettes taking viewers behind the scenes into the production.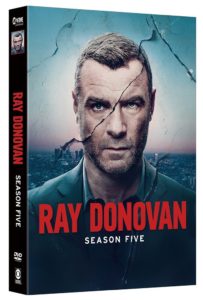 RAY DONOVAN – Season 5 DVD (11 hours, 2017; CBS): Fifth season of the Emmy-nominated Showtime series finds Ray (Live Schreiber) still trying to bury secrets among Hollywood's elite. This time out, though, things are in especially tough shape for Donovan's family, leading him – and them – more vulnerable. Ann Biderman's entertaining series works mostly because of its cast, with Susan Sarandon here added into the mix as media mogul Samantha Winslow. Showtime's DVD, out January 30th, includes a commentary on episode 508 by co-star Paula Malcolmson and producer David Hollander, several featurettes, 16:9 transfers and 5.1 soundtracks.
BEN 10: VILLAIN TIME DVD (220 mins., 2018; Cartoon Network/Warner): The latest DVD compilation from the popular Cartoon Network series is a Season 1, Volume 1 set, sporting 20 full episodes: The Filth, Waterfiller, The Ringleader, Riding The Storm Out, The Clocktopus, Take 10, Growing Pains, Shhh!, Brief Career of Lucky Girl, Animo Farm, Clown College, Adventures in Babysitting, Something I Ate, Steam is the Word, The Beast Inside, All Wet, Villain Time, Drive You Crazy, Tomorrow Today and Story Bored. Warner's DVD includes 16:9 widescreen transfers and stereo soundtracks in the single-disc set, perfect for all young fans of "Ben 10."
---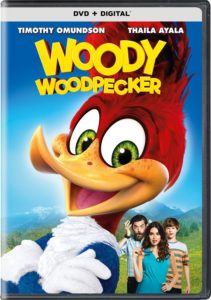 Also New & Noteworthy
RED TREES Blu-Ray (80 mins., 2017, Not Rated; Cohen Film Collection): Striking, fascinating documentary from director Marina Willer charts her father's journey as part of a literal dozen Jewish families who survived the Nazi occupation of Prague during WWII. Willer, along with cinematographer Cesar Charlone, charts his travels from Prague through to Brazil, where he was able to build a life as an architect. Moving and meaningful, "Red Trees" comes to Blu-Ray this month from the Cohen Film Collection sporting a 1080p transfer and 5.1 DTS MA sound. An interview with Willer is included as an extra on this recommended Cohen release.
WOODY WOODPECKER DVD (94 mins., 2018, PG; Universal): Probably not the big-screen rendition fans had hoped for, this live-action comedy stars a CGI'd Woody attempting to save his forest home from a man (Timothy Omundson) trying to build his new home along with his fiancée (Thalia Ayala). Ayala is a Brazilian actress whose casting here was clearly intentional – in fact, while Woody isn't much of a name in the U.S. these days, he's still big in Brazil and various Spanish-language markets, which apparently were the main target for this low-rent offering. Universal debuts the "Woody Woodpecker" movie on DVD February 6th featuring three featurettes, a 16:9 transfer, 5.1 sound and an Ultraviolet copy.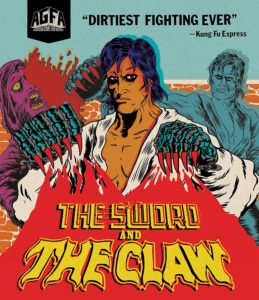 THE SWORD AND THE CLAW Blu-Ray (109 mins., 1975; AGFA/MVD): Wild and woolly '70s fisticuffs are on-tap in this Turkish import, filled with bloody violence, flimsy corpses, and terrible acting. This American Genre Film release boasts a new 4K scan from the only 35mm theatrical print of "The Sword and the Claw" in existence, along with a fresh 2K scan of "Brawl Busters," a low-grade kung-fu affair starring "Black Jack Chan!" Grade-Z silliness nicely presented in 1080p (1.85) from AGFA, making for a robust, guilty-pleasure double feature.
GANGSTER LAND Blu-Ray (88 mins., 2017, Not Rated; Cinedigm): B-movie auteur Timothy Woodward Jr. returns to the fray with this low-rent '20s gangster outing, following Al Capone and "Machine Gun" Jack McGurn joining forces to take on the Irish during prohibition. Meanwhile, "Bugs" Moran tries to hold his own against them on the mean streets of Chicago in "Gangster Land," which sports Jason Patric, Peter Facinelli and Jamie-Lynn Sigler among its recognizable supporting cast. Cinedigm's Blu-Ray is now available featuring a 1080p transfer and 5.1 DTS MA sound.
MY ART DVD (87 mins., 2018; Film Movement): Laurie Simmons wrote and directed this independent effort, focusing on a single artist who participates in the creation of several Do It Yourself Videos, shot in the style of classic Hollywood films. That spurs her creativity at the same time she's inspired by a trio of local men near her upstate New York summer home. Film Movement's DVD includes Simmons' commentary, a 16:9 transfer and both 2.0/5.1 sound.
9/11 DVD (88 mins., 2017, R; Fox): Dismal character study from Patrick Carson's play "Elevator" follows a quartet of characters trapped in a World Trade Center elevator during 9/11. Charlie Sheen leads the cast in Martin Guigui's film, now on DVD from Fox featuring a Digital HD copy, 16:9 transfer and 5.1 Dolby Digital sound.
IN SEARCH OF FELLINI DVD (103 mins., 2017, R; Samuel Goldwyn): Taron Lexton's independent drama features a young, small-town girl from Ohio who heads to Cleveland, discovers Fellini's surreal cinematic exploits and then experiences variations on them while her ailing mother begins to pass away. Offbeat and nicely filmed but not entirely satisfying from a story standpoint, "In Search of Fellini" is new to DVD from Samuel Goldwyn featuring a commentary, featurette, 16:9 (2.35) transfer and 5.1 Dolby Digital sound.
THE SQUARE DVD (151 mins., 2017, Not Rated; Magnolia): Swedish comedy – featuring appearances by Elisabeth Moss and Dominic West – focuses on a contemporary art museum curator whose life is turned upside down after the museum's new show, "The Square," doesn't quite live up to expectations – not to mention his reaction to his cell phone being stolen. Casting tapes, featurettes, the trailer, 5.1 Swedish/English audio and a 16:9 transfer are included in Magnolia's DVD, out this week…Coming February 6th from Cinedigm on Blu-Ray is EXTRAORDINARY MISSION (121 mins., 2017, Not Rated), a Hong Kong import from the director of "Infernal Affairs." This recent action-adventure follows an undercover cop whose loyalty is put to the test when he finds out about a plot against a police supervisor while he dismantles the drug cartel he's infiltrated from the inside. Cinedigm's Blu-Ray includes a 1080p transfer, 5.1 Mandarin DTS MA audio with English subtitles and a Making Of segment.
NEXT TIME: Kino Lorber Heats Up February With The PINK PANTHER Cartoons on Blu-Ray and more! Until then, don't forget to drop in on the official Aisle Seat Message Boards and direct any emails to our email address. Cheers everyone!