WILLARD
8/10
BEN
6/10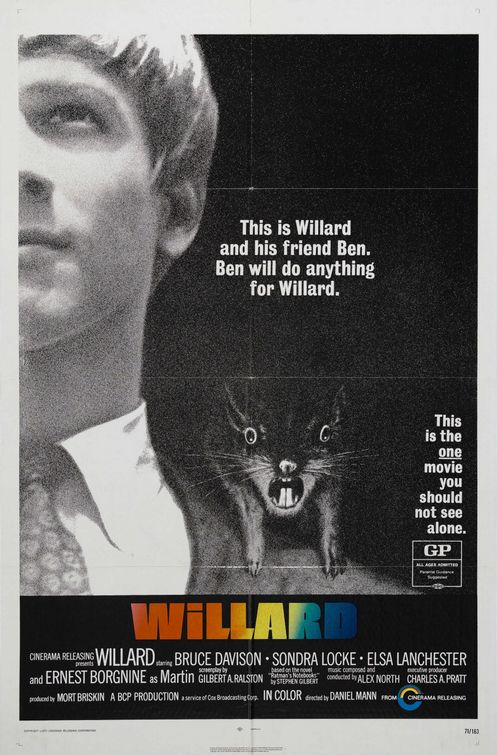 A box-office smash that somehow succumbed to the ravages of both time and distribution woes, Shout Factory has resurrected the rambunctious rodent-revenge thriller
WILLARD (95 mins., 1971, PG)
as well as its quickly-produced sequel,
BEN (94 mins., 1972, PG).
The former stars Bruce Davison as a put-upon young man who tilts over the edge after his mother's (Elsa Lanchester) death, leaving him to cultivate a relationship with a nest of mice who follow his every command – both for friendship and, eventually, revenge. The latter was best known for spawning a hit song that climbed the charts all the way to #1 thanks to none other than a young Michael Jackson.
The last – and only – time I watched "Willard," the movie was playing on WLVI, Channel 56 Boston's "Creature Double Feature." Produced by Bing Crosby Productions and distributed by Cinerama Releasing, "Willard" hasn't made a home video appearance since the VHS era, with many having tried – and failed – to get their hands on it. Even Bruce Davison laments that he tried to produce his own remake to no avail years ago (New Line Cinema, unfortunately, did with their feeble 2003 version starring Crispin Glover).
This new Blu-Ray combo pack of the film marks the first opportunity fans have had to see "Willard" in decades, and the good news is that this crowd pleaser remains a macabre but pleasingly tasteful, PG-rated horror affair that's more quirky than scary. Much of the movie's appeal is due to Davison, who walks the fine line of being sympathetic and deranged throughout, and effectively plays opposite a strong cast of veteran actors including Ernest Borgnine as the obnoxious boss who gets his just desserts and Elsa Lanchester as Willard's domineering mother. There's also an early appearance by Sondra Locke as the quiet co-worker who eventually warms to Willard despite his eccentric nature – going so far as to buy him a cat for company (that, naturally, doesn't last long).
Director Daniel Mann paces the film perfectly, allowing for the audience to understand Willard's background and what could possibly lead him to lead a rat army that ultimately spins out of control. The film plays up the humor and its suburban setting extremely well, and even Alex North's score is surprisingly melodic and "upbeat" given the movie's premise. This makes for a "lighter" film than its comparatively more heavy-handed remake, but also a more effective and unpredictable one – "Willard" might look like it's taking place a few homes over from The Brady Bunch, but that only heightens the weirdness of its story and eventual horrors at its climax.
"Willard"'s Blu-Ray includes a fresh 4K remastering in an AVC encoded 1080p (1.85) transfer that boasts rich colors and contrasts. The source materials are in healthy shape and the DTS MA mono sound is fine given its age, with North's solid score, again, being a lot warmer than one might expect given the subject matter. Extras include a lively Davison interview that leaves you wanting more; there's also a commentary with Davison and Mondo Digital's Nathaniel Thompson that's also a lot of fun. The trailer plus TV and radio spots round out one of the year's most satisfying genre Blu-Rays to date.
The success of "Willard" lead to an immediate sequel,
BEN
, which finds Willard's principal four-legged friend trying to exact revenge on the community after nearly being exterminated at the end of the original picture. This time out, Ben's friend is a young boy (Lee Harcourt Montgomery) with a heart condition being raised by a widowed mom and his older sister (Meredith Baxter). Montgomery manages to keep Ben away from the police as the authorities stage a house-to-house quest to exterminate the rats, who run amok, causing accidents and even trashing a grocery store (complete with discarded '70s brands – like Kleenex Paper Towels!). Fortunately, Montgomery is a Renaissance Man in training, staging his own marionette shows and composing tunes on the piano – the title theme among them – and stays one step ahead of the cops, led by a grizzled sergeant (Joseph Campanella) who doesn't have much to do but look concerned and smoke.
Much of "Ben"'s suspense is predicated on prior knowledge of its predecessor. Writer Gilbert Ralston, who also penned "Willard" (from a Stephen Gilbert novel), and director Phil Karlson try to make the viewer question if Ben is going to mend his murderous ways via a tugging of the heartstrings on the part of its kid protagonist. "Ben" is strange in a different way than its predecessor, too, interspersing some other songs by Don Black and composer Walter Scharf that nearly make you think you're watching a Disney film from the era – mixed in with comparatively lightweight "rat attack!" sequences. The net result isn't as potent as "Willard," and drags on forever with a listless final third, but as a direct sequel with an entirely different cast, at least it's not just a re-run of its predecessor. The ending also manages to put a satisfying, emotional bow on both pictures – complete with Jackson's youthful crooning memorably bringing "Ben" to a close.
Shout scoured the archives but could not find the original negative for "Ben," and had to rely on the best-surviving print they could find. It's an occasionally faded, speckled affair that doesn't have either the color or detail of "Willard"s impressive HD presentation, but it's certainly passable. In some way, the transfer's"drive-in" look likely approximates what audiences saw back in the day as well, and ultimately doesn't negatively impact the entertainment. Extras include another fun interview and commentary with Lee Montgomery, who recalls his work on "Ben" and other horror adventures, plus trailers and a stills gallery.